The 1990s brought us fun, funky, and exciting fashion, from clothes to makeup to hair, but here I'll look at some of the most popular black hairstyles from the '90s.
Many gained popularity when rocked by celebrities and had American girls rushing out to try them.
Some were amazing, while others might make the current generation cringe, but all were iconic during that time.
So, let's get started, and I can't wait to find out which ones are your favorite!
16 Cool Black Hairstyles From the '90s
1. The Box Braids
The film, "Poetic Justice" was a big hit in the '90s, and the box braided hairstyle of the lead actress, Janet Jackson, became an instant favorite among the black women of that time.
Everyone wanted to have their hair in these thick, rope-like braids, adding extreme dimension to their looks.
Box braids are still popular today, and if you are someone who doesn't want to maintain your black hair on a day-to-day basis, this chic, bohemian hairdo would be perfect for you. [1]
You can visit a hair salon to create or try these braids at home.
But as this style is a bit complicated (even though it seems easy and fuss-free), letting an expert do it will be less frustrating.
2. The Micro Braids
Girls in the '90s (even today) favored micro braids because these small, tightly woven to-the-scalp braids can stay in their tresses for months without any touchups or extreme care.
Even though the micro braided hairdo is a black girl hairstyle, white girls also seem to prefer it because of its ability to add depth and variation to your overall outlook.
As with the box braids, I suggest getting micro braids at a hair salon because constructing these delicate braids is super time-consuming and requires a few braiders to finish the whole process.
Also, you might not have the same finished look you are looking for if they are done at home in unprofessional hands.
3. High Ponytail With Curls
Remember Tyra Banks promoting her 1996 Sports Illustrated Swim cover?
If you do, I'm sure you also remember her uber-chick sleek high pony with curls at the bottom. This is one of those '90s hair trends that's still popular today.
Start by creating straight hair with a hot comb (I prefer the Andis High Heat Press Comb), and then gather all the hair at the crown and tie it up in a high ponytail.
After that, divide the pony into 4-6 parts and curl (with a wide barrel curling iron) each section just up to the half-length so that the sleek straightened part and the curls are visible in the ponytail.
4. Long, Sleek Hair
It wasn't just in the '90s that the long sleek hairdo was famous; it's been a part of mainstream fashion and has had continued popularity amongst black women for decades.
That's because this hairstyle is the opposite of their natural hair texture and helps them create a different vibe and look. [2]
Start your straightening process by washing your hair with a hydrating shampoo and conditioner to add a bit of moisture (try Herbal Essences Hello Hydration Moisturizing Shampoo and Conditioner Kit).
Then dry your hair entirely with a hairdryer and spritz on some heat protectant, covering all of your hair.
After that, section your hair into 4-6 parts. Using a flat iron or a hot comb, start straightening each section until all your natural tresses are straightened with a silky smooth finish.
You can wear this style in combination with bangs or without. Wearing bangs was particularly fashionable among teenage girls of the 90s. Black girls tended to go for a straighter, relaxed cut, while white girls loved the mall bangs style.
5. Platinum Blonde Hair
Mary J. Blige wore platinum blond hair on one of her albums covers, and it was enough to make this colorful hairstyle all the rage back in the '90s.
Several singers, actresses, and girls like you and me have been sporting different blond hues since then to add a vibrant and lively vibe to our personalities.
As you know, bleached hair is nothing new regarding women's hairstyles. To can take dark colors and shades of lighter color over bleached hair.
You can rock this hair color in any hair length and hairstyle. And if you wish to adorn your tresses with this '90s look, go to your hairstylist and ask her to dye your hair blonde. This will give you the best results with the least damage.
Or you can also dye at home using packet colors like the L'Oréal Paris Feria Multi-Faceted Shimmering Permanent Hair Color for a safe yet budget-friendly coloring experience.
Once your dark hair is transformed into a lighter color, you have a lot of freedom to express yourself. You can stick to blond or add fun, brighter colors.
Top stylist, Charlotte Mensah, told British Vogue that when making afro hair a lighter color:
"I cannot stress enough how much moisture the hair needs after the color process. Condition before as a pre-treatment. A condition during, after you've rinsed the color off and are about to apply more color. Then condition afterward, a deep conditioning mask every week." [3]
For one great method of getting bleached afro hair check out this video:
6. Short, Cropped Pixie Style
The short pixie cut is one of the most iconic black hairstyles from the '90s.
From Halle Berry to Toni Braxton and Nia Long, every big African American star sported this cropped hair at some point.
This short, cropped haircut is expressive, frames your face perfectly, and requires less time and care to maintain- all of which make this cut a top choice for busy women even today. You will still see it in mainstream fashion around the world.
Furthermore, this particular hairstyle helps you eliminate hair damage (due to over-styling or other external factors) and still rock a stylish do anywhere you go.
Even though it is short, you still have some styling flexibility. One day you can rock spiky hair; on other days, you can use sleek, well-groomed hairstyles.
Spiky hair, in particular, is a fun way to bring the punk look that saw some resurgence during the 90s.
If you want this type of cut, it is best to visit your hairstylist. Bring in photos of 90's stars sporting the styles you like for ideas at your appointment.
7. The French Roll
Black women from the '90s would tie up their hair in a French roll if they needed extra flair and wanted to look classy and sophisticated for a black-tie event or a formal date.
This hairdo was so popular then (and today) that even Whitney Houston was seen sporting this French roll in more than a few of her movies.
If you want to glamorize this hairdo, I suggest you add some bejeweled clips and decorations. These can give you sparkle and add a bit of femininity to your overall look.
Unveil timeless elegance with my guide on 'French Roll Hairstyles for Black Women', offering step-by-step styles and inspiration for every occasion!
8. Natural Curls
This look was made popular in the 90s by Freddie, a character in the much-loved TV show, A Different World. It was trendy among college-age girls.
Freddie wore this style in an adorable chin-length, but you can also wear it longer. No hot combs or chemicals are needed; use good quality hair care products for the type of black hair you have.
As we explore a variety of black hairstyles, if you have short hair, you might be interested in creative ways to style it. Discover a range of fun and stylish options in our article, "Buns for Short Hair".
9. Finger Waves
Finger waves peaked in popularity when rap music artist Missy Elliot sported this look on one of her albums covers. Tyra Banks also wore this style in a more extended version.
This hairstyle was first trendy in the 1920s and 1930s when it was seen in films with iconic actresses, such as Bette Davis.
You can do this style at home. Learn how to do it by watching this tutorial:
10. Tamed Baby Hair
It has long been popular, especially during the 1990s' to tame the baby hair that circles your face by clicking it down.
You can use a baby hair styler, which looks similar to a mascara brush but with gel to smooth fly-away hairs into a stylish look.
What's great about this look is that you can use it with almost any other hairstyle.
This video tutorial shows you how to get perfect slicked-down baby hair swirls:
11. The Mushroom Bowl Cut
The 'Mushroom' is a love it, or hate style that peaked in popularity during the 1990s. It's sort of like a bowl cut but not entirely.
The style consisted of bangs that blended in at the same length as the top half of your hair. Many wears would then keep the lower section quite short.
One 90s celebrity that rocked this style is Tionne "T-Boz" Watkins, who is seen sporting it in the music video for 'Creep.'
Don't try to create this cut at home for the best result due to the different layers. Instead, head to your stylist for a polished look.
12. Texture and Bright Colors
Highly textured hair dyed in bright colors entered mainstream fashion when Janet Jackson started wearing red hair with volume and using her hair's natural texture.
This look doesn't have a specific, rigid style. Still, it allows you to express your personality with lots of fun looks while keeping your hair fairly natural, bright colors aside.
Adding brighter colors means some bleached hair, so you want to ensure your hair is healthy before doing this.
Once you have your colors, you can experiment with texture, such as straight hair, waves, and coils.
13. Headwraps and Turbans
Women in love with a more bohemian look flocked to this style, made famous in the 90s by Erykah Badu. She would change her look by wrapping her beautiful afro hair in colorful headwraps.
To achieve this look, you can use a variety of materials, including a silk scarf. It is tricky to master, as you want your wrap to stay secure.
Try asking a stylish proficient in headwraps to show you the method.
14. Asymmetric Cuts
These asymmetric crop cuts cropped up everywhere in the 90s (pun intended). You would see these short styles in all kinds of configurations. So long as the cut was different lengths, it fit into this look.
You can even style with part spiky hair and part curtained hairstyle. The options are pretty limitless.
Check out this video for some cool examples:
15. Dreadlocks
While dreadlocks are not stuck in the 90s, they saw continued popularity among black girls after Fugees member Lauryn Hill rocked them on stage. Lenny Kravitz also saw this look resurgence of popularity during this time.
Lisa Bonet wore a looser style dreadlock in the 90s, which gave her a carefree, bohemian look.
Getting this style takes a lot of time and effort to do yourself, so it is a good idea to enlist the help of a stylist. Check out this video for one way how to accomplish this look:
16. Honey or Auburn Tones
In addition to blonde hair, honey or auburn tones gained popularity in the 90s. When the singer, Tamia, showed off her beautiful, sleek auburn tones, it quickly became a desirable color.
R&B star, Deborah Cox, made streaks of honey tones against black hair very fashionably. She gave many women the courage to try a broader color palette regarding their hair.
These colors were popular with teenage girls and college-age girls alike. The brighter colors complimented black skin tones beautifully.
Remember to also check out my articles on "Korean bangs hairstyle" and "vegamour gro dry shampoo reviews" to learn more about trendy hairstyles and effective hair products for healthy and beautiful hair!
FAQs
1. Did They Wear Afro In The 90s?
Large afro hair was not as popular in the 90s and was not as common as it was during its peak in popularity during the 70s. However, college-age girls did like to wear the two afro puff look in the 90s.
2. Who Wore Braids In The 90s?
Braided styles were very popular in the 90s and were worn by several celebrities, including Janet Jackson, Brandy, and the Williams sisters.
3. How Do You Get The 90s Hair Look?
The best way to get the 90s hair look is to pick some of your favorites from this guide and show them to your stylist. You can then both decide which would suit you the best.
4. What Was 90s Fashion Like?
The 90s had several fashion trends, including grunge, rave, and hip-hop. Even gothic makeup and clothes saw a peak in popularity.
Conclusion
So like the popularity of baby doll dresses in the 90s, many hairstyles were trendy. Some have continued popularity today, while others have fallen out of mainstream fashion.
Which black hairstyle from the '90s is your favorite? I'm looking forward to finding out!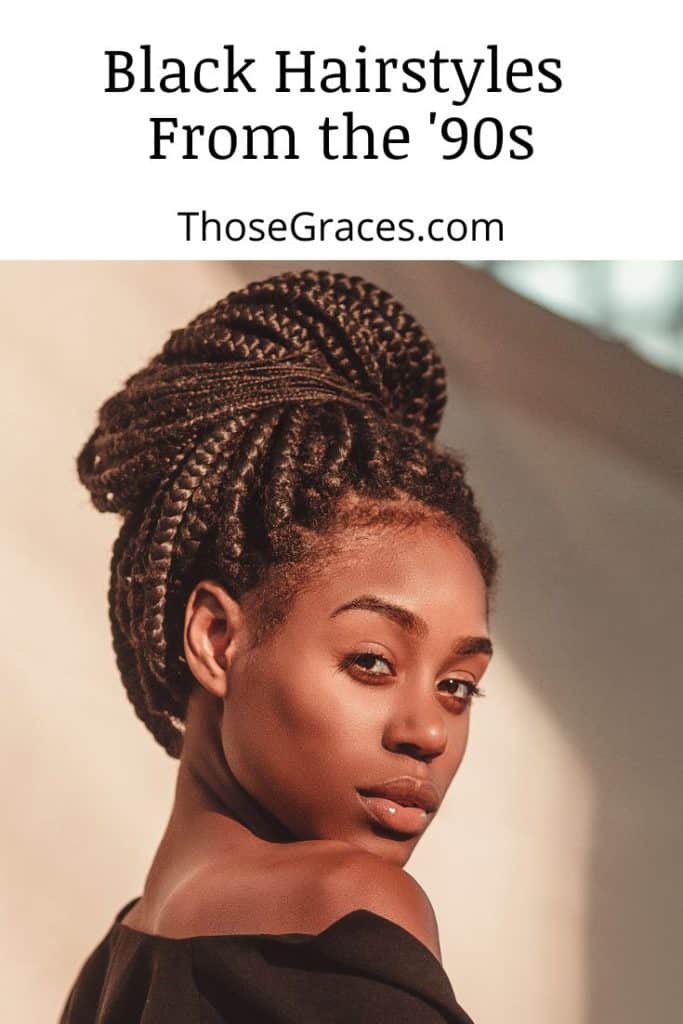 Sources
1. Black hair care: Tips for washing, styling, and choosing products [Internet]. www.medicalnewstoday.com. 2020. Available from: https://www.medicalnewstoday.com/articles/black-hair-care
2. McCormack A. 5 Things You Need to Know About Afro Hair [Internet]. HABIC. 2019 [cited 2022 Sep 3]. Available from: https://habic.ie/5-things-you-need-to-know-about-afro-hair/
3. Nast C. 5 Rules To Know Before Dyeing Afro Hair [Internet]. British Vogue. 2022 [cited 2022 Sep 3]. Available from: https://www.vogue.co.uk/beauty/article/dyed-afro-hair