Ever wondered, 'How does volumizing shampoo work to give me that dreamy, voluminous hair?' Look no further!
As a hair care specialist with years of experience, I'm here to share my insights on the science behind volumizing shampoos and how they can increase hair thickness by up to 20%.
Better yet, I'll reveal expert tips on choosing the right shampoo for your hair type and DIY techniques to achieve the perfect volume and bounce.
So whether you're battling thinning hair or desire a little extra lift, keep reading to unlock the secrets of voluminous hair that will turn heads!
This post contains affiliate links. We earn a commission if you purchase after clicking on our links.
Key Takeaways
Volumizing shampoos use proteins and panthenol to strengthen, repair, and plump up hair strands.
These products can control sebum release, giving hair more body and shine without weighing it down for your hair type.
To avoid drying out your hair, look for volumizing shampoos with humectants and avoid harsh ingredients like paraffin and talc.
Thanks to science, instant beautiful hair is now within your reach.
Thin and lifeless hair may now be a thing of the past as there are specialized shampoos targeting hair that lacks volume and body.
They are sometimes called hair-thickening shampoos that aim to boost hair volume and make hair look fuller and revitalized.
What Does Volume Shampoo Do to Your Hair?
Would you like a drab to fab hair transformation? Then bet on hair volumizing shampoos.
Our regular shampoo is made to remove grease and dirt from our hair and scalp. And usually, that's all that they can do.
Volumizing products promise to offer more than just a regular hair clean-up. They help plump up lifeless strands to make them appear thicker and fuller.
But you might be wondering how volumizing shampoos work and what they do to thicken our hair.
1. Strengthens Hair & Repairs Damage
So, how does volumizing shampoo work? A wonder for your hair, volumizing shampoo comes with another benefit – it contains proteins:
Proteins like silk, wheat, and rice protein are key ingredients in hair volume shampoos. Our hair is mostly keratin, a type of protein found in hair that makes hair strands strong and pliant.
These proteins also help expand our hair shafts to make them look thicker.
So, to improve your hair volume and texture, look for protein ingredients in your shampoo. You may also find protein amino acids and/or collagen in the list of ingredients.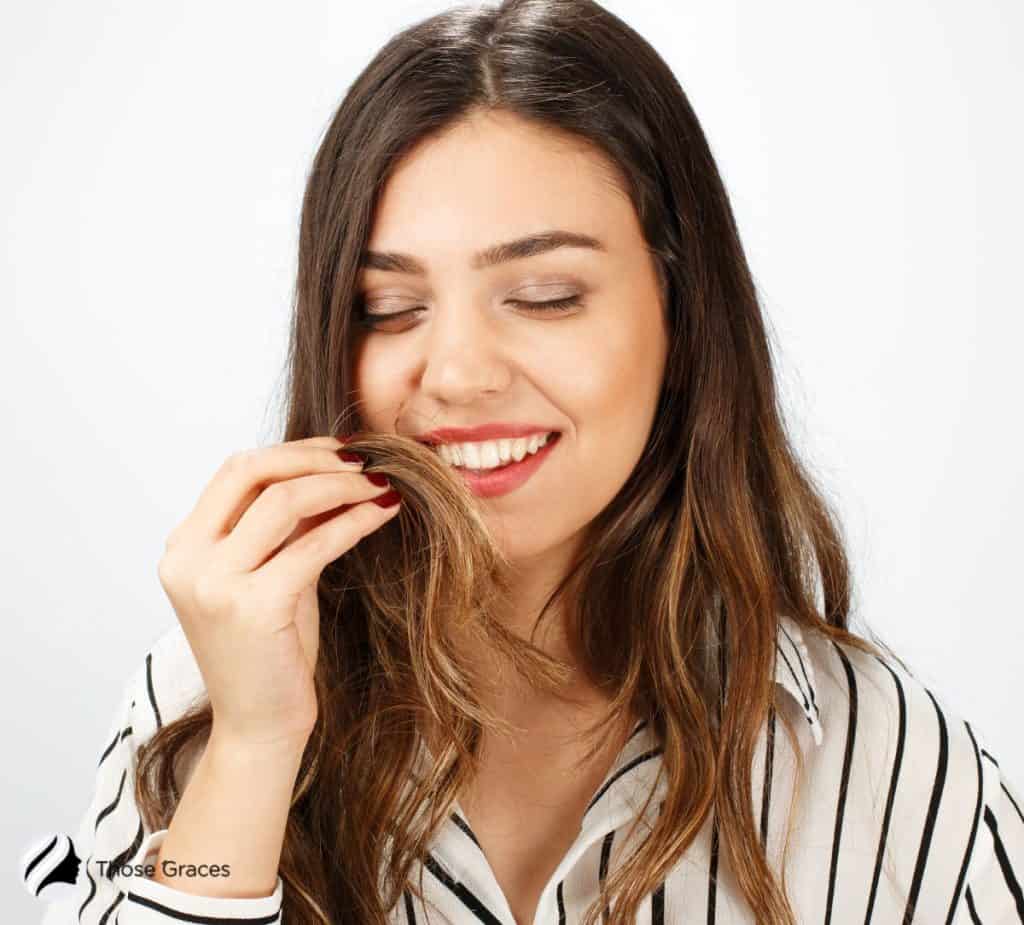 Proteins like collagen work to repair cell damage, reduce breakage, and boost hair elasticity at the same time.
2. It Gives Hair More Body & Shine
The logic here is "less grease, more body". Completely stripping our hair with its natural oils and moisture won't do any good for our hair.
The role of a volumizing shampoo product is to control the release of natural scalp sebum.
Therefore, it gives us a lightweight, flowy feel once our hair dries after washing. Excessive oiliness weighs down hair, leaving it flat, sticky, and unattractive.
Apart from proteins, volumizing shampoos also contain a hair-plumping ingredient called panthenol (if you're still wondering, this ingredient gives us that bouncy hair feel).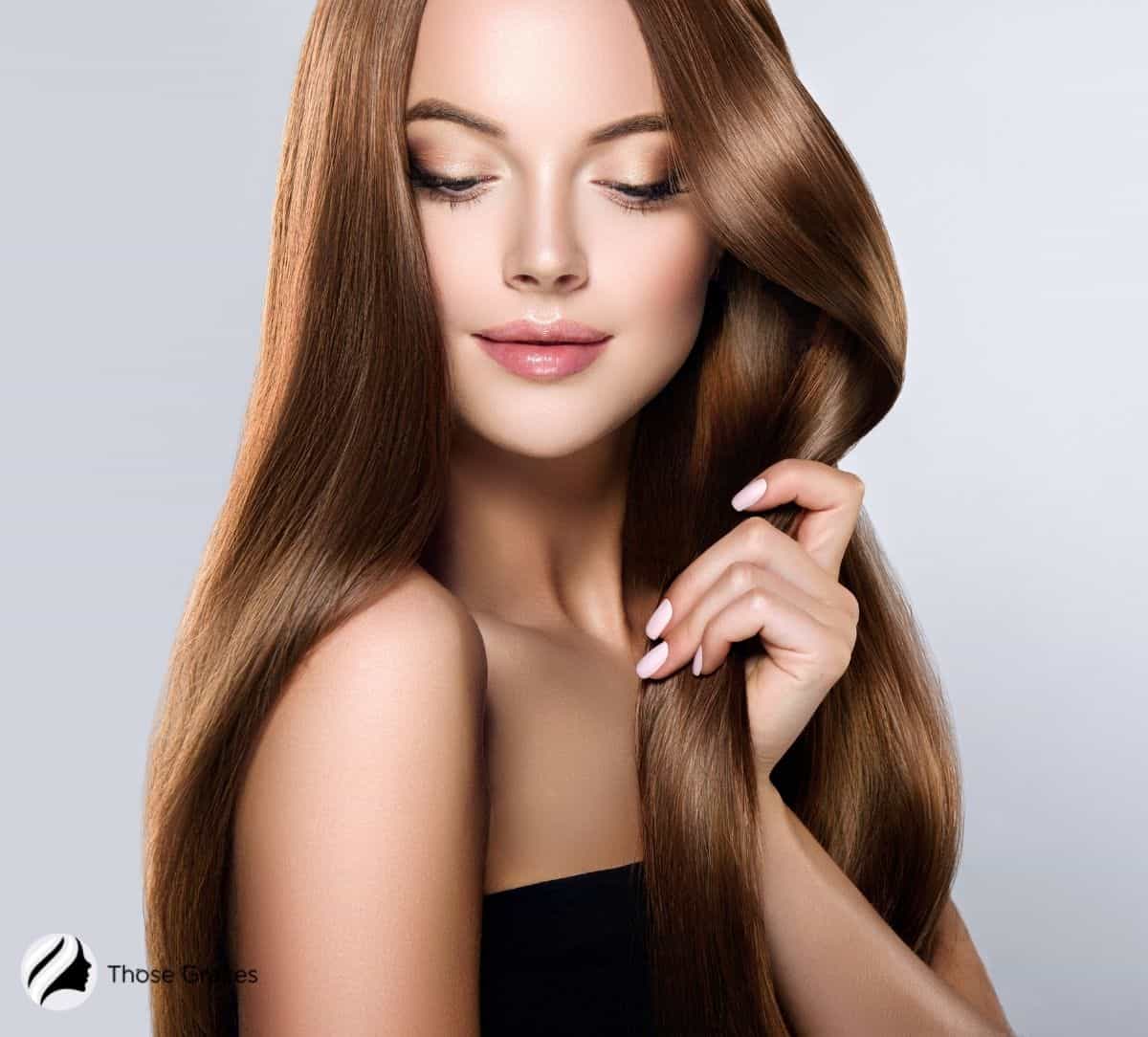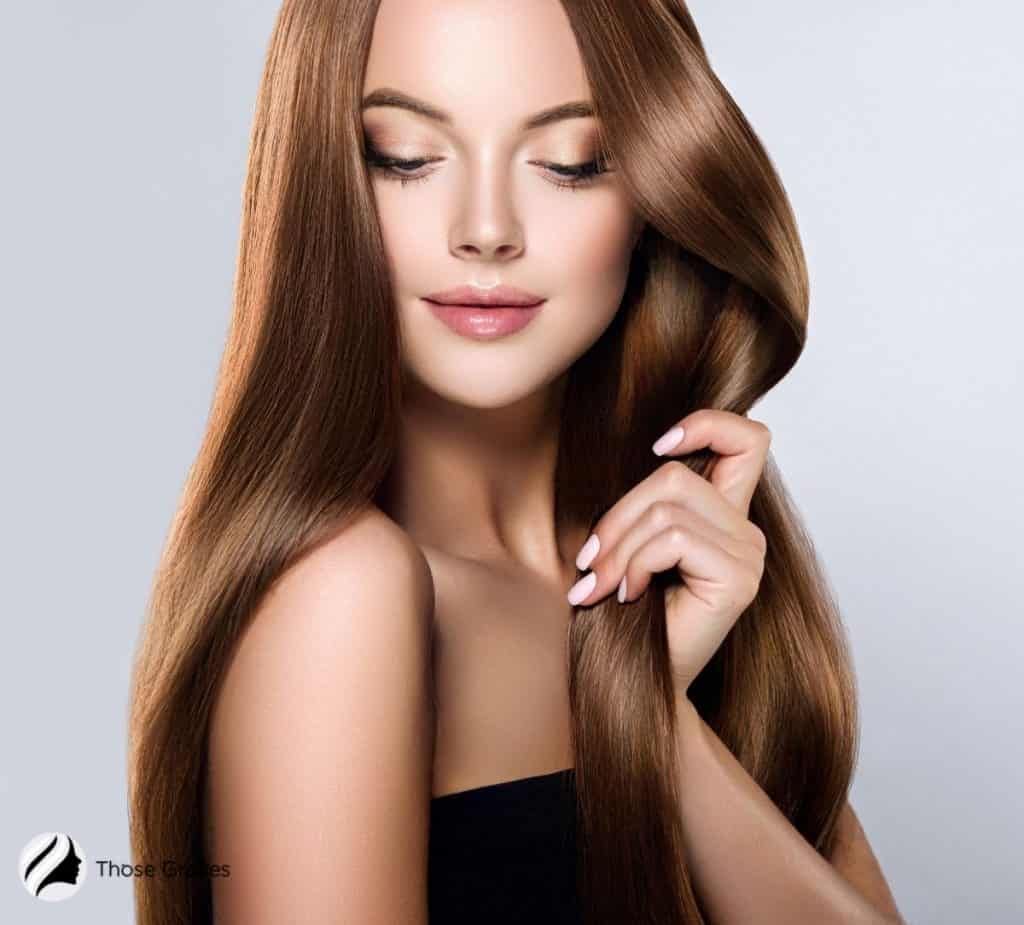 Panthenol is a non-toxic vitamin B5 variant. It acts as a humectant in volumizing shampoos.
It works by increasing moisture absorption and retention around our hair strands, leaving them hydrated and plumped up.
Some volumizing shampoo formulations are blended and fortified with hair growth boosters like biotin, other B vitamins, and plant extracts.
Such ingredients help promote hair growth for a naturally thicker, fuller mane.
Does volumizing shampoo dry out hair?
It depends on your product's ingredients. As we consistently say at Those Graces, look for ingredients that may cause unpleasant consequences to your hair.
For instance, beeswax or paraffin can promote scalp build-up and increase the risk of hair breakage.
Some hair volumizers also contain powders or talc that can be damaging in the long run. Surfactants can also be harsh on our hair, especially when shampooing daily.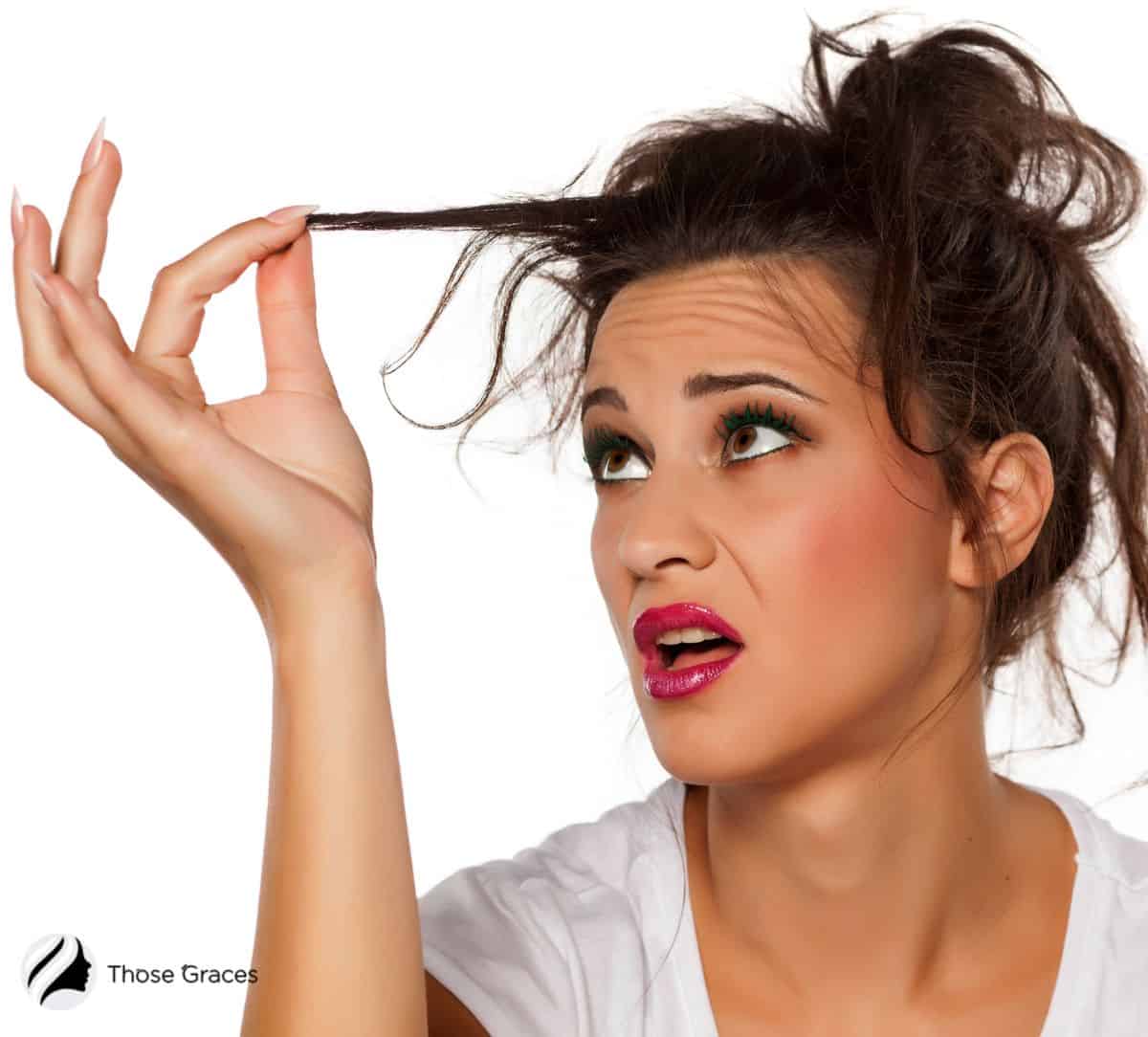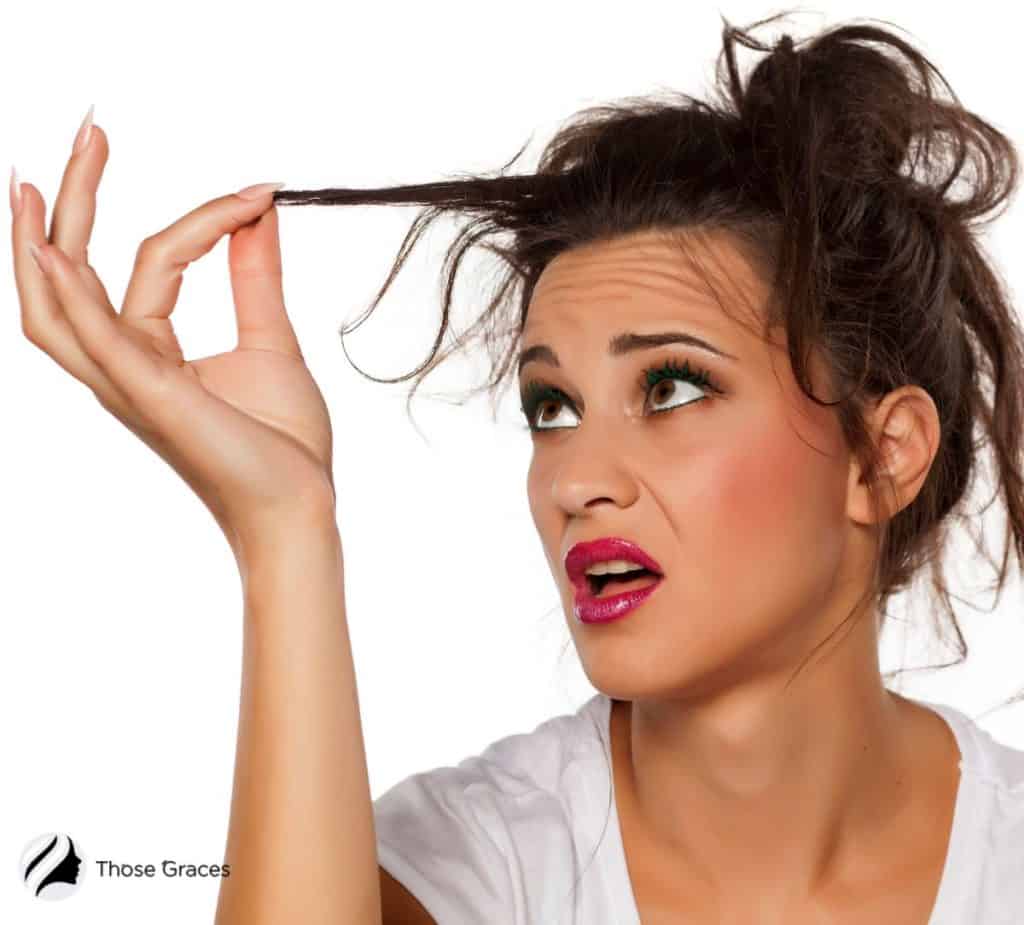 On the one hand, some premium volumizing shampoo formulations infuse certain ingredients to counter the drying effects of surfactants called humectants. [1]
Some common humectants found in hair volumizing products:
panthenol (pro-Vitamin B5)
glycerin
propylene glycol
collagen
Interested in learning more about the 3 best volumizing hair products in 2023? Check out my section on the 3 Handpicked Shampoos to create a zesty look!
3 Handpicked Shampoos: Personalizing Your Hair Care Routine for Maximum Volume
My years in the hair care industry taught me one thing: avoid the infamous bad hair day like the plague.
Failure to do so can have devastating consequences – dull-looking hair and those piercing stares…
Luckily, I'm here to share some of my top picks for achieving maximum volume and body in your hair.
Before I delve deeper, note that selecting the right hair care products tailored to your specific hair type and concerns is KEY to achieving the best results.
So without further ado, here are my recommended volumizing shampoos for different hair types:
For those with fine, thin, or color-treated hair, I highly recommend Alterna Living Proof Full Shampoo.
In fact, you might have struggled to find a shampoo that adds volume without weighing your hair down or stripping the color.
Now you've discovered my secret shampoo: this work of wonder features a refreshing citrus scent designed to cleanse without stripping or over-drying strands effectively.
It also plumps hair fibers, making it ideal for those with fine hair who seek bouncier, fuller-looking hair. The product is suitable for all hair colors and won't negatively impact color-treated hair.
What's more, this shampoo is safe for color-treated hair. Its color-safe formula helps to preserve your hair color while adding volume and density.
You can enjoy fuller, more voluminous hair without compromising your hair color.
Living proof Full Shampoo, 8 oz
Removes dirt, sweat, oil, pollution, and product buildup
Luxe lather gently yet effectively cleanses without stripping or over-drying strands
Leaves hair bouncy, fuller-looking, softer, and shinier with every wash
Gives hair 2x the volume*
Based on laboratory testing of Full Shampoo + Conditioner vs. untreated
For a gracious visual demonstration, check out this video:
My curly hair friend swears by using only one product – the Shea Moisture Coconut & Hibiscus Curl & Shine Shampoo!
I tried it once and – the natural skeptic I am – found this product irresistible in how soft it made my hair…
This shampoo is designed specifically for thick, curly hair, enhances curls, and provides much-needed moisture without weighing hair down.
Its key ingredients include coconut oil, hibiscus flower extract, silk protein, and neem oil.
Coconut oil hydrates and protects hair, while hibiscus flower extract helps to improve hair elasticity and reduce breakage.
Besides, silk protein smooths hair and reduces frizz, and neem oil imparts a brilliant shine.
Together, these ingredients create a powerful formula that nourishes, strengthens, and protects curly hair, leaving it looking healthy and radiant.
Shea Moisture Shampoo and Conditioner Set, Coconut & Hibiscus Curl & Shine, Curly Hair Products with Coconut Oil, Vitamin E & Neem Oil, Frizz Control, Family Size, 16 Fl Oz Ea
CURLY HAIR SHAMPOO: Sulfate free shampoo for color treated hair, curly hair or chemically treated hair. Deeply cleanse while smoothing with moisturizing coconut oil and silk proteins to leave hair healthy and shiny.
CURL & SHINE HAIR CONDITIONER: Use conditioner daily after shampooing to restore moisture without weighing hair down. Hair is more manageable with fewer tangles, knots, and snarls. Leaves hair soft with bouncy curls.
COCONUT OIL & HIBISCUS FLOWERS: Formulated with coconut oil with Vitamin E, K, iron and fatty acids as well as emollient hibiscus flowers, these ingredients deliver shine while reducing breakage.
ALL HAIR TYPES: All hair types, especially curly hair, benefit from the Coconut & Hibiscus Curl & Shine sulfate free shampoo and conditioner set with organic shea butter. Hair is soft and smooth with healthy body.
NEEM OIL & SILK PROTEIN: Neem oil and silk protein work together in our curly hair products to restore moisture, strengthen and help protect hair strands from breakage, snapping, or splitting, and restore hair's shine.
For more about this fabulous product, watch this video and jump for joy:
If you have dry hair and want a volumizing boost, look no further than Drop Dead Gorgeous Non Aerosol Dry Shampoo Volume Powder by Handmade Heroes.
As an expert in hair care, I highly recommend this product for those looking to add body and fullness to their hair.
Not only is the eucalyptus-scented formula eco-friendly, but it's also free of harmful silicones, chemicals, talcum, and other common toxins.
This makes it a perfect option for those on the go, needing a post-workout refresh, or traveling.
This formula is perfect for those with dry hair, as it helps to restore moisture and shine without weighing your hair down.
One of the best things about this product is that it is free of harsh chemicals, as mentioned earlier, such as sulfates and parabens, which can damage and strip your hair of its natural oils.
Instead, this shampoo uses gentle and sustainable ingredients that are safe for you and the environment.
The natural ingredients work to stimulate hair growth and add thickness, leaving your hair looking fuller and more voluminous.
Use them regularly and follow up with a volumizing conditioner for best results.
If you want to add more volume, use a mousse or root lifter before blow-drying.
Handmade Heroes Non Aerosol Dry Shampoo Volume Powder | 1.8oz | 100% Natural & Vegan | For Dark Hair & Brunette Hair
Clean and sustainable dry shampoo powder with non toxic formulation. Made with 100% natural, plant based and vegan ingredients. Plastic Neutral packaging.
Volumizies and degreases hair instantly without water. A hair volume powder and texturizing powder to style shorter hair or longer hair styles.
New and improved packaging - The perfect hair powder for on the go, after workouts, travels, hiking, outdoor activities, or to refresh after work hair
Absolutely no benzene, no propane and isobutane, no carcinogens, synthetic fragrance, parabens, artificial preservatives or synthetic chemicals. No leaching chemicals into the oceans.
Easy and convenient to use. Sprinkle over hair roots and blend dry shampoo powder with fingers or brush. Leave for 5 minutes while it absorb the oils from hair. Best used with handmade heroes blending scalp brush.
For more heavenly hair glory, click here to discover more about this superb product:
How to Choose the Best Volumizing Shampoo for Your Hair Type
Choosing the right volumizing shampoo can be tricky, but don't worry, and I've got your back.
From my experience, I've found that ingredients like keratin and biotin work wonders for adding volume to hair.
So, let's ditch those nasty chemicals and find the perfect shampoo for your locks!
Why Vitamin B-5 is Essential for Your Hair
As Cammy Pedroja, Ph.D., a writer for Healthline, points out, "Vitamin B-5 is essential for a healthy diet, skin, and hair. It makes sense that its derivative panthenol is a staple of many skin care products, such as lotions and cleansers. [2]"
Speaking from personal experience, I've found that ingredients like panthenol (Vitamin B-5) can make a huge difference when adding thickness to each strand.
So when you're browsing the shampoo aisle, be sure to keep an eye out for these volumizing ingredients. Your hair will thank you for it!
Determining Your Hair Type
Before choosing a volumizing shampoo, it's essential to determine your hair type. Is your hair fine and limp or thick and heavy? Do you have oily hair or a dry scalp?
Answering these questions will help you choose the best shampoo for your hair.
For instance, if you have fine hair, you'll want to avoid shampoos that contain heavy oils or moisturizers, as they can weigh down your strands.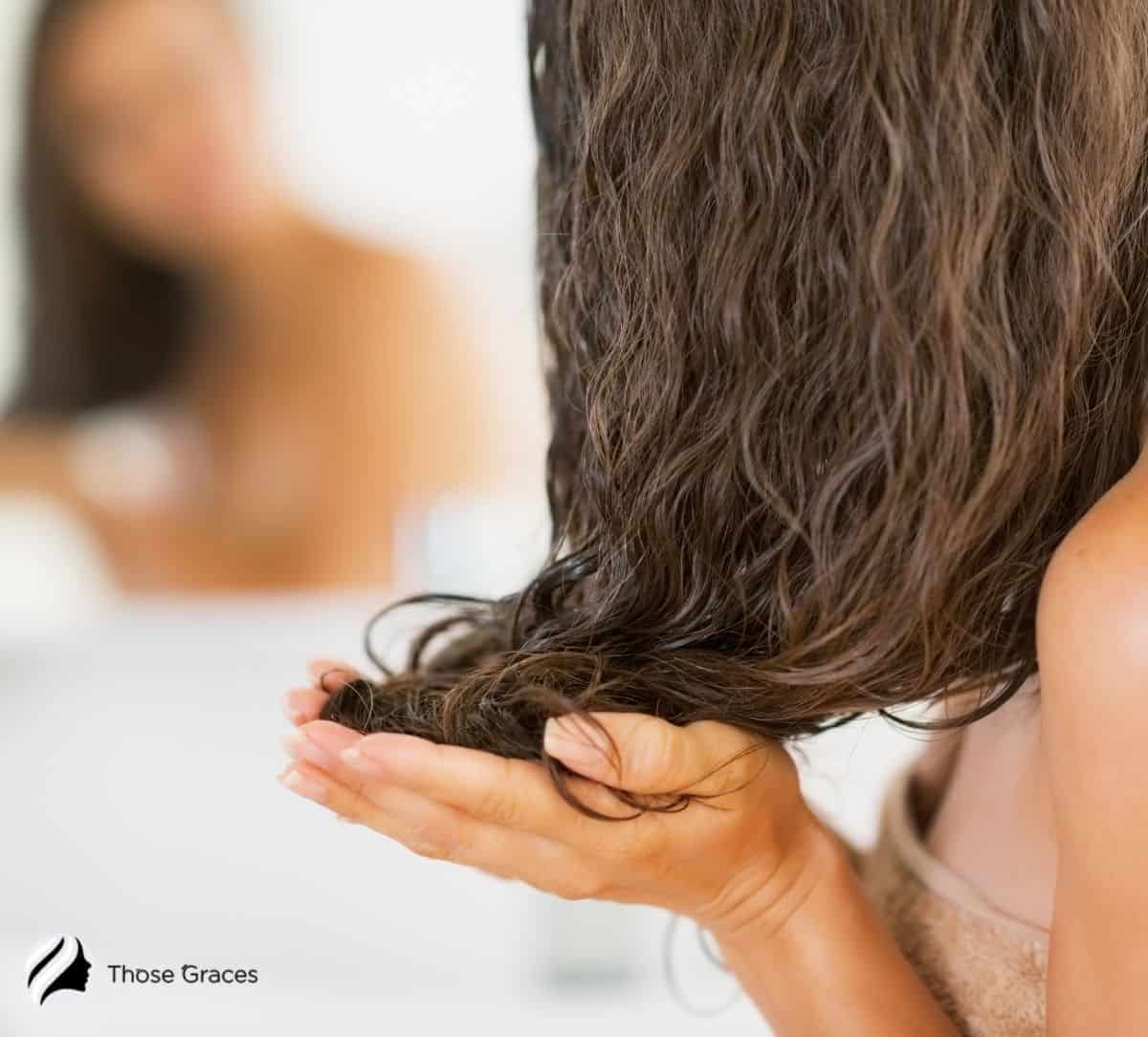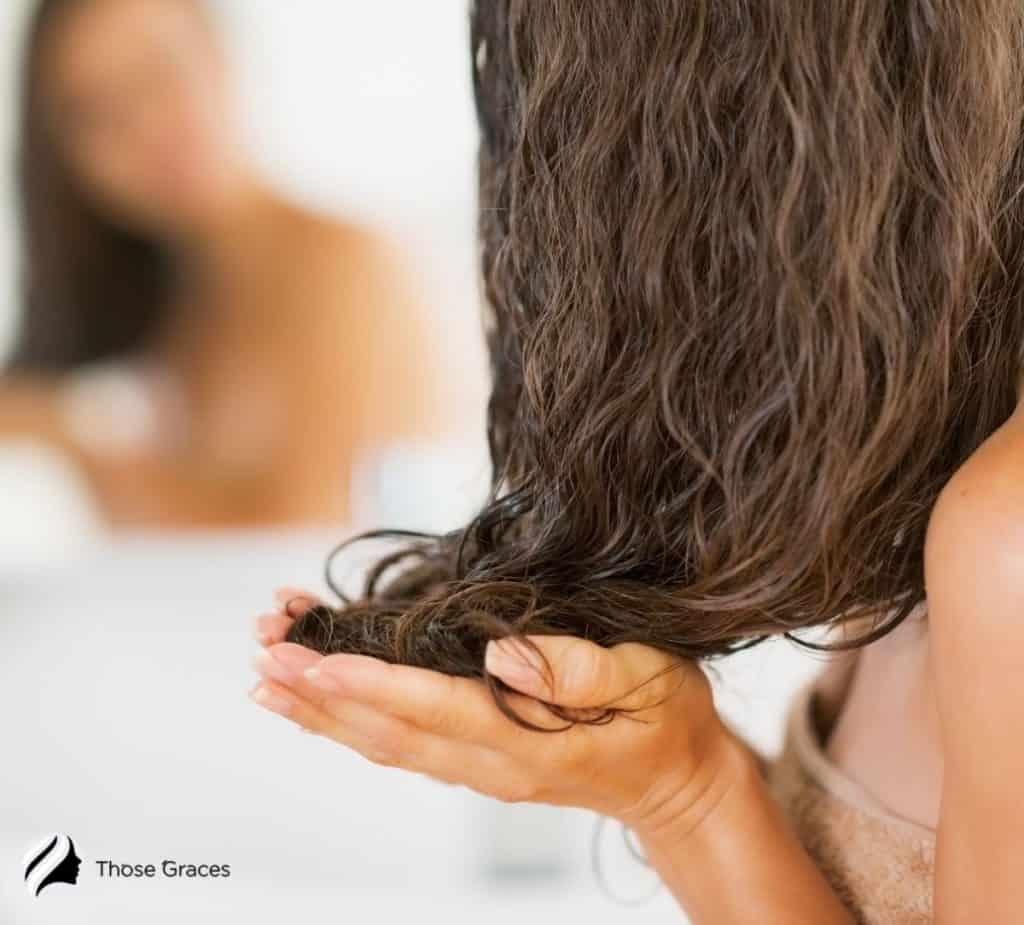 Look for Volumizing Ingredients
I remember when I first started getting into volumizing shampoos – though a difficult road, it was worth it! Here's how I spare you the pain:
When you pick a volumizing shampoo, look for ingredients that add volume to your hair.
The most common volumizing ingredients include keratin, biotin, panthenol, or Vitamin B-5.
These ingredients strengthen your hair and add thickness to each strand, producing more volume.
Consider the pH Level
I will tell you something about volumizing shampoo that they don't usually mention on the bottle – pH level matters.
After testing out several shampoos, I've discovered that a pH range of 4.5 to 6.5 works best for keeping your hair's natural pH level in check.
But here's the thing: not all shampoos list their pH levels on the label, so tracking this crucial information can be tricky.
If you can, check out the products with a slightly acidic pH close to your hair's natural level. Anything higher can dry out your hair and scalp, leaving it brittle and unhappy.
If a shampoo has a higher pH level, it can be harsh on your hair and cause it to become dry and brittle.
Avoid Harsh Chemicals
Pick a shampoo without these chemical nasties- and your hair will thank you!
Some common ingredients to avoid include sulfates, parabens, and phthalates. These chemicals can strip away natural oils from your hair and scalp, causing it to become dry and damaged over time.
Common culprits include sulfates, parabens, and phthalates, which can strip natural oils from your hair and scalp, causing dryness and damage over time.
Luckily, you're armed with the correct advice: Now you can navigate the volumizing shampoo landscape and find the best product for your unique hair type.
If you're curious about how many times per day you may use this wonder product, head to the next section!
Can I use volumizing shampoo every day?
While experts agree that there is no single rule to hair shampooing, the rule of thumb is: do not overdo it. And this also applies to hair volumizing shampoos.
Especially if you have dry hair, less is better for you.
Once every couple of days is a good shampoo routine if you have normal hair. For many of us, washing hair daily may lead to dryness and brittleness.
But for those with an excessively oily scalp, people with scalp conditions like dandruff or dermatitis, and women who are active and sweat a lot may be the exceptions to the rule.
It will be helpful to know hair needs. Check with your dermatologist if skin conditions require a unique shampoo formulation to prevent further irritation.
Also, read the label. It helps to know what you use on your hair. Ultimately, what goes to our scalp, also goes to our body.
If you enjoyed this article, you might also find my other articles on 'humidity blocker for natural hair', 'medicated shampoo for smelly scalp', and 'best olaplex for thin hair' helpful. Check them out for more hair care tips and tricks!
FAQs
1. How often should I use volumizing shampoo?
The ideal frequency depends on your hair type and needs. For normal hair, once every couple of days should suffice.
However, those with excessively oily scalps or specific scalp conditions might need to use it more often.
2. Can volumizing shampoos cause hair damage?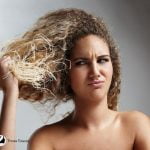 Some volumizing shampoos may contain harsh chemicals like sulfates, parabens, and phthalates that can strip natural oils and cause hair damage.
Opt for shampoos with gentler ingredients for healthier hair.
3. How can I maximize the effects of my volumizing shampoo?
In addition to choosing a shampoo with the right ingredients, massage it gently into your scalp, rinse thoroughly, and follow up with a volumizing conditioner to enhance your hair's volume and thickness.
Final Thoughts
If you asked, "How does volumizing shampoo work," you know a lot more now – But let me give you the nutshell version of what you've learned:
Volumizing shampoos are a quick way to bouncier and silkier hair all day. But like any other hair product, you must choose which hair volumizing shampoo to buy.
Also, know that volumizing products aren't the only method to boost hair bounce and volume. You may use some at-home tricks that will help you "fake" volumized hair.
For instance, using hot rollers, changing your part, blow-drying your hair upside down, or sleeping in a hair bun, are known hacks to create the illusion of having a fuller look.
Now that you're excited to start, wait a bit – leave me a juicy comment and tell me how much you enjoyed this shampoolicious adventure!
Until next time…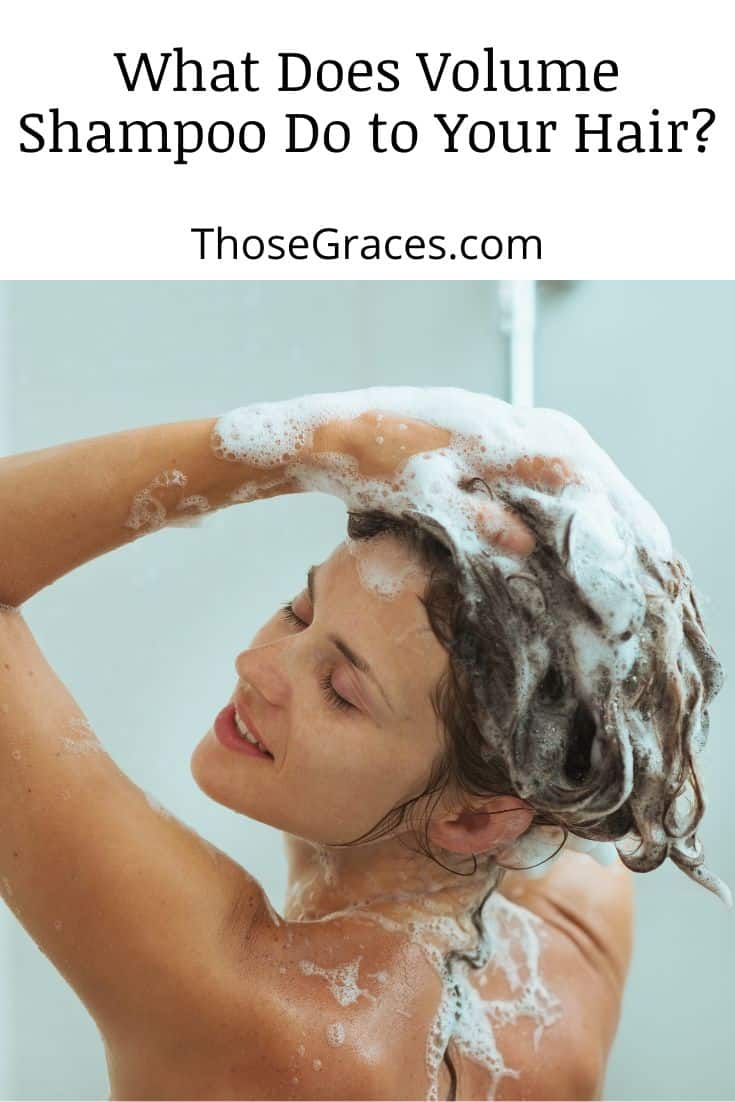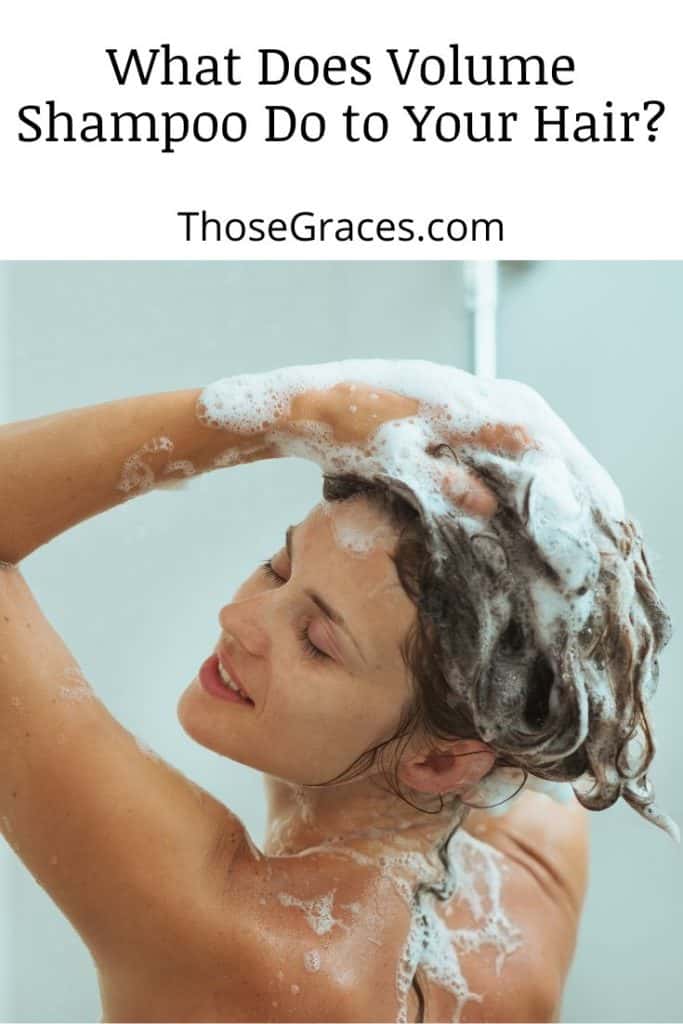 Resources
1. Humectant – an overview | ScienceDirect Topics [Internet]. www.sciencedirect.com. Available from: https://www.sciencedirect.com/topics/chemistry/humectant
2. Pedroja C. Why Is Panthenol Used in Cosmetics? [Internet]. Healthline. Healthline Media; 2018. Available from: https://www.healthline.com/health/panthenol