Are you considering a pixie cut for fine hair and wondering if it's the right choice? You're not alone!
As a beauty expert with decades of experience helping women, I've seen many women with fine tresses unsure if a bold, short haircut like a pixie cut will suit their hair type.
This comprehensive guide will cover everything I've learned about rocking a pixie cut with confidence, even with fine hair.
So, dive in, and I'll reveal all the insider secrets of pixie haircuts to make you look like an angel!
Key Takeaways
Pixie cuts are a versatile and stylish option for fine hair, offering various styles to suit different preferences and hair types.
Styling products like texturizing sprays and volumizing mousses can help enhance the appearance of fullness in fine hair.
Regular trims every 4-6 weeks are essential to maintain the shape and style of your pixie cut.
Want the best inspo? Check out the next section for the magic…
Is a Pixie Cut Really Good for Fine Hair?
What's all the hype about Pixie haircuts?!
Answer: they're bold, great, and – above all – they make you shine like a star.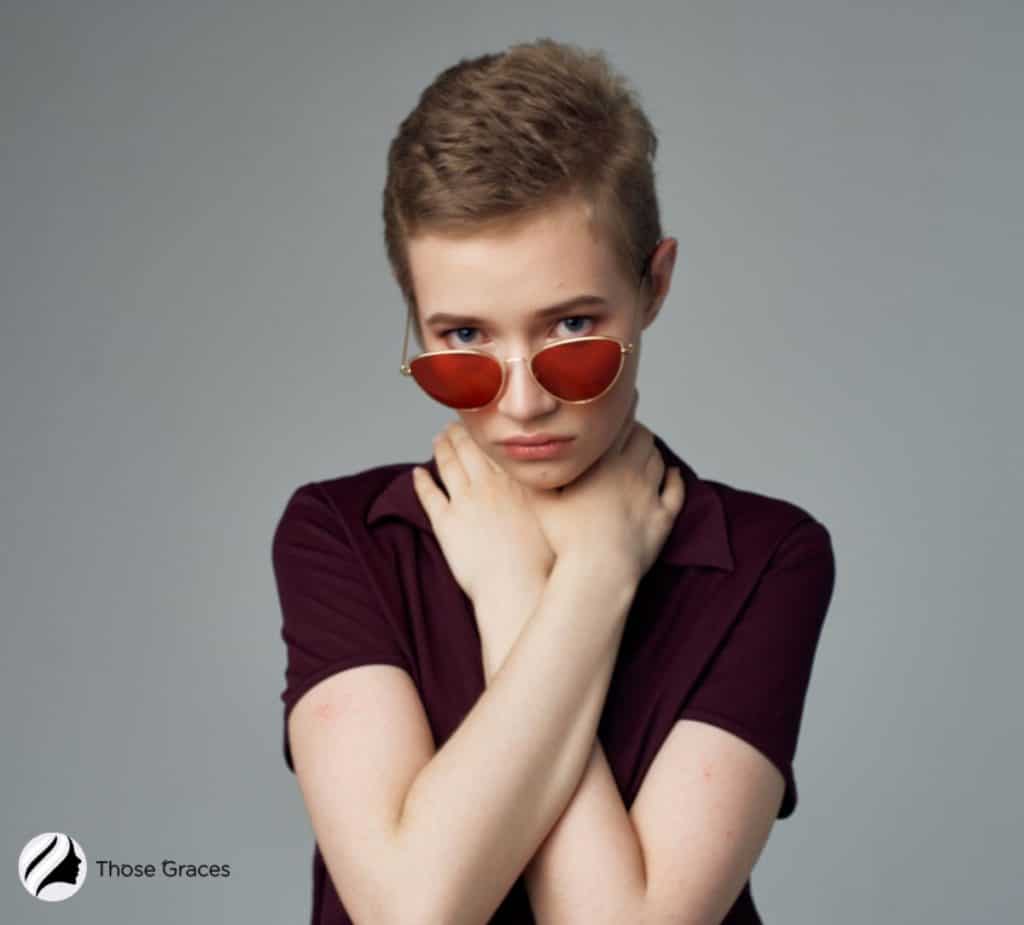 Amazingly, a well-executed pixie cut can transform your fine hair, making it look thicker and more voluminous.
In addition, this cut is an excellent choice for fine hair as it adds texture and layers, creating the appearance of fullness and volume, which is often lacking in fine, flat locks.
Here's what expert Rodney Cutler, a Redken artist, explains,
"It's an amazing way to reinvent yourself because it's liberating and shows a sense of confidence. The beauty lies in the simplistic nature of the look. It's more than youthfulness, it's about the reinvention of you." (1)
And if you're blessed with shorter hair, you'll be surprised to hear that – thanks to this cut – you will typically require fewer products to give your hair a sunkissed look!
You also need to know the basics of taking care of fine hair.
As you know, fine hairs are super sensitive, and less is more for this hair type.
So, what about the benefits? Why are these pixie cuts so great? Find out in the next section…
Pixie Cut Benefits for Fine Hair
Now if you are not determined and somewhat skeptical about going for hairs as short as a pixie, let's talk about all its benefits so that you can shed all your confusion and adorn your fine/thin tresses with a gorgeous pixie cut:
1. Expressive
Fine tresses are flat, limp, and lackluster. A well-styled pixie perfectly frames the face and makes your cheekbones pop, creating an illusion of more defined and sharp facial features.
This cut also gives you a sense of uniqueness and confidence because not all the girls out there have the boldness to chop off their long, luscious locks to rock a shorty short haircut.
It's a versatile style that can be dressed up or down, depending on your mood and the occasion.
Experimenting with different styling products and techniques can give you even more ways to express yourself through your hair.
2. Practical
Compared to your long tresses, this shorty short haircut requires less time (as well as less money) on styling.
The chore of washing, drying, and styling your manes will be gone with your long manes, and you can spend no time decking up your pixie.
As we delve into the advantages of a pixie cut for fine hair, it's worth noting that this style's benefits extend to students as well.
The benefits of short hair for students, much like the effortless charm exhibited by '90s actresses with short black hair, include ease of maintenance and a timeless sense of style.
3. Gets Rid of Damaged Hair
One way to get rid of your un-flattering tresses yet look super stylish is by adorning a pixie cut in your fine manes; this hairstyle is an efficient way to start fresh with healthy hair.
Rather than watching your delicate tresses break off and fall, it's rather clever to rock a fashionable cut and at the same time also start caring for them so that they grow stronger and healthier than before.
4. It Helps You to Grow Out a Permanent Hairstyle
Often, we try different types of permanent hairstyles in our tresses, like perming, relaxing, or rebounding, to elevate our look.
After a few months, these styles tend to grow out, revealing our normal manes, which look awful.
Also, permanent hairdos damage your hair locks so much that it takes extreme care to get them back to their normal state (which is not always possible).
5. Chemical-Friendly Style
Pixie cuts are a great option for those undergoing chemical treatments, such as perming, relaxing, or rebounding.
With the "big chop," you can get rid of the damage permanently and provide your tresses with an even texture.
6. Boosts Confidence
A pixie cut can make you feel more confident and empowered.
The expressive nature of this hairstyle allows you to showcase your personality and stand out from the crowd. Embrace the pixie cut and let your inner beauty shine through.
With the "big chop," you can get rid of the damages permanently and provide your tresses an even texture (by getting rid of the perming, relaxing, etc.).
Drawbacks of a Pixie Cut on Fine Hair
After reading all those great benefits of pixie cuts on your fine/thin manes, you might be a bit awestruck to learn that this sexy style also has a few drawbacks.
Let's talk about the disadvantages so that your decision about chopping your manes becomes easier.
1. Your Hair Will Take Forever to Grow
After chopping off your luscious hair locks into a pixie, you might miss your "old hair days" and even want to grow them back.
But the tragedy lies here. You cannot grow them overnight; you must wait for at least 6-12 months before rocking your long manes again.
Beauty Standards Can Show Its Ugly Side: After getting a pixie cut, you may encounter some people who make assumptions about your sexuality based on your hairstyle.
While it's unfortunate, it's important to remember that your hairstyle is a personal choice and should not be influenced by others' opinions.
9 Best Pixie Cut Style Ideas for Fine Hair
The key to pulling off any pixie cut is confidence and attitude, regardless of hair type. When deciding on a pixie cut, these babies are your go-to for looks. Don't believe me?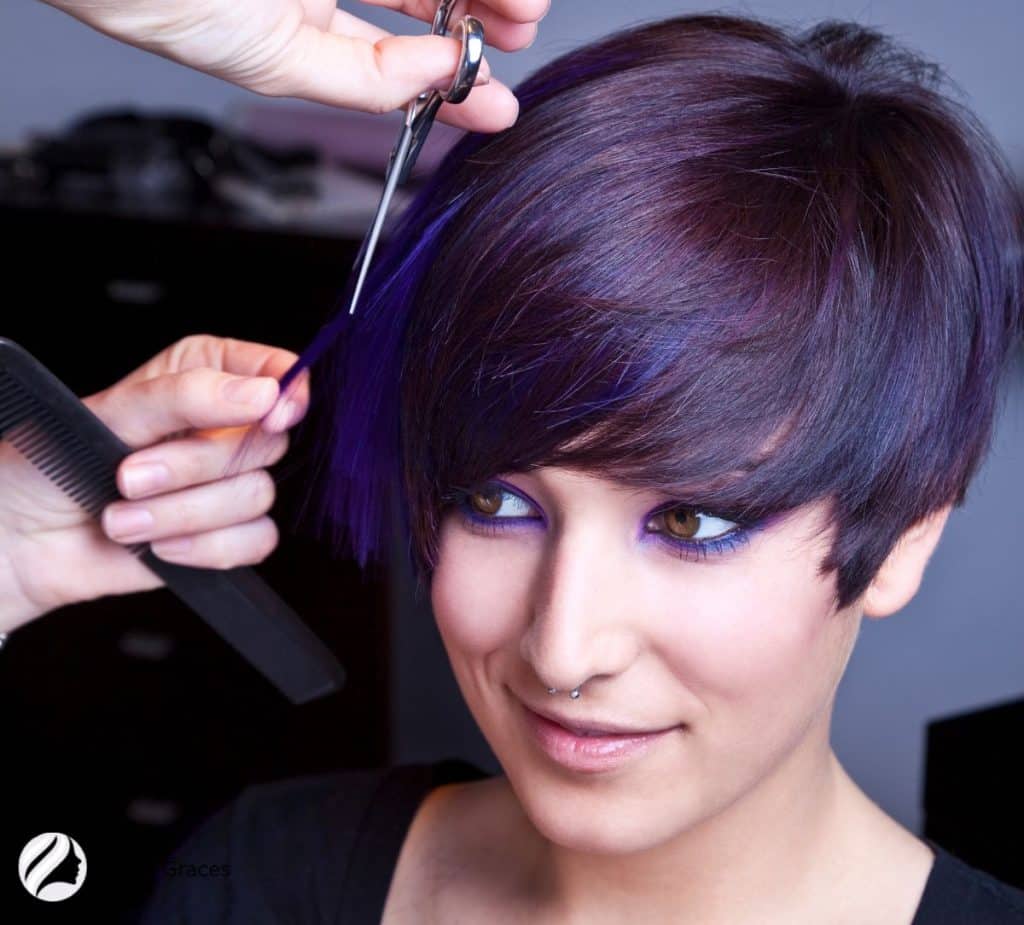 Here's what Chase Kusero, the cofounder of the haircare line IGK, says,
"It's less about the shape of your face and more about your attitude and confidence — anyone can pull it off if they own it." (2)
Let's begin with my favorite one – the voluminous look by no one other than Miranda Priestly Hairs…
1. Voluminous, Miranda Priestly Hairs
Want to be bold and brave? This is your style!
Besides, this striking voluminous pixie cut adds an extra layer of volume on top, making it an effortless choice for those looking to make a statement.
What's great, this fabulous style looks amazing and adds the illusion of thicker hair with the right styling techniques.
In fact, even though this short haircut already adds texture and volume to your fine, flat tresses, you still might want to add a bit more volume to rock a Miranda Priestly vibe and to do so.
What do you need?
Only a narrow plated flat iron (such as this Bed Head Pixie 1/2″ Straightener). I always suggest using low heat settings to straight fine or thin hair.
Begin by taking a section of your hair from the crown and placing it between the heated plates of the straightener, being mindful not to use excessive heat.
Flip it inward and hold the iron in this position for 2-3 seconds before pulling it downwards.
Repeat this for the rest of the hairs on the crown and finish off by spritzing some holding spray like this L'Oreal Paris Elnett Satin Extra Strong Hold Hairspray to keep the style in place all day long.
2. Pixie Bob Haircut
Hairstylist Rachelle Edrozo from California is known for creating stellar pixie hairdos.
She suggests starting with a pixie bob haircut, especially if you've never had a pixie cut before.
3. Classic Sleek Look
Here's a refined style that celebrities like Charlize Theron and Keira Knightley beautifully showcased on the red carpet.
This is just the hairdo you would want to flaunt at any formal dinner or evening party.
The classic pixie cut is a timeless and elegant style that features short, evenly cut hair. It works well for fine hair as it adds a sense of structure and shape without requiring much styling or product usage.
To achieve this look, apply a moderate amount of styling gel to your damp pixie and comb it with a fine-tooth comb, creating a side part or backcombing for added volume.
Tuck the ends behind your ears, and voila! You have a very sleek yet formal look.
4. Layered Pixie
With shorter layers at the crown and longer layers throughout, this cut can be easily customized to suit your facial features and hair type.
To experience the kick with this style, use a light-hold texturizing product to enhance the layers and release a natural movement.
What does it do? This pixie cut expertly adds depth and dimension to fine hair – thanks to its clever mix of lengths and layers.
Knowing this, a layered pixie style creates movement and gives the illusion of fuller, more voluminous hair – the total package for a refined look.
5. Asymmetrical Pixie
Did you know that celebrities like Rihanna and Miley Cyrus have rocked the asymmetrical pixie, showing its versatility and ability to complement various face shapes and hair types?
That's right – this daring and eye-catching style has been a go-to choice for trendsetters seeking an avant-garde look.
Go ahead and experiment with different partings and styling techniques to make the most of the asymmetrical look.
The asymmetrical pixie cut features hair that is shorter on one side and longer on the other, creating a unique and edgy look.
Better yet, this style looks great and makes your fine hair appear thicker by adding an element of contrast.
6. Choppy Pixie
The choppy pixie cut is another great option for fine hair.
This style features a mix of short and long layers that create movement and texture, giving the illusion of thicker hair.
More specifically, to style a choppy pixie cut, use a texturizing spray or wax to define the layers and create a lived-in, tousled look.
This low-maintenance cut is perfect for those who want a stylish look without spending too much time styling their hair each day.
Rachelle Edrozo recommends "tucking the bangs to see if your face looks good" without hair touching your shoulders.
To achieve a choppy pixie, ask your stylist to incorporate razor-cutting and point-cutting techniques for a textured finish.
Choppy layers in a pixie cut can create texture and add a playful, modern edge to your look.
More specifically, this style is perfect for you if you want to achieve a more lived-in, carefree appearance while still maintaining a sense of fullness in your fine hair.
7. Textured Pixie
To style your textured pixie, apply a texturizing spray or pomade to your damp hair and use your fingers to create the desired texture.
A textured pixie cut is great because it incorporates various cutting techniques to create a dynamic, multi-dimensional style.
Better yet, this cut type adds volume and body to fine hair, making it appear more voluminous and full.
8. Feminine Pixie
Celebrities like Anne Hathaway and Ginnifer Goodwin have showcased the elegant and versatile nature of the feminine pixie cut.
For those who prefer a softer, more delicate look, the feminine pixie cut features gentle layers and soft, wispy edges.
This style is perfect for adding a touch of romance and sophistication to fine hair.
To style a feminine pixie, use a lightweight styling product to smooth the hair and create soft, natural-looking waves.
9. Spiky Pixie
A spiky pixie cut is a bold, edgy style that features short, tousled layers with defined, spiky ends.
This edgy style works particularly well for those with straight or slightly wavy hair, as it adds dimension and makes fine hair appear fuller.
To create a spiky pixie, apply a strong-hold styling product to your fingertips and work it through your hair, focusing on the ends for a defined spiky finish.
Maintaining Volume in Your Pixie Cut
Expert Rachelle says that "Big Sexy Hair Root Boost is a must-have for a short pixie cut. It looks best to have height when the hair is short. [3]"
She also emphasizes the importance of maintenance, advising that "you need to reschedule a haircut in 4-6 weeks, so your hair doesn't go flat on top".
What's next? To keep your pixie cut looking fresh and voluminous, follow these expert tips and enjoy a stunning hairstyle that lasts!
Want more nifty ideas? Get ready to jump into this video:
FAQs
1. What is the best pixie cut for fine hair?
A layered pixie cut is ideal for fine hair, as it adds depth and dimension, creating the illusion of fuller, more voluminous hair.
With various lengths and layers, this style can be easily customized to suit your facial features and hair type.
2. Can I pull off a pixie cut with thin hair?
Absolutely! The key to rocking a pixie cut with thin hair is choosing the right style for your hair type and face shape.
Many pixie cuts, like the layered or textured pixie, can make fine hair appear thicker and more voluminous.
3. How do I style a pixie cut for fine hair?
To style a pixie cut for fine hair, use lightweight styling products like texturizing sprays, volumizing mousses, and salt sprays to enhance your natural texture and create the appearance of fuller, more voluminous hair without weighing it down.
4. How often should I get my pixie cut trimmed?
It's generally recommended to get your pixie cut trimmed every 4-6 weeks to maintain its shape and style.
However, this can vary depending on your hair growth rate and the specific pixie style you have chosen.
Conclusion
What they say is true: pixie cuts for fine hair is simply great – if not amazing!
Pixie cuts are an excellent choice for those with fine hair looking to add volume, texture, and style to their look.
With various styles like the layered pixie, textured pixie, and feminine pixie, there's a cut to suit everyone's taste and hair type.
Remember, confidence and attitude are key to rocking any pixie cut.
In addition, don't forget to explore various pixie cut styles like the choppy and asymmetrical pixie cuts, as they also offer excellent choices for those with fine hair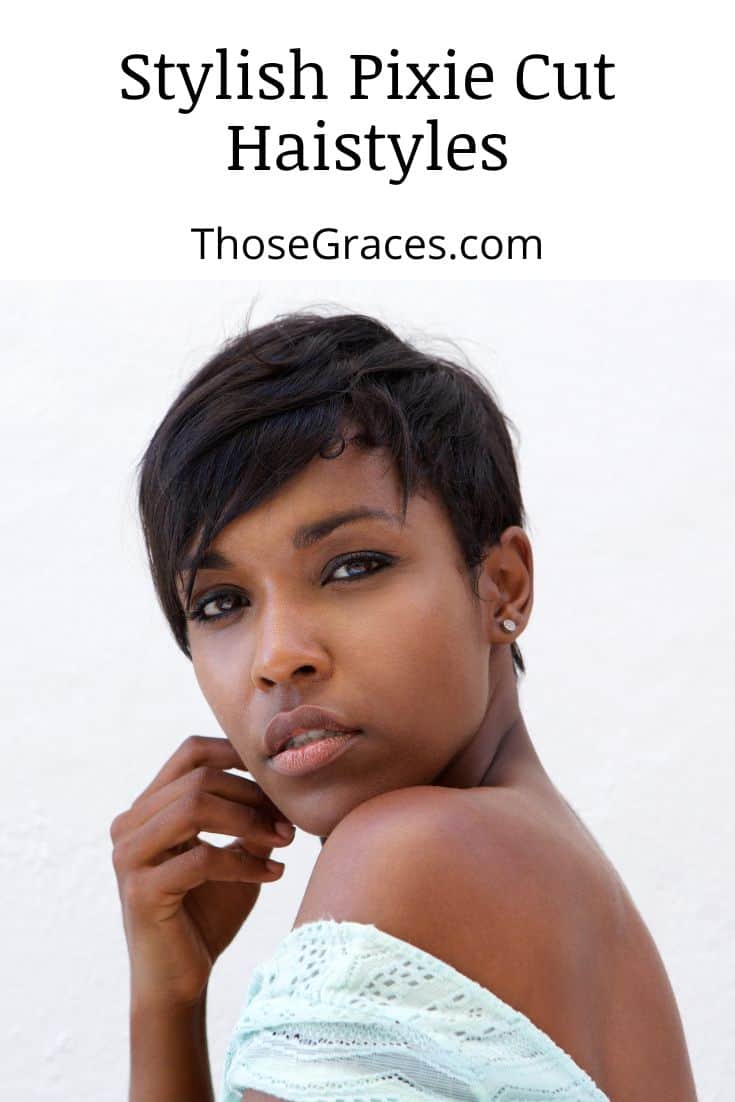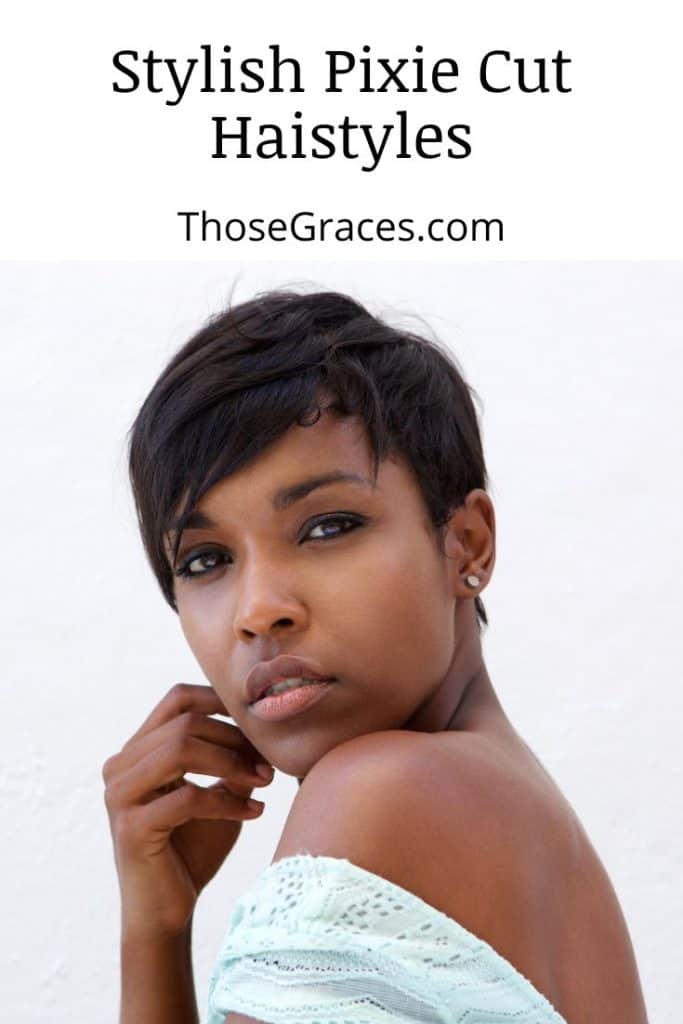 Resources
1. 3 Hairstyles And Cuts To Make You Look Younger, From A Pro | Hair.com By L'Oréal [Internet]. NGLORA. [cited 2023 May 8]. Available from: https://www.hair.com/hairstyles-to-look-younger.html
2. Rekstis E. Short Hairstyles That Will Stun You [Internet]. The List. 2017 [cited 2023 May 8]. Available from: https://www.thelist.com/19249/14-short-hairstyles-stun/