Hey there, gorgeous! Today, I'm going to talk about how to use a blow dryer diffuser like a pro.
If you're tired of struggling with your hair dryer and want to achieve salon-worthy hair at home, you've come to the right place.
Trust me, with the right technique, you can achieve defined curls, bouncy waves, and voluminous locks without leaving your bathroom.
As a hair stylist, I've seen firsthand the difference a good diffuser can make, and I'm excited to share my tips with you. So grab your hair dryer, and let's get started!
Key Takeaways:
The diffuser is an effective hair dryer attachment for curly heads of hair.
A diffuser spreads the heat all over the hair for a faster dry time. However, leave some drying for natural air drying.
The diffuser also works for straight hair. It can add more shape and definition to straight hair.
6 Simple Steps in Using A Hair Dryer Diffuser
Curly hair types, when flawlessly styled, are marvelous to look at. That could explain the recent resurgence of the curls (1).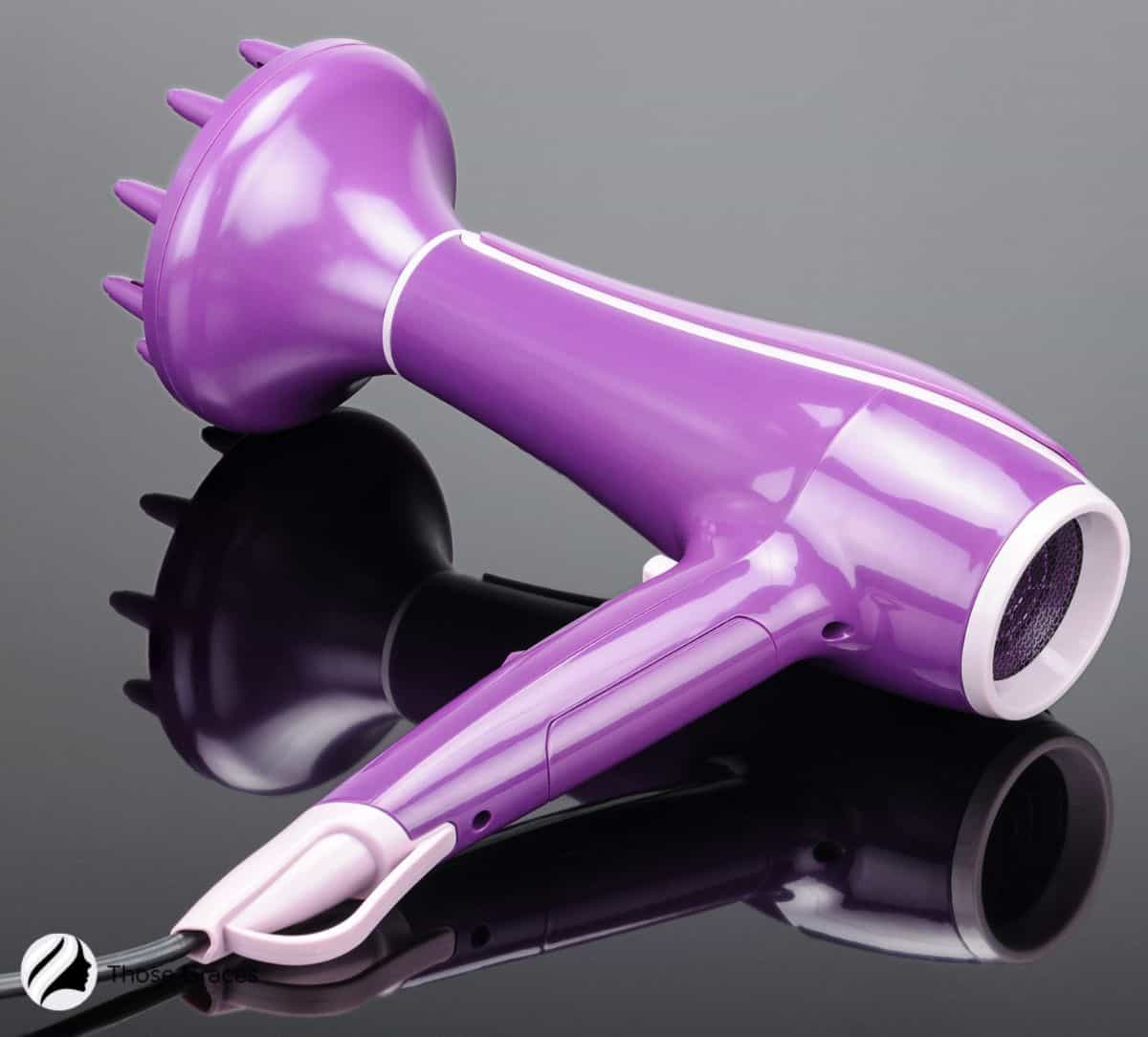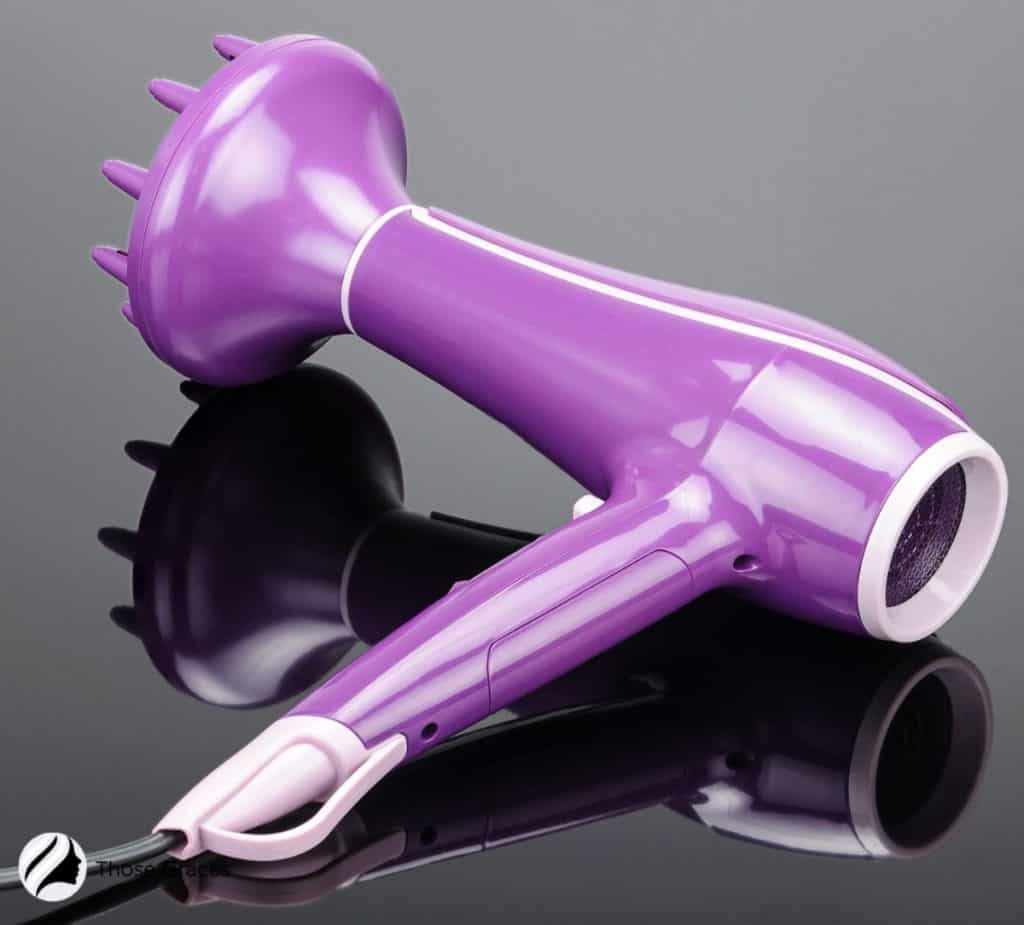 Often looked down upon, this 'unruly hair type' has taken 2022 by storm.
It can be one of the most unpredictable hair types. Could a tool as simple as a hair dryer diffuser have played a role in that recent resurgence? Maybe.
Diffuser attachments prevent your favorite hair dryer from blowing direct heat onto your hair and make it easier to dry heavily textured hair.
So, how do you use a blow dryer diffuser to transform your damp curls into a look everyone envies?
Here is how:
Step 1: Clean and Condition Your Hair First
Before picking up your favorite diffuser, make sure you have clean, wet hair. That's the best preparation for the diffuser to work.
You can simply wet your hair with water or leave-in conditioner if you don't want to wash it.
Step 2: Dry the Hair with a Microfiber Towel
Furiously rubbing wet, curly hair with a terry cloth towel will create more static, a recipe for frizzy hair.
Instead, wrap the hair with a microfiber towel so it dries slowly. Like in this video:
That eliminates excess water and preps your hair for the diffuser.
Step 3: Use Styling Products to Fight Frizz
Curly hair products such as mousse will help add extra volume and tame frizz. Divide your hair into sections, then apply the wavy hair product to each section.
Dividing it into various sections of hair helps make it easier for you to apply the product.
Styling products will help protect your hair from heat damage. Your hair isn't heat resistant, so it is best to use a heat protectant.
Step 4: Enter the Hair Diffuser!
Attach the diffuser to your blow dryer and turn it on in the medium heat setting.
Divide your hair into sections and move the diffuser over each section of the hair as if gently massaging it.
Start from the hair shafts and work your way down to the base. For curly hair types, place the diffuser under the curls while pushing the hair up. That helps make bouncy curls.
The diffuser produces heat that penetrates all the sections to dry hair. Working in sections may be slow, but it is key to ensuring the diffuser produces natural curls.
Step 5: Use Diffuser Nubs For Voluminous Hair
The diffuser nubs can help add some major volume to your hair. Just use the nubs to massage your scalp and add some extra volume.
Step 6: Apply Some Serum for a Sleek Finish
For the finishing touch to your 'unruly hair', apply serum to add some shine. A lightweight serum will help you deal with the flyaways in addition to adding shine.
Also, you can use hair spray to keep the look firmly in place. You will have given your curls maximum definition and will be ready to turn heads!
For a closer look at how to diffuse hair, check this video:
3 Tips for Using a Hair Diffuser
The hair diffuser is a useful blow dryer attachment for dealing with wavy hair and maintaining the natural texture of your hair.
With the right heat settings, you can speed up the drying process for your curls. There are some things to remember when using the styling tool, though.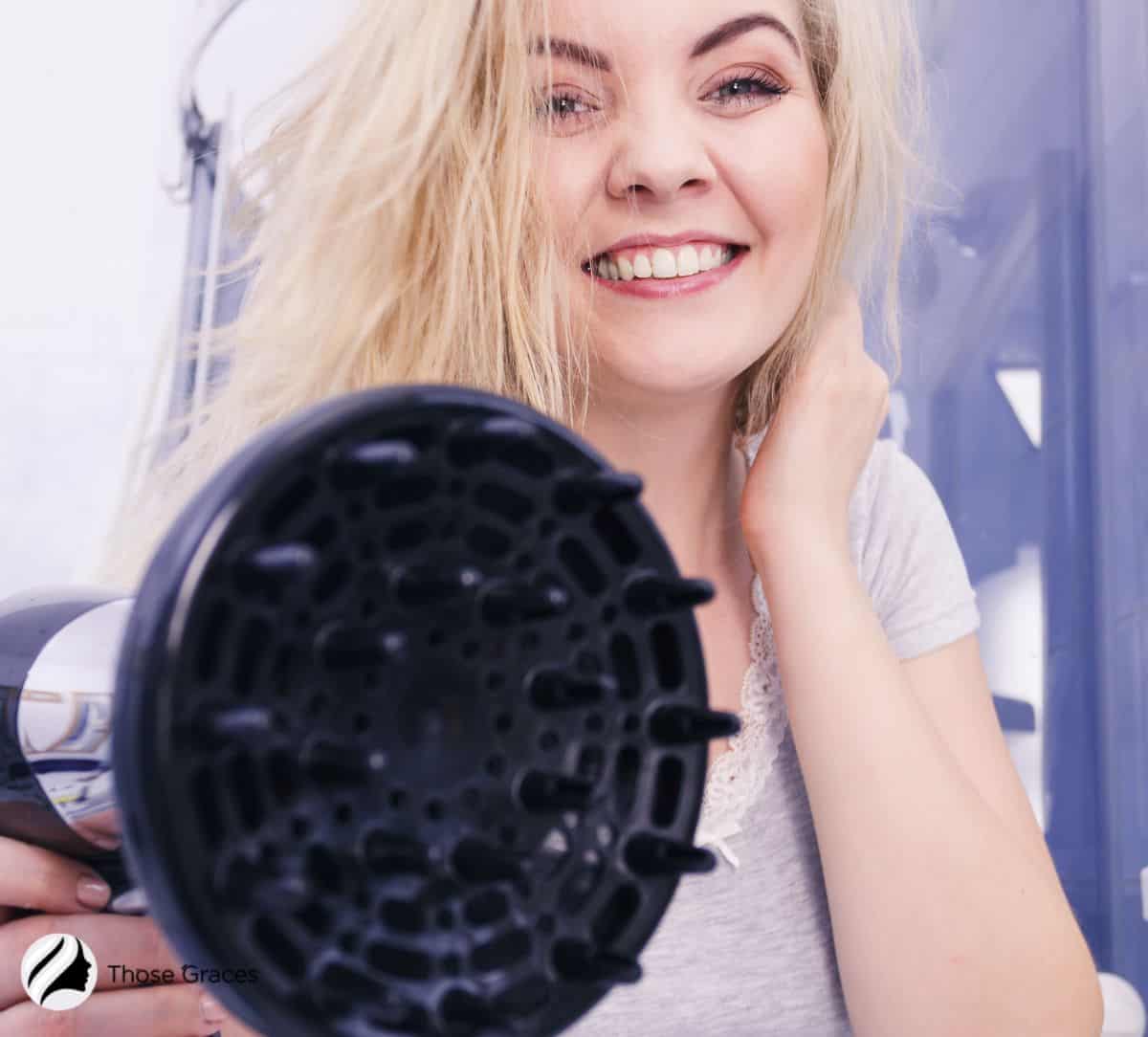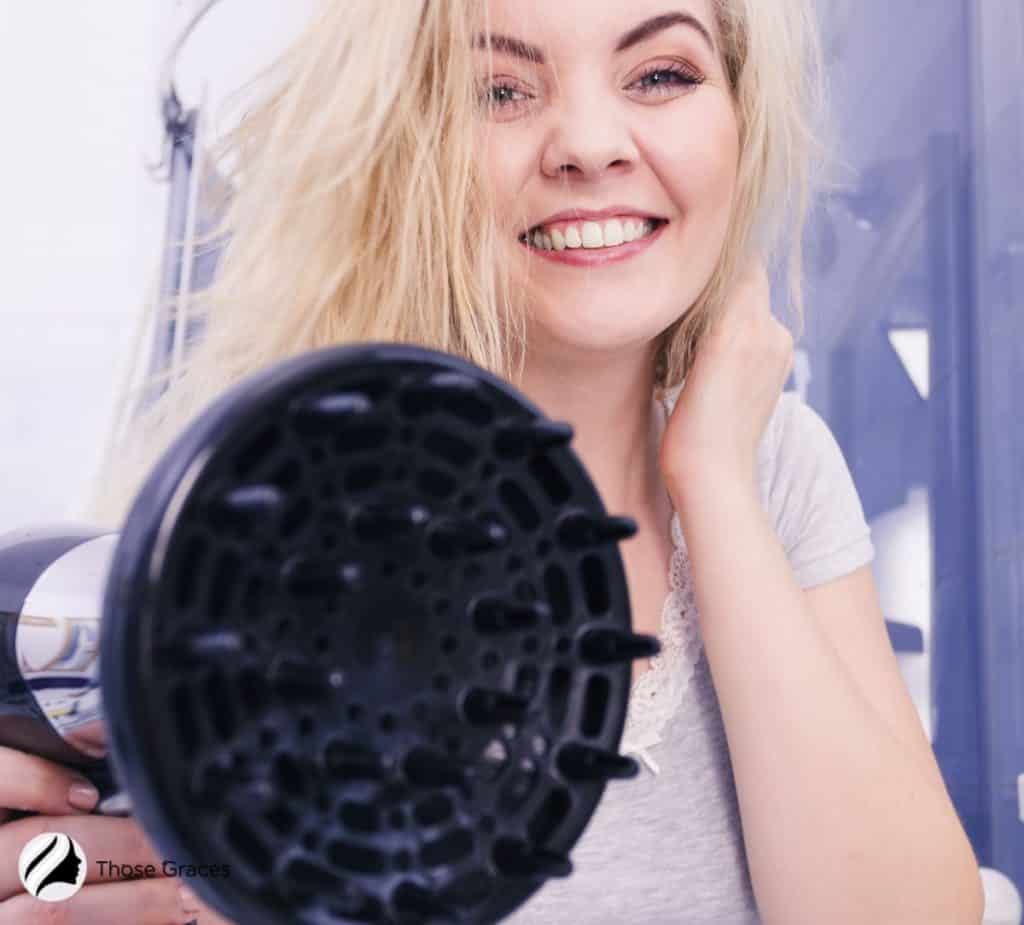 1. Avoid Touching Your Hair During the Drying Process
To avoid disturbing the bouncy look of your hair, don't touch your hair with your hands until after it's dry.
Touching the loose curls could damage them before you can flaunt them.
2. Use a Styling Brush to Fine Tune Your Style
After curl formation, you might think your job is done. However, swapping the diffuser for a concentrator nozzle ensures sleek ends.
A round brush attachment will also help you fine-tune the curls for the perfect look.
3. Allow Some Air Drying
Use the hair drying until when your hair is almost dry. Once you think your hair is almost dry, allow air drying to enhance its volume.
Check out 'How to blow dry layers' for styling tips, and read 'Does blow drying hair with cold air damage it?' for healthier haircare practices.
FAQS
1. Can I use a hair diffuser on straight hair?
Though hair diffusers work best for curly patterns, you can still use them for straight hair.
2. Why is a hair diffuser better than traditional blow dryer attachments?
The diffuser as a styling product is best since it doesn't concentrate heat in one area of your head. Rather, it spreads the heat.
Conclusion
And that's how you use a blow dryer diffuser! Turning the styling attachment on your damp curls is one of the easiest methods of styling.
You only have to follow the steps I have outlined here for stunning and well-defined natural waves.
if your unruly hair is always giving you bad hair days, perhaps it's time to give the diffuser and hair dryer a try.
Let us know how it goes in the comments below.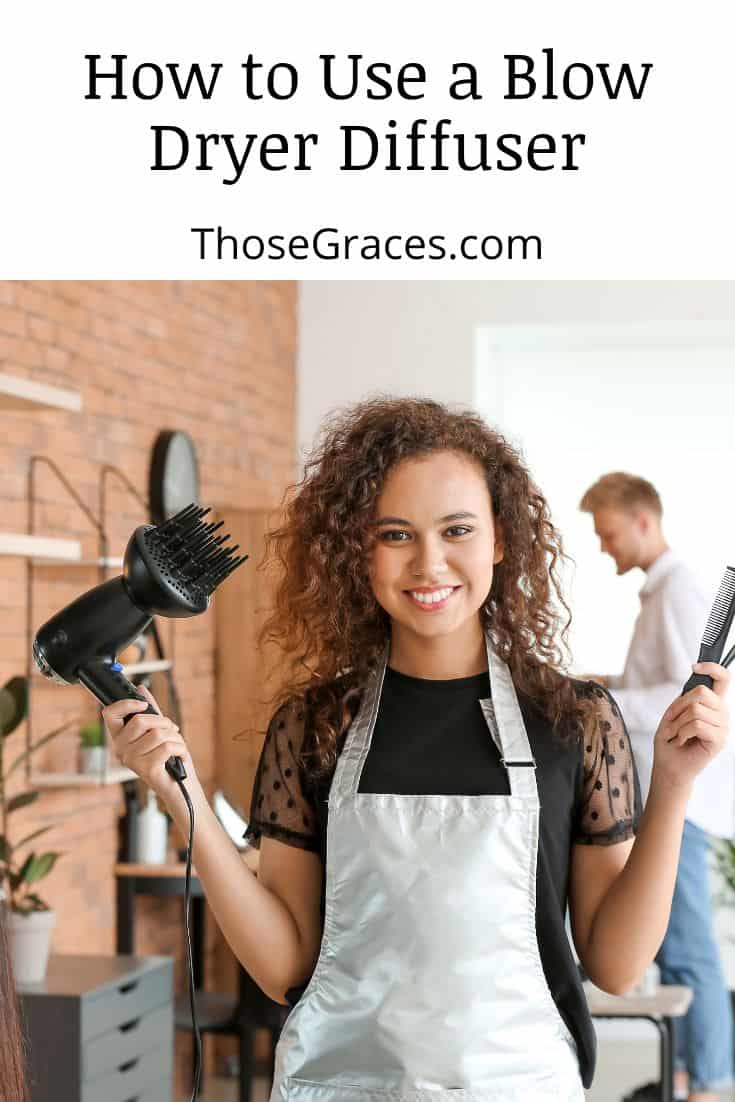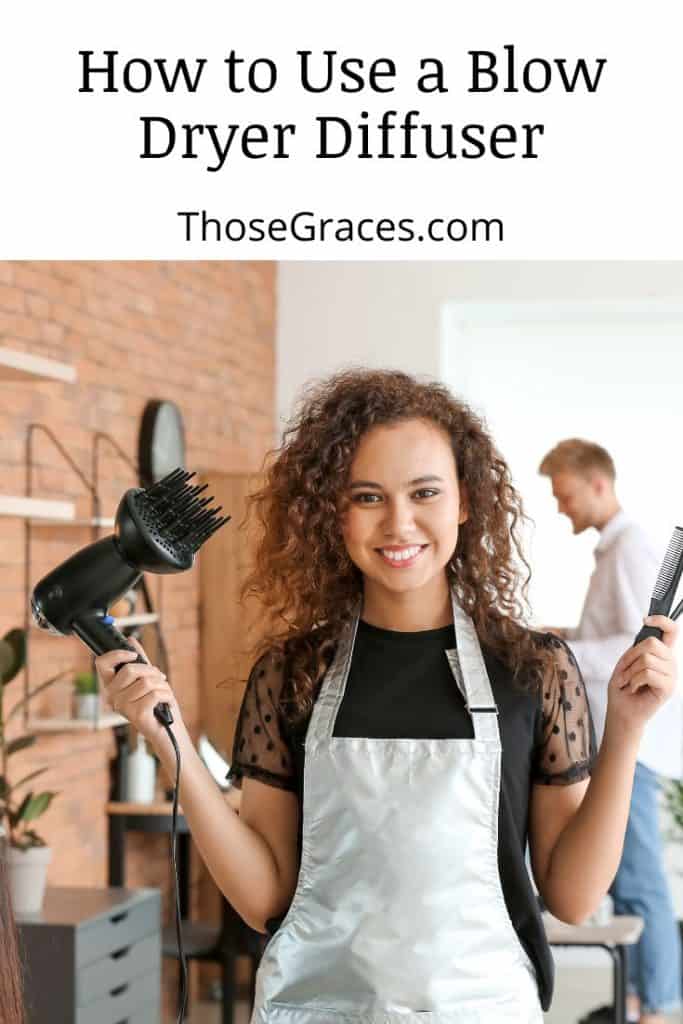 Resources
1. Curly hair makes a comeback: How the pandemic has led women to embrace their natural texture [Internet]. The National. 2021 [cited 2021 Nov 16]. Available from: https://www.thenationalnews.com/lifestyle/wellbeing/curly-hair-makes-a-comeback-how-the-pandemic-has-led-women-to-embrace-their-natural-texture-1.1197439
2. How to Use a Diffuser for Perfectly Defined, Frizz-Free Curls at Home [Internet]. Oprah.com. [cited 2023 May 11]. Available from: https://www.oprah.com/fashion_and_beauty/how-to-use-a-hair-diffuser-on-curls-and-waves