Are you tired of struggling to blow dry your layered hair and not achieving the desired results?
As a professional hairstylist, I'm excited to share my tips on achieving a salon-quality blowout.
Blow drying your hair may seem simple, but several techniques exist to get the perfect finish.
By the end of this guide, I bet you'll be a pro at creating flawless hairstyles.
Key Takeaways
To style layers with a blow dryer, air-dry your hair until it's 80% dry before using a dryer with high airspeed and a medium heat setting.
Separate your hair into sections and dry the lower layers first. Use a brush to smooth the hair and point the nozzle downwards to add shine.
Add a finishing product to tame flyaways and set curls in a cold air setting.
How Do I Style My Layers With a Blow Dryer?
You'll need to follow a few steps to style your layers with a blow dryer. Let's check them out.
Step 1: Pre-Drying & Sectioning
It sounds counterproductive, but always begin by air-drying your wet hair. Your hair should be 80% dry. If you have naturally dry hair, damaged hair, or a color-treated hair type, use hair treatments like a heat damage serum.
Once that's done, take a dryer to blow dry your hair. You need to have the airspeed on high and the heat on a medium setting.
Then, use a clip to secure your hair on your crown.
While applying more heat, I use a brush to dry the lower layers. Add some shine and smoothen out your hair by pointing your dryer's nozzle downwards.
Step 2: Drying Your Top Layers
Since the lower layers are now dry, use the same clip to hold them back.
You can create wavy or curly hair by twisting and clipping these layers and forming a bun. But if that isn't your vibe, you can get a blow-dry straight hairstyle.
To give maximum volume, blow-dry the top section. Point the dryer towards the roots while continually moving along the hair shaft.
With your other hand, grab your hair and pull it out, and forward by using a brush.
Step 3: Form Your Ends & Finishing
To curl your ends, use the round brush to roll the ends under while blowing heat. Use cold air to set the curls.
If you want straight ends, use the brush to pull the ends while applying heat. Once again, I suggest blowing some cold air to set it.
I usually use a hair spray with mist or styling cream to tame the stray hairs. Works like magic! Try it out yourself.
To give you a better idea, here's a video tutorial by famous YouTuber and stylist Brad Mondo.
How To Blow Dry Different Lengths of Layered Hair With a Hair Dryer and a Brush
How hard can it be to dry hair, right? Pretty hard! If you follow the wrong technique, it could be sayonara to your dear, healthy hair.
The popular stylist responsible for the looks worn by celebs like Miley Cyrus, Laurent Philippon famously says you should "use a bristle brush to blow-dry your hair.
Do it in sections—you can even take big sections depending on the style you're going for—straight or wavy."
How To Blow Dry Short-Layered Hair
Let's go step-by-step and learn the best technique for blow-drying short layered locks.
Step 1: Sectioning
Section your hair into 4 equal parts by using a comb. Two sections must be situated at the back, from one ear to another.
The other two must be above your ears towards the front. Use clips to secure each section.
Step 2: Drying
I always begin by drying the two sections at the back. While I tightly hold the brush against my scalp, I comb through the layers using a brush.
Step 3: Crown Lifting
Lift your hair with a round brush. That will further help you dry the crown. Once you're done with that, redirect the layers upwards.
Unlock the secret to abundant volume in short hair with this method!
What also immensely helped me was this quick YouTube tutorial by Styles By Summeron on how to blow dry short layered hair:
How To Blow-Dry Medium Layered Hair
Now let's look at how to do it with medium-length locks.
Step 1: Sectioning
Based on the volume of your medium-length layered hairstyle, section your hair into 3 or more parts.
What I find effective is starting by making sections near my hairline on the front.
Step 2: Blow-Drying
You must dry every section while brushing each layer, from the root to the hair ends.
As you blow-dry your medium-length hair on medium heat, lift it up and away to add more volume.
Step 3: Finishing
I find this step to be very beneficial for keeping my hair healthy and strong.
Near and around the roots, apply a mild dry shampoo. That will help in maintaining your hair.
You can also follow an easy YouTube tutorial video on how to blow-dry your medium-layered hair by Christine Le:
How To Blow Dry Long-Layered Hair
Last but far from least, here's what you need to know about drying long layers.
Step 1: Begin With Damp Hair
Blow-drying a super wet long layered hairstyle would be a pain. It would take you forever!
Air dry for a while and work with damp hair instead.
Just avoid letting your hair dry out completely before you reach the blow-drying stage. It's torturing for your locks to do it on bone-dry hair, honey!
Step 2: Sectioning
Sectioning long hair depends on the thickness of your hair. But, generally, you section your hair into two parts: right and left.
Right after that, form layers of these sections while clipping most. You can choose to leave a few of the layers freely hanging.
Step 3: Blow-Drying
Position the round brush on the underside of your hair, near the nape of your neck. While blow-drying from the opposite side, use the round brush to wrap around your hair.
Steadily move the blow dryer and the brush along the shaft, as is perfectly portrayed by Youtuber Ms. Laris Beauty in her tutorial video:
Things To Consider When You Blow-Dry Layered Hair
By now, you know perfectly how to blow dry layered hair. But before you run off to start styling, here are a few things to keep in mind:
Items Needed: Styling Products
Blow Dryer with concentrator nozzle or attachment nozzle.
Barrel brush/ Boar Bristle Brushes that are heat-retaining.
Non-aggressive heat protectant.
Hair clips or hair ties.
Wide-Tooth Comb or Detangling brush.
Time
Honestly, I would say blow-drying time depends on the volume of your hair. So based on that, a beautiful blowout may take some time.
When
To get the best out of it, I would advise you to blow-dry your hair after getting a hair trim or haircut. Doing so adds the finishing touches and helps you look your best.
Explore 'how to blow dry African American hair' for tailored advice, and learn 'how to make curly hair grow down instead of out' for taming voluminous curls.
FAQs
How to get a big volume in layered hair?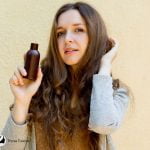 Shampoo and dry it with a towel to add extra volume to your layered hair.
Next, apply some volumizing foam to your hair. This will give you the extra volume you want.
How do I section my hair for blow-drying?
Divide your hair into the center and clip the top half to get straight ends. Then, split the bottom half into two sections. For curled ends, use a curling iron to section your hair.
Remember that the size of the barrel matters for curls.
Conclusion
Achieving a perfect blowout is not as difficult with these tips on how to blow dry layered hair.
It's important to start by air-drying your hair, then use the right techniques and tools.
Dry the lower layers first and use a cold air setting. Different lengths of hair require different techniques.
By following these simple steps, you'll be able to achieve a wonderful blowout at home and feel confident with your flawless hairstyle.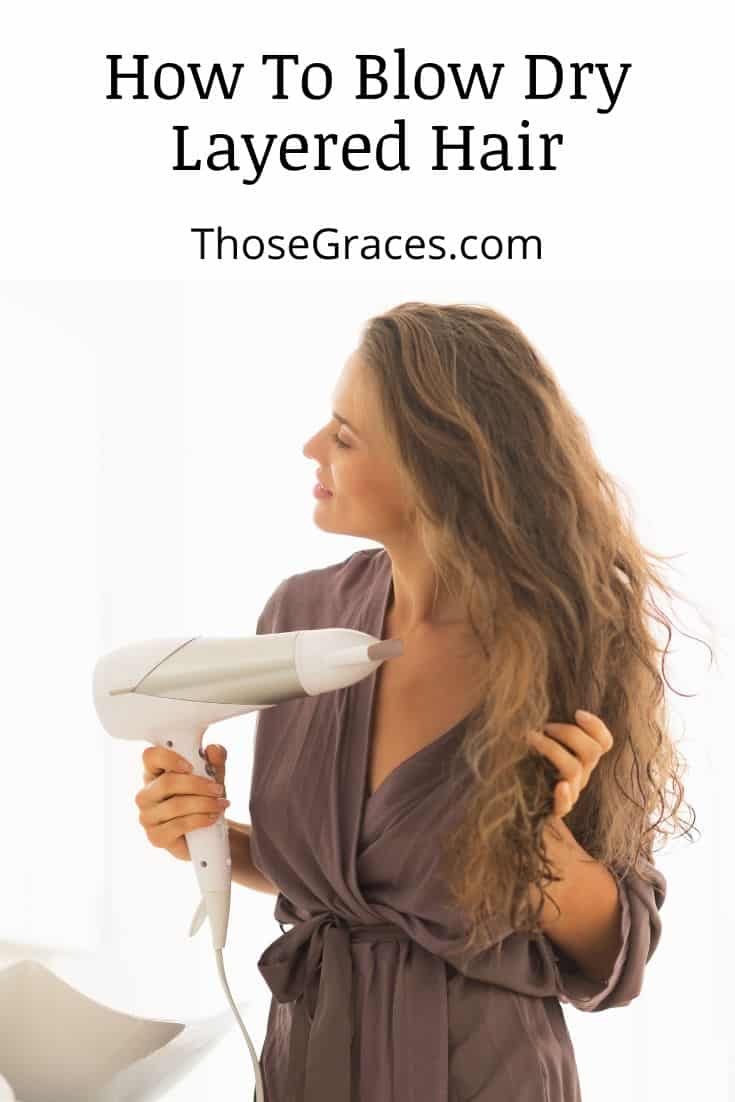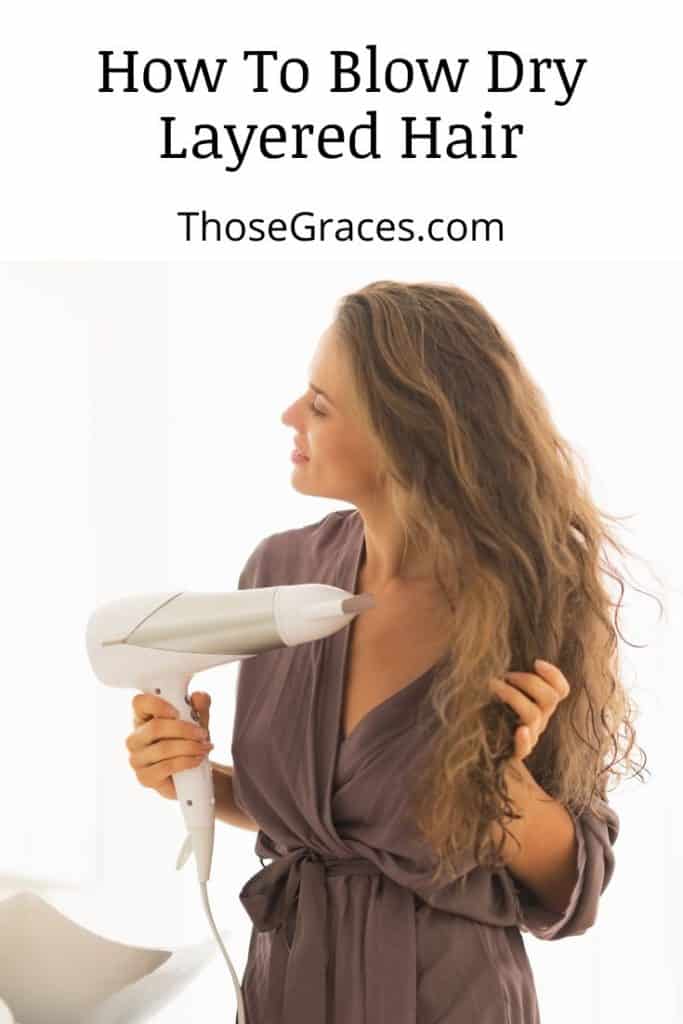 References
Sneha Mankani. 2018. "An International Celebrity Hairstylist on Doing the Perfect Blow-Dry at Home." Vogue India. Vogue India. June 7, 2018. https://www.vogue.in/content/how-to-do-the-perfect-blow-dry-at-home-tips-from-a-celebrity-hairstylist.