Learn how to blow-dry African American hair with a complete process breakdown in males. I'll even throw in a few personal tips for the perfect blowout as a hair specialist.
Blow-drying black hair can be tricky, but you can achieve excellent results with the proper technique and products.
Key Takeaways
Make sure to use a high-quality blow dryer, a sturdy comb with fine teeth, and a heat protectant to reduce the risk of heat damage.
Use a mild shampoo to cleanse your scalp, avoid sulfate-based shampoos, and apply deep conditioners to moisturize and freshen dry hair strands.
Remember to be gentle when drying your hair and avoid vigorously scrubbing it with a towel to prevent hair breakage.
What You Need For Blow-Drying Black Men's Hair
A perfect blowout for black hair may seem hard to achieve, but if you are prepared with a comb, the best blow-dryer, and a heat protectant, you'll get it right!
So, here's more on what you need to maintain and blow-dry your textured hair properly.
1. Using a Reliable Hairdryer
No matter your hair type, you will need a good-quality blow-dryer.
Choose a blow-dryer with high wattage — but not so high that it can cause heat damage, even with a heat protectant.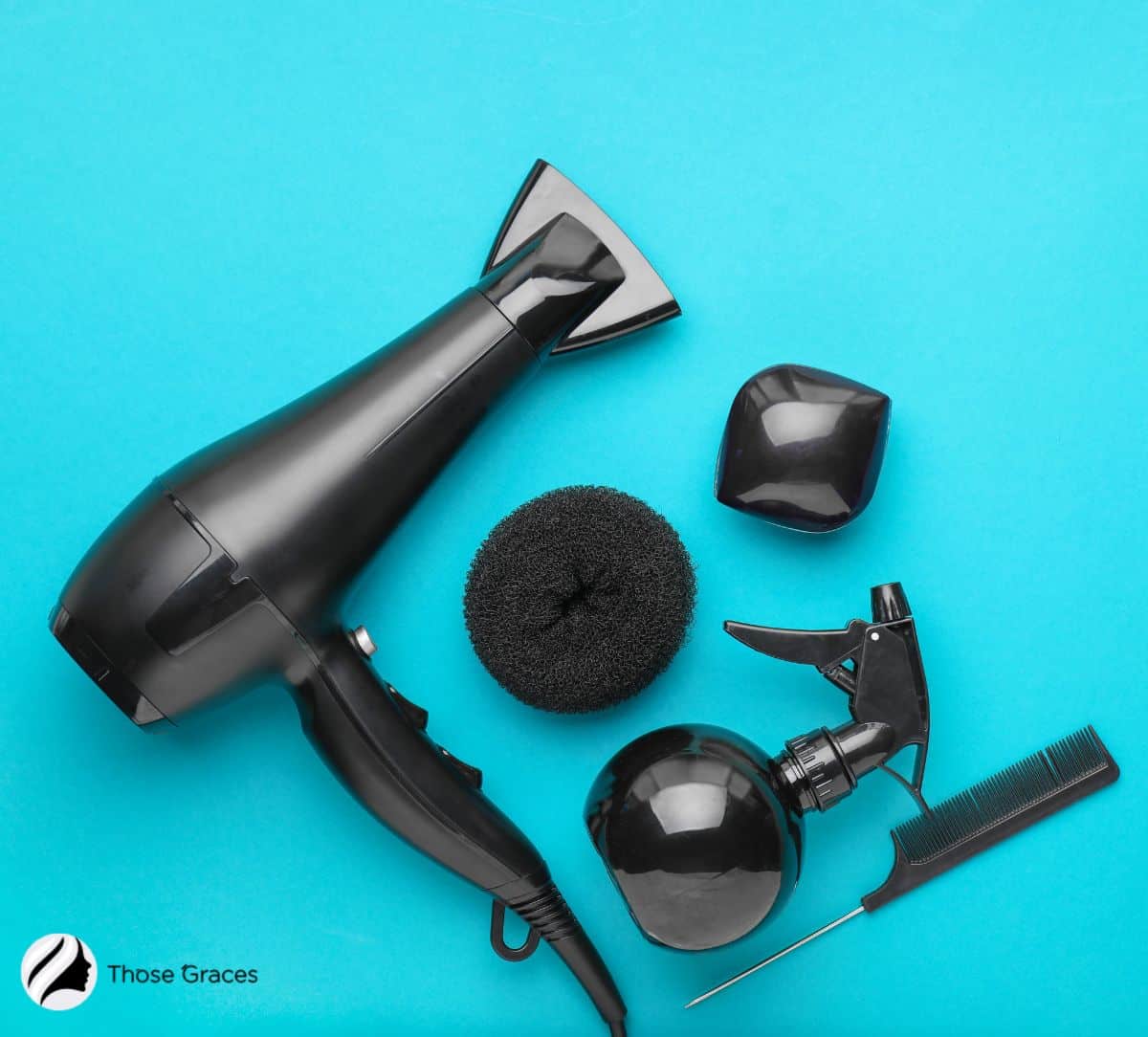 You'll also find it easier if you have a hairdryer with a nozzle or comb attachment for the concentration of heat to only be in a narrow area.
EXPERT TIP: Using the blow dryer on damp hair is best. Dripping wet hair is more vulnerable to hotness, which can cause your hair to overheat.
2. Choosing a Sturdy Comb
African hair is often thick and tangled, so you'll need something to weed out those tight knots.
I recommend using a comb. Those with fine teeth are better and more effective in detangling hair knots from the hair shaft.
An afro comb [1] is the best, but any comb will do.
You can also consider using a wide-toothed comb. But you'd have to use your fingers to help.
EXPERT TIP: If you have weak hair, invest in a high-quality comb to avoid the risk of breaking your hair.
Here's a video discussing the correct way of picking your textured hair without breaking it:
3. Complementing It With a Heat Protectant
Last but not least, is to complement the blow-drying process by using a heat protectant to keep your hair from overheating or absorbing excessive heat.
With a heat protectant, the risk of hair heat damage is reduced because of less heat exposure.
In my experience, heat protectants even enhance and develop my hair's glow and color.
Other afro hair products include moisturizers, cleansing conditioners, hair gel, hair masks, and many more!
Now that you know what to use let me give you complete and intricate step-by-step instructions on how to blow-dry African American hair in males.
How To Blow-Dry African American Men's Hair? [Complete Guide]
Unleash the beauty and finesse of your blowout hair by learning the correct way!
Follow these blow-drying steps to keep the astonishing look of your crown while maintaining hair health!
Step 1: Wash Your Hair
Before doing anything, make sure that your hair is clean and fresh.
Wash your hair using a mild shampoo, but ensure it can thoroughly cleanse your hair.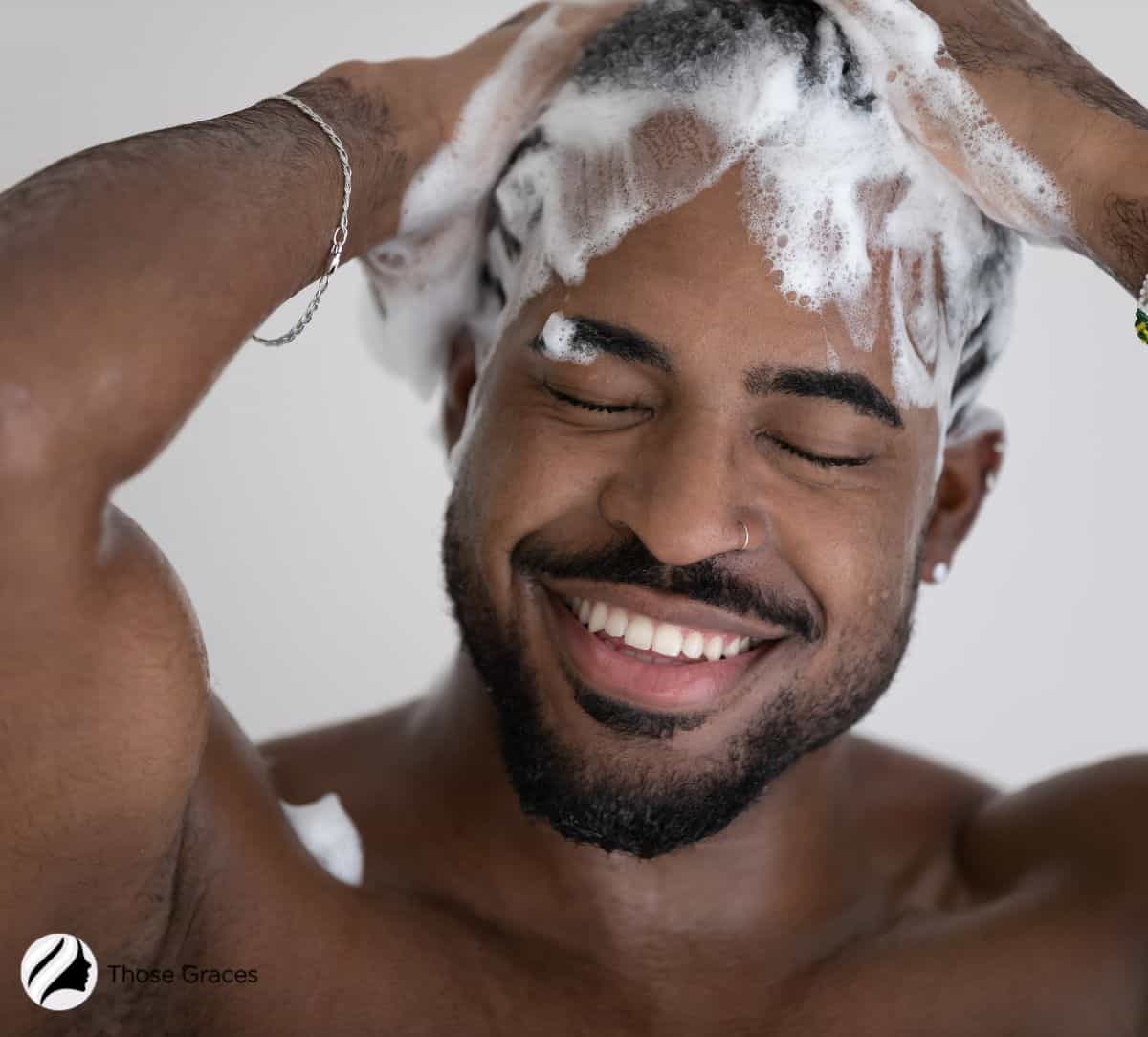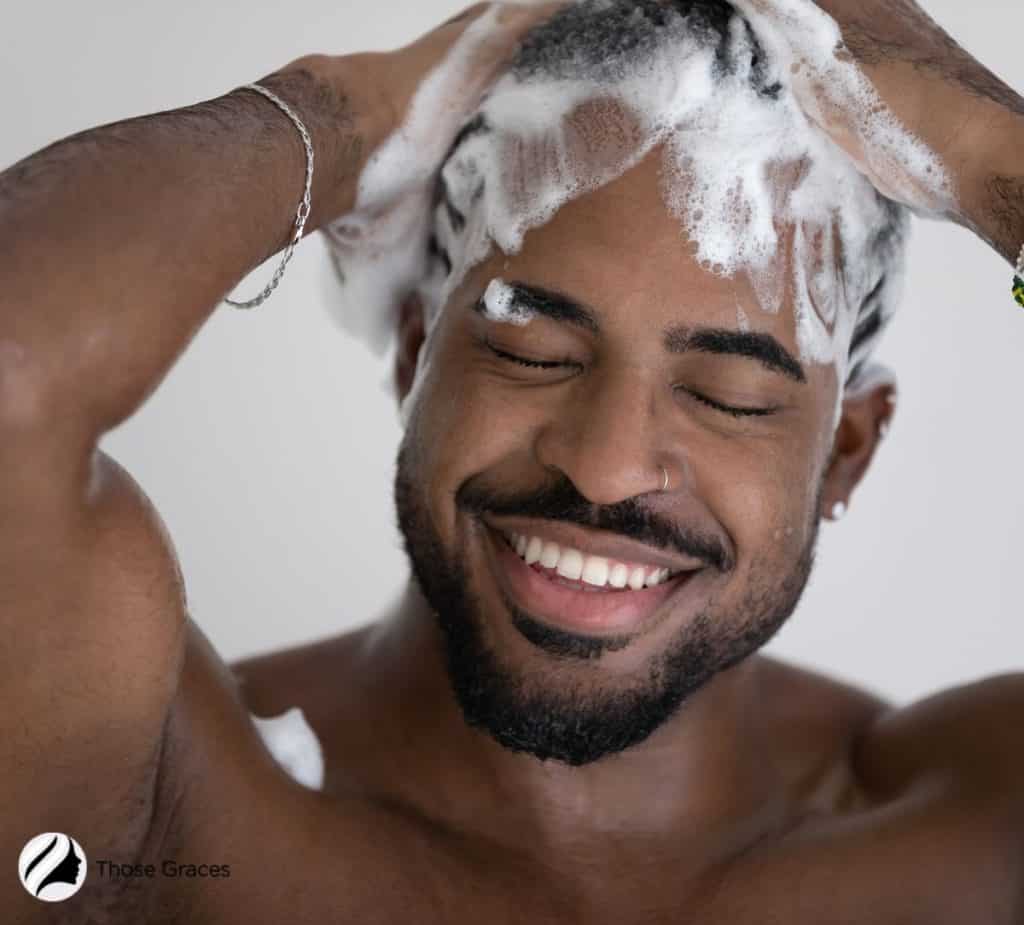 Focus on the scalp here. That's where most of the oil buildup is. Keep your shampoo away from the hair ends since natural hair is already pretty dry.
That happens because afro-textured hair doesn't allow the natural oils from the scalp to spread across its natural curls as straight hair does.
Also, as much as you can, avoid using sulfate-based shampoos every time you wash your hair.
Although sulfate-based shampoos effectively clean your hair, they're too strong. They're harsh hair products that cause afro hair damage since they contain harmful chemicals.
You can use dry shampoo to clean your hair. They create a fantastic volume. Ensure you wash and scrub your hair correctly because dry shampoo can leave buildup on your strands.
Step 2: Apply Deep Conditioners to Your Hair
After rinsing, it's time for deep conditioning treatments. Afro hair is typically drier.
So it would be best to cushion the blow by applying an afro hair conditioner to moisturize and freshen dry hair strands.
Deep conditioner is helpful for hair that has been bleached, colored, permed, or damaged. It can also help protect against damage from heat-styling tools.
Then rinse it out and apply a leave-in conditioner and oil to keep your hair hydrated.
Pour those hair styling products on your palm the size of a pea, then spread them out to your fingertips or use a wide-tooth comb. Carefully rake it through your hair ends.
Remember how the scalp is greasier? Your ends are the opposite. They need that hydration for softer hair.
Let it sit for about 15 to 60 minutes.
EXPERT TIP: For hair oils, you can use coconut oil, almond oil, jojoba oil, or any other type of oil that can moisturize your dry hair.
Step 3: Pat Your Hair Dry
Your goal is not to completely dry your hair but to dampen it. You want to remove dripping water from your hair by patting it dry.
Use a clean towel and gently pat on your hair strands, making the towel absorb excess water from your head.
Do this until your hair feels wet, but not to the point that the water is dripping.
EXPERT TIP: Avoid vigorously scrubbing your hair with a towel. Your hair follicles are weaker when wet, and scrubbing it hard with a towel can make your hair curly or lead to hair loss.
Step 4: Use a Comb and Detangle Your Hair
The next thing you want to do is detangle your hair using a comb. Carefully comb through the curly hair to break all the tangles and knots.
Natural hair isn't supposed to be detangled from the scalp. You need to start from the bottom and work your way up.
Imagine a braid. It will become tighter if you try to remove it from the scalp. But if you pull the strands apart from the bottom, they will easily unravel!
That's how black hair works.
Check this out in this video:
Step 5: Apply Your Heat Protectant
Then, the next step is to apply a heat protectant to your hair. Pour a nickel-sized heat protectant portion on each side of your head.
To spread the product evenly onto the hair, separate the hair into different sections and apply the heat protectant on each of them.
Remember not to apply the product directly on the scalp.
Step 6: Blow-Dry Your Hair
When the heat protectant is applied, the final step is to blow-dry the hair.
Set the dryer to medium heat.
Ensure you're blow-drying at least 15 cm away from the head. [2]
Use a pick or comb attachment or an afro pick. Both will work the same way. You need to pick the hair out while drying it.
Start at the roots on the back of your head, working your way to the ends of your hair.
Repeat this method until all sections are dry and smooth.
And that's one bit of the afro hair care you need to learn to maintain healthy hair!
Don't miss our guide on 'how long can a blow dryer stay on' to ensure safe and effective styling practices.
FAQs
If you have more questions about blow-drying African-American hair, here are a few of the most asked questions.
What Should Be Used Before Blow-Drying the Hair?
In an afro hair routine, a heat protectant must be applied to the hair to protect it from damage.
You can also use afro hair products like afro combs, moisturizing shampoo, hair mousse, and others to enhance the quality of your hair.
How Hot Should Your Hair Dryer Be?
The ideal hairdryer temperature would be between 80 and 140 °F (27 to 60 °C). Over this range will cause hair breakage because it exceeds the temperature hair can handle.
Conclusion
Don't fall for generic guides on blow-drying African American hair in males. They don't consider the intricacies of your natural hair.
This guide has all the secrets to keeping your hair healthy.
Use a high-quality blow dryer with a comb attachment or a sturdy comb with fine teeth to pick hair.
Complement the blow-drying process with a heat protectant to prevent hair heat damage.
Use a deep conditioner to moisturize dry hair strands and a leave-in conditioner and hair oil to hydrate and soften hair.
Pat hair dry with a clean towel to make it damp before blow-drying. By following my detailed tips on dealing with African hair, you can achieve a fantastic blowout on African American hair.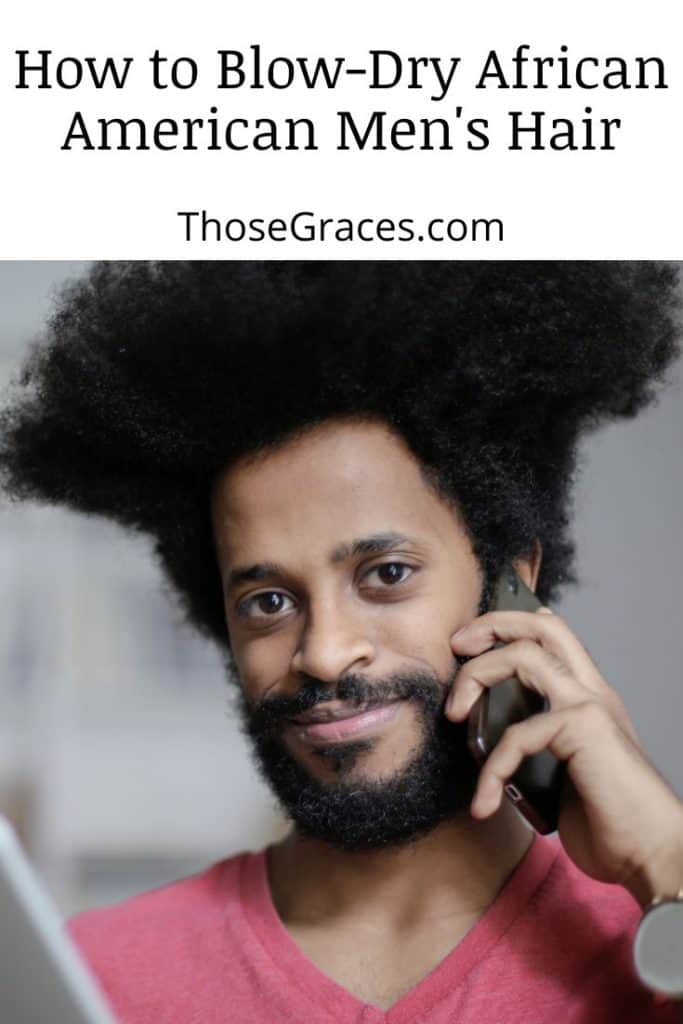 Resources:
1. Coote J. Origins of the Afro Comb: 6,000 Years of Culture, Politics, and Identity: The Fitzwilliam Museum University of Cambridge July 2–November 3, 2013. African Arts. 2017;50:80–2
2. Lee Y, Kim Y-D, Hyun H-J, Pi L, Jin X, Lee W-S. Hair Shaft Damage from Heat and Drying Time of Hair Dryer. Annals of Dermatology. 2011;23:455.