Looking to invest in non-comedogenic makeup in 2023 but unsure where to start? Look no further!
As a seasoned beauty expert, I understand the struggles that come with finding makeup products that won't clog pores and cause breakouts.
That's why I've done the research and compiled a list of the best non-comedogenic foundations, concealers, blushes, and highlight/contour products to help you easily achieve flawless-looking skin.
Keep reading to discover my top 5 expert recommendations, and get ready to say goodbye to your makeup woes!
This post contains affiliate links. We earn a commission if you purchase after clicking on our links.
Key Takeaways
Non-comedogenic makeup can be a game-changer for those who struggle with acne-prone skin.
Look for ingredients like salicylic acid and zinc oxide to help prevent breakouts.
Always patch-test new products and consult a dermatologist if you have persistent skin issues.
Don't have time to read the full review? Check out this table for the comparison of my faves:
TOP BENEFIT
High-quality, versatile foundation
Hydrating, creamy formula
TOP BENEFIT
High-quality, versatile foundation
TOP BENEFIT
Hydrating, creamy formula
Top 5 Non-Comedogenic Makeup Products: A Full Face That Won't Block Your Pores
If you're looking for a full face of makeup that won't clog your pores, check out my personal favorites:
I'm excited to report this true gem in the beauty world – Bellapierre Loose Powder Mineral Foundation SPF 15.
This revolutionary foundation is cruelty-free and vegan and packs a 5-in-1 punch as a concealer, foundation, SPF 15 sunscreen, finishing powder, and setting powder. Impressive, right?
As skin experts, Jan Kottner et al. note, "Lifelong sun protection, for example, reduces the risk for the development of accelerated extrinsic skin aging and cancer. [1]"
Not only does this cutting-edge product provide excellent coverage, but it also helps protect your skin from harmful UV rays.
Plus, the finishing and setting powder properties ensure your foundation stays in place all day.
As a beauty enthusiast and a real beauty fanatic (as you know by now), I think it's a fantastic choice for anyone looking for a high-quality, versatile foundation!
Features
0.32 ounces
Medium to full coverage
10 Shades
Dewy finish
Benefits
Non-comedogenic & Oil free
Free from talc, additives, fillers, synthetic preservatives, FD&C dyes
Includes only four natural, kind-to-skin ingredients
Suitable for acne, rosacea, and eczema
UVB + UVA protection (SPF 15)
Long lasting (3-4 months for small pot)
Drawbacks
Shade matching is difficult
Limited shade range
Doesn't work for a minority of customers
About This Product
Composed of just four mineral ingredients – this non-clog foundation is gentle on the skin
This BellaPierre mineral foundation is made with just a few mineral ingredients.
It's great for sensitive skin and is a non-comedogenic makeup product so that it won't block pores. This foundation is long-wearing and has medium to full coverage.
However, the shade range is limited, making it difficult to match online.
BellaPierre promises that this non-comedogenic, oil, & talc-free formula will not clog your pores. It's advertised as ideal for those suffering from acne, rosacea, and eczema.
The four mineral components are mica, zinc oxides, iron oxides, and titanium dioxide (which may contain ultramarine).
These minerals protect and nurture the skin to create medium to full coverage without caking up on your skin or blocking your pores.
BellaPierre mineral foundation includes both UVA and UVB SPF 15 – your skin is protected from the sun for a short time.
The packaging has a top cover with tiny holes you open when you need to get the product out. No need to worry about your powder getting everywhere!
This closing prevents much of the mess that comes with mineral products.
Reviews
Great value for money with medium to full coverage
The 0.32-ounce mineral foundation lasts between 3 – 4 months with daily use.
Expert Tips
To achieve an even and flawless application, use a kabuki brush with the Bellapierre Loose Powder Mineral Foundation.
Swirl the brush in the product, tap off the excess, and apply circular motions on your face. This technique ensures seamless blending and a natural, airbrushed finish.
For an all-day-lasting makeup look, prep your skin with a non-comedogenic primer before applying the Bellapierre Loose Powder Mineral Foundation.
This step helps your foundation adhere better to your skin and provides a smooth canvas, minimizing the appearance of pores and fine lines.
What Customers Say About This Product
The Bellapierre Loose Powder Mineral Foundation SPF 15 has garnered an abundance of praise from customers for its impeccable coverage, natural finish, and enduring wear.
One satisfied reviewer, Sarah, shared her glowing sentiments, exclaiming, "I've been using Bellapierre Loose Powder Mineral Foundation SPF 15 for over a year, and I adore it! It offers full coverage that lasts all day without feeling heavy or cakey."
Although it's a lightweight mineral powder, it delivers medium to full coverage that rivals liquid foundations. Some even find it works well as an eye concealer, proving its versatility and value.
While it works particularly well for oily, acne-prone skin, customers with combination-dry skin are also impressed because it doesn't dry the skin.
Although some reviews mention that it's challenging to shade match online, most are impressed with the actual tone and color of the shades.
They're not orangey and seem to work best with yellow undertones. Meanwhile, one customer was impressed with the deeper shades. However, another said it was too ashy.
Tip: Want airbrushed and perfect-looking skin? Consider trying airbrush makeup like the Jerome Alexander Foundation!
bellapierre Mineral Foundation SPF 15 - Loose Powder | Vegan & Cruelty Free | Full Coverage | Hypoallergenic & Safe for All Skin Types | Oil & Talc Free - 0.32 Oz - Ivory
5-IN-1 MAKEUP: Why not get a foundation that can do it all? Our loose mineral foundation is a 5-in-1 that can be used as a concealer, foundation with SPF 15 protection, finishing powder, and setting powder. You get full coverage while protecting your skin from harmful UV rays. Because it is also a finishing and setting powder, it will help your foundation stay in place for a flawless look all day long.
GREAT COVERAGE: Do not worry about patchy or flaky applications when you use our mineral foundation. Our foundation is designed to give you medium to full coverage thanks to its hypoallergenic, pure mineral pigments. The pigments are ground to the smoothest texture to feel soft and plush against your skin while helping you achieve a smooth, even complexion.
15 SHADES AVAILABLE: At Bellapierre, there is a foundation color for every woman. Our oil-free Mineral Foundation SPF 15 comes in 15 different shades, making it quite a diverse range. Choose from ultra, ivory, latte, cinnamon, nutmeg, maple, brown sugar, cafe, chocolate truffle, and double cocoa. No matter which shade you pick, this foundation is sure to look gorgeous on your skin!
EASY TO USE: Using Bellapierre Mineral Foundation SPF 15 is incredibly easy. First, tap a small amount of powder into the lid. Then, dip your powder brush into the loose powder. Tap the end of the brush to remove excess powder and apply the foundation in a circular motion all over your face until you have reached your desired coverage.
BELLAPIERRE QUALITY: At Bellapierre, we hold true to our 4 core values: purity, variety, simplicity, and quality. That's because our products are made with the safest ingredients, making our cosmetics non-toxic and paraben-free. We're also entirely animal cruelty-free. Experience our on-trend cosmetics for yourself by ordering today!
Amazed already? CHECK OUT this YouTube video for more:
As a researcher, I am passionate about testing and comparing products to find the ultimate solution for my needs.
After conducting numerous experiments and drawing on my own firsthand experience, I am thrilled to report that NARS Radiant Creamy Concealer is a true game-changer in the world of makeup.
As one of the top-rated concealers in the US, this versatile product brightens, corrects, and perfects with its creamy, medium-to-buildable coverage and natural, radiant finish.
I was impressed by this concealer's luxurious texture and luminous finish, so I wholeheartedly recommend it to anyone searching for a top-quality concealer!
Features
0.22 ounces
Medium, buildable coverage
30 shades
Radiant finish
Benefits
Non-comedogenic
No alcohol, parabens or fragrance
Hydrating, creamy formula
Can be used as a highlight or contour in a different shade
Best for dry skin but targeted to all skin types
Vast shade range
Drawbacks
Can crease under the eyes if using too much product
Pricey
About This Product
The NARS Radiant Creamy Concealer has rightfully earned its status as a best-seller due to its non-comedogenic formula that avoids potentially irritating ingredients.
To begin, this pot of gold is free from many harmful ingredients, including alcohol and parabens.
Free from alcohol, parabens, fragrance, sulfates SLS and SLES, and phthalates, this concealer is a great choice for those with sensitive skin.
In addition to its gentle composition, this concealer boasts a mineral tone balancing powder that visually corrects imperfections without needing heavy coverage.
Infused with magnolia bark extract, grape seed extract, and vitamin E, it provides a host of skin-loving benefits, such as reducing redness, moisturizing, and enhancing moisture retention.
Perfect for mature skin, this creamy concealer also incorporates a light-diffusing mineral powder that diminishes the appearance of fine lines and wrinkles while evening out skin tone.
Radiant Creamy is certainly a popular choice – it was named The best-selling prestige concealer in the USA (The NPD Group; Jan-Jun 2018).
Like to highlight and contour? Buy a lighter or darker shade to brighten or carve out your cheekbones with this cream product.
Expert Tips
It works best for those with dry, mature skin, but many with normal or oily skin like it.
However, it is pricey for some, and it can cake under the eyes if you use too much product. Use it sparingly and build up layers to avoid caking!
The unique powders in this concealer help even out skin tone and blur the appearance of imperfections, including under-eye circles, dark spots, and blemishes.
And that's not all – this multi-purpose concealer can also be used for highlighting and contouring.
But that's not all NARS has to offer! Their Blush line is a cult favorite, boasting a beautifully pigmented, healthy-looking color that immediately enlivens the complexion.
With a weightless, natural-looking rush of cheek color in matte, satin, and shimmering finishes, these blushes will make your cheeks pop.
What Customers Say About This Product
Overall, most customers tend to like this concealer. Many say it's their favorite.
One satisfied customer named Sarah said, "I've been using NARS Radiant Creamy Concealer for years now, and it's hands down the best concealer out there. It provides great coverage without looking cakey or settling into fine lines."
Similarly, another user named Amanda added, "I have dark under-eye circles, and this concealer covers them up without feeling heavy. It's my go-to for any special occasion or just daily use."
As the name suggests, many customers describe it as 'creamy' and say it blends smoothly.
Just as customers speak wonders of this product, so do they say it works well to cover blemishes and dark circles.
In fact, it feels lightweight on the skin – an important element for those who want a non-comedogenic formula.
While it tends to work best for those with dry or normal skin, some oily reviewers are also impressed.
Sale
NARS Radiant Creamy Concealer, Vanilla, 0.22 Ounce
Long wearing and crease-proof
Paraben-free, alcohol free, synthetic fragrance free, non commedogenic
Tiny cast of pink for the fair complexion
Country of origin is United States
English (Publication Language)
Hooked already? CHECK OUT this TikTok to be more than a specter at the feast:
As a product researcher, I always appreciate a personal recommendation from a trusted friend.
That's why when my friend Annie raved about the Best Blush: Glo Skin Beauty CreamBlush, I had to give it a try.
The outcome: I was in 7th heaven. This blush is truly a game-changer in the world of makeup!
The saturated blush formula melts into the skin, making it easy to apply and blend for a radiant, healthy-looking glow.
Features
Benefits
Non-comedogenic and talc free
Fortified with antioxidants
A rich mineral pigment for medium coverage
Ideal for all skin types, including mature skin
Drawbacks
Small size
The color Fig looks slightly different in real life – a bit too coral/orange
Expensive
About This Product
This cream blush offers a buildable, semi-matte finish that is non-comedogenic and talc-free, and it comes in four different shades.
While the Fig shade may be too orangey/coral for some, Guava is a standout shade I highly recommend.
However, it's worth noting that this blush is pricier and contains a small amount of product per pot.
For those concerned about pore-clogging, cream blushes like this one are a great option because they are lightweight on the skin.
Glo Skin's mineral cream blush is non-comedogenic makeup and talc free. Additionally, it's fortified with kind-to-skin antioxidants.
This cream blush by Glo Skin settles into the skin beautifully, leaving no sticky residue behind. Plus, the brand promises that it's ultra-long lasting.
The semi-matte finish provides a subtle, lit-from-within glow that's perfect for any occasion.
And here's the best part: it's buildable! So you can easily take it with you on the go to transform your makeup look from day to night. Not only that, but it's also super easy to use.
Just dab it on with a stippling brush or apply it to the apples of your cheeks with your fingers.
And if you're looking to simplify your beauty routine, this cream blush can double as a lip tint and creamy eye base. It's like three products in one!
While it only comes in four shades, they are highly diverse. The range features:
Fig (a warm terra cotta)
Firstlove (a soft, warm berry)
Guava (a vibrant watermelon)
Warmth (a warm bronze)
Glo Skin advertises this blush for all skin types, even mature skin. It won't settle into fine lines but still provides medium coverage, long-lasting pigment.
Expert Tips
To achieve that natural glow, follow these tips – I do this, and my skin shines like a star!
Prep your skin: To ensure a flawless application, begin with a well-moisturized and primed face as a smooth base for the Glo Skin Beauty Cream Blush.
Use the right tools: For optimal results, use a stippling brush or your fingers to gently dab the cream blush onto the apples of your cheeks and blend outward.
Start with a light hand: Begin with a small amount of product and gradually build up to the desired intensity for a natural, radiant look.
Combine with other makeup: For a cohesive and harmonious appearance, try using the Glo Skin Beauty Cream Blush as a lip tint or creamy eye base to enhance your overall makeup look.
Customize your shade: Mix different shades together to create a unique color that perfectly complements your skin tone.
Set with powder: To set the cream blush in place and ensure longevity, lightly dust a translucent powder over the applied blush, especially if you have oily skin.
Experiment with placement: For a lifted, youthful effect, try applying the cream blush higher on the cheekbones or even along the temples, depending on your face shape and desired look.
You don't have to believe me – Check out what others have to say…
What Customers Say About This Product
Some reviews say it's the best cream blush they've ever used!
If you're looking for a natural-looking flush of color that lasts all day, look no further than the Glo Skin Beauty Cream Blush in Guava.
This high-quality cream has garnered several positive reviews, with many happy customers spreading the word about its smooth application and natural finish.
According to one enthusiastic reviewer named Sarah, "This blush is fantastic! It goes on so smoothly and looks so natural.
I have oily skin, which lasts all day without fading or smudging." Similarly, Emily says, "I love the semi-matte finish, and the watermelon shade is perfect for adding a touch of radiance to my cheeks."
As an experienced reviewer, I highly recommend this cream to anyone looking for glowing skin.
The shade Guava, in particular, is a fan favorite and works well for those with African American skin and those with fair complexions and auburn hair.
Non-comedogenic & doesn't inflame rosacea – but it's not cheap
Some customers note that, as promised, this non-comedogenic makeup doesn't clog pores. Another said she likes that it doesn't irritate her rosacea. Others are impressed with the natural ingredients.
Glo Skin Beauty Cream Blush | Creamy, Saturated Blush Formula that Melts Into Skin for A Natural, Flushed Look, (Firstlove)
CREAM BLUSH: All skin types will fall in love with this creamy, saturated blush formula that melts into skin for a natural, flushed look.
CREAM BLUSH: All skin types will fall in love with this creamy, saturated blush formula that melts into skin for a natural, flushed look.
PIGMENTED: Great for all skin types. Delivers medium coverage. Very long-lasting formula.
FIRSTLOVE: Soft warm berry. Ideal for lit-from-within radiance and semi matte finish.
GLO SKIN BEAUTY: Delivering on the promise of healthy, beautiful skin is what drives us every day at Glo Skin Beauty. Our innovative skincare and nourishing mineral makeup collections work together seamlessly to reveal your authentic best.
Tip: Depending on the sensitivity of your skin, consider using cleansing brushes, steamers, or microcurrent and microdermabrasion devices to help improve the appearance of your skin.
For a bright experience and a heartfelt review, CHECK OUT this YouTube video:
Discover the secret to a sun-kissed glow with Sheer Cover Studio's Sun Kissed Bronzing Minerals! This lightweight, mineral-infused bronzer effortlessly imparts a warm, natural-looking radiance to your complexion.
Its blendable and buildable formula allows for customizable coverage, ensuring the perfect sun-drenched look for any occasion. Infused with skin-loving ingredients, it enhances your features and nourishes your skin.
This versatile bronzer can be worn alone or layered over your favorite foundation, ideal for all skin types and tones. Embrace a luminous, beach-inspired glow all year round with Sheer Cover Studio Sun Kissed Bronzing Minerals!
Features
5.6 ounces
3 shades in one
Benefits
Non-comedogenic makeup, dermatologist tested, no parabens, no talc, no mineral oil
3 shades in one pot
Suitable for all skin types, including aging skin
Comes with a blush brush
Can be used on its own or over a base
Drawbacks
Limited shade range online
Quite pricey
About This Product
As someone with experience in the beauty industry, I highly recommend this mineral highlight and contour pot for those seeking a natural look without the fear of clogging their pores.
Crafted with safe and beneficial ingredients, it feels weightless on the skin while providing three products in one pot – a true multipurpose gem.
Best of all, each purchase comes with a complimentary brush, but remember that the available shades are limited and are a bit pricier than other options.
While both 4.5-gram and 2.5-gram pots are available, I strongly suggest going for the larger size, as customers who purchased the smaller pot were left unsatisfied.
This pot is versatile. Build from a soft, peachy glow to a strong bronzy look at night. Perfect for saving a little room in your makeup bag!
Expert Tips
The highlight strip is made from light-reflecting minerals for a sun-kissed glow. Apply the shimmer color to your cheeks, nose, eyelids, décolleté, shoulders, and forehead.
Swirl the added brush in all three colors for an all-over color, or use the shades separately to illuminate and bring depth to the skin.
Prevents blocked pores & free from harmful ingredients
These minerals are perfect if you're trying to avoid blocked pores – the formula is non-comedogenic [2].
Plus it's paraben, talc, mineral oil, and dye free. The unique conditioning complex helps the skin stay supple and soft [2].
Tip: Avoid applying sun tan lotions to your face because some ingredients (e.g., mineral oil) will likely clog your pores!
These bronze minerals should be gold – they are simply outstanding!
A multipurpose product for all skin types, whether oily, dry, normal, or combination, this product can be used over your base or on its own!
What Customers Say About This Product
Overall most customers really like this mineral powder.
It blends well, doesn't cake up or streak, and it's long-wearing—customers like that it gives a natural appearance to the skin.
As I fell in love with this glory on earth, I've found others who mimicked my experience – here's what I found on Amazon:
One reviewer, Debra Garcia, said the bronzer leans more towards earthy brown tones, making it an all-over light bronzer that is best for tan or medium skin tones.
Nora, another reviewer, said that she loves using the lightest color under her eyes to minimize the look of dark circles.
Many like to use it as a contour. It's ideal for mature ladies because it doesn't highlight fine lines.
More so, reviewers rave about the versatility and buildable nature of the product because this magic wonder is simply incredible – so get yours today!
The shades won't work for everyone.
Some say they like the product but find it somewhat expensive.
While three shades are included in each pot, there's a minimal shade range online. It won't work for everyone.
For more about this excellent product, CHECK OUT this YouTube video:
Among the treasury of makeup products, you'll find the Coty Airspun Face Powder to stand tall and with might!
Features
Available in a 2.3-ounce container in the Honey Beige shade
Lightweight and long-wearing formula
Functions as a setting powder or foundation
Offers a natural skin finish
Sold individually
Benefits
Excels in setting makeup, ensuring it remains intact throughout the day without creasing or smudging.
Imparts a natural, flawless finish to the skin. The lightweight formula prevents a heavy or cakey feel, making it comfortable for extended wear.
Reasonably priced, making it accessible to various consumers.
Drawbacks
Honey Beige shade may not suit individuals with light or dark skin tones.
Loose powder can be messy during the application, necessitating extra care and precision to prevent spills.
About This Product
As a makeup enthusiast, I've discovered that the Coty Airspun Face Powder is a top-notch product essential to my daily beauty routine.
I genuinely appreciate makeup products prioritizing quality and effectiveness and love that this loose face powder consistently delivers exceptional results (Check out this list):.
One of the standout features of the Coty Airspun Face Powder is its ability to impart a natural skin finish.
It helps to create a smooth and even complexion without appearing overly made up.
The powder works well as both a setting powder and a foundation, making it a versatile addition to your makeup collection. This dual functionality saves you time and money on separate products.
Better yet, the finely milled texture of the powder ensures that it feels lightweight on the skin, preventing any cakey or heavy sensations.
Not only does it allow your skin to breathe, but it provides the desired coverage and finish.
User Reviews and Testimonials
Numerous delighted customers have shared positive feedback about the Coty Airspun Face Powder.
One user, Jane, commends the product for effectively setting her makeup and leaving her skin looking "impeccable."
Another customer, Sarah, adores the "lightweight formula" that doesn't weigh down her skin, making it perfect for long-lasting wear.
Better yet, customers appreciate the value for money and the high quality this product provides.
Coty Airspun Loose Face Powder, Translucent, Pack of 1
Hide lines and wrinkles: Coty Airspun face powder in translucent extra coverage is a loose face and setting powder that helps to minimize the appearance of fine lines, wrinkles, acne, scars and other blemishes, giving your facial skin a smoother, softer look
Foundation or setting powder: Coty Airspun face powder can be used to help smooth and soften the appearance of your skin as a foundation coverage, or use the loose powder on top of your makeup as a setting powder so you can get that flawless, smooth look
Lightweight long lasting coverage: Airspun Loose Face Powder is long lasting and helps give full coverage that feels lightweight enough to wear all day. This face powder can be used as a foundation or setting powder and helps your face look smooth and flawless
Flawless finish: Get the flawless finish you want with the help of Airspun loose face powder. Use to set contouring and highlights, or to help conceal and reduce the look of rough skin, fine lines, wrinkles, skin blemishes and help correct uneven skin tones
For more beauty pleasure, check out this video about this product:
Ingredients to Look for in Non-Comedogenic Makeup
If you're someone who struggles with acne-prone or sensitive skin, then finding the right makeup products can be a daunting task.
Yet, understanding the ingredients in your makeup products is crucial to ensure that they don't worsen your skin concerns.
As a health fanatic and someone who avoids any dangerous/questionable ingredient, I'll save you time and reveal the ingredients you should employ and which to banish:
Skin-Friendly Ingredients: The Beauty Allies
Using makeup products that contain skin-friendly ingredients can help improve your skin's overall health and appearance.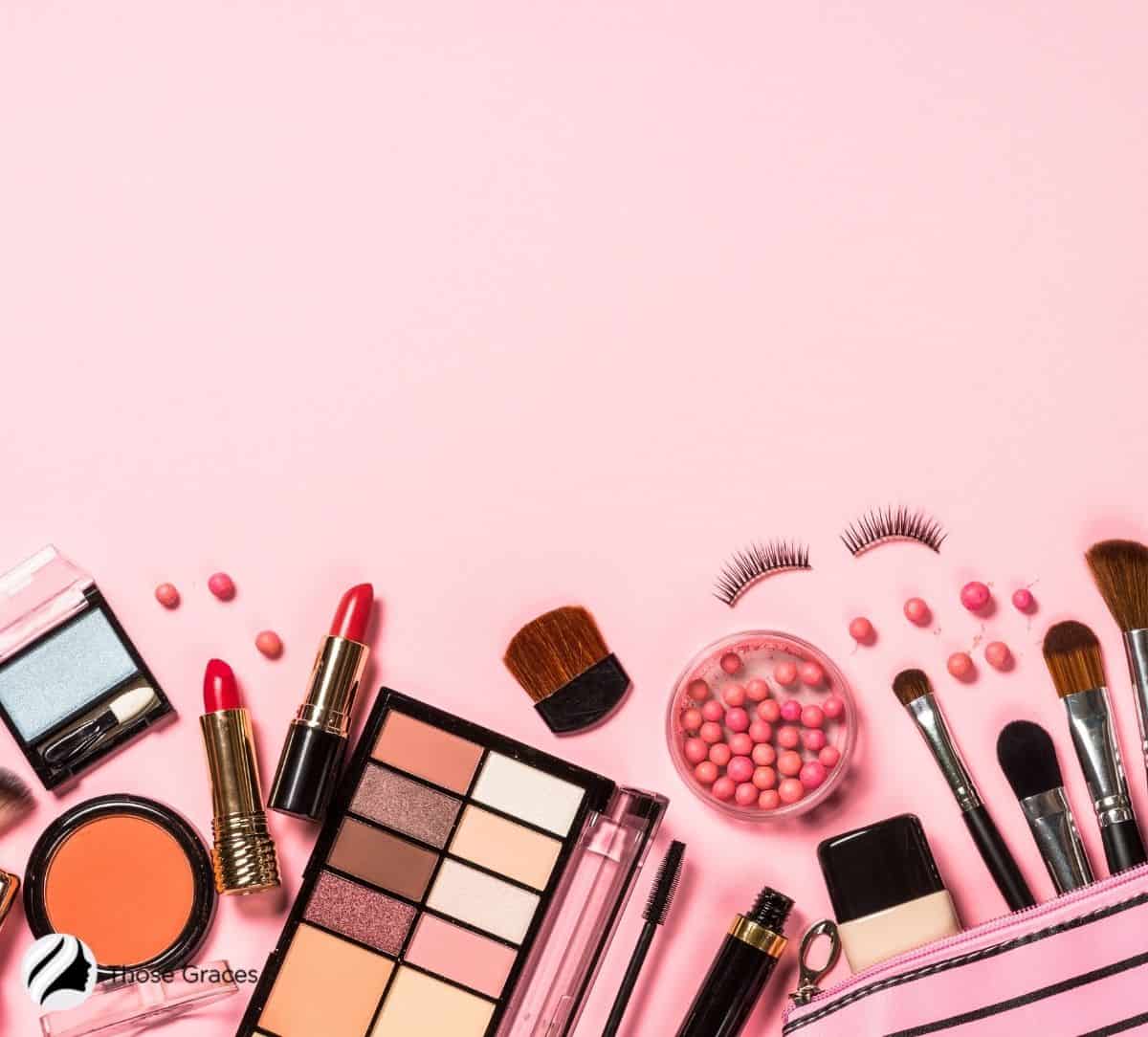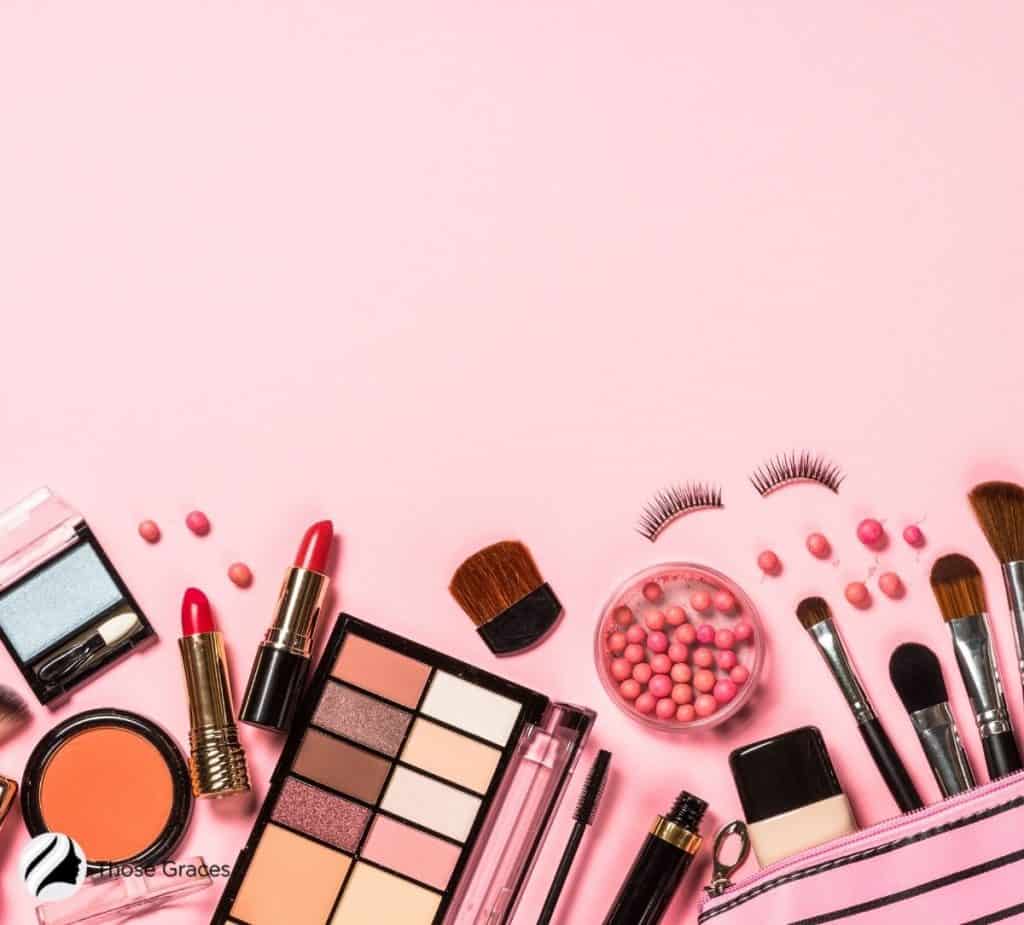 I'll reveal the do's, don'ts, and some ingredients to look for in non-comedogenic makeup:
Salicylic Acid: Salicylic acid is a beta-hydroxy acid that exfoliates the skin and unclogs pores. It also has anti-inflammatory properties that can help reduce acne breakouts.
Niacinamide: Niacinamide is a form of vitamin B3 that can help regulate oil production, reduce redness and irritation, and improve the skin's barrier function.
Zinc Oxide: Zinc oxide is a mineral sunscreen that can protect the skin from harmful UV rays. It's also an anti-inflammatory ingredient that can help soothe and calm the skin.
Hyaluronic Acid: Hyaluronic acid is a humectant that can attract and retain moisture in the skin. It can help improve the skin's hydration levels and reduce the appearance of fine lines and wrinkles.
Skin-Damaging Ingredients: The Beauty Enemies
Not all ingredients are nice to your skin – some have fangs!
In fact, some ingredients can be problematic for acne-prone or sensitive skin. Here are some ingredients to avoid in non-comedogenic makeup:
Fragrance: Fragrance is a common skin irritant that can cause redness, itching, and inflammation.
Alcohol: Alcohol can be drying and irritating to the skin, and it can disrupt the skin's natural barrier function.
Mineral Oil: Mineral oil is a heavy ingredient that can clog pores and cause acne breakouts.
Sodium Lauryl Sulfate: Sodium lauryl sulfate is a foaming agent that can strip the skin of its natural oils and cause irritation.
How to Choose the Right Non-Comedogenic Makeup for Your Skin Type
Now that you know which ingredients to look for and avoid in non-comedogenic makeup, I will tell you all about the right products based on your skin type!
Your skin type will most likely vary from mine, as will the product requirements you pick too.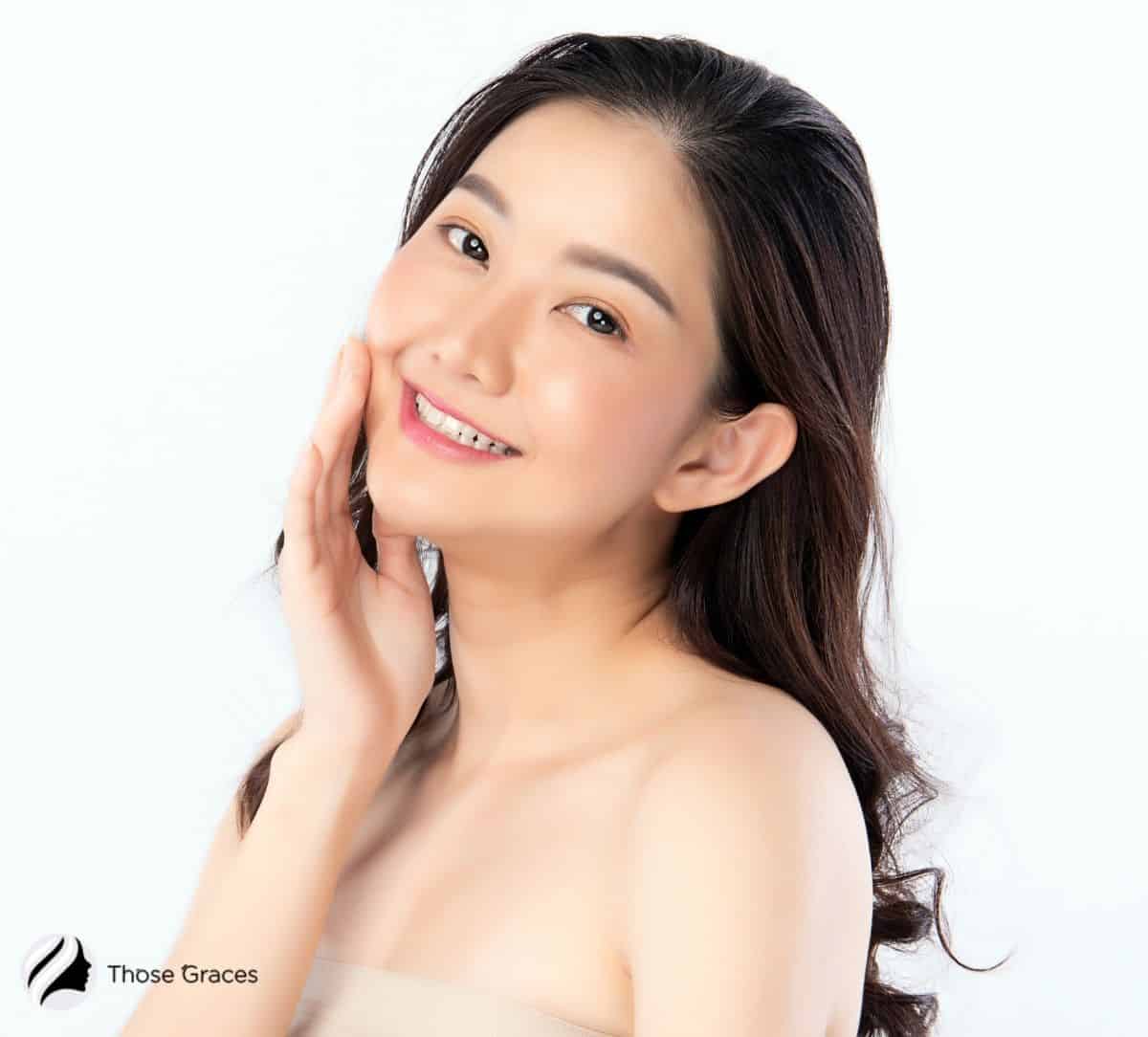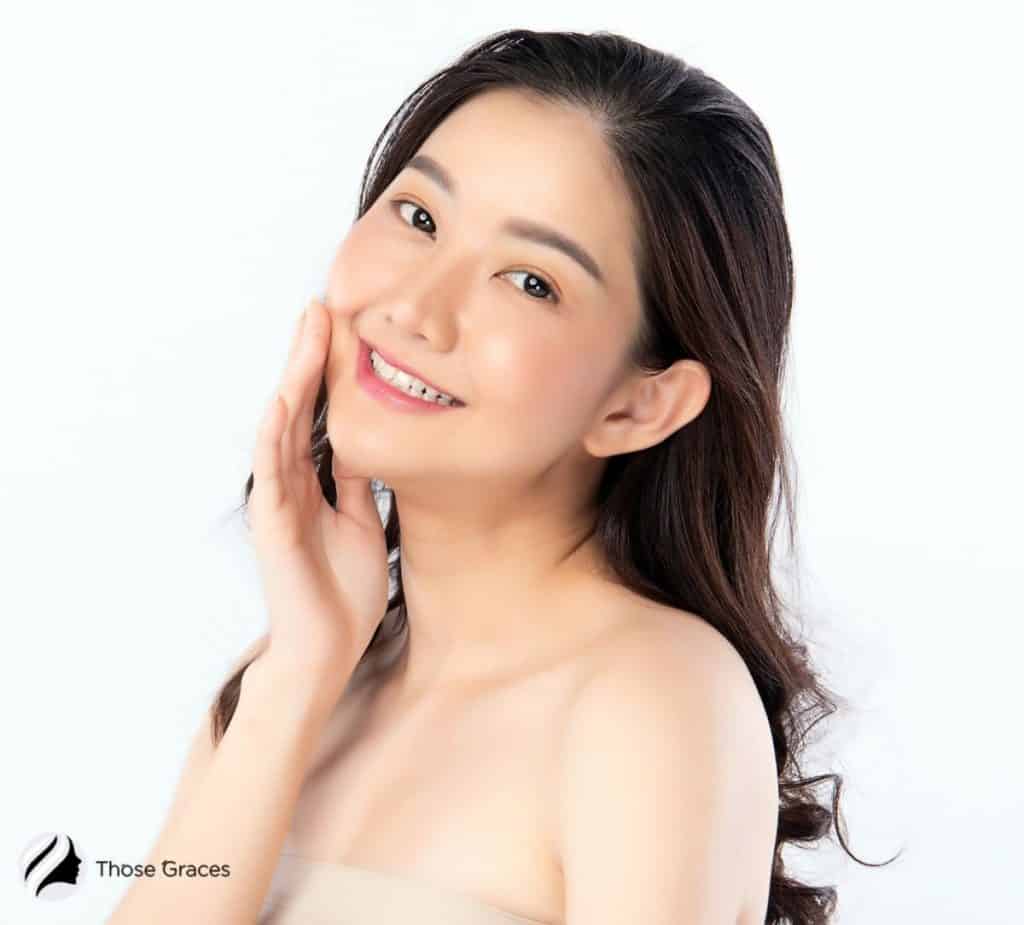 Because your skincare is a delicate matter, you need to be careful about using the wrong product on your skin…
As with anything skincare-wise, the formula to great skincare is simple: treasure those products that cater to your needs and identify your skin type (here's how)…
Step 1: Identify Your Skin Type
Before choosing the right makeup products for your skin, you need to know your skin type. To begin with, here's a breakdown of the different skin types and their characteristics:
Oily Skin: Oily skin produces excess sebum, which can lead to clogged pores and acne breakouts. People with oily skin often have a shiny complexion and visible pores.
Dry Skin: Dry skin lacks moisture and can feel tight and flaky. It can also be prone to fine lines and wrinkles.
Combination Skin: Combining skin is a mix of oily and dry areas. People with combination skin often have an oily T-zone (forehead, nose, and chin) and dry cheeks.
Sensitive Skin: Sensitive skin is easily irritated and prone to redness and inflammation. It can also be reactive to certain ingredients and environmental factors.
Normal Skin: Normal skin has a balanced oil production and is not prone to excessive dryness or oiliness.
By knowing your skin type, you can make informed decisions about the makeup products you use and maintain healthy, clear skin.
Armed with this knowledge, you can achieve a flawless makeup look by removing problematic ingredients and selecting non-comedogenic products tailored to your skin type.
Next, I reveal the wisdom to match your skin to the perfect product like a match made in heaven…
Step 2: Pick the Right Product For Your Skin
Now that you know your skin type, you're not done yet – you can't go and apply any product to your skin (you need to be careful or else…DISASTER):
Oily Skin: Combat Shine and Breakouts
If you have an oily skin type, you should opt for makeup products that control excess oil and reduce shine.
Look for foundations and powders that are labeled as "oil-free," "mattifying," or "shine control." Powder blushes and bronzers are also ideal, as they are less likely to clog pores.
Go for the products specifically formulated for oily skin, and avoid heavy or greasy products that can exacerbate breakouts – this is what I do for my skin success.
Dry Skin: Enhance Hydration and Radiance
If you have dry skin, focus on hydrating and moisturizing makeup products that will provide a radiant, dewy finish.
Cream-based foundations and concealers are excellent choices; they help retain moisture and provide a smooth, even complexion.
Cream or liquid blushes and highlighters are also ideal, as they will not emphasize dry patches or flakiness.
Look for products that contain hydrating ingredients like hyaluronic acid, glycerin, or ceramides.
Combination Skin: Balance and Customize
You may need to mix and match products to address oily and dry areas for combination skin effectively.
Use oil-free or mattifying products on your T-zone and hydrating products on your dry areas.
You can also use a mattifying primer on oily areas and a hydrating primer on dry areas before applying foundation.
Pay attention to your skin's unique needs and adjust your routine accordingly.
Sensitive Skin: Soothe and Protect
If you have sensitive skin, look for makeup products with gentle, hypoallergenic formulations and avoid common irritants such as fragrances and harsh chemicals.
Mineral makeup is a great option, as it typically contains fewer ingredients and is less likely to irritate.
Be sure to patch-test any new products before applying them to your face to ensure they won't cause a reaction.
Consider using a physical sunscreen instead of a chemical one, as it may be less likely to irritate.
Normal Skin: Enhance and Maintain
For normal skin, focus on enhancing your natural complexion with products that suit your preferences and needs.
Choose foundations, concealers, blushes, and highlighters that provide the desired level of coverage and finish.
Consider using a primer to help your makeup last longer and maintain your skin's natural balance.
Look for products containing skin-loving ingredients like antioxidants, vitamins, or peptides to keep your skin healthy and radiant.
FAQs
1. Can non-comedogenic makeup still cause breakouts?
Rather not…
While non-comedogenic makeup is less likely to clog pores, it's not guaranteed. Always patch test and monitor your skin's reaction to new products.
2. What are some common non-comedogenic ingredients to look for?
Salicylic acid, zinc oxide, and titanium dioxide are all ingredients that can help prevent breakouts and are often found in non-comedogenic makeup.
3. Can non-comedogenic makeup still provide good coverage?
Absolutely! There are many non-comedogenic makeup options that provide great coverage without clogging pores.
Conclusion
Investing in non-comedogenic makeup can make a huge difference for those with acne-prone skin.
Now you can say goodbye to clogged pores and hello to flawless-looking skin with non-comedogenic makeup in 2023!
To do this, look at your ingredient list, watch out for salicylic acid and zinc oxide, and always patch-test new products.
Thankfully, you can find the non-comedogenic option that works for you by covering some simple steps.
And if you're struggling with persistent skin issues, don't hesitate to consult with a dermatologist.
Last but not least, don't forget to comment and let me know how much you enjoyed my article!
Resources
1. Kottner J. Preventive Skin Care During Skin Aging. Textbook of Aging Skin [Internet]. 2015 [cited 2023 Apr 8]; Available from: https://www.academia.edu/69313056/Preventive_Skin_Care_During_Skin_Aging?sm=b
2. Hopp D. 10 Pore-Unclogging Treatments That Will Change Your Life [Internet]. Byrdie. 2022 [cited 2023 Apr 8]. Available from: https://www.byrdie.com/how-to-get-rid-of-clogged-pores