Aquaphor vs Eucerin: which one is more beneficial for your sensitive or dry skin?
The answer isn't as simple as "choose this one, forget that one."
Both have their pros and cons!
Let discuss them both to see which- if either-emerges as the clear winner.
Top Picks from Each
Before we start looking at pros and cons, it helps to know what we're talking about. Use the tables below for a quick peek at the top products from each.
FYI, this post contains affiliate links. If you make a purchase through these links, we earn a small commission at no extra charge to you.
Eucerin
Top Benefit
Enriched with Colloidal Oatmeal
Enriched with Sunflower Oil & Pro-Vitamin B5
Top Benefit
Enriched with Colloidal Oatmeal
Editor's Choice
Top Benefit
Enriched with Sunflower Oil & Pro-Vitamin B5
Aquaphor
Top Benefit
Essential Solution for Many Skin Care Needs
Proven to Relieve Dryness and Soothe Chapped, Cracked Lips
Editor's Choice
Top Benefit
Essential Solution for Many Skin Care Needs
Top Benefit
Proven to Relieve Dryness and Soothe Chapped, Cracked Lips
AQUAPHOR VS EUCERIN: WHICH IS MORE BENEFICIAL?
The challenge of protecting your skin is real and it takes so many trials to get the right products, which is incredibly frustrating.
Although every skin type reacts differently from beauty products, having some insights does help tip the odds in your favor.
When it comes to healing chapped lips, restoring cracked feet & hands, and soothing sunburns, two products really stand out.
Since this post is called "Aquaphor vs Eucerin," I'm guessing you've figured out the two I'm thinking of
The big question is, which of the two is BETTER at protecting and healing your skin? The answer lies below, in the pros and cons of each, so let's jump in!
WHAT IS EUCERIN?
To make this a fair battle, we must know what every product is and what its ingredients are and what they do.
So, what is Eucerin? It is a moisturizer that repairs cracked heels, chapped skin, and lips.
It comes in the form of lotion or cream to keep your skin hydrated and moisturized.
Eucerin Ingredients
The main ingredients of the product are urea and glycerin. Here is what each one of them does.
Glycerin
I don't want to go all nerdy on you, so I'll just tell you what glycerin does and avoid all the technical stuff.
It ensures that your skin stays hydrated, soft and helps you maintain the youthful and young look (and who doesn't want that?).
The humectant property allows it to attract water at the upper layer of the skin. Glycerin also helps with the healing properties of the skin.
It can help in reducing symptoms of psoriasis, eczema, and any other kind of irritation.
Urea
Urea does an amazing job with dry skin by ensuring it keeps enough water. It also gets rid of dead cells, keeping the skin smooth.
Is Eucerin a good lotion?
Yes, it contains ingredients such as urea and glycerin that are great for your skin, and it's also less greasy and easy to use.
It also helps in healing minor skin problems such as sunburns.
Is it okay to use advanced Eucerin lotion on my face?
For the most part, yes. It helps with healing chapped lips and dry skin.
However, ensure you wear a scarf or enough sunscreen as it has alpha-hydroxy acids that increase the chances of sunburn.
Also, if you have SUPER sensitive skin or certain skin conditions, ask your dermatologist first.
What is Aquaphor?
Aquaphor helps with keeping the skin moisturized, smooth and supple as well.
The ointment in a jar or squeeze bottle is the most popular type, but they also have a new spray, too.
Aquaphor also makes a lip balm that's wonderful, but we're mostly focusing on the ointment.
Aquaphor Ingredients
Aquaphor is made of glycerin and petroleum jelly, but the latter is the main ingredient.
Petroleum jelly keeps the skin hydrated by sealing moisture to the skin and acts as a skin protecting barrier.
Are Vaseline and Aquaphor the Same?
If you're thinking, "so basically, it's just Vaseline with a higher price tag," it's not.
No, Vaseline has 99% petroleum jelly, while Aquaphor only has 41%.
Aquaphor also has other ingredients that help in healing mild eczema and burns while Vaseline isn't that adaptable. You can check out a more detailed answer on Healthline.
Trust me, there's a world of difference between the two. For most purposes, Aquaphor is way better than plain old 100% petroleum jelly in my book.
What's the Difference Between Aquaphor and Eucerin & Which one is Better?
Both Eucerin and Aquaphor are made with ingredients that are great for healing dry skin.
One of the major differences between the two products is their ingredients as mentioned earlier.
For instance, due to the high levels of petroleum jelly in Aquaphor, it's thicker than Eucerin.
This makes Aquaphor better for dealing with serious skin conditions such as eczema, and very dry skin.
The thickness really comes in handy in ensuring the skin stays hydrated and moisturized.
The petroleum jelly in Aquaphor also locks in the moisture, ensuring the skin stays moisturized for a long time.
Aquaphor also claims that it can also be used for minor skin issues such as sunburns, small cuts, and burns .
On the other hand, Eucerin is less greasy and thinner. It comes in the forms of cream and lotion but the cream version has a higher healing power than the lotion.
Its thinness makes it very comfortable to apply on the face, neck, and hands.
Eucerin is great if you're looking for a moisturizer to keep your skin moisturized and hydrated. You can use it on parts of your body that are mostly exposed to the sun.
Since Eucerin doesn't act as a skin barrier, it's best for individuals who aren't struggling with serious skin conditions and simply want to keep their skin moisturized.
Aquaphor Healing Ointment vs. Eucerin daily Hydration Lotion
Both lotions are great for hydrating the skin but they also have slight differences.
Here is what you need to know about both products.
Aquaphor Healing Ointment
Although Aquaphor is a little costly compared to Eucerin, the pricing is justified by what it brings to the table.
Here are the benefits of choosing the Aquaphor healing ointment.
It helps in healing minor burns and wounds
It's fragrance-free if you don't love scents
It keeps your skin hydrated and eventually gets rids of dry skin
It can help in treating dry cuticles and lips
It protects your skin from bacterial infections
It helps in softening cracked feet
Sale
Aquaphor Healing Ointment - Dry Skin Moisturizer - Hands, Heels, Elbows, Lips - 7 oz. Tube
One Essential Solution: Aquaphor is one essential solution for many skin care needs; use on dry, cracked skin, as a lip moisturizer, facial moisturizer, hydrating mask, minor wound care and much more
For Dry, Compromised Skin: This Aquaphor Healing Ointment is designed specifically for dry, compromised skin and clinically proven to restore smooth, healthy skin
Convenient Replacement: Use Aquaphor Healing Ointment as a replacement for a foot cream or hand cream to help heal dry cracked hands, cuticles and feet
Ideal for Healing: Different from a body lotion or cream, this ointment is water-free, and soothes skin while creating a protective barrier that allows for the flow of oxygen to create an ideal healing environment
Includes one (1) 7 ounce tube of Aquaphor Healing Ointment Advanced Therapy Skin Protectant
Eucerin Daily Hydration
The best part about this product is the fact that it comes with customized products for different cases.
A good example is the Eucerin eczema cream that's purposely designed for people with eczema sensitive skin, and the Eucerin baby lotion formulated for a baby's skin.
The latter is scent-free and also hypoallergenic, so you don't have to worry about your baby getting any allergies.
Some of the general benefits of using Eucerin daily hydration include:
It's fragrance-free and hypoallergenic
It works really well with dry skin especially during cold weather
It protects your skin from environmental damage
Eucerin Daily Hydration Lotion - Light-weight Full Body Lotion for Dry Skin - 16.9 fl. oz. Pump Bottle (Pack of 3)
Daily Moisturizing Lotion: This Eucerin lotion for dry skin is perfect for daily use, and delivers 24 hour moisture for soft, healthy-looking skin
Enriched Body Lotion: Eucerin Daily Hydration fragrance free body lotion is enriched with Sunflower Oil & Pro-Vitamin B5 that moisturizes to help protect and heal dry skin
Convenient Pump Bottle: This Eucerin body lotion pump bottle 3 pack is perfect for storage at home and in the office
Free Of: Eucerin Daily Hydration is a paraben free body lotion, and is fragrance and dye free, and non-comedogenic
Includes three (3) 16.9 fluid ounce pump bottles of Eucerin Daily Hydration Body Lotion
Final thoughts: Aquaphor vs Eucerin: Which is More Beneficial?
Both Aquaphor and Eucerin are great products depending on what problem you're trying to solve.
If all you want is to keep your skin hydrated and moisturized, then I highly recommend Eucerin.
It's thinner and less greasy, which makes it very easy to apply on your back, neck, and hands.
But, if you're struggling with serious skin dryness or eczema, then I suggest using Aquaphor (after consulting your dermatologist).
It's thick and it seals your skin ensuring your skin stays moisturized for a long time.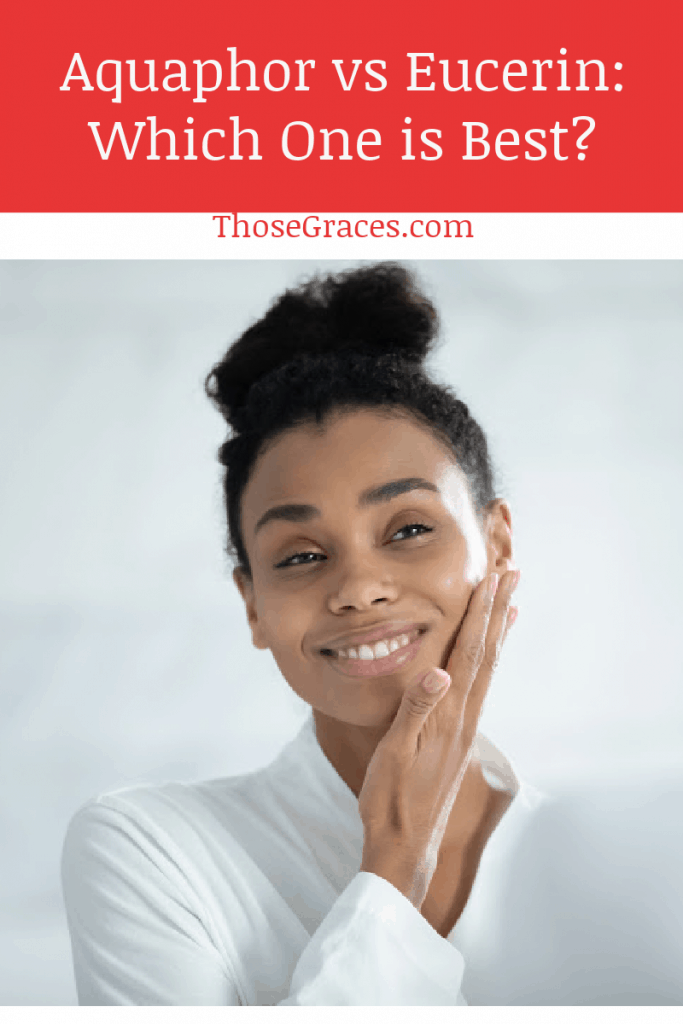 What about you? Aquaphor or Eucerin? Which one do you vouch for? And why? share below!