If you're wondering how to apply makeup on dry skin, we've got you covered!
It is hard to master the makeup application game in general, but it is even harder to do so when you're all flaky.
But you can improve your skin condition so that all your favorite beauty products sit just right.
Just follow our tips and tricks below!
HOW TO APPLY MAKEUP ON DRY SKIN
First things first: prep your skin. This is the most significant step you can take to ensure that your makeup glides on smoothly.
Applying cosmetics without prepping your face will cause more dryness and flakiness.
So what should you do to have a perfect makeup game? Let's find out!
FYI, this post contains affiliate links. If you make a purchase through these links, we earn a small commission at no extra charge to you.
Before applying any makeup, your face should be perfectly cleansed and moisturized. Make sure to have a good morning skincare routine specifically for your skin type.
You should cleanse your skin with a cleansing gel or cream made for dry skin. Don't over-cleanse it, as that will strip away much-needed natural oils.
Massage it gently with your fingers and then wash your face with lukewarm water.
Continue with exfoliation like AHA, BHA solutions that will help you get rid of the blackheads, impurities, and clogged pores.
There are so many great options in the market, but one of my personal favorite products is the AHA 30%+BHA 2% peeling solution from The Ordinary.
The next step to having a cleansed and smooth skin is to apply moisturizer.
Always check that the moisturizing cream you use is for dry skin. You can find many great options either from high-end brands or drugstores.
2. Use SPF
No matter your skin type, tone, or condition, it is vital to use SPF. Everyone should apply sunscreen before leaving the house every day. No exceptions!
Not using SPF will cause more dryness, wrinkles, and your skin will look much older.
Not to mention it exposes your skin to harmful cancer-causing UV rays!
So it is necessary to apply a generous amount of sunscreen even under your makeup.
You also should reapply sunscreen every 2 hours.
When you have makeup on, the powder sunscreen products will come in handy.
Now that we've cleaned and covered our face with some sun protection, let's start applying makeup products once the face is dry!
3. Find the best primer
Primers are not just a simple product that is used in makeup; they make your face a smooth canvas so that you can apply the rest of the products effortlessly.
Finding the best primer for your skin type is a bit hard.
But after checking many recommendations from many celebrity makeup artists and using my own experience, I have found the best primer that is ideal for flaky skin.
The Hydrating Pure Canvas Primer from Laura Mercier will do its job flawlessly and provide a natural finish to your skin.
You can either use a makeup sponge or brush to apply the primer to your skin. After you feel that it's dry, it is time for the next step.
4. Pick a proper foundation
Foundation is the most essential part of your makeup routine. Look for one that not only looks good with your skin tone, but also has a great ingredient list with moisturizing components.
When dealing with dry skin, one of my biggest fears was that I would look patchy, flaky, and uneven after applying the foundation. So I always checked for the best products out there.
A water-based foundation is a total game-changer, as it glides smoothly over your face and makes an amazing base.
Plus, it provides moisture to your skin and keeps it hydrated all day long.
Luckily, there are so many great products in the beauty industry that will help you find the best match and get your desired results.
One of my favorites is the Fenty Beauty Pro Filt'r Hydrating Longwear Foundation.
Start applying a coat of foundation by tapping motions with a sponge.
After applying the first coat, wait a few minutes for the foundation to set on your skin and reapply if needed.
However, you should always make sure that you don't overapply it as it will become cakey and sit heavy on your face.
You should have an even and dewy finish. Once you reach that, stop applying.
Related: How to Wear White Eyeliner With Style
5. Set your face with a setting spray
When you finish with everything and make the final touches, it is necessary to set your face with a setting spray.
As you have dry skin, always use a spray formulation instead of a powder.
Many setting sprays have alcohol in them, so you should pay attention to the ingredient list as well.
One of the best options is the Anastasia Beverly Hills Dewy Set setting spray that makes your skin look shiny, dewy, and flawless!
You can also look for a Hyaluronic acid in the ingredient list of a setting mist that will bring more hydration to your skin.
That's it! That's how to apply makeup on dry skin the right way!
Now that you know that it is possible to have a perfect makeup look even with dry and flaky skin, it's time for you to look for the best products for you.
It takes time to find the best options for you. But when you find them, you will never want to change them.
With these simple yet necessary steps, you will surely have a fresh, glowing, and confident look.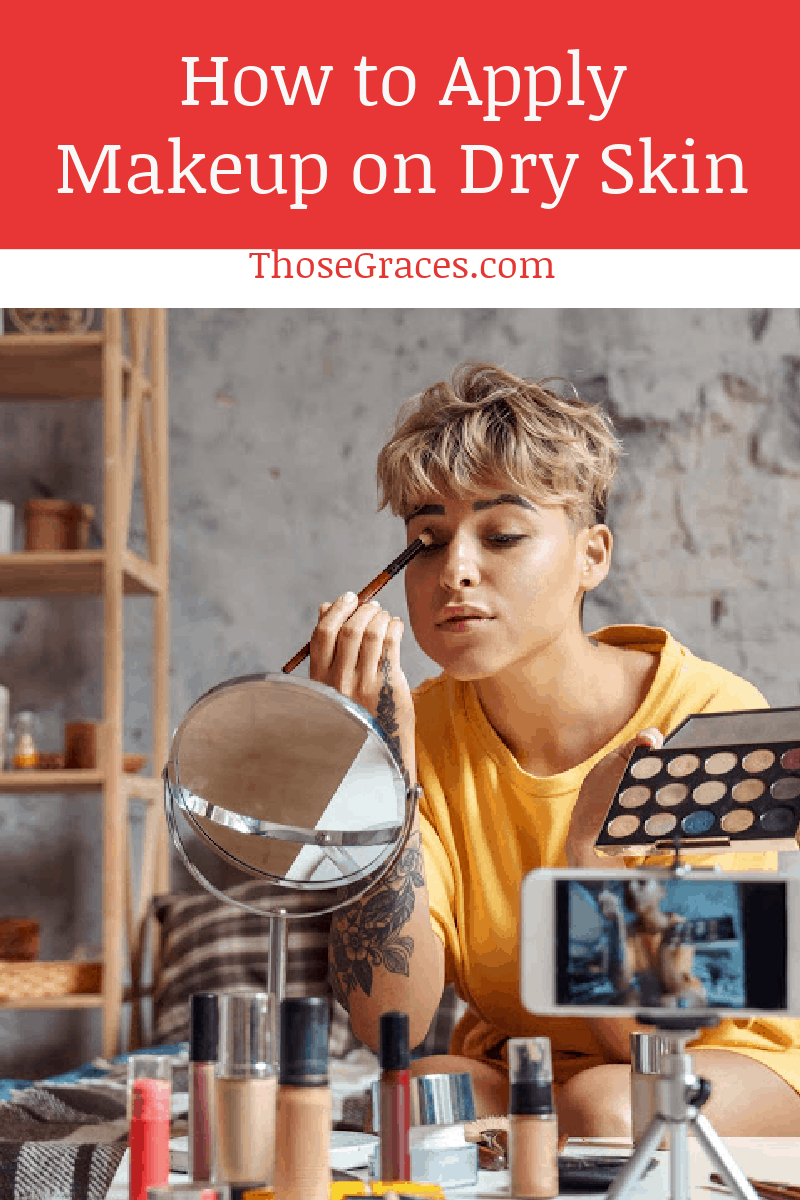 Do you have any other tips or tricks for applying makeup on dry skin? Share below!