What to know how to keep your makeup on when wearing a mask?
Don't worry, I've got you covered (pun intended!).
With a few tweaks to your beauty routine, you can totally look gorgeous AND stay safe.
Just keep reading for my top tips that always work for me.
Top Picks for Best Makeup to Wear with a Mask
FYI, this post contains affiliate links. If you make a purchase through these links, we earn a small commission at no extra charge to you.
Before we dive into my tips, I just want to share a few products that I'm mentioning below or that I love. Check them out on the table below!
Top Benefit
Comes in dewy or matte finish
What's it for?
Sculpts & fills in your eyebrows
Sets your makeup and prevents smudging
Conceals & evens out skin tone
Creates protective barrier
HOW TO KEEP YOUR MAKE UP ON WHEN WEARING A MASK?
A few years ago, if someone asked me tips on keeping your make on when wearing a mask, I would've thought they were losing their minds.
But thanks to the pandemic, the mask is our mandatory new accessory.
For people like me (and many of you out there) who love to wearing makeup, this is such a downer.
After a few trials and errors, I finally found a way to stay safe and pretty at the same time. And I'm about to let you in on my secrets!
1. Skip Makeup Below Your Eyes
If you're not planning on removing your mask at any point, there is no need to put makeup on places that are hidden.
It saves you a few coins in the long run and, most importantly, saves you the hassle of making your mask makeup proof.
But what if you're planning on removing your mask? Like eating on a date? I got you, ignore this point and move on to the next one.
Bonus Tip: Now isn't the time to ignore your eyebrows. Shaggy brows can stand out even with 70% of your face covered.
Take your time to groom your eyebrows and use a brow pencil to fill in any sparse spots. I like this one by Nyx.
2. Avoid Putting Makeup near Mask Contact Points
The mask contact points depend on the type of mask you're wearing. There have been so many types since the CDC started recommending them last year.
Luckily, there are a few ways you can determine the contact points of your mask. Simply put it on and focus on feeling what parts are so tight.
Try to read something out loud or simply say something out loud to see what parts the mask rubs most as your mouth moves.
These are the parts you want to apply very little product (if you really have to apply any at all).
Sometimes I simply dab these areas with a little foundation (like just rubbing the areas with the product that remains in the sponge).
Some days, I also use a concealer to correct any discoloration under the mask.
I figure that way if I DO need to take it off for any reason (like if I stop to grab a bite to eat), I'll still look great.
3. Use the High Coverage Matte Foundation
This is a great way to get away with less makeup and still look fabulous (not that you need makeup to look good, but you know what I mean).
One pro of using a high coverage foundation is that it dries down, so it's not as transferable as a fresh finish.
I've used multiple foundations under the mask, and I really love L'Oreal Infallible Pro-Matte Liquid Longwear Foundation.
I prefer it because despite being high coverage, it's also very flexible and lightweight on my face. It leaves my face smooth, with all pores blurred.
I've also realized that the foundation holds up really well in high heat or humidity. That said, if you have dry skin, the product may not please you.
For a better experience, prep with a moisturizer.
Sale
L'Oréal Paris Makeup Infallible Pro-Matte Liquid Longwear Foundation, Ivory Buff 101.5, 1 fl; oz.
L'Oreal Paris Infallible Pro-Matte Foundation: Lightweight and creamy, foundation goes on smooth with a demi-matte finish that lasts up to 24 hours, hiding imperfections for a smooth, clear complexion
Air-Light Matte-Finish Foundation Makeup: For a matte finish that won't fall flat, apply with fingers, makeup sponge, or foundation brush, starting at the center of the face and blending toward the jaw and hairline
The Foundation Of Your Look: From natural to full coverage, L'Oréal Paris face makeup has what you need for a smooth, even finish; Highlight to illuminate, use concealer to hide imperfections or use contouring makeup for enhanced, defined features
Because You're Worth It: L'Oreal Paris Makeup helps you create the look you want with our full line of makeup including foundations, concealers, highlighter makeup, brow pencils, eyeshadow palettes, lipsticks and much more
Perfect To Pair With: L'Oreal Paris Infallible Pro Matte Lock Longwear Face Primer; Pro Matte-Lock Primer smoothes skin to perfect your complexion and prime your face for a better makeup application
4. Set Your Makeup
Don't forget to set up your makeup, or you'll be missing out on the greatest secret of keeping your makeup under the mask.
While setting your makeup using a setting spray or powder only is fine, I've found that going the extra mile helps.
Start by applying a loose powder over your foundation, and dust it over your face after the finish.
Lastly, seal the makeup with a setting spray.
5. Use Lip Gloss or Matte Lipstick
Honesty, I mostly use lip gloss because my lips are covered for the most part. Not only is lip gloss less messy, but it also helps keep your lips hydrated.
This protects your skin from the irritation that results from the frequent friction of the mask.
Using a protective barrier like shea butter ensures the mask doesn't dry your face or lips.
On the days that I want to rock my lipstick, I go for the matte lipstick.
It dries down, so there is no transfer besides when my mask is a bit tight, and even then, it's just powder that can be wiped off.
6. Experiment with New Makeup Technique
Like me, many beauty enthusiasts have come up with several ways to keep makeup on when wearing a mask.
Niko from Huffpost tried five suggestions and wrote a blog post about the results.
Some were a big miss, but a few were a success. Check out the blog post and learn the new makeup method.
7. Give Up!
Please don't give up, BUT if the hacks are too much for you and making up is beginning to feel like too much hassle, it's time to take a break.
If you decide to follow this route, at least ensure you follow other skincare routines to keep your skin healthy and glowing.
I believe makeup should make you feel happy, so if the process takes away the happiness out of it, I highly encourage you to go natural for now.
Frequently Asked Questions
Here are some of the central questions on how to keep your mask on when wearing your mask.
How do you not mess up makeup with a mask?
One way is to use a moisturizer, then dab concealer only where necessary and ensure you use very little foundation.
Doing some heavy-duty makeup setting also really helps.
How do I keep my lipstick from smudging under my mask?
I suggest using a matte lipstick because it dries off completely, so it doesn't transfer to the mask.
Alternatively, since your mouth is covered, you can also stick to lip gloss for the most part.
Final Words
I'm a big makeup fan, not that I don't love going natural, but I appreciate the glow up.
It makes me feel confident, ready to fight my battles, and happy.
This may sound superficial, but I don't believe anyone should give up something that makes them happy (especially if it's harmless).
So, I hope you've learned something about how to keep your makeup on when wearing your mask.
Are you still making up or have you taken a break due to the pandemic?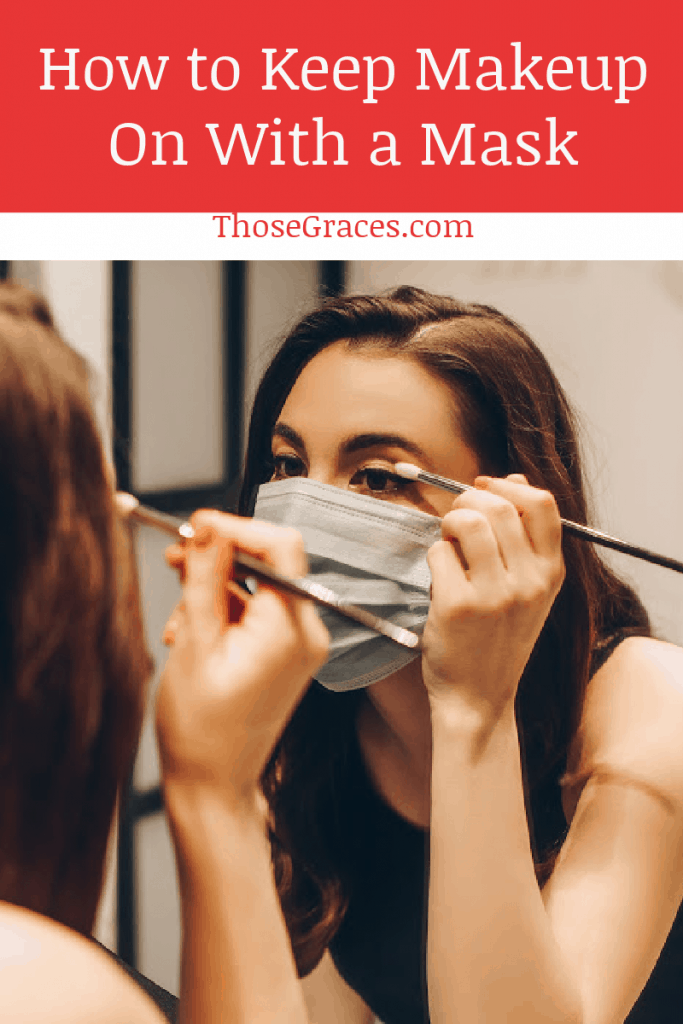 Do you have other ideas on how to keep your makeup on when wearing a mask? Share below!