Which one is the best, loose vs pressed powder?
It's time to settle this debate once and for all, don't you think?
We'll check out the pros and cons of both and find out which- if either- beauty product wins the day.
Keep reading for all the answers!
Our Top Picks for Each Type
In a rush and need something right away? Check out our top picks on the tables below with our top picks for each type!
FYI, this post contains affiliate links. If you make a purchase through these links, we earn a small commission at no extra charge to you.
Loose Powder
Top Benefit
100% Vegan, Cruelty-free, Paraben Free & Gluten free
100% Earth-Derived Minerals
Cake-free, Crease-free Translucent Loose Powder
Editor's Choice
Top Benefit
100% Vegan, Cruelty-free, Paraben Free & Gluten free
Top Benefit
100% Earth-Derived Minerals
Top Benefit
Cake-free, Crease-free Translucent Loose Powder
Pressed Powder
Top Benefit
100% Natural Mineral Pigments Powder
Recommended for All Skin Types, Even Sensitive and Acne-Prone Skin
Editor's Choice
Top Benefit
100% Natural Mineral Pigments Powder
Top Benefit
Recommended for All Skin Types, Even Sensitive and Acne-Prone Skin
LOOSE VS PRESSED POWDER: WHICH is Better?
If I had a nickel for every time I settled a makeup debate, I'd be filthy rich.
Not that I'm complaining, I know how critical getting the right beauty products is. I mean you don't want to show up at work or for a date looking like a clown.
Today, I'll help settle the loose vs pressed powder battle.
Spoiler alert: Both powders are good, it really depends on the purpose of application and your skin type.
As usual, I'll give you the facts about each powder and help you choose which one is better for your skin.
LOOSE POWDER (TEXTURE, PROS AND CONS)
Loose powder isn't used on its own but as a setting powder. It's best applied after a stick or liquid foundation to set your makeup so that it doesn't move during the day.
One major thing that differentiates the loose powder from the pressed powder is its texture. It's very fine, which is both a blessing and a curse.
Pros
The good thing about the fine texture is that you can easily attain the "baked" look that you tubers and IG beauty queens are always flaunting about.
If you have oily skin, this type of powder will work perfectly since it's more dehydrated than the pressed powder.
For best results, use a powder puff and gently press it into the skin for light to medium coverage.
Ensure you pay attention to your chin, forehead, and cheeks. If you want a translucent look, use a large fluffy brush and dab it all over your face.
Biggest Con
The con of using loose powder is that it settles more into the fine lines around your eyes, mouth, and forehead.
Sale
Aesthetica Translucent Setting Powder – Matte Finishing Makeup Loose Setting Powder – Flash Friendly Translucent Powder Foundation - Loose Face Powder Includes Velour Puff
The Aesthetica Translucent Setting Powder helps expertly set freshly applied makeup so it adheres to skin for hours. The lightweight formula soaks up excess oil while softening fine lines and hiding pores.
Packed with high-quality ingredients, the Translucent Setting Powder is vegan, cruelty free and gluten free for peace of mind. Face Powder cosmetics with a conscience give modern makeup a beautiful new dimension.
Simple step-by-step instructions make this translucent powder a fool-proof application. The perfect amount of loose powder creates makeup that sticks without treading into cake territory. It's the perfect Finshing Powder Makeup.
The translucent powder comes with a luxurious velour puff for easy travel and major payoff. It can be your constant companion for midday touch-ups and absorbing excess oil on-the-fly for oily skin.
All that hard work you put into perfecting your powder foundation and base makeup is made to last. A dose of setting powder means it stays
Pressed Powder (Texture, Pros and Cons)
One reason why I love the pressed powder (like this one from Clove + Hallow) is that it's less messy than the loose powder.
I hate having powder all over my makeup purse when I'm traveling. I don't know about you but a messy makeup kit is a big deal-breaker for me.
Pros
With pressed powder, a quick touch up is easy even on long flights thanks to its portability feature.
Another big pro of this type of powder is that it's heavy and has more oils than loose powder.
This makes it easy to cover those blemishes that you'd rather stay hidden, and still maintain a somewhat natural but made-up look.
That said, the powder can't do half the coverage that you accomplish with liquid or stick foundation.
Thanks to its texture, you can use it as only foundation if you have even skin.
And with over top of liquid foundation, you can achieve a perfect natural skin finish.
Biggest con
Unfortunately, the pressed powder works best with dry skin and it can turn into a very sticky mess if you have oily skin.
This means you wouldn't accomplish a baked look like you would with loose powder.
Frequently Asked Questions
Here are some of the popular questions when it comes to loose and pressed powder.
Is loose powder the same as pressing powder?
Well, they technically do the same job but they're different in terms of texture, portability, and abilities. But yes, you can use either of them.
Can you turn loose powder into pressed powder?
Well, I obviously recommend buying both products instead, but you can add alcohol and oil as needed.
The oil helps in binding the powder together and rubbing alcohol helps in distributing the oils and turning your mixture into liquid so it can be smoothed and pressed.
You can find more instructions here or in the video below.
Final Words
Okay to wrap up this battle, I have two pieces of advice for you.
One, don't apply a lot of powder to your face because you'll end up looking cakey.
And I promise it won't be pretty.
And second, experiment with both pressed and loose powder and see what works best for you. That's how I decide on the best beauty products for my skin tone.
I personally use pressed powder over the top of liquid foundation, and that's how I do my make up.
But during summer, I run loose powder on my t-zone to set that part of my face a little extra because I get overly oily.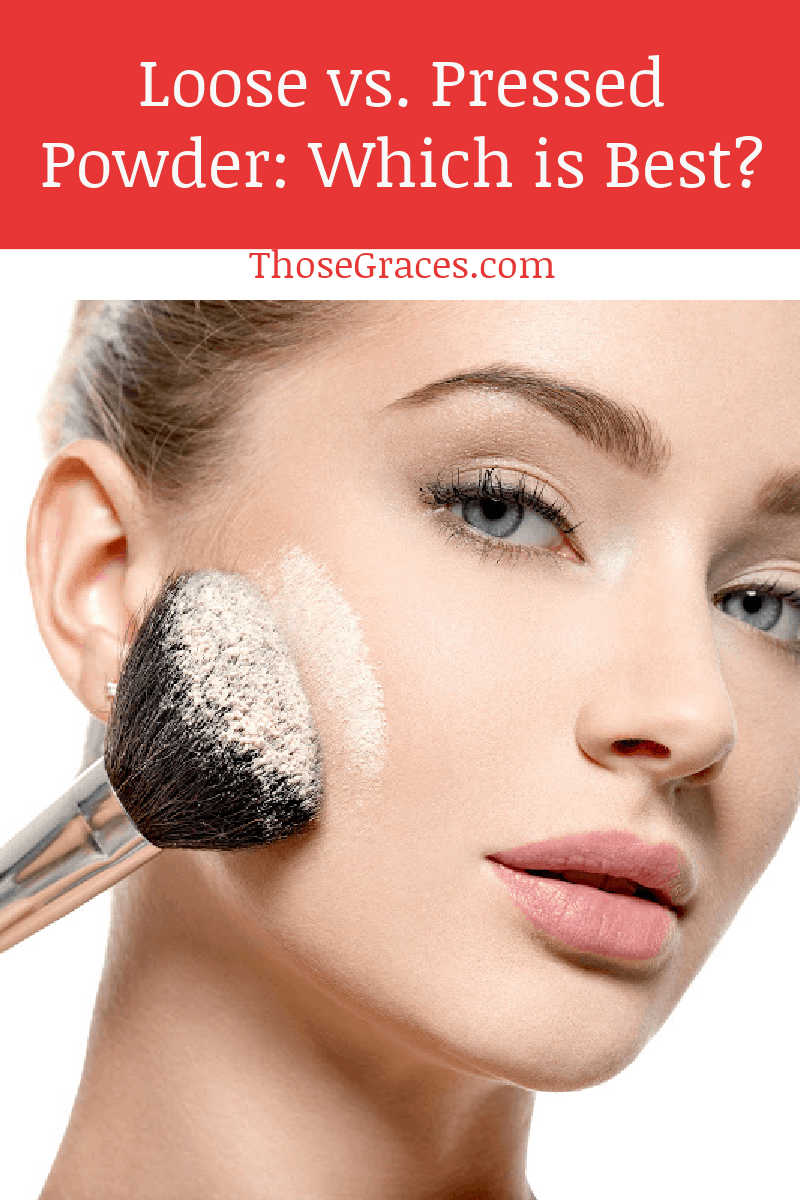 Back to you. Which powder do you prefer? Loose or pressed powder? And why? Share below!