If you really want a straightforward answer to "Can You Use a Flat Iron To Curl Your Hair?" then yes!
How else do you think most models on Instagram are doing those gorgeous beach waves?
And I'm not at all trying to pull a prank on you.
Most of them use flat irons, a.k.a., your household hair straighteners, and I'll tell you exactly how below!
Can You Use a Flat Iron To Curl Your Hair?
As I said above, you can very easily use a flat iron to curl your hair.
I know it appears to be counterintuitive at first, but there's no doubt that you can achieve such a feat.
It doesn't matter whether it's tight curls or beachy waves; it's possible for you to create these styles with a flat iron.
At the same time, what's essential is the technique that you're using.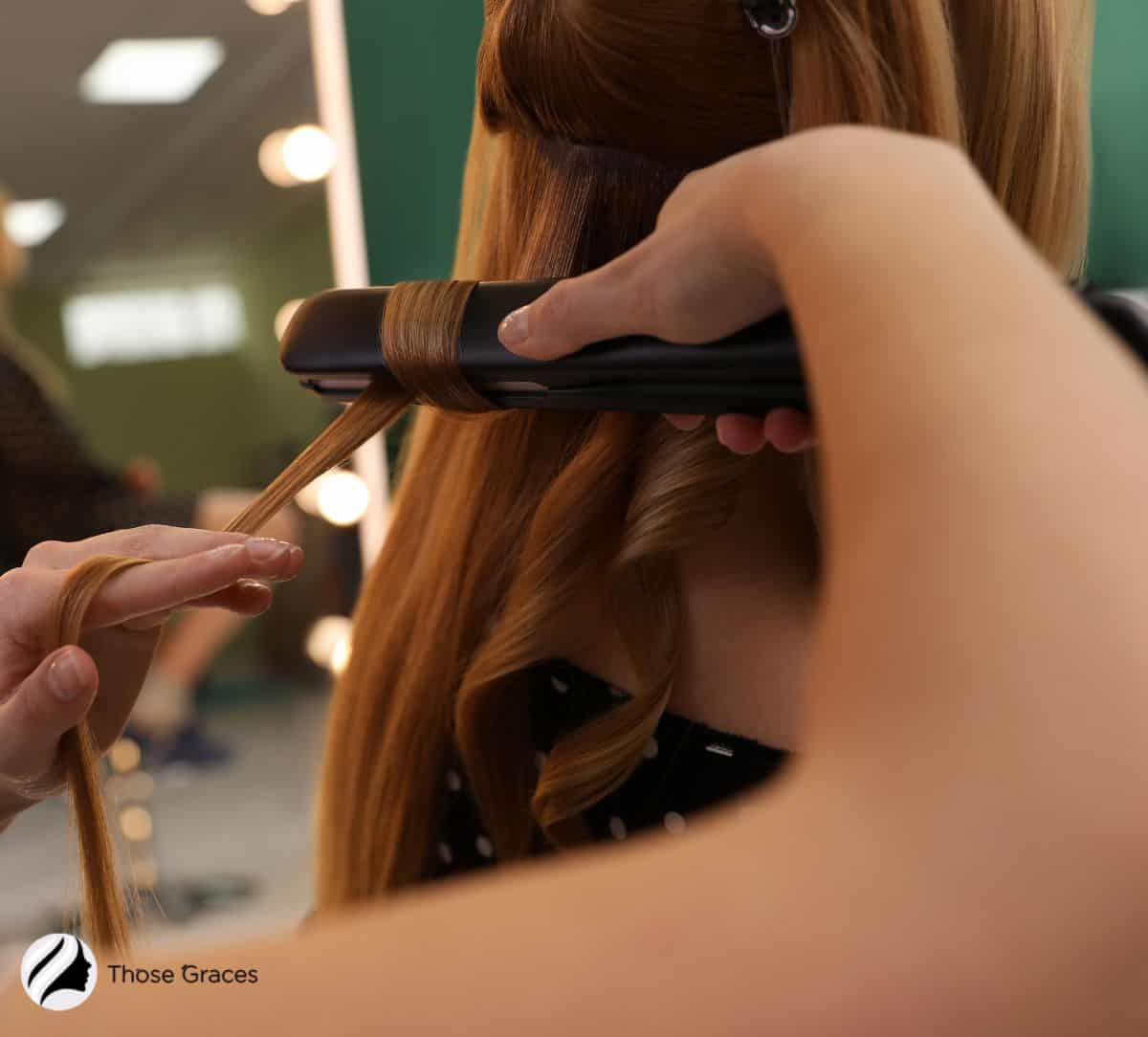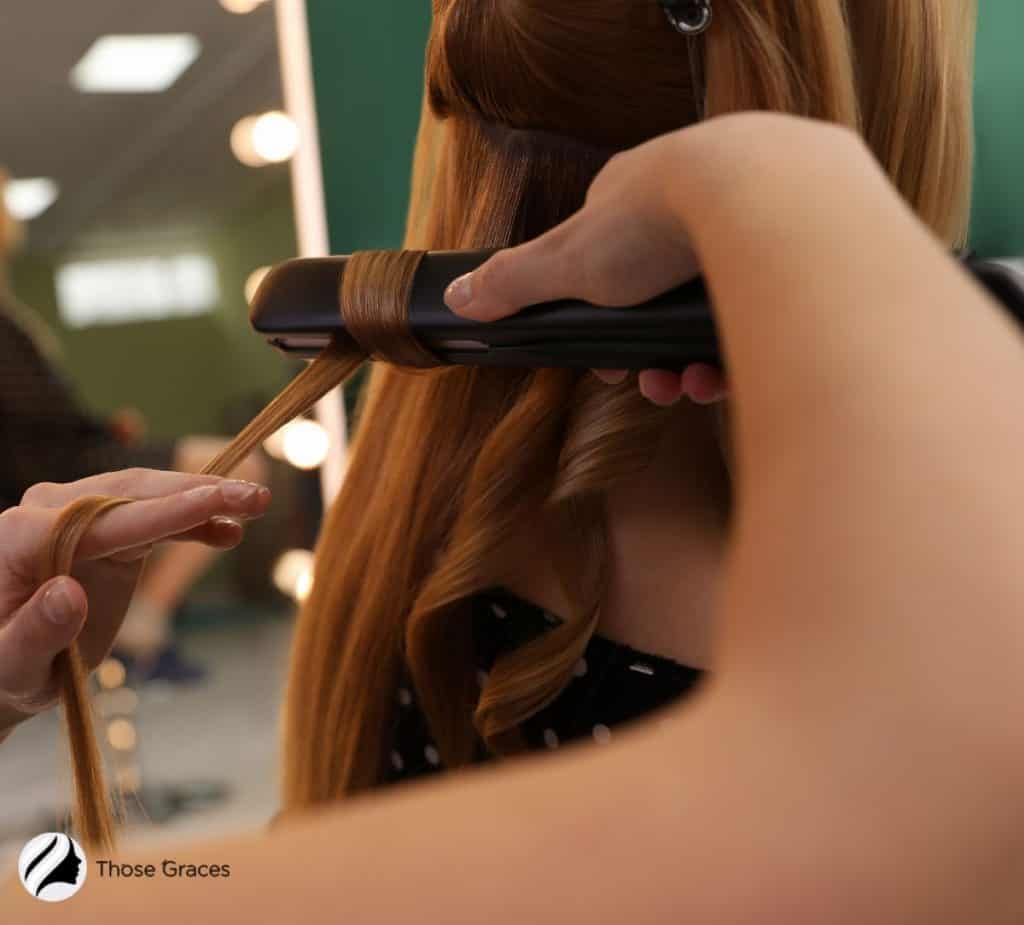 How To Do Curls With A Flat Iron
Now that you know that it's 100% possible, let's go over the steps involved.
Step 1: Prep your hair.
Start by spraying an excellent heat protectant over your hair. Ensure you're combing your hair while applying it to work it into your locks.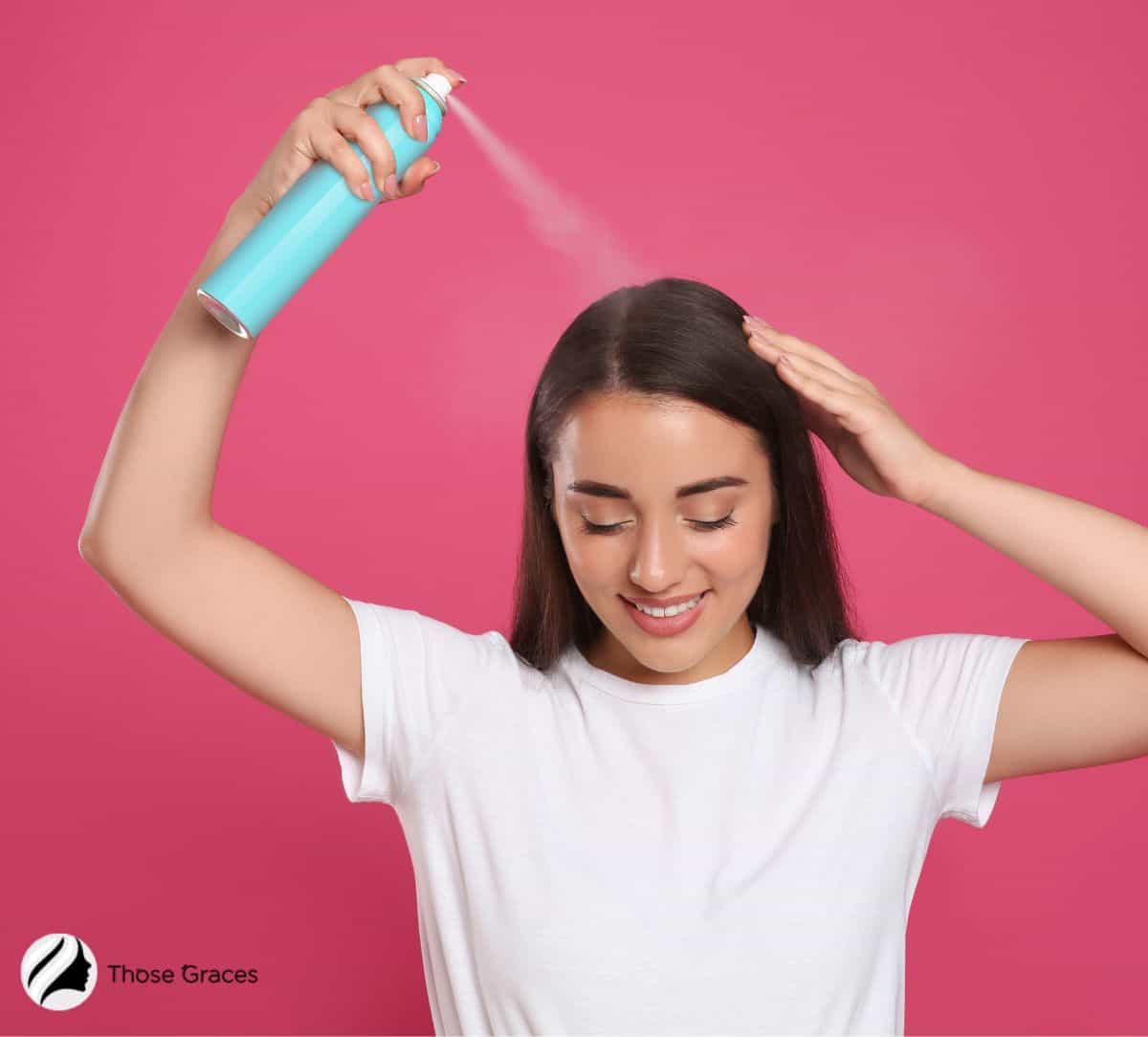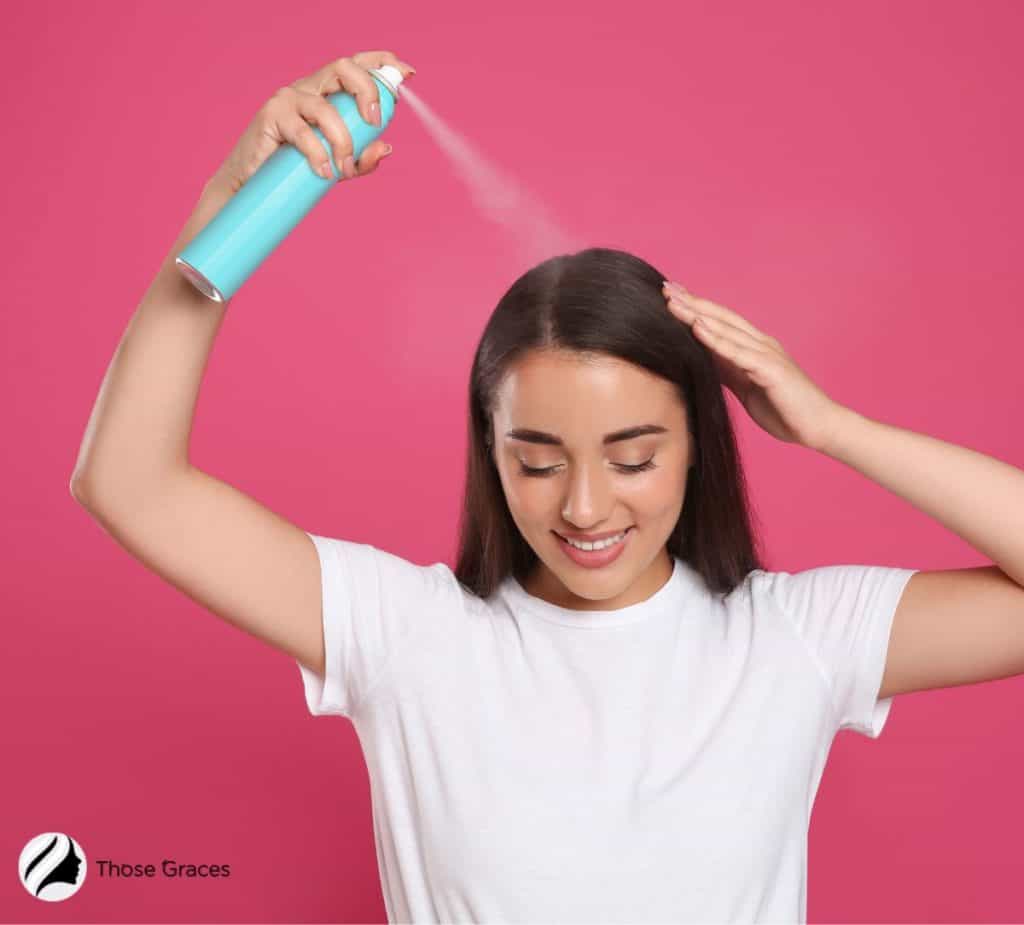 Whatever you do, don't skip this step. Heat wreaks havoc on your locks without it!
Step 2: Create small vertical sections of hair.
Begin by sectioning your hair from one ear to the other in two halves if you have thick hair. Clip the top sections to keep them out of the way.
Step 3: Run the iron across the first section around your eye level.
Check out the video below to see this step in action.:
Step 4: Slightly twist the flat iron while clamping your hair.
Don't twist it all the way around; give it a slight twist. It's hard to describe, but if you can feel your wrist muscles starting to pull, you're twisting it too far.
Step 5: Keep twisting while moving the flat iron
Twist the iron continually, around half a turn, as you move the flat iron along the hair shaft. Tension on the strand is a MUST!
Step 6: Do not iron the hair ends. Let go of the strand before you reach the hair ends.
Using your fingers, softly twist your newly formed curls and form the waves.
Step 7: Constantly alternate the direction
Work on the bottom if the top has already been clipped beforehand. Once you're done, work on the top and clip the bottom. Repeat the process until you've covered all the sections.
Step 8: Once you're finished, let your hair cool down.
It should cool off pretty quickly, don't worry.
Step 9: Blend your curls by shaking your hair gently.
You can use a sea salt spray to give it more definition, volume, and texture.
In case you're still finding it hard to follow through these steps, you can check out this YouTube tutorial video by YouTuber Cynthia Dhimdis.
Expert Tip: "If you have really fine hair that does not hold a curl, coat your sections in hairspray before curling, allow it to dry, and then brush out." Harry Josh on "Can You Use A Flat Iron To Curl Your Hair?"
Looking to elevate your hair game? Dive into my articles on "types of flat iron" to find your perfect match and "flat iron hairstyles" to unlock a world of stunning looks!
4 Tips On How To Make Curls With A Flat Iron
Let's finish this off with a few of my favorite tips.
1. Ask yourself, "What kind of curl do I want?"
Before kickstarting the curling process, you must know what you want. At the very least, have a blueprint of the desired curl ready.
Let me give you a gist if you're still unsure about how to use a flat iron to curl hair.
There's the beachy wave Hawaii type of look or loose curls for a romantic night, perhaps. You can even choose bouncy curls if that resonates with you more, or you're wondering, "How to do flat iron curls?"
I tried this method, and my curls turned out exceptionally amazing! I hope it does for you too.
2. The Hot Styling Tool
The next thing you must consider is the type of hot tools that will assist you in achieving the look you desire.
To choose the most efficient hair tools as per your preferences, look into the price tag, the heat setting, shape and width, and the most vital aspect, the plate type.
Ceramic plates are more versatile because these tools are ideal for almost each hair type. A ceramic iron is affordable but goes through wear out over time.
In contrast, Titanium irons offer even heating and heat up pretty quickly. These irons are more expensive.
Pro Tip: Do not end up damaging up hair trying to save a few bucks. It's not worth it.
Also, go for a hair straightener with rounded edges and smaller widths.
3. Spray Hair Protectant On Your Dry Clean Hair
When you're all set and ready to start the curling process, begin by washing your hair clean with an amazing shampoo. Also, don't forget to condition it.
Remember that your hair needs to dry out completely before you curl it. Once your hair is dry, spray a mild hair protectant generously evenly for heat protection, and comb your hair.
4. Hair Sectioning.
How to curl hair with flat iron easily? Avoid lumping your damaged hair together and curling it at once. The larger the hair section, the higher temperature and the more damage to your hair.
Thus, separate the strands of your dry hair into sections.
FAQs
Is it not good to curl your hair with a flat iron?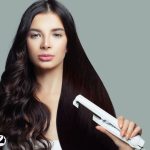 Using a traditional curling iron, or hair straighteners, for curling your curly hair isn't a bad thing. That is, as long as you're ensuring you're not running your hair through it too excessively.
In that case, your hair can suffer from heat damage and destroy the hair fibers.
Is curling with a flat iron better?
Although efficient, the effectiveness of a hot styling tool depends on the hair length.
If you've long hair, you can go for either. But the stark difference lies in its effect on short hair.
If you have short healthy hair and hope to create defined and tight curls, a curling iron might be better for you. That's because you will get waves with flat iron plates rather than tighter curls.
Is curling worse than straightening?
Unless you're using organic and natural methods, in both cases, you're employing heated tools to either straighten or curl your hair. Thus, whether it's straightening or curling, it's extremely damaging for your hair if you're doing it excessively.
Conclusion
With that, I close this guide on "Can You Use A Flat Iron To Curl Your Hair." Straightening irons are versatile and have more functionality when compared to curlers.
You can curate a variety of magical looks by following different techniques. In no time, surely, you'll be able to do that curly-haired goddess look you might be aiming for.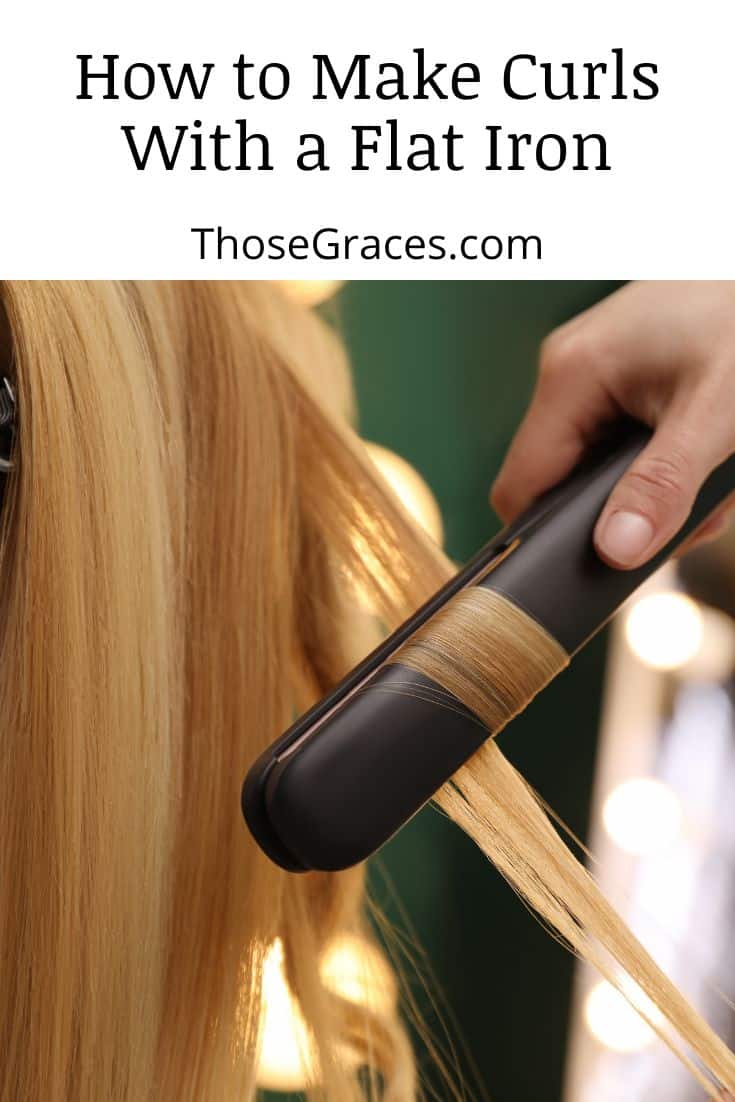 References
Picardi, Phillip. 2014. "How to Straighten Hair: 11 Flat Iron Tips for Perfectly Straight Hair." Teen Vogue. Teen Vogue. July 11, 2014. https://www.teenvogue.com/story/top-ten-flat-iron-mistakes.
Have you tried using a flat iron to curl your hair? Let us know your experiences below!