If you're looking for some easy DIY zero-waste makeup removers, stick around!
I know you keenly evaluate all the ingredients in every beauty product you buy and search for all the reviews in the world just to confirm it's right for you.
But then there is one area we all seem to be ignoring – how we remove our makeup.
Think of the cotton pads you have to throw in a week, and imagine how many people are doing it.
It's a lot; and you can reduce that waste by simply trying out these ideas below!
Related: How Do You Remove Makeup Without Plastic?
DIY Zero Waste Makeup Removers
As I always mention in all my DIY projects, I believe I'm the least crafty person on earth, so be assured you can do everything on this list.
Also, another great thing about this shift from your usual conventional methods of removing makeup is you get to save some money. That's a big incentive, huh?
So, let's get started.
1. Eye Makeup Remover Recipe
I don't know about you, but removing my eye makeup seems to be the hardest of all other layers of makeup on my face.
That's why it's the first thing I researched about when I started looking for homemade zero waste and eco-friendly makeup remover.
I specifically loved this recipe from Mags. She lives a cruelty-free lifestyle, so if that's something you'd like to learn, visit her channel.
Her recipe is easy to follow, and the only thing I struggled to find was the pump bottle she recommended. It's nice, though, because it helps prevent the spilling.
Water is the biggest percentage of this recipe, which makes it cheaper too. Other things she adds include coconut oil and baby shampoo (tear-free).
She says that she has suffered from sty issues before, and the soap helps in removing the makeup and preventing the sty.
For this recipe, ensure you shake the bottle before use because the three ingredients don't mix naturally.
Below is the video for more clarity and measurements.
2. Witch Hazel Makeup Remover
This is another creative eco friendly makeup remover tutorial from Our Oily House.
I've tried so many recipes from this channel, and they're never a miss. And yeah, you guessed right from the name, the YouTuber mainly uses oils in her recipes.
Witch Hazel isn't the only product we will be using for this DIY, but it can be used by itself to remove makeup.
That said, if you want to add more nutrients to your skin in the process, you can mix it with fractionated coconut oil, liquid castile soap, vitamin E oil, and any essential oil.
However, avoid using minty essential oils or hot oils like cinnamon since the product goes near your eyes.
One of my favorite parts of this recipe is how to use it; you can either keep it in liquid form or soak it in your cotton pads to absorb the mixture.
This last part is better seen than explained. Watch the video below for clarification.
3. Oils Makeup Remover
I love this idea from a blossoming life; it's simple and only needs a few ingredients. The ingredients include avocado oil, olive oil, jojoba oil, and essential oils, all of which are skin-friendly.
One of the challenges of switching to an oil makeup remover is that it may break your skin.
But that's just for the first few times; eventually, it repairs your skin and helps pull dirt from your skin and cleanses it.
See the video below for measurements.
4. Aloe Vera Gel Makeup Remover
I had to include this DIY natural makeup remover from WholeElise because it contains aloe vera.
I'm sure you don't know the power of aloe vera (even by itself) if you've never used it. I'm currently using an aloe vera gel to clear my skin, and I'm truly amazed by the results.
Other ingredients in this recipe include distilled water, rose water, witch hazel, glycerin, and a preservative of your choice.
Below is the video for more details.
DIY Makeup Remover Pads
Besides the makeup remover, you'll also need some time to scrub off the makeup. Even this one single switch could make a big difference.
Here are a few ideas.
5. Crochet Makeup Remover Pads
In the spirit of making the change to the all-natural products world different, I attempted making some crochet makeup remover pads.
They were a bit of a mess since I'm a beginner in crocheting, but I still ended up with something I can call makeup remover pads. These pads are very soft and comfortable to use.
I've been learning how to crochet since then, so I'll try it again.
See the video below for instructions on how to go about it.
6. T-Shirt Makeup Remover Pads
This idea was inspired by Shelbizlee, and I loved it because she used some dumpster finds.
Well, I didn't have dumpster finds, but I had some T-shirts from my ex-bf that I didn't mind tearing apart (it was very therapeutic). And I got my soft reusable makeup remover pads.
This tutorial was easier than the crochet one, and it took a few hours to complete. Some users said that the t-shirt makeup remover has significantly reduced their acne since it's thin and soft.
Also, if you're a new mom, these pads can double as reusable breast pads or baby wipes. Three birds in one stone!
Here is the tutorial.
7. DIY Makeup Remover Cloth Mints
Who said makeup remover pads have to be circular? They can be any shape you want and in the form of anything you want, even mints!
I had never thought about this, so I was really excited when I came across this tutorial by Daisynics.
The mints are easy to make and even more comfortable to use. I find that they actually do a better job than the usual round pads.
I also had to sacrifice one pair for my niece, who thinks it's cute when I use them.
Here is the video.
8. DIY Cotton Pads
I know when you first move to the zero waste makeup remover pads world, you're still paranoid as to whether the pads do a great job like your on-time cotton pads.
Therefore, the best thing to do is to start with the DIY cotton pads.
Like the other makeup remover pads in this list, they are easy to make and very comfortable on your skin.
You can watch this video by Some Randomness from me for more details.
Final Thoughts
There are so many reasons why people decide to switch to DIY zero waste makeup removers. Some want to preserve the environment, while others want to save some money.
Whatever your reasons might be, your contribution to protecting mother nature counts.
I hope you found some cool homemade zero waste makeup remover ideas to try from my list.
I would also love to know why you prefer DIY zero waste makeup removers to conventional makeup removers. What's your story?
References
"Aloe Vera for Face: Uses and Benefits." 2020. Www.medicalnewstoday.com. June 17, 2020. https://www.medicalnewstoday.com/articles/aloe-vera-for-face.
"Is Witch Hazel the Skincare Miracle We're Forgetting About?" 2019. The Everygirl. February 19, 2019. https://theeverygirl.com/is-witch-hazel-the-skincare-miracle-were-forgetting-about/.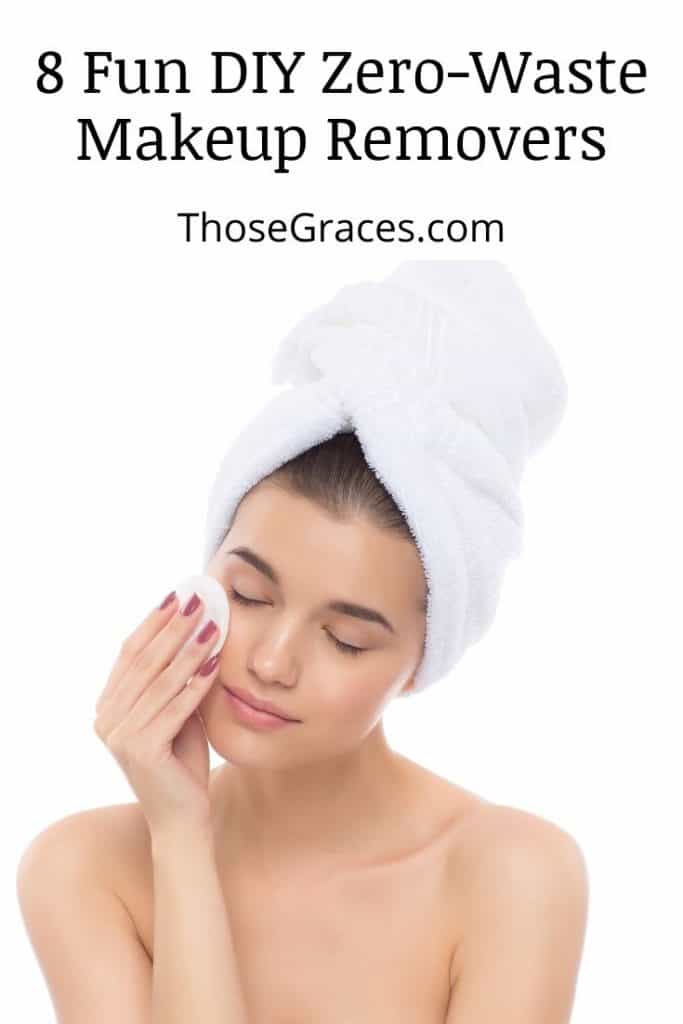 Have you tried making a DIY zero waste makeup remover? Please share your experience below!