On the hunt for some of the best tanning lotions for legs?
I've got you!
Below, I'm sharing 15 amazing brands that can help you get those gams beautifully bronzed in no time, even if you're using a tanning bed.
Start with a peek at my absolute favorites, then read on for the complete list, along with reviews.
Indoor Tanning Lotion for Legs Top Picks at a Glance
If you see the value in these products and choose to purchase via my referral links, I may earn a small commission at no extra cost to you.
Don't have time? Here is a quick comparison of our favorites!
15 Best Indoor Tanning Lotion for Legs (With Reviews)
I'm guessing this isn't your first time using a tanning lotion. This time, however, you'll need something that can work wonders for your legs.
Don't worry, though your days of searching will be finished in a matter of minutes. I've created a selection of high-quality indoor leg-tanning lotions that are both affordable and effective!
This bronzing lotion is by far one of the most popular leg tanners, and definitely my go-to pick.
It contains a hair-growth inhibitor, which means you don't have to shave as often (yay!). It also leaves your legs smooth and extends the life of your tan.
Dark bronzers in the formula provide significant tanning effects for difficult-to-tan areas.
Skin firming agents, shaving minimizers, and skin conditioners are also included in the recipe. All of this contributes to a successful tanning outcome.
Don't forget to also check our list of the best tanning lotion for outside!
Devoted Creations is dedicated to producing high-quality tanning formula, and this is one of their two products that made my cut.
The bronzing mixture softens your legs by nourishing your skin while also giving it a bronzed glow.
Believe me, your legs will feel SOOO rejuvenated by using this delightful leg bronzing formula.
It warms your skin and gives your legs an immediate color and dark tone effect after you've finished tanning.
This is a powerful tanning and bronzing product that will give you the darker legs you seek. Because it contains a shave minimizer, the leg bronzer decreases the need for shaving.
It invigorates the skin on your legs and aids in the maintenance of an equal tone. It contains DHA and core black walnut extract, which gives your skin an instant and long-lasting darker complexion.
Airbrush Legs Illuminator is a follow-up to Sally Hansen's bestselling Airbrush Legs Spray and Lotion.
Given the popularity of those two products, I had great hopes for the Illuminator, but it doesn't fare as well as its predecessors.
The fluid formula of Airbrush Legs Illuminator comes in a squeeze tube and is applied with a large plastic roller-ball applicator that can be difficult to work with.
Solid BlackTM Facial Bronzer is designed to tan, tighten, and diminish the appearance of fine lines and wrinkles on your sensitive facial skin.
To detoxify and fight off environmental stress and damage, this tanning lotion for sensitive skin uses Black Tea extracts and antioxidant-rich Acai Berry.
This lightweight lotion is fragrance-free, making it suitable for all skin types.
Are you seeking legs that are properly tanned? The 8th dimension bronzer with a tingling effect was made specifically for all of your body's difficult-to-tan areas.
It hastens the development of a natural and healthy tan. Extra-nourishing ingredients from aloe vera, mango, and green tea will help you to heal irritations and stimulate skin regeneration.
This has a high-performance pigment that can be used for areas in both Legs and Body and can conceal varicose veins, scars, age spots, tattoos, bruises, stretch marks, and more.
The lightweight, buildable, and blendable body foundation formula hydrates skin all day while also providing SPF 25 protection.
No products found.
The Perfect Legs Gradual Tan can be applied to any part of the body, but as the name implies, it really works wonders on your legs.
Following the popularity of Perfect Legs, the company made this solution for those ladies who prefer a delicate boost of bronzing.
In other words, your gams gradually and organically tan. Just smooth five times a week all over the legs (and body) to establish an even color and wash away impurities.
No products found.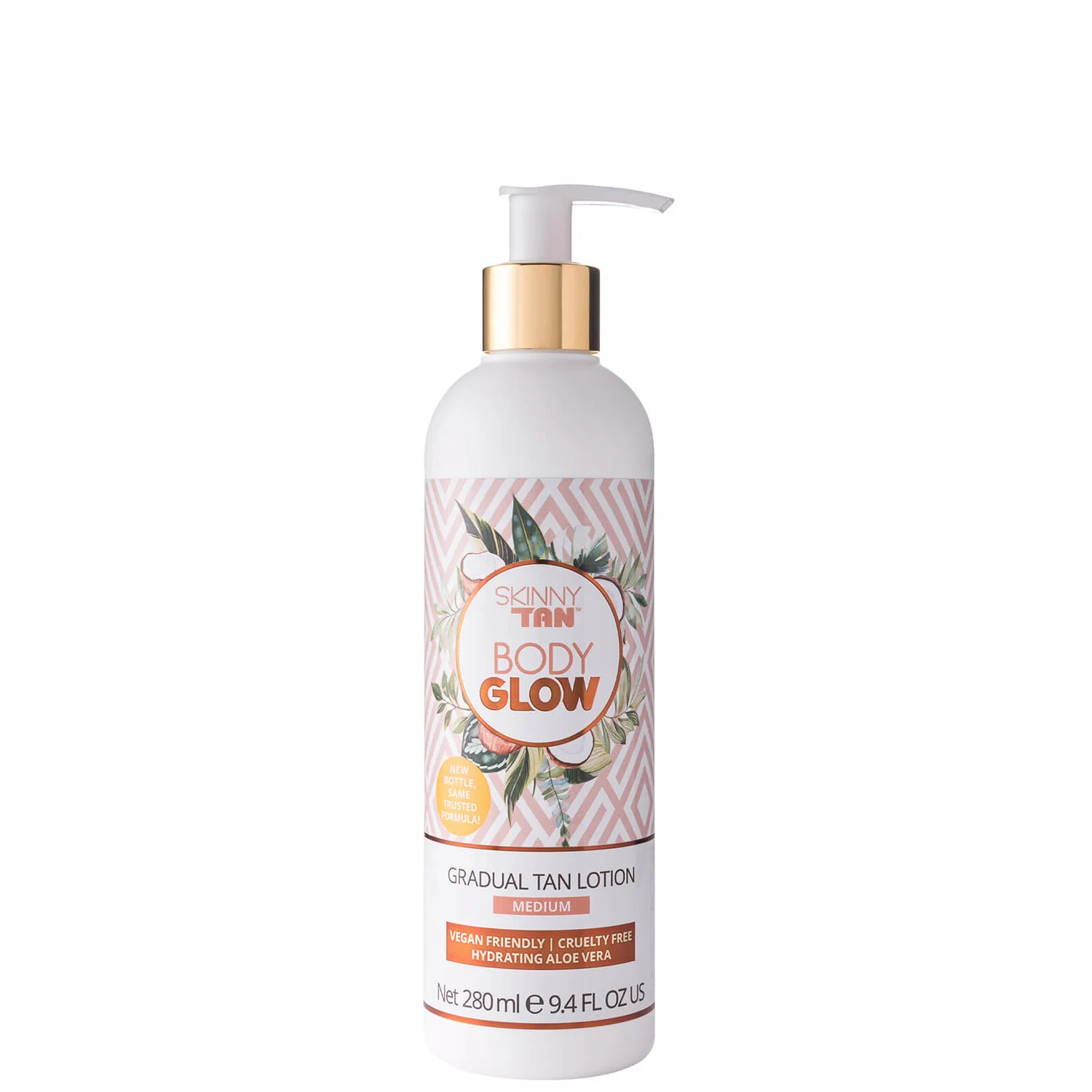 Body Glow by SKINNY TAN Medium Lotion, a daily moisturizer with a trace of tan, will improve the appearance of your skin.
The moisturizer effectively softens and nourishes skin while gently building light to medium, streak-free color; just enough for a hint of subtle radiance.
Tan-Luxe The Butter Illuminating Gradual Tan Butter will provide your skin with wonderful moisture and a sun-kissed radiance.
While providing a buildable tan, the multi-benefit solution nourishes, moisturizes, perfects, and brightens the skin.
To give maximum hydration, this nourishing butter is blended with a special blend of Vitamin E, Oat Oil, Coconut Oil, Raspberry Seed Oil as well as Cocoa Butter and Shea Butter.
No products found.
The Garnier Ambre Solaire Natural Bronzer Self Tan Mousse will give you a sun-kissed radiance.
The transparent product helps to create a natural-looking tan in just one application and is suitable for both face and body.
No products found.
Made with a unique combination of coconut milk and coconut oil. If you don't try the Ed Hardy Coconut Kisses Tanning Lotion, you'll miss out!
Consider all the compliments you'll receive after wearing it.
The Swedish Beauty Pink Diamond was chosen for its tingling element. It's difficult to beat because it's both sleek and efficient.
This type of tingling lotion is required so that you'll have a natural-looking tan when you're done sunbathing.
Here's the greatest for your legs if you're into tingle tanning formulas. It's designed to target the legs and give them a dark bronzing appearance that's even and consistent.
It has anti-cellulite characteristics that assist in reducing skin imperfections and leave your legs looking smooth and appealing.
It delivers a practical tanning effect to difficult-to-tan areas, providing them with a rich, dark, and golden glow.
No products found.
Protan has released another fantastic tanning formula. This is designed specifically for tanning your legs and making them the center of attention.
The fast-absorbing solution contains dark DHA bronzers to give your legs the most darkening impact possible. It uses UV rays to target difficult-to-tan areas, resulting in an even, rich, and darker tone.
No products found.
READ MORE: How to Tan Your Legs Fast in the Sun
How to Choose the Best Indoor Tanning Lotion
The same factors that go into selecting tanning lotions for your body and face apply to selecting tanning lotions for your legs. These elements could include:
How Your Lotion Reacts With Your Skin?
Make sure the tanning formula you chose is appropriate for your skin type and does not contain any substances that you're allergic to. Believe me, I've made this mistake and it was a nightmare!
If you have sensitive skin (or heck, even if you don't), I HIGHLY recommend doing a patch test first.
What are Features Of Your Lotion?
It's also essential to think about the qualities that your tanning product has.
An excellent tanning lotion should moisturize, soften, and smooth the skin while giving it a beautiful dark tan.
You don't want something that will leave an orange tinge, streak, or any other residue on any application locations.
Does Your Lotion Have Good Reviews?
Online guides and reviews, such as ours, can help you understand the benefits of all of the many (many, many, many) different tanning lotions out there.
Here's what I do: first I read reviews like this one from trusted sources. That gives me a good starting list.
Then, I narrow down my list of options and read through the Amazon reviews next. Whenever possible, I read the 3-star reviews first, because they're usually the most informative.
FAQs
Conclusion
Indoor tanning lotions are a terrific way to achieve a tan without exposing your skin to damaging UV rays after a vacation.
Grab your tanning lotion immediately and start shining! From this list, pick your favorite!
Final Recommendation
What is your favorite indoor tanning lotion for legs? Let us know in the comments below!