They always say that good tattoo machines are pricy, but really, how much does a tattoo machine cost?
I bet as a tattoo artist (or a prospective one) this is the question that bothers you the most. Well, worry no more. I did the research for you by reviewing all tattoo equipment.
Here are the tattoo industry's basic types of equipment, and let me give you an idea of how much money you need to buy a starter kit for your tattoo business.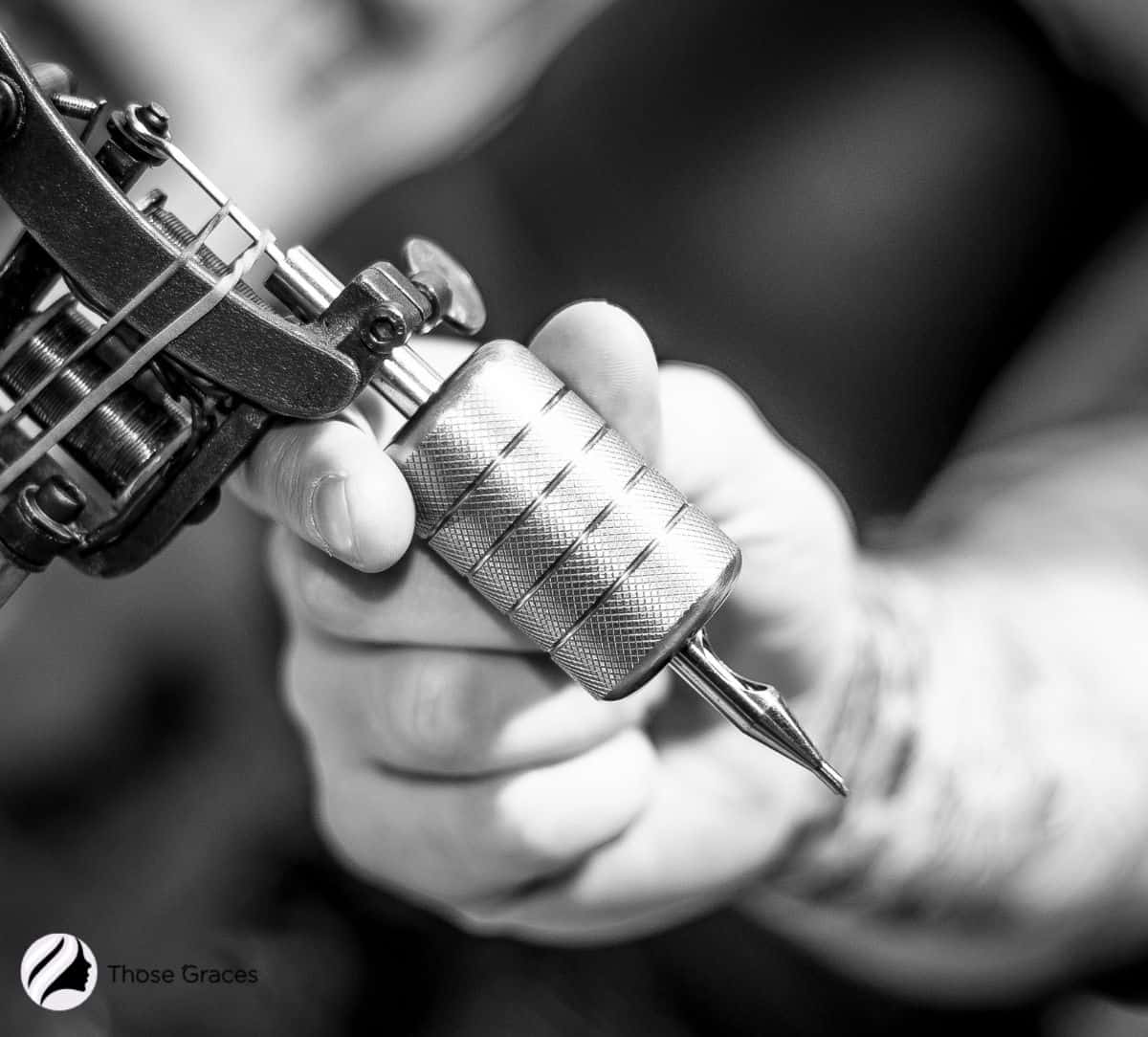 READ MORE: The Best Professional Microblading Machine
How Much Does Tattoo Equipment Cost?
The average cost of a tattoo kit ranges anywhere between $50 to $1000. Depending on the quality of the products in the tattoo kits sold, cheap tattoo machines with extra supplies price start at $50.
With the basics, you will not receive the additional supplies that come with a larger tattoo kit.
A power supply, a clip cable, and a supply with a foot pedal are all possible inclusions of a kit. To get started, you'll probably need some tattoo ink and needles which is an additional cost.
Larger kits can cost upwards of $1,000 or anything in between. With your kit, you can start the practice with artificial skin or an actual person's skin.
Before I continue with other tattoo equipment manufacturers and tattoo pricing, here TikTok video about essential tattoo supplies.
Experts artists say that "Good equipment makes good tattoos. The proper equipment combined with the right tattoo artist will help you get the best piece."
How Much Do Tattoo Guns Cost?
To give you the average cost of how much does a tattoo machine cost, cheap tattoo machines are priced at least $400, and depending on the types of tattoo machines, it goes up to $900.
There are a few types that sell above $1000.The perfect machine must meet industry-standard technology.
More importantly, it shall suit your tattooing style and preference.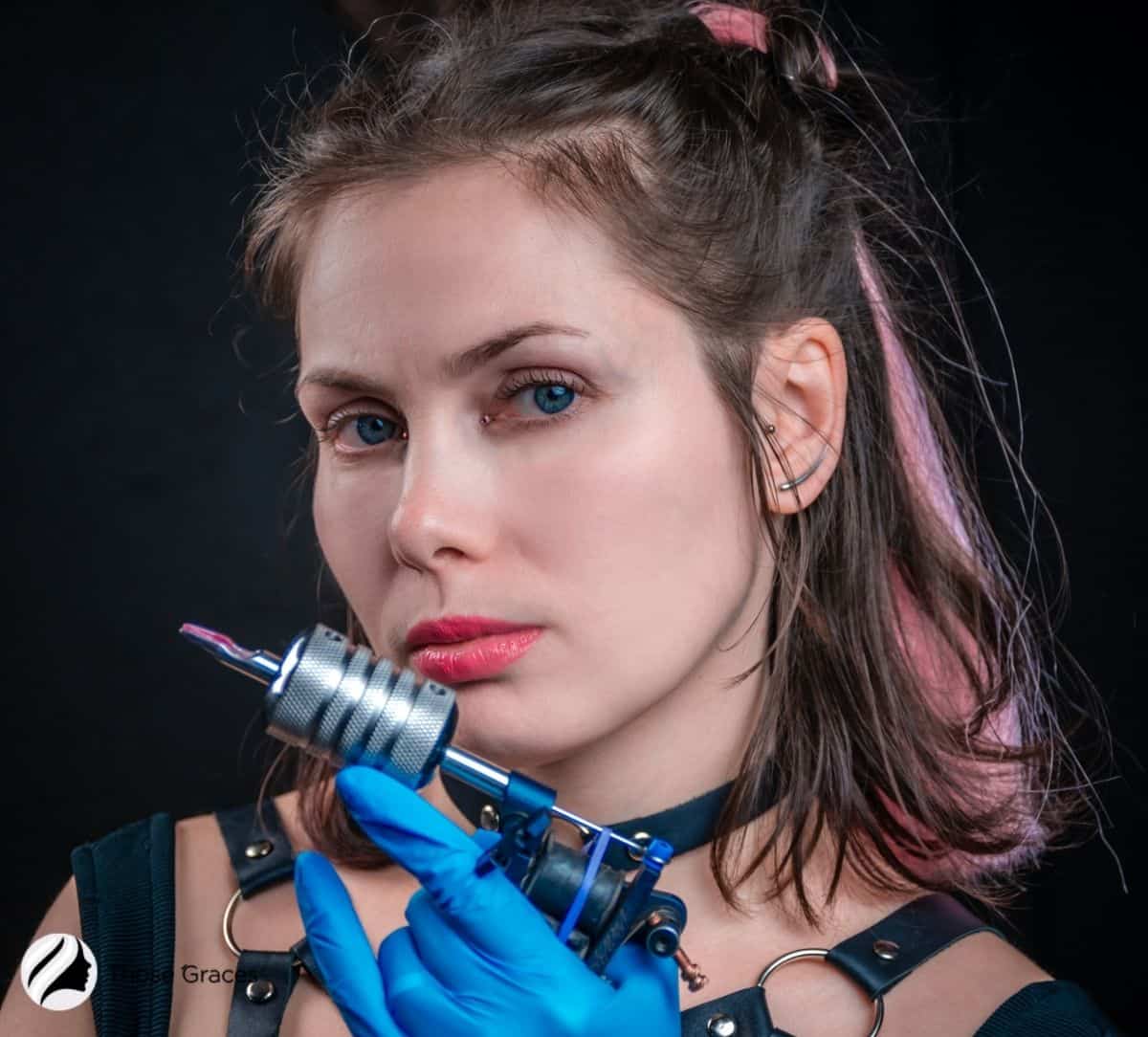 It doesn't end there. I'm only talking about the tattoo gun, and it's only a part of your tattooing set-up. The disposable supplies and other materials are not yet included here.
RELATED ARTICLE: Tattoo Pen vs Gun
How Much Do Tattoo Needles Cost?
The average cost of tattoo needles is from $5 – $200. Some are sold as single needles but others sell the material per 100 pieces.
Proces also differ according to types of needle groupings: a 5 mag-needle grouping and the standard, 7-needle round grouping.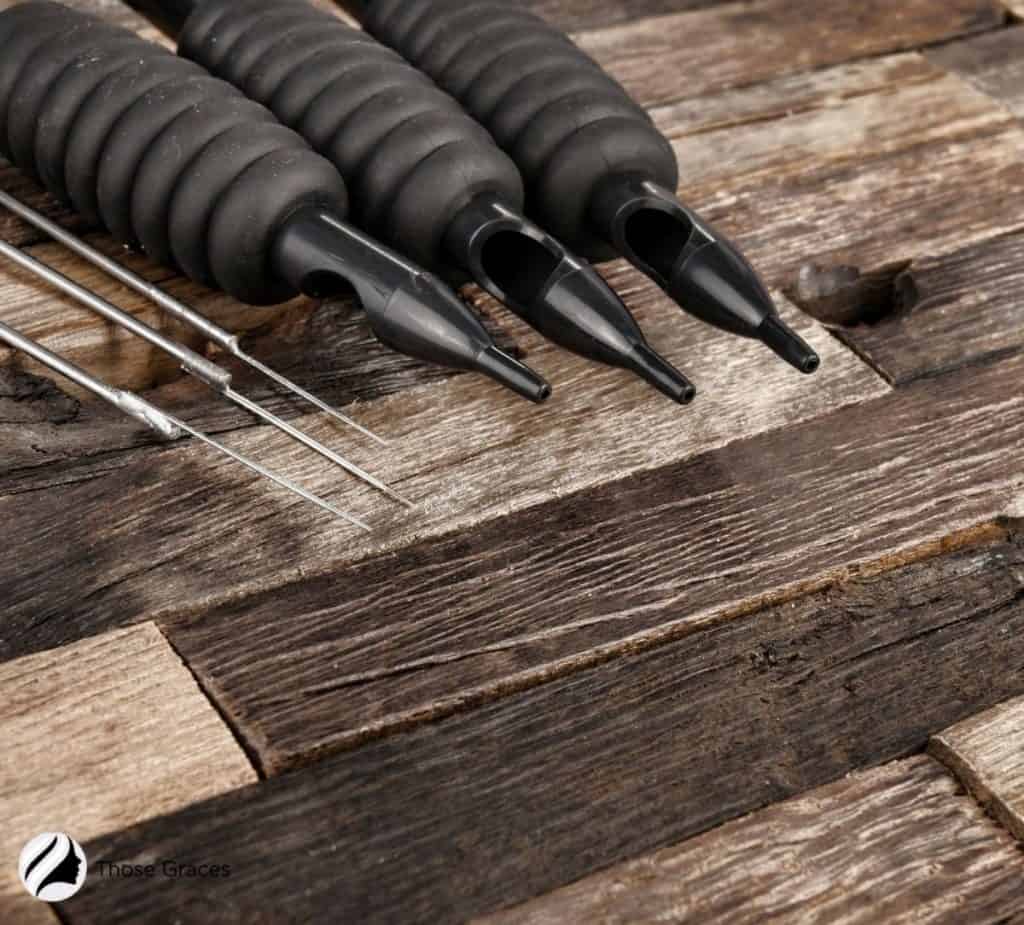 Related: Can You Reuse Tattoo Needles on Yourself?
How Much Does Tattoo Ink Cost?
The average cost of a set of ink colors cost around $5 (5-10 pieces of 5ml different tattoo colors) up to $500 (54-color set of 30ml bottles).
A colorful tattoo design will be needing various types of ink in order to achieve that wonderful art in the skin. Some skin types are sensitive so consider known hypoallergenic brands, to prevent skin damage.
Other Cost Considerations
There are different types of tattoo machines to choose from. Choose from rotary tattoo machines, tattoo pen rotary machines, and coil tattoo machines.
For that money, you'll get a high-quality tattoo gun. If you work in a tattoo shop and need to purchase your own gun, $400 is a good starting point.
Even yet, if you can afford to spend closer to $900, you can be assured that you will receive the highest quality tattoo machine.
Check out this cool video unboxing other tattoo equipment.
Also, take note of your consumables. The United States 2011 Tattooing Regulations impose sanitary standards of working in order to avoid skin infection. (1)
Your needles, tattoo tubes, and wipe paper are disposable. Cleaning supplies are a must as well. You will use wash bottles, and cleansing and soothing solutions.
Gloves are hygienic too! We don't reuse consumables, so you better not fall short of stocks. Here's a wrap of tattoo equipment prices.
| | Tattoo Gun | Tattoo Needles | Tattoo Ink | Consumables (gloves, wipe paper, cleaning supplies) |
| --- | --- | --- | --- | --- |
| Price Range | $400-$900 | $5-$200 | $5-$500 | $5-$100 |
Here is a TikTok video from hannerantim sharing her purchase of beginner tattoo equipment.
Make sure to also check our list of the best rotary tattoo machine for beginners!
3 Money-saving Tips on Buying Tattoo Equipments
Whether you are one of the beginner tattoo artists looking for a good deal, or a professional needing a replacement, these money-saving tips apply to you!
Your dream machine can be overly-pricy, but there are strategies you can do to save tons of money on your purchase.
Tip #1: Invest in Quality Products
Let's say, you bought a low-quality tattoo machine, and it costs you $100. Because it is a low-quality tattoo machine, it breaks every year or two and you'll have to buy it again. Did you really save money?
Consider long-term usage and invest in a quality tattoo machine. Industry-standard ones will cost you at least $400 but will stay and work with you even up to 10 years.
Always remember, quality machines mean quality results! Overflowing profits will follow even after your first few sessions.
Here is a cool video of some of the best wireless tattoo machines
Tip #2: Hunt Discount Offers!
Who doesn't love sales? Shop around and find the best deal on the equipment that you want. Where to get a tattoo gun?
Look upon famous online shopping platforms, or explore prices on tattoo supply shops near you. Your most-wanted machine will make you excited and want to buy it right away, but here's the deal.
Don't miss out on the chance to save money on discount offers. If the purchase is not urgent and you can wait, buy the product on sale! Imagine how much ink or other supplies you can buy from your savings.
Tip #3: Look for Wholesale Suppliers
Save money by buying in bulk. If you work in a tattoo shop, try ordering supplies with the other artists as a group. You can use the money saved to buy more tattoo supplies or upgrade your tattoo machine.
FAQs
How much do tattoo artists spend on supplies?
Depending on the quantity and quality of the sets, average tattoo kits will cost you from $50 to $1,000.
Can anyone buy a tattoo machine?
Of course! Tattoo machines are highly accessible, especially in online shopping apps and websites.
What do beginner tattoo artists charge?
According to Statistics, beginner tattoo artists earn around $26,000 per year. (2) They charge $80-$100 per hour.
Conclusion
Now that you know how much does a tattoo machine costs, how much would you invest in one? To make the most of your budget, remember to follow my three money-saving tips. Good luck!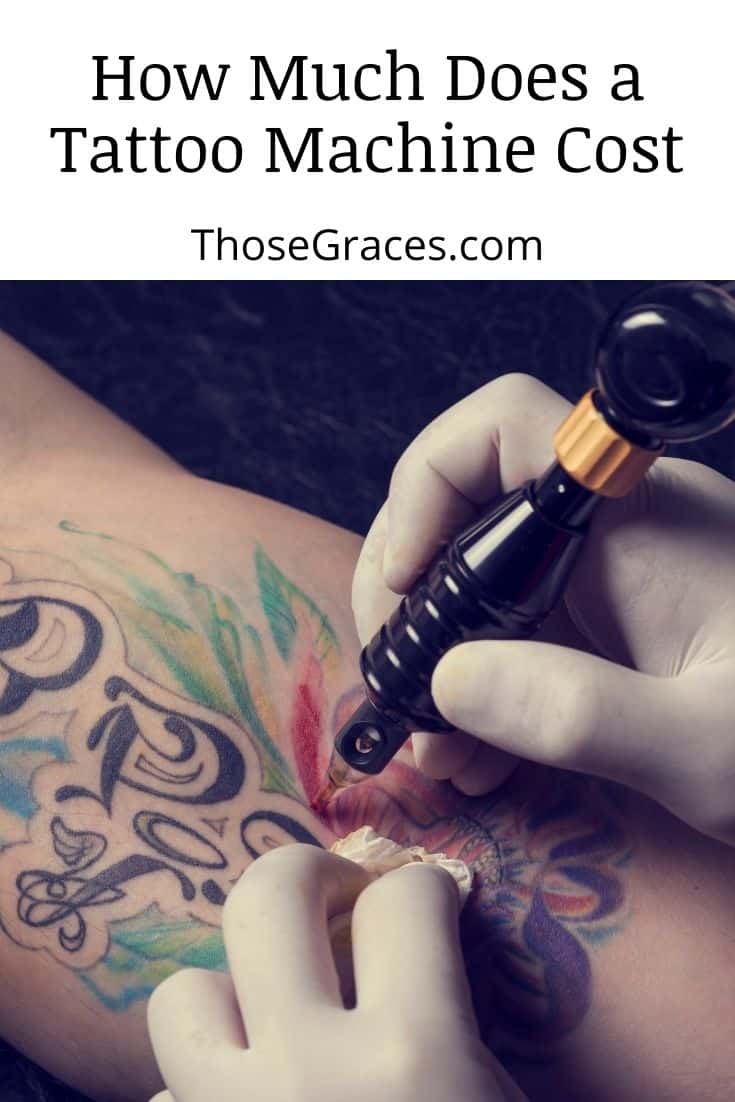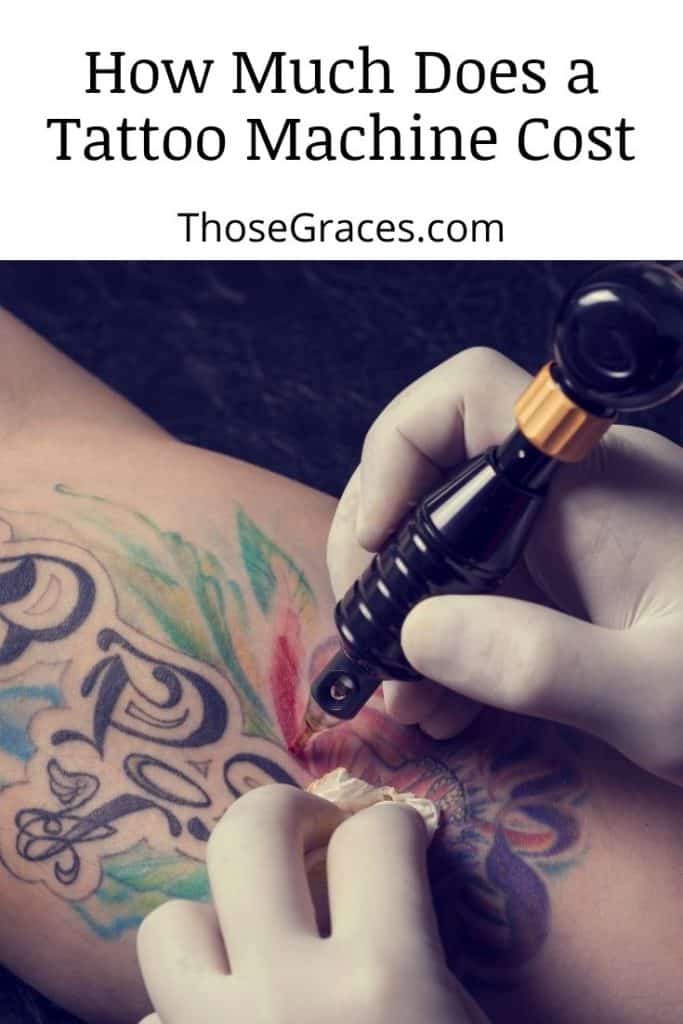 How much is your tattoo machine? Please let us know below!
Resources:
1. Carlson, V.P., Lehman, E.J. and Armstrong, M. (2012). Tattooing Regulations in U.S. States, 2011. Journal of Environmental Health, [online] 75(3), pp.30–37. Available at: https://www.jstor.org/stable/26329511 [Accessed 15 Mar. 2022].
2. www.indeed.com. (n.d.). Tattoo Artist Careers – How to become a Tattoo Artist. [online] Available at: https://www.indeed.com/career/tattoo-artist/career-advice.