It's the battle of the biggies yet again: microblading vs machine hair strokes. Which one is better? Machine hair strokes because even though this procedure is more expensive, it gives better results.
Since I was born with sparse brows, I have done them both and consulted several estheticians on the best methods of brow tattooing.
So here I am with a comprehensive guide on machine hair stroke brows vs microblading and which one is the clear winner!
Check: The List of Best Tattoo Machines For Beginners
Key Takeaways
Microblading is a popular method that uses a handheld blade to mimic eyebrow hair.
Machine hair stroke, aka nano blading, is a new method that uses several fine needles to mimic eyebrow hair.
Both methods use the same pigment and last 12 to 18 months.
Machine hair strokes look more realistic because of their application process, and their results last longer than microblading.
Both methods are incredibly reliable in helping people achieve perfect brows.
What Is the Difference Between Microblading & Machine Hair Stroke
I have always longed for a natural brow shape with a fluffy brow, but some things are impossible without the intervention of a bit of science. And that's okay.
When I was introduced to hybrid brows, it felt like I had finally found the elixir of immortality. Okay, that's a bit too much, but it felt great. Let's find out the differences between microblading and machine hair stroke.
Microblading
Microblading is a new technique in permanent cosmetics for eyebrow restoration. It is a form of superficial micro pigmentation, where pigment is deposited into the papillary dermis with the help of a manual device and a blade consisting of stacked needles. (1)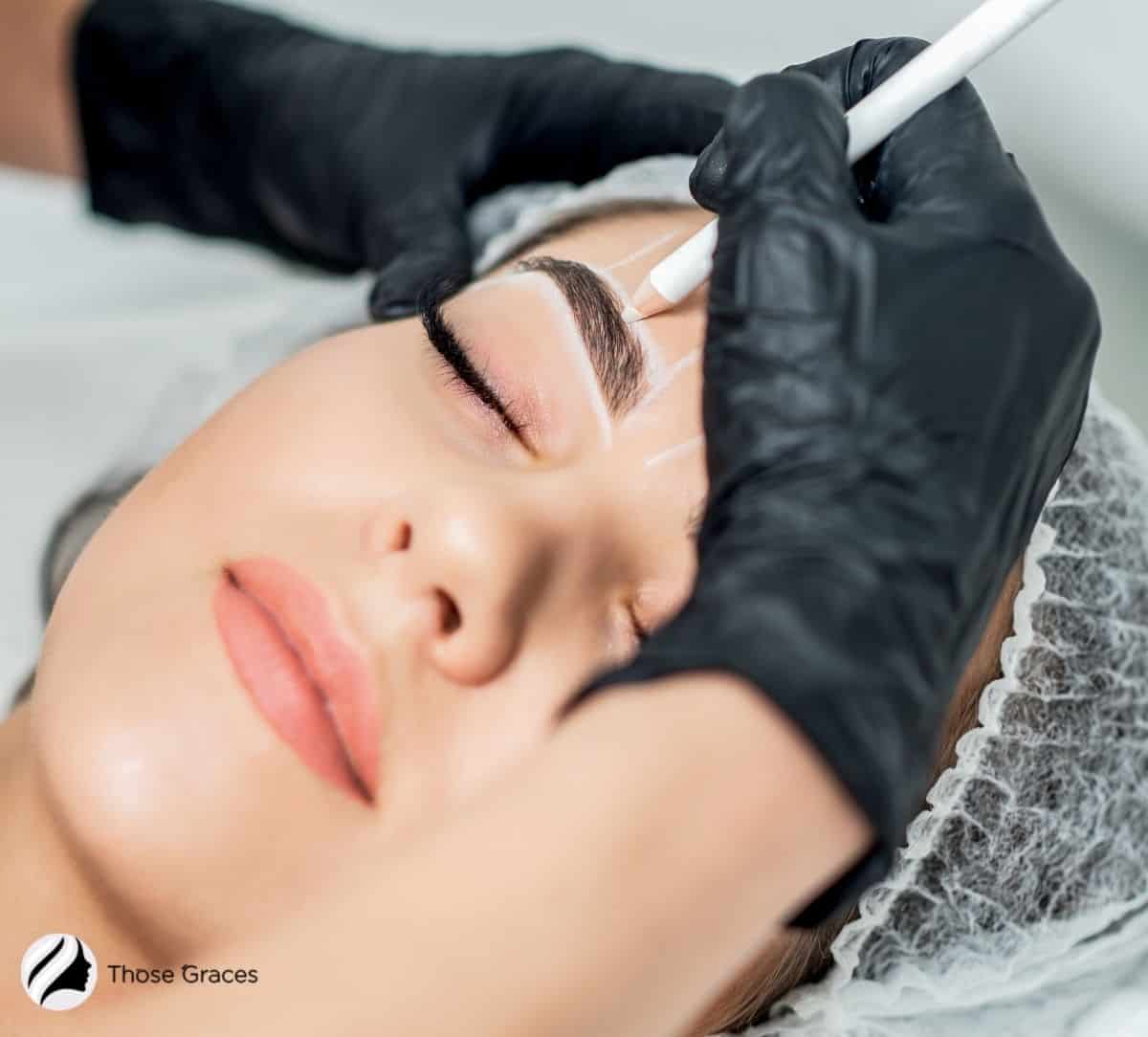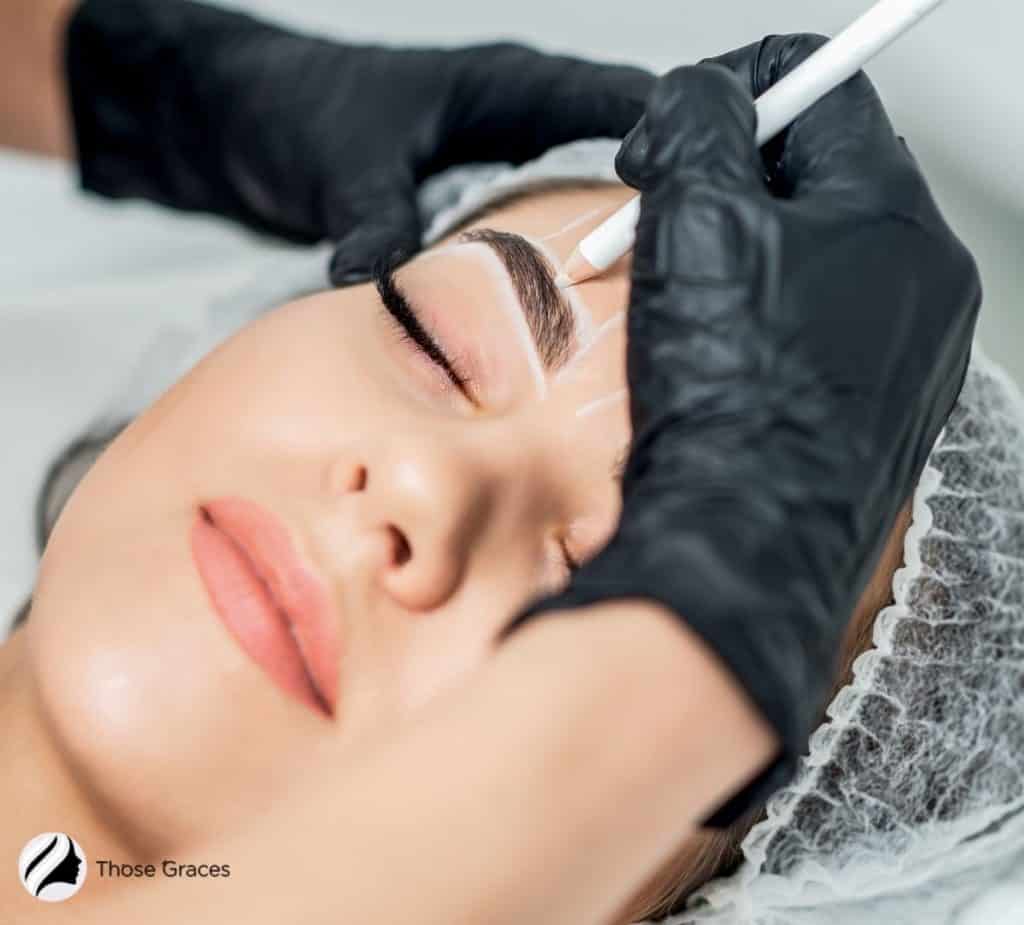 There are two types of medical tattooing inks: iron oxide and synthetic. The pigments used in microblading are manufactured which are non-dispersible and have less pigment retention.
The process does not require much time and can be completed within two to three hours. On the other hand, microblading laser removal can't be done in one session because the skin needs a break to heal itself. This is not a one-size-fits-all deal, and each client gets different shapes, textures, and colors for results that look and feel natural.
The results are not permanent, but if you want permanent makeup tools, this article might help. The effects last about 12–18 months on the skin.
Brow stylist Joey Healy says,
"The sun hitting your face will change the color of the ink sometimes to look orangey, blue, and I've even seen pink." (2)
Here is a short TikTok video on how the microblading process is done on clients.
Fresh combination brows for this cutie 🥰 visit our salon🇨🇭 #fyp #microblading #fypシ #switzerland #viral #brows #mua

♬ CUFF IT – Beyoncé
As you can see, the artist marks the eyebrow and starts drawing on the brows with a thin blade that consists of several needles.
The result is eyebrows on fleek!
Machine Hair Stroke Brows
Machine hair stroke brows are a popular brow PMU procedure in which realistic brows are created by microblading with a machine.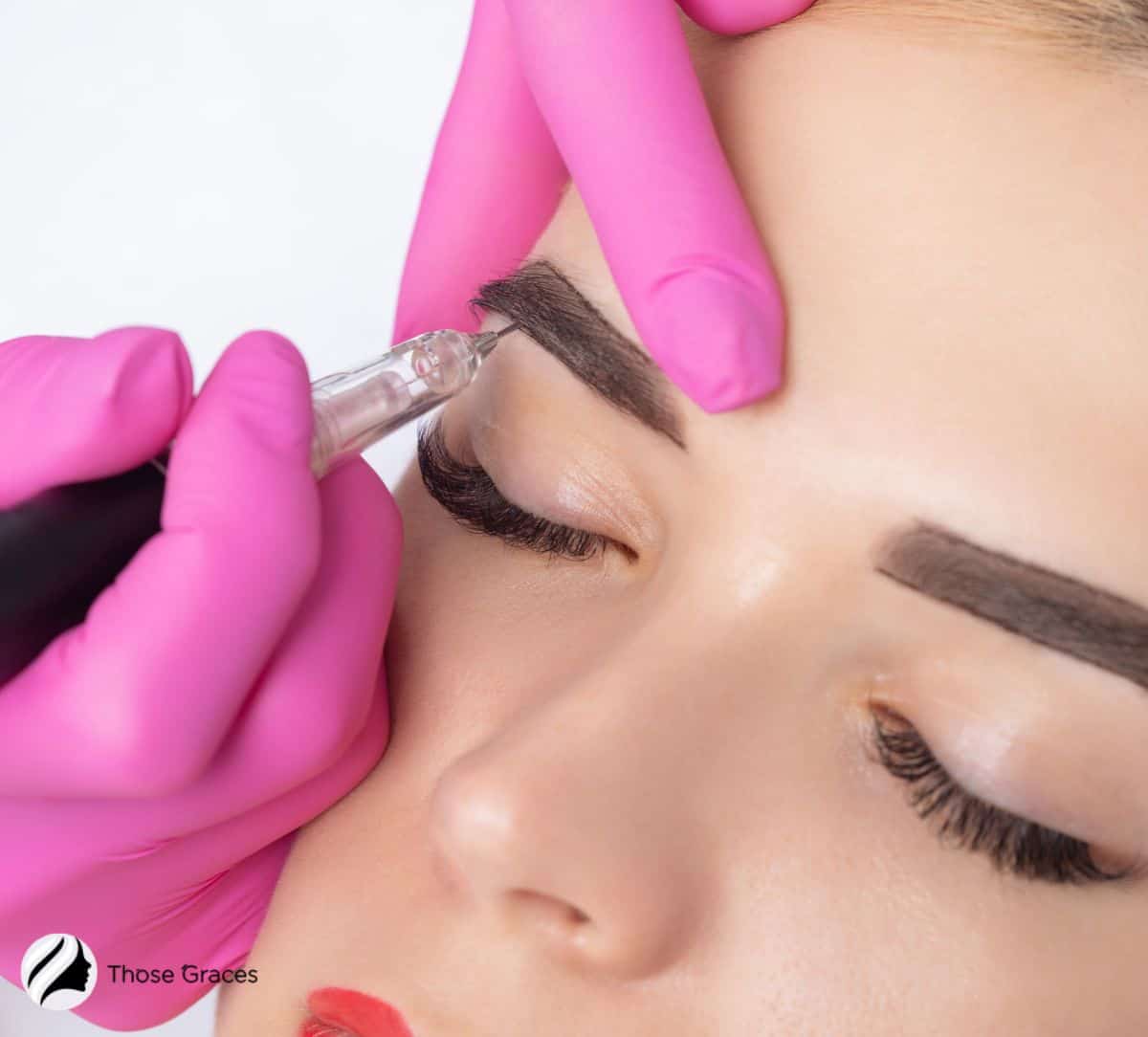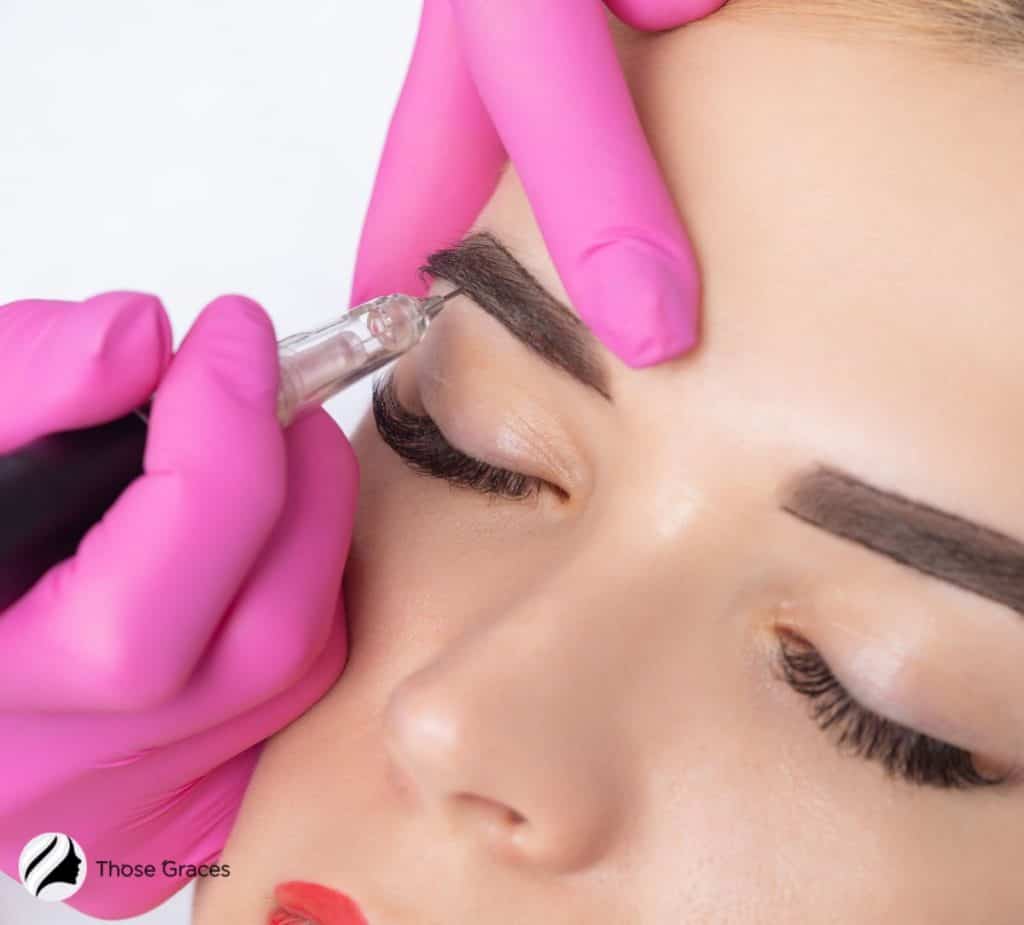 With microblading, natural hair stroke brows are created manually or with a machine. Some skilled artists use a handheld tool with a blade to create a natural appearance.
Machine brows, aka nano blading, use very fine and flexible needles that mimic tattooing but don't go as deep.
Laura Kay, a nano blading expert, says,
"Nanoblading is a new brow treatment that uses ultra-sharp nanoneedles that can mimic the diameter and dimension of a real hair in the skin." (3)
Nanoblading has taken the beauty industry by storm because it creates a natural shape, and the pigment is finer too.
Here is a short TikTok video on how artists create machine hair strokes for natural-looking brows.
As you can see, the artist uses a machine with a fine needle to create tiny brow hairs on the client's skin. The results are significant, fluffy brows that look like you were born with it.
Aftercare for Microblading and Machine Hair Stroke
Now that you know the basics of these exceptional services let's talk about how you can better care of your brows.
1. Healing
Microblading and machine hair stroke deposit pigment with a handmade microblading tool or a machine, much like a tattoo.
For the first 2 weeks or so, you will experience some discomfort. It is essential to keep the area as dry as possible.
Any moisture on the surface, even from sweat, can cause scabbing. It can also cause your pigments to fade.
You cannot hit the gym, go swimming, take a steamy shower, or go to a sauna during the first two weeks. In about three days, your brows will probably start to peel.
And the urge to scratch them will be so high that it will hurt!
But do not, and I repeat, DO NOT scratch on them, or you'll lose everything your artist worked so hard to give you. I've noticed that using a barrier cream helps during these times.
Both procedures require at least four to six weeks of aftercare process. During the healing stages, the semi-permanent pigment will get darker, and you could experience swelling, redness, and soreness.
After six weeks, you may notice that your manual eyebrow tattoo looks like natural eyebrow hair. This is because the pigment fades with time, and the skin develops over the pigment.
After that, it's all easy breezy until it's time for the next appointment, which happens after 12 to 18 months.
2. Touch Ups
Your shaded eyebrow will lose color after 12 to 18 months, but you may also notice that your subtle brow strokes look uneven after about six months of tattooing.
Factors such as sun exposure, exfoliating the skin, and even using acne medication can fade the color of your brows. Keep chemical face peel products away from your brows.
To create an entire brow look every time, you may wish to get touch-ups every six months. This ensures you cover the faded strokes over time and have natural-looking eyebrows.
You can extend the life of your brows by not exposing them to the sun too often. Your brows may even change colors due to frequent exposure. Always protect your brows with a hat or sunglasses.
What Are the Pros & Cons of Microblading?
And now it's time to talk about the pros and cons of nano-blading and microblading eyebrows so you can decide which is the better service for you.
Both brow services use the same pigment and a similar process, except one uses handheld tools while the other uses a machine. So, what are the risks you could expect? Read on.
Pros of Microblading
1. Natural-looking brows.
2. Works on all skin types.
3. Easy hair-like strokes with a blade consisting of several tiny needles.
4. Results last 12 to 18 months.
5. It Does not require very skilled professionals to do the job.
6. Saves time by skipping a brow routine.
7. Cheaper than nano-blading.
Cons of Microblading
1. Handmade microblading results have room for mistakes.
2. Invasive procedure compared to nano brows.
3. Risk of allergies, soreness, redness, and swelling during healing.
What Are the Pros & Cons of Machine Hair Strokes?
Digital machine methods are pretty popular these days, and more people are opting for this machine procedure. But surely there are some downsides to it as well?
Let's talk about machine shading and its pros and cons.
Pros of Machine Hair Strokes
1. Natural-looking brows that look better than handheld tools.
2. Use of very fine, single needles that are not as invasive as manual tools.
3. More suitable for mature skin.
4. Works on all skin types.
5. Results last 18 months or longer.
6. Smoother healing process.
7. Saves time by skipping a brow routine.
8. Use of machine ensures excellent results every time.
Cons of Machine Hair Strokes
1. Pricier than traditional microblading procedure.
2. Requires skilled professionals with certification to work on clients.
3. Risk of allergies, soreness, redness, and swelling during healing.
Microblading vs Machine Hair Strokes (Price Comparison)
Now that we've examined the pros and cons of microblading and machine hair strokes let's consider the price and how much you'd have to spend.
Microblading cost with traditional handheld tools is on average, around $400 to $600. If you find a salon or a professional who will do it for much less, then you can also expect poor results.
I know this because I've been there. One of these low-price deals lured me, and my brows had to pay the price for a long time.
Trust me; it's not worth it. If you're getting a deal anywhere from $400–$600, then it's more than fair.
Machine hair strokes are a tad bit pricier than traditional microblading methods. Typically, a nano blading service can cost about $500 and go up to $2,000.
The price varies on who you're getting the service from and where. This is because machine hair strokes require more labor and expertise, which justifies the higher price.
Microblading vs Machine Hair Strokes: What To Choose?
Now that we've looked at the pros and cons of microblading and machine hair strokes, it's time to choose the ultimate winner.
Before I announce the winner, you may also want to check out microblading vs tattooing, which is also a way of getting perfect brows.
And the clear winner is? Machine hair strokes, obviously!
Laura Kay says, "Microblading and nano blading both offer fine hair strokes that look natural and true to life, but nano blading provides further precision and accuracy because it uses tiny needles, compacted together into an ultra-fine blade." (3)
The pigments and results are finer, and the artist has the freedom to apply less or more pressure on the skin.
Of course, many artists do not use digital machines to do the job because it requires certification, and not everybody can handle such machines.
So if you are lucky and live in an area with certified digital machine skills, you can opt for machine hair strokes.
The results are more natural looking, and the pigment lasts a few months longer than traditional microblading pigments.
It does cost a bit more, but in the end, the price is justified because the results are spectacular!
FAQs
How long do machine brows last?
Machine brow options can last anywhere from 18 months to five years, depending on your skin texture and lifestyle.
How painful is eyebrow microblading?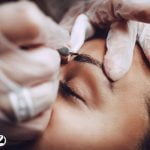 The manual microblading process is quite tolerable since a numbing cream is applied first on eyebrow tattooing clients. It also depends on your pain tolerance.
How long does it take for micro-bladed eyebrows to heal?
The entire healing process after micro needles takes about four to six weeks.
How long do powdered brows last?
Ombre powder brows can last anywhere from one to three years, but you should return for a touch-up two months after getting it done.
Conclusion
Although machine hair strokes are the clear winner in the microblading vs machine hair strokes comparison, handheld microblading is also good.
Microblading has its own merits and has a vast clientele. It's also easier to find since most artists are trained in using a handheld blade.
In the end, both eyebrow methods are helpful and work remarkably well on mimicking natural eyebrow hair. So, whichever you choose, go knowing that you're giving your brows the best.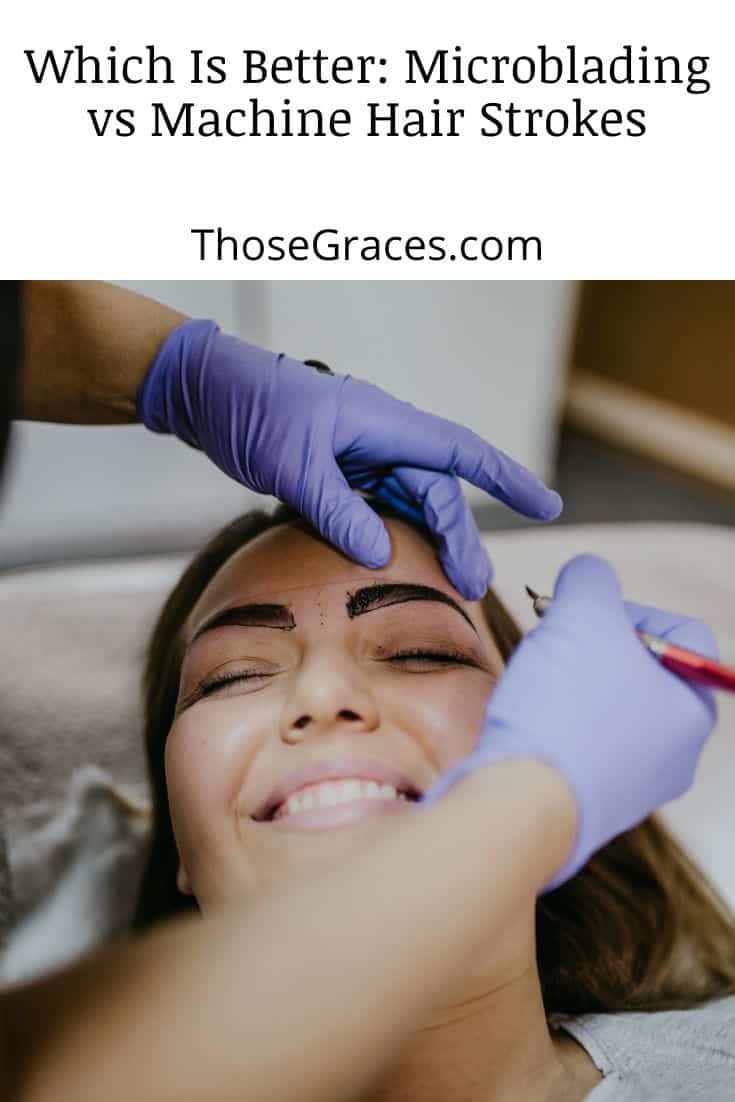 Microblading vs machine hair strokes: what do you think is best? Let us know in the comments section!
References
1. Marwah MK, Kerure AS, Marwah GS. Microblading and the Science Behind it. Indian Dermatology Online Journal [Internet]. 2021;12:6–11. Available from: https://www.ncbi.nlm.nih.gov/pmc/articles/PMC7982014/
2. Nast C. The Most Common Long-Term Effects of Microblading [Internet]. Allure. 2020 [cited 2022 Oct 25]. Available from: https://www.allure.com/story/microblading-long-term-effects
3. Murray B. #BeautyGlossary: What is nanoblading? [Internet]. Harper's BAZAAR. 2018 [cited 2022 Oct 25]. Available from: https://www.harpersbazaar.com/uk/beauty/make-up-nails/a19689550/nanoblading-semi-permament-eyebrows/