Eyebrow tattoo vs microblading: what is the difference, and which one should you get?
If you've ever been to a shady but cheap salon and come out with super uneven brows that altered the frame of your face, you know that eyebrows can make or break your face.
Why risk it when you can have a filled-in brow each day, every day?
But which method is right for you? Read on to find out!
READ MORE: Best Tattoo Gun for Beginners
Difference Between Microblading And Tattoo Eyebrows
Not all of us are born brow artists. Some of us struggle with an eyebrow pencil and cannot, for the life of us, get fuller brows no matter how hard we try.
Also, it isn't easy to give time to your natural eyebrows when you have a plethora of things to do. That's where a brow expert comes to the rescue!
There are basically two types of cosmetic tattooing that can help you achieve semi-permanent brow makeup. Let's discuss them at length then, shall we?
Microblading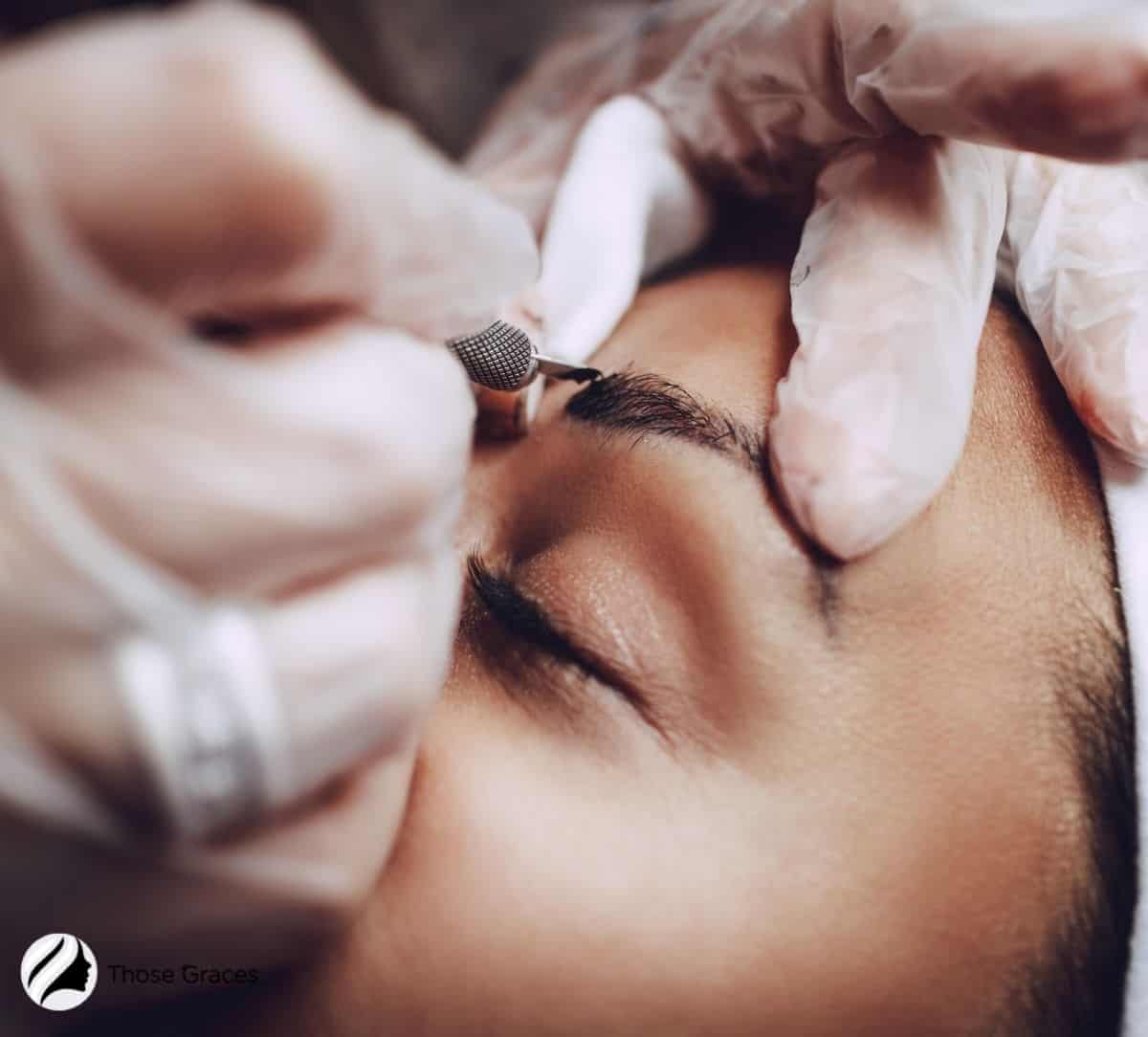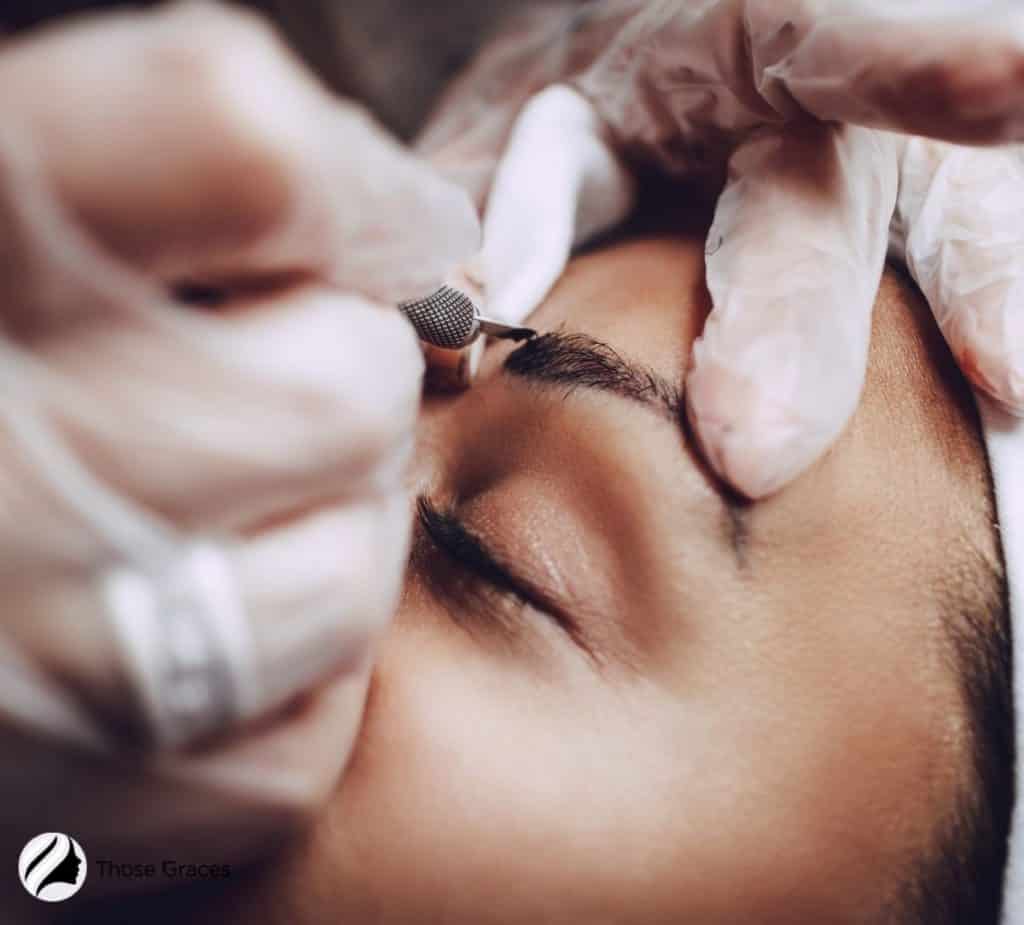 Is microblading a tattoo? Well, no! Microblading is the process of creating eyebrows that look and feel like natural hair.
The microblading technique creates individual hairs that anyone could mistake for their natural brows upon looking.
Of course, if they look closely, they would probably see the hair strokes, but overall the finish is that of very natural-looking feathered brows every day.
Each hair stroke in the microblading process is created with a hand-drawn device.
This means the artist has more precision in drawing fine lines and can get close to your skin to make natural brow hair.
Microblading artists use pigments instead of tattoo ink.
These pigments are semi-permanent and will fade over time, meaning you will need to touch upon your brows time and again, possibly once every six months.
READ MORE: Machine Hair Strokes Vs Microblading: What's the Best?
Eyebrow Tattooing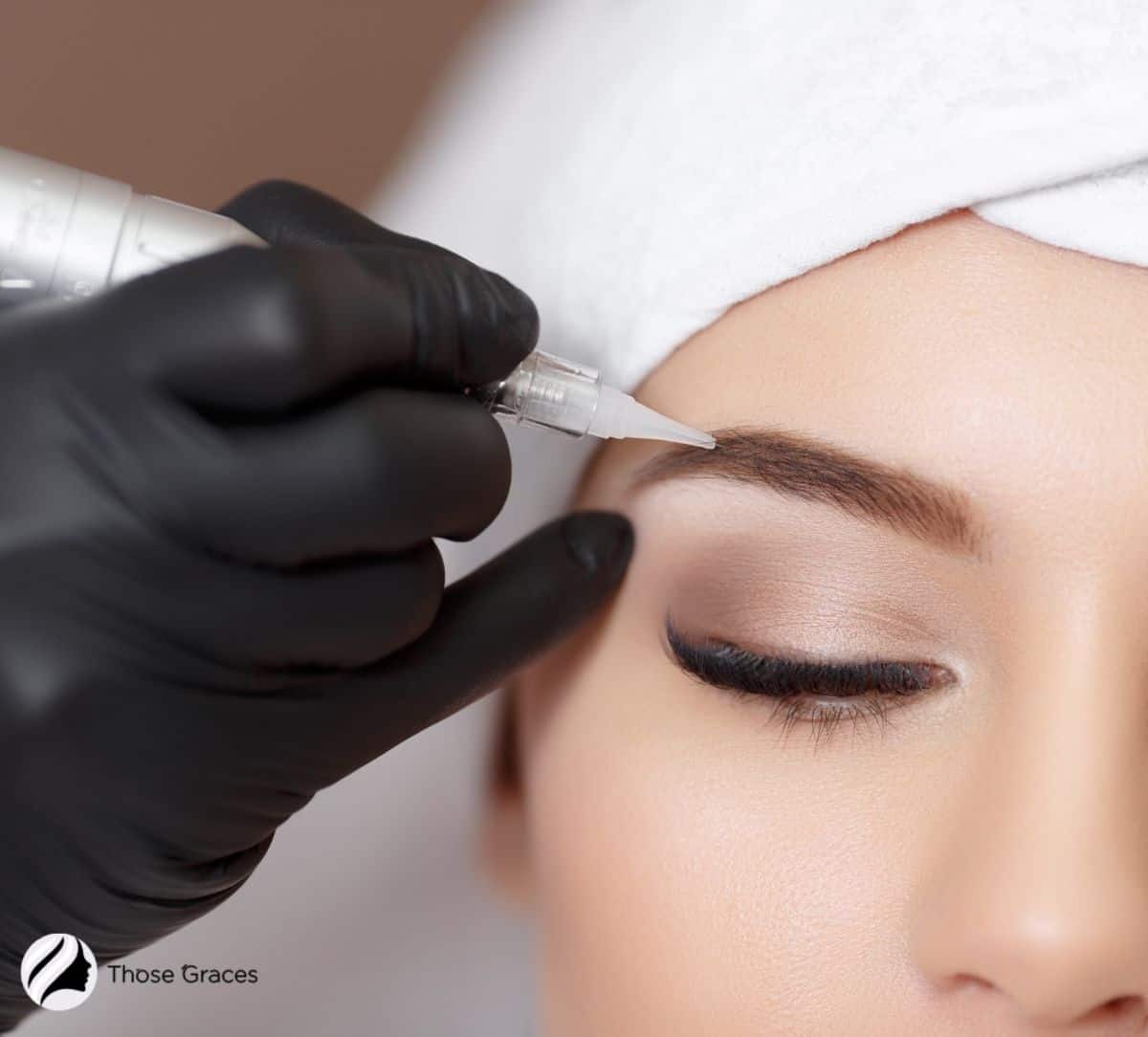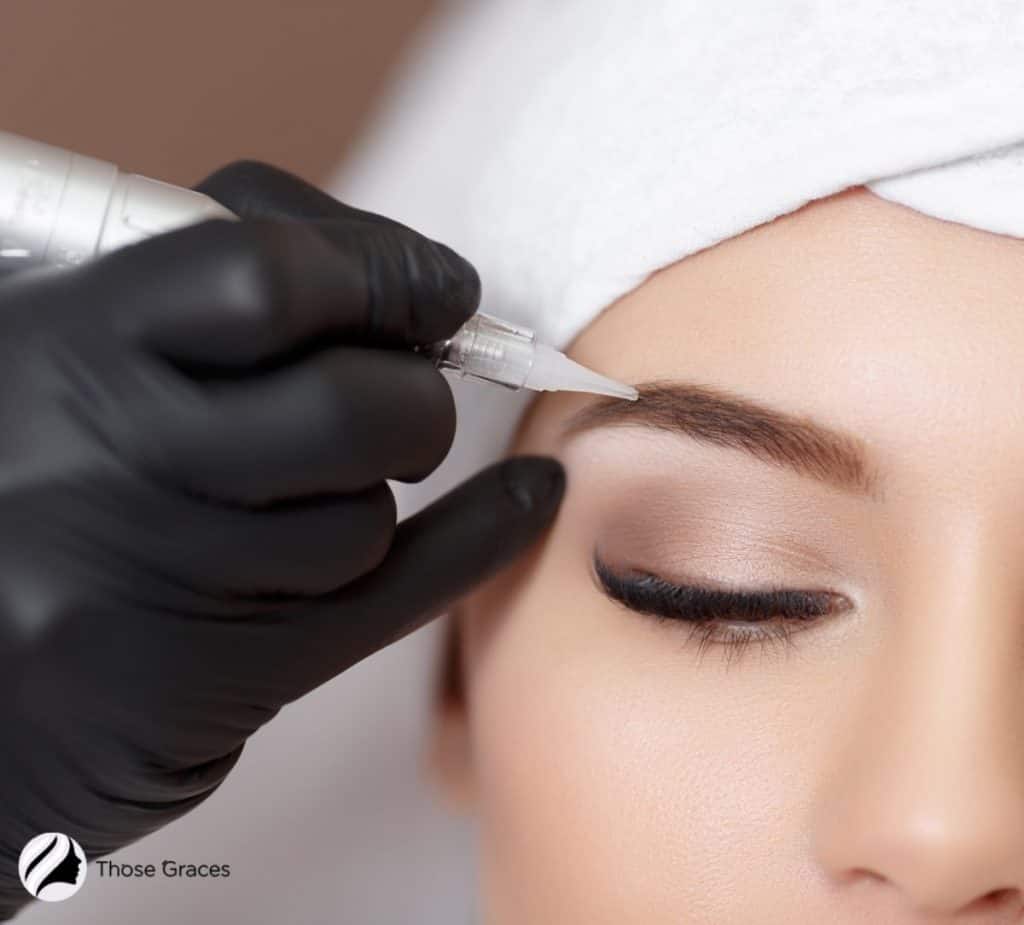 Eyebrow tattooing is a form of permanent make-up that will last you for years, maybe forever.
A tattooed brow is created using tattoo ink that is injected deep into the skin layers.
As such, getting a traditional eyebrow tattoo is usually a thick block-like brow instead of individual strokes.
Eyebrow tattoos are created with a permanent makeup tattoo machine that can penetrate deeper into the skin but can also allow for minor slip-ups.
It is best to get a tattoo from an experienced artist with good control of the machine.
Tattoo ink is prone to discoloration, meaning the black will fade into a blueish tone that can look quite unnatural on your face.
CHECK: Piercing Vs Tattoo: Which Hurts More?
Aftercare for Microblading and Tattooing Eyebrows
So how to care for microblade eyebrows? Here are some tips:
Healing
Both microblading and tattooing eyebrows will take about six weeks to heal. But, in most cases, microblading eyebrow aftercare is easier as it may take longer for tattooed brows to heal.
Until the skin is healed, it may be swollen and look unnatural. Some people are even susceptible to infections, which is why it is best to keep the area dry and clean.
After Healing Care
As part of eyebrow microblading aftercare, once the skin has healed, the microblading or eyebrow tattoo artist can take a good look at the skin and fill up the sparse areas in your brows, if any.
This step is important to make sure your brows look full and even.
Touch-ups
Microblading pigments will usually start fading in six months to a year.
If you want to elongate the life of your microblade brows, this is a good time to visit your aesthetician again to get another round of treatment done.
A tattoo may not require touchups as the ink is more permanent. I hope this answers your question on how to take care of microblading eyebrows.
What to Choose (Microblading Vs Eyebrow Tattooing)?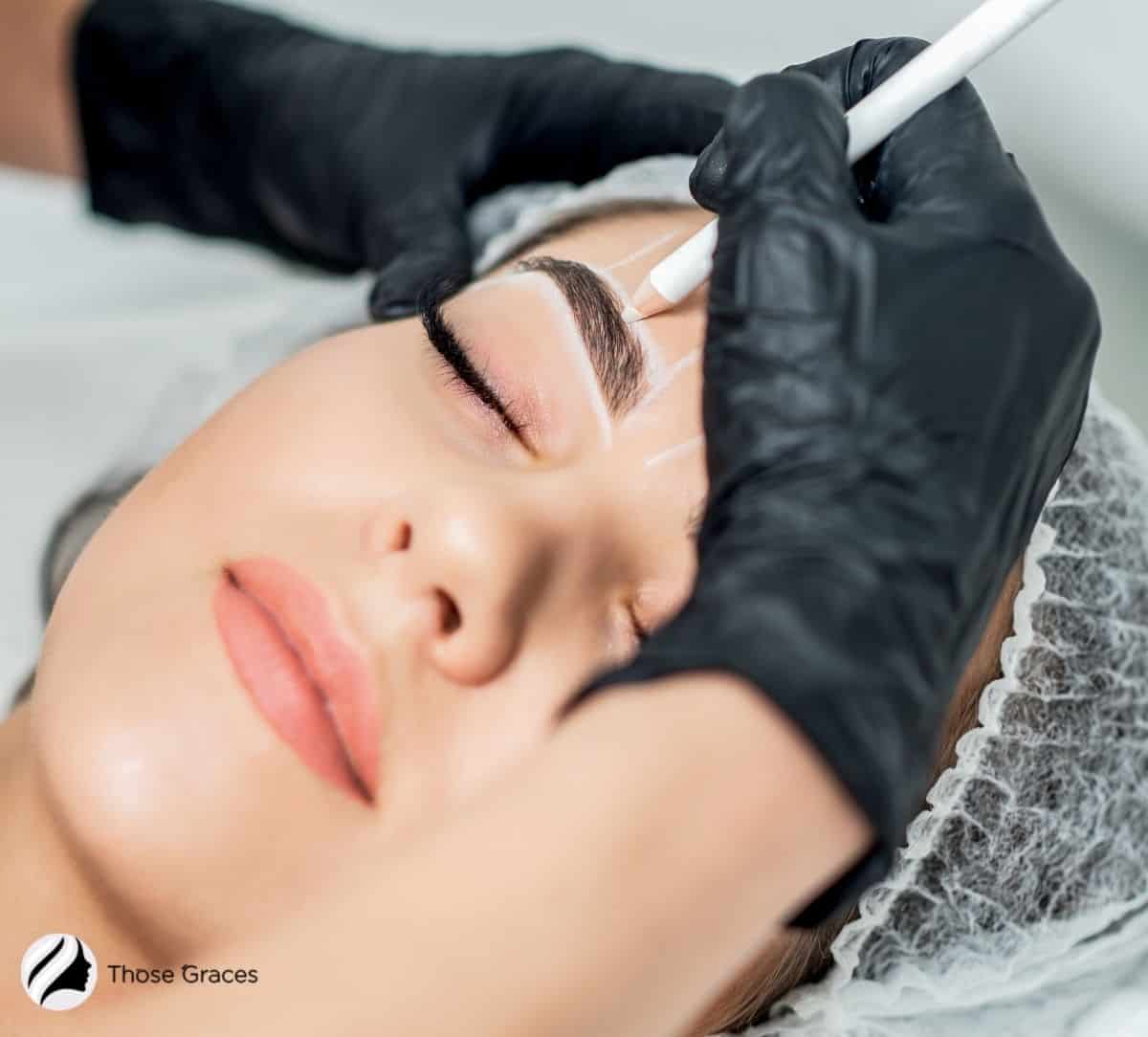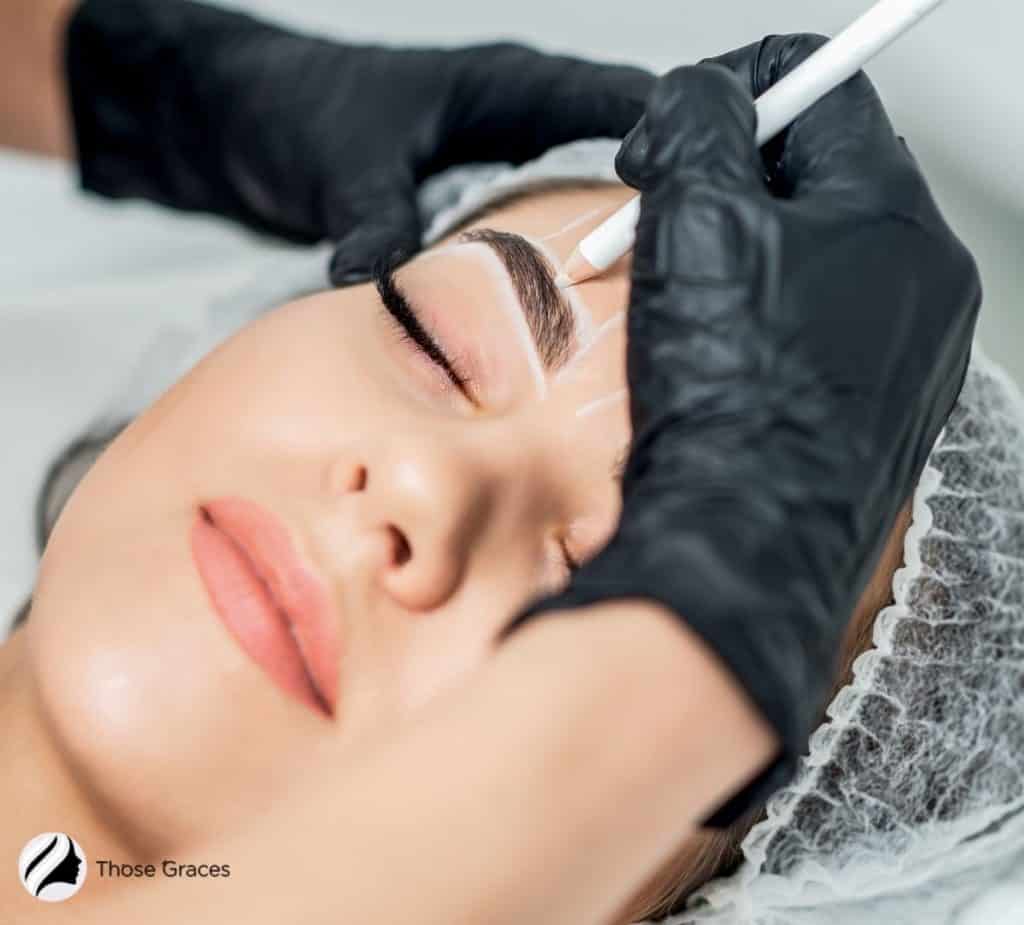 Deciding on microblading vs tattooing eyebrows can be a challenge, especially if you don't know what you're signing up for.
For me, microblading is the clear winner. Sure, a microblading treatment is more costly than getting a permanent tattoo, and it will also fade away in six months to a year.
But I'm still sticking up for microblading, and here's why:
Semi-permanent:
But isn't permanent make-up better, you ask? Well, mostly no! In the 2000s, the trend was pencil-drawn thin brows. Thankfully that changed in the 2020s, but it's fashion.
There's no guarantee that the trends will not change again, and feathered brows will no longer be a thing.
In that case, you can let the pigments fade gradually and change shape or size, or color to fit the then-fashion.
Semi-permanent allows you the freedom to change your mind and go back to your natural brows if ever you wish to do so.
An eyebrow tattoo, on the other hand, will require a laser treatment if you ever change your mind.
Natural-looking hair:
Instead of a big block of black (and in most cases blue!), you get natural-looking feathered eyebrow hair that is well-suited for no-make-up make-up days.
In case of a big event, you can always darken it up with an eyebrow pencil. A tattooed brow means foregoing this option altogether.
Will not change color:
Can we stress this enough? You're not Mystique (and for those of you who don't know, she's a character on X-men who is literally blue).
No one should have blue brows (well, unless they actually want them, of course). No one. Not even your enemy, okay, maybe your enemy. But no one else. Tattooed ink can change colors, and we don't want that on our faces.
Better for the skin:
An eyebrow tattoo goes deep into the skin instead of a microblading pigment that is only injected into the upper layer of the skin. This makes it a better option for those with sensitive skin.
FAQs
Is microblading a tattoo?
Microblading is a form of tattooed eyebrows with some key differences: eyebrow pigment is used in place of tattoo ink. This is the lighter version of tattooed eyebrows that is semi-permanent.
What is more painful, microblading or tattoo?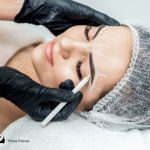 Eyebrow tattooing is generally more painful than microblading since the ink is tattooed deeper into the skin's surface, but it depends on the tattoo artist and the pain threshold of the person getting the cosmetic tattoos.
Does microblading ruin your natural eyebrows?
The Microblading technique is meant to enhance the natural brow hair, not to ruin the appearance of the brows. The microblading technician uses a manual tool to create natural-looking hair strokes that look like your natural brows.
Conclusion
Getting semi-permanent make-up done is the bomb because it saves you so much time. It also helps clumsy make-up wearers who struggle with getting their make-up to look even.
For instance, a permanent eyeliner tattoo can help make-up lovers who struggle with getting even-looking liners, and all of us know what a hassle that can be!
If you're one of those looking to get their brows worked on by a professional, I say with all our heart: go for it! You won't regret it.
References
Lockert, Melanie. 2020. "Getting Your Eyebrows Tattooed: What's the Cost? I CentSai." CentSai. CentSai INC. June 27, 2020. https://centsai.com/life/health-and-beauty/getting-your-eyebrows-tattooed-how-much-does-it-cost/#:~:text=Tattooing%20your%20eyebrows%20doesn%E2%80%99t%20come%20cheap.%20In%20the,of%20permanent%20makeup%2C%20the%20ink%20fades%20over%20time..
Noble, Audrey. 2016. "What Is Microblading?" Harper's BAZAAR. Harper's BAZAAR. May 2, 2016. https://www.harpersbazaar.com/beauty/makeup/a15443/what-is-microblading/#:~:text=What%20Is%20Microblading%3F%201%20The%20Treatment.%20Microblading%20is,use%20after%20a%20microblading%20treatment%20is%20sunscreen.%20.
Office of the Commissioner. 2020. "Think before You Ink: Are Tattoos Safe?" U.S. Food and Drug Administration. 2020. https://www.fda.gov/consumers/consumer-updates/think-you-ink-are-tattoos-safe.
Wiginton, Keri. 2019. "Microblading Health Risks." WebMD. WebMD. December 27, 2019. https://www.webmd.com/beauty/microblading-health-risks#1.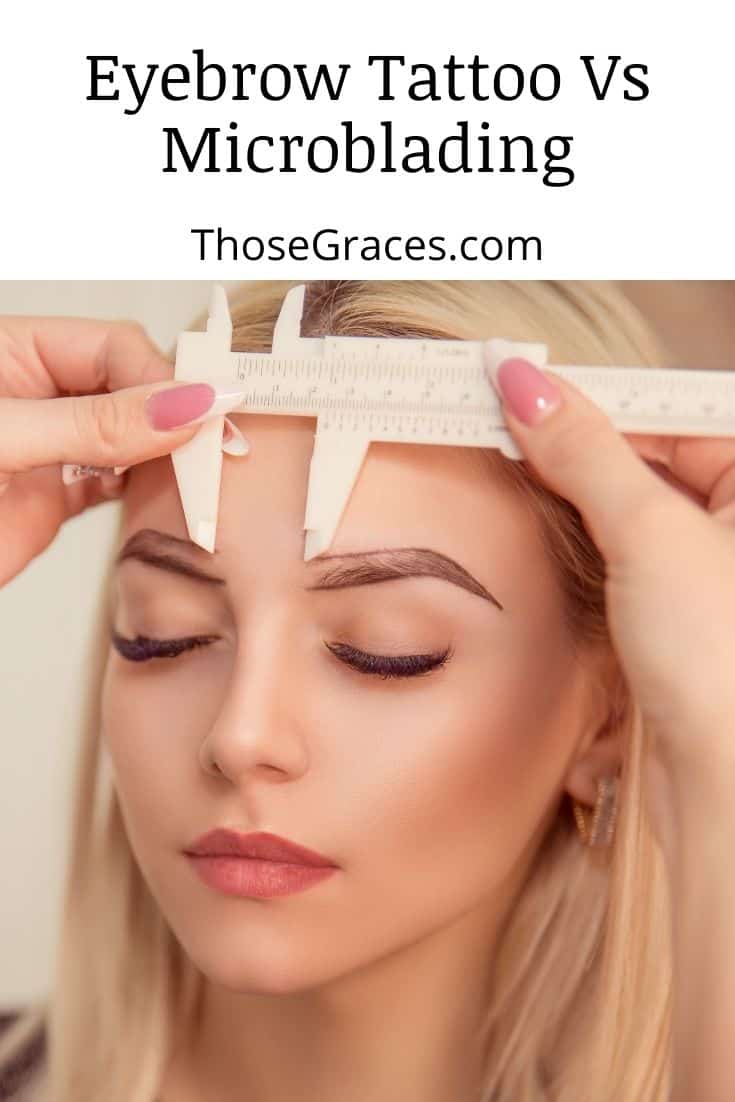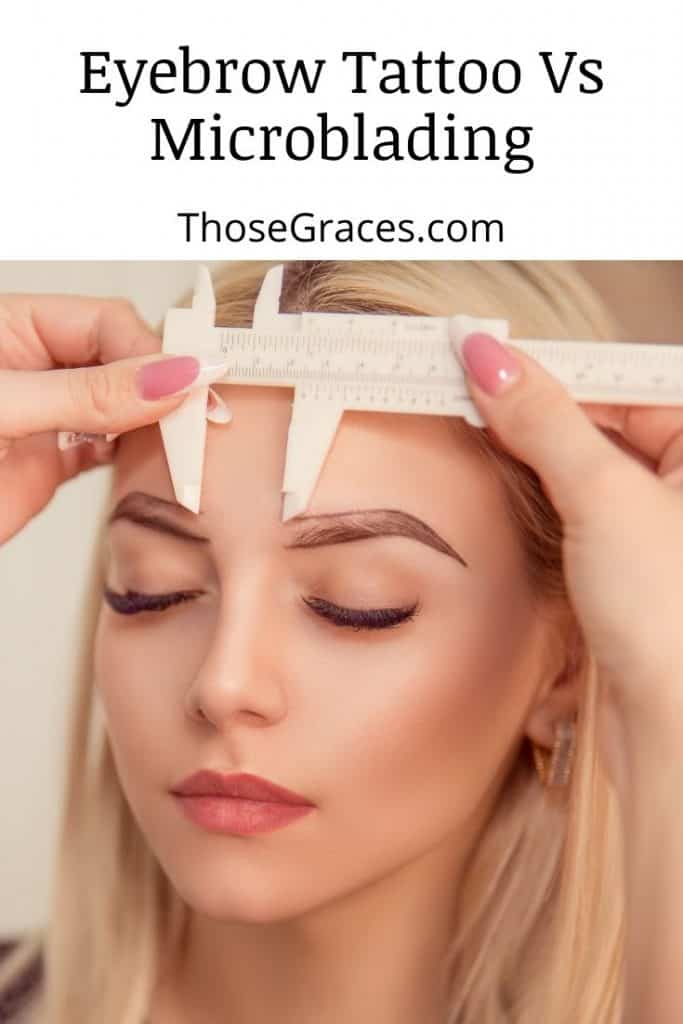 Eyebrow tattoo vs microblading: which do you prefer? Please share with us below!