How does radio frequency skin tightening work?
What the heck is it, anyway?
That's exactly what I'm answering below, along with all of your other questions about this anti-aging skin treatment.
Let's just jump right in, shall we?
READ MORE: Best Essential Oil for Skin Tightening
How Does Radio Frequency Work?
Looking youthful always and ever is the dream of everyone especially women.
If you are concerned about wrinkles and floppy skin but want a non-surgical treatment, the radiofrequency technique may be an excellent choice for you.
If you are not familiar with this term, you might think, 'What is a Radiofrequency treatment for skin tightening?'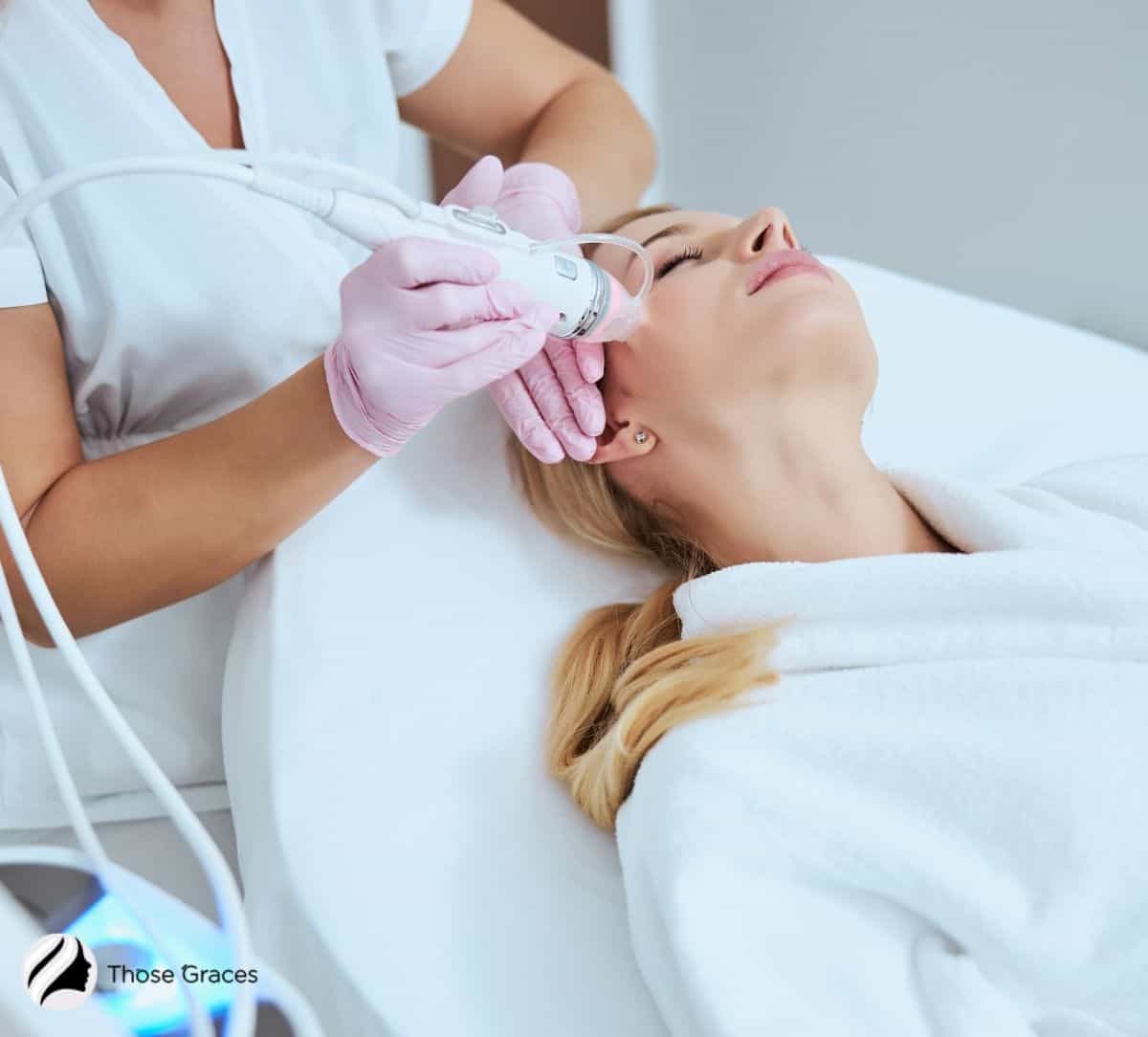 The TL; DR answer: RF skin tightening uses radio waves to target the tissue under the outer layer of your skin.
When radiofrequency energy is applied to the skin, it produces heat that causes damage to the existing collagen, thus resulting in new collagen and elastin production.
The process also speeds up the cell turnover and ultimately results in firm, smooth, youthful skin.
Longer answer: Radiofrequency for skin tightening is a non-surgical cosmetic treatment for improving the appearance of wrinkled and sagging skin.
RF waves are low-energy waves that heat the deep layers of your skin to between 122 and 167°F (50–75°C).
Upholding a temperature over 115°F (46°C) for over 3 minutes causes your body to release heat-shock proteins that stimulate the production of new collagen.
During treatment, an RF skin tightening machine sends currents from the tip of an electrode to your tissue at a frequency between 0.3 and 10 MHz.
Around age 35 to your early 40s is the time when your skin laxity occurs. This is because collagen production decreases by this age.
We have used RF therapy since 2001 to fight against sagging skin and signs of aging.
Radiofrequency (RF) Skin Tightening Benefits
One of the biggest developments in the anti-aging market is skin revitalization.
We can use it in the body parts that commonly suffer from skin laxities, to make it look lifted even after just one application.
An advantage of using RF is that the lower frequency of radiations can safely penetrate to a deeper level, which helps to improve skin tone and structure also, along with lifting tissues.
Moreover, RF can safely treat more patients with different skin tones without risking permanent discoloration.
The treatment is safe for all skin types and helps to improve skin texture, thereby giving you a more youthful appearance.
RF for face:
We use RF treatment as a non-surgical method of facial rejuvenation. The major benefit is it helps to treat loose skin of the face, treating wrinkles, fine lines, Crow's feet.
Apart from wrinkles, it also helps to improve droopy skin around the eyelids.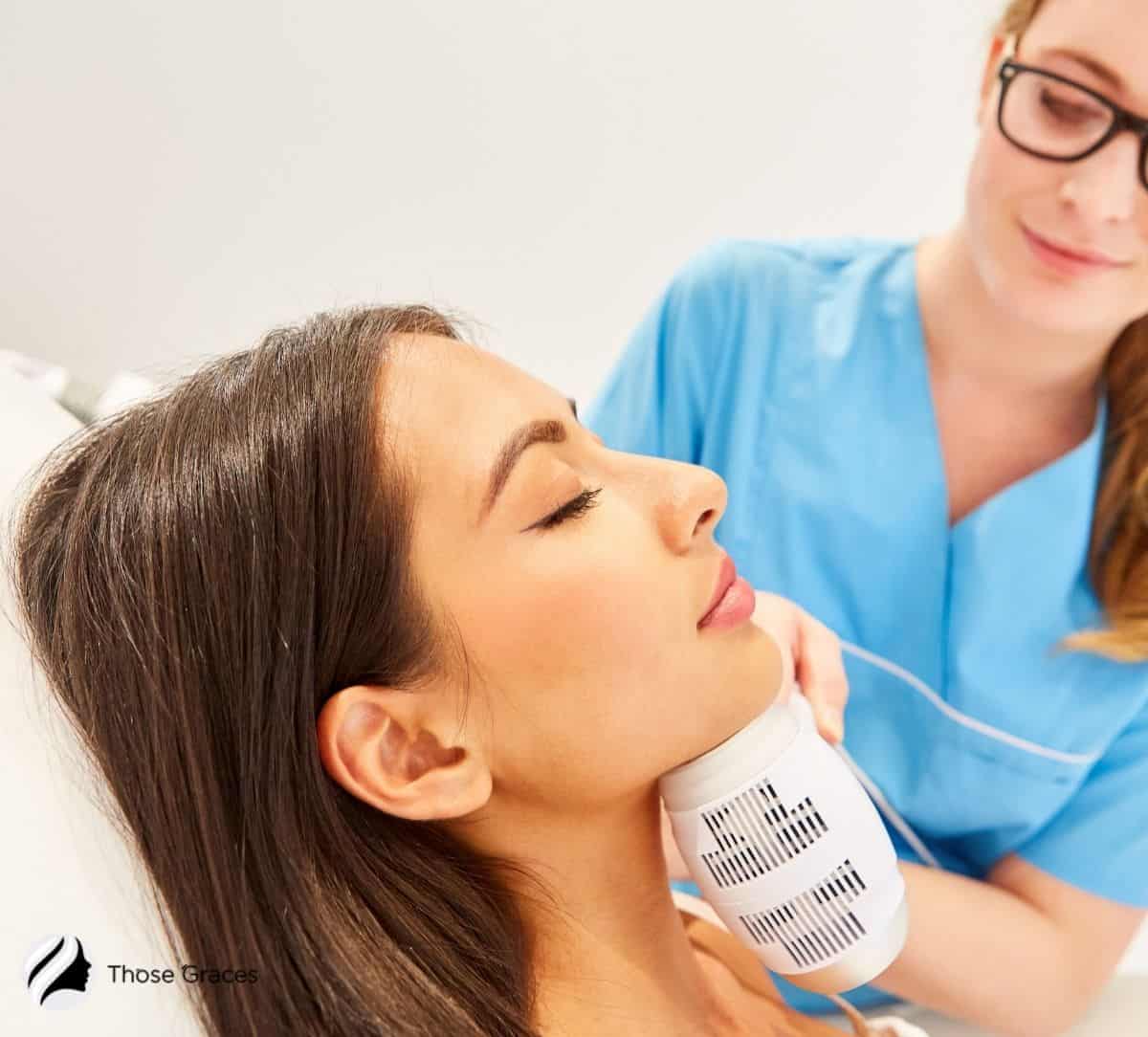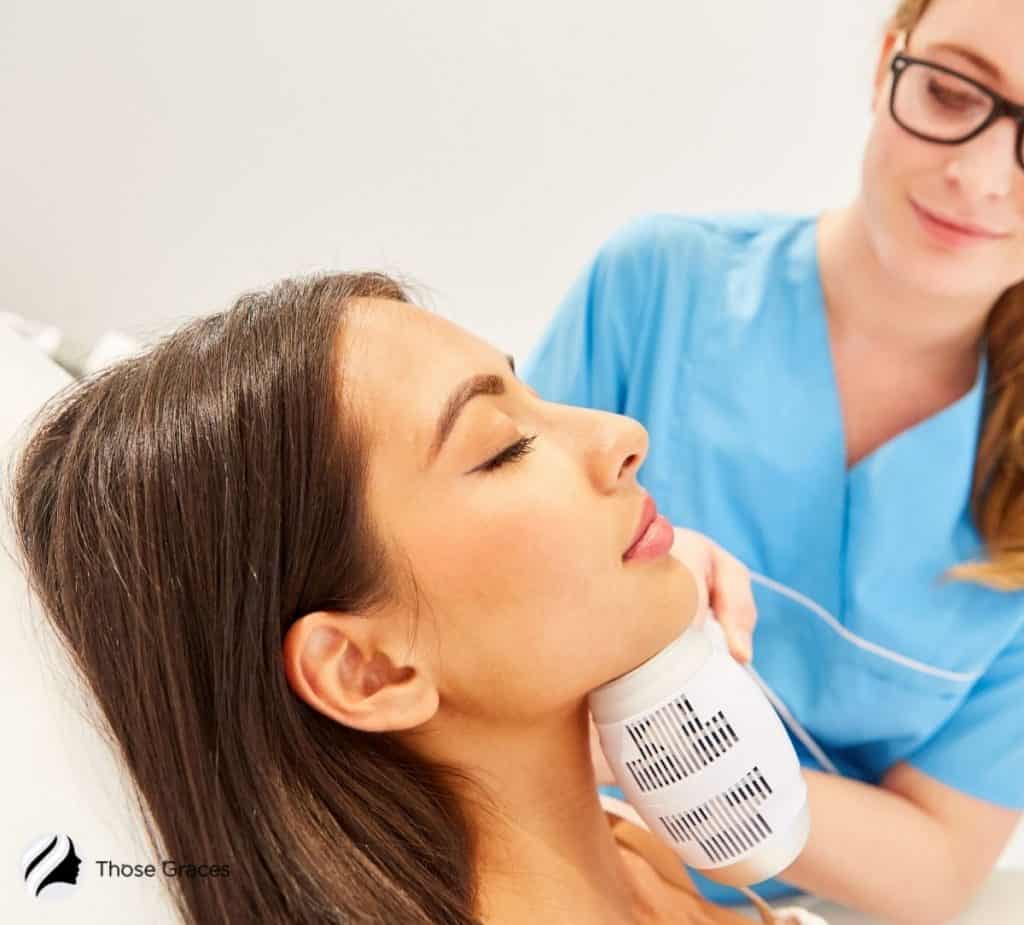 The laugh lines (nasolabial folds) can be remarkably treated and there's a visible difference after the first session.
RF for other body parts:
We do not limit RF skin tightening benefits to the face. The flabby skin on other parts of the body can be treated successfully–including the neck, abdomen, arms, thighs, knees, and buttocks.
The new collagen production also helps to improve skin texture and diminish scars like acne scars, stretch marks, blemishes, discoloration, or some injury marks.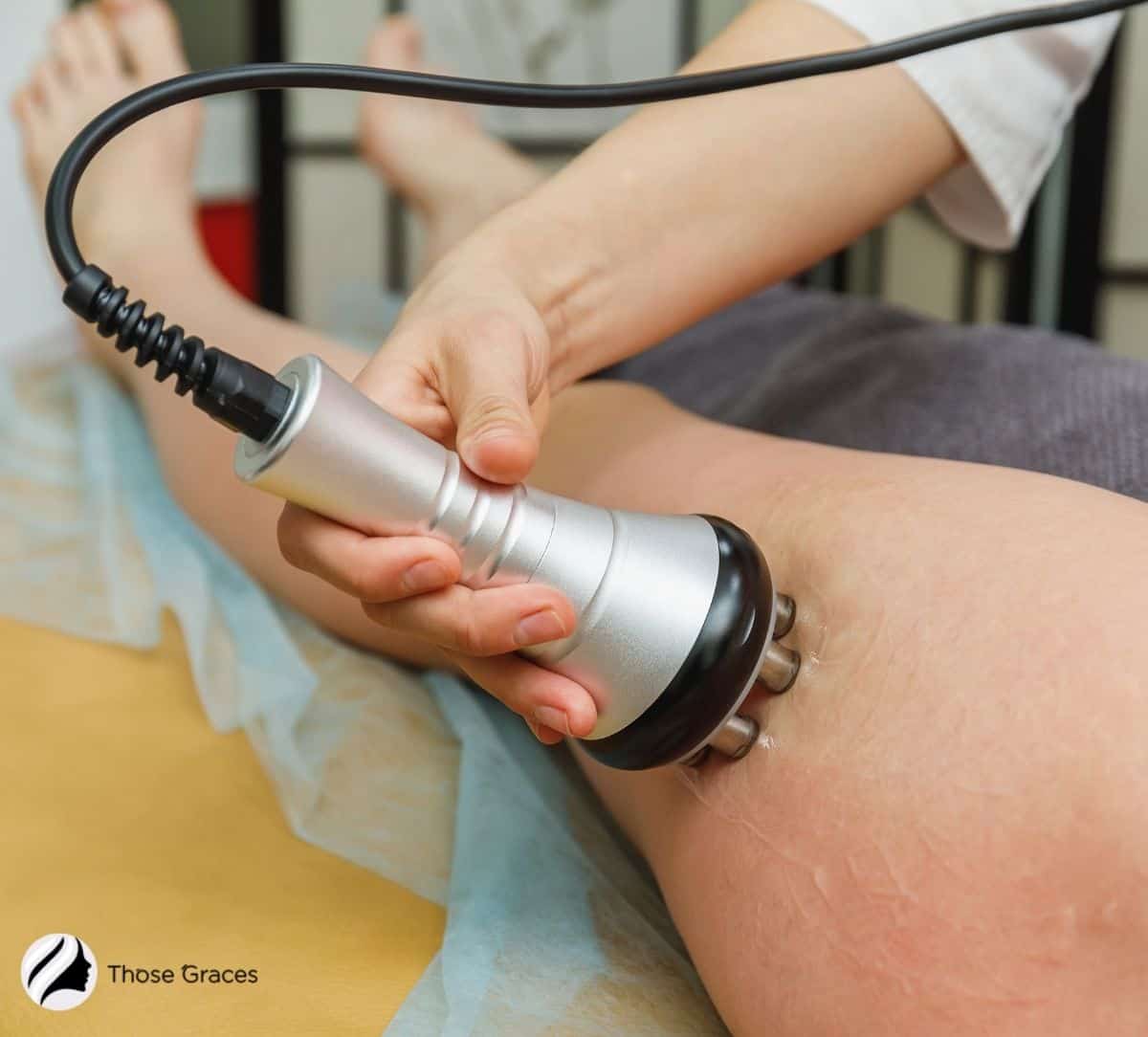 One more benefit of RF is that it can be helpful to tighten sagging skin in people who undergo liposuction.
The major positive aspect is that the treatment time is less and it involves no major surgical incisions.
Sometimes, the aim of the treatments is to reduce fat cells besides tightening sagging skin and wrinkles.
Because the results are visible after the first session, and it doesn't require any downtime, it is a popular skin tightening treatment among celebrities.
Say goodbye to dull, tired skin with an at home microdermabrasion machine! Read our in-depth reviews and find the perfect one for your needs.
Radio Frequency Skin Tightening Cost?
The process has amazing benefits, but do you think is it affordable? Or can you guess how much the radiofrequency (RF) is skin tightening costs?
We estimate the average expanse of RF therapy is between $1,000 to $4,000. However, the charges can vary depending on several factors, like:
What part of your body you're getting treated
Which treatment do you choose?
How many areas of skin you are targeting
The number of sessions required to achieve the desired results.
On average, the total cost is $500+ per treatment area. For best results, choose a series of sessions, and the total process cost can be average between $2,500-$5,000.
How Long Does Radio Frequency Skin Tightening Last?
When you are going to spend a good amount on beauty treatment, you might be concerned that how long would RF treatment last?
Mostly, people feel the skin tightening right after the first session.
Other patients may notice results within six months of initial treatment or require multiple sessions before they notice visible results.
That's because the body takes some time to produce new collagen and we observe the best results in about 6 months.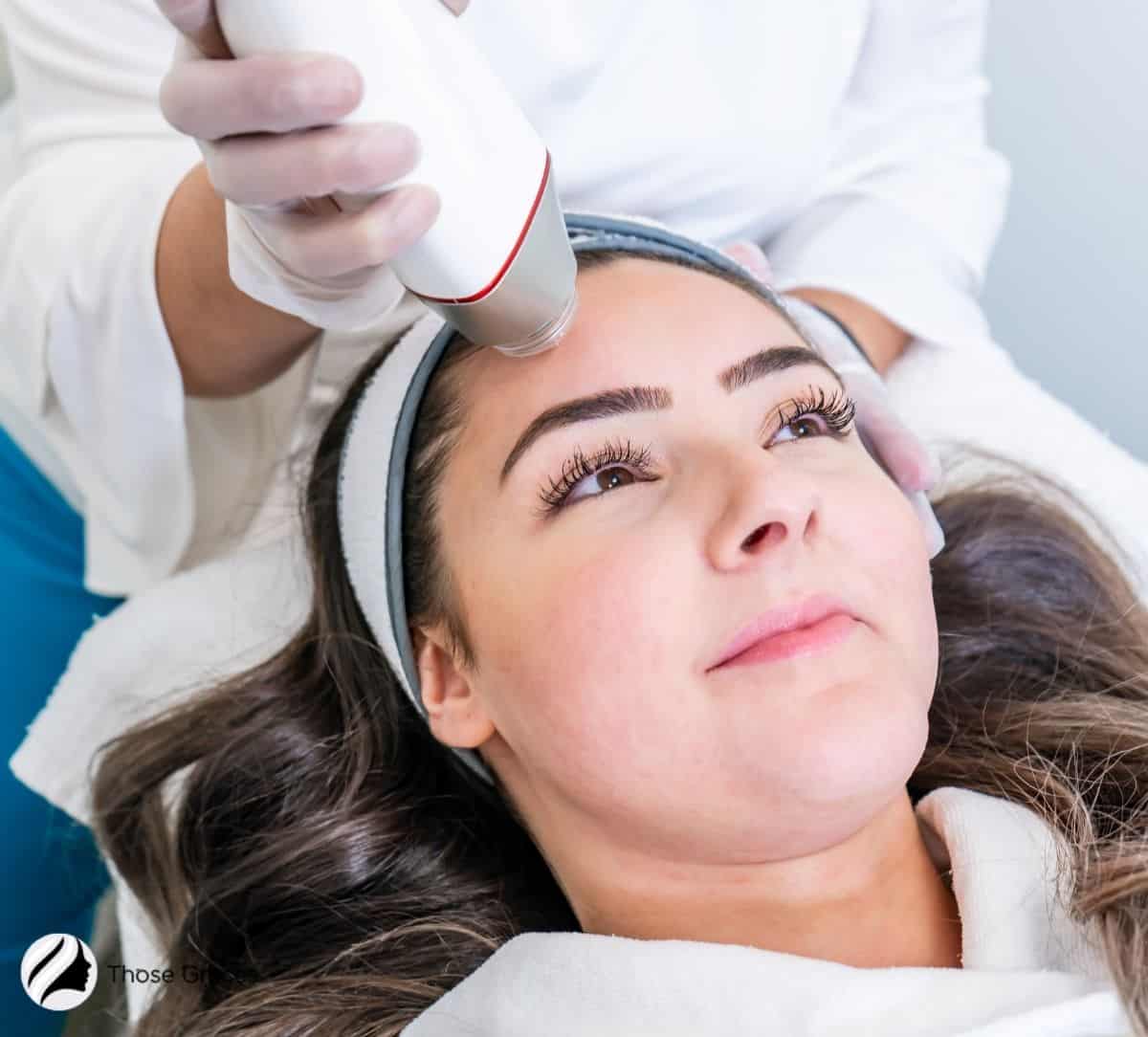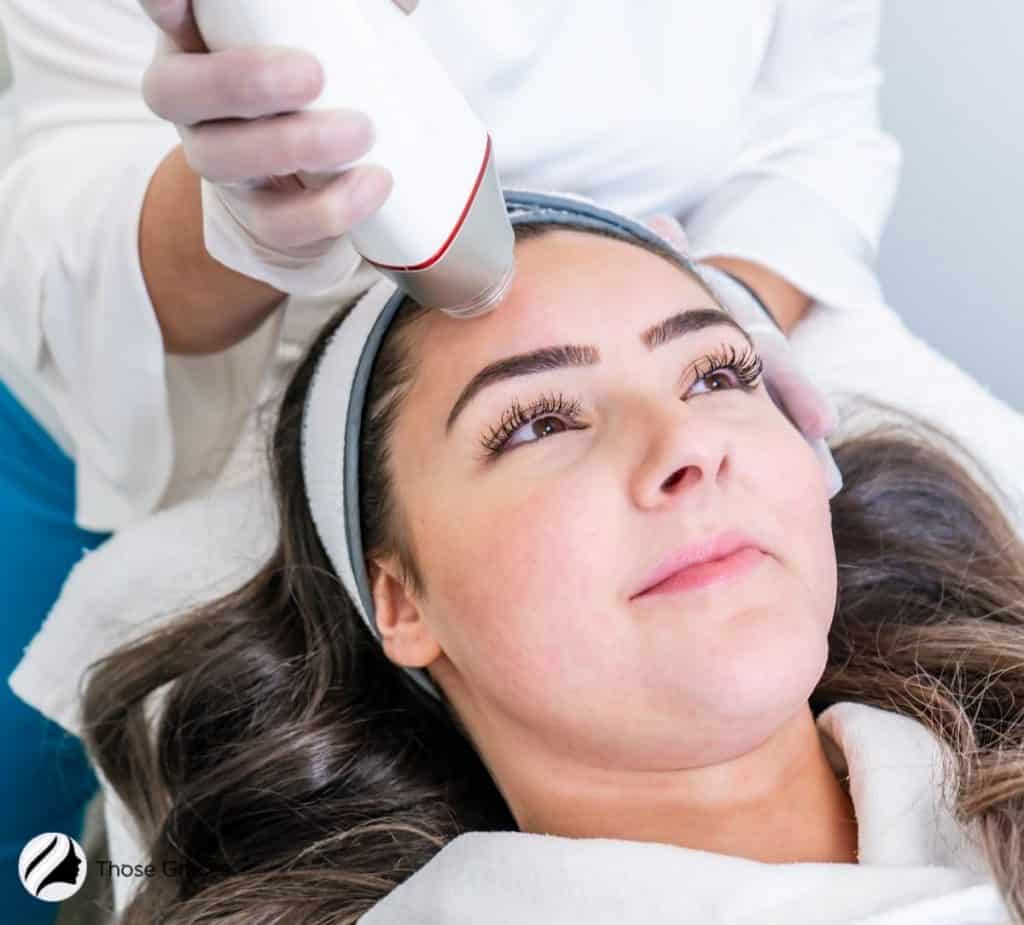 With proper skincare, the results can last for up to 2 to 3 years.
What Are the Side Effects of Radiofrequency Skin Tightening Treatment?
We consider radiofrequency for skin tightening to be a safe treatment when performed by a surgeon certified with the American Board of Cosmetic Surgery.
There are minimal chances of any side effects when the treatment is conducted by a professional. However, people undergoing the treatment may observe the following side effects after the session.
The most common side effects include:
temporary swelling (edema)
bruising
soreness
tingling
redness (erythema)
These are a few rare and temporary side effects and the good news is these are temporary and not severe. However, if you get any and they last over 24 hours, it's good to see your doctor.
Your skin may become burned in rare cases. But you can reduce the risk of serious complications by choosing an experienced dermatologist.
People Who Should Avoid Radiofrequency Skin Tightening Treatments
The type of RF radiation used during the procedure is like the type that comes from other common household devices, like cell phones or Wi-Fi.
While typically safe for most healthy people, there are some exceptions. Most RF therapists won't perform the procedure on anyone who:
has rosacea or eczema

suffers from severe acne

is pregnant or nursing

has an autoimmune condition or is on immunosuppressive medications

has a history of or currently has cancer, including skin cancer

has epilepsy, lupus, or other conditions that might be triggered by light

has endocrine disorders, such as diabetes or PCOS

care should be taken and we should not use RF skin tightening on patients with pacemakers, defibrillators, or facial implants, as RF energy can affect the device's function.

uses certain herbs or medications that include photosensitivity to light on its list of precautions and side effects

has had facial laser resurfacing or a deep chemical peel within 3 months

has received any other surgical treatment on the facial area within the last 3 months

Here's a piece of good news. There are alternatives to RF treatment, you can use the best skin tightening creams for the body.
RF Skin Tightening Machines at Home
Several companies offer home-use RF therapy devices. You can use these on your own if you want to avoid clinical sessions.
However, these are not as powerful as the ones a doctor has, and the results may not be as noticeable or long-lasting.
At-home RF machines are excellent to treat fine lines, wrinkles, and dull-looking skin.
However, several sessions will be required to achieve the results that you can get from the treatment through a qualified doctor.
How RF is Best Compared to Other Skin Tightening Treatments?
| | |
| --- | --- |
| Radiofrequency Skin Tightening | Other Skin Tightening Methods |
| Radiofrequency skin tightening is a non-surgical procedure that works well to tighten and tone skin. RF skin tightening is typically pain-free and results are obvious right after the first session. | The alternatives to nonsurgical skin tightening are much more invasive procedures. Dramatic results can be achieved with facelifts and tummy tucks, but extensive recovery time is needed. |
Skincare guru Joanna Vargas summarizes the difference between micro-current and radiofrequency: "micro-current works to stimulate facial muscles and cellular metabolism.
And Radio Frequency mainly improves elasticity and collagen production."
Frequently Asked Questions
How to prepare for RF skin tightening?
There are some conditions to prepare before RF.
It's best to wait one month before getting skin tightening if you have recently had a micro-needling treatment, chemical peel, or facial rejuvenation. This will help avoid any risks or adverse effects.
Avoid having any laser treatments in the area 2 weeks before treatment
Avoid excessive sun exposure 2 weeks before treatment
If the skin is red, irritated, or broken, it can't be treated until the skin has completely healed
What you should avoid if you take RF skin tightening treatment?
You should also avoid sun exposure for at least 24 hours after a session and always wear sunscreen. It is important to remove any metallic jewelry before the treatment, changes in cutaneous impedance can easily induce burns and scars.
Is radiofrequency effective?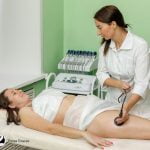 Radiofrequency skin tightening is an effective and safe treatment for skin tightening when conducted properly by a qualified dermatologist certified by the American Board of Cosmetic Surgery.
The FDA has approved it for reducing the appearance of wrinkles.
How often can you do RF skin tightening?
Ideally, you can get RF micro-needling once every four to six weeks. The frequency of your treatment will depend on factors such as your age and your exact beauty concerns. Many practitioners recommend a course of 6-9 radiofrequency facial treatments.
Is RF skin tightening painful?
RF is a relatively safe and painless skin tightening treatment.
Takeaway
As you get older, the production of collagen decreases. Radiofrequency for skin tightening is a popular yet safe and effective method that uses low-energy radiations to boost collagen production.
References
ABCS. 2020. "So, Are Radiofrequency Treatments Really Safe?" ABCS. November 16, 2020. https://www.americanboardcosmeticsurgery.org/are-radiofrequency-treatments-really-safe/.
Mattia, Daniel. 2019. "Radio Frequency Skin Tightening: Does It Work and Is It Safe." Derm Collective. June 19, 2019. https://dermcollective.com/radio-frequency-skin-tightening/.
Rousseaux, Isabelle, and Sam Robson. 2017. "Body Contouring and Skin Tightening Using a Unique Novel Multisource Radiofrequency Energy Delivery Method." The Journal of Clinical and Aesthetic Dermatology 10 (4): 24–29. https://www.ncbi.nlm.nih.gov/pmc/articles/PMC5404777/.
Sugawara, Jun, Seiko Kou, Kenichi Kokubo, Aimi Kuroda, Yoshie Hashizume, Shinji Kobayashi, Jirou Maegawa, and Toshihiko Satake. 2017. "Application for Lower Facial Fat Reduction and Tightening by Static Type Monopolar 1-MHz Radio Frequency for Body Contouring." Lasers in Surgery and Medicine 49 (8): 750–55. https://doi.org/10.1002/lsm.22676.
Yetman, Daniel. 2020. "What Is Radiofrequency Skin Tightening?" Healthline. Healthline Media. July 17, 2020. https://www.healthline.com/health/beauty-skin-care/radio-frequency-skin-tightening#:~:text=Radiofrequency%20%28RF%29%20therapy%2C%20also%20called%20radiofrequency%20skin%20tightening%2C,is%20the%20most%20common%20protein%20in%20your%20body..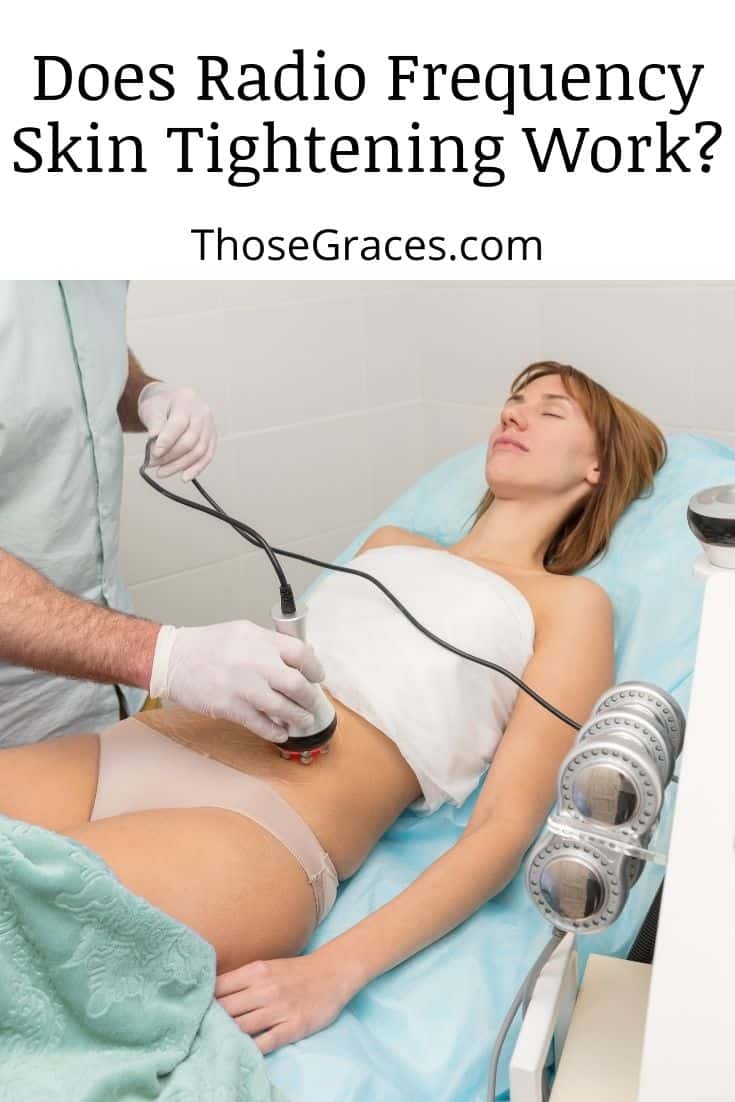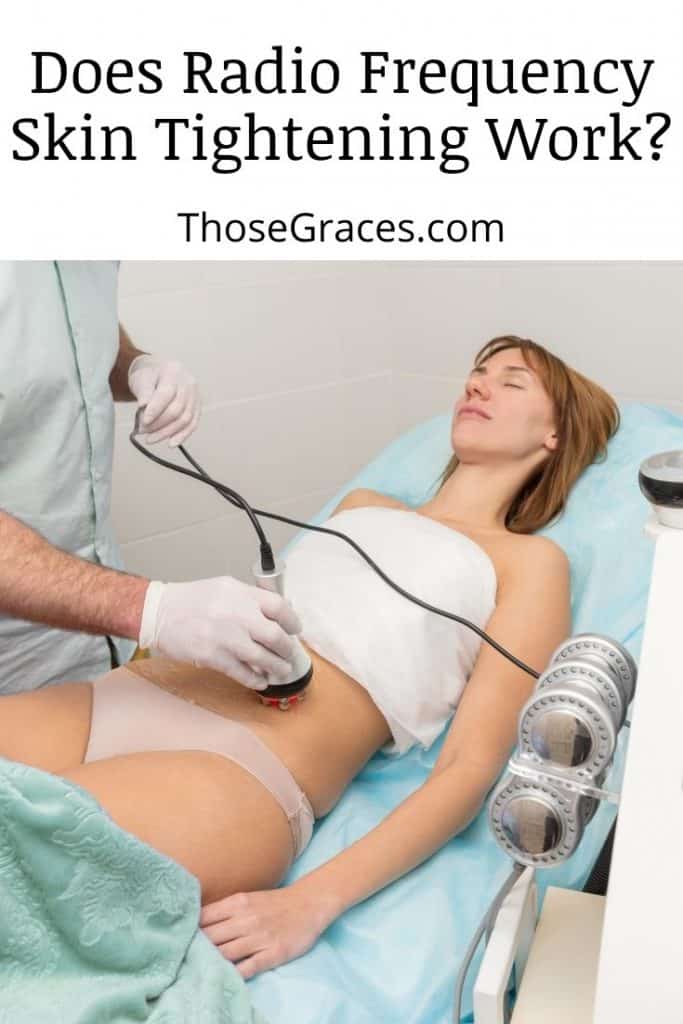 What do you think of radio frequency skin tightening? Please share with us below!