Looking for the best essential oils for skin tightening?
I've been using EOs for pretty much my entire adult life (NOT telling you how long that is!), so, I've tried pretty much every single one imaginable.
Below are my top picks for helping your skin bounce back as you age.
Start with a quick peek at my top picks, then check out all the details.
Related: Best RF Skin Tightening Machine
Essential Oils to Tighten Skin: Top Picks At a Glance
If you see the value in these products and choose to purchase via my referral links, I may earn a small commission at no extra cost to you.
Don't have time? Here is a quick comparison of our favorites!
11 Best Essential Oils For Skin Tightening (With Reviews)
If you're familiar with our other reviews, you'll notice this one is a bit different.
Rather than just reviewing 11 single products by different brands, we'll go over the best skin tightening essential oils themselves, including benefits (aside from skin tightening) and drawbacks.
Then, I'll share one of my favorite products for each oil. I think that will help you a lot more than just "here's a list of 11 things to buy," don't you?
Let's get started, and you'll see what I mean.
1. Rose Oil (WINNER)
Rose oil is by far among the very best essential oils for pretty much any skin concern from aging to hyperpigmentation to zits (I was going for an A-Z theme there, can you tell?).
Heck, it's even good for your libido! So it'll make you want to get it on after you get glam!
However, there's one MASSIVE drawback, and I do mean massive: the price. Expect to pay a very hefty sum for a tiny vial of rose oil. No, really, expect to.
If it doesn't cost an arm, a leg, and maybe a few fingers and toes from the other, it's fake or heavily diluted. Or probably rosehip, rose geranium, or any other number of wanna-be-real-rose products.
Let's look at the benefits and drawbacks. You'll notice words like "can" and "may."
I make no promises, nor can I according to the FDA. 😀 However, all benefits are backed by studies. That goes for all oils on this list. You can find a full list of the studies in the references at the bottom of this page.
Honestly, while there are TONS of great rose oil products out there for loose skin, if you're going to pay out the wazoo, you might as well just get the undiluted stuff.
Alteya Organic's Bulgarian Rose Otto essential oil is one of the few rose oil brands I'd actually buy on Amazon.
It's a very small bottle- which is why it's so "cheap" comparatively speaking-but it's not diluted like others.
Besides, it'll encourage you to actually use the correct amount (literally just a tiny drop) and not go crazy. A little really does go a long way with essential oils, my friends.
That said, if you want to experience the benefits of rose and don't have almost $100 to drop on a tiny vial of oil, you can go with something diluted in a carrier oil. It'll still retain a lot of its benefits.
Stick with something that only includes one carrier, though. If you're seeing more than two ingredients total, again, move on.
I promise, from here down, you won't have to sell an organ to afford good essential oils for sagging skin.
2. Bergamot (Runner Up)
Bergamot is a wonderful essential oil all around. Not only can it help tighten your skin, but it'll relieve stress while doing so!
Plus it's SOOOO much cheaper than our winner (so, so, so much!).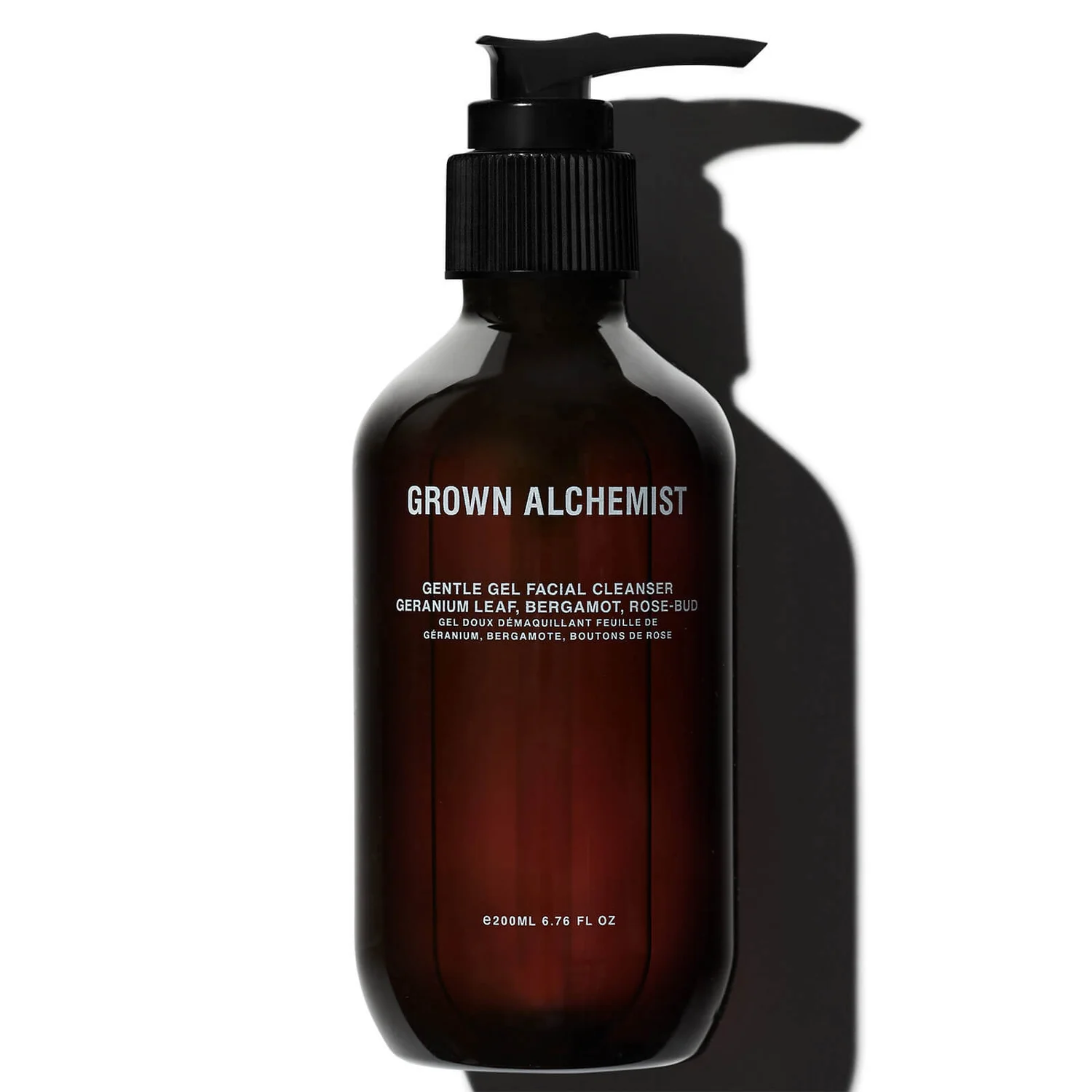 While it's a little on the pricey side for a cleanser (I'm a cheapskate, it's actually not THAT pricey for a quality product), the added ingredients make Grown Alchemist worth it.
Don't get too excited, though- it doesn't actually contain rose oil (I know, you thought I found a loophole, too).
It does, however, have pressed rose petals along with bergamot and other great ingredients that help close your pores and give your skin a tighter, more youthful look.
3. Lemon
If you think lemon essential oil is just good for making DIY cleaning products, think again! Yes, it makes your whole house smell amazing, but it's also a wonderful skin-tightening essential oil, too.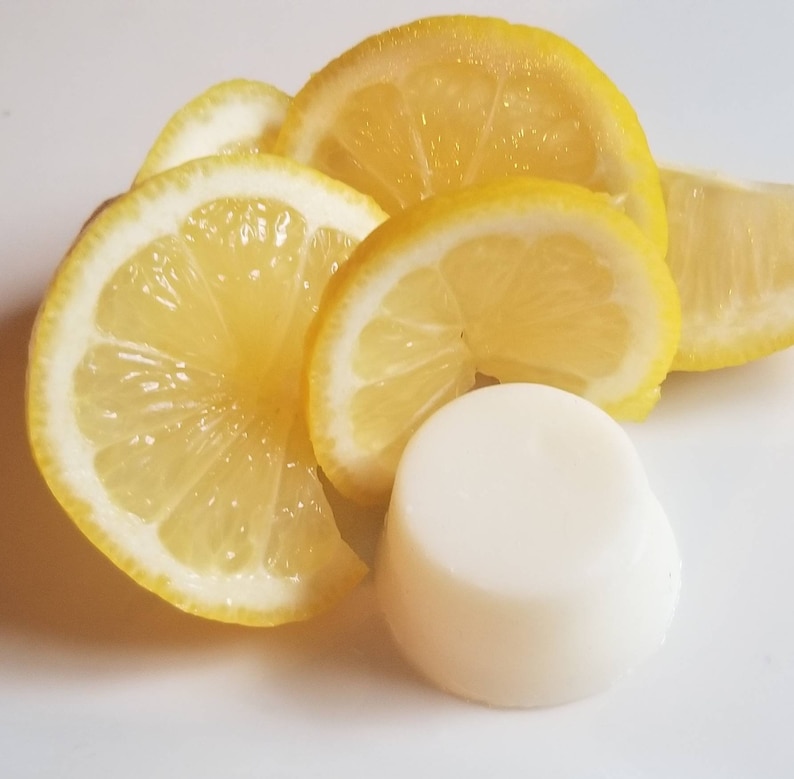 Years ago, my mom used to make homemade soaps and lotion bars like this. She gave it up when she moved in with me (my kitchen is tiny), but I still buy it from others as much as possible.
This one by the Etsy seller NakedMoisture is made with just four ingredients: Shea butter, Avocado oil, Organic Beeswax, Lemon Oil.
The combination makes it perfect for almost every skin type. Plus it's crazily affordable to boot!
4. Frankincense
If you've ever been to a Catholic church, chances are you've smelled Frankincense, along with its heady companion, Myrrh.
Don't worry, though, when used in moderation for skincare, Frankincense isn't nearly as overpowering as it is when swinging from that little incense ball at church.
While studies are pretty mixed on whether it actually tightens skin, anecdotal evidence suggests that it's definitely worth trying.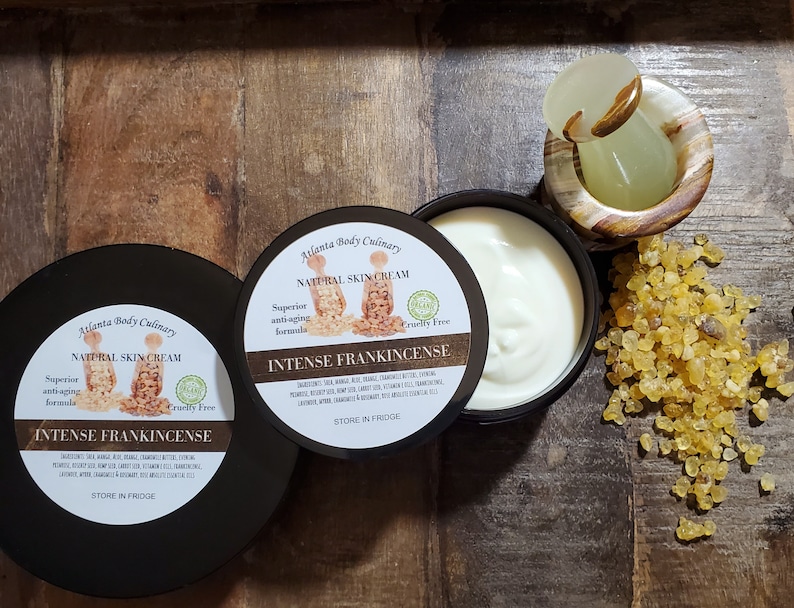 Another amazing Etsy find this anti-aging cream is made with 100% organic ingredients. While Frank isn't the only "actor," he is the star of the show!
Other essential oils in the mix include Myrrh, Vanilla, and Lavender, along with rose water and a great lineup of beneficial butters and carrier oils.
CHECK MORE: Tummy Skin Tightening Cream
5. Tea Tree
If we were talking about any other skincare need, Tea Tree would have been #1 on my list. It's great for everything from acne to fungal infections, and the one EO that I never let run out.
For skin tightening, it mostly works by calming down the issues that lead to aging effects. It's fights acne, inflammation, and even eczema.
There are SOOOOO many great tea tree products out there, but since this is one that can be used without major dilution, I'd just go with a good 100% tea tree essential oil like this one.
It's one of the most highly rated with an insane number of glowing reviews (53K+ and counting). Plus it's therapeutic-grade, which I always like to see when I'm shopping.
Just remember, while tea tree is theoretically safe to apply directly to your skin, make sure you spot-test first. I have very sensitive skin and can handle it, but not everyone can.
6. Neroli
Neroli isn't the most popular essential oil for skin-tightening essential oil, but it's still among the best. Like Rose Oil, it's just not as affordable as other options.
If you want to splurge on something for yourself, though, it's definitely worth trying, especially if you're also dealing with menopause or severe PMS.
I won't fib, this stuff is Pricey with a capital P! But it's cruelty-free, vegan, and all-natural. Plus it's made in small batches, so it's worth it.
Oh, and did I mention that it's SPECIFICALLY designed for aging skin? It helps boost firmness and restore elasticity while also deeply moisturizing your face.
You only get like 1 ounce, but a little goes a super long way. That said, if it's too pricey for you, I also love this Odacite Ma+N (Marula + Neroli) Elasticity Serum Concentrate, which is about half the price.
7. Lavender Essential Oil
Like Tea Tree, you can't really talk about skincare essential oils without mentioning the lovely lavender (which, for some reason, I can never spell properly despite writing about it for years).
While its list of benefits could fill an entire book, for skin-tightening it works by boosting collagen.
It's also among the most affordable essential oils, making it a great place to start if you're on a tight budget.
Like tea trees, there are about a zillion products with lavender as the star ingredient. For anti-aging purposes, though, I really love this sheet mask.
It's all about the plump factor! It'll really help tighten that sagging skin without drying it out. Plus, like all products from Safe & Chic, it's 100% cruelty-free.
8. Rosemary
Technically, rosemary isn't a true "essential oil" (which I literally just learned, and I've been researching EOs for a VERY long time), but let's not hold that against it. It's a stellar choice for a litany of concerns.
Rosemary rose to fame as a hair-growth essential oil, but it also offers up a slew of skincare benefits as well.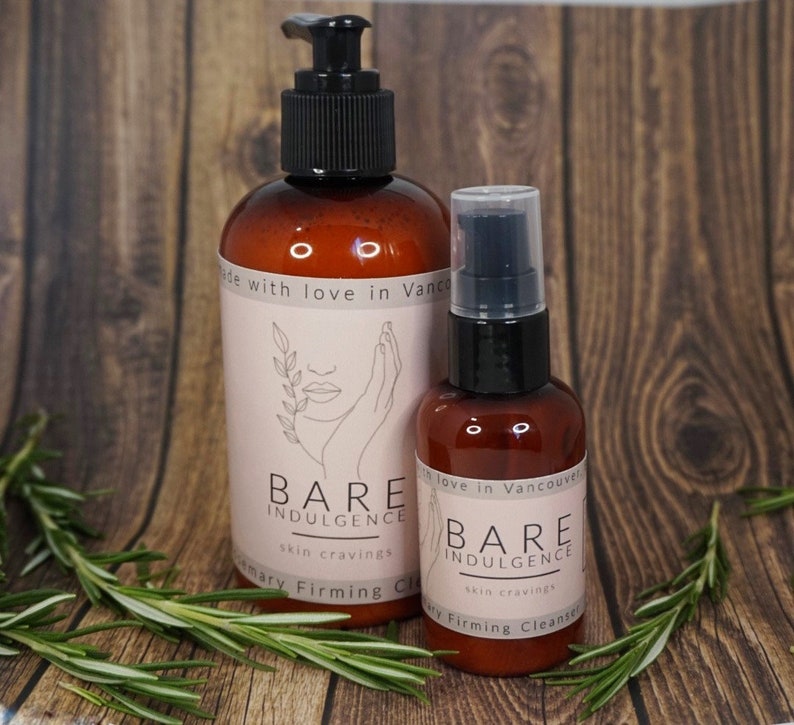 While Rosemary plays a supporting role in a lot of products, Bare Indulgence Skin made it the star of the show in its anti-aging cleanser.
It's accompanied by ylang-ylang water, aloe vera, almond oil, and jojoba oil, all of which work together to help give your skin a firmer appearance.
9. Jasmine
If you love floral scents, Jasmine is your gal! It's not quite as "I just rolled in a field of flowers" as rose oil, but still has a beautiful romantic scent.
When it comes to aging, Jasmine's greatest benefit is that it works as both an anti-inflammatory and helps promote healing.
Another great product from Odacite, this one couples blueberry with jasmine to help take the floral edge off.
It's an amazing concentrate that targets your cells to help rejuvenate sagging skin. Since it's sold by Safe and Chic, you know it's cruelty-free, too!
10. Ylang-Ylang
When it comes to the essential oil with the name that's the most fun to say, Ylang-Ylang takes the cake. Seriously, doesn't it just make you smile?
A fun name, though, isn't enough to earn a spot on my list of the best essential oils for skin tightening.
Ylang-Ylang is a great anti-aging EO because of how well it calms a myriad of skin problems, including acne and wrinkles.
Plus, some evidence suggests it boosts your immune system. As you know, a healthier immunity means your skin can fight off free radicals and other damaging effects.
Elemis' Superfood Night Cream contains an incredible mixture of essential oils and other skincare ingredients, including- of course- Ylang Ylang.
The fatty acids from the chia seed oil really help give your skin back some of its much-needed plumpness, while the combo of YY and lavender lull you off to sleep.
11. Clary Sage
Last up, we have our good friend Clary Sage, with its refreshing "I just stepped out of the shower" scent.
While it's among the least-researched of the bunch, don't write it off just yet. Its skin-healing properties make it a strong ally in the fight against aging.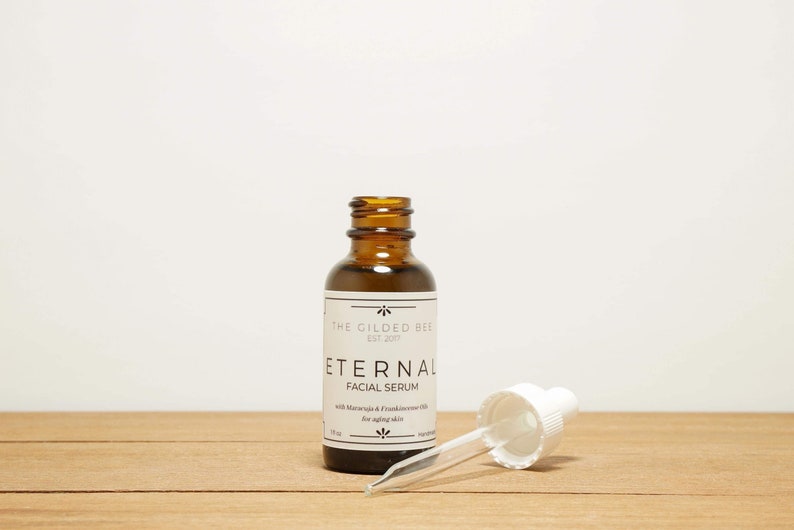 Eternal Facial Serum by The Gilded Beesic on Etsy is an affordable way to incorporate not just Clary Sage, but a whole host of amazingly beneficial skincare ingredients.
These include Golden Jojoba Oil, Maracuja Oil, Sweet Almond Oil, Grapeseed Oil, Argan Oil, Pomegranate Seed Oil, Papaya Seed Oil, Frankincense Oil, Clary Sage Oil, and Lime Oil.
Together, they work to not only tighten skin by boosting collagen but also nourish it deeply and help it fight free radicals.
How to Choose the Best Essential Oil for Skin Elasticity
That said, you'll want to consider more than just your budget if you're dealing with super sensitive skin. Pick those that are the most well-researched first, like lavender and rose oil.
Also, consider your own personal allergies. If you're allergic to ROSES, for example, then you'll definitely be allergic to ROSE OIL.
Related: Radio Frequency Skin Tightening Cost
FAQs About Essential Oils to Tighten Skin
Top Recommendation
Out of all of the essential oils, we talked about above, while Rose Oil is my "winner," given the high price my actual "top recommendation" would be the Elemis Superfood Night Cream.
While it's still not the cheapest, it contains several of the above-mentioned EOs, making it a good choice all-around.
References
Choi, Seo Yeon, Purum Kang, Hui Su Lee, and Geun Hee Seol. 2014. "Effects of Inhalation of Essential Oil OfCitrus AurantiumL. Var.amaraon Menopausal Symptoms, Stress, and Estrogen in Postmenopausal Women: A Randomized Controlled Trial." Evidence-Based Complementary and Alternative Medicine 2014: 1–7. https://doi.org/10.1155/2014/796518.
Clanton, Melissa, Dorene Petersen, Erica Petersen, E Bowles, Marcangelo Puccio, Janet Bennion, Judika Illes, and Julie Gatti. n.d. "MENOPAUSE: UNDERSTANDING and MANAGING the TRANSITION USING ESSENTIAL OILS vs. TRADITIONAL ALLOPATHIC MEDICINE." Accessed September 27, 2021. https://files.achs.edu/mediabank/files/melissa_clanton.pdf.
Franziska Spritzler. 2019. "The 13 Most Anti-Inflammatory Foods You Can Eat." Healthline. Healthline Media. December 20, 2019. https://www.healthline.com/nutrition/13-anti-inflammatory-foods.
Hitti, Miranda. 2007. "Lavender Oil May Spur Breasts in Boys." WebMD. WebMD. January 31, 2007. https://www.webmd.com/children/news/20070131/lavender-oil-may-spur-breasts-boys.
Hsieh, Tian-Jye, Fang-Rong Chang, Yi-Chen Chia, Chung-Yi Chen, Hui-Fen Chiu, and Yang-Chang Wu. 2001. "Cytotoxic Constituents of the Fruits of Cananga Odorata." Journal of Natural Products 64 (5): 616–19. https://doi.org/10.1021/np0005208.
"Human Male Sexual Response to Olfactory Stimuli | American Academy of Neurological and Orthopaedic Surgeons." 2014. American Academy of Neurological and Orthopaedic Surgeons |. March 3, 2014. https://aanos.org/human-male-sexual-response-to-olfactory-stimuli/.
McCulloch, Marsha. 2018. "14 Benefits and Uses of Rosemary Essential Oil." Healthline. Healthline Media. November 15, 2018. https://www.healthline.com/nutrition/rosemary-oil-benefits.
Shohayeb, Mohamed, El-Sayed Saleh, S.A. Bazaid, and Ibrahim Abdullah Maghrabi. 2014. "Antibacterial and Antifungal Activity of Rosa Damascena MILL. Essential Oil, Different Extracts of Rose Petals." ResearchGate. unknown. 2014. https://www.researchgate.net/publication/287527902_Antibacterial_and_antifungal_activity_of_Rosa_damascena_MILL_essential_oil_different_extracts_of_rose_petals.
T. Ferrara, Giancarlo De Vincentiis, and Francesco Di Pierro. 2015. "Functional Study on Boswellia Phytosome as Complementary Intervention in Asthmatic Patients." ResearchGate. unknown. October 2015. https://www.researchgate.net/publication/287279226_Functional_study_on_Boswellia_phytosome_as_complementary_intervention_in_asthmatic_patients.
Watanabe, Eri, Kenny Kuchta, Mari Kimura, Hans Wilhelm Rauwald, Tsutomu Kamei, and Jiro Imanishi. 2015. "Effects of Bergamot (Citrus Bergamia (Risso) Wright & Arn.) Essential Oil Aromatherapy on Mood States, Parasympathetic Nervous System Activity, and Salivary Cortisol Levels in 41 Healthy Females." Complementary Medicine Research 22 (1): 43–49. https://doi.org/10.1159/000380989.
WebMD Editorial Contributors. 2020a. "Lemon Oil: Health Benefits and How to Use It." WebMD. WebMD. November 11, 2020. https://www.webmd.com/diet/lemon-oil-health-benefits#1.
———. 2020b. "Health Benefits of Lavender Essential Oil." WebMD. WebMD. November 12, 2020. https://www.webmd.com/diet/health-benefits-lavender-essential-oil#1.
———. 2020c. "Health Benefits of Bergamot." WebMD. WebMD. November 13, 2020. https://www.webmd.com/diet/health-benefits-bergamot#1.
What are your favorite essential oils for skin tightening? Please let us know in the comments below!