Is Banana Boat cruelty-free?
When it comes to sunscreen, it is harder to understand which brands are animal-friendly and which are not.
Luckily, we've got you covered!
Below, we'll check out Banana Boat's animal testing policies, parent company, and more to discover if they truly are (or aren't) cruelty-free.
READ MORE: The Best Cruelty Free Powder Foundation
Is Banana Boat Cruelty-Free…Really?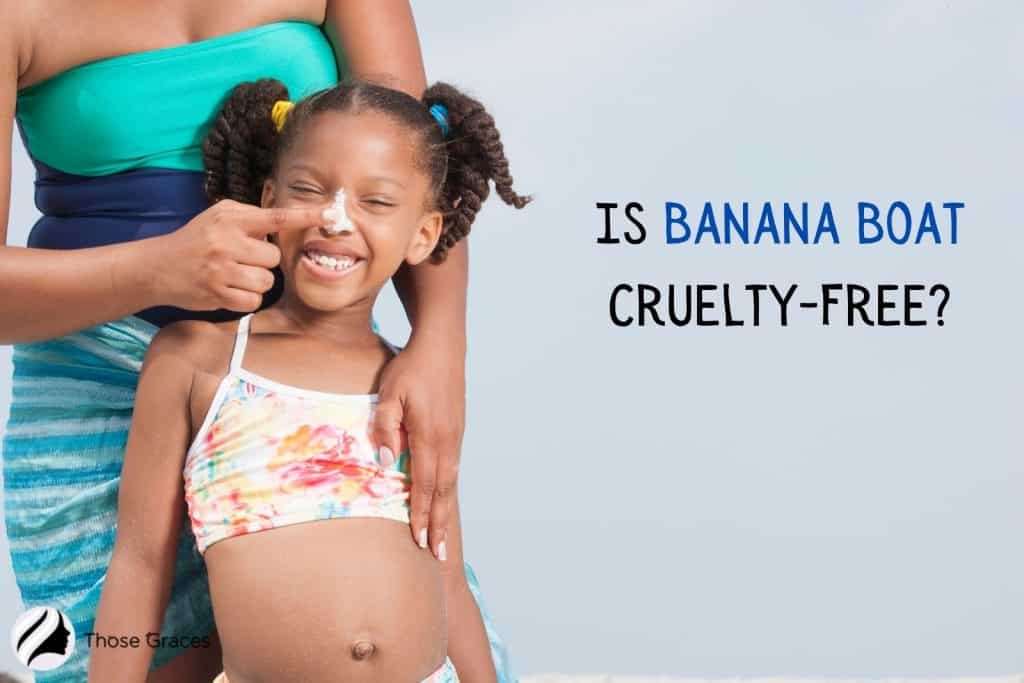 The shortest answer to your question is NO! Banana Boat is not a cruelty-free brand.
When looking for this brand's name on PETA or Leaping Bunny websites, you won't succeed.
Not only is this brand NOT certified by any of those organizations, but their parent company also tests on animals.
I couldn't find much information on their website, but I managed to gather few details that prove my point.
Banana Boat Animal Testing Policies
There's nothing much you can find on Banana Boat's website. All the information leads to their parent company's website, which is Edgewell. And you can find too few details there as well.
The only piece of information I could find is their personal care company policy statement on animal testing. But I couldn't get any mentions about Banana Boat specifically.
Edgewell however, states that they avoid animal testing whenever possible for their wide variety of products, but not entirely. Only several brands from their company are cruelty-free, but nothing about Banana Boat.
They also made sure to mention that they perform animal testing only in countries where it is required by law or whenever there is no other alternative solution to assess the safety of the ingredients for the consumers.
History
This brand was made to provide protective sun care products to its consumers in the late 1980s.
As the years have passed, they have become a leading company in this field and manufacturing high-quality and effective products.
Their products are made for the entire family, from kids to adults. They also have an extensive range of sunscreens with various SPF levels. So one can find a suitable product based on their skin type.
In the latest years, Banana Boat was bought by Edgewell, a personal care brand that is also a parent company to various other businesses for shaving, grooming, feminine care, etc.
What do They Say About it?
The only statement I could find from either company, states that they are not tolerating animal testing unless it is required in some countries, or they are required to test for the safety of their consumers.
Although some of the brands of Edgewell are not tested on animals, Banana Boat is not one of them.
Based on their provided information, the majority of their products are not tested on animals and are carried out through non-animal procedures.
It allows them to adopt alternative methods where no animals will be used. However, in countries where animal testing is required, like in China, they can't change anything.
But they do mention that they strive to choose alternative ways whenever possible to avoid animal testing in any stage of their product manufacturing.
READ MORE: Gwen Stefani's Vegan and Cruelty-Free Makeup Line
Do they sell in China?
Yes, this brand is sold in China, which specifically means that the products or their ingredients are anyway tested on animals before being sold at stores.
There is also a possibility that even if they don't directly test on animals, they may commission a third-party company to do so, as it is the only way to sell cosmetic products in Mainland China.
Is Banana Boat owned by a parent company that tests on animals?
Yes! As you have previously read, Banana Boat's parent company is Edgewell. It is an American consumer product corporation that has various brands under its management.
Carefree, Schick and Wet Ones are some of the brands that are sold by Edgewell. And not all of its brands are cruelty-free.
Luckily, they have several brands that are never tested on animals, such as Carefree or Wet Ones.
However, not all of their brands follow these rules, so you can't entirely say that Edgewell is a cruelty-free company.
Check: Is Fenty Cruelty Free?
Is Banana Boat a Vegan-Friendly Brand?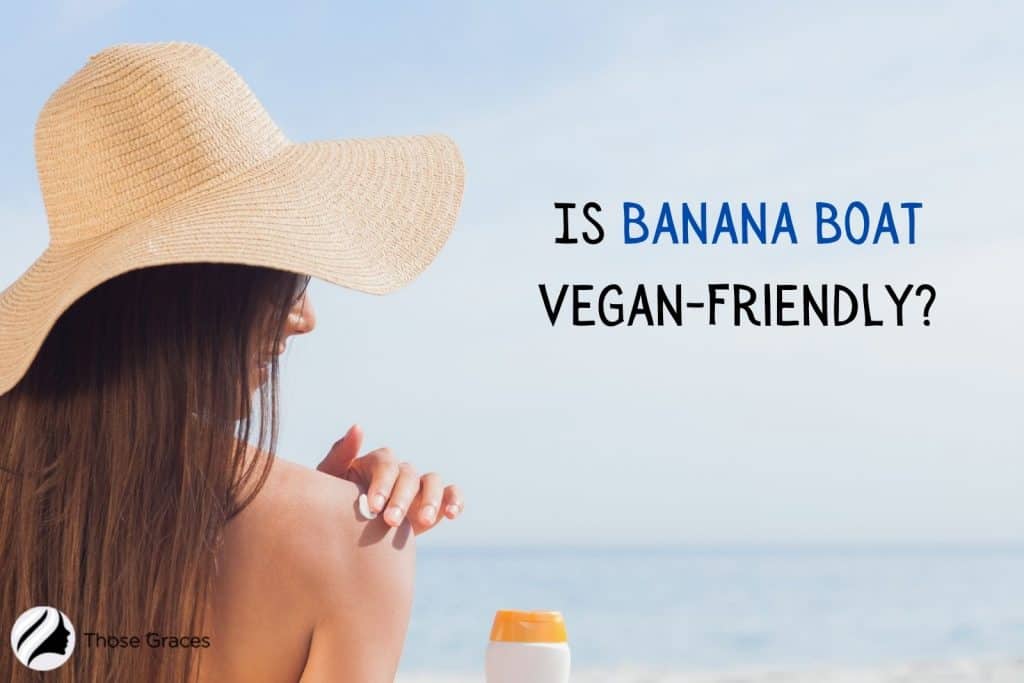 Just like other cosmetic products, sunscreens and sun protection products can also include animal-derived ingredients.
Most of the time, you may find beeswax or lanolin in the ingredient lists.
And this already means that the products are not vegan-friendly.
And even the ingredients of the products are not animal-based – if the brand is not cruelty-free, it can't be considered vegan-friendly.
In the case of Banana Boat, they offer various products with no animal-based ingredients on them, but they're still not exactly vegan-friendly given their animal testing policies.
3 100% Cruelty-free alternatives to Banana Boat
Picking a proper sunscreen for your skin type and condition is hard, and it gets even harder when you look for cruelty-free products. Check out my top three picks of 100% cruelty-free alternatives to Banana Boat that I also love using.
FYI, this section includes affiliate links. Any purchases made through the links will give us a small commission at no extra charge to you.
Their Unseen Sunscreen is an excellent choice for people with different skin tones. It doesn't leave a white cast and works best on acne-prone skin.
Supergoop! Unseen Sunscreen - SPF 40-1.7 fl oz - Invisible, Broad Spectrum Face Sunscreen - Weightless, Scentless, and Oil Free - For All Skin Types and Skin Tones
GAME-CHANGING SUNSCREEN - Our most popular SPF, Unseen Sunscreen is a totally invisible, weightless, scentless formula that provides oil-free sunscreen protection for all skin types, tones, & lifestyles.
COMPREHENSIVE PROTECTION - This feel-good, antioxidant-rich facial sunscreen helps filter blue light (skin-damaging light emitted from your phone, computer, & tablet), UVA, UVB & IRA rays.
A SUPER-POWERED PRIMER - The unique oil-free formula glides onto skin, providing shine control & leaving a velvety, makeup-gripping finish. Apply generously and evenly as the last step in your skincare routine and before makeup.
NOURISH & PROTECT SKIN - Our oxybenzone- & octinoxate-free everyday sunscreen includes clean, powerful ingredients like soothing frankincense & hydrating meadowfoam seed that nourish & protect your skin.
GREAT FOR GUYS - This beard-friendly, broad spectrum sunscreen's clear texture truly feels like nothing.
Larkly is a powder sunscreen for your face, so it's not all goopy or greasy like other types.
In fact, since it's a powder, it'll actually help absorb oils, which is good news for those hot summer days when you feel all gross and shiny.

All Good is another amazing cruelty-free alternative to Banana Boat, and it just might be my favorite yet!
It's a super lux butter (versus a lotion), so really sinks into your skin and moisturizes while protecting it from the sun.
Conclusion
Wearing sunscreen is a necessity for anyone, no matter the skin tone, type, and condition.
So when you are looking for a company with cruelty-free products, it is best to do some research.
I hope this article helped you get more information about Banana Boat and its alternatives for 100% cruelty-free brands.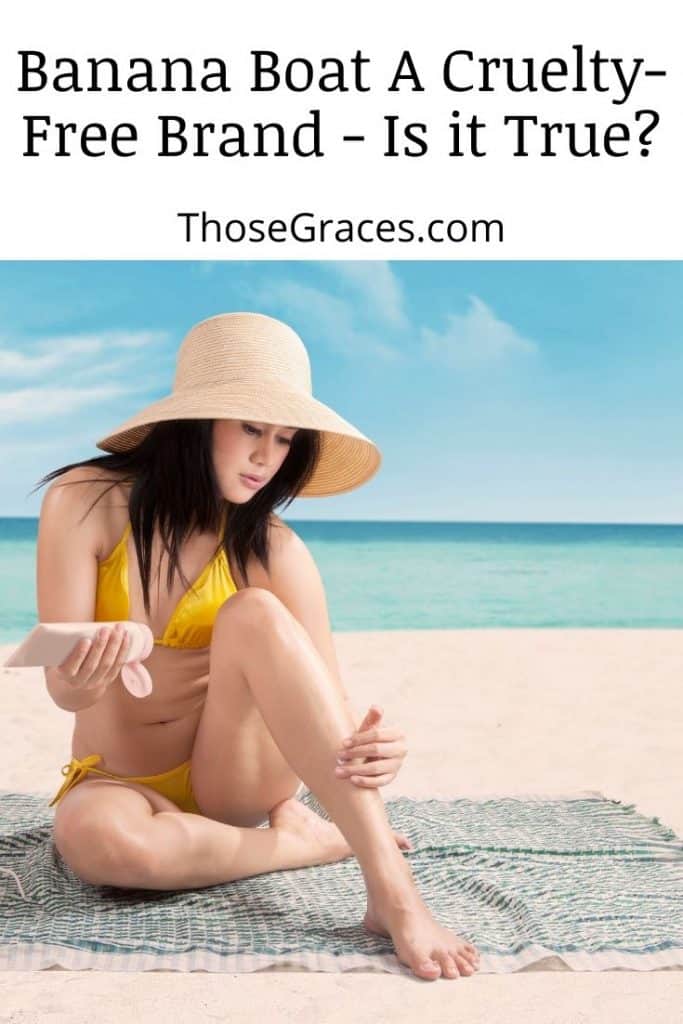 Have you used Banana Boat's product before? What do you think about it?