Have you been trying to find the best cruelty-free foundation? If so, we're on the same mission.
After testing so many products, I found five that I would use over and over again.
These are different types of foundations because I wanted my fellow beauty fanatics to have a diverse choice and satisfy everyone's taste.
Let's start with a quick look at our top picks, then keep reading for all the glorious details.
Check: Is Banana Boat Cruelty Free?
Best Cruelty-Free Foundation Top Picks at a Glance
FYI, this post contains affiliate links. We earn a commission if you make a purchase at no extra cost to you.
Check the table below for a side-by-side comparison of our favorites!
Top Benefit
Flawless finish that doesn't get patchy or uneven after hours of wear
Fantastic blend of botanical extracts
The powder is finely milled so it applies flawlessly
Top 5 Cruelty-Free Foundations In-depth Review
Did you know that 106.88 million women in the US used foundation in 2020?
This is quite a staggering number, especially if you consider that a large portion of them supported brands that still test on animals.
Opting for cruelty-free makeup in my life is one of the most effortless changes that I've made, but I feel so good about it.
If you're trying to do the same, you have to read more about these five incredible products.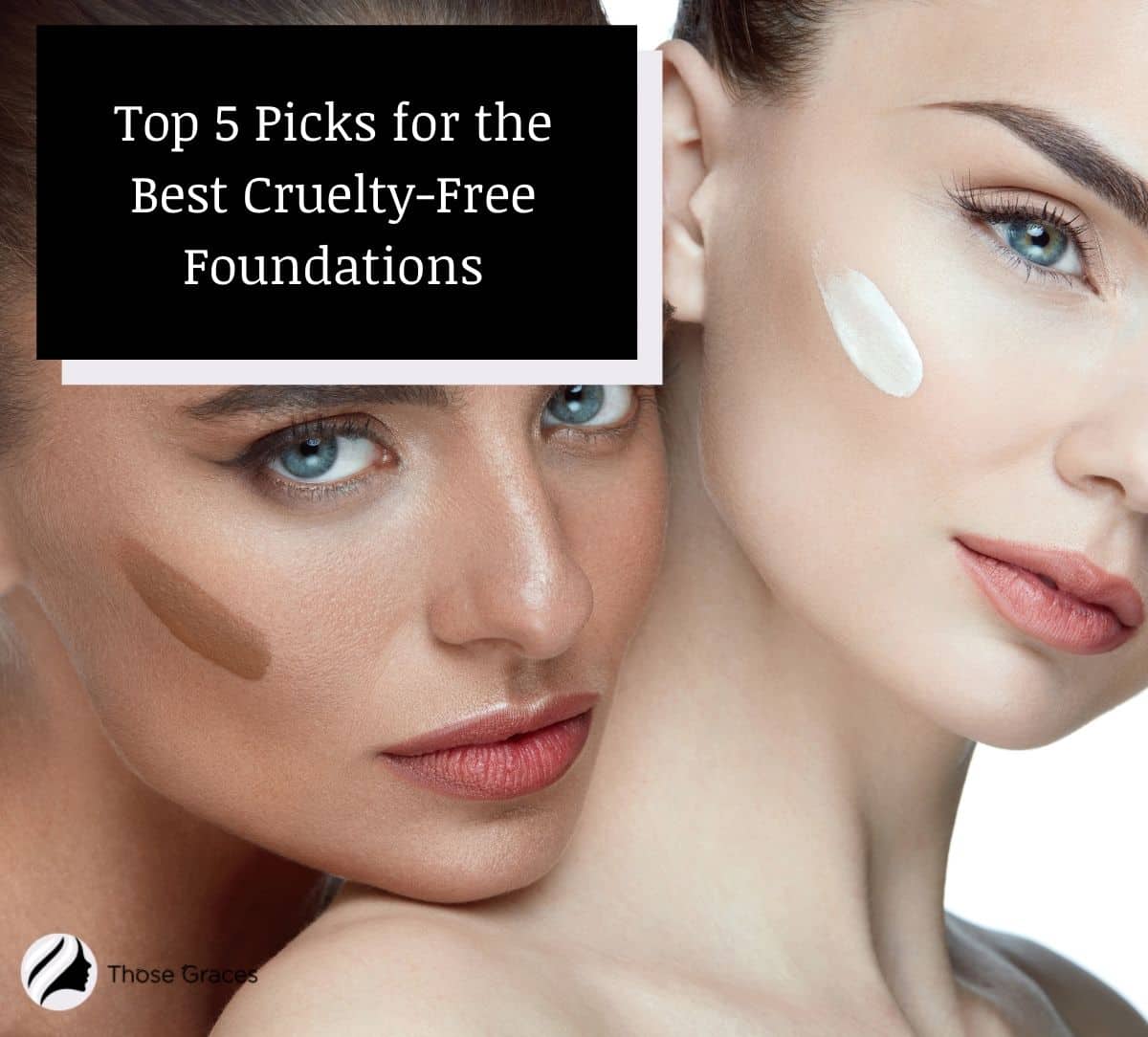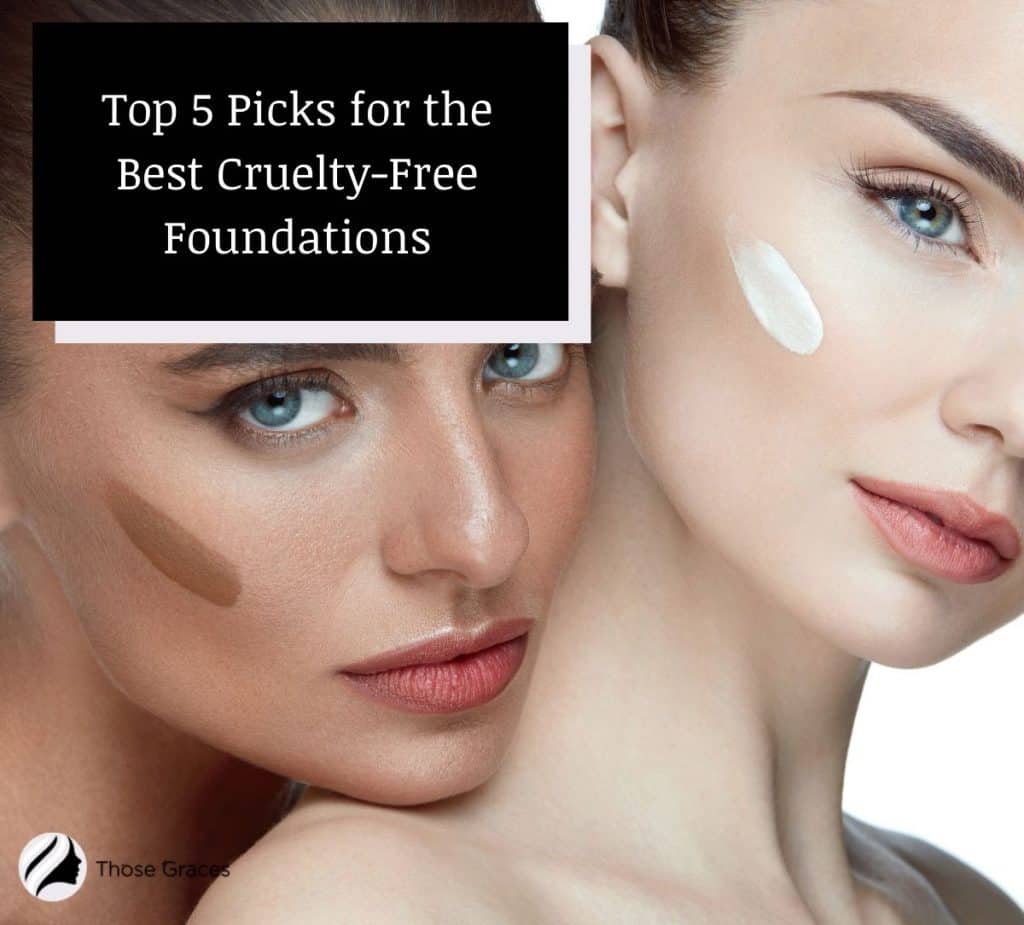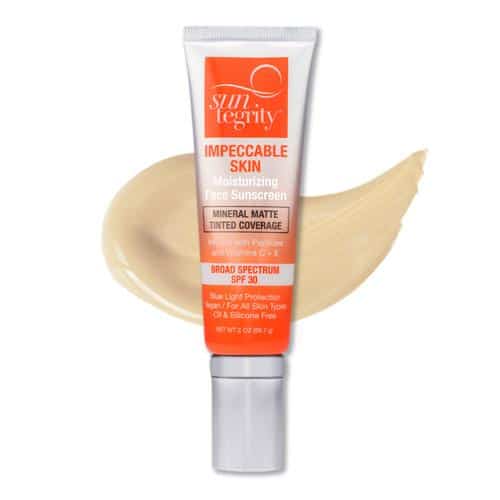 Suntegrity's Impeccable Skin foundation does exactly what the name suggests.
After seeing it online for a while and hearing raving reviews from my friends, I decided to try it. And now, I can confirm that it's the best cruelty-free liquid foundation in my collection.
Why is it the best, you may ask?
Well, let's start with the fact that it contains SPF 30, it offers amazing coverage, it's easily buildable, and it lasted me such a long time.
When you add the great ingredient list, and that it works for all skin types, it's a win-win situation.
Features
'Suntegrity Skincare Impeccable Skin Broad Spectrum SPF 30 is beauty-boosting skincare, sunscreen, and makeup all in one!'
The brand doesn't lie when they say that this product is above makeup! The Impeccable Skin foundation is formulated without mineral oils and silicones and is meant for all skin types.
Although I'm not a girl who opts for a medium coverage foundation, this one impressed me!
All the redness on my fair skin tends to peak through anything less than full coverage.
Well, I actually love how this foundation looks on my face because the coverage is enough to hide the redness and provide a natural-looking, dewy finish.
This is a 30 SPF foundation, which means it will keep you protected from the sun to a certain point. But still, you shouldn't mistake it for an actual SPF and skip on it.
| Benefits | Drawbacks |
| --- | --- |
| Lightweight on the skin, but great coverage | Shade range can be improved to fit more skin tones |
| Non-greasy at all, so it will be amazing for oily skin, dry, sensitive, and combination skin | The packaging is not luxurious |
| Flawless finish that doesn't get patchy or uneven after hours of wear | |
Benefits
Lightweight on the skin, but great coverage
Don't you hate it when a foundation feels so heavy on your face? Since this one is a blend between skincare, makeup, and sunscreen, you won't even feel it.
Non-greasy at all, so it will be amazing for oily skin, dry, sensitive, and combination skin
Many of my friends with oily skin tried this liquid foundation and said it's the best thing that's ever happened to them for everyday use.
I love how it doesn't irritate my sensitive skin and keeps it glowing throughout the day.
Flawless finish that doesn't get patchy or uneven after hours of wear
My dry skin, unfortunately, struggles with eczema. That's why it's hard for me to find a great foundation that won't make the patchy areas even more prominent. This one didn't; it blended perfectly and flawlessly.
Drawbacks
Shade range can be improved to fit more skin tones
The foundation comes in six shades, but the range should be extended, especially for darker skin tones.
My skin is fair, and thankfully I managed to find the perfect tone that's not too orange or too pink.
The packaging is not luxurious
If you love luxurious-looking makeup products, this one comes in a basic tube.
Yes, packaging is not as important as performance, but it is still worth mentioning because some people love the visual experience.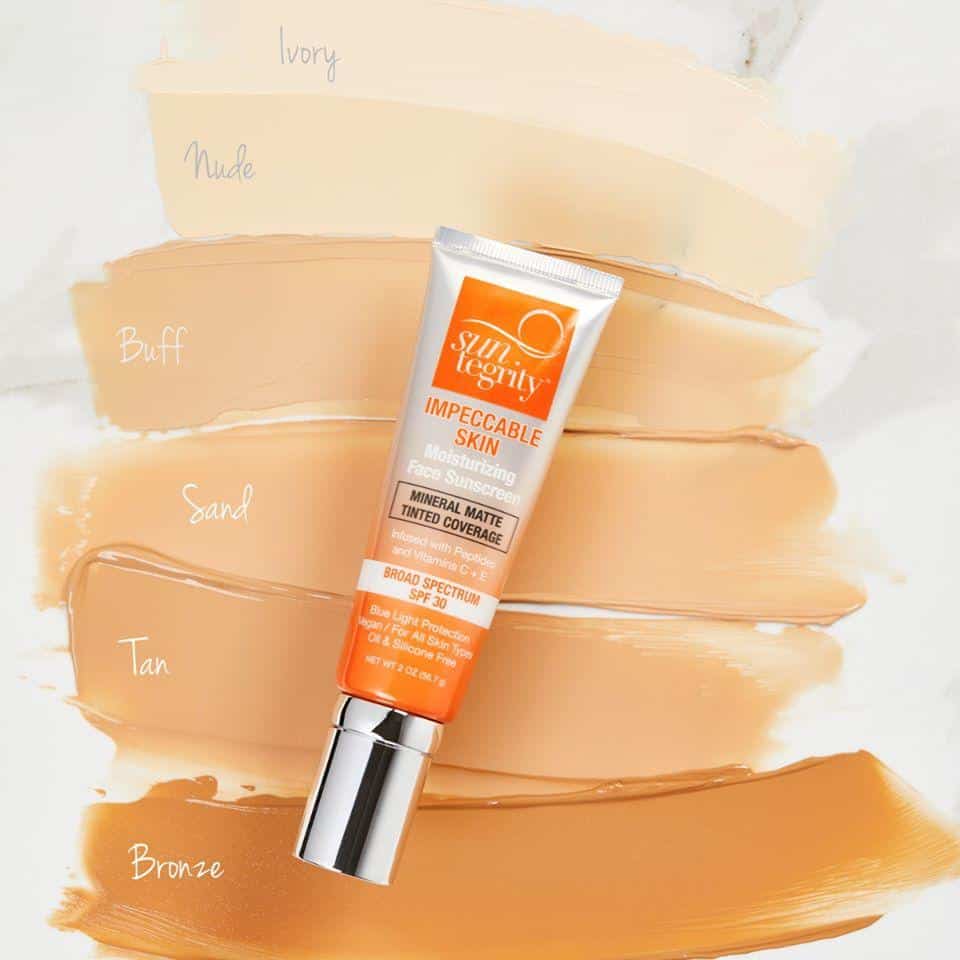 How it Compares to Others and Why
This is the only liquid vegan foundation on the list with an SPF 30. It's also the only product that I found worked great when applied with fingers, brush, or a beauty blender.
Expert Tips
Suntegrity recommends using a nickel-size drop of the foundation for your face. I found that that's enough, and I've got a chubby face if you know what I mean.
This is a buildable foundation, so whenever I need more coverage, I just add another layer.
When it comes to the application, it works with a brush, fingers, and a beauty blender. My favorite way to go is with a foundation brush!
Did I know that using a cream foundation could be this good? No, but I was willing to give this one a try.
As a person with extremely dry skin, cream foundations haven't really been my best friend. Thankfully, this Kjaer Weis product changed my mind and left my face with a radiant finish.
Features
This is one of the highest-quality cruelty-free foundations that I've tested, both the product itself and the packaging.
It's a certified organic foundation made with over 95% organic ingredients. As a person who's always struggled with eczema and hypersensitivity, clean beauty is my way to go.
The ingredient list includes coconut oil, jojoba oil, and almond oil, all of which are moisturizing, nourishing, and didn't clog my pores at all.
Kjaer Weis is among the most popular cruelty-free brands, so this product hasn't been tested on animals, but it's not vegan.
| Benefits | Drawbacks |
| --- | --- |
| The brand offers refills, so after buying the first foundation, save the packaging and purchase a refill | It's an expensive purchase |
| The packaging is luxurious and gorgeous | Not enough shade options for people with dark skin tones |
| Semi-matte finish that gives your face a fresh look without creases and patches | |
| Full coverage that takes care of all the blemishes, marks, and imperfections | |
| CCPB Certified Organic, without petroleum, fragrance, artificial coloring, parabens, petrochemical emulsifiers | |
How it Compares to Others and Why
This is the only creamy foundation on the list, so you will find it a little challenging to work with.
To apply it perfectly, you need to be faster than you would be with a liquid formula. It's also the only product with refills available.
Expert Tips
For the best results, apply a little moisturizer or a few drops of face oil before applying the foundation. That way, it's much easier to blend it and glides perfectly on your skin.
As I mentioned, my favorite way to apply it is with a brush; however, this one is also great when used with fingers. This Kjaer Weis product has a creamy formula which I found easy to work with.
Declared as a 'multivitamin for your face' the Gressa Minimalist Corrective foundation is one of the rare serum foundations that I actually liked.
As the beauty trends change, I'm getting more and more interested in skin products that aren't as heavy and provide a silky, dewy finish.
So, on my search for a great, rich foundation based on nourishing ingredients, I found this one.
It resembles very much of the gorgeous Korean foundations with hydrating formulas that don't look like you're wearing a mask.
Features
The Gressa Minimalist Corrective foundation is a serum foundation, so I didn't expect full coverage.
It's light coverage but quite buildable, so I enjoyed playing with extra layers for more coverage only where needed on my face.
Since I love slathering my skin in rich, nourishing ingredients, the coconut-related ingredients don't bother me at all.
But if you have an oily skin type and you've noticed that coconut ingredients can be comedogenic, then maybe you should pick one of the other foundations on the list.
And ladies, if you're after that easy-to-apply product that only takes minutes, this one is it.
I was surprised at how watery it is at first, but I couldn't believe the perfect natural finish after applying it to my face.
| Benefits | Drawbacks |
| --- | --- |
| It comes in an elegant glass bottle that you can recycle | Shade range could be more inclusive for ladies with dark skin |
| It's buildable without becoming patchy or looking fake | It's a costly product conserving the amount that you get |
| The fantastic blend of botanical extracts is very nourishing to your skin and promotes a healthy look | It has a slight scent, but it doesn't cause any sensitivity |
| Although the packaging is small, it lasts a long time because you only need a few drops per use | |
How it Compares to Others and Why
This is a much different product compared to others since it has an impressive ingredient list. It's also the best at tone-correcting, which would benefit ladies with uneven skin tone.
Expert Tips
Before you start applying this beauty product, make sure to shake the bottle. It's a control-drop foundation with a dropper so that you won't waste any product.
Just add three to four drops to your hands, and apply it. For this specific product, I found it best to use it with my fingers.
Who says that powder formulas will clog your pores? Ladies, meet my latest obsession- the Inika Organic Baked Mineral Foundation.
There is no doubt that it served being rated as the best pressed cruelty-free powder foundation because I can't stop using it.
Features
The black compact packaging is elegant, and as a bonus, it features a mirror. Are you thinking what I'm thinking? Yes, the perfect packaging to take with you in any bag.
The amount of powder that you get is decent, but the price of the foundation is relatively high.
Nevertheless, it's one of the highest-quality products that I've tested in a while, so I don't mind paying more as long as it looks great on my skin.
This product is made with a light-reflecting technology; that's why it adapts easily to your skin tone and doesn't look fake.
I wanted to compare how it worked on oily ladies, so I made my friend try it. She was more than happy with the results. It's safe to say that it's works excellent for all types of complexion.
| Benefits | Drawbacks |
| --- | --- |
| The shade range is more inclusive compared to the other cruelty-free foundations I reviewed | It's expensive |
| The powder is finely milled, so it applies flawlessly | |
| Very blendable and is quite easy to layer it without your face looking cakey | |
| Covers veins and pimples really well with a second layer | |
How it Compares to Others and Why
This is a powder product, so you can't apply it the way you would apply a liquid formula. Also, it can feel heavier on the skin compared to the previous products.
Expert Tips
Just get your brush, swirl it in the packaging and apply it to your face. It has a natural finish, so you can just add another layer under the eyes and on problematic areas.
Sale
Did you know that the Alima Pure Satin Matte foundation is one of the most raved about vegan foundations?
If you're a huge fan of loose powder, but you also prefer green, cruelty-free beauty, this is something you'll probably like.
Features
Don't you love it when a foundation boosts your appearance and hides your fine lines and pores?
I have those wrinkles around my eyes, so I tested this product to see if it really makes lines and wrinkles less visible. I couldn't believe what I saw!
No, it didn't bring me back in time, but it boosted my appearance and took away a few years of my face. There were no creases even after hours of wearing it.
This buildable coverage loose powder foundation provides more of a matte finish than any other product on this list.
For me it was too matte since I struggle with dry skin, but it will be perfect for combo and oily girls.
The Alima Pure Satin foundation is hypoallergenic and created without gluten, talc, nanoparticles, synthetic dyes, silicone, fragrance, parabens, nuts, sulfates, dimethicone, bismuth oxychloride.
So, if you have any sensitivities or allergies, this is probably the safest product to opt for.
| Benefits | Drawbacks |
| --- | --- |
| Extensive shade range, making it very easy for you to find the most suitable one | No shades available for women with dark skin |
| It's great for sensitive skin types that are prone to allergies | The foundation looks a little patchy after 6-7 hours of wear |
| Perfect for combination, oily and acne-prone skin because it provides a matte finish and great coverage | |
How it Compares to Others and Why
It's easiest to compare the Alima Pure Satin product to the Inika Organic Baked Mineral since they're both powder foundations.
With this one, you get less product, but it's significantly cheaper. Also, it's more suitable for oily and acne-prone skin types than the Inika one, which works great for most skin types.
Expert Tips
Applying this foundation takes only seconds. My preferred technique is with a brush and a sponge for areas that need a little extra help.
Adding two layers felt too much and too matte on my face, but my mom has oily skin, and this is her favorite buildable product.

How Do I Know Which Cruelty-Free Foundation Is Right For Me?
Is there a way to know which is the best cruelty-free foundation for you without trying one?
Yes, you can look into various factors, such as your skin type, coverage, type of foundation, price, and determine which ones work best for you.
Although only 1.5% of colored cosmetics brands claim to be cruelty-free, there are still many great alternatives to choose from and support.
Coverage
Coverage is one of the most important factors when buying one this beauty product. There is no one size fits all, because it's up to personal preference.
What if you read stellar reviews for a product, but it turns out to be light coverage and you prefer full? That's not going to be the right purchase for you and you'll end up giving it to your best friend.
Type Of Foundation
Decide what kind of foundation you want and need. Liquid is not the same as powder, but, you can also use both.
Another thing to know is that most serum foundations have lower coverage compared to cream and liquid foundations.
Price
Set a budget. You don't want to splurge on the most expensive product just because you read a few nice reviews online.
Make sure that you check the size of the packaging as well and compare it to the cost per oz, ml, gr.
FAQs
Are MAC Cosmetics cruelty-free?
MAC Cosmetics is unfortunately not one of the cruelty-free brands that produce colored cosmetics. Its parent company, Estée Lauder, does have a testing policy that requires testing on animals only in countries where it's required by law. China is one of the countries with an animal testing law where MAC is sold, therefore we can only hope that they stop testing on innocent creatures in the future.
Is Maybelline vegan and cruelty-free?
Maybelline is another company that is not vegan or cruelty-free. Their parent company, L'Oreal has the same policy as Estée Lauder. Both Maybelline and L'Oreal sell their products in China where animal testing is unfortunately required by law.
Is Bare Minerals cruelty-free?
If you love Bare Minerals' products, you'll be happy to hear that this brand doesn't allow testing on animals. Their products also feature a mineral oil-free formula, don't contain triclosan, parabens, coal tar, propylene glycol, phthalates, chemical sunscreens, formaldehyde, and microbeads.
Final Recommendation: Suntegrity Impeccable Skin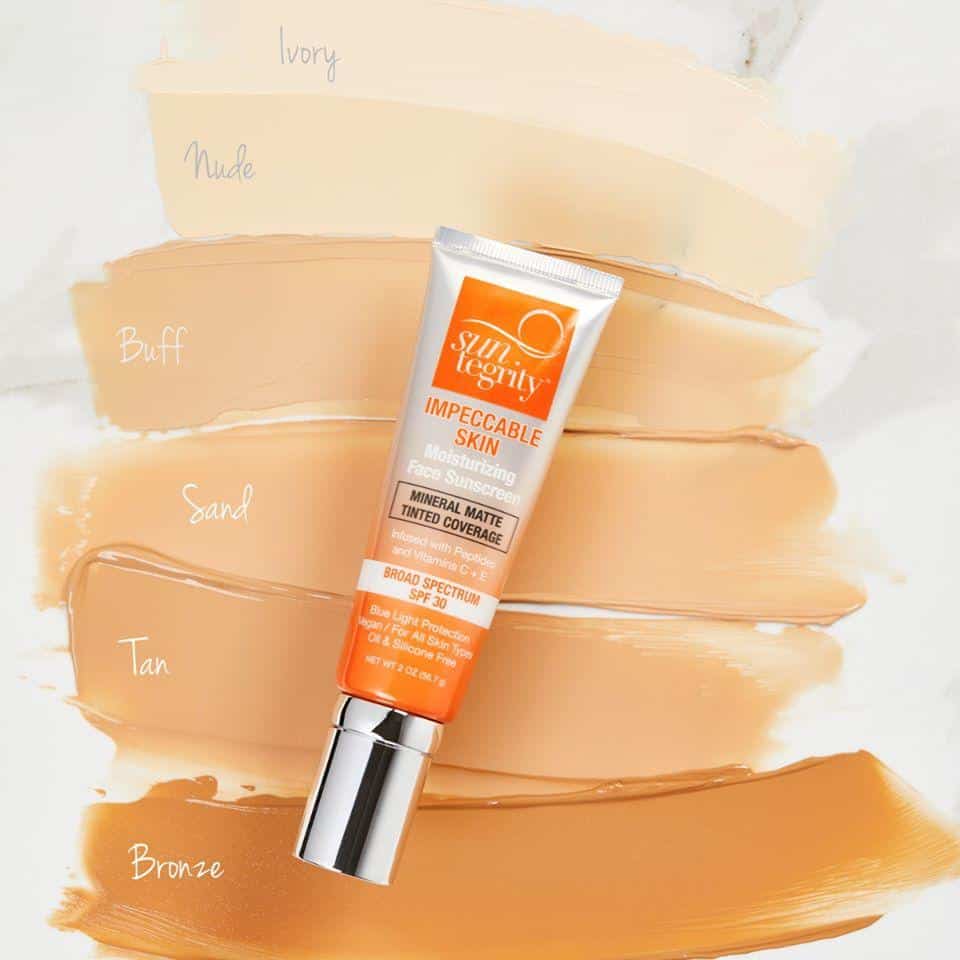 References:
"Clean Beauty Makeup and Skincare Products | BareMinerals." n.d. Www.bareminerals.com. Accessed May 26, 2021. https://www.bareminerals.com/our-purpose/look-good/clean-beauty/#:~:text=Every%20bareMinerals%20product%20is%20100.
"Research Shows That 'Vegan' Is Third Most Popular Product Claim in Colour Cosmetics." 2020. Vegconomist – the Vegan Business Magazine. July 27, 2020. https://vegconomist.com/fashion-und-beauty/research-shows-that-vegan-is-third-most-popular-product-claim-in-colour-cosmetics/.
"U.S.: Usage of Foundation and Concealer Make-up 2020." n.d. Statista. Accessed May 26, 2021. https://www.statista.com/statistics/275729/us-households-usage-of-foundation-and-concealer-make-up/.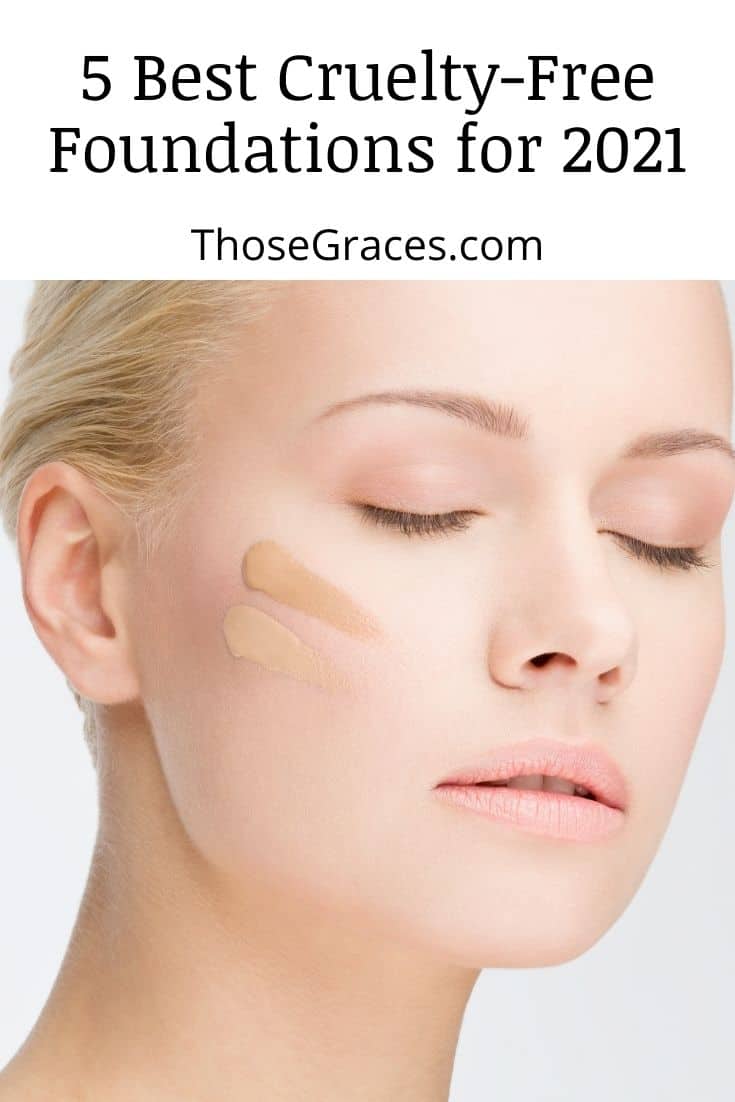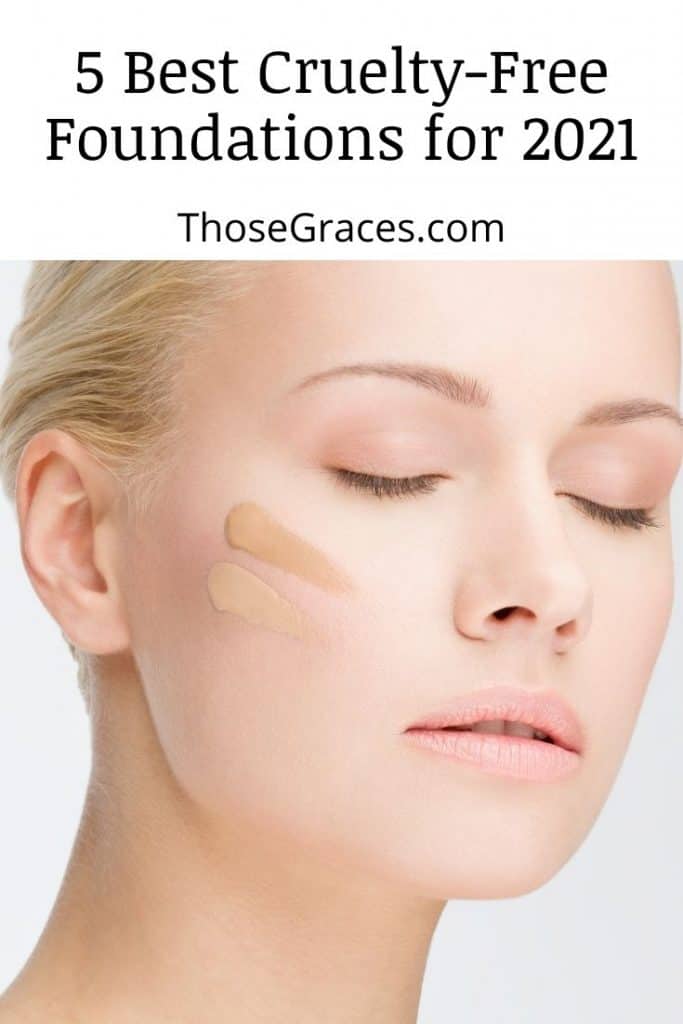 Which is your favorite best cruelty free foundation? Share with us!