Want to try out the 1920s flapper makeup, hair, and style, or are you just interested in learning about the history of this iconic look?
Look no further!
Keep reading for an easy flapper makeup, hair, and fashion tutorial (with both historically accurate and more wearable modern options).
Plus, I discuss the in-depth, documented history of the iconic twenties flapper style from head to toe!
Key Takeaways
Flapper makeup emphasized bold, bold, and colorful style choices, including bold lipsticks and heavy eye makeup.
Flapper fashion and beauty departed from traditional norms of femininity, with women embracing a more liberated and androgynous appearance.
Flapper makeup was an important aspect of the cultural movement of the 1920s, representing women's social, political, and economic liberation during the era.
Historical Context: The Flapper's Image in the Roaring Twenties
Flapper makeup and style were very much a product of its time. The context surrounding the young flapper's life in the roaring twenties was one of dramatic change.
Flappers loved the androgynous "garconne" look, mainly expressed through their daring short haircuts and loose, straight-cut dress styles [2].
Women's fashion was visibly influenced by men's – with women's tailored jackets, blouses, and pant designs drawing heavy inspiration from men's fashion [3].
Just after the devastation of World War 1, the world, and the role of women in particular, were altered dramatically.
Women in the U.S. earned the right to vote in 1920 and took an active role in the workplace.
Dr. R. Murray Leslie (a physician) stated in a 1920 lecture that the devastation and loss of men following the First World War led the way for the flapper [4].
'The social butterfly type: the frivolous, scantily clad, jazzing flapper, irresponsible and undisciplined, to whom a dance, a new hat, or a man with a car, were of more importance than the fate of nations."
Dr. R Murray Leslie, lecture 1920.
Character portrayals in the silent film "The Flapper" (released in the 1920s) embodied the flapper's carefree and rebellious attitude.
The flapper style slowly developed over the next few years to match [2].
The flapper makeup and fashion era didn't stretch for the entire 1920s decade and spanned from 1923 to 1928 [6].
It might surprise you that most women in the 1923-28 period were not flappers, but the style did influence the broader fashion somewhat, especially since it was such a realistic look [7].
Society viewed the flapper look as daring but not as bold as another subculture style – the vamp [8].
Ancient Egypt heavily influenced mainstream makeup and style in the 1920s!
The tomb of Tutankhamun was uncovered in 1922. This historic event sparked an obsession with Egyptian culture (known as 'Tutmainia') among the general public [9].
Iconic Egyptian Queen Nefertiti heavily inspired the makeup and style in the 1920s and 30s [9].
This was especially evident with the widespread adoption of eyeliner and the Egypt-central silent films released during this era. Women also often donned a Nefertiti costume at fancy dress parties.
Many 1920s women based their look around 'Complexion Analysis' cards that set out the correct colors of lipstick, powder, and rouge to suit each hair, eye color, and face type [10].
By the late 1920s, the flapper subculture was declining, and an elegant, sophisticated, and feminine style became the new trend [5].
Although not the mainstream fashion of the time, when we look back with hindsight, flapper makeup, and clothing became the iconic style symbol for the booming 1920s [11].
Icons and Media Influence On Flapper Makeup & Style
From the 1920s onwards, media coverage of world-famous actresses and other celebrities significantly impacted the following:
The style, fashion, and makeup of the ordinary woman at the time shaped the flapper look [12].
Some of the most influential celebrities from the vamp and flapper era included Colleen Moore, Louise Brooks, Theda Bara, Pola Negri, Josephine Baker, and Clara Bow [6].
Sears, Roebuck, and Company used celebrity endorsements from Gloria Swanson, Clara Bow, and Joan Crawford to advertise their boots and hats.
With this, these companies took advantage of these icons' vast influence on the general public [3].
The flapper look was heavily influenced by French 'haute couture' fashion and Coco Chanel.
U.S. clothing manufacturers would travel to France for inspiration and release more affordable versions of the haute couture garments when they arrived home [3].
However, not all French designers embraced the flapper look. Flapper magazine criticized designer Paul Poiret for his old-fashioned, long skirt style in their November 1922 issue [7].
"Why in the name of common sense do the manufacturers of ladies' clothing insist upon girls wearing long skirts when we simply don't want them?
What do they think we are, a bunch of jellyfish with no minds of our own?"
Flapper magazine, November 1922.
The fear-based advertising strategy was dominant in the 1920s [13].
Makeup and fashion brands capitalized on the conscious flapper's concern over her looks. While the flapper was carefree in attitude, she was anxious about her appearance.
Advertisements focused on worries about being too big, body odor, bad breath, or not being beautiful enough.
For a cohesive reference to the glamour of flapper makeup, be sure to check out this video:
Step By Step Tutorial: The Flapper Makeup and Fashion Look
Lips
Flappers were known for their unique 'rosebud' mouth look. The goal is to make your mouth appear as small as possible but keep your lips full in a 'bee-stung' manner.
Apply foundation to the lips' edges and your mouth's left and right sides. Define the cupid's bow sharply, and apply lipstick to the middle of your mouth in a heart shape.
Stick to dark red or brown lipstick shades to keep the look authentic.
This style of lip makeup is quite stark for the 21st century. For a more toned-down, flapper-inspired look, apply lipstick normally (don't overline), stick to a dark red shade, and define the cupid's bow slightly.
If you're looking for makeup that flatters mature skin, our article on natural makeup for mature ladies is a must-read. And if you're trying to find the perfect makeup for formal black dress, check out our article for some great ideas.
Eyes
While flappers used burned matchsticks or charcoal as kohl liner and Vaseline on the eyelid, I recommend something safer!
Start with an eye-safe glossy base (for the vaseline look) and apply your favorite kohl liner across the lash line. Eyeshadow was scarce, but the elite flappers wore a gray shade swept across the lid.
Flappers loved the long, spidery lash look – be sure to curl your lashes, add lashings of mascara, and finish with a fluttery pair of false eyelashes.
Eyebrows
1920s flappers had skinny, dark brows that sat relatively low on the face.
For an authentic fancy dress look, cover your brows in foundation and pencil in two small lines in their place to emulate skinny brows.
To keep the look more wearable, lightly fill in your natural brows without adding to their thickness.
Face and Skin
Nearly every woman in the 1920s used powder, and over half wore rouge (blush). Apply your favorite matte foundation and concealer, and keep your skin oil-free with a face powder.
Flappers wore quite a lot of rouge, considering the heavy lip and eye makeup, but not so much that their skin looked cakey.
The 'Eternal Flapper' Edna Wallace Hopper (1925) advised using a blush that suits your complexion and flatters your face shape.
Opt for a red or pink blush on pale skin, and stick to a peach shade for tanned skin. She recommended a brighter shade for the evenings. For a completely authentic look, add rouge and powder to your knees.
"The intoxication of rouge is an insidious vintage known to more girls than mere man can ever believe. [1]"
Dancers in the Dark by Dorothy Speare (1922)
Tanned skin rose in popularity throughout the 1920s.
While most flappers had pale skin, tanning gradually became more and more common. Stick to your natural skin tone, or feel free to add some fake tan if you prefer that look.
Check out this video of Louise Brooks:
Hair
If you have short hair, try out finger waves or keep it in the bob style. For longer hair, pin it up with bobby pins to create a fake bob.
A cloche hat is a great accessory option if you can get your hands on one. Alternatively, apply a scarf or a ribbon across your forehead for the authentic 'headache band' look.
Outfit – Dress, Coat, Shoes, Bag, and Accessories
It might surprise you that the ultra-mini, sparkly, stereotypical "flapper" dresses we see today would have been considered quite daring even for the 1920s flapper!
Although dresses eventually did come slightly above the knee, hemlines never reached so short. But evening dresses did feature a lot of the beaded and metallic embroidery that probably comes to mind.
The cut of the dress was pretty shapeless; the straight-up-and-down figure was very much the coveted look. Necklines often plunge either at the dress's front or back.
A stereotypical flapper dress today, in a slightly longer length (even just above the knee) and loose-fitting style, is historically accurate.
On a cold evening, wear a calf-length coat (with faux-fur trimming along the shawl).
Most evidently, flappers wore Mary Jane-style shoes at night and often carried a pearl purse that matched their dress to hold powder and lipstick for touch-ups.
To accessorize your look, you could add a long beaded necklace and some long earrings if you wish to balance out the bob look.
Looking for the perfect makeup to match your red dress? Check out our article on 'Makeup with Red Dress' for tips and ideas on creating a stunning look that will turn heads.
Flapper Makeup
The Basic Flapper Makeup look
The heavy makeup look became popular during this era. The biggest flapper makeup trends included red lipstick, red nail varnish, rouge, and dark heavy kohl eyeliner [2].
Beyond the Flapper: 1920s' Attitudes Towards Makeup
Innovations in makeup in the early 1900s and 1910s helped to shape public opinion around the use of cosmetics [2].
Wearing makeup was widely frowned upon up until the First World War.
While commercial, mass-produced beauty products became more and more common during this era, most women stuck to a natural look using homemade cosmetics [14].
This rapidly changed throughout the roaring twenties and the flapper period.
The historian Richard Corson noted the following about advertising agencies at the end of the 1920s:
These agencies estimated women in America were using 3750,000,000 boxes of powder, 3,000 miles worth of lipstick, and 240,000,000 cakes of rouge per year [14].
Respectively, cosmetics sales ballooned from just 17 million in 1914 to 141 million dollars in 1925 [3]!
However, there was still significant opposition to makeup during the 1920s. Historian Richard Corson noted in 1925 that there was an attempt to ban cosmetics in New Hampshire.
This opposition was, for the most part, unsuccessful [14].
Makeup was considered empowering in some circles and was heavily linked to women's rights movements in the early 1920s [6].
By 1928, it was the complete norm to wear makeup.
Beauty treatment parlors began popping up everywhere to provide facials, help tackle aging skin, and shape eyebrows [1].
The new 'facelift' procedure was also quite popular. In 1917, there were only 2 registered beauticians in the U.S. By 1927, there were 18,000 companies and people in the beautician business, according to tax records [1].
Thanks to new packaging innovations and their carefree attitude, flappers touched up their makeup in public for the first time [4].
This was despite the fact (or perhaps because) it was frowned upon in polite society.
If you're interested in keeping your skin looking healthy and blemish-free, be sure to also check out our article on non comedogenic makeup – it's full of tips and recommendations on how to choose makeup that won't clog your pores or lead to breakouts.
1920s Muses: Flapper, Vamp, and Mainstream Makeup Icons
Greta Garbo
A Swedish native, Garbo moved to Hollywood to become an actress in 1925.
While Greta frequently played the vamp character in her films, she was more of a mainstream makeup icon as flapper fashion fell out of style (in the late 1920s) and 1930s.
Her eye makeup routine involved coating the eyelid with petroleum jelly (Vaseline), then adding a neutral powder shade on the top, and blending a dark shade right into the crease of her eyelid.
She then applied eyeliner made from charcoal and petroleum jelly on top [8].
The eye look was considered quite harsh in the late 1920s – even for the vamp & flapper generation – and eventually influenced the heavy eyeliner look of the 1960s [8].
In contrast to the matte-skinned flapper look, Garbo used 'Silver Stone 2′ by Max Factor (a highlighter-like product that contained silver) to give a glow to her skin on set.
She wore very little makeup when she wasn't acting [8].
Clara Bow
The term "It girl" was coined for the flapper sensation Clara Bow [8].
Bow primarily created her look after being tasked with providing her makeup and wardrobe for her first film.
Her iconic flapper makeup look composed of red bob hair, thin, downward-pointing eyebrows, kohl on rounded eyes, and small, rosebud-shaped lips with emphasis on the cupid's bow [8].
Makeup legend Max Factor was the mastermind behind Clara Bow's deep red, defined statement 'bee-stung lips' look [15].
The look was achieved with a technique Max used before the invention of the lipstick tube.
With this, he dipped his thumbs into the lip pomade (an early version of lip gloss) and pressed 2 thumbprints on the upper lip [16].
Next, he turned his thumb upside down and left a thumbprint in the middle of the lower lip.
To finish the look, he contoured the edges of the lip with a lip brush.
The exposure significantly boosted Max Factor's sales – clearly showing how influential Clara Bow was for the flapper generation [4].
Many believe Catherine in the novel The Great Gatsby is inspired by Bow – mainly because of the character's flapper makeup style and signature red hair [8].
Bow's favorite products included false lashes, red lips, a brown eyebrow pencil, and Helena Rubinstein's 'Color Lift' in bright auburn. 8
Josephine Baker
Josephine Baker epitomized the flapper look with her dark eyes, lips, and slicked-down bob.
A dancer, singer, and actress, she traveled the world performing and rocked flapper makeup and style on stage, including the iconic flapper feather skirt.
She was a massive success in France, and Paris in particular, where she now has a place named in her honor [8].
Her fame and beauty drew the attention of cosmetic brands keen to collaborate to promote their products.
Helena Rubinstein referenced Baker's iconic look in one of her advertisements – claiming that her 'Water Lily' body cream would give you 'a body like Josephine. '
She also appeared on billboard commercials for a hair pomade [8].
'The Eternal Flapper' – Edna Wallace Hopper
Edna Wallace Hopper was a silent film actress throughout the late 1800s and early 1900s.
Very concerned with her looks, she was known for having one of the world's first facelifts, especially for video recording and releasing the procedure footage [18].
Through her influential makeup and style, she released her own cosmetics range and earned the title "the eternal flapper."
Her product range included a 'youth cream,' 'no-shine' to remove oil from the t-zone, a lipstick, and a 'youth clay' [19].
Hopper shared her beauty secrets in a novel released in 1925 titled "My Secrets of Youth and Beauty" [20].
The makeup tips from her book give considerable insight into the flapper's preferred method of makeup application [19].
"The woman who plasters a lot of rouge on her face, covers it with a thick layer of powder, regardless of whether the shade blends with the tint of her skin or not, and who, as a crowning touch, paints a pair of bright red lips over her own without regard to line, makes a character of her self."
Edna Wallace Hopper, 1925
Although the flapper makeup look was intense, she emphasized blending and keeping the look relatively natural, so layers of powder and rouge weren't visible on the face.
She advised using rouge to enhance the face – orange shades were for certain brunettes or blondes only, and in the evenings, she recommended a brighter shade.
Edna had an excellent grasp on the importance of adapting your makeup style to suit your face.
She advised women to apply rouge in an up-and-down stroke for round faces, emphasizing the cheekbones.
She suggested that thinner faces apply their rouge in a circular stroke on the hollow area of the cheek. For oval shapes, a triangle application was advised.
The Flapper Vs. The Vamp
Another style subculture that persisted throughout the 1920s, the vamp (from vampire), was more sensual and daring than the flapper.
The vamp character was irresistible to men – an early version of the femme fatale.
Theda Bara
Theda Bara was the original vamp, known for her signature vampy, heavily-lined-with-kohl eyes.
Bara reportedly even asked Helena Rubinstein (makeup artist) to create a unique kohl liner to increase the expressiveness of her eyes on the big screen [8]!
Another famous vamp actress, Anna May Wong, was known for her blunt bangs, dramatic brows, makeup, and flapper-esque short hairdo.
Her influence lives on today – Anna Sui based her 2014 A/W runway makeup and hair on Wong's look [8].
Flapper Lipstick – Bold and Innovative
The dark, dramatic shades of lipstick worn by the flapper became a symbol of the broader makeup look's "sophisticated rebelliousness" [21].
The Famous Rosebud Flapper Mouth
The perfect mouth in the flapper era was small but full, the lipstick was vampy & dramatic, and women applied it sharply in a heart shape around the cupid's bow area.
Lip colors were predominantly dark red or a red-toned brown to suit the black-and-white silver screen [22].
Applying lipstick to the natural line of the lips was practically unheard of. In 1926, Helena Rubinstein released her "Cupid's Bow" lipstick that perfectly defined the cupid's bow on application [17].
Specially created makeup lip tools for the era (metal tracers and uniquely shaped lipsticks) reflected the flapper's obsession with achieving the perfect rosebud mouth shape [17].
The addition of mirrors on lipstick packaging further emphasized the importance of tracing the perfect shape on the lips [17].
Huge Innovations In Lip Products
Before the metal tube, French cosmetic companies sold lip pomade in messy cardboard tubes and glass jars [23].
Lipstick rose in popularity when it became available in cylindrical metal tubes for the first time in 1915, thanks to inventor Maurice Levy [24][7][17].
But it took until 1923 for James Bruce Mason Jr. to create the wind-up lipstick tube [24].
This made it much easier for flappers to apply their lipstick, and they began to carry it around in their purses for makeup touch-ups [4].
'Kissproof' lipstick, and the matching rouge, was one of the best-selling lipstick brands of the early 1920s. Kissproof promised to "stay on no matter what one does" [24].
In 1927, Paul Baudecroux (a French chemist) created the 'Rouge Baiser,' one of (if not the first ever) indelible lipstick [23].
Rouge Baiser later became a firm favorite of Audrey Hepburn in the 1950s. 23
However, not all lip products were quite so advanced.
Familiar in the twenties, we would not recognize Fracy's 'Allumettes for thy lips' makeup product today.
This product contained a tiny matchbook of disposable lip pomade-covered sticks and a mirror [23].
"It's comforting to know that the alluring note of scarlet will stay with you for hours."
An advertisement for lipstick featured in Ladies' Home Journal, 1929 [1]
Dark & Dramatic Eye Makeup For The Flapper
Dark Kohl And Vaseline
Flapper eye makeup was dark and dramatic.
For a rounded, intense look, flappers drew thick back lines around their eyes, often using the black burned end of a matchstick [25].
In addition to the kohl, flappers often added Vaseline to the eyelids and sometimes a grease eyeshadow to the brow bone for a glossier look [4][26].
It wasn't easy to get your hands on a good eyeshadow and it only came in a gray shade for some time [10].
Cake Mascara
The compact mascara (a Maybelline invention) was popular with the flapper.
Composed of a mix of Vaseline (petroleum jelly) and coal dust, the Maybelline mascara was created by chemist T.L Williams in 1913 for his sister Mabel [23].
Williams named his brand Maybelline by combining 'Mabel' and 'Vaseline.'
The Maybelline mascara was sold through mail order throughout the 1920s.
Maybelline's cake formula mascara also came with a small bristle brush.
Flappers would spit into the mirrored box packaging to liquefy the cake mascara – this became one of the only acceptable times for a lady to spit [23].
They would then apply generous coats to both upper and lower lashes.
Popular in the 1920s, Rimmel's 'Cosmétique' comprised of the cake form mascara with a bristle brush for application.
Rimmel marketed the product as 'the superior eyelash beautifier.' Blue mascara promises to encourage long lash growth and beautify simultaneously [23].
Before the advent of cake mascara, women used petroleum jelly through their lashes [27].
The First Eyelash Curler
Flappers loved the long lash look.
While the cake mascara helped to darken the lashes, it did not provide the desired length or volume.
Eyelash curlers helped solve this problem. The first eyelash curling tongs were introduced in 1923 under the name 'Kurlash' [23].
It was not the most effective curler, though – it sometimes took up to 10 minutes to curl one set of lashes [27]!
False Lashes Mass Produced For The First Time in 1923
Liquid mascara didn't appear until the mid-1930s.
But the first false lashes appeared much earlier, in 1916, and were made from natural human hair.
In 1923, Max Factor and Charles Nessler (of Nestle) patented a new machine to mass-produce false lashes for Hollywood stars and everyday women [23].
Standard eye makeup products from the 1920s and 1930s included Nesto false lashes; eye pencils by Dorin, Paris; the Innoxa eye shadow compact; and the Kurlash eyelash curler [23].
Eyebrows
From the Edwardian era onwards, women plucked their brows, kept them ultra-thin, and liked the arched brow shape [27].
The thin eyebrow trend continued into the flapper era, with low and thin brows the must-have look [28].
While flappers kept their brows ultra-thin, they still liked to fill in sparse areas with an eyebrow pencil [26].
(This was a massive departure from the Georgians, who liked their eyebrows thick, dark, and jet black.
They sometimes combed their brows with a lead comb for added thickness and darkness! They also often shaved their brows off and wore fake brows made from mouse skin) [27].
Flapper Face Makeup: Breaking Taboos
Rouge and Powder
Rouge (blush) became more popular in the flapper years thanks to the significant improvements and innovations in rouge packaging [17].
The spill-proof rouge compact was introduced in the 1920s.
By 1928, 90% of women wore face powder, and 55% wore rouge [6].
"The woman who has experimented knows just the shade of rouge and hue of powder best harmonizing with her colouring."
Edna Wallace Hopper, known as "the eternal flapper," 1925 [20]
Even with all the heavy eye and lip makeup, flappers did not skimp on the rouge.
They went bold with a generous amount of (but not too much) color on their cheeks [25].
This was in stark contrast to the 1910s.
One commercial for rouge, just a few years before the flapper era, reflected the rouge taboo with the line "imperceptible if properly applied" (Ladies' Home Journal, 1919) [1].
Wanting to perfect their look from head to toe, flappers added rouge and powder on the knees – just in case their knees were revealed while dancing [7]!
The carefree flapper, sometimes too busy dancing to carry a purse, often hid her powder compact in her shoe buckle [13].
Youthful Skin & The Rise of The Sun Tan
The flapper's skincare routine reflected her desire to keep a youthful appearance.
And sometimes, it went to extremes! In 1923, beauty specialist Eleanor Adair advised women to smooth their wrinkles by sleeping in a Ganesh chin and forehead strap with moisturizer underneath [23].
Pale Skin In Vogue For The Last Time In The Flapper Era
Pale skin was a symbol of wealth for centuries. It signaled to others that you had a leisurely lifestyle and could afford to stay all day indoors.
The 1920s was a critical period in the history of the tan. The suntanned look became quite famous for the first time in the late 1800s/early 1900s.
However, it took until the 1920s for the tan to establish itself as the dominant fashion [15].
From the late 1920s onwards, a vacation suntan was desirable to show off your rich, leisurely lifestyle.
For this reason, a winter tan was especially impressive – the only way a tan was possible in winter was through a sunny vacation [3].
Magazines like Vogue and Harper's Bazaar slowly began encouraging sun tanning in the 1920s [29].
"Peach is a good powder color for the outdoor girl with sun tanned skin."
Edna Wallace Hopper, known as "the eternal flapper," 1925 [20]
However, it wasn't until 1928 and 1929 (just at the end of the flapper era) that these publications began to push sun tanning and a tanned appearance.
This starkly contrasted with the early 1920s when these magazines encouraged skin lightening and even bleaching.
The skin-bleaching endorsements significantly reduced by 1927 as the flapper trend declined [29].
Ideal for tanning on the beach, swimming costume trends moved from the covered design of the 1910s to a more revealing one-piece style by the late 1920s [4].
This set the scene for L'Oreal to develop a lotion that produced an even tan without burning your skin in the late twenties, eventually released in 1935 [15].
Another iconic product was developed in the 1920s – Chanel No. 5 was released for the first time in 1921 – a perfume sold once every 30 seconds today [15].
Smooth Skin With Legs And Arms On Show
Even before the dominant popularity of the sun tan, with 1920s dresses revealing legs and arms, hair removal brands seized the opportunity to sell hair removal to the flappers.
With skin now on show, advertisers began to market razors to women. Gillette launched its first razor for women in 1916, and by the 1920s, cream and powder depilatories were widespread [23].
Incidentally, marketing campaigns preyed on women's fear of not looking good enough and portrayed unshaven skin as repulsive.
"Nothing is so repellent and disillusioning as hair growth on the arms of a woman."
Advertisement for Veet hair removal cream, 1924 [23].
♥ Androgynous & Daring Hair Styles
Flappers wore their hair in a practical, short boyish style [2].
Some of the most common looks included finger waves, the Eton crop (one of the shortest bobs), plus the shingle and graduated bob [6].
Some women wore bangs with their bob, and the hairstyle was often paired with side curls or just one curl down the forehead [3].
Women created finger waves by applying a special lotion to damp hair and using their fingers to style sections of hair in the shape of a wave [3].
Although the shortcut was easy to manage, women took pride in their hair and invested time and money into styling it.
The straight-hair look was hugely popular with African American women during this period.
A hair de-kinker, developed by Madame C.J Walker (the first ever female African American millionaire in the U.S.), was a staple for African American women [13].
Not all women chopped their long hair off, and those with longer hair pulled it up into small curls using the recently invented bobby pin [25].
The Bob
Coco Chanel and Louise Brooks hugely influenced the widespread adoption of the short bob throughout the U.S. [3].
The 'page boy' and short bob looks, with hair reaching just below the ear, were huge trends.
The short bob was another rebellion against the status quo – long hair was widely considered much more ladylike until the 1920s [7][25].
Celebrity dancer and fashionista Irene Castle popularized the Castle bob in 1915 and heavily inspired the flappers of the 1920s with this 'do [30].
"I wear bobbed hair, the badge of flapperhood. I powder my nose. I wear fringed skirts and bright-coloured sweaters, and scarfs, and waists with Peter Pan collars, and low-heeled "finale hopper" shoes. [31]"
'A Flapper's Appeal To Parents' by Ellen Welles Page in 'Outlook' Magazine on December 6th, 1922 [31]
The Shingle bob tapered in at the neck and often had curls or waves at either side of the head [3].
The Eton crop (popular in 1926) was particularly androgynous; it came above the ears with shaved hair in the back and was often balanced with long earrings to add a touch of femininity [32][3].
Flappers loved the Shingle bob and Eton crop hairstyles because they worked exceptionally well with the must-have accessory – the cloche hat.
Hats and Headgear
Hat fashion changed to suit the short bob hairdo. Women in the 1920s sometimes wrapped long scarves around their heads (often low on the forehead) [7].
Headpieces like turbans and headbands (pieces of material wrapped around the head, often ribbon or rhinestones) were known as 'headache bands' and helped finish an evening outfit nicely [3].
But the cloche hat became the most popular head accessory day and night [7].
Cloche Hats
In 1923 the cloche hat was imported to the U.S. from France and became a fashion sensation [3].
This style sits close to the head, low on the forehead, and low on the back of the neck.
The brim of the hat varied in its shape. By 1928, the cloche hat no longer had any brim and looked almost helmet-like [3].
Many assume that the cloche style was available only in black and white because of the monochrome cinema and photography from the time. But that's not the case.
Cloche hats came in many different shades and often provided a splash of color to an outfit. Accessorizing your hat was a way to express individuality.
Some had ribbons or fur attached, and others were decorated with feathers or buckles [7].
♥ Flapper Style: Changing Shapes & Hemlines
The Context Surrounding Flapper Style
New fabrics and innovations in fashion provided women with more flexible and breathable clothing. Rayon fabric became a less expensive alternative to silk [7].
This looser style suited the flapper-era woman who played sports, danced and moved more freely [7].
Flapper women expressed their newfound independence through daring short hairstyles and hemlines.
The look represented rebellion from the norms of the past and symbolized freedom. Women revealed their ankles for the first time and their knees while dancing [7].
Daring Dresses (But Not Quite The Stereotype)
Straight Lines For A 'Boyish' Figure
Flappers rocked loose, straight, and low-cut dresses that hung on the body with no emphasis on the waist – utterly different from the tight-clinging bodycon style popular today [7].
The straight-line shape of flapper dresses intentionally avoided emphasizing a woman's curves. This style of dress mimicked the 'boyish' body shape that was very much in vogue at the time [2].
This was a massive departure from the Edwardian era, where the tight corset and petticoat look intended to exaggerate the curves that dominated beauty standards in the past [2].
Instead of accentuating their bust line or hips, flappers had their legs and arms on the show [7].
Short sleeves were popular during the day, while flappers wore sleeveless dresses at night [7].
For the daytime, women wore 'tea gowns,' with long flowy sleeves in the early 1920s and short fitted sleeves with a knee length by 1925.
Evening dresses featured dropped low backs, plunging necklines, and bustier styles with added feathers [2].
The cut of the dress usually featured a plunging U or V neckline or a wide boat-style neckline.
From 1926 onwards, the plunge no longer featured on the front – and instead on the back. Women began to drape their necklaces down their backs.
Dresses were shorter than before and gradually became slightly more revealing (especially in 1927– towards the end of the flapper era).2 At one point, dresses even came above the knee [7].
However, the dress length was never quite as short as the stereotypical 'flapper dress' costume we see today.
Evening dresses were heavily embellished with metallic embroidery, rhinestones, beads, and fringe [3].
Hollywood embraced the beaded and fringe dress flapper look, mainly because these styles caught the light well on the big screen [2].
The cocktail dress was made from various luxurious fabrics like silver or gold lame, crepe de chine, velvet, or satin, with shimmering layers of (often bright) colorful silk [3][32].
Coco Chanel's style was influential for the flapper.
Quite the pioneer of her day, she helped popularize the Little Black Dress (LBD) in 1926 [2][3].
Chanel also ditched the tight corset and became known for her beaded dresses and more androgynous jersey suits and knitwear – including her now world-famous chic cardigan jacket [33].
Undergarments For Shaping and Comfort
A non-restrictive, elasticated corset replaced the uncomfortable Edwardian bone corsets [7].
This new style shaped the body in a completely different way. Instead of wearing a corset to pull in the waist and accentuate the bust and hips, the flapper applied her corset to the hips.
This smoothed the hip area for a straight up-and-down silhouette.
Carefree flappers often checked in their corsets at the cloakroom in the dance hall or restaurant for maximum comfort and because they feared men wouldn't dance with them otherwise [11][1].
Many flappers flattened their chests with uncomfortable bust bodices [2].
The Symington Side Lacer bra was designed to achieve a more comfortable flat-chested look [7].
Underneath their dress, women wore slips, especially if the dress was sheer [7].
Women with naturally boyish figures didn't take these extra steps.
Women with fuller figures sometimes adjusted the look to flatter their shape. The low waistband style of dress, when changed across the hips of curvier women, was most flattering [7].
Flappers wore knee-length silk and rayon stockings held in place with a suspender belt (invented just in 1912) and long girdle [7][34].
These stockings were usually in a skin tone color to give the impression of a smoother bare leg. Women wore more opaque tights with patterns or ribbing for a more conservative look [7].
The One-Hour Dress
The straight line, simple design made it easy for everyday women to make their dresses [7].
The "one hour dress" was created by the Women's Fashion Institute in 1926 to make it easy for women to create their own quick and affordable outfits at home [35].
One Sears catalog of 1927 included 11 pages solely advertising women's hats and dozens and dozens of sewing patterns for homemade clothing [3].
Bold Jewelry and Other Accessories
Flappers loved to accessorize with lots of jewelry.
Long pearl or glass necklaces were a standard accessory for dancing. Women would wrap the necklace around their necks twice if it were ultra long [7].
Pins, broaches, rings, and horn-rimmed glasses were also in style. As for long earrings, they weren't as common, but some women liked to wear ones that matched their necklaces [7].
The popular bob hairstyle showcased the earrings nicely.
Flappers carried lipstick, eyeshadow, and powder in their beaded purses (often handmade Chinese silk purses – easily made at home) to match their beaded dresses [7].
With cosmetics rising in public acceptance, many women wore hanging lipstick holders around their necks [7].
Strappy Shoes
Low heels with T-bar straps and rounded toes were the flapper's preferred shoe style [7].
The strap style was stylish and practical, preventing flappers from accidentally kicking their shoes off while dancing the Charleston [3]!
Mary Janes were famous at night. Lace-up oxfords were worn during the day for a more casual look [7].
At the start of the decade, shoes were available only in neutral brown, black, or white. By the decade's end, shoes came in more colorful shades like silver, gold, red, or green [3].
Glamorous Outerwear
Flappers wore straight up-and-down coats that usually hit the calf when cold.
The wrap coat with fur attached to the shawl-style collar (and sometimes the sleeve cuff) was fashionable.
In contrast to the faux fur movement today, flappers had no qualms about wearing real fur. Monkey or possum fur was most famous for coats [7].
♥ The End Of An Era
The booming economy of the roaring twenties ended abruptly with the U.S. stock market crash and the emergence of The Great Depression in 1929.
The era of consumption, hedonism, and the iconic flapper look, went crashing down.
The end of the 1920s, and the flapper era, paved the way for a more feminine, traditionally 'ladylike' style in the 1930s [5].
FAQs
1. What defined flapper makeup in the 1920s?
Flapper makeup was known for its bold, bright colors and heavy eye makeup, including black eyeshadow and black eyeliner paired with bright lipstick.
2. How did flapper makeup differ from traditional beauty norms?
Flapper makeup departed from the traditional nice girl look and embraced a more liberated and androgynous appearance.
3. Was lip liner used in flapper makeup?
Yes, lip liner was used in flapper makeup to define and enhance the lips, typically paired with bold lipstick color.
4. How was flapper makeup applied?
Flapper makeup was typically applied using makeup counters or at home. The base color was applied, followed by black eyeshadow and black eyeliner, and then completed with bright lipstick.
5. Did flapper makeup influence contemporary beauty standards?
Yes, flapper makeup was a significant influence on contemporary beauty standards and has had a lasting impact on fashion and beauty.
6. What was the cultural significance of flapper makeup?
Flapper makeup was an important aspect of the cultural movement of the 1920s, representing the social, political, and economic liberation of women during the era.
Conclusion
Flapper makeup was a bold and colorful style choice that defined the cultural movement of the 1920s.
With its heavy eye makeup, bright lipsticks, and departure from traditional norms of femininity, flapper makeup represented the liberation and empowerment of women during the era.
Despite its historical context, flapper makeup has had a lasting impact on fashion and beauty, influencing contemporary standards and serving as a testament to the spirit of the Roaring Twenties.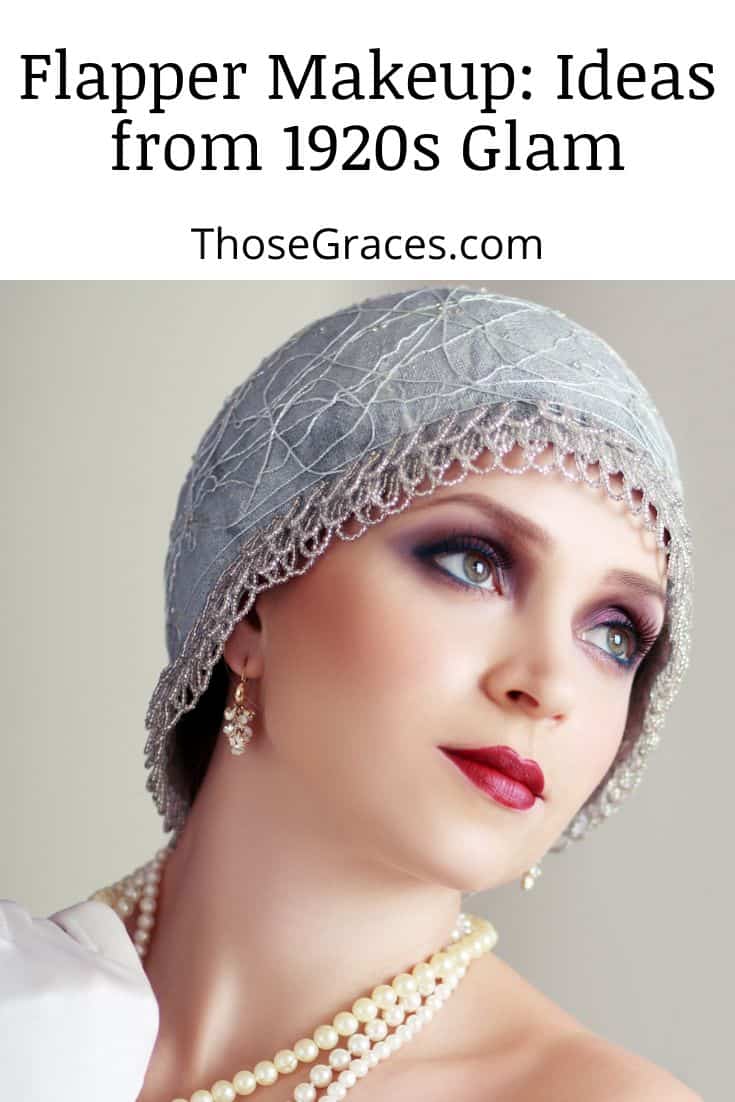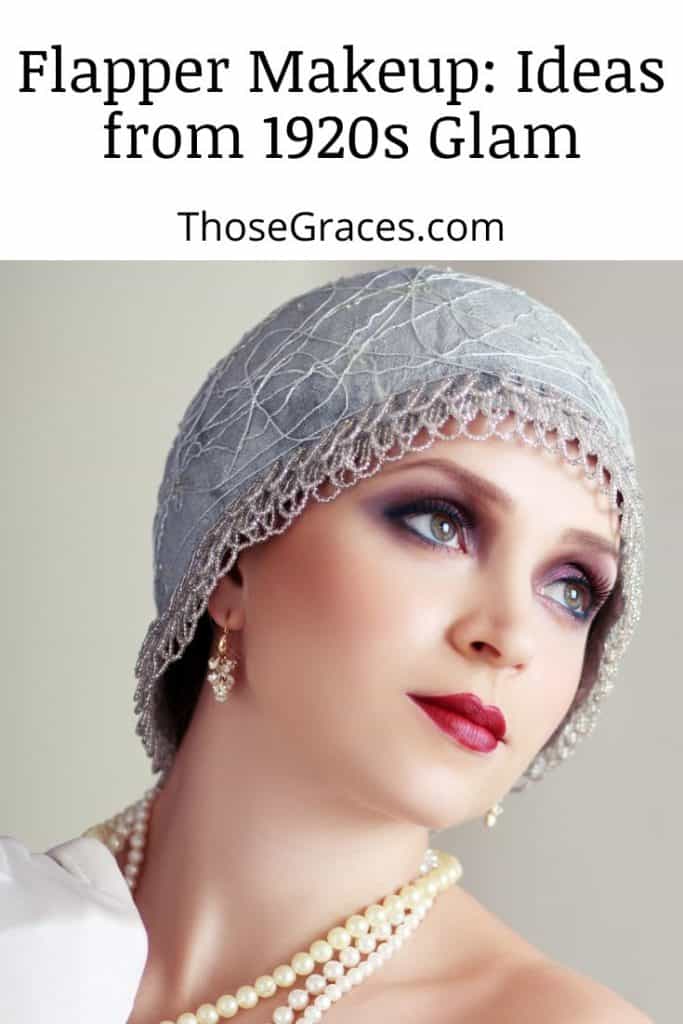 Resources
1. Frederick Lewis Allen. Only Yesterday. Open Road Media; 2015.
2. Blanco F.J, Doering MD, Hunt-Hurst P, Lee HV. Clothing and fashion : American fashion from head to toe. Santa Barbara, California: ABC-CLIO, an imprint of ABC-CLIO, LLC; 2016.
3. Kathleen Morgan Drowne, Huber P. The 1920s. Westport, Conn.: Greenwood Press; 2004.
4. Maloney A. Bright Young Things. Random House; 2012.
5. Warsh CK, Tinkler P. In Vogue: North American and British Representations of Women Smokers in Vogue, 1920s–1960s. Canadian Bulletin of Medical History. 2007;24:9–47.
6. Mclean AL. Costume, makeup, and hair. London: I.B. Tauris; 2017.
7. Kalloniatis I. Flappers In Fashion'. BookBaby; 1st edition (March 25, 2013); 2013.
8. Eldridge L. Face paint : the story of makeup. New York: Abrams Image; 2015.
9. Margaret Melanie Miles. Cleopatra : a sphinx revisited. Berkeley, Calif. ; London: University Of California Press; 2011.
10. STABILE C. TURNING THE CENTURY. 2019.
11. Margulies P. The roaring twenties. San Diego, Calif.: Greenhaven Press; 2004.
12. Tossounian C. Images of the Modern Girl: From the Flapper to the Joven Moderna (Buenos Aires 1920-1940). wwwacademiaedu [Internet]. 2013 [cited 2023 Feb 7]; Available from: https://www.academia.edu/5009128/Images_of_the_Modern_Girl_From_the_Flapper_to_the_Joven_Moderna_Buenos_Aires_1920_1940_
13. Moore L. Anything Goes : A Biography of the Roaring Twenties. ABRAMS (Ignition); 2010.
14. Pumphrey M. The Flapper, the housewife and the making of modernity. Cultural Studies [Internet]. 1987 [cited 2023 Feb 7]; Available from: https://www.semanticscholar.org/paper/The-Flapper%2C-the-housewife-and-the-making-of-Pumphrey/1d30d6a56c23812b1e324b0aaa941e68c7924290
15. Tungate M. Branded Beauty. Kogan Page Publishers; 2011.
16. Our Heritage | Max Factor [Internet]. www.maxfactor.com. Available from: https://www.maxfactor.com/en-gb/our-brand/our-heritage
17. Kate De Castelbajac, Richardson N, Chermayeff C. The face of the century : 100 years of makeup and style. New York: Rizzoli; 1995.
18. Cheryl Eichar Jett. Alton. Charleston, Sc: Arcadia Pub; 2009.
19. Carey C. American Inventors, Entrepreneurs, and Business Visionaries. 2020.
20. Alessio J. The Eternal Flapper. AuthorHouse; 2009.
21. Scott LM. Fresh lipstick : redressing fashion and feminism. New York: Palgrave Macmillan; 2006.
22. Sundh E, Wing S. Vintage hairstyles : simple steps for retro hair with a modern twist. San Francisco: Chronicle Books; 2015.
23. Marsh M. Compacts and cosmetics – beauty from victorian times to the present day. Oxford University Press; 2014.
24. King P, Foot D. The A to Z of lipstick. New York: Atria Books; 2017.
25. H O. WOMAN IN FLAPPER ERA PORTRAYED IN THE GREAT GATSBY. Handayani, osa [Internet]. 2015 [cited 2023 Feb 7]; Available from: https://www.academia.edu/28216699/WOMAN_IN_FLAPPER_ERA_PORTRAYED_IN_THE_GREAT_GATSBY
26. Place S, Bobbi Ray Madry. The art and science of professional makeup. Bronx, N.Y.: Milady Pub. Co; 1989.
27. Pitts-Taylor V. Cultural Encyclopedia of the Body [2 volumes]. ABC-CLIO; 2008.
28. Project MUSE – The Missouri Review-Volume 29, Number 2, Summer 2006 [Internet]. muse.jhu.edu. [cited 2023 Feb 7]. Available from: https://muse.jhu.edu/issue/10909
29. Martin JM, Ghaferi JM, Cummins DL, Mamelak AJ, Schmults CD, Parikh M, et al. CHANGES in SKIN TANNING ATTITUDES Fashion Articles and Advertisements in the Early 20th Century. American Journal of Public Health [Internet]. 2009;99:2140–6. Available from: https://www.ncbi.nlm.nih.gov/pmc/articles/PMC2775759/
30. VOGUE OF BOBBED HAIR; Of Course Greenwich Village Lassies Wear Short Locks, But Society's Doing It Too. The New York Times [Internet]. 1920 Jun 27 [cited 2023 Feb 7]; Available from: https://www.nytimes.com/1920/06/27/archives/vogue-of-bobbed-hair-of-course-greenwich-village-lassies-wear-short.html
31. Ellen Welles Page, "A Flapper's Appeal to Parents" (1922) | The American Yawp Reader [Internet]. 1922 [cited 2023 Feb 7]. Available from: https://www.americanyawp.com/reader/22-the-new-era/ellen-welles-page-a-flappers-appeal-to-parents-1922/#:~:text=I%20might%20possibly%20be%20placed
32. Batterberry M, Ariane Ruskin Batterberry. Fashion, the Mirror of History. Crescent; 1982.
33. Calderin J. Form, fit, and fashion : all the details fashion designers need to know but can never find. Beverly, Mass.: Rockport; 2009.
34. VienneMilano. Pantyhose and Tights: A History of Hosiery [Internet]. Medium. 2018 [cited 2023 Feb 7]. Available from: https://viennemilano.medium.com/pantyhose-and-tights-a-history-of-hosiery-696f7b6874a0
35. Nicolay M. Beyond fashion : 120 new ways to transform a t-shirt. New York: Workman Pub; 2009.