Need the perfect classy makeup for black dresses?
My unique approach of blending academic research, instructional tutorials, and cosmetic advice will assist you in achieving a gorgeous look while wearing a black dress to any occasion.
By incorporating our research-based makeup suggestions and tips, you can be confident in your appearance — whether it's a formal gathering or a romantic date.
Finally, I explain why black is considered elegant for formal events, so keep reading!
Key Takeaways
Incorporating academic research, tutorials, and tips enhances the appearance of wearing a black dress.
Evidence-backed makeup ideas cater to the black dress for a formal event or a romantic date.
The color black symbolizes sophistication and elegance, making it the ideal choice for formal events.
The Elegance and Sophistication of a Black Dress and the Need for Appropriate Makeup
Famous fashion designer and businesswomen Coco Chanel once said, "If you're sad, add more lipstick and attack. [1]"
Now, suppose you need classy makeup for black dresses. What shall you do?
Interestingly, the black dress is a timeless classic that exudes elegance and sophistication.
When wearing a black outfit, it's essential to choose the makeup that enhances its beauty and complements the overall look.
While black is a neutral color, a bold pop can excite the attire.
However, it's essential to consider the occasion and skin tone when choosing the makeup trend.
Neutral colors work best for a more formal event, while a pop of bright color can liven up a more casual look.
Ultimately, the goal of the makeup should be to bring out the best features and create a polished appearance with a neutral or bold color, depending on the desired outcome.
Now if you're the visual type and you're ready to be impressed, check out this cute video on makeup and black dresses:
Creating The Perfect Makeup Look to Wear With A Black Dress
The versatility of black as a color makes it suitable for all skin tones, allowing for an array of looks to be created with black dresses.
Finding the perfect makeup to complement a black dress can be overwhelming, but by conducting beauty research, one can simplify the process.
Key factors such as black eyeshadow and pink lip color can enhance the overall appearance and make a lasting impression.
By understanding how makeup choices impact perception, one can confidently choose a simple and effective makeup look to pair with their black dress.
Makeup For A Black Dress – Hiring A MUA?
If it's for a super special occasion, consider hiring a professional makeup artist.
Jones and Kramer (2016) found that women were deemed more attractive after getting their makeup done professionally than doing the makeup themselves [2].
Struggling to decide on a look? We recommend deciding on your lip color first. If you make the lips your main focus by picking a dramatic lipstick shade, you will know to go softer on the eyes and face.
Black is "modest and arrogant… lazy and easy – but mysterious"
– Japanese designer Yohji Yamamoto9
Does Wearing A Full Face Help You Look More Attractive?
In a study by Mulhern et al. (2003), participants judged a full face of makeup as more attractive than no makeup [3].
Eye makeup makes the most significant positive difference; next came foundation, and then finally, lip makeup made the slightest difference.
Eye makeup makes the most significant difference to your perceived attractiveness. Keep that in mind; however, we recommend deciding your lip color first.
If you make the lips your main focus by picking a dramatic lipstick shade, you will know to go softer on the eyes and face.
If you enjoyed our article on "too much makeup," be sure to check out our other makeup-related articles, including "gothic makeup brands," "everyday makeup for work," and "best makeup for red dress," for more tips and tricks on looking your best.
LIPS: Choose The Lipstick Shade Before The Eyes
#1 Red Lip Color – Judged As Feminine And Attractive
A lot of women are scared of bold red lips. However, red color lipstick pairs beautifully with a black dress!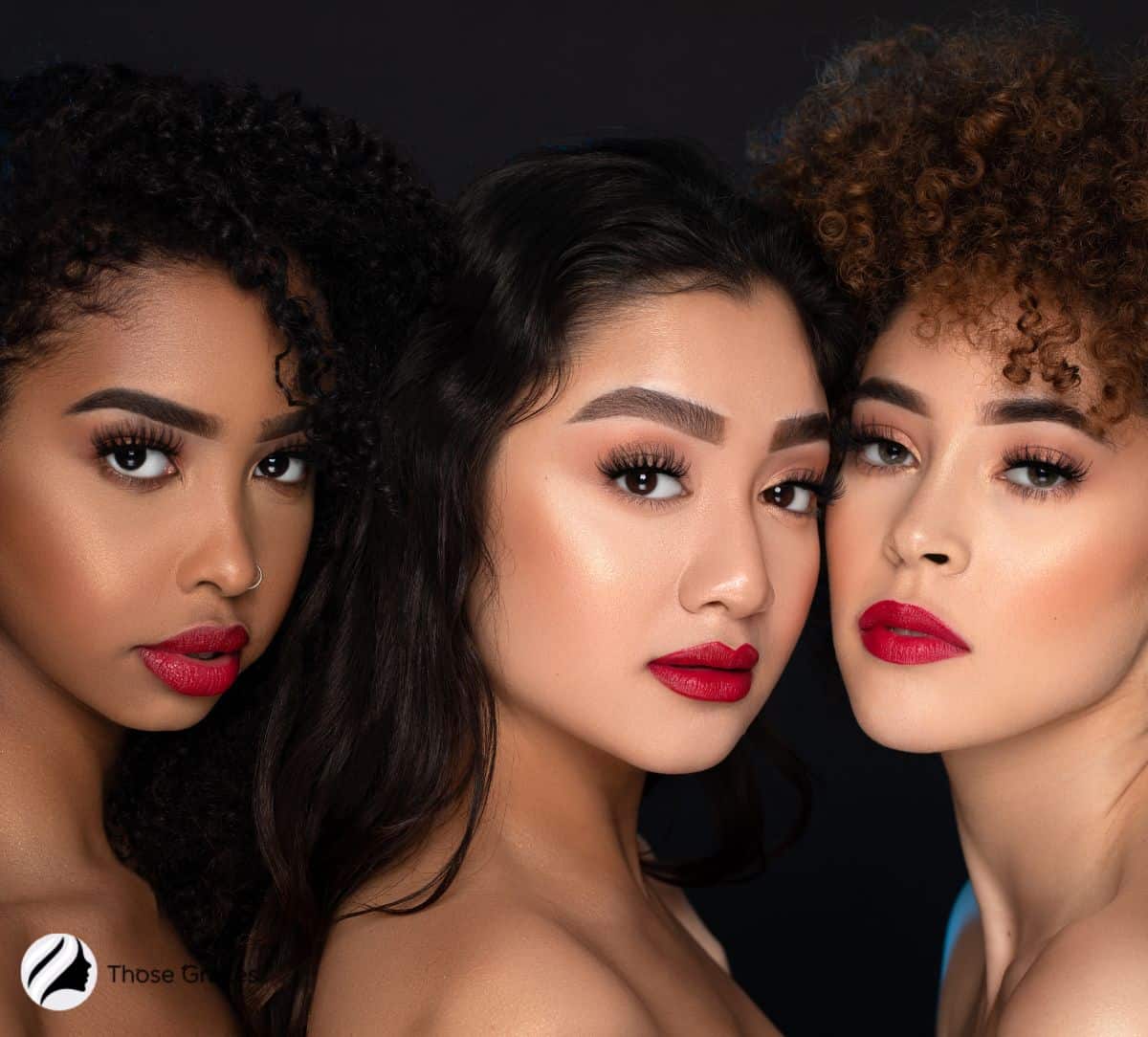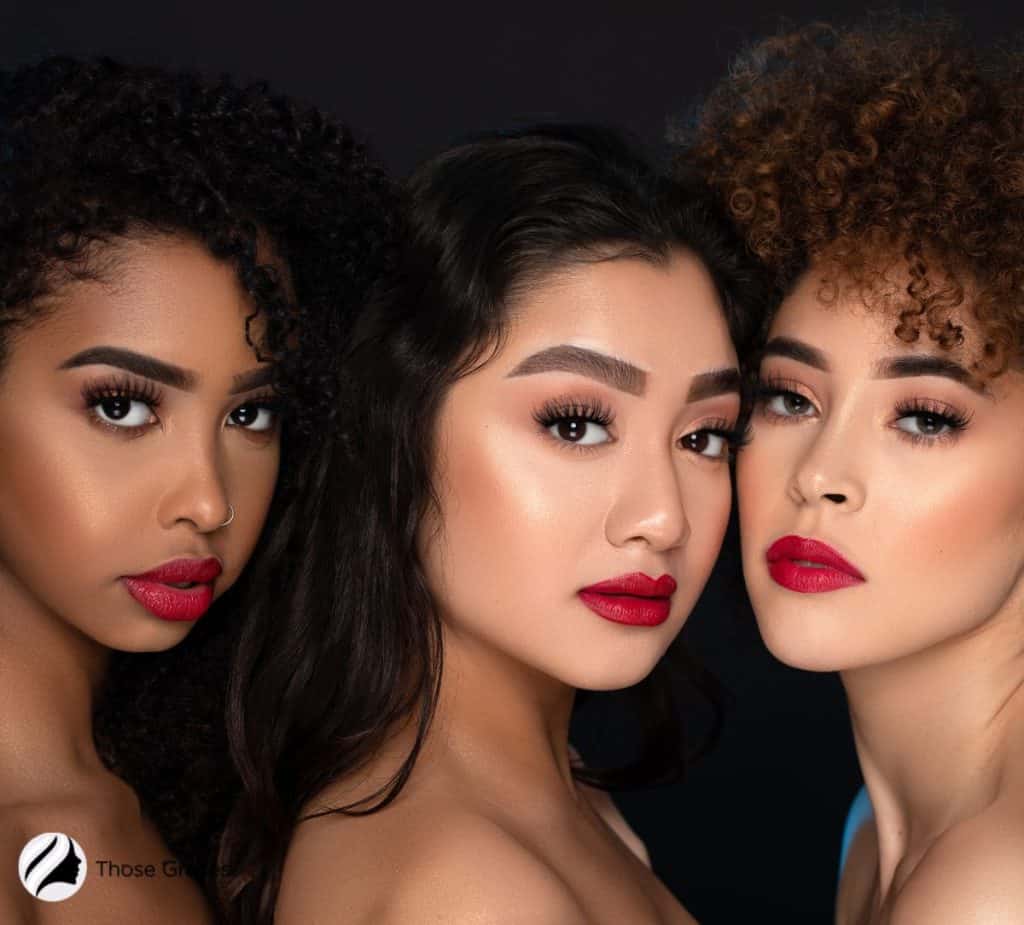 Stephen & McKeegan (2010) revealed that women look more attractive and appear more feminine to men when they have red-colored lips [4].
Another study, Gueguen (2012), even suggests that women are approached more at the bar when they wear red on their lips than pinker or browny-nude shades [5]!
#2 Purple And Deep Red Grungy Or Vampy Lips
A little black dress is a perfect outfit to pair with grungy 90s makeup or a flirty 20s flapper look. If that suits your style, consider pairing your favorite black dress with black or super dark red lipstick!
A dark lip color also looks great with a cleaner eye makeup look for a sophisticated, vampy style.
#3 Nude, Glossy Lips: Wearable & Simple
If darker shades like deep red are a little out of your comfort zone, there's nothing wrong with a simple lip gloss and nude lips.
Going simple on the lips allows for more dramatic eye makeup, plus it gives the illusion of fuller lips!
Check out this video tutorial:
EYES: Dramatic Or Toned Down?
The world is your oyster regarding eye makeup for a black dress! In this section, we help you complement your eye look with the lip choices above for a seamless look.
Guaranteed to suit a black dress!
#1 Best Eye Makeup For A Dramatic Lip Color
Unless you want the entire grungy look, it's pretty hard to pull off colorful makeup on both the eyes and lips! We recommend natural makeup on the eyes to complement darker lipstick.
#2 Simple Yet Glamorous Eyes For Red Lips
Choose a light brown matte eyeshadow and gently blend it into your eye's crease and outer corner. Add a lighter brown on the eyelid and the lower lash line.
Place a brighter white color in the inner corners.
If you are going to a special event, a touch of gold can add glamour to this makeup look. Blend a sparkly or glittery gold color directly on the eyelids and blend it into the rest of your eyeshadow.
Finish off the eye look with subtle winged eyeliner and lashings of black mascara.
#3 Smokey Eyes With Nude Lipstick | Makeup For A Black Dress
Any eyeshadow pairs well with a bit of black and nude lipstick. Warm colors and jewel tones are ideal for this black dress makeup look.
Choose a black shadow paired with grey for cool-toned smokey eyes for a bombshell effect.
Warm tones help light eyes pop, while cool tones pair nicely with brown eyes. However, both of these looks can complement any eye color!
Option 1: Warm Smokey Eye
Start with an eyeshadow base.
Next, apply a neutral skin-toned brown shadow on your eyelid.
Blend a warmer brown into the crease of your eyes to add definition.
Add a shimmery copper shade along your eyelid and on the lower lashes.
Apply dark brown or black eyeliner into your waterline and tight line for a more dramatic eye makeup look.
Option 2: Cool-Toned Smokey Eye
A cool-toned smokey eye follows the same process as the warm look, with different colors.
Apply a neutral, taupey grey or brown onto your eyelids.
Blend with a matte grey into the crease.
Next, blend glitter or shimmer silver or grey onto your eyelid.
Drag some of this shimmery color on the lower lashline and tap it into the inner corner.
For smokey eyes, add kohl eyeliner to the waterline and tight line.
Add lots of mascara or dramatic false lashes.
Add a statement liquid liner on the upper eyelid to transform this look into even bold eye makeup.
Apply a few coats of mascara and then apply long and full cat-eye lashes on top.
Classic Makeup Look – Perfect With Any Makeup For A Black Dress
If you are unsure which lip color you prefer, opt for a liner look. A statement eyeliner suits any color on the cheeks and lips! The dramatic dark liquid liner pairs beautifully with a little black dress.
Keep the eyelid bare or add a neutral skin tone brown color all over the lid.
Apply liquid eyeliner with an angled brush upwards on the outer corner to create the winged liner look.
The perfect makeup look for a black dress – it makes the eyes the focal point without being too dramatic to wear with red lipstick.
Base Makeup – Flawless Foundation & Sculpted Cheeks
Start with a flawless, medium to full coverage foundation and concealer base.
A sculpted, contoured face works well with any makeup look if you wear your little black dress to a nighttime event.
Add glow to your cheeks with a liquid or cream highlight in a champagne shade.
Make sure your blush color does not clash with your lipstick.
Opt for a hint of peach or a neutral blush if you are wearing red on the lips.
A coral-pink shade works great on the cheeks with nude glossy lips.
Check out this video tutorial:
Perceived Slimmer & More Attractive In Black Or Red
Several experiments reveal that the color a woman wears influences how her peers perceive her.
However, as my red dress article discussed, replications of these color effects studies have mixed results. The phenomenon seems to exist but maybe it has a smaller influence than we first thought.
You may have noticed that your stomach looks flatter when you wear black and more prominent when you wear white.
Black is widely known to have a slimming effect on the body. Finney (2006) explains that white reflects light and draws attention to the eye, which enlarges the appearance of a white object [5].
Black absorbs light and deflects attention away from the black object [10].
Focused On The Upper Body In Black | Focused On The Waist-Hip Area In White
In an experiment by Sidhu et al. (2021), 31 caucasian female undergrad students reviewed CGI images of other (Caucasian and African) women wearing the same dress in red, grey, white, green, blue, and black [7].
The participants rated those women higher in body attractiveness and slimness when wearing a black or red dress.
When the women wore green and grey, they were rated lowest in body attractiveness and higher in body size.
Color also appears to influence which body parts our eyes focus on.
When the CGI images wore black, participants focused their eyes on the upper body and less on the legs, while they concentrated on the waist-hip region when the images wore white.
The women's skin tone influenced how their color was perceived them. The CGI women with African heritage were rated higher in the white, blue, and green colors than the CGI caucasian women were.
Roberts, Owen, and Havlicek (2010) analyzed how men rate photographs of women in black shirts compared to green, blue, yellow, white, and red [8].
Women were rated most attractive wearing black and red, and both colors had almost equal effects.
Formal Dresses In Black Or Red Make You Look More Attractive Than White
The impact of color also seems to apply to formal dresses.
Results from Pazda et al. (2014)revealed that a woman in a knee-length red or black dress was rated more attractive than when the same woman who wore the same dress in white color [9].
FAQs
1. What Kind of Makeup Goes with a Black Dress?
When wearing a black dress, neutral and subtle makeup looks best. Opt for natural shades and enhance features such as eyes and lips.
Consider the occasion and skin tone to find the perfect makeup to match the dress.
What type of lipstick should I wear with a black dress?
A classic, neutral lipstick shade such as a light pink or nude pair works well with a black dress.
Conclusion
The key to achieving classy makeup for black dresses lies in finding the perfect balance between simplicity and impact.
Choosing a neutral and subtle color palette, such as deeper shadows for the eyes and lighter shades for the cheeks, can enhance the beauty of the black dress without overpowering it.
Additionally, incorporating deeper shades for the lips can spark your overall look, making it more sophisticated and bold.
By keeping the makeup simple and refined, one can exude confidence and leave a lasting impression while wearing a black dress.
Sources
1. Ross S. 43 Quotes About Makeup Any Beauty-Lover Can Relate To [Internet]. Byrdie. 2020 [cited 2023 Jan 31]. Available from: https://www.byrdie.com/makeup-quotes-4768957
2. Jones AL, Kramer RSS. Facial Cosmetics and Attractiveness: Comparing the Effect Sizes of Professionally-Applied Cosmetics and Identity. Watanabe K, editor. PLOS ONE. 2016;11:e0164218.
3. Mulhern R, Fieldman G, Hussey T, Leveque J-L ., Pineau P. Do cosmetics enhance female Caucasian facial attractiveness? International Journal of Cosmetic Science. 2003;25:199–205.
4. Stephen ID, McKeegan AM. Lip Colour Affects Perceived Sex Typicality and Attractiveness of Human Faces. Perception. 2010;39:1104–10.
5. Guéguen N. Does Red Lipstick Really Attract Men? An Evaluation in a Bar. International Journal of Psychological Studies. 2012;4.
6. Finney K. How to be a Budget Fashionista: The Ultimate Guide to Looking Fabulous for Less [Internet]. Google Books. Ballantine Books; 2006 [cited 2023 Jan 31]. Available from: https://books.google.ie/books/about/How_to_be_a_Budget_Fashionista.html?id=kmrQ1QoB900C&redir_esc=y
7. Sidhu, et al. N. What colour should I wear? How clothing colour affects women's judgement of other women's body attractiveness and body size. Acta Psychologica [Internet]. 2021;218:103338. Available from: https://www.sciencedirect.com/science/article/pii/S0001691821000883
8. Roberts SC, Owen RC, Havlicek J. Distinguishing between perceiver and wearer effects in clothing color-associated attributions. Evolutionary Psychology: An International Journal of Evolutionary Approaches to Psychology and Behavior [Internet]. 2010 [cited 2023 Jan 31];8:350–64. Available from: https://www.ncbi.nlm.nih.gov/pubmed/22947805
9. Pazda AD, Elliot AJ, Greitemeyer T. Perceived sexual receptivity and fashionableness: Separate paths linking red and black to perceived attractiveness. Color Research & Application. 2013;39:208–12.
10. Edwards N. Darkness A Cultural History [Internet]. press.uchicago.edu. Reaktion Books; [cited 2022 Oct 21]. Available from: https://press.uchicago.edu/ucp/books/book/distributed/D/bo31040810.html