Looking for the perfect makeup for a red dress when you want to look your absolute best?
I'll provide you with a multitude of different look options and break down the scientific research that reveals the
Plus, I'll also examine the research into the 'red effect' and specifically the power of red dresses over other dress colors.
Keep reading to learn everything about mixing the right makeup with your red dress!
Key Takeaways
Understanding your skin tone is crucial when choosing makeup for a red dress, as it helps to ensure that the shades you choose complement your natural coloring.
High-quality products are essential in creating a flawless look, providing better coverage and long-lasting results.
Experimenting with different shades and techniques can help you to find the perfect look for you, whether you prefer a bold and daring style or a subtle and natural glow.
The right tools, such as makeup brushes and applicators, can make a big difference in the final result and help you to achieve a smooth and even application.
Makeup for a red dress should not be intimidating but rather an opportunity to have fun and express your creativity and personal style.
Importance of Choosing the Right Makeup Look for a Red Dress
Choosing the right makeup for a red dress can distinguish between a stunning and memorable appearance and a forgettable one.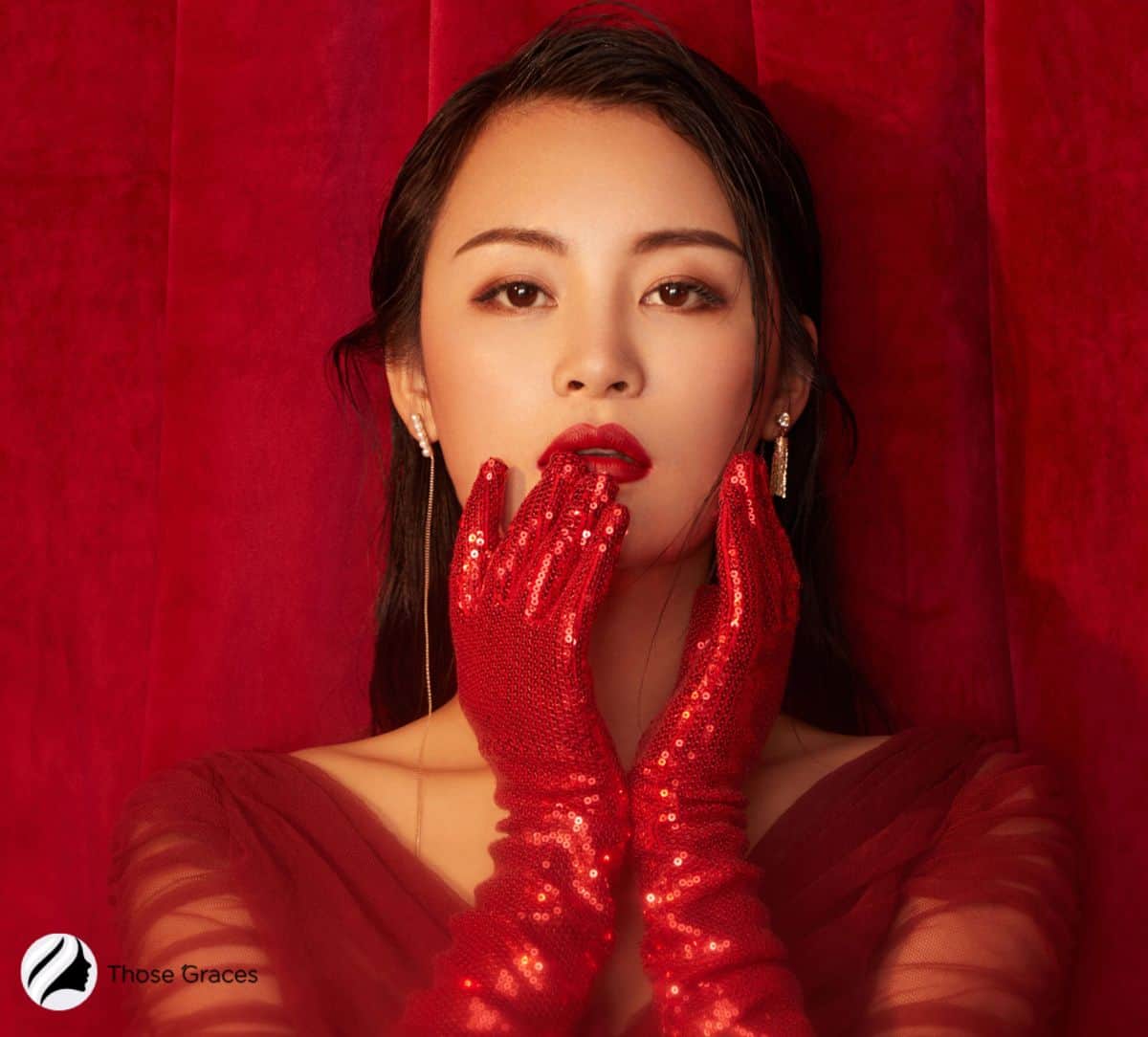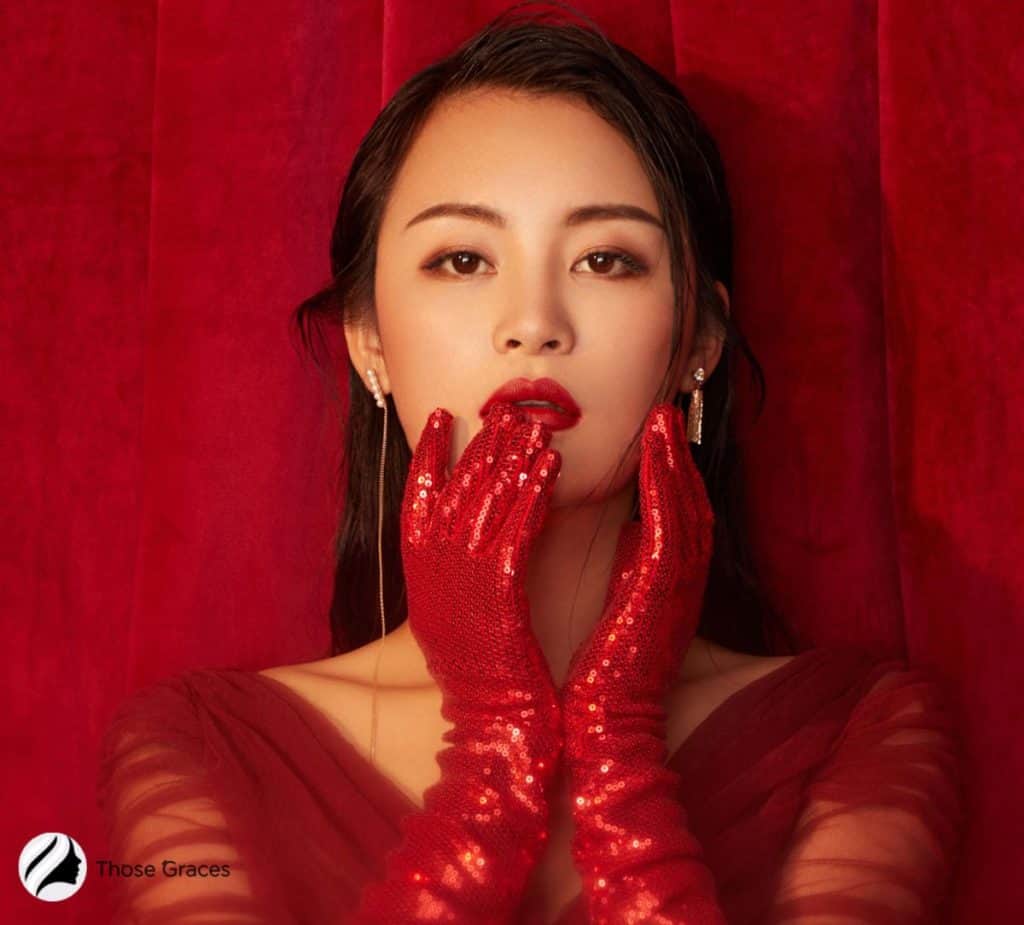 The key is to strike a balance between complementing the boldness of the red dress and accentuating your natural beauty.
A neutral or nude color palette, such as nude lipstick or a natural-toned eye shadow, can help to create a harmonious look.
Adding a pop of drama with bold black eyeliner can help to enhance your features and make your eyes stand out.
Remember, the goal is to find the right balance of colors and textures that make you feel confident and beautiful, so have fun experimenting and finding your signature red dress makeup look.
The Ultimate Guide to Choosing Makeup for a Red Dress: Tips and Tricks
Usually, it's best to choose your makeup look to match your personality and the occasion and stick somewhat within your comfort zone.
However, if you like to rock many different looks, you may want some guidance to find the OPTIMAL makeup for your red dress.
That's where academic research comes in:
Research into the impact of different makeup looks on others' perceptions of you can help you make your decision.
In fact, if you're the visual type, check out this excellent video on how to combine makeup with your red dress:
Should You Hire A MUA or DIY Makeup?
If you are wearing your red dress to prom, or another extraordinary occasion, consider hiring a professional makeup artist to help you look your best.
Results from Jones and Kramer (2016) suggest a professional makeup application makes a difference [1].
Women were rated more attractive when they had their makeup done by a professional makeup artist than when they did their makeup themselves [1].
Not everyone has the time or money to hire a professional.
Plus, some people (myself included)! are control freaks regarding our makeup.
If you're wearing your red dress on a special occasion, practice your makeup beforehand to look your best.
Looking for the perfect makeup look to complement your little black dress? Check out our article on "classy makeup for black dress" for tips and inspiration on how to create a sophisticated and timeless look that's sure to turn heads.
The Most Important Makeup For A Red Dress: Eye Makeup, Lips, Or Foundation?
Different makeup products have a different impact on rated attractiveness than others.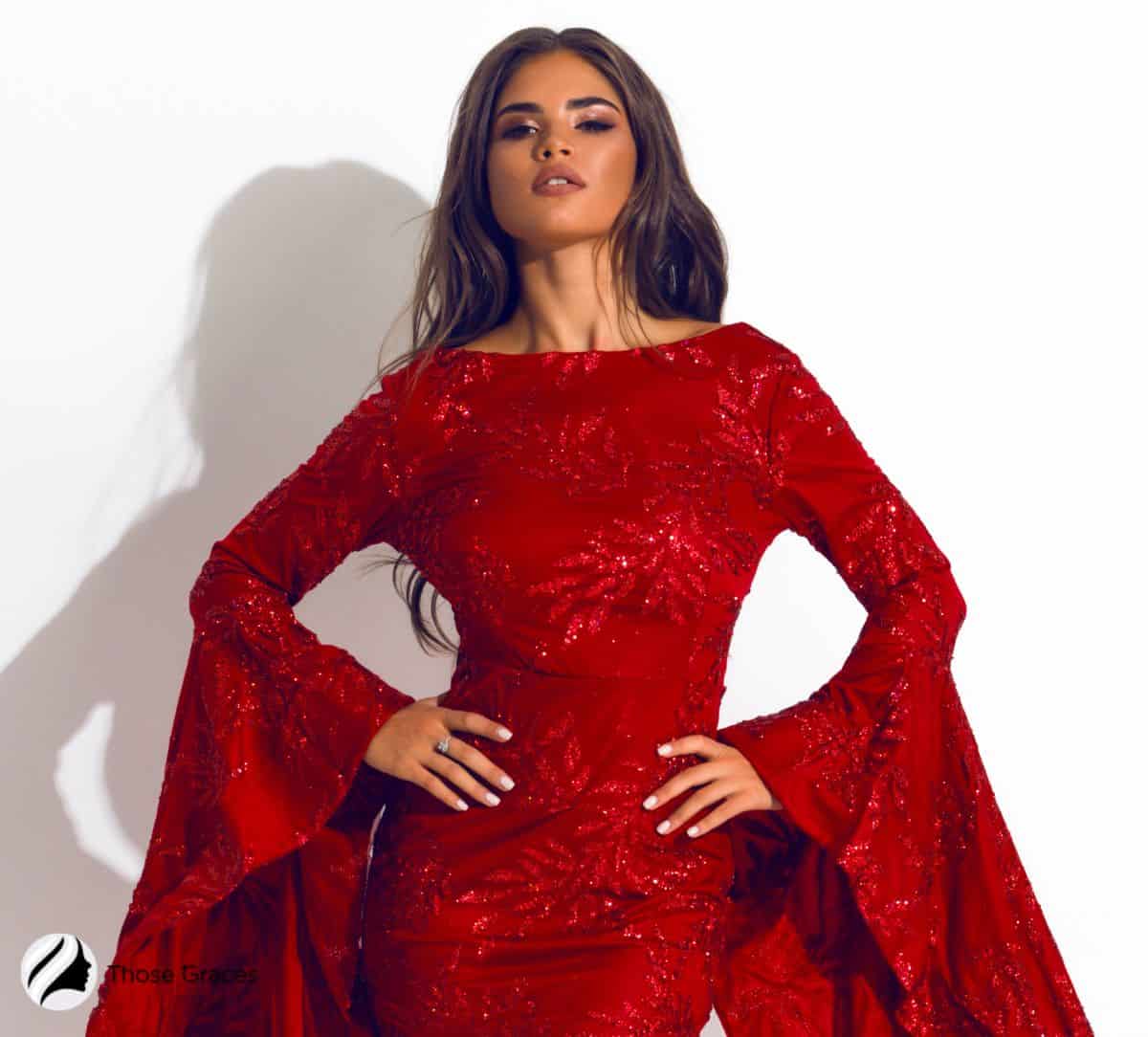 Mulhern et al. (2003) found that women were rated more attractive when they applied a full face than when they wore no makeup [2].
In this study, eye makeup was more significant for attractiveness ratings than just wearing foundation. Both eye and foundation makeup made more of a difference in rated attractiveness than lip makeup.
No matter which look you choose for your red dress; pay careful attention to your eyes, create a flawless base, and think about how the entire full face of makeup will tie together.
Dramatic Look?
Heavy vs Light Application: What's Better?
In another study (Tagai et al., 2016), Japanese women rated other Japanese women based on attractiveness under a variety of different makeup application levels (light, heavy, and no makeup) [3].
A light application was deemed most attractive; the heavy makeup came in second, with the no-makeup look behind both [3].
However, other research finds wearing more makeup is more attractive.
Batres et al. (2018) found that women judged to be wearing more makeup were deemed more attractive than those who appeared to be wearing less makeup [4].
A heavy makeup look can tie in beautifully with a red dress when done right [20].
If you decide to rock an intense look, consider hiring a professional Makeup Artist, or take extra time to practice and nail the look at home.
Gold eyeshadow looks excellent with a red dress.
Try a winged liner for a sharper, more glamorous look. Or smudge it out to look effortless. Even if you go heavy, tone it down a little on the lips or the cheeks to avoid overdoing it.
Bolder tip: Keep your cheeks fairly bare with just a layer of highlight and natural-looking contour.
More natural lip: Go bolder on the cheeks. Use a slightly heavier hand when applying the highlight (a gold-tone looks great with a red dress) and contour. Add a touch of blush for some color.
Tip: Try a red gloss instead if you want to pair red lips with your red dress but don't want to commit fully to the dramatic look.
If you enjoyed our article on Greek goddess makeup, you might also want to check out our piece on what lipstick is made of for some fascinating beauty insights."
Red On Red: Red Lips With A Red Dress?
Science Suggests Red Lipstick Is Better
Results from Stephen & McKeegan (2010) found redder lips enhance the attractiveness and perceived femininity of women's faces compared to men's [5].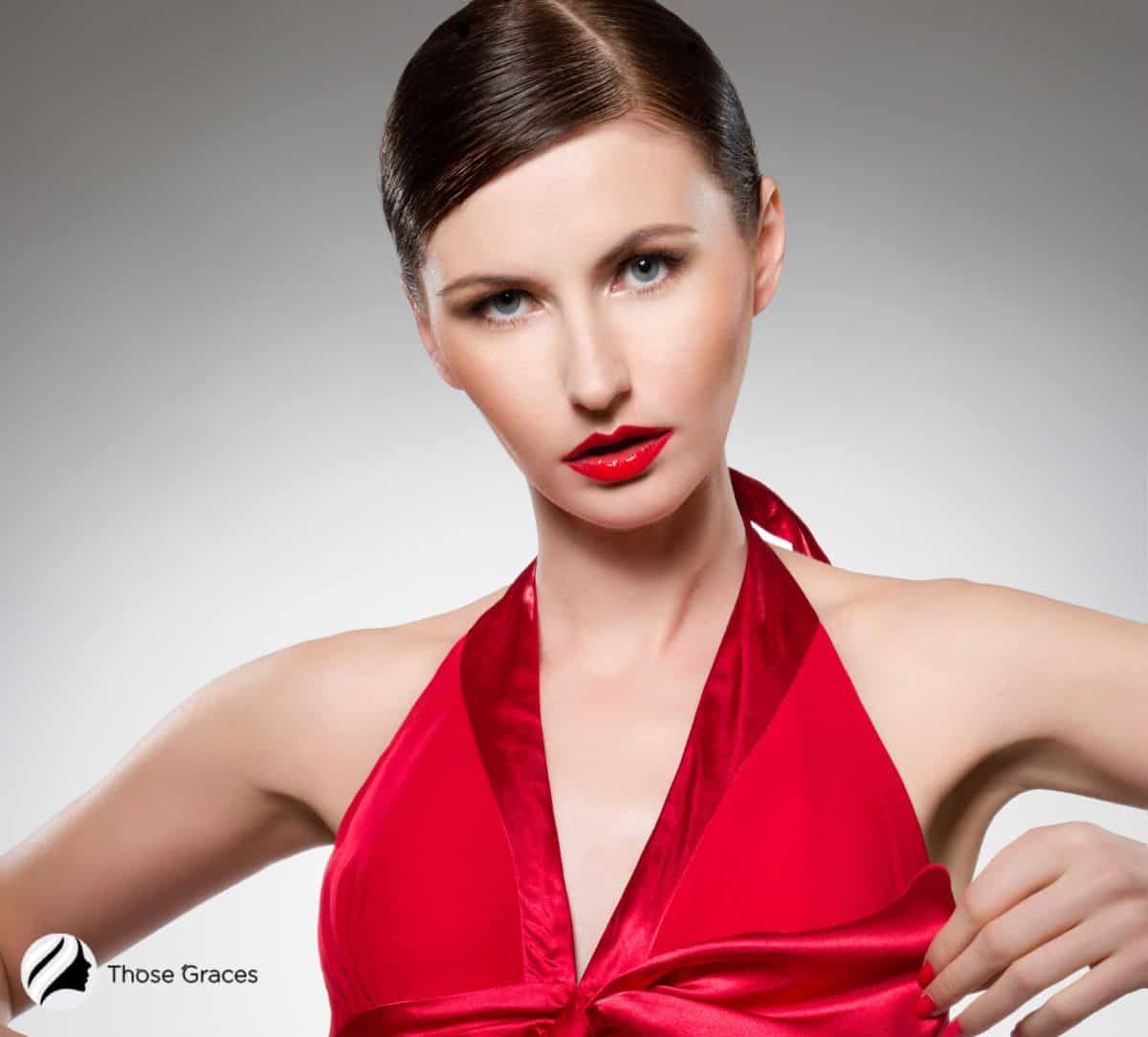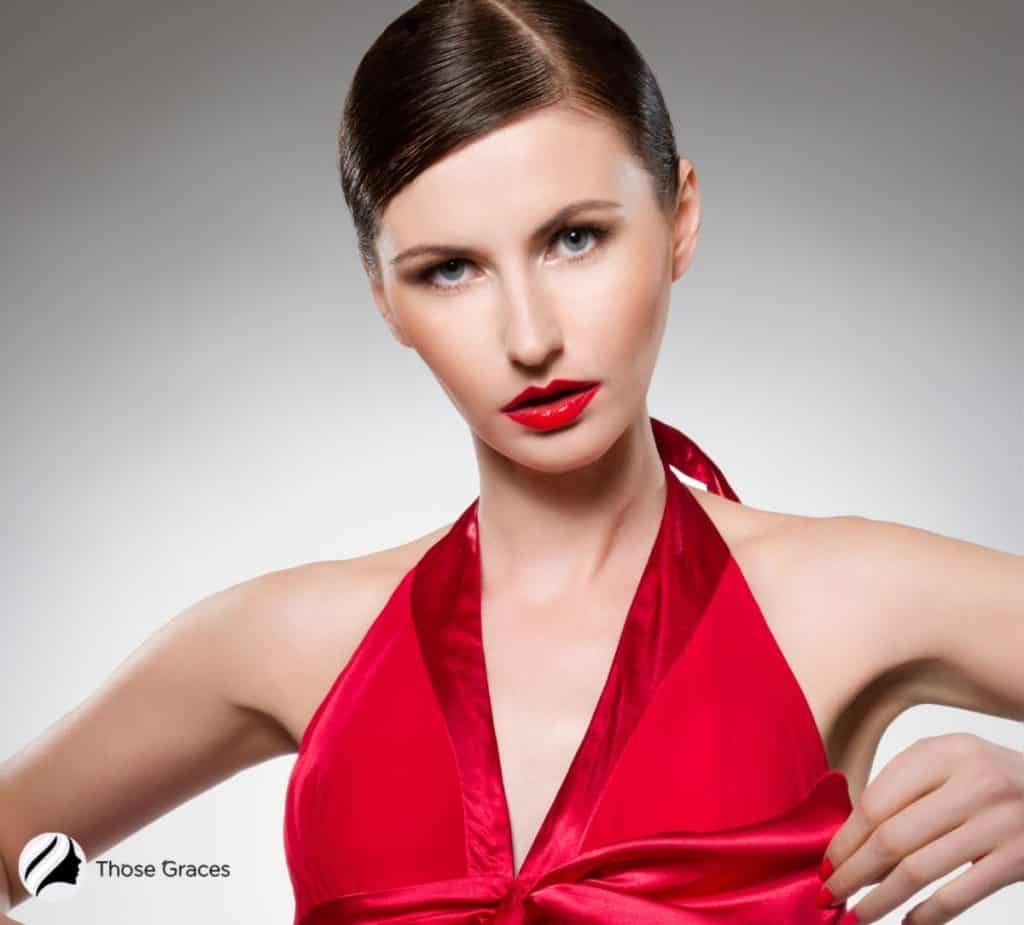 And it's not just lips: a pop of red elsewhere can enhance your beauty. Redder faces are perceived to be healthier and rated more attractive (Re, Whitehead, Xiao, & Perrett, 2011) [6].
Another piece of research by Gueguen (2012a) found that men approached women in a bar more when they wore red lipstick than in other shades [7].
The women also came sooner while wearing red lipstick than when they wore no lipstick [7].
Further, what Gueguen stipulated was this notable finding: "Previous research has demonstrated that the color red increases the attractiveness of women" [7].
Results from Gueguen and Jacob (2012) revealed that waitresses wearing red lipstick received tips more often than those wearing brown lipstick, pink lipstick, or no lipstick at all [8].
All of these studies suggest red lips are powerful in attractiveness. But how do you pair a red lips with a red dress without looking to try-hard?
Red Lip Tips: How To Pull Off Red Makeup With A Red Dress
Even if you want glamorous makeup to match your red dress, you don't have to go heavy on the eyes and lips. Red lipstick looks great with a simple eye look:
Mascara or false lashes (and maybe some liner) with a flawless base and a touch of contour or bronzer.
If you choose a red lip, try to find a tone that complements the shade of your red dress. A matte formula looks great but mattes are often drying. Go for a satin texture if you experience dry lips.
Tip: blue-toned reds help your teeth look whiter [21]!
Heavy Eyes On The Prize
As explored above, eye makeup makes the most individual difference regarding the impact of makeup on attractiveness. So why not bring all the attention to your peepers with a classic smokey eye?
Gold and brown-toned, earthy shades work great with a red dress.
Avoid a black smokey eye because unless the application is perfect, you risk looking clown-y.
Keep the base flawless (without going cakey, add contour and highlight, and top the look off with a natural, understated nude or subtle nude-pink lip.
Natural Makeup: Let The Red Dress Do All The Talking!
Tagai et al. (2016) found that facial recognition was more accessible when a woman had no makeup on, followed by a light application, and hardest with a heavy application of makeup [3].
The authors of the study suggest heavy makeup look outshines the individual's face in terms of memorability, while a lighter application of makeup brings out and enhances a woman's natural beauty [3].
Even when you wear a statement red dress, it's essential that your makeup matches your personality and your desired look.
If you usually don't wear much makeup and want to look more like yourself, keep it natural.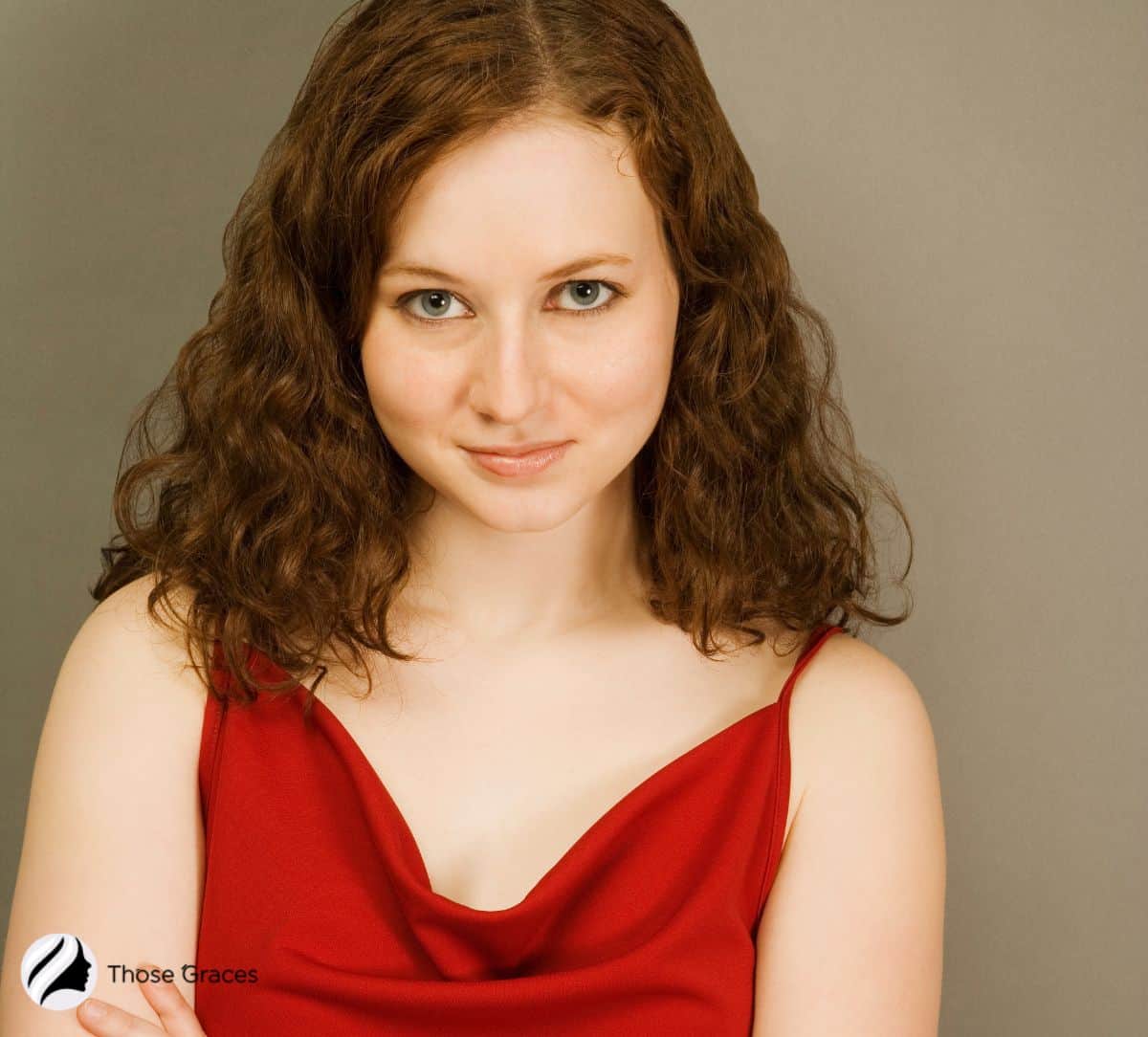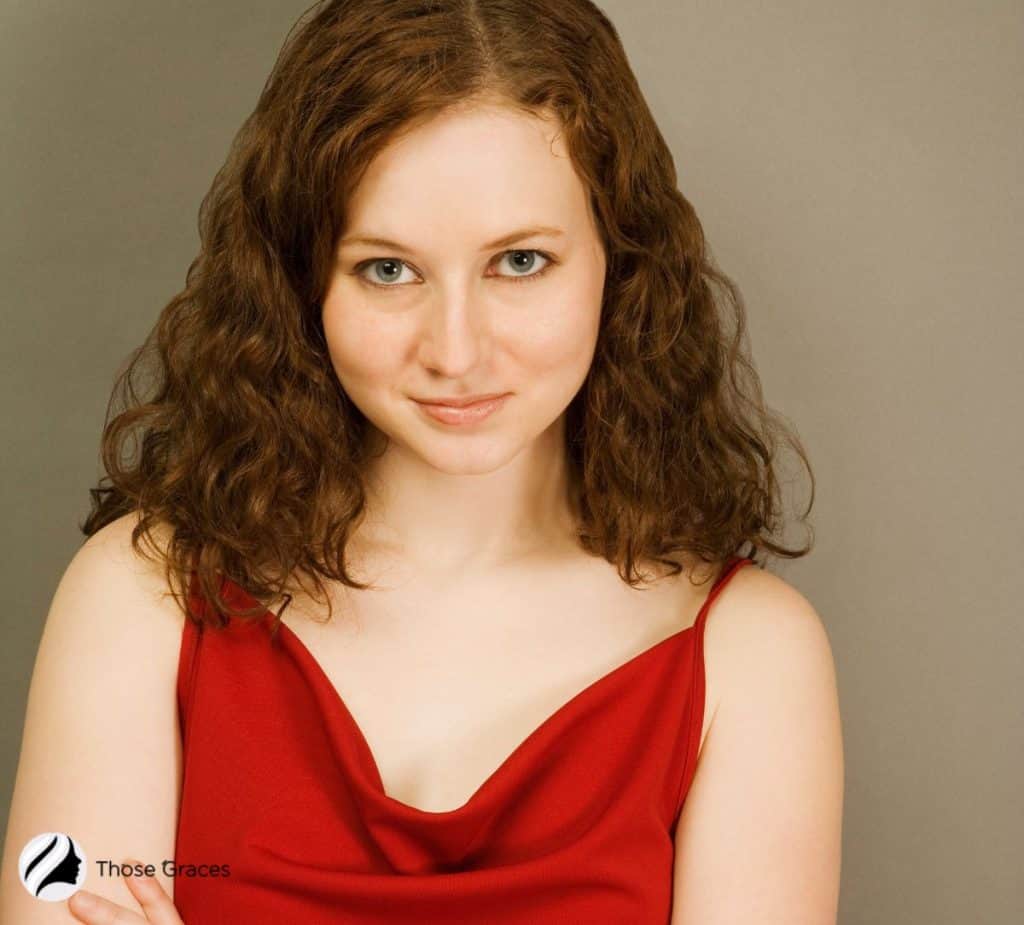 The natural look is great if you don't have the best makeup skills and want to do your makeup on the day.
You will avoid the embarrassment of looking back years later and thinking you look like a clown with unblended eyeshadow and bleeding red lipstick!
Keep it simple with some natural-toned shadow, a little liner and mascara, contour, highlight, and nude lips.
Tip: For a modern look, try the glossy eyes, glossy cheeks, and glossy lips combo!
The Power Of The Red Dress | Context For Your Makeup Look
There's something that captivates us about red. Louboutin's heels were recently the subject of a successful legal battle to trademark the famous red sole [9].
The impact of red in romantic relationships could have both an evolutionary and cultural basis.
Red appears to be significant for certain primates in a reproductive sense and humans in a cultural sense. For example, red symbolizes Valentine's day [10].
Humans (especially women) have used red lipstick and blush to appear more attractive for Millenium, at least since the 10,000 BCE era of ancient Egyptians [11].
The Red Dress: Is It More Attractive?
Does a red dress make you look more attractive than other colors? Multiple 'red effect' studies have attempted to find out!
Rated More Attractive In A Red Dress Or Shirt
One study (Elliot and Niesta, 2008) found that a woman who wore a red shirt was rated as more attractive and desirable.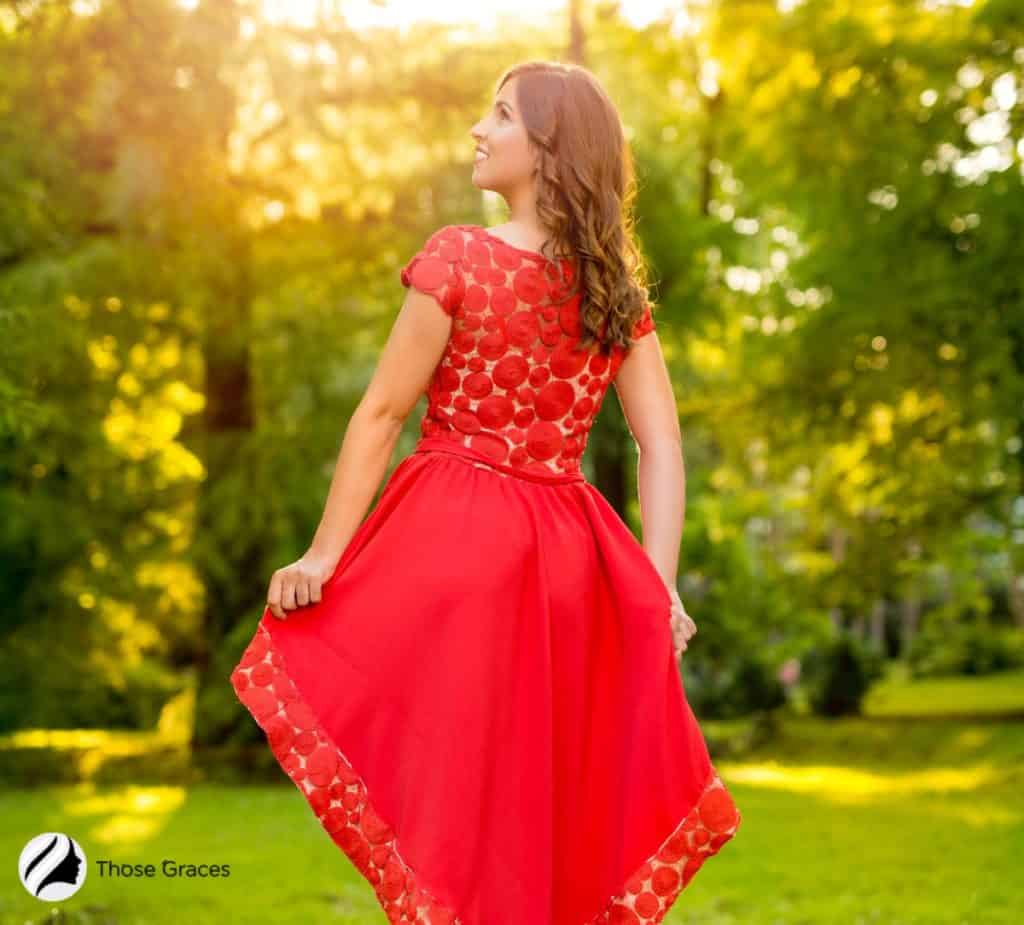 The effect was that men were more willing to date and spend money on her than when she wore a blue shirt [10].
Roberts, Owen, and Havlicek (2010) conducted three separate experiments to examine how women in photographs were rated by men when they wore a red shirt compared to other shirts: Black, white, yellow, blue, and green shirts [12].
Results from the first and second experiments revealed the same woman in a red shirt was not rated significantly more or less attractive by the men than when she wore black, blue, or green.
However, women were rated significantly more attractive in red than when they wore yellow or white shirts [12].
The third experiment showed that the color of the shirt had an impact not only on other people's perception of the wearer but also a positive psychological impact on the wearer themselves.
The authors suggest it's possible that women feel more desirable in red than in other shades, which impacts their subconscious behavior [12].
Gueguen (2012b) conducted a similar study. Participants were shown photos of a woman wearing a red, white, blue, or green shirt [13].
Although there was no significant difference in rated attractiveness between the woman when she wore red or white, she was rated more attractive in red than in green or blue [13].
Pazda, Elliot, and Greitemeyer (2012) found a similar result to Gueguen [14].
Here, men expressed stronger desire and rated a woman higher on the attractiveness scale when she wore red than green [14].
Sometimes a woman in red clothing is rated more attractive than when she wears white.
In a further study (Pazda et al., 2014), a woman wearing a knee-length red dress was rated significantly more beautiful than the same woman in a white knee-length red dress [15].
However, there was no significant attractiveness rating difference between the woman when she wore a red or black dress [15].
Black Is The New Red?
Black clothing also influences attraction. Black is often perceived as a fashionable color to wear and, therefore, more attractive [12][15].
Treated Better in Red Clothing?
In one experiment, Hitchhiking women were offered more car rides from strangers when they wore red shirts than when the same woman wore a different colored shirt (Gueguen (2012c) [16].
Gueguen and Jacob (2013) found women received more online dating responses when they wore red over five other colors [17].
Does 'The Red Effect' Hold Up To Scrutiny?
Both a 2016 study and a replication involving 3 separate experiments were done [18]:
These did not support a red effect on mate attractiveness compared to white or black clothing (where colored t-shirts were used to examine the impact) [18].
However, the authors note several limitations in their analysis and call for more research into the topic with larger sample sizes.
Plus, they suggest, based on (Roberts et al., 2010), that the red effect may exist outside the lab due to the psychological impact of wearing red.
The color could make people feel more desirable and alter their behavior attractively [18].
However, provided here is another study to confirm the prior findings:
A recent 2018 meta-analysis looked in detail at many 'red effect in attraction' studies [19].
Overall, they found the red effect had a statistically significant positive impact (small, but with a lot of heterogeneity) when men rated a woman's attractiveness.
The red effect had a minimal impact on women's ratings for men [19].
Lip Color: The Finishing Touch to Your Beautiful Makeup for a Red Dress
When it comes to choosing the right lip color for your red dress, there are two main options: a bold lipstick in a complementary shade or a neutral or minimal lip look.
If you want to make a statement and add some drama to your look, bold lipstick is the way to go. Opt for a shade that complements the red dress, such as a rich berry or a deep burgundy.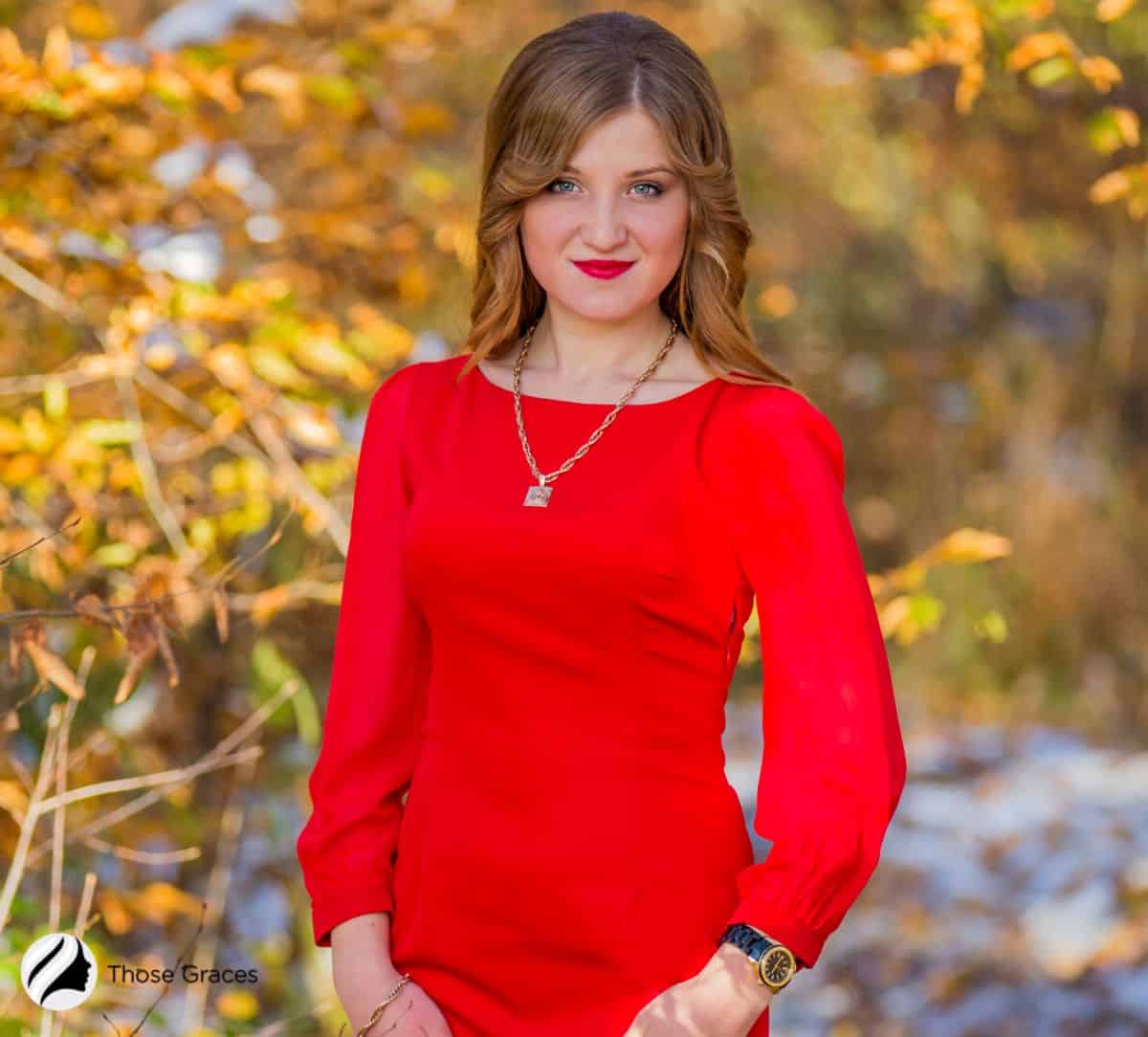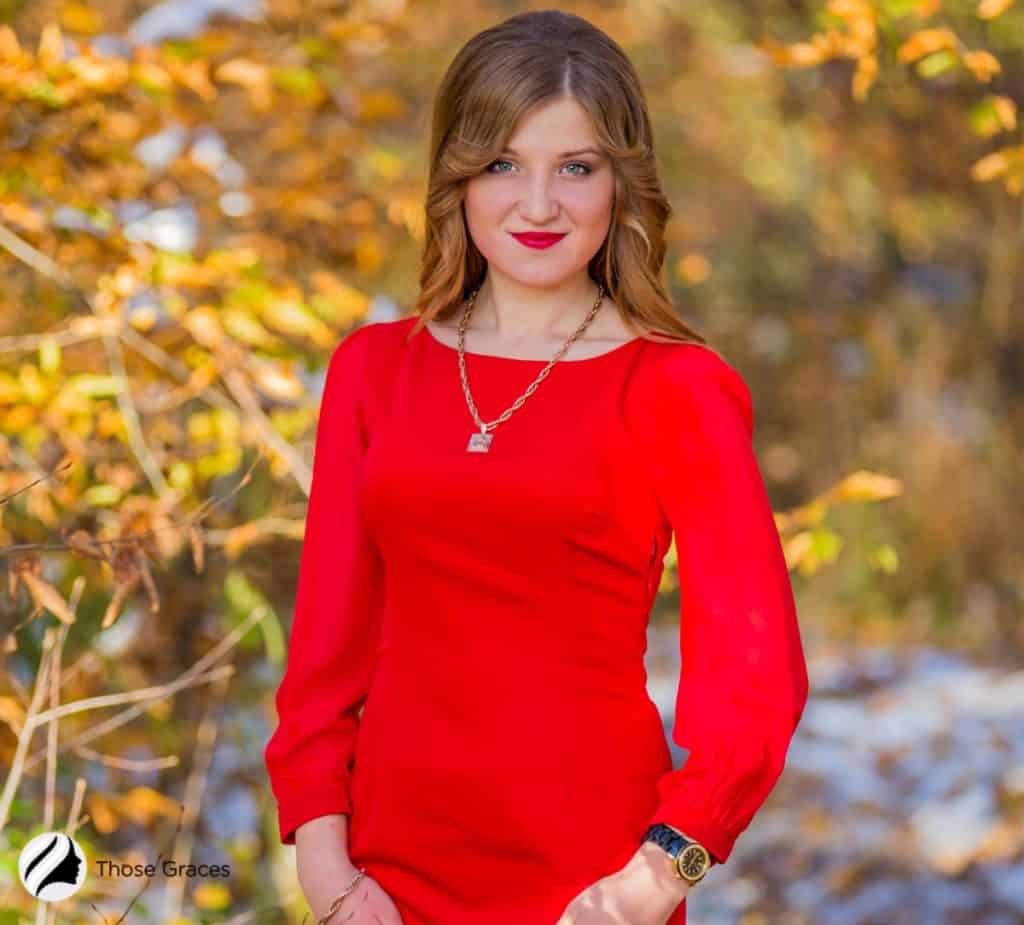 On the other hand, if you prefer a more understated look, a neutral or minimal lip is a great option. Stick to lighter shades such as soft pink or a natural-toned gloss.
This will allow the dress to take center stage, while still adding a touch of glamour to your overall look.
Whether you choose a bold lipstick or a neutral lip, be sure to choose a high-quality product with a creamy texture for a flawless application.
Pairing your lip color with a soft cream eyeshadow and winged eyeliner will create a stunning, cohesive look. For an added touch of shine, finish off with a gloss in a similar shade.
In conclusion, choosing the right lip color is an essential part of creating a beautiful makeup look for a red dress.
Whether you opt for a bold lipstick or a neutral lip, make sure to choose a shade that complements your skin tone and enhances the dress.
With the right lip color, you will be sure to turn heads and feel confident and beautiful all night long.
FAQs
1. What type of eyeliner should I use for a red dress?
I would suggest you use a classic black or brown liner that enhances the eyes and complements the dress.
2. How can I make my red dress stand out with makeup?
Keep skin natural and opt for bold lipstick in a complementary shade.
3. Can I wear bold eye and lip colors with a red dress?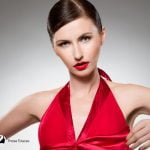 Sure you can!
But remember: choose complementary shades to create a balanced look.
4. Is it okay to wear minimal makeup with a red dress?
Certainly!
Actually, a minimal look with dewy skin and subtle lip color is also stunning.
Conclusion
when it comes to makeup for a red dress, there are many options to choose from.
Whether you opt for a natural and minimal look or a bold and dramatic one, the key is to find a balance and choose colors that complement the red dress.
From choosing the right foundation and lipstick, to eye makeup and eyeliner, the goal is to enhance the dress and create a cohesive and stunning look.
With the right makeup, you can ensure that your red dress stands out and makes a lasting impression.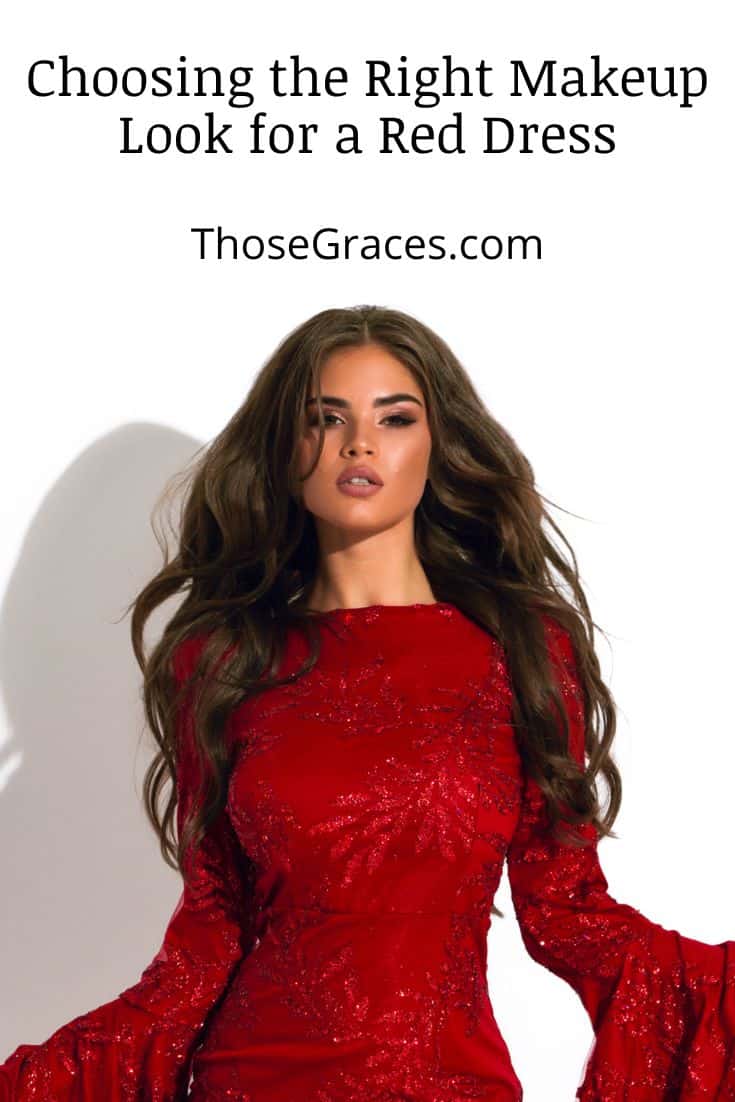 Resources
1. Jones AL, Kramer RSS. Facial Cosmetics and Attractiveness: Comparing the Effect Sizes of Professionally-Applied Cosmetics and Identity. Watanabe K, editor. PLOS ONE. 2016;11:e0164218.
2. Mulhern R, Fieldman G, Hussey T, Leveque J-L ., Pineau P. Do cosmetics enhance female Caucasian facial attractiveness? International Journal of Cosmetic Science. 2003;25:199–205.
3. Tagai K, Ohtaka H, Nittono H. Faces with Light Makeup Are Better Recognized than Faces with Heavy Makeup. Frontiers in Psychology. 2016;7.
4. Batres C, Russell R, Simpson JA, Campbell L, Hansen AM, Cronk L. Evidence that makeup is a false signal of sociosexuality. Personality and Individual Differences [Internet]. 2018;122:148–54. Available from: https://www.sciencedirect.com/science/article/pii/S0191886917306293
5. Stephen ID, McKeegan AM. Lip Colour Affects Perceived Sex Typicality and Attractiveness of Human Faces. Perception. 2010;39:1104–10.
6. Re DE, Whitehead RD, Xiao D, Perrett DI. Oxygenated-blood colour change thresholds for perceived facial redness, health, and attractiveness. PloS one [Internet]. Public Library of Science; 2011;6:e17859. Available from: https://www.ncbi.nlm.nih.gov/pubmed/21448270
7. Guéguen N. Does Red Lipstick Really Attract Men? An Evaluation in a Bar. International Journal of Psychological Studies. 2012;4.
8. Guéguen N, Jacob C. Lipstick and tipping behavior: When red lipstick enhance waitresses tips. International Journal of Hospitality Management. 2012;31:1333–5.
9. Teilmann-Lock S, Brun Petersen T. Louboutin's red sole mark and the logics of fashion. Journal of Intellectual Property Law & Practice. 2018;
10. Elliot AJ, Niesta D. Romantic red: Red enhances men's attraction to women. Journal of Personality and Social Psychology [Internet]. 2008;95:1150–64. Available from: https://www2.psych.ubc.ca/~schaller/Psyc591Readings/ElliotNiesta2008.pdf
11. Ragas MC, Kozlowski K. Read My Lips: A Cultural History of Lipstick [Internet]. Google Books. Chronicle Books; 1998 [cited 2023 Feb 6]. Available from: https://books.google.ie/books/about/Read_My_Lips.html?id=pNvfAAAAMAAJ&redir_esc=y
12. Roberts SC, Owen RC, Havlicek J. Distinguishing between perceiver and wearer effects in clothing color-associated attributions. Evolutionary Psychology: An International Journal of Evolutionary Approaches to Psychology and Behavior [Internet]. 2010;8:350–64. Available from: https://www.ncbi.nlm.nih.gov/pubmed/22947805
13. Guéguen N. Color and Women Attractiveness: When Red Clothed Women Are Perceived to Have More Intense Sexual Intent. The Journal of Social Psychology. 2012;152:261–5.
14. Pazda AD, Elliot AJ, Greitemeyer T. Sexy red: Perceived sexual receptivity mediates the red-attraction relation in men viewing woman. Journal of Experimental Social Psychology. 2012;48:787–90.
15. Pazda AD, Elliot AJ, Greitemeyer T. Perceived sexual receptivity and fashionableness: Separate paths linking red and black to perceived attractiveness. Color Research & Application. 2013;39:208–12.
16. Guéguen N. Color and women hitchhikers' attractiveness: Gentlemen drivers prefer red. Color Research & Application. 2010;37:76–8.
17. Guéguen N, Jacob C. Color and cyber-attractiveness: Red enhances men's attraction to women's internet personal ads. Color Research & Application. 2012;38:309–12.
18. Peperkoorn LS, Roberts SC, Pollet TV. Revisiting the Red Effect on Attractiveness and Sexual Receptivity. Evolutionary Psychology. 2016;14:147470491667384.
19. Lehmann GK, Elliot AJ, Calin-Jageman RJ. Meta-Analysis of the Effect of Red on Perceived Attractiveness. Evolutionary Psychology. 2018;16:147470491880241.