Makeup for older women is a lot easier than you think!
Whether you're looking to enhance your natural beauty, experiment with a new look, or simply take better care of your skin, the advice of makeup and skincare experts is essential!
With years of experience, education, and training, these professionals have the knowledge and skills to help you achieve your desired results.
So, without further ado, keep reading if you're psyched to learn about makeup for older women (I indeed am!)…
Key Takeaways
Choose neutral, natural makeup shades to enhance aging skin and achieve a subtle look.
Use a primer to blur fine lines and wrinkles: Primer helps to even out your skin tone, minimize the appearance of fine lines, and create a smooth base for your makeup.
Invest in quality products that hydrate and nourish your skin: As we age, our skin becomes more delicate and may require more hydration.
Experiment with light-diffusing makeup: Light-diffusing makeup products can help to soften the look of fine lines and wrinkles, giving you a more youthful, radiant appearance.
Overview of Makeup for Senior Ladies
As women age, their skin changes, and so do their makeup needs.
While some may go without makeup, others prefer to enhance their natural beauty and maintain a youthful appearance.
Finding the right shades, products, and tools can be a challenge for older women, especially for those with medium skin tones.
However, with the right approach, makeup can be a powerful tool for highlighting one's best features.
In this article, we'll delve into the world of makeup for older women and provide tips on how to find the perfect shades and use a makeup brush to achieve a flawless look.
The Importance of Makeup for Older Women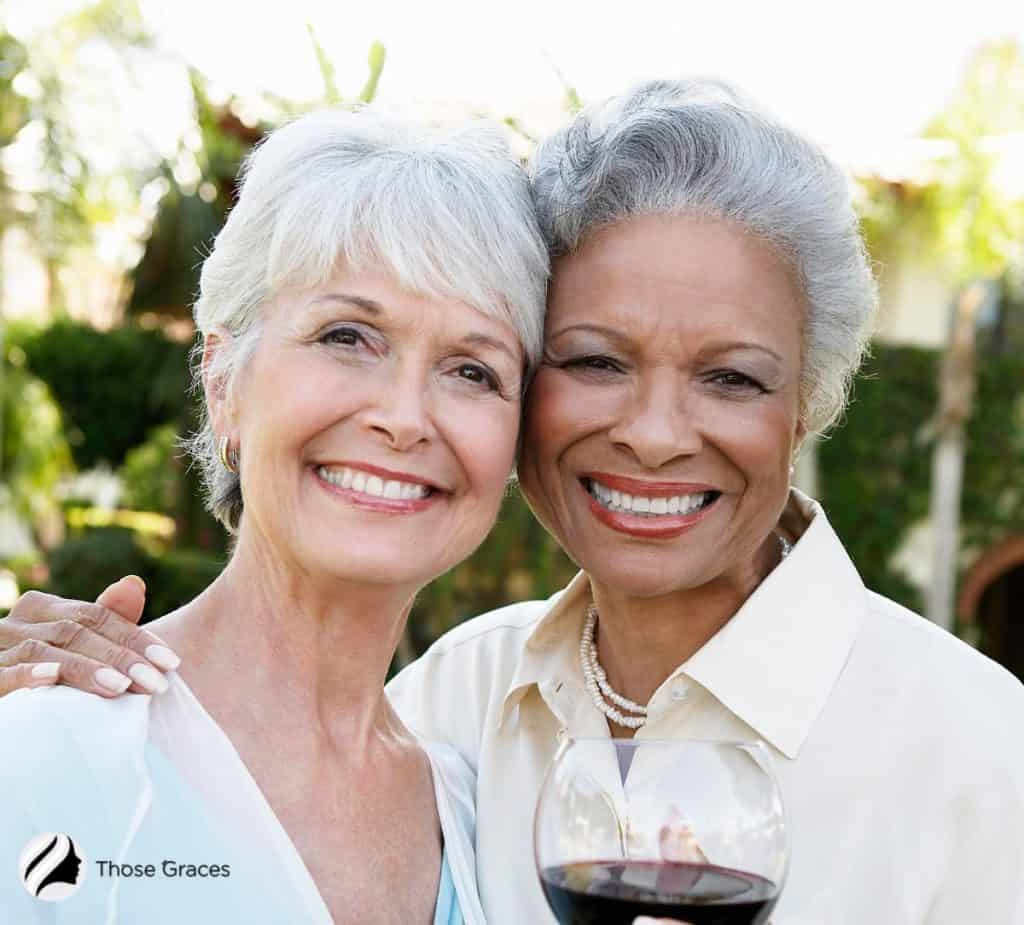 Actress Drew Barrymore famously said, "I grew up in a makeup chair. And to see the women around me getting ready was so aspirational" [1].
Makeup cannot only enhance one's natural beauty but also boost confidence and make a statement.
For older women, it's even more important to choose the right products and techniques to complement their changing skin tone and texture.
A darker shade for contouring, a shade lighter for highlighting, and a neutral base can help to create a balanced and youthful appearance.
And when it comes to lip color, neutral lipstick can give the illusion of fullness and keep the focus on the eyes.
Makeup is a tool for self-expression, and for older women, it's a way to feel their best and celebrate their unique beauty at any age.
Don't believe me? Check out this super fantastic YouTube video on makeup for older women:
Life-Changing Makeup & Older Women In The Media
Medical makeup can improve the average quality of life (AQL) for people with certain conditions, especially those more common with age.
A good skincare routine and makeup look for older women can not only improve their looks on the outside but also how they feel about themselves on the inside.
Although most of the faces in commercials are younger, many brands are starting to incorporate more mature ladies into their makeup and beauty campaigns.
Marc Jacobs signed Jessica Lange when she was 64 as the face of Marc Jacobs' Beauty, L'Oreal hired Diane Keaton at 66, Dame Hellen Mirren at 65, and Andie MacDowell at 56 [2].
I recommend checking out my articles on "Flapper Makeup" for a vintage look, "Does Makeup Cause Aging" for insights on the effects of makeup on the skin, and "Before and After with Makeup" for inspiring transformations.
Skin Tips For Mature Ladies From The Experts
Expert Lois Joy Johnson is a leading expert on style and beauty for women over 40.
She's a founding editor of More Magazine and was also involved in the launch of the Pro-Age Era, where she worked for over 10 years with celebrities, models, and everyday women aged 40 – 70 years old [2].
Her books provide makeup tips and tricks for mature women, which I will discuss as follows, covering experts In Lois' Book who discuss tips for younger-looking skin…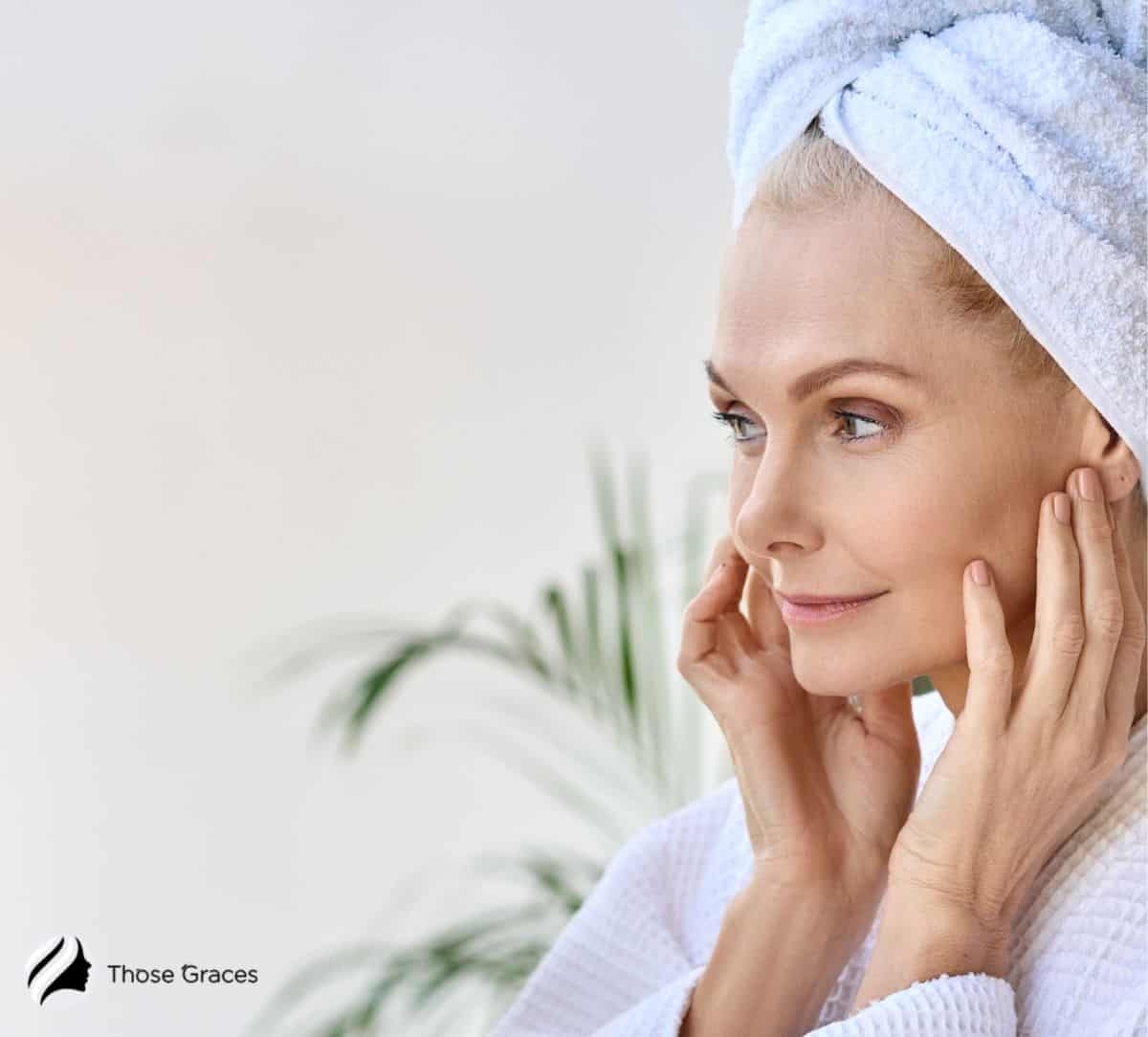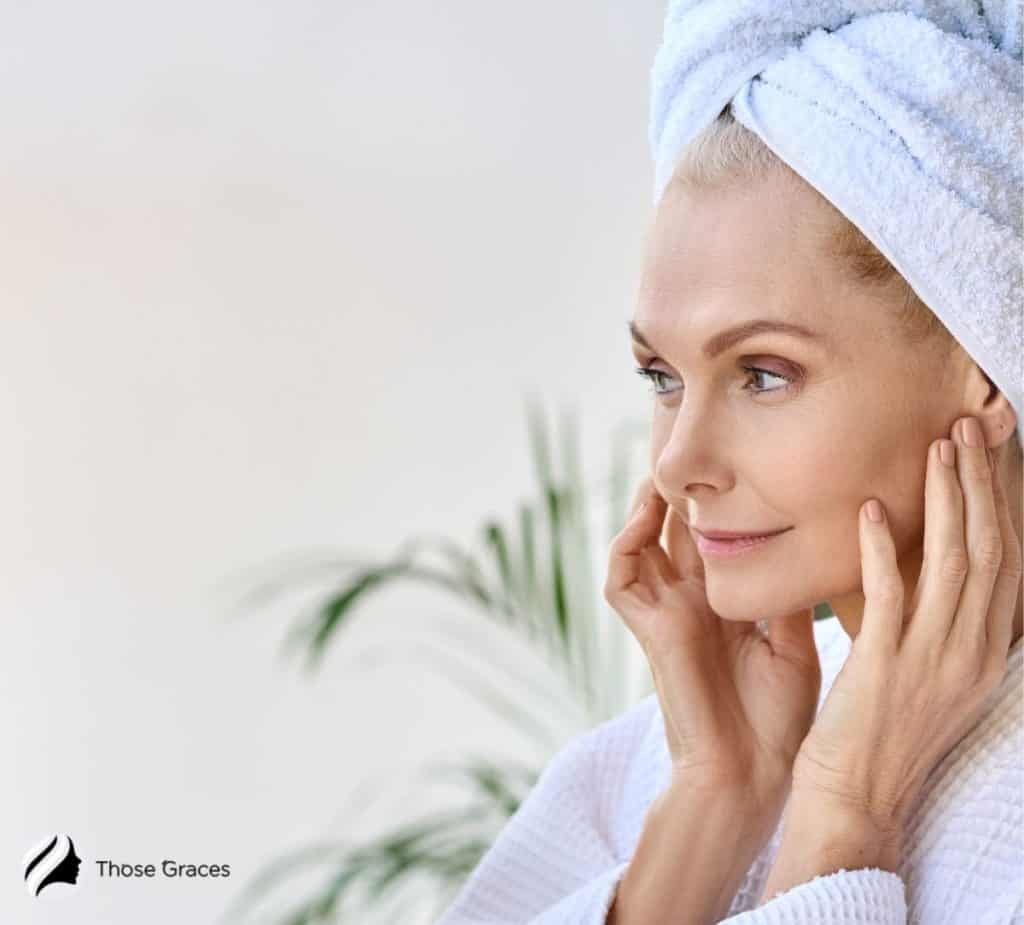 Uncover Youthful Skin Secrets: Expert Insights from Lois' Book on Anti-Aging Tips
Unlock the secrets to youthful, radiant skin with Lois' expert insights and tips in her new book on anti-aging with these 4 tips:
Tip 1: The Importance Of Some Good Shut-Eye
Dr. Doris Day notes that hormonal changes can disrupt sleep around the menopause period [2].
Dr. Debra Jaliman emphasizes the importance of sleep.
Good sleep helps repair your skin cells, mainly when you use a retinol night treatment to boost your collagen levels and help the cell turnover process speed up [2].
Dr. Joshua Zeichner (Director of Cosmetic and Clinical Research in Dermatology at Mout Sinai Hospital) notes that the sun operates on natural circadian rhythms.
Disrupting your sleep cycle can interfere with the healing process. This can create more wrinkles, fine lines, and crepey skin later down the line [2].
Aromatherapy or a foot soak can improve your sleep and, therefore, the way you look [2].
Tip 2: Ways To Deal With Sensitive Skin & Wrinkles
As Lois notes in one of her books, approximately half of the women 50 years and older claim they have sensitive skin [2].
A lot of women notice that their skin gets more sensitive skin as they age.
When attending nail appointments, you want to know that the place properly cleans the foot basins to reduce the risk of fungal infections or nail infections [2].
Consider doing your nails at home with a nail dryer or gel nail curer.
Because of skin sensitivity, Lois recommends reading the labels of your makeup and skincare products and even trying the product on your elbow for 48 hours before applying it to your skin [2].
Retinol helps reduce the appearance of wrinkles.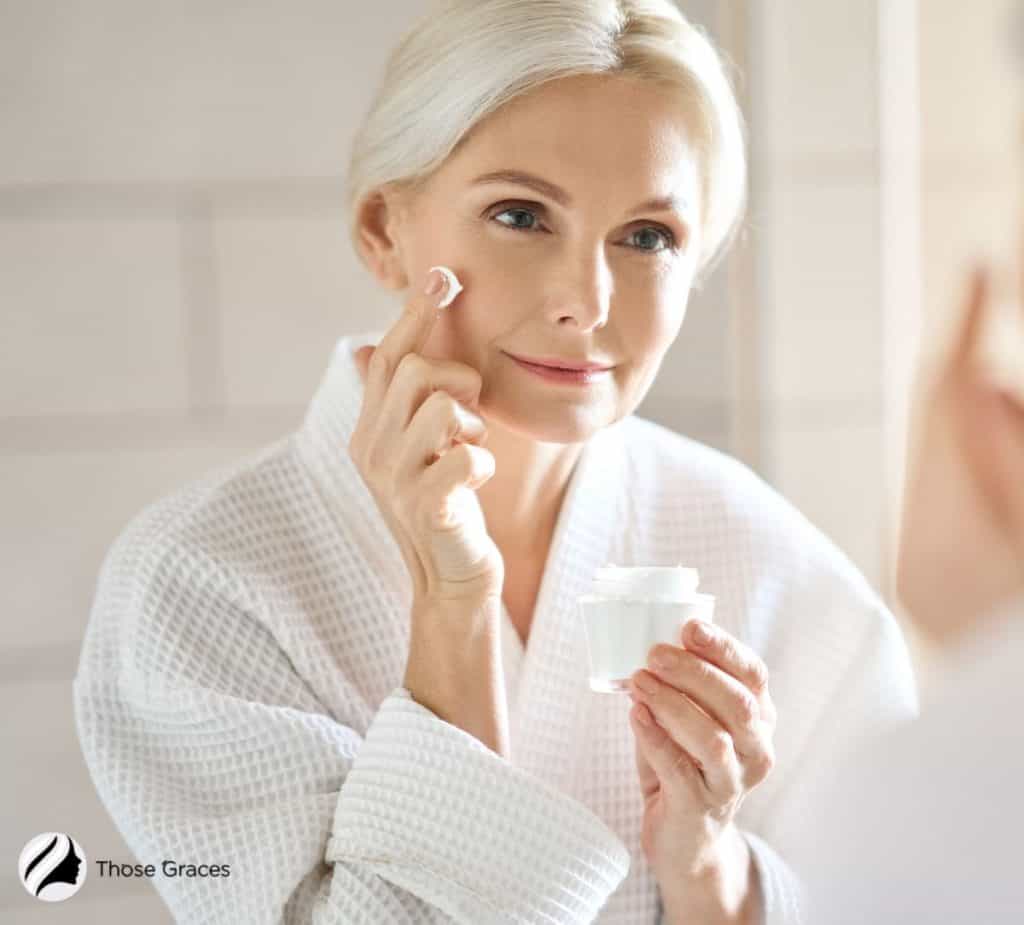 It can even out your skin tone, stimulate collagen production, and reduce discoloration and the size of your pores while improving your skin's hydration levels.
You can buy gentle retinol at the store [6].
Many mature women notice they have a slight crepey neck as they age. Try a neck and chest cream to help your neck area look smoother [2].
Sometimes women are too worried about changing their appearance as they get older.
Don't be! Michelle Obama cut bangs in her hair at almost 50 years old, and Hellen Mirren dyed her hair pink at 67 years old [2].
Hairstyle changes can be a great way to turn back the clock if you choose the right style. Bangs can cover wrinkles and help you look younger [2].
Tip 3: Preventing Skin Cancer & Tackling Age Spots
Skin cancer is an increasingly worrying epidemic among elderly people.
While there's some fear-mongering from the media about sunscreen causing skin cancer, it's safer to use than exposing your skin to the sun [4].
Age spots can be countered using hydroquinone creams.
However, it's essential to remember that there could be potential issues with elderly people using hydroquinone creams because older people are more likely to have kidney, liver, or heart problems [5].
Thankfully, alternatives to hydroquinone creams are available on the market. Check out our full post on the potential risks associated with hydroquinone creams and the best alternatives.
Tip 4: Gentle Face Treatments For Younger Skin
Some recommend acupuncture for facial rejuvenation.
This treatment doesn't drastically alter your face.
However, it does stimulate your muscles and tighten your skin, increase the circulation and collagen production in your skin, and helps reduce stress – all of which allow you to look younger [2]!
Unlike dermabrasion, microdermabrasion is less abrasive on the skin (and requires less time to heal) – microdermabrasion helps your skin look fresher and better immediately [6].
Microdermabrasion removes dead skin cells, keeps your skin hydrated, improves your skin's texture, and encourages collagen production [6].
Georgette Klinger recommends microdermabrasion tools with a diamond tip wand to gently vacuum and micro-massage your mature skin [6].
If you can't get your hands on a microdermabrasion tool, consider a microcurrent machine instead.
Makeup Tips For Older Women
Empower yourself with the confidence of beautiful, youthful skin by exploring the world of makeup tailored explicitly for older women, where I will discuss advice from experts…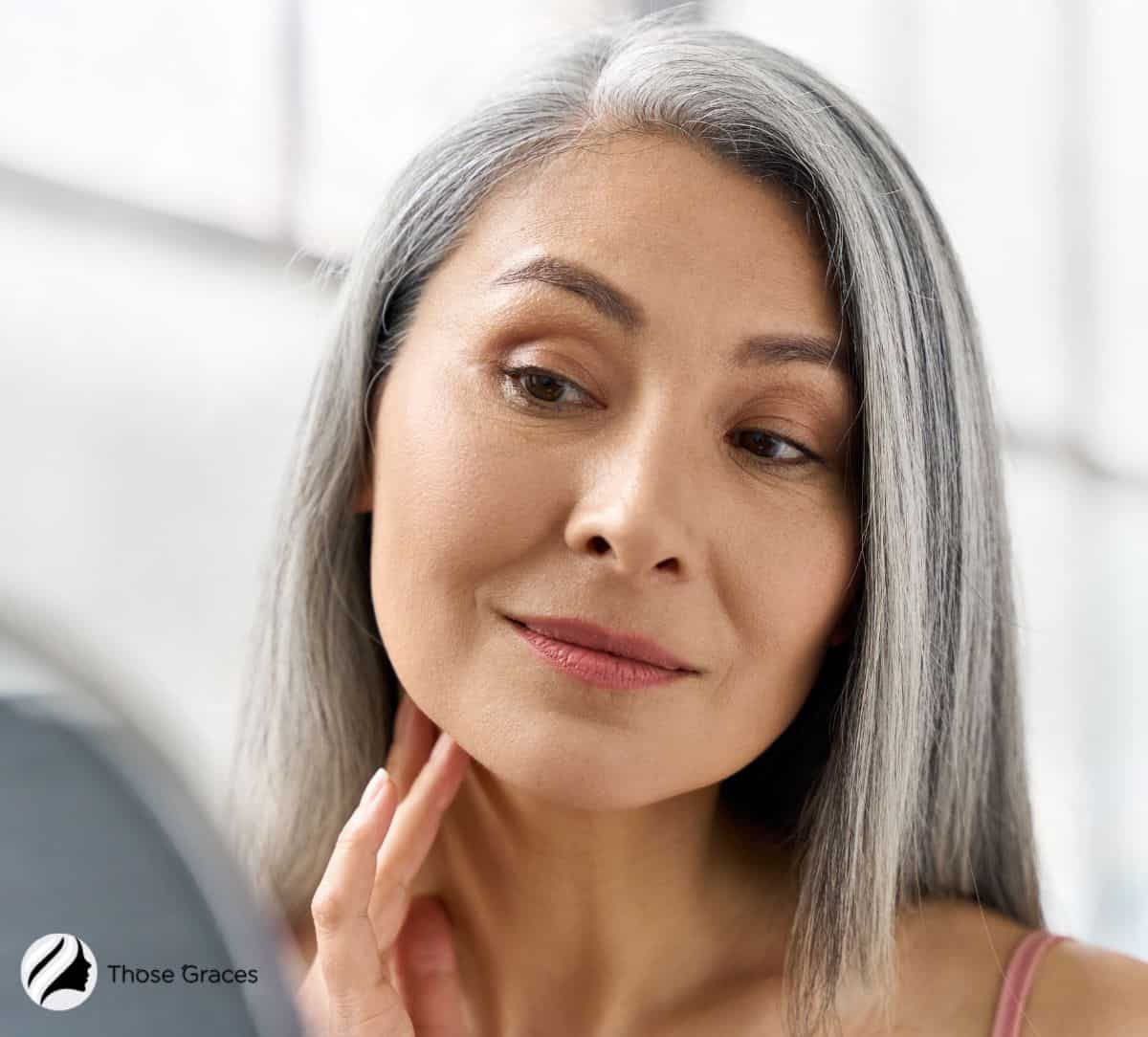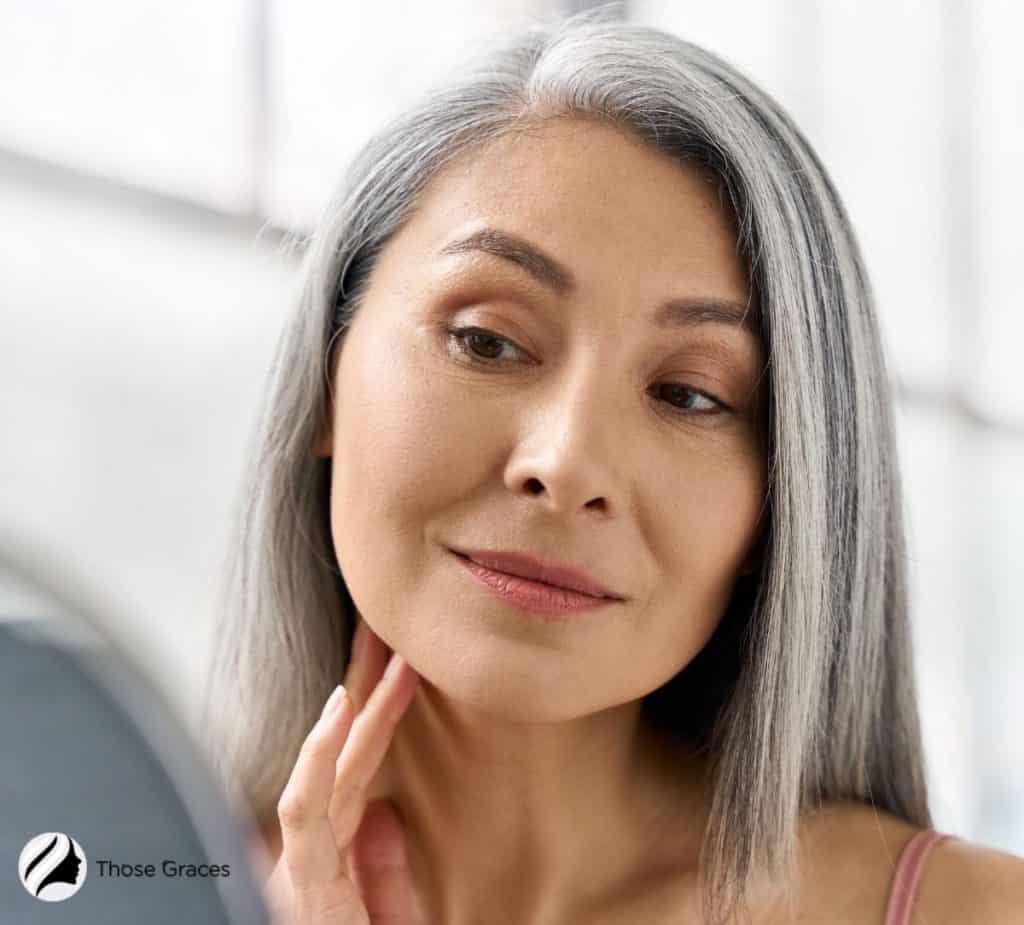 General Makeup Advice From The Experts
One study by Linden et al. (2018) shows faces become more asymmetrical with age. This is normal, and people are used to looking at slightly asymmetrical older faces [7].
If you have great makeup skills, you can use certain tricks to even out the sides of your face. Otherwise, it's not something to worry about.
Generally, when it comes to your makeup (foundation, blush, lipstick), you want highly pigmented products with sheer textures and formulas in a serum consistency [2].
Foundation Tips From The Experts
Matte Or Moisturizing Formula?
Matte and powdery foundations typically work best on younger women with oily skin.
As you grow older, your skin can look paler and lifeless with this matte makeup. It will only enhance wrinkles and make you look older [3][6].
If this matte textured makeup is what you already have, add some moisturizer to the base and avoid using powder (the moisturizer may have reflectivity – it gives a glow to the skin) [6].
Overall Foundation Tip: Opt for a moisturizing, anti-aging foundation with light-reflecting pigments – this is the best option for aging skin [3].
Use a foundation with a subtle glow. BB or CC creams also work well. Anti-aging foundations often contain light-reflecting pigments and ingredients that nourish your skin [3][6].
"Don't be afraid to shine… shine is extremely lively, and it brings everything out – your eyes, your lips… it's like your hormones are working!"
Modern foundations are a lot sheerer and give a nicer glow to the skin than those 20 years ago.
Go for a light-reflecting formula with silicone polymers – this will minimize and fill in lines, create a smoother skin texture, and give you a radiant complexion [6].
"Your foundation shouldn't have to change just because you are gray".
Foundation Shades & Undertones
Darker foundation shades will age you – be sure to match your foundation to your natural skin tone. Test foundations on your cheek to get a true color match [3].
"Most women perceive their skin tone as paler than it is, and they select a foundation shade that is too pink, chalky, or artificial-looking."
Avoid any foundation that's too pink because this can create 'Mrs. Santa Claus syndrome'.
If you already have a natural red undertone to your skin, adding a pinker-toned foundation will make you look redder (not healthier or younger).
What's more, this foundation won't look natural on a sallower skin [6].
The safe bet is a neutral-toned foundation "They give you more leeway," according to Gafni [6].
"Most women over forty have some degree of sun damage on their chest. The skin there is usually a deeper color than the face. You want to be able to create a natural seamless effect"
Application Tips | Brushes & Layering
Blender and foundation brushes are great for no-streak application and easy buffing [2].
Apply foundation lightly with a sponge to reduce the likelihood of it settling into fine lines and small creases [3].
An airbrush kit is ideal because this type of foundation doesn't settle into the crevasses on your face (you can also get airbrush foundation in a spray can).
To hide any age spots and veins, focus on layering.
Apply a thin layer of a liquid foundation in multiple layers. Be sure to hydrate your skin with a moisturizer beforehand. Where you notice blemishes, add another layer of foundation [3].
Concealer Tips For Fine Lines
Concealer is your best friend as a mature woman.
It covers fine lines around your mouth and nose, helps your nose appear smaller, covers under-eye bags, and gives you a youthful luminous complexion [3].
Choose a more liquid concealer around your eyes – the matte formulas designed for blemishes have a drying effect and can emphasize fine lines.
Only use a small amount of product (and a liquid, highly pigmented product) or the concealer will settle in fine lines and make them more apparent [3].
Check out this video:
Eye Makeup Tips
If you're interested in creating a makeup look that works well for older women, you should pay particular attention to the eye area.
According to a study by Russell et. al (2018), eye makeup makes the most significant difference in perceived age (compared to just skin and lips makeup) [8].
Research by Mulhern et al. (2003) found that eye-only makeup has a more significant impact on perceived attractiveness than just foundation makeup or lip makeup [9].
Lois Joy Johnson & Sandy Linter Expert Eye Tips
Lois Joy Johnson teamed up with Sandy Linter to create another book providing makeup and style times for mature women, with great advice on eye makeup [10].
Expert: Sandy Linter is a makeup artist to the stars. She has worked with Goldie Hawn, Sigourney Weaver, Christie Brinkley, Bette Midler, and Martha Stewart, among others [10].
The Difference Eye Makeup Makes
As you age, you will notice differences in the appearance of your eyes. Your eye area may have experienced sun damage, and you will see a loss of collagen and estrogen.
Plus, gravity over time changes the look of your eyes, even if you use expensive anti-aging regimes [10].
Makeup for older women should be adapted to suit these changes.
Good eye makeup helps you look well-rested, gives you confidence, helps you look more polished, and provides that definition to your face [10].
Sandy's Step-By-Step Tips
Sandy gives lessons on how to lift and sculpt your eyes (she uses these tips on her celebrity clients) [10].
Priming
Start with your eye makeup (even before concealer) to prevent the issue of cleaning up eyeshadow fallout later.
Use an eye primer to prevent creasing or feathering – this is one of the best-kept secrets for good eye makeup as you get a bit older. Use a primer that suits your lids.
First, you must figure out if you have dry or hot lids.
If your makeup melts away on your eyelids, you have hot lids. Go for a semi-matte primer (try Laura Mercier's Eye Basics or Lancome's Aquatique eye color base) to keep your eyeshadow in place.
Does your eyeliner drag as you apply it? If yes, you have drier lids. Use a creamy shadow base or concealer (try Lancome's Effacernes).
Eyeliner Tips
Next, apply eyeliner using a densely pigmented (opaque) pencil (in black or dark brown color).
You will know it's well-pigmented if it looks solid in one stroke on the back of your hand. It should glide in a line easily without feathering.
Eyeliner is a lot easier to use when you choose the right formula. Gel eye pencils or waterproof kohls get close to the lashes and are smear-proof [2].
You can pull your eye slightly taut (very gently) at the edge to create a smooth line to add your liner. Keep the line thicker at the outer edge for a subtle eyelift.
Make a mistake? Grab a Q-tip with some moisturizer on the tip and run it over any errors.
Using a pointed (not round) q-tip, glide the liner up at the outer corner, moving the eyeliner slightly upwards to give a more significant lift to your eyes.
This helps counteract any sagging, diverts attention from the darkness at the inner eye, and produces a wide-eyed look.
Add another gel liner or dark eyeshadow over the liner for greater intensity. Eyeshadow is best for a smokey eye look, while gel liner will create a crisper and sleeker line.
Subtly define your under eyes using a dense eye pencil. With a light hand, the line under your eye area.
Make sure the top and bottom lines are separate at the outer corner because connecting can give a panda look instead of a lift!
Eyeshadow Tips For Younger-Looking Eyes
Elongate your eyes and add depth by contouring your eye hallows. As you age, your eyes become more hooded.
Add a new crease to look younger. Use a neutral medium-toned eye pencil right about the crease of your eye and just below the brow bone in a dashing motion (instead of a solid line).
Blend these dashes using an eye brush. Go over this area with a powder shadow.
Makeup for older women should be mindful that the shape of your eye area can change with age.
Don't go too pale on the eyelid because this can emphasize droopy lids, use a medium shade to highlight under your eyes.
Tie the shadow look together with a light-toned shadow over the lids. Your lids should be lighter than the crease.
Neutral shimmer shadows can help you look more awake – avoid heavy metallics.
Mascara & Lashes
Finish off the eye look by curling your lashes (with a high-quality lash curler) and adding black mascara.
As you get older your lashes will get thinner. Lash-thickening mascaras can feel too heavy, though. Plus, these formulas can flake during the day and ruin your look.
Use a mascara that you know works well on your lashes.
A lightweight mascara is suitable for short thin lashes. Use thickening volumizing mascaras for longer lashes if you use a mascara regrowth serum, use whichever mascara works best for you.
Add mascara on the bottom lashes if you wish.
Eyebrow Tips
A slight arch in your eyebrows can open up your eyes and distract from droopy eyelids [3].
Use a fine pale eyebrow powder. Any harsh lines in your brows will accentuate droopy eyelids [3].
Lipstick Tips
You could use a lip plumper tool to help boost the size of your lips, but choosing the right lipstick shade and finish is usually sufficient to give your lips a helping hand.
Lip makeup for older women should complement a woman's changing features as she ages. A natural-colored blush is better for more mature women.
Pink or rosewood shades look natural on older women because it mimics the appearance of pinched cheeks [3].
A blue-toned red matte lipstick helps you look less tired and will help your teeth (which discolor as you get older) look more white. 2
Expert Janet Muggivan and Makeup Artist Liz Kelsh provide lip-specific tips for mature women [11].
Your lips thin and lose their fullness as you age. Janet recommends a hydrating lip balm for everyday use. Liz suggests you exfoliate your lips bimonthly to keep them soft [11].
A nude lipstick for an older woman should be more of a muted rose color or a coral shade, according to Janet, but she recommends a more beige tone for younger women.
This is because rose colors are natural on flattering on everyone. Janet notes that more beige tones can make your teeth look yellow and wash you out [11].
Apply a small amount of eye primer around the line of your lips (but not on the lips). Janet says it helps smooth the lines and prevents feathering [11].
Blush & Pops Of Color
You can use color to accentuate certain areas of your look and give some depth (for example, choosing red nails or a red lip shade) [3].
"Soft colors – soft effects. Strong colors – strong effects!"
If you have rosacea be sure to use a concealer foundation before you apply your blush [3].
Use a mineral foundation (if you can) because you can add multiple layers to cover your rosacea without the makeup looking like a cracked mask on your face [3].
Tanning For Elderly Women?
Bronzing products and self-tanning products are surprisingly popular with women who have gray hair.
Tanning lotions are a lot easier to use these days, and you can even buy sunless tanning products just for your face!
Sun and UV light tanning accelerates aging, so avoid sun tanning and tanning beds [6].
I hope you found our review of expert tips on makeup for older women helpful. Which tip was your favorite? Feel free to share your tips in the comments section…
FAQs
1. How can older women with dry skin maintain a healthy-looking complexion while wearing makeup?
Use hydrating primer and moisturizer, avoid matte and powder-based products, and opt for creamy, nourishing formulas that add moisture.
2. What are some effective makeup techniques to minimize the appearance of dark circles in older women?
Color correction and a concealer that matches skin tone can help cover dark circles. Use a concealer brush to blend the product under the eyes.
3. How should an older woman tailor her makeup routine to her specific skin type?
Consider the skin's texture, oiliness, dryness, and sensitivities when choosing products and techniques.
Consult with a makeup artist or dermatologist for personalized recommendations.
Conclusion
Makeup for older women can be a powerful tool for enhancing their natural beauty and achieving a youthful glow.
A rule of thumb is to choose products that nourish and hydrate the skin, as well as techniques that minimize the appearance of dark spots, dark circles, and other aging concerns.
A makeup sponge is an excellent tool for blending and creating a flawless look, while a lip liner can help define and shape the lips.
With the right approach and product selection, older women can confidently and beautifully embrace their unique features.
Sources
1. Ross S. 43 Quotes About Makeup Any Beauty-Lover Can Relate To [Internet]. Byrdie. 2020. Available from: https://www.byrdie.com/makeup-quotes-4768957
2. Johnson LJ. The Woman's Wakeup: How to Shake Up Your Looks, Life, and Love After 50 [Internet]. Google Books. Running Press; 2015 [cited 2023 Feb 6]. Available from: https://books.google.ie/books?id=bmc4DgAAQBAJ&pg=PT183&dq=The+Woman%27s+Wakeup:+How+to+Shake+Up+Your+Looks
3. Entrup B. Beauty 40+: 24 beautiful step-by-step looks [Internet]. Google Books. Dorling Kindersley Limited; 2017 [cited 2023 Feb 6]. Available from: https://books.google.ie/books?id=xeJLDgAAQBAJ&printsec=frontcover&dq=Lois+Joy+Johnson+foundation+face&hl=en&sa=X&ved=0ahUKEwjyi_fw5MnlAhU4UhUIHdSSBrwQ6AEIcTAJ#v=onepage&q=foundation%5D&f=false
4. Garcovich S, Colloca G, Sollena P, Andrea B, Balducci L, Cho WC, et al. Skin Cancer Epidemics in the Elderly as An Emerging Issue in Geriatric Oncology. Aging and Disease. 2017;8:643.
5. Fluocinolone, hydroquinone, and tretinoin Topical application Advanced Patient Information [Internet]. Drugs.com. 2022 [cited 2023 Feb 6]. Available from: https://www.drugs.com/cons/fluocinolone-hydroquinone-and-tretinoin-topical-application.html
6. Jewell DL. Going Gray, Looking Great!: The Modern Woman's Guide to Unfading Glory [Internet]. Google Books. Simon and Schuster; 2004 [cited 2023 Feb 6]. Available from: https://books.google.ie/books?id=gAZ0VUbbrHEC&pg=PA144&dq=Lois+Joy+Johnson+foundation+face&hl=en&sa=X&ved=0ahUKEwjyi_fw5MnlAhU4UhUIHdSSBrwQ6AEISDAE#v=onepage&q=lips&f=false
7. Linden OE, He JK, Morrison CS, Sullivan SR, Taylor HOB. The Relationship between Age and Facial Asymmetry. Plastic and Reconstructive Surgery [Internet]. 2018 [cited 2021 May 17];142:1145–52. Available from: https://pubmed.ncbi.nlm.nih.gov/30511968/
8. Russell R, Batres C, Courrèges S, Kaminski G, Soppelsa F, Morizot F, et al. Differential effects of makeup on perceived age. British Journal of Psychology. 2018;110:87–100.
9. Mulhern R, Fieldman G, Hussey T, Leveque J-L ., Pineau P. Do cosmetics enhance female Caucasian facial attractiveness? International Journal of Cosmetic Science. 2003;25:199–205.
10. Johnson LJ, Linter S. The Makeup Wakeup: Revitalizing Your Look at Any Age [Internet]. Google Books. Running Press; 2011 [cited 2023 Feb 6]. Available from: https://books.google.ie/books?id=Ce83DgAAQBAJ&printsec=frontcover&dq=The+Woman%27s+Wakeup:+How+to+Shake+Up+Your+Looks
11. MCMEEKIN S. You're Never Too Old To Wear Lipstick. Here's 4 Expert Tips For Women Over 50… [Internet]. beautyheaven. 2019 [cited 2023 Feb 6]. Available from: https://www.beautyheaven.com.au/makeup/lips-lipstick-lip-gloss-lip-balm/lipstick-tips-older-women