Hey there, beauty buffs!
Today, let's journey back to the glamourous 1920s and discover the fabulous world of 1920s makeup!
From the bold lips to the smoky eyes and the iconic penciled brows, the 1920s was a time of unprecedented change and freedom of expression.
So, if you're ready to explore the history and artistry of this iconic makeup era, come along with me and let's uncover the secrets of 1920s makeup!
Key Takeaways
Roaring Beauty! 🍸 1920s makeup was all about glamour and elegance, with a touch of rebellious flair, perfectly embodying the spirit of the Jazz Age.
Smoky Seduction! 🎷 Dark, dramatic eye makeup and thin, drawn-on eyebrows were the bees knees, creating a sultry, smoldering effect.
Pouty Perfection! 💋 Bold, cupid's bow lips in deep reds and plum shades were the cat's meow, adding sophistication to the iconic flapper look.
1920s Makeup Quick History
Ladies, it's no secret that Hollywood has always been a major influencer in beauty and fashion – and the 1920s was no exception! Thanks to leading ladies like Greta Garbo, Clara Bow, and Louise Brooks, the makeup and cosmetics industry was thriving like never before.
Theater Scholar Marlis Schweitzer says, "Actresses had graduated from social pariahs to trendsetters. Actresses were seen as desirable—and they were more than ready to help cosmetics companies sell their wares." (2)
These fierce femmes weren't just stunning on the big screen – they were also trendsetters regarding their off-screen looks. And with the rise of the "flapper" culture, women everywhere were eager to get their hands on the latest beauty products and techniques.
Soon, makeup counters and artists were popping up all over the city, and brands like Max Factor and Coco Chanel were leading the charge. From bold red lips to dramatic smoky eyes, the 1920s was a time of limitless creativity and experimentation in the makeup world.
So, let's give a round of applause to those trailblazing actresses who helped shape 1920s makeup history – we owe them a debt of gratitude for keeping us looking gorgeous and glam!
Classic 1920s Makeup Look
Now, let's talk about the easy 1920s makeup that all beautiful women took extraordinary care in.
1. Lip color:
A must-have 1920s makeup item was a bold red lip color. This was the biggest makeup trend in authentic 1920s makeup.
Even though the New York Board of Health considered banning it in 1924, fearing it might poison men who kissed the women who wore it, the popularity of lip shades did not fade. (3)
In every 1920s makeup tutorial, you will most definitely see a unique lip shape. That's because the rounded shape of lips was quite popular during the time.
Take a look at this great video tutorial:
2. Face powder:
Face powder is a must-have in the 1920s authentic makeup guide. These beauty enhancers were used liberally on all skin types with a powder puff and came in limited, basic shades.
It was used to create a base for the skin tone and used after a cold cream, another very popular item. Wearers would find accurate colors and rub them on the skin for a youthful glow.
3. Dark eyeshadow:
A smoky eye shadow was the rage in 1920s eyeshadow, a must-have item for women.
Brown and blue eyeshadow was the most prevalent eye color, not only among stage performers but housewives too.
This is mostly owed to movie stars that exaggerated actresses' natural beauty through bold makeup applications.
4. Black eyeliner and mascara:
Eyeliner in pencil forms was loved during the 20s. The history of makeup shows people with dark eyeliner to enhance their eyes.
Even though there was no black mascara, people got creative and used a cake form, a formulation of soap, and black coloring to color their lashes.
4. Thin eyebrows:
Another aspect of the beauty regimen is taper thin eyebrows which wearers would enhance with a brow pencil.
Beauty adverts in magazine articles usually showed film stars with thin arch shape brows.
5. Pink blush tones:
The rouge compartment came in cream, dry powder, or liquid form and usually came in shades of pink. The antique 1920s flapper movie stars applied rouge liberally to enhance their cheeks.
It was generally applied with a soft brush after. Although most products were for fair skin, shades were available for black women too.
You may want to check out this historically accurate 1920s makeup tutorial for ideas:
FAQs
1. What color of lipstick was popular in the 20s?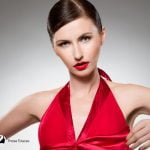 In the 1920s make-up revolution, every average woman wore deep ruby lip shades or other beautiful shades of red lip color.
2. Was there eyeliner in the 1920s?
Oh yes! Bold eye makeup with black kohl eyeliner was prevalent in the beauty routine of every modern woman.
3. Did they have mascara in the 1920s?
No. But people opted for natural colors in a cake mascara, a formula made with soap and black to color their lashes.
4. Why did makeup become popular in the 1920s?
Thanks to the Hollywood movie industry, makeup products were used as powerful tools to enhance one's beauty and show off feminine power.
Conclusion
And that's a wrap on our journey through the world of 1920s makeup! It's clear that back then, people were just as obsessed with beauty as we are today – and they sure knew how to rock a bold red lip!
The 1920s was a time of experimentation and liberation, where people were breaking free from old-fashioned beauty standards and embracing new ways to express themselves. And let's not forget about those smoldering smoky eyes that still make us swoon today!
While we've come a long way in the makeup world, it's exciting to see that some of the iconic trends from the 20s are still going strong.
So, whether you're a vintage vixen or a modern-day makeup maven, take a cue from the roaring twenties and never miss a chance to shine truly!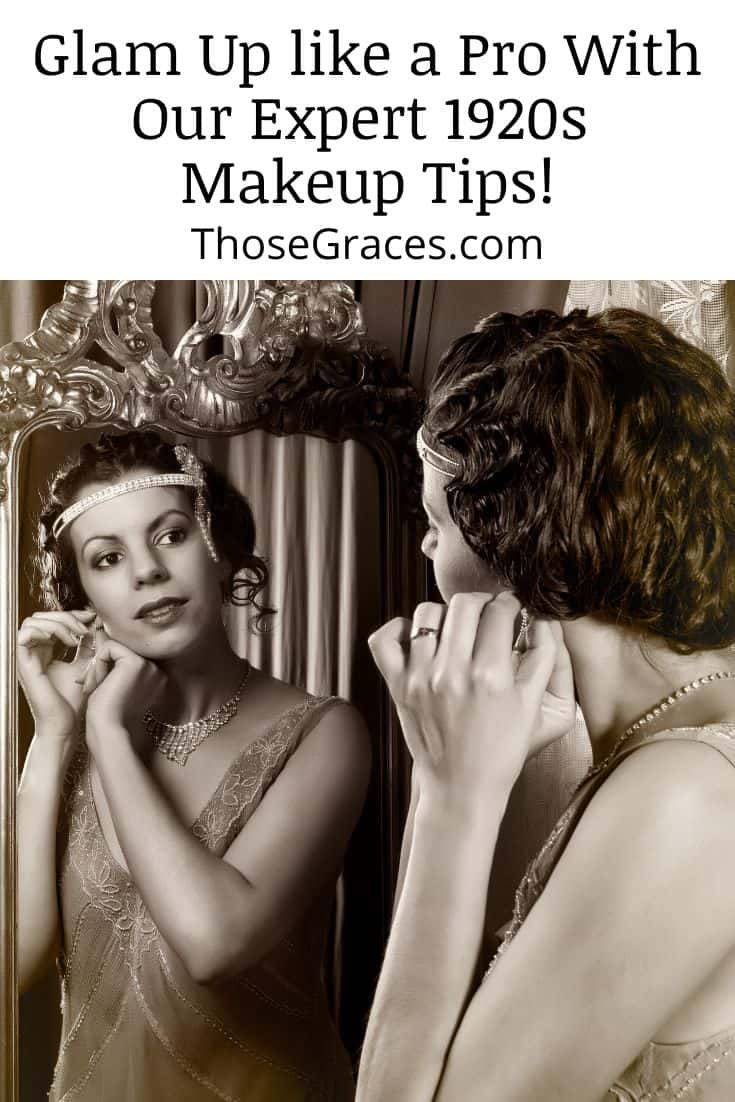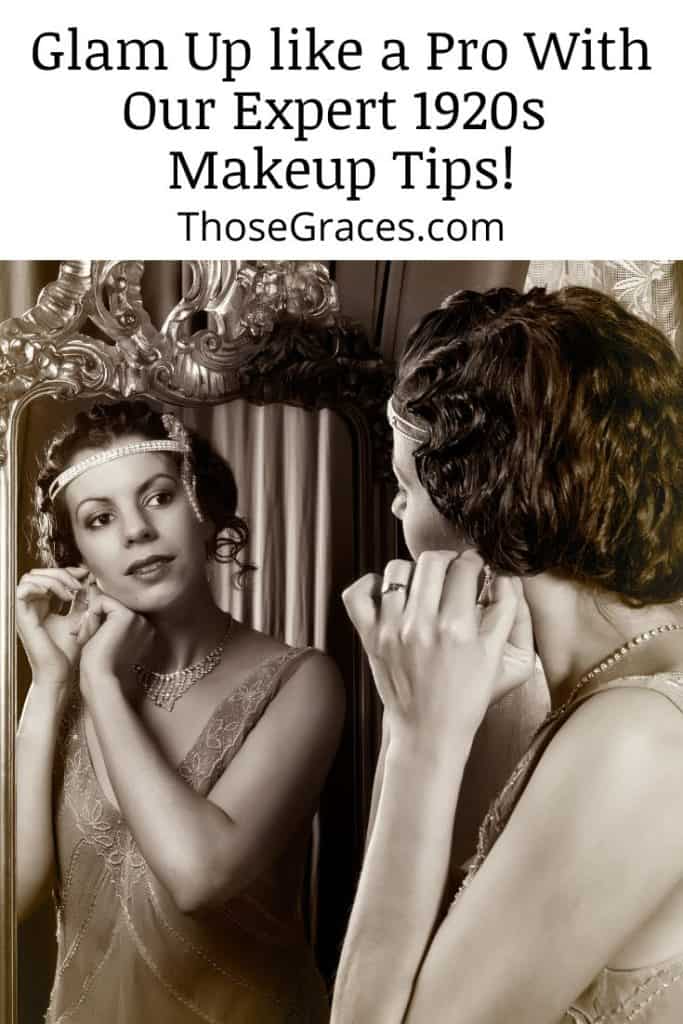 Resources
1. Parish LC, Crissey JT. Cosmetics: A historical review. Clinics in Dermatology. 1988;6:1–4.
2. Schweitzer M. "The Mad Search for Beauty": Actresses' Testimonials, the Cosmetics Industry, and the "Democratization of Beauty." The Journal of the Gilded Age and Progressive Era [Internet]. 2005 [cited 2022 Dec 7];4:255–92. Available from: https://www.jstor.org/stable/25144403?mag=how-makeup-went-mainstream#metadata_info_tab_contents
3. Available from: https://www.researchgate.net/publication/49282703_Why_women_wear_lipstick_preliminary_findings