Hello gorgeous! Looking for a way to transport yourself to the swinging 60s? Well, why not dive into the world of 1960s makeup?
This decade was a time of bold experimentation with makeup, where everything from the eyes to the lips was amped up to create a truly statement-making look.
With signature styles like Twiggy's doll-like lashes and Brigitte Bardot's sultry cat eyes, the 60s makeup look is as iconic today as it was then.
So if you're ready to embrace your inner retro beauty, let's get started!
Key Takeaways
Groovy, Baby! 🌼 The 1960s makeup look was all about bold colors, dramatic eyeliner, and a touch of Twiggy-inspired lashes to create a fun and vibrant style.
Pucker Up! 💋 Pale or pastel lip shades were the go-to choice, allowing the focus to remain on those fabulous eyes.
Mod Squad Magic! ✨ With makeup influenced by the swinging London scene, the 1960s look remains an iconic style that inspires makeup lovers today.
The 1960s Makeup Look
In the late 1950s and early 60s, women were heavily inspired by Hollywood icons Marlyn Monroe and Elizabeth Taylor.
Many women at the time wore the classic cat-eye with dark arched brows and a contour color through the eyelid for definition. This was a contrast to earlier "1920s makeup looks" that showcased a different kind of glamour. While lips were brighter in the 1950s, the pale lip trend started to appear in the early 1960s.1
The shift in makeup trends was visible through the new updated looks of iconic 50s and 60s celebrities. Audrey Hepburn's makeup changed somewhat between the two decades, though she did keep her signature doe-eyed look the same.
Compared to the dramatic brow and red lips in the fifties, Hepburn sported a thinner, lighter brow and wore a pale peach-pink color on the lip through the early 1960s.2
Several different makeup styles and subcultures began to emerge in the 1960s, with "grunge makeup" being one that would later gain prominence and challenge mainstream beauty standards.
1960s Makeup For Mods
When you think of 1960s makeup, the mod look is probably what comes to mind. The mod style was captured by a heavy application of makeup with an emphasis on rounded and expressive youthful eyes.
Mods originated in London and quickly spread to the US with the growing worldwide popularity of Twiggy and Edie Sedgwick.3
Models Twiggy and Jean Shrimpton made the youthful mod contoured-and-dramatic eyes with full-and-spiky lashes and light-pouty lips popular in the mid-1960s.1
Flower Power Hippies
The hippy movement began in the late 1950s/early 1960s. However, it gained in popularity in the mid-late 60s (especially in 1966/67), and the marketing of makeup products targeted toward hippies really took off in the 1970s.4
While the mod trend was striking, the hippies kept it more natural in terms of actual makeup but often used face paint and colors on their faces and body.3
Like the beatniks before them, many hippie women in the 1960s wore no makeup at all. Face painting was especially common for concerts (much like people do at Glastonbury or Coachella today). Inspired by the mod trend, some hippies opted to wear a lot of mascara. Hippies also sometimes drew a third eye on their forehead as a nod to Eastern religions.5
Like the 1920s, makeup was often viewed as a statement in the 1960s, and once again, there were varying opinions on the use of cosmetics within the feminist movement.
Some feminists viewed makeup as a tool of oppression. In contrast, others believed that edgy mod and hippy looks symbolized moving on from the set rigid roles women in their mothers' generations were expected to follow.3
Take a journey through the unforgettable era of the 60s with this iconic makeup tutorial, where we'll show you how to recreate the decade's most stunning and trend-setting looks:
Eyes On The Prize
The eyes were the main focus of the makeup style in the sixties. This look consisted of heavy fake lashes, thick eyeliner, and a contoured effect eyeshadow look.6
"There you can use a lot (on the eyes), eyeshadow, eyeliner, and lashings of mascara plus false eyelashes – even false eyebrows I should think – provided you've managed to master the art of putting them on and keeping them in place" – Mary Quant4
Eyeliner & Eyeshadow
Famed 1920s flapper girl Greta Garbo heavily influenced the liner eye makeup look of the 1960s.2
Mods drew dramatic eyeliner on both the upper and lower lid.7
Eyeshadow was cleverly used to create a contrasted contour look in the eye socket. This typically consisted of a light shadow on the lid and under the brow bone, with a much darker shade just above the crease.7
The idea of blending shadow shades really came about in the 1960s. Only blue and green shadows were commonly available beforehand in the same compact, and they were rarely mixed on the eye in the past.2
Mods often added a dark brown to the crease to contour the eye socket with a lighter white color on the eyelid and under the brow bone.6
However, from 1965 onwards, using colorful eyeshadows on the lid became much more common.2
Elizabeth Taylor's dramatic eye look in the film Cleopatra (1963) featured blue shadow all over the lid, which was more of a nod to the makeup in style in the sixties – not the authentic Egyptian look.2
During filming, Taylor was paparazzied in her dramatic makeup, and it helped inspire a trend for wearing a sixties spin on the Egyptian eye makeup look. Around this time, Revlon created a mini eyeshadow trio inspired by the new Cleopatra-inspired trend.2
"False lashes now come in about 40 types" (Vogue, 1966)4
Lashings Of Lashes
In the 1960s, women were heavily inspired by the fluttery fake eyelashes of 1930s celebrities.2
Dramatic eyelashes were a must when it came to the mod look. The lower lashes painted on the bottom of the eyelid became known as 'Twiggies' after the young model made the unique look famous.4
Did you know?: Wand mascaras were brought to market for the first time in the 1960s. Beforehand, women had to dip a little wet brush into a powder and paint it onto their eyelashes! 3
Women used heavy false lashes to create the neotenous youthful look Twiggy rocked in the sixties.4
Jane Shrimpton spoke of the difficulties of getting the heavy eyelash look with false lashes at the time, complaining that it left a "nasty, gummy line of white glue showing on the eyelid, which was torture to get off."4
Mary Quant invented waterproof mascara as a practical product for women with busy lifestyles so they could run around in the rain without their makeup getting smudged.8
Eyebrows
While well-defined brows were the mark of the 1950s, in the sixties, women experimented with new brow shapes and styles. Although some stuck to their natural thick brows, others completely shaved their eyebrows off and drew their own in with an eyebrow pencil. The more daring young women used colored pencils in their eyebrows and added gems, feathers, or glitter.9
Many women added brow powder often too dark for their natural brows.6
Low Key Lips
Pale-colored frosty (not too glossy) lipsticks were all the rage in the 1960s.4 6 7
The young mods really loved white lipstick. Translucent pink lip glosses were a best seller at the time.4
Titanium was added to lipsticks to make them look iridescent. The metallic look paired well with the space-age runway looks (silver trousers, chain mail looks) created by French designers Paco Rabanne and Pierre Cardin. Revlon created a 'Moon Drops' lipstick to get that metallic high fashion look on a budget.4
Get ready to step into the past and experience the timeless beauty of the 1960s with this nostalgic and inspiring vintage makeup tutorial:
1960s Face Makeup
Blush was not the focal point of the mod look, and many women opted to go completely blush-free and keep the foundation canvas pretty blank. However, Mary Quant did add a blush to her iconic sixties makeup collection, by the name of 'Blush Baby blusher.'8
However, a lot of mods did create hollower cheeks with shadow powders to appear thinner.3 6
Most of the time, women wore a pale foundation color all over their faces and lips. Foundation was matte in finish and sometimes slightly tanner to compensate for the lack of blush.10
The Higher The Hair
Straight hair was in style, whether it was long or in a bob style like in the 1920s. Hair looks were pretty simple during this era. Hippies would keep it long without doing much else to it.10
However, Mary Quant helped inspire the shorter hair look after meeting hairdresser Vidal Sassoon who created her famous five-point bob look on her hair.8
Most women would scrape their hair back and curl it into a bun style. Bouffant styles were also in fashion – hair was swept up and placed on the top of your head, sometimes in curls or with accessories like barrettes or ribbons.10
Women teased the hair to make it look taller and added a hairpiece for decoration.6
From the late 1950s to the early 1960s, the beehive hairdo was in style. It was called the B-52, named after the bulbous nose of one particular B-52 bomber. To get the look, a hooded hair dryer was used after applying round rollers to the hair.4
Backcombing helped achieve the voluminous effect, and it was set in place with hairspray. From the mid-sixties onwards, wigs were the new 'it' hairstyle. Women used them to transform their appearance completely.4
One article in a 1966 edition of the Daily Express advertised the 'Smoochy,' a grey-silver wig that covered up half of a woman's face, which was described as being designed especially for those who were 'not so pretty'.4
Get ready to take your hair game to the next level with this nostalgic and captivating tutorial on how to create the iconic bubble flip hairstyle of the 1960s:
Exciting New Makeup Products Targeted To The Young In The 1960s
Due to upturns in the economy, Britain reached full teenage employment, and now young ladies had some money to spend on cosmetics. The market responded with cosmetics targeted toward the younger generation.2
In the mid-sixties, colored eyeshadow was dominant. Gala created a palette called the 'Pick And Paint Eye Palette,' shaped like a painter's palette and included one eyeliner, two brushes, and four shadows.
Similar to the fun packaging we see used in Korean beauty today, the packaging was designed for young women to have fun and enjoy using their makeup products.2
Mary Quant, known for popularising the mini skirt, unveiled her makeup range in 1966. The makeup line, which took 18 months to develop, was revolutionary. Quant herself wrote that "people were stunned by the look of the whole brand."2
A lot was revolutionary: the colors of the makeup and the tongue-in-cheek product names (quite similar to Benefit cosmetics today), to name just a couple. The black and white plastic packaging with groovy flowers on the front completely differed from the luxe luxury and grown-up packaging of the previous decades.2
Plus, the branding, for example, using billboards of women's faces, was like nothing seen before. The line took off, and Mary Quant Cosmetics was soon sold worldwide.2
Quant wanted her line to replace "those bogus French names, sold by middle-aged harridans. Mary Quant cosmetics were going to be sold by girls in miniskirts, looking like top models, or by dashing young men in jeans."2
Some of the cheeky names of her products included 'Jeepers Peeper's eye shadow,' 'Starkers foundation,' and 'Bring Back The Lash mascara.'2
Quant's line was most known for the crayons (yes – an actual tin of colored crayons). A drastic deviation from the typical brush and small pot, the tin instructed women to draw a flower anywhere on their face or body with the crayons (this was targeted towards flower power hippies).2
Mary Quant claimed that her own lipstick was "the symbol of the new, young career woman and they flashed it across restaurants with each other. It was like being a member of a club."2
1960s Makeup & Fashion Icons: Twiggy
Fashion icon and model Twiggy was known for her thin frame, big eyes, dark crease makeup with big spidery lashes, and drawn-on 'Twiggies' – eyelashes drawn on the lower eyelid.
Twiggy was the face of a range of eye makeup products created by the brand Yardley. The line featured a black and white shadow compact and false lashes, dubbed the 'Twiggy lashes', which were released in 1967.2
Twiggy lashes were made from natural European hair.4
Her most iconic photographs, taken by Barry Lategan, were dubbed 'the face of 1966' by a fashion journalist from the Daily Express.2
Lategan described Twiggy in the photoshoot "Twiggy arrived with her cropped hair and lower eyelashes painted onto her face; she sat in front of my camera and was dazzling."2
As was normal then, Twiggy did her makeup for the photoshoot. She sported a mod look with an intense eye, featuring white shadow on the lid and graphic eyeliner directly above the eye socket (in place of contour) and eyeliner also along the lash line. The lips were kept completely nude, with the typical mod 'foundation as lipstick' look.2
The iconic element of Twiggy's look was the drawn-on lashes on the lower lid. Lisa Eldridge notes in 'Face Paint: The Story of Makeup' that Biba founder Barbara Hulanicki told her that this look was unique to Twiggy then.2
Here's a quick look at this famous supermodel:
Swinging Sixties Fashion
Mods
A departure from the popularity of curves in the 1950s, the 1960s were epitomized by trying to achieve the slim look as Twiggy's young boyish figure inspired women.4 The desire to look slimmer and more boyish in shape is evident from the straight-up-and-down cut of garments and the contoured gaunt cheeks look.
"Twiggy, The Cockney Kid with a face to launch a thousand shapes… And she's only 16." (Daily Express, 1966)4
Like makeup, clothing was heavily marketed to the youth demographic in the 1960s. The 15 – 19-year-old demographic purchased 50% of all clothing sold in Britain by 1965. US teenagers in 1965 spent more than 3.5 billion dollars on clothes.4
Mods wore fun young clothing like mini skirts, bell-bottom jeans, boots, and pantsuits, and they liked dramatic psychedelic prints.6
The chiffon tent dress was often paired with a visible slip underneath. 11
PVC was a commonly used clothing material in anything from hats to minidresses. Women also wore a lot of plastic in their accessories – big chunky bright colored jewelry was paired with every young It girl's outfit.11
White boots that reached mid-calf (called go-go boots) were hugely popular to pair with mini skirts and mini dresses in the mid-sixties.11
Mary Quant | Defining Fashion In The Sixties
Fashion designer and icon Mary Quant was all about creating an affordable range of makeup and clothing for a young women.8
"'New' is often described as 'vulgar' by people who are frightened of change. I had demonstrated that from now on fashion was going to be mass-produced, that the future did not lie in the laboriously hand-sewn designs that were the hallmark of couture." – Mary Quant8
Mary Quant popularized the mini skirt (though it's disputed whether or not she actually invented it) and was even honored with an OBE by the Queen of England for her innovations in fashion. She was the first British fashion icon to earn such an honor.8
Did you know?: Miniskirts were blamed for lack of morality in the youth of the 1960s, and even as the cause of traffic accidents as drivers didn't keep their eyes on the road! 4
Quant invented the tights look after encouraging JC Penny to make them go with mini skirts and dresses.8
In an interview for the Guardian (1967), Mary Quant described 'the crutch' as the most important fashion piece of the time. Because skirts were now so mini, stockings and suspenders needed to be replaced by full-cover tights. Otherwise, the suspenders could show in unflattering angles.4
She also encouraged the creation of a more natural effect bra, which made it appear as if women were going braless.8
Mary Quant also created the concept of matching nail polish to clothing rather than lipstick shade.11
Quant's peter pan collar was very popular to jazz up a normal sweater.8
Her range was inspired by the clothes her young friends enjoyed wearing (tunic dresses, hipster pants, knickerbockers (trousers that came to the knee).8
"I wanted to make clothes that you could move in, skirts you could run and dance in" – Mary Quant8
Get ready to take a journey through fashion history with this fascinating and lighthearted look at how Mary Quant's revolutionary clothing designs liberated women in the 1960s:
Hippies
Although the hippy look was quite rebellious, hippy women did wear their hair very long and usually tied back in a ponytail and with a bandana. Hippies often wore handmade jewelry and loved Native American pieces (or anything outside mainstream US culture)!5
They are also accessorized with fake tattoos, love tokens, homemade earrings, snake bracelets, and charm bracelets (often with zodiac sign charms). Many hippies loved 'scarabs' (amulets) with origins in ancient Egypt.5
In terms of clothing, hippies often opted for low-cut tops and sometimes showed off their stomach – especially if they decorated their belly button area. Hippy women sometimes wore work shirts designed for men and often added their patches and designs to plain shirts to express some individuality.5
They also wore dramatic belts, and many women wore men's jeans, especially because it was difficult to find jeans for women in the late 1960s.5
Hippies also wore pedal pushers, mini skirts in psychedelic patterns, tie-dyed shirts, and colorful leggings and often went barefoot. Somewhat surprisingly, a lot of hippies styled secondhand Edwardian and Victoria pieces.5
Conclusion
So there you have it, a glimpse into the groovy world of 1960s makeup! From bold eyes to colorful lips, this decade was all about self-expression and pushing boundaries.
Whether you're looking to channel your inner mod, add a retro twist to your current look, or simply have some fun experimenting with makeup, the iconic styles of the 60s are a timeless source of inspiration.
So grab your brushes and start playing – you never know what stunning look you might create!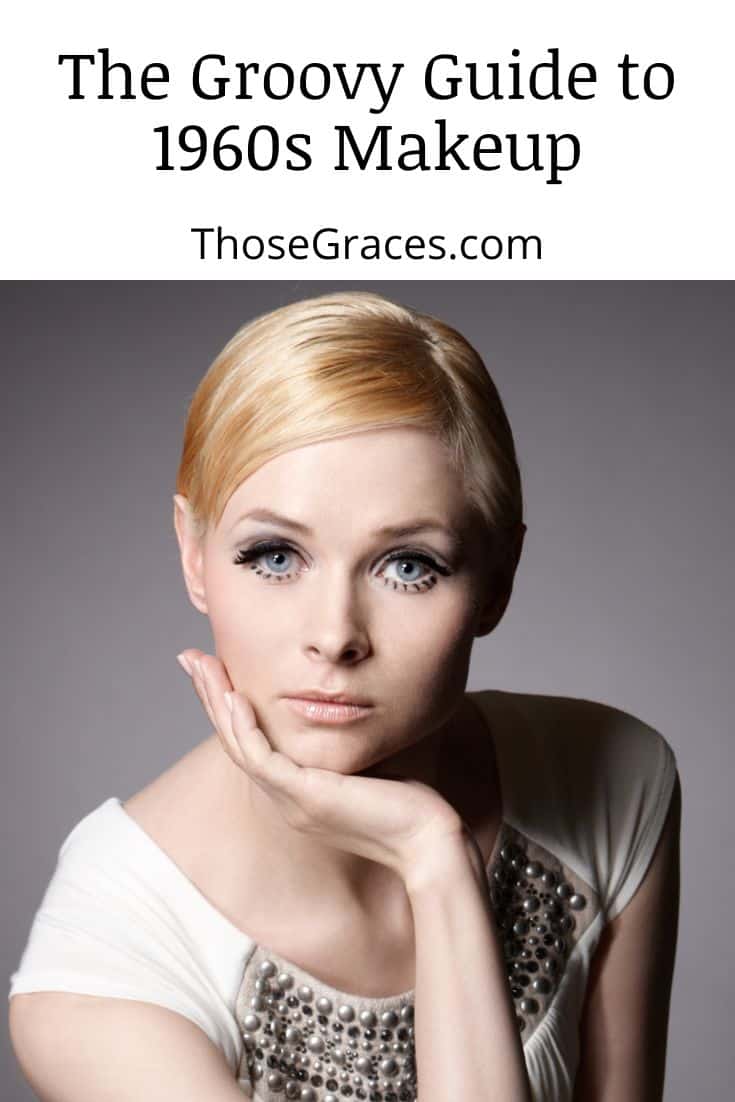 Sources
1. Sobel S. Theatrical Makeup: Basic Application Techniques [Internet]. Google Books. CRC Press; 2015 [cited 2023 Mar 24]. Available from: https://books.google.ie/books?id=2ipACwAAQBAJ&pg=PA130&dq=1960s+makeup&hl=en&newbks=1&newbks_redir=0&sa=X&redir_esc=y
2. Eldridge L. Face Paint: The Story of Makeup [Internet]. Google Books. Abrams; 2015 [cited 2023 Mar 24]. Available from: https://books.google.ie/books?id=LpplCgAAQBAJ&printsec=frontcover&dq=Face+Paint:+The+Story+of+Makeup&hl=en&sa=X&ved=0ahUKEwjKurrNzNnoAhWSZxUIHbM1CHYQ6AEIJzAA#v=onepage&q=Face%20Paint%3A%20The%20Story%20of%20Makeup&f=false
3. D'Allaird M. Milady Standard Makeup [Internet]. Google Books. Cengage Learning; 2012 [cited 2023 Mar 24]. Available from: https://books.google.ie/books?id=BIDh45YGOlIC&pg=PT46&dq=mod+makeup&hl=en&newbks=1&newbks_redir=0&sa=X&redir_esc=y#v=onepage&q=mod%20makeup&f=false
4. Marsh M. Compacts and Cosmetics: Beauty from Victorian Times to the Present Day [Internet]. Google Books. Casemate Publishers; 2014 [cited 2023 Mar 24]. Available from: https://books.google.ie/books?id=mkzWCwAAQBAJ&printsec=frontcover&dq=1960s+makeup&hl=en&newbks=1&newbks_redir=0&sa=X&redir_esc=y#v=onepage&q&f=false
5. Rorabaugh WJ. American Hippies [Internet]. Google Books. Cambridge University Press; 2015 [cited 2023 Mar 24]. Available from: https://books.google.ie/books?id=tbksCQAAQBAJ&printsec=frontcover&dq=mainstreaming+of+hippie+movement&hl=en&newbks=1&newbks_redir=0&sa=X&redir_esc=y#v=onepage&q=makeup&f=false
6. Place S, Madry BR. The Art and Science of Professional Makeup [Internet]. Google Books. Milady Publishing Company; 1989 [cited 2023 Mar 24]. Available from: https://books.google.ie/books?id=tG2ncjtg_lYC&pg=PA254&dq=1960s+makeup&hl=en&newbks=1&newbks_redir=0&sa=X&redir_esc=y#v=onepage&q=1960s%20makeup&f=false
7. Davis G, Hall M. The Makeup Artist Handbook: Techniques for Film, Television, Photography, and Theatre [Internet]. Google Books. Taylor & Francis; 2012 [cited 2023 Mar 24]. Available from: https://books.google.ie/books?id=yNYa__oCQ7cC&pg=PA259&dq=1960s+makeup&hl=en&newbks=1&newbks_redir=0&sa=X&redir_esc=y
8. Senker C. Stories of Women in the 1960s: Fighting for Freedom [Internet]. Google Books. Raintree Publishers; 2015 [cited 2023 Mar 24]. Available from: https://books.google.ie/books?id=SEgeBgAAQBAJ&printsec=frontcover#v=onepage&q&f=false
9. Sherrow V. Encyclopedia of Hair: A Cultural History [Internet]. Google Books. Greenwood Publishing Group; 2006 [cited 2023 Mar 24]. Available from: https://books.google.ie/books?id=9Z6vCGbf66YC&pg=PA119&dq=eyebrows+sixties&hl=en&newbks=1&newbks_redir=0&sa=X&redir_esc=y#v=onepage&q=eyebrows%20sixties&f=false
10. Agius M. The Art of Makeup [Internet]. Google Books. AuthorHouse; 2009 [cited 2023 Mar 24]. Available from: https://books.google.ie/books?id=YlYKd5KW1lQC&pg=PA57&dq=sixties+makeup+foundation&hl=en&newbks=1&newbks_redir=0&sa=X&redir_esc=y#v=onepage&q=sixties%20makeup%20foundation&f=false
11. Bleikorn S. The Mini Mod Sixties Book [Internet]. Google Books. Last Gasp; 2002 [cited 2023 Mar 24]. Available from: https://books.google.ie/books?id=6nW_XKgbSJIC&pg=PT80&dq=sixties+cosmetics&hl=en&newbks=1&newbks_redir=0&sa=X&redir_esc=y#v=onepage&q=sixties%20cosmetics&f=false