If you're thinking of becoming a tattoo artist, one of the first things you'll need to do is source your supplies. But where do tattoo artists get their supplies?
There are a few options available to you, both online and offline. Some popular places to buy tattoo supplies include Tattoo Goo, Worldwide Tattoo Supply, and Ultimate Tattoo Supply.
In this blog post, I'll share additional information on where to find tattoo supplies and tips on choosing the right supplier for your needs, so keep reading!
Key Takeaways
There are various places where tattoo artists can purchase supplies, both online and offline.
When purchasing supplies, it is essential to compare prices and reviews to find the best deal.
Always check if the supplier is reputable and has good reviews.
Online Retailers
One of the most popular places to purchase tattoo supplies is online. Online retailers like Tattoo Goo and Ultimate Tattoo Supply offer a wide selection of products and often have lower prices than brick-and-mortar stores. [1] [2]
When buying from an online retailer, it's essential to make sure they are reputable and offer good customer service. Be sure to read reviews and do your research before making a purchase.
It's also important to pay attention to shipping times and fees. Some online retailers may offer faster delivery but charge higher shipping costs.
Brick and Mortar Stores
In addition to online retailers, there are also brick-and-mortar stores that sell tattoo supplies. Worldwide Tattoo Supply and Inkstop Tattoo Supplies are two famous examples. [3] [4]
Brick-and-mortar stores usually have a more LIMITED selection than online retailers. Still, they can be a great option if you want something specific or prefer to see products in person before buying them.
Another advantage of shopping at a brick-and-mortar store is that you can often get expert ADVICE from the staff.
If you're new to tattooing, this can be invaluable as you learn about the different types of supplies available and how to use them.
Of course, not all brick-and-mortar stores are created equal. Please do your RESEARCH before visiting a store to ensure it's reputable and has the supplies you're looking for.
Tattoo Conventions
A tattoo convention is a great place to find essential tattoo supplies. At a tattoo convention, you'll find a wide VARIETY of vendors selling different supplies.
This is an excellent option if you're looking for a SPECIFIC item or want to compare prices from different vendors.
Another advantage of attending a tattoo convention is that you'll have the opportunity to MEET other tattoo artists and learn about new products and techniques.
If you're considering becoming a tattoo artist, I highly RECOMMEND attending a tattoo convention. It's a great way to learn about the industry and find the supplies you need.
Some popular tattoo conventions include the International Tattoo Convention and the New York City Tattoo Convention. [6] [7]
Pro Tip: Many tattoo conventions have a trade show floor where you can find discounts on supplies.
CHECK: Best Tattoo Machine Brands
Tips for Finding the Right Supplier
No matter where you choose to buy your tattoo supplies, there are a few things that you should keep in mind to ensure that you're getting the best products at the best price.
Here are a few tips:
Compare prices from multiple suppliers before making a purchase.
Be sure to read reviews to get an idea of the quality of products offered by different suppliers.
Ask around for recommendations from other tattoo artists. They'll be able to point you in the direction of reputable suppliers.
When in doubt, go with a company that offers a money-back guarantee. This shows they're confident in their products and willing to stand behind them.
Pro Tip: If you're starting, buying small quantities of supplies from multiple suppliers is a good idea.
READ MORE: How To Find a Good Tattoo Machine for Beginners?
FAQs
How Will I Know If A Retailer Is Reputable?
Aside from checking other customers' reviews, you can also check if the retailer has been in business for a while, which is usually a good indicator.
What Are The Cheapest Places To Buy Tattoo Supplies?
There is no definitive answer to this question, as the price of tattoo supplies can vary depending on the supplier and the product.
However, some places where you can find cheap tattoo supplies online are Amazon, eBay, and Alibaba.
Do I Need A License To Purchase Tattoo Supplies?
In most cases, you do not need a license to purchase tattoo supplies. However, there may be some regulations in your country or state that you need to be aware of.
Conclusion
Now that you know where tattoo artists get their supplies, you can start searching for the best products at the best prices. Just remember to do your research and only buy from reputable suppliers.
Additionally, compare prices and reviews to find the best deal on the supplies you need. Keep these tips in mind, and you'll be sure to find the perfect tattoo supplies for your needs.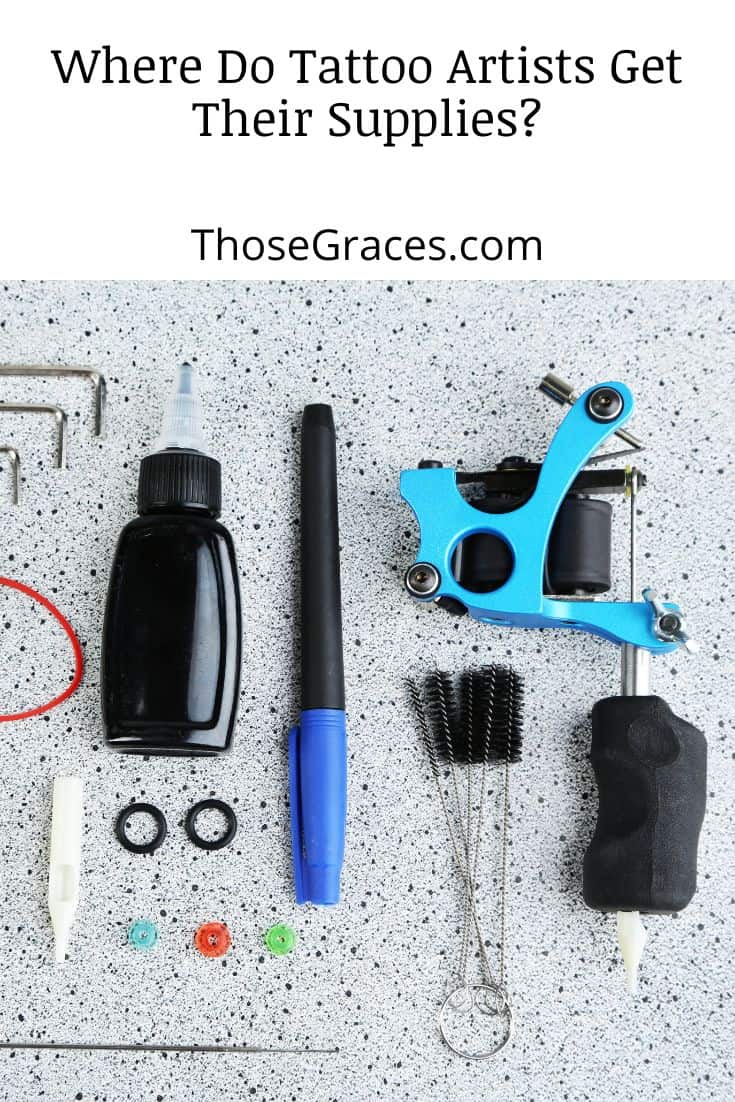 So did you find the guide helpful? Let me know in the comments section!
Resources
Tattoo and Piercing Aftercare Shop – Tattoo Goo. Tattoo Goo. Published July 14, 2020. Accessed November 18, 2022. https://tattoogoo.com/shop/
Nalanetworks. Ultimate Tattoo Supply. Ultimate Tattoo Supply. Published 2022. Accessed November 18, 2022. https://ultimatetattoosupply.com
About the Premier Tattoo Supply Company – Worldwide Tattoo Supply. Worldwidetattoo.com. Published 2021. Accessed November 18, 2022. https://www.worldwidetattoo.com/english/about
Unigloves Black Pearl Nitrile Gloves. Ink Stop Consumables. Published 2020. Accessed November 18, 2022. https://www.inkstop.co.uk/
Alex Van Dutch. World Tattoo Events • The World Best Tattoo Conventions Calendar. World Tattoo Events. Published November 17, 2022. Accessed November 18, 2022. https://www.worldtattooevents.com/
The New York Tattoo Convention. Mysite. Published 2015. Accessed November 18, 2022. https://www.thenewyorktattooconvention.com/