Want a gorgeous bronze glow but don't know about spray tan shades? Do you find yourself asking, "what color spray tan should I get?"
Now, I'm somewhat of a tanning pro obsessed with skin undertone and getting the perfect spray for great results. I have embraced the art of the classic spray tan, and it has embraced me.
And today, I spill onto you everything I've learned about spray tan colors and how to get the skin color of your dreams!
Factors that You Must Consider Before Choosing Your Tanning Shade
Getting bronzed is easy, as long as you get the best spray tan booth. Just a few minutes and out, you come out with a magical glow. But there is a bit more to the science of picking out your perfect shade.
Here are the top factors that affect the gorgeous glow in the spray tanning process
Your skin tone
Skin undertone
Seasonal changes
DHA [1]
Before I delve into these factors, check out my spray tan machine reviews to determine which one works the best for you!
How to Choose the Ideal Shade and Read a Spray Tan Chart
Skin Tone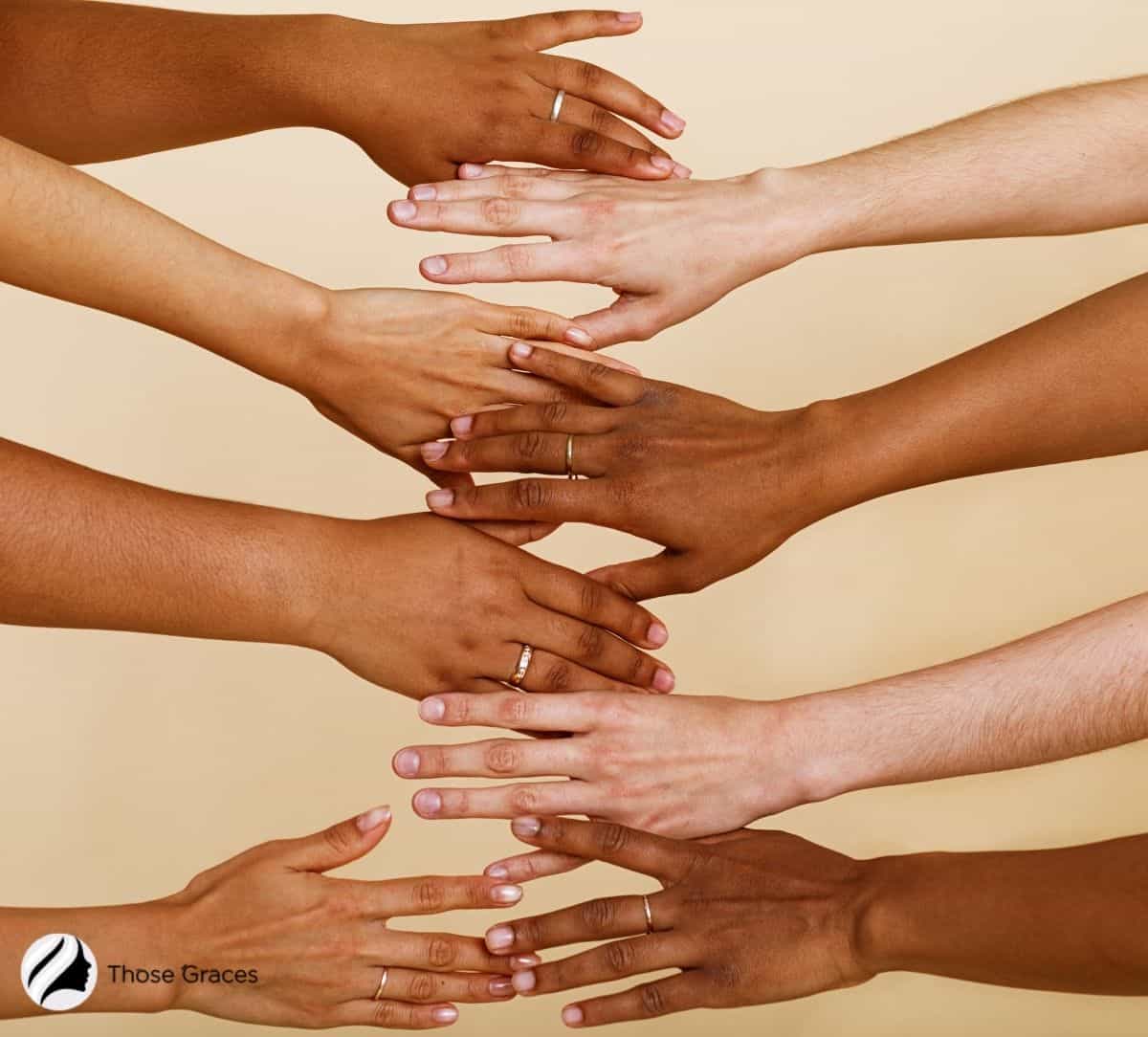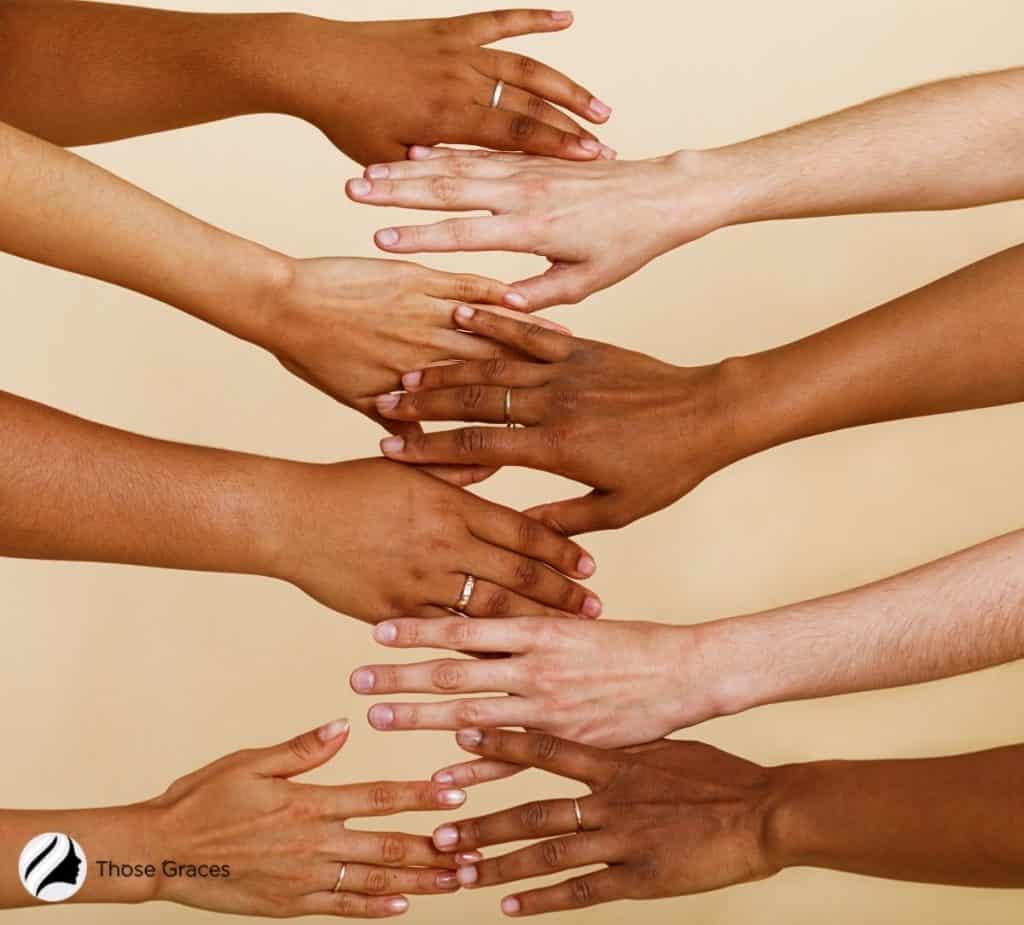 The spray tan shades you want should come real close to your natural skin tone. The skin tones are usually divided into five categories:
Very fair skin
Fair skin
Medium skin tone
Dark skin tones
Very dark tone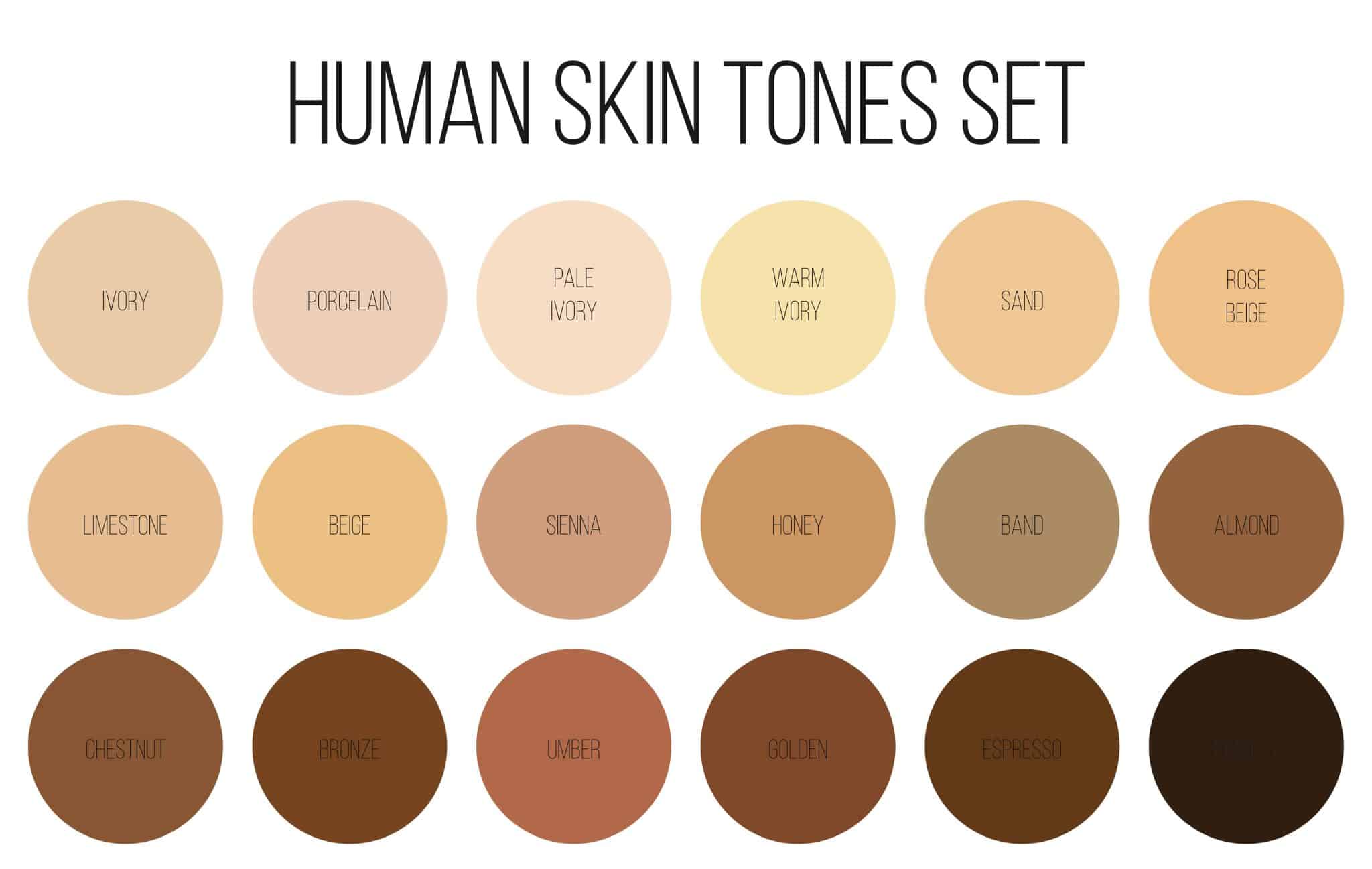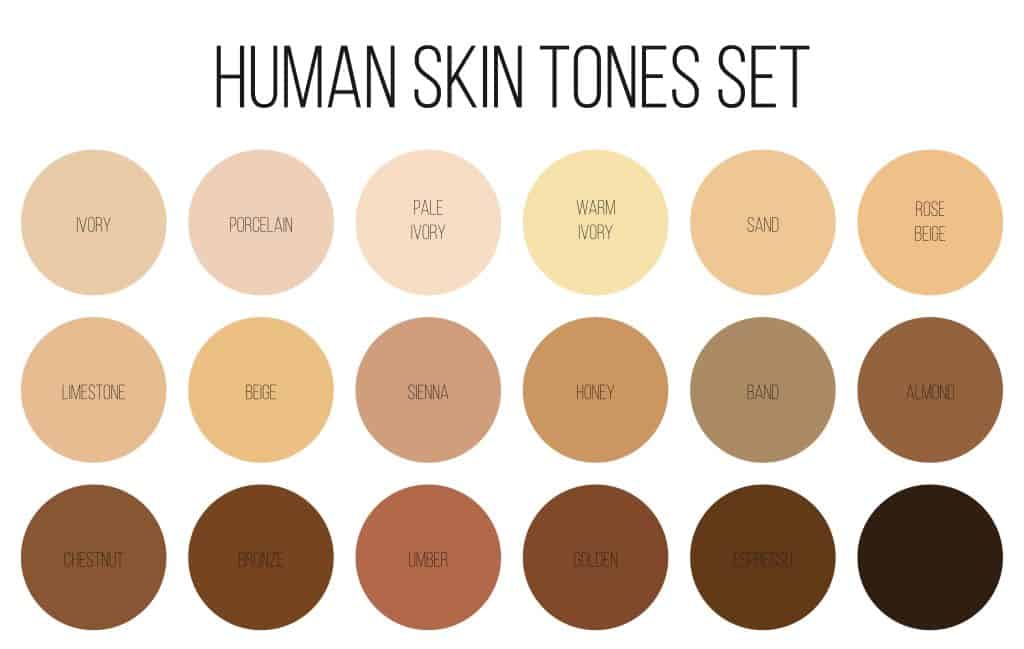 If you're not sure about your skin type, taking a look at the Fitzpatrick skin types [2] may be helpful.
Those with very fair or fair skin tones should opt for a soft, warm glow or a shade lighter to complement their natural color.
Celebrity Spray Tan Artist Chasidy McDowell [3] says, "Your goal should be to have your tan look so natural that no one would ever guess it's fake."
In the spray tan shades chart, medium skin beauties can carry off bronze, classic shades, and caramel. This skin type can embrace the sun-kissed glow easily.
Those with darker skin tones look great with a chocolate shade. You may not need regular spray tans, but they can help hide blemishes and give the appearance of smooth-looking skin.
After this lesson on skin tone, let's move on to skin undertones.
Skin Undertone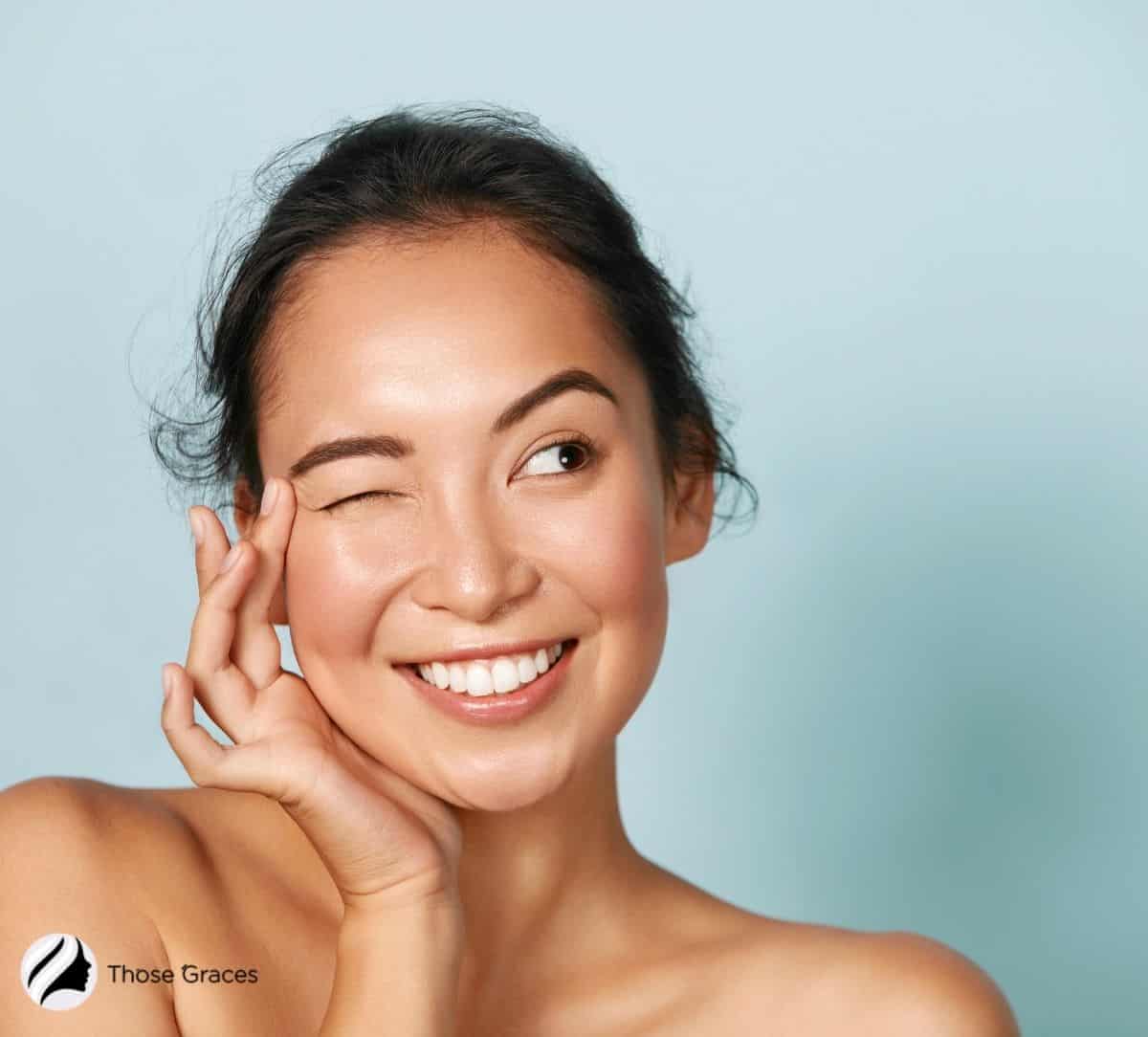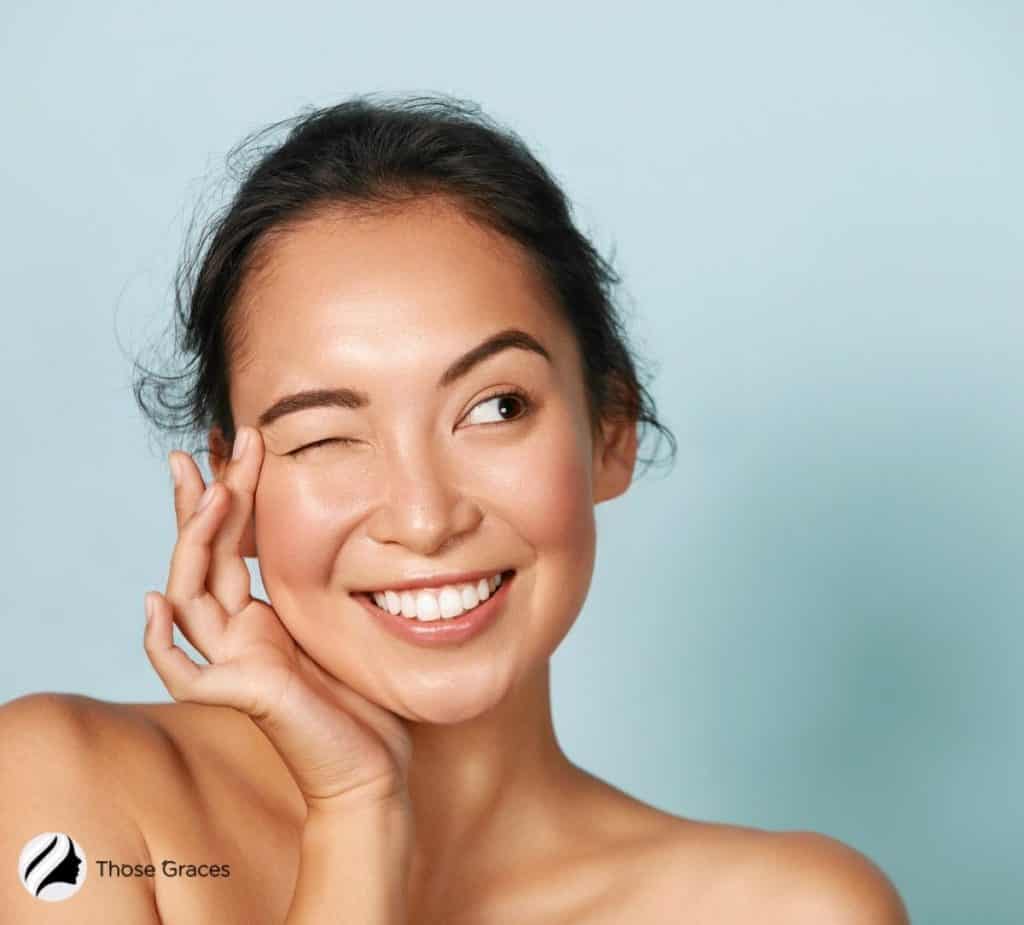 Skin undertones are usually divided into three groups:


Neutral undertone
Cool undertone
Warm undertone
If you have a yellow hue on the skin, you may have warm or golden undertones. You have blue-green veins, and your skin is prone to a suntan.
If you have pink or reddish skin, you probably have cooler undertones. Silver jewelry suits you, and you have bluish-purple veins.
If you have a grey skin appearance, you may have a neutral undertone. Your vein color shows both blue and green.
So what've undertones got to do with the tan? Cosmetic bronzer is generally added to tanning solutions to change your complexion.
Violet-based or green-based additives are colorants in an ideal spray that you would have to choose from to get the best results from your tan.
Celebrity spray tan artist Kristyn Pradas [4], who tans celebrities such as Ariana Grande and Gigi Hadid, explains that it is vital to choose an ideal spray to get great results from the indoor tanning salon appointment.
Once you determine the shade of your skin and the base pigmentation, picking the correct spray tan will be easy.
Here's a quick tutorial on how to find out what your skin undertone is.
Seasonal Factors
It's best to get season-friendly shades, so you don't look out of place.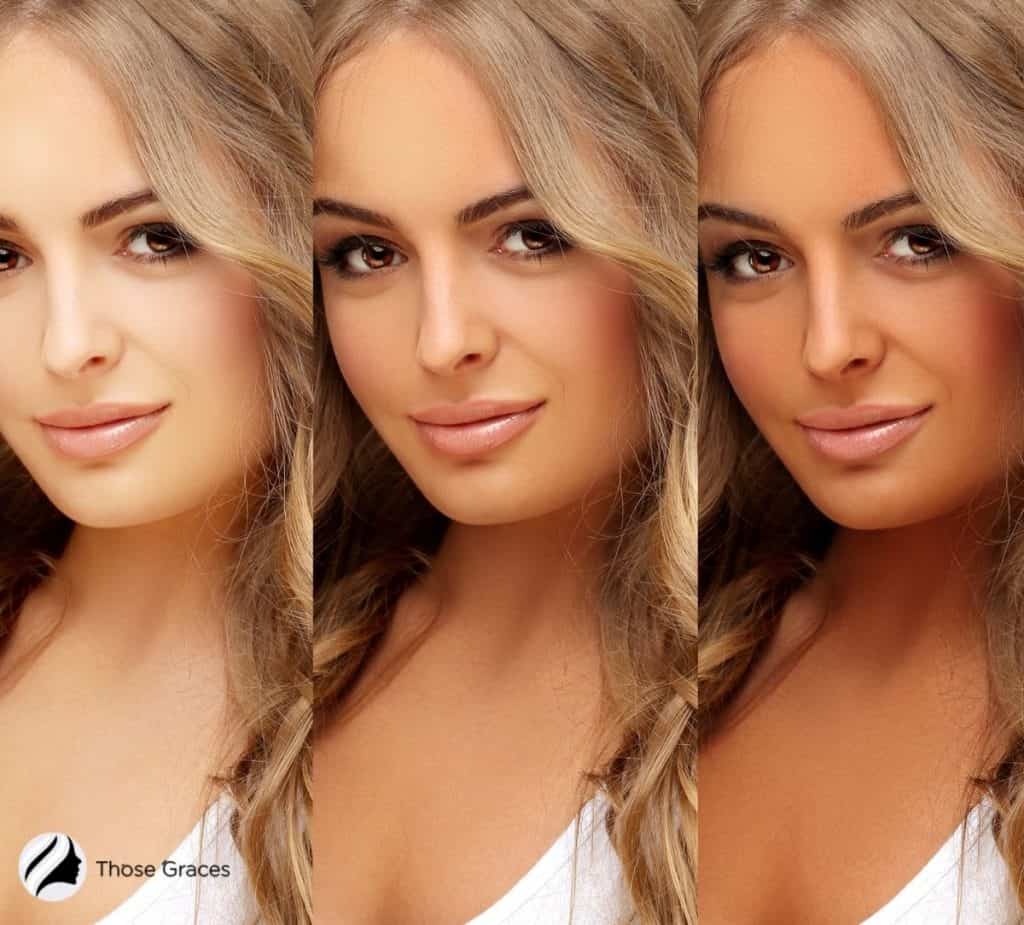 If you're getting a tan in the summer, it's okay to go darker and more golden than usual. But if you're getting it done in the winter, you may want to steer clear of the dark shades.
Your winter spray should be light shades for natural-looking skin.
Your skin may be well-suited to a hint of sunset, chocolate, or brown shades in the spring season. In the rainy season, picking out a water-resistant tanning shade may fit well with the seasonal background.
DHA
DHA is the active ingredient in all tanning solutions and why your skin pigmentation changes. Check for the level of DHA before you get your tanning game on.
The higher the amount of DHA in the bronzing solution, the darker your skin will get. If you are not sure about shades of the spray tan, ask your tan specialist.
A reasonable price spray tan can help you get a gorgeous shade! Here's a short video on the color theory of spray tanning for your viewing pleasure:
FAQs
Will a Spray Tan Turn My Skin Orange?
Sometimes your natural skin tone can turn orange after a spray tan if there is an excessive buildup of the tanning solution, DHA. Tanners with a high concentration of DHA can turn your skin orange instead of a gorgeous chocolate shade.
How Do I Get the Best Possible Results From a Spray Tan?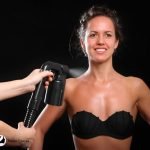 To get a beautiful golden glow, consider exfoliating the skin before showing up to your spray tanning session. Opt for airbrush spray tans and keep your skin moisturized after.
Why Is My Spray Tan Darker Than I Wanted?
The most common reason for getting darker color after spray tanning is using too much tanning solution on your entire body. The common rule is two ounces for the entire body.
What Can I Do if My Spray Tan is Too Dark?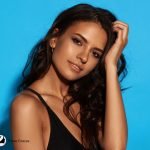 If you believe you have gotten a darker shade than the one you asked for, it may be best to take a shower as quickly as possible to tone it down. You can also use tan erasers that tone down the darker shade.
Conclusion
Some of you may be tempted to jump the classic shade guide and get the darkest spray tan shades available. Trust me; I've been there! Not only can this turn your skin orange, but it also looks unnatural.
Really, the best thing that you can do to get a beautiful glow is to get reasonably tanned. The aim is to get a perfect, golden glow, not look like you just stepped out of the oven.
The basic idea is to learn about your skin and what looks best for you and to tweak it along as you dive into the world of a beautiful bronzed base.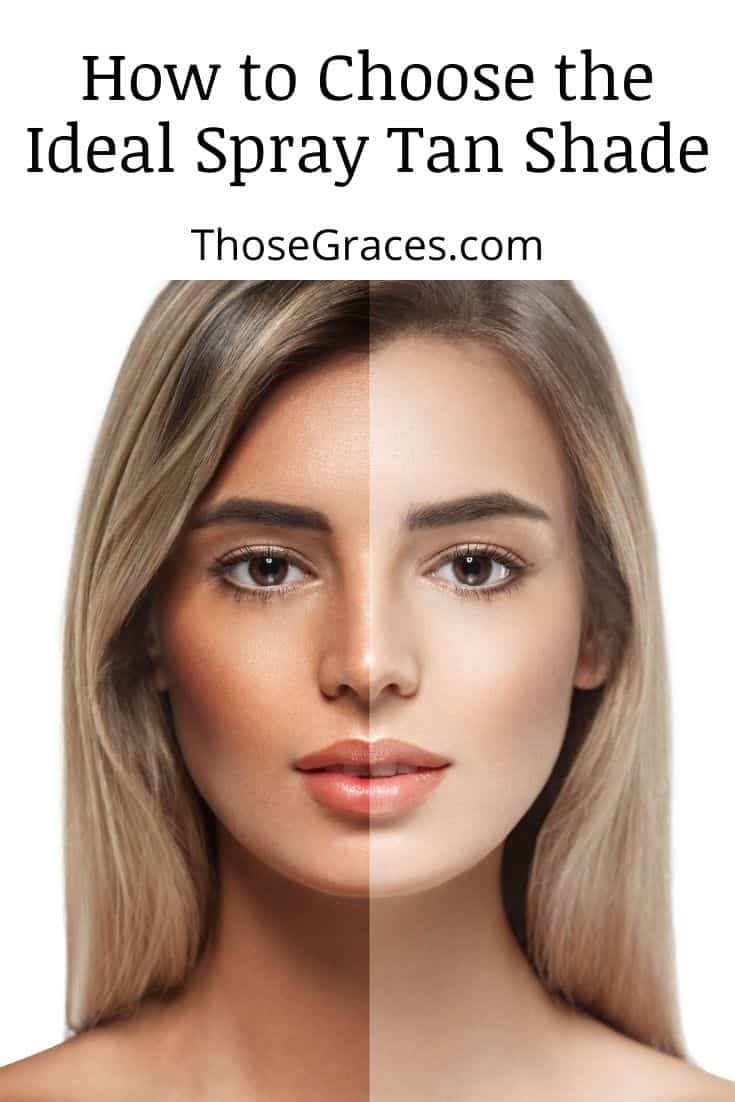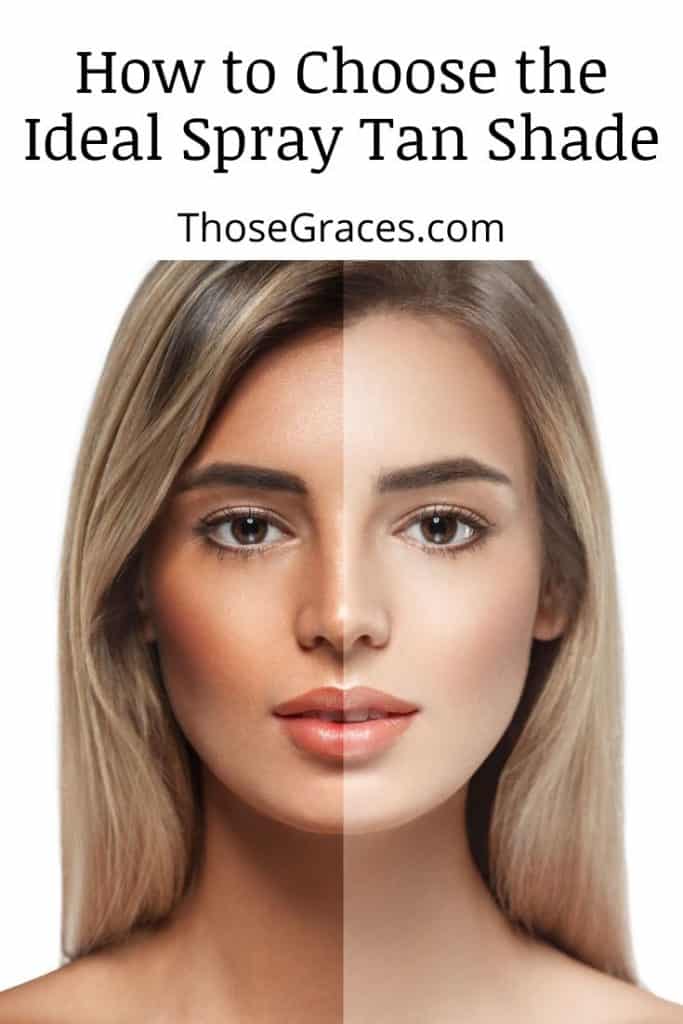 Have you figured out which spray tan shade works best for you? Let us know down in the comment section!
Resources
1. Echeverría F, Valenzuela R, Catalina Hernandez-Rodas M, Valenzuela A. Docosahexaenoic acid (DHA), a fundamental fatty acid for the brain: New dietary sources. Prostaglandins, Leukotrienes and Essential Fatty Acids. 2017;124:1–10.
2. Hecht M. What Are the Fitzpatrick Skin Types? [Internet]. Healthline. 2019 [cited 2022 May 18]. Available from: https://www.healthline.com/health/beauty-skin-care/fitzpatrick-skin-types#get-screened
3. zimmerman. the tan bible.-celebrity spray tanners-Celebrity Spray Tan Artist Chasidy McDowell Talks About How To Make It In The Sunless Industry [Internet]. the tan bible. [cited 2022 May 18]. Available from: https://thetanbible.com/meettheglowgetters/glow-getter-celebrity-spray-tan-artist-chasidy-mcdowell
4. Sloane C. The Secret Behind Ariana Grande, Bella and Gigi Hadid's Glowy Tans [Internet]. Us Weekly. 2019 [cited 2022 May 18]. Available from: https://www.usmagazine.com/stylish/pictures/celebrity-spray-tan-artist-kristyn-pradas-self-tanning-tips/