Aaaahh… Spray tan! A true miracle to us fair-skinned beauties. A cheap and sunless way to achieve glowing skin that shines brighter than my future!
Sure, getting a tan in a natural way during a 10-day vacation sounds oh-so-awesome. Sadly, that isn't the reality as I hunch over my work desk pretending to be in the Bahamas!
But, we can indeed replicate the feeling of stepping out of the sun with our legs sexy and bronzed. Here's everything you need to know about sunless tanning and how to get the best results.
What is Spray Tanning?
Spray tanning is a process by which a thin fine mist that contains Dihydroxyacetone (DHA) is sprayed directly onto your skin [1].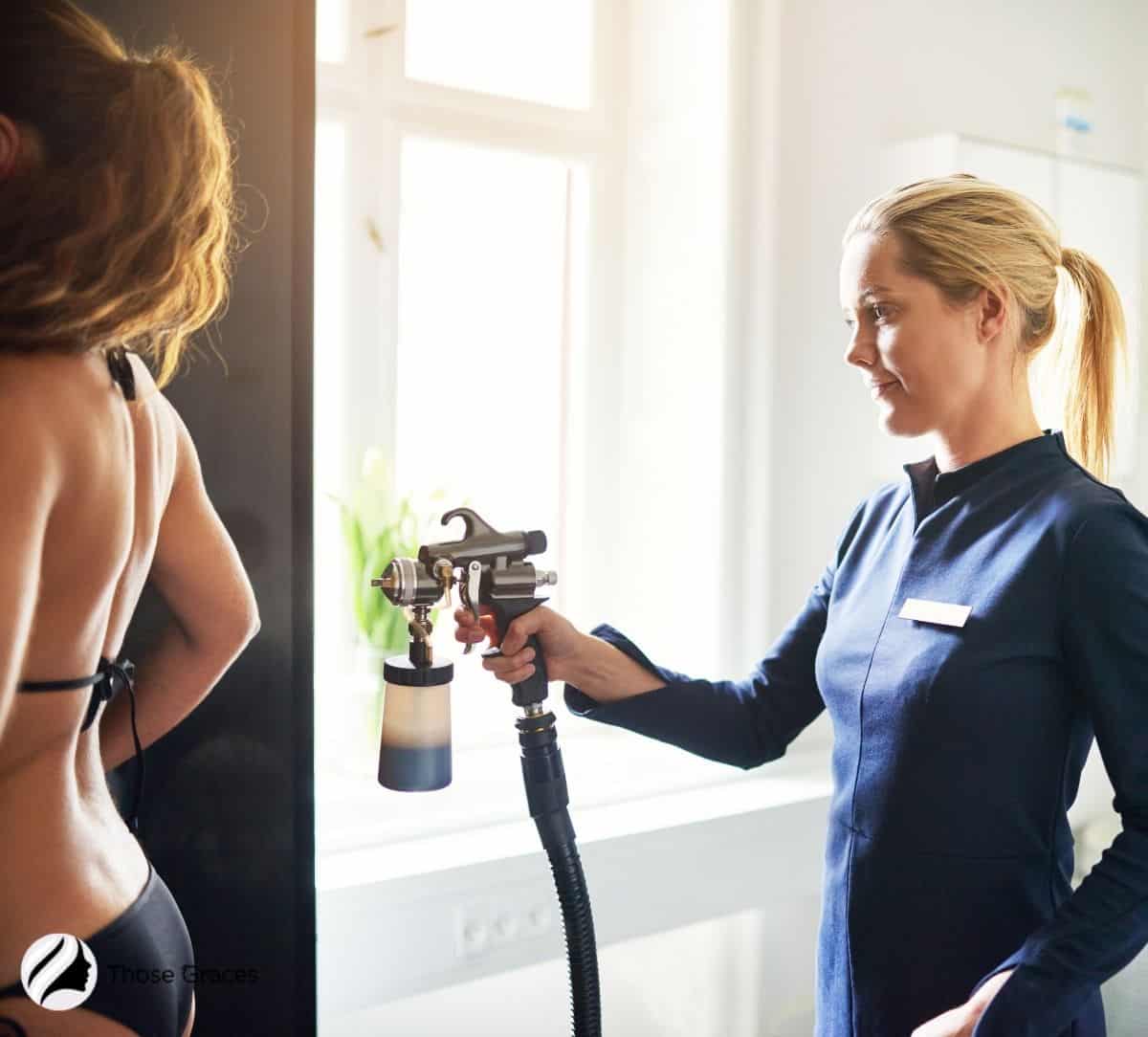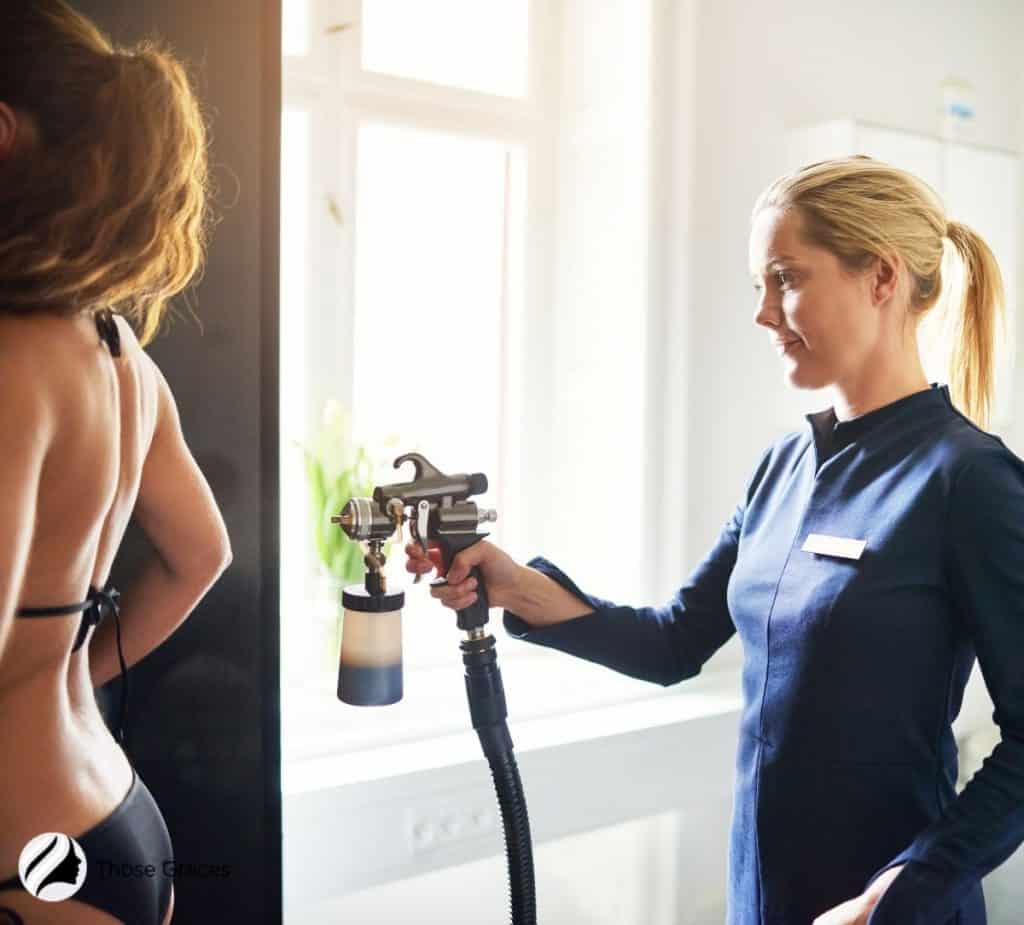 The chemical interacts with your skin chemistry to change its color into golden or bronze.
The DHA reacts with amino acids in your skin to give you that sun-kissed glow.
There are different kinds of spray tanning [2], including:
Airbrush spray tanning
Booth Spray Tanning
Tanning Guns
Spray tans are usually applied at a beauty salon or spa, but home spray tanning kits are now available for use at home.
So how does it work?
How Does Spray Tan Work?
How are the above spray tans administered?
Tan booths are equipped with several nozzles that spray the body with the tanning mist.
It can also be sprayed on with an airbrush or applied to the skin from a bottle. Yeap, you can get it done yourself at home. Get your hands on one of the best spray tan machine for beginners to get your color on.
Here's a detailed video explaining how spray tanning works.
Do Spray Tans Work?
It definitely does! The self-tanning industry is a huge one, and for a good reason. Most celebrities have a tan artist in their entourage, so they have a gorgeous color every time they need to step out into the public eye.
While it is impossible to keep up with their lifestyle, it is possible to replicate some of their tanned confidence with a quick visit to one of the salons.
And you need not sport an incredibly bronzed color after your session is over. You can choose from several spray tan shades that range from a mild tan to an exotic bronzed goddess.
Explore the rich history of tanning and its evolution over the centuries in our in-depth article 'History of Tanning'!
How Long Does a Spray Tan Last?
A typical tan usually lasts seven to ten days on the skin [3]. However, if you go for a very light tan, your skin may lose color faster than the seven days are over.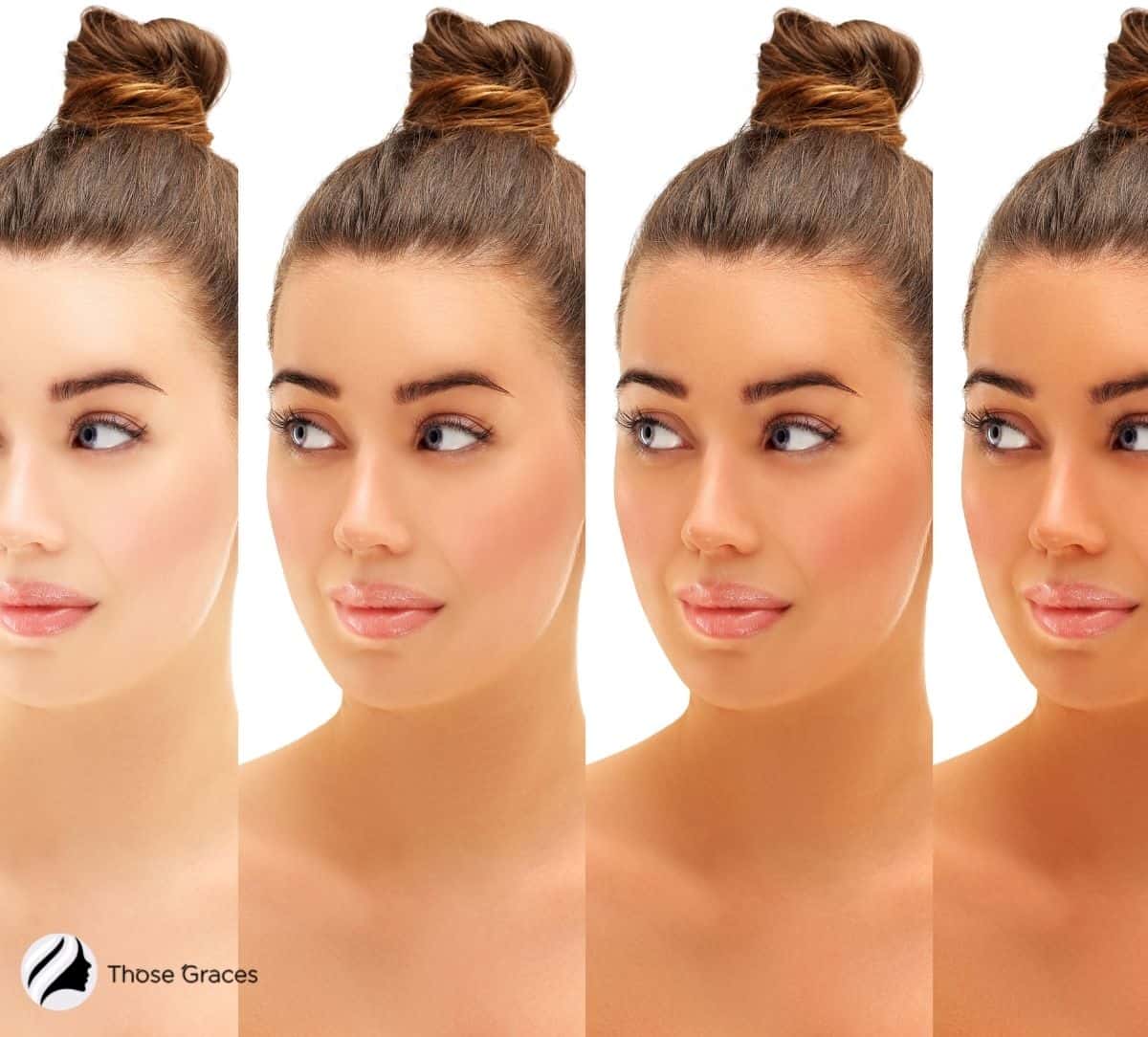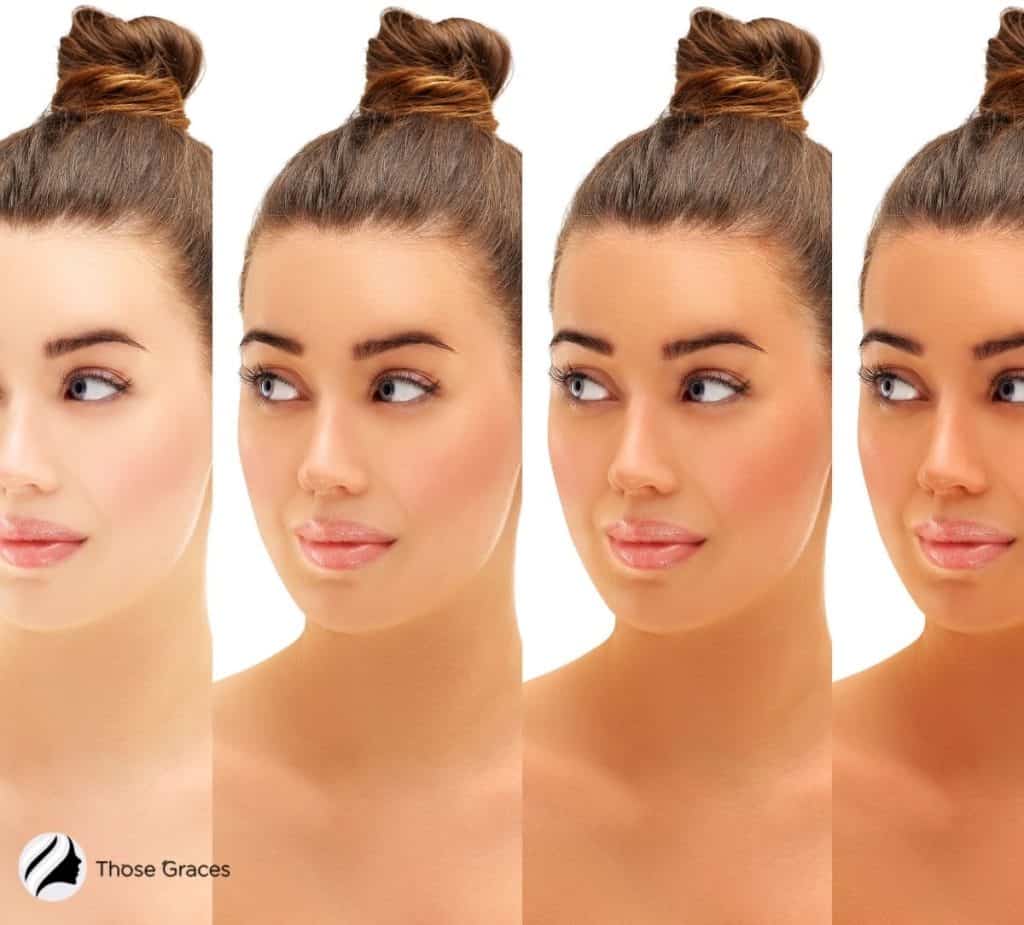 The longevity also depends on how you take care of your tan afterward and your skin type.
Tans usually last longer on hydrated and moisturized skin, so tans may fade quickly if you have particularly dry skin. Also, taking long hot water showers and steams can loosen the hold of the tan on your skin.
Is Spray Tanning Safe: Pros and Cons!
There is much debate concerning the safety of getting a spray tan. As with any other beauty procedure, there are pros and cons of spray tanning [4] that one must weigh before booking an appointment at the spray tan studio.
A decade ago, there was a conundrum over the FDA approval of the most active ingredient in all spray mists: DHA.
The FDA, in turn, has advised that while it is relatively safe, it may be best to limit the continuous inhalation of the chemical. [2]
It is pretty safe to get a self-tanning done on your skin. But if you wish to amp up the safety factor, you can rely only on self-tanning lotions instead of getting it done at a tanning booth since you inhale much less product this way.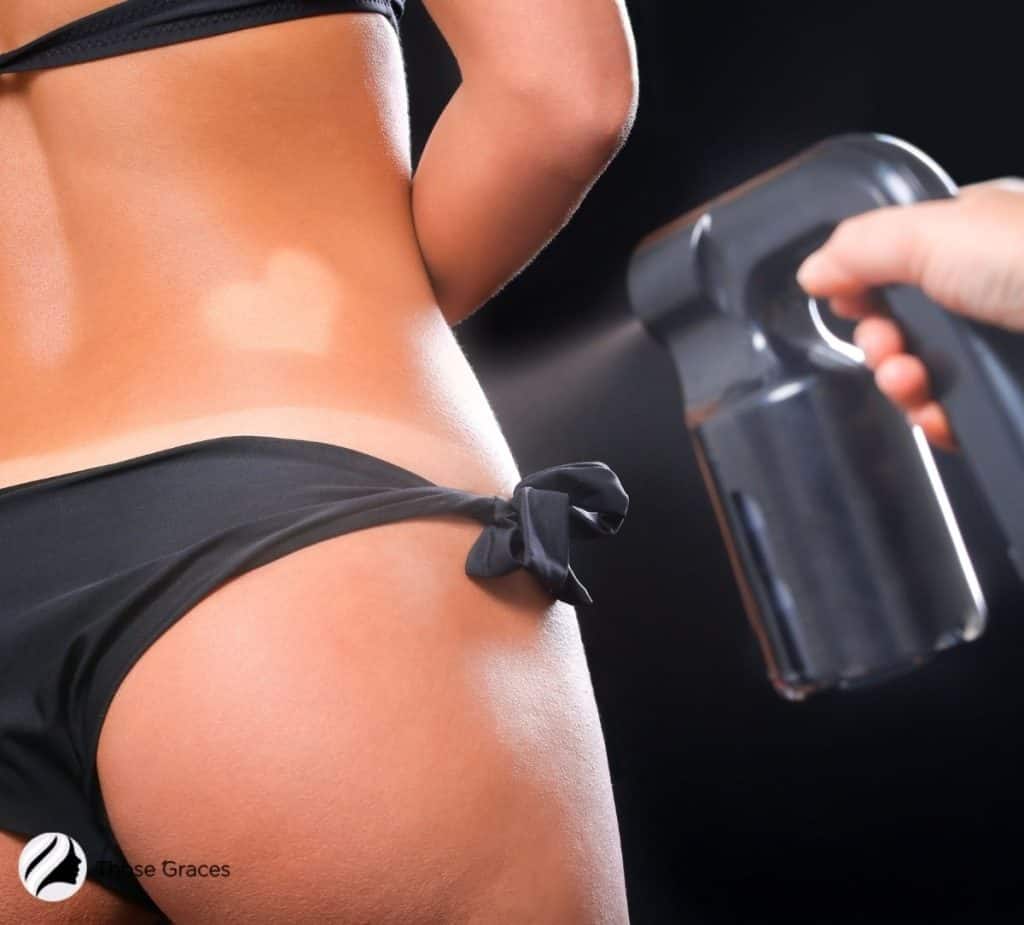 There are several benefits of spray tanning, but there are a few downsides. Take a look at our table and decide for yourself!
Benefits of Spray Tanning
– You can get healthy-looking, beautiful skin instantly without spending hours in the sun.
– By limiting your time outside in the sun, you decrease the risk and horrors of skin cancer.
– You can pick your color preference and how dark you wish to go after the appointment.
– You can opt for a DIY tanning lotion that can help you achieve a bronze color in the comfort of your own home.
Drawbacks of Spray Tanning
– In the first few hours after getting the tan, you are highly susceptible to rubbing off the tan on your clothes or your bed sheet.
– If your therapist does a sloppy job, you may get a patchy and streaky-looking tan, or worse, you may get an unflattering tan.
– It only lasts 7 to 10 days, so you will have to book an appointment once every week.
– Continuous inhalation of DHA may be harmful to the bloodstream, so it is recommended that tanners use a nose clip to inhale as little as possible of the chemical.
Where to Get a Spray Tan?
There are several tanning salons where you can book your future appointments. Thankfully, lots of them have flexible appointment hours, meaning you won't have to choose between going tan or working!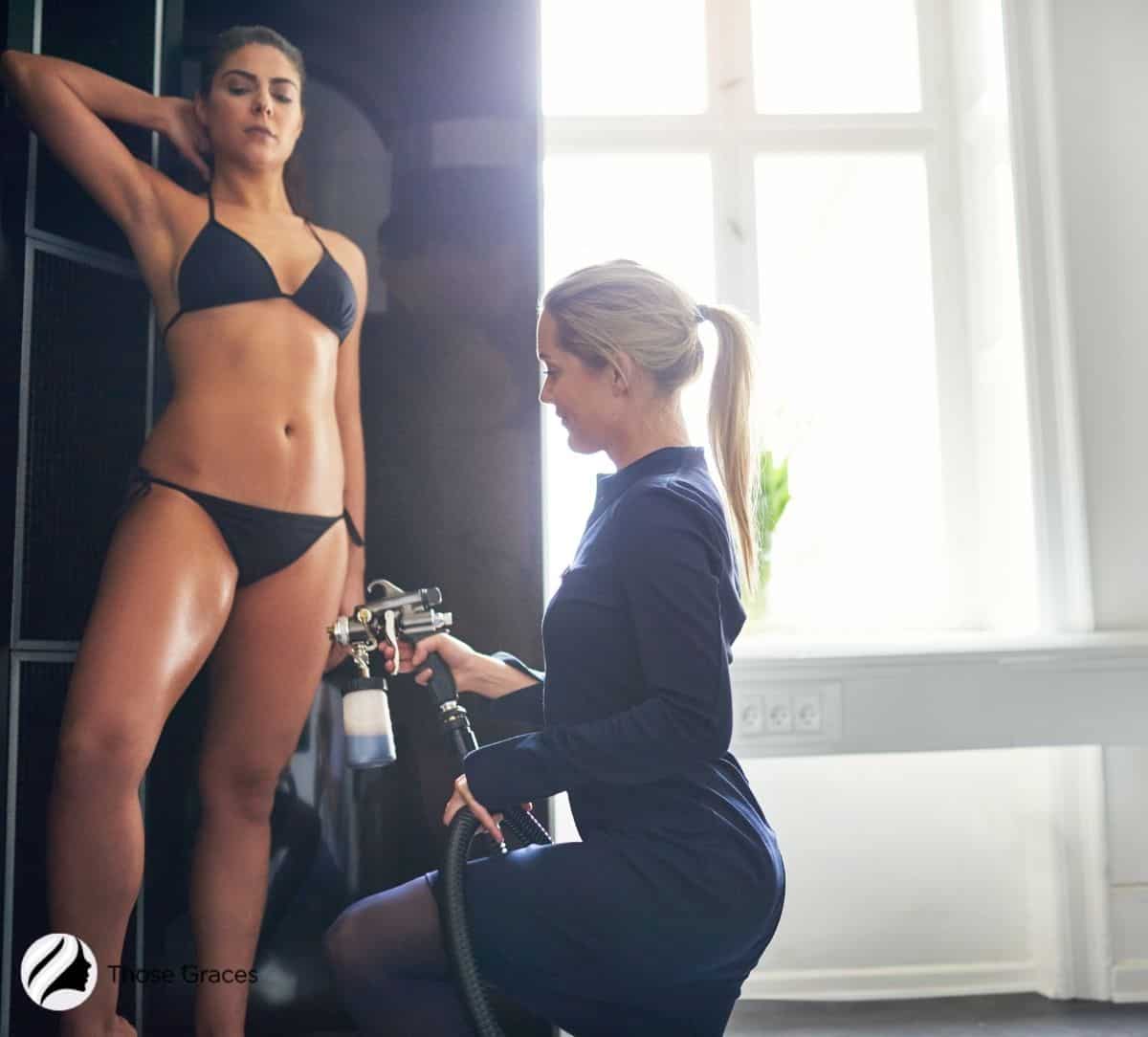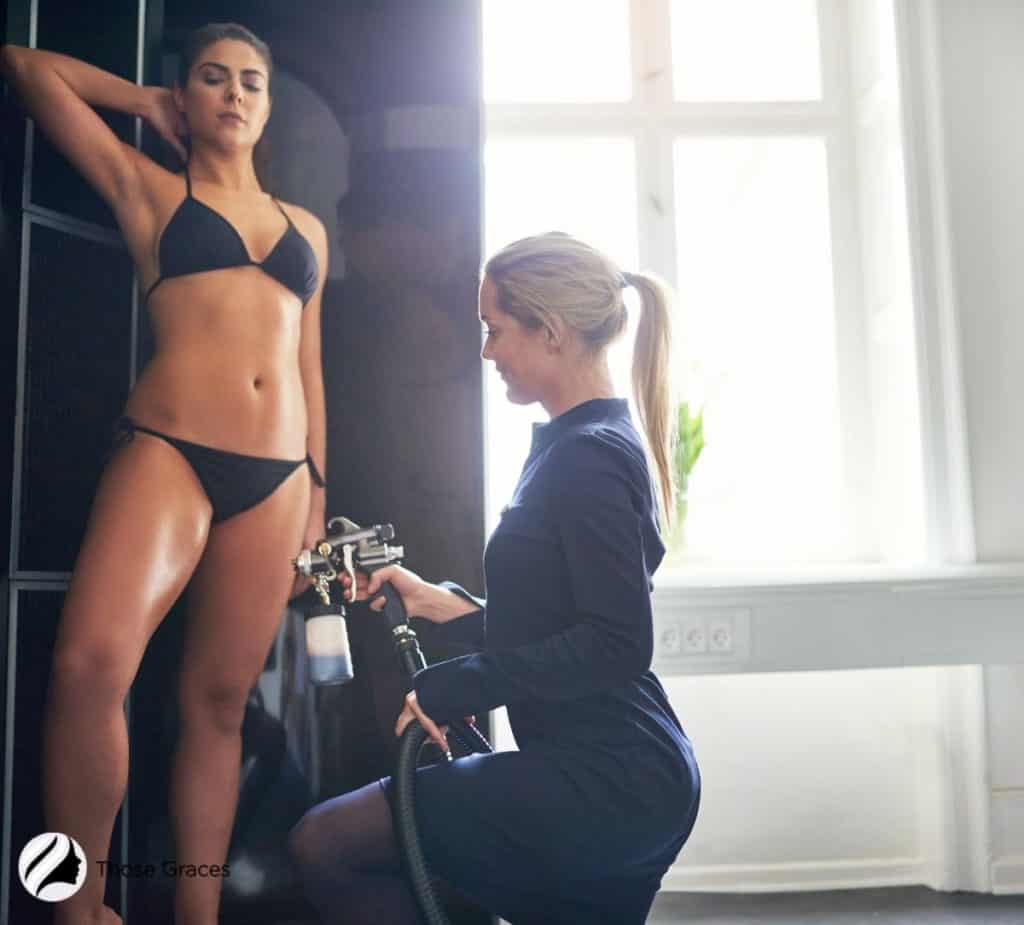 Find a salon close to your home or work, so you don't have to go to the other side of town to get your color on.
How Much Do Spray Tans Cost (Spray Tan Price)
So, how much is a spray tan? Well, Spray tan prices are pretty reasonable. Depending on where you live, a cost per session will range from $25 to $50 at a reputable salon.
However, some under-the-nose salons have been known to give clients a session for as less as $5.
Now, I am no one to judge, and if that's your jam, go for it. But this is your skin we're talking about, and we don't want to end up with a streaky tan, do we?
It may be best to pay the full price of spray tan and trust your body with the experts.
What to Do Before a Spray Tan
Here are some things that you can do before getting a spray tan to better ensure that the color comes off beautifully on your skin and lasts for at least a week before fading off!
1. Exfoliate, exfoliate, exfoliate
There is no better way to get a beautiful tan than by exfoliating the dead skin cells off your body a day before the session.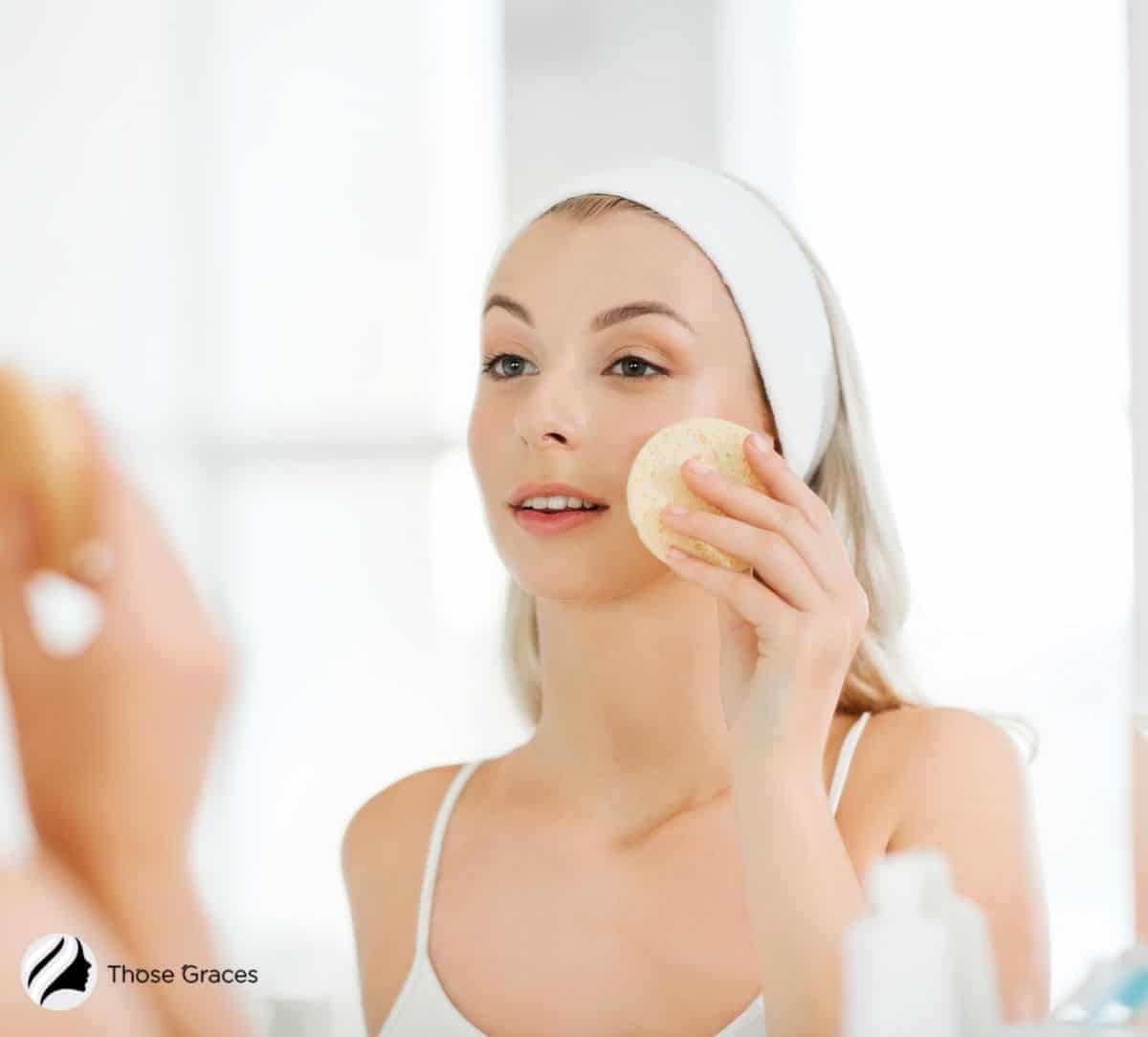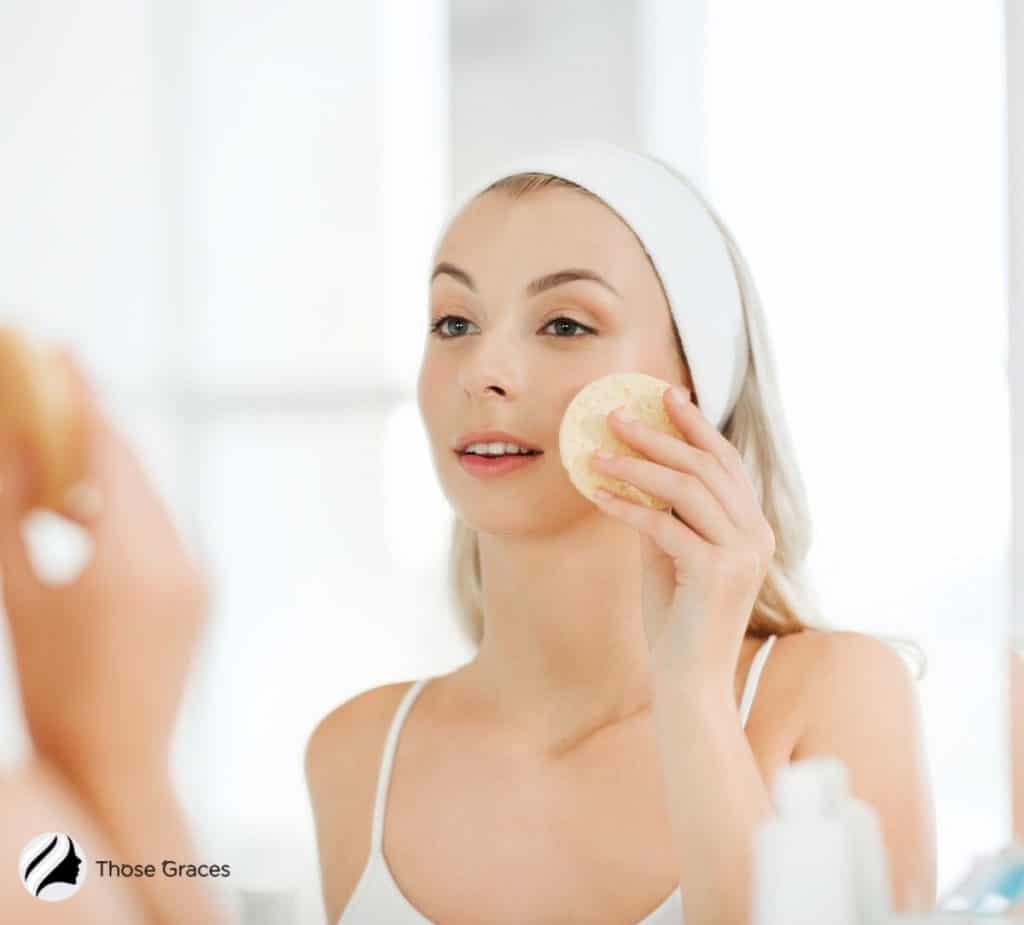 Our skin sheds off daily and accumulates unless scrubbed out with a suitable polishing exfoliator. Get all the nooks and crooks to ensure an even tan.
Brittney Bennett, the owner of Be Bronze Studios, says, "Exfoliation is key to getting the best results off of your self-tanner. It helps remove dead skin cells, revealing the fresh skin underneath. This fresh skin is primed and ready to absorb the spray tan solution evenly and deeply."
2. Shave or wax
Get your razor or wax out and start getting rid of your body hair. Some therapists recommend you shave a day before the session to close the pores. But if you're going for a mild tan, you can shave or wax right before your appointment.
3. Show up to your appointment with clean skin
Do not apply lotions, creams, or makeup on the day you're getting the procedure done. Such products may contain oils that make it difficult for the chemicals in the spray tanner to adhere to your skin.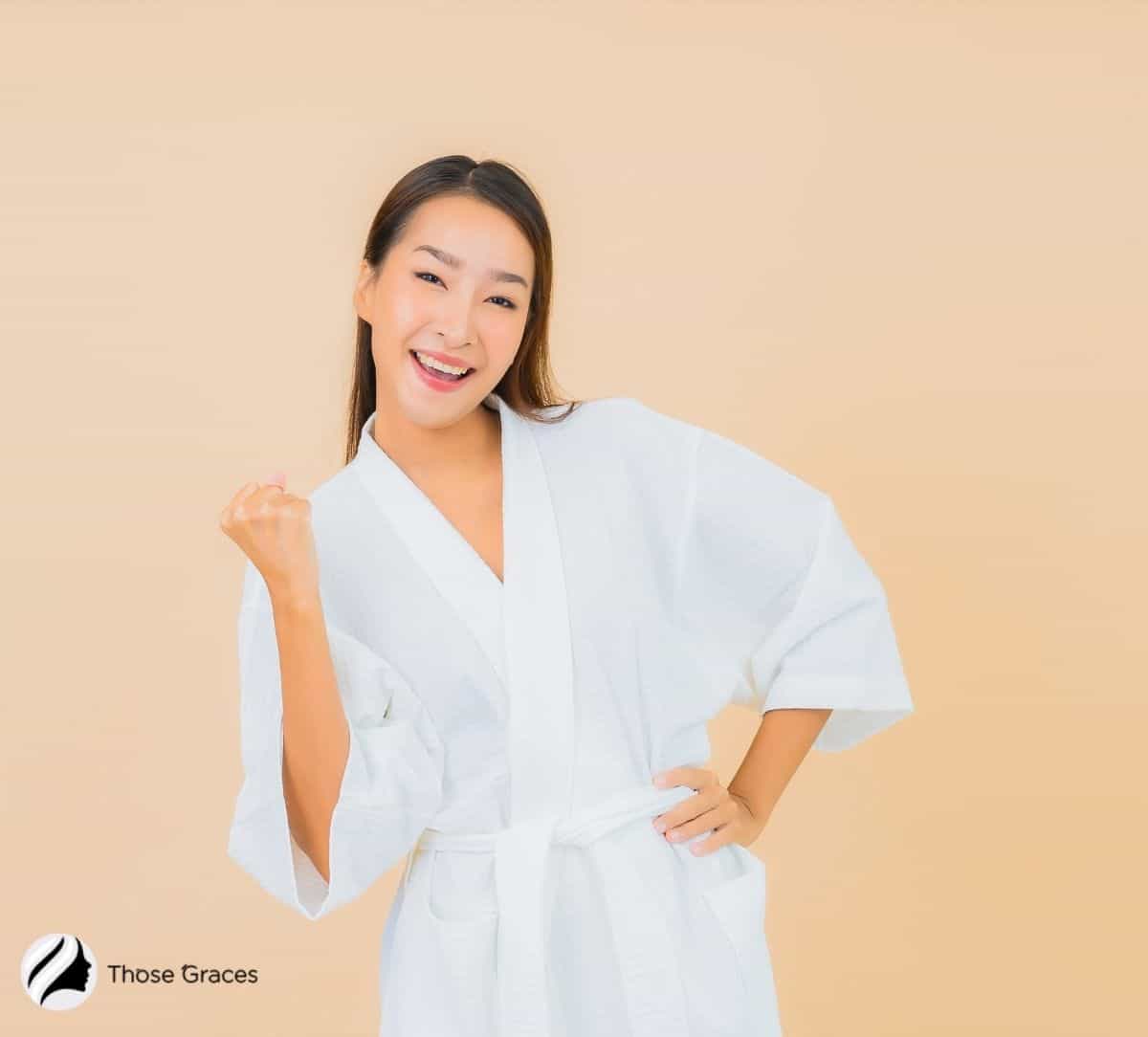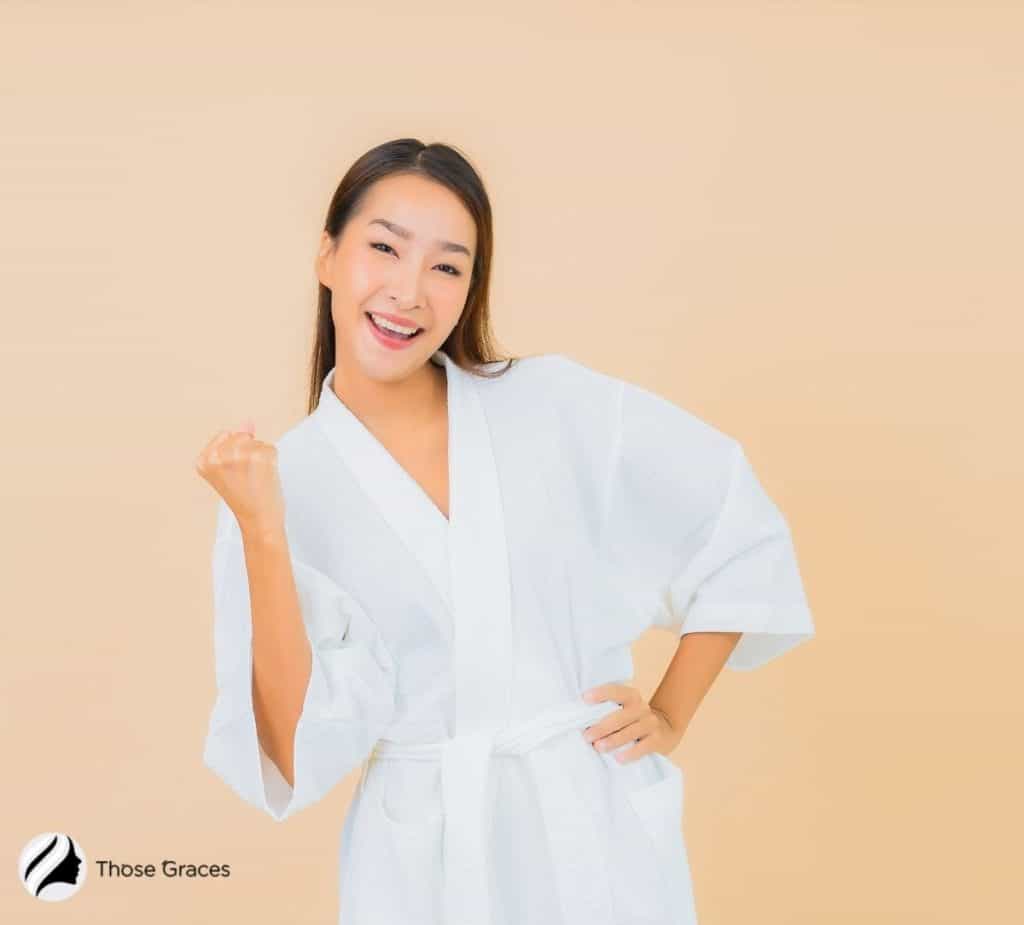 However, if you're using a self-tanner at home, it may be best to do so right after your shower. Jules Von Hep, a celebrity spray tan artist, says to shower and dry the skin just before applying tanner "because hydrated skin will take the tan better and look more uniform."
4. Put on some protection
It is best to apply a little moisturizer on areas that can get darker than the rest of your body. I find that Vaseline works best for my skin but feel free to experiment.
I apply Vaseline to my ankles, elbows, knees, and palms. I also make sure to slather on some lip balm before the procedure begins and wear a shower cap.
5. Tell your therapist how deep you want your color to go
Tans are customizable, and not one size fits all. Before getting the session started, you can talk to your therapist to let them know what you're looking for.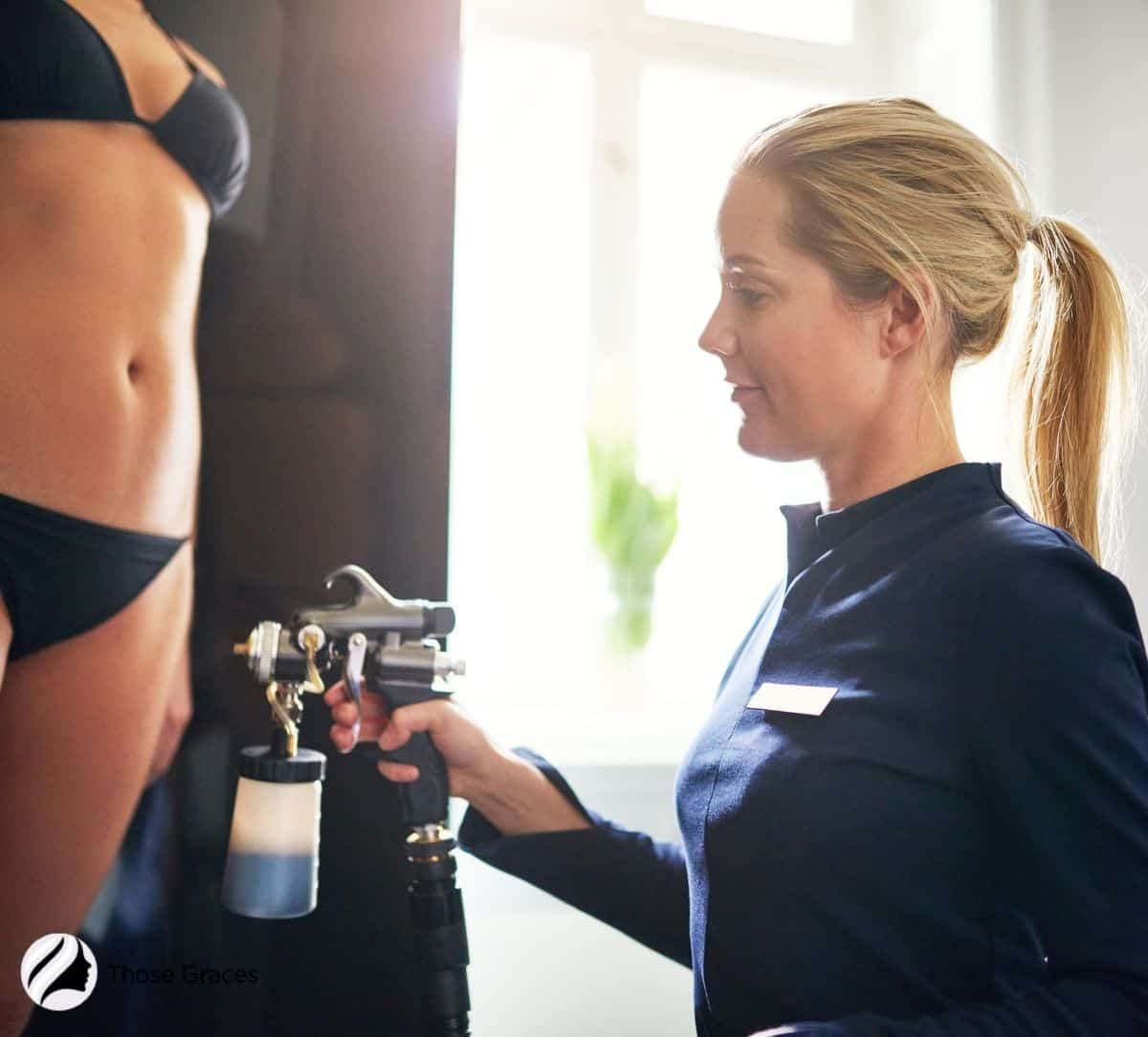 An event or a wedding may require a light to medium tan, while going away on holiday may need a darker shade. By letting them know your expectations, you can better control the outcome.
6. Stay away from water for at least four hours
It takes at least four to eight hours for the chemicals in your self-tanners to intermingle with your body chemistry.
Make sure to keep your skin dry until that time. Ensure your tan sticks, do not work out or do anything strenuous.
Sweat can be brutal during the first four hours of the tan. Showing up to your appointment with loose-fitting clothes ensures that your tan doesn't rub off.
After the eight hours are over, make sure to take a shower no later than 24 hours from the session. Using a natural body wash is best. Do not scrub or take a hot shower.
RECOMMENDED: All You Need to Know About Spray Tanning Tents
7. Get ready for some hit-or-miss
DHA works differently on different skin types, and just because your friend came out looking like a tanned goddess doesn't mean you will too.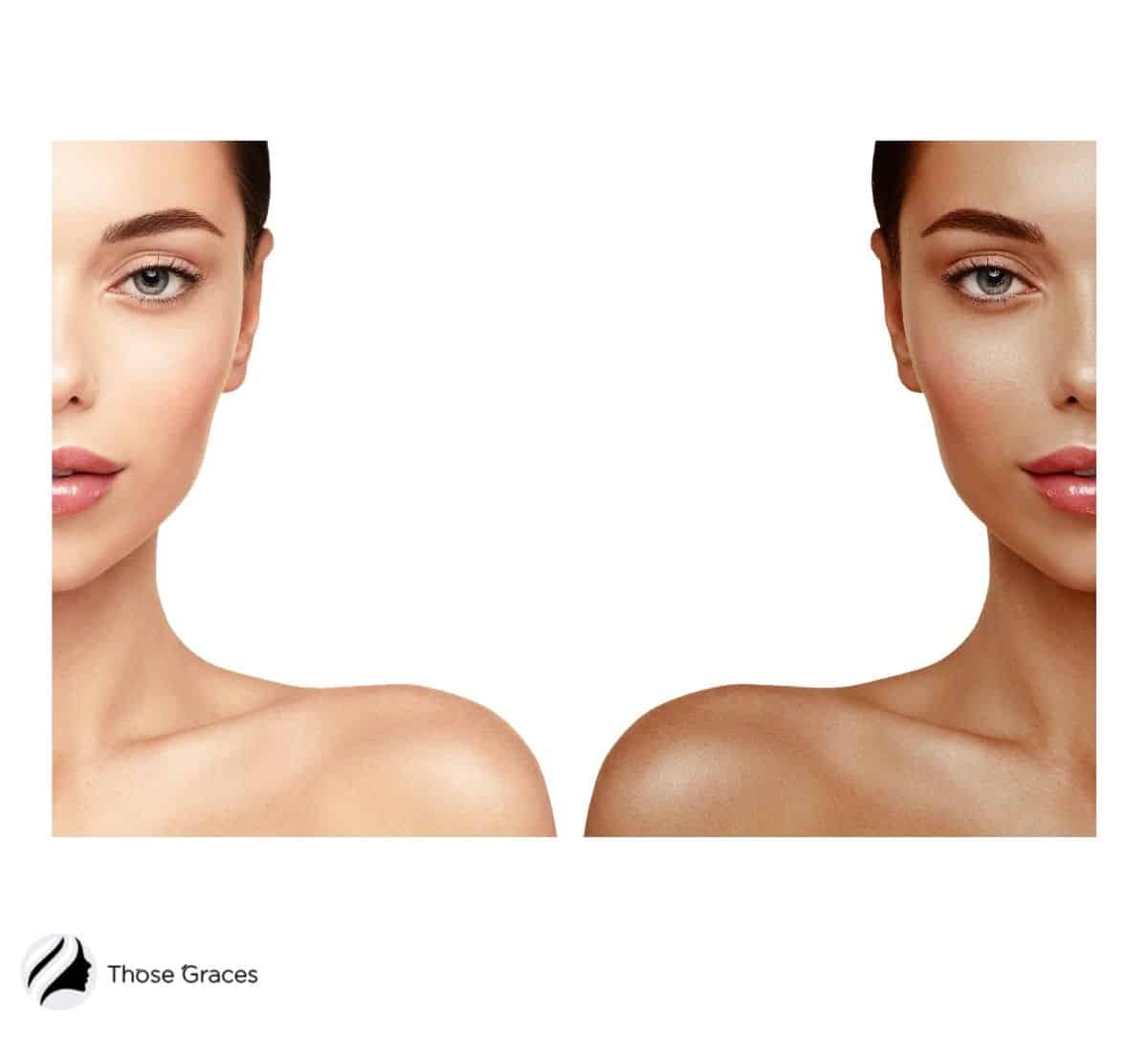 It may be best to try out a few salons and therapists before settling on the one you like. Do not try to go too dark on the very first try since that might not look realistic.
Also, if you're looking to get tanned for a big event like prom or your wedding, try the tan out in advance, so you don't ruin your big day with bad, streaky color.
FAQs
How long to wait to shower after a spray tan?
It is best to wait at least 4 to 8 hours after successfully undergoing the spray tanning process.
Should you spray tan your face?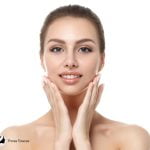 Although spray tanning the face isn't recommended, people with fair skin can benefit from a self-tanner that can help add color to their skin. However, it is best to use a tanner specifically formulated for the face.
Do I need to do anything special after my tan?
Steer clear the water for the first four to eight hours to make sure the color sticks to your skin. Drink lots of water and apply lotion to the entire body to keep the skin moisturized.
How long does a spray tan last?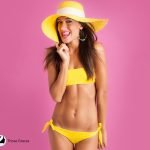 Since your body constantly creates new skin cells every day, a tan will usually last 7 to 10 days on the skin.
Conclusion
Pale skin that looks deprived of the sun can make you look and feel sick and unhealthy. While getting some sun is the best way to get a gorgeous tan, a spray tan is the next best thing for your skin to do a full 360.
Not only are they easy and safe to use, but they also provide instant results, which means you look like you just took a long sunbath. Now, who doesn't want that?
You can get it done at the salon or in the comfort of your own home. No matter where you choose to do it, the results will turn out pretty damn good.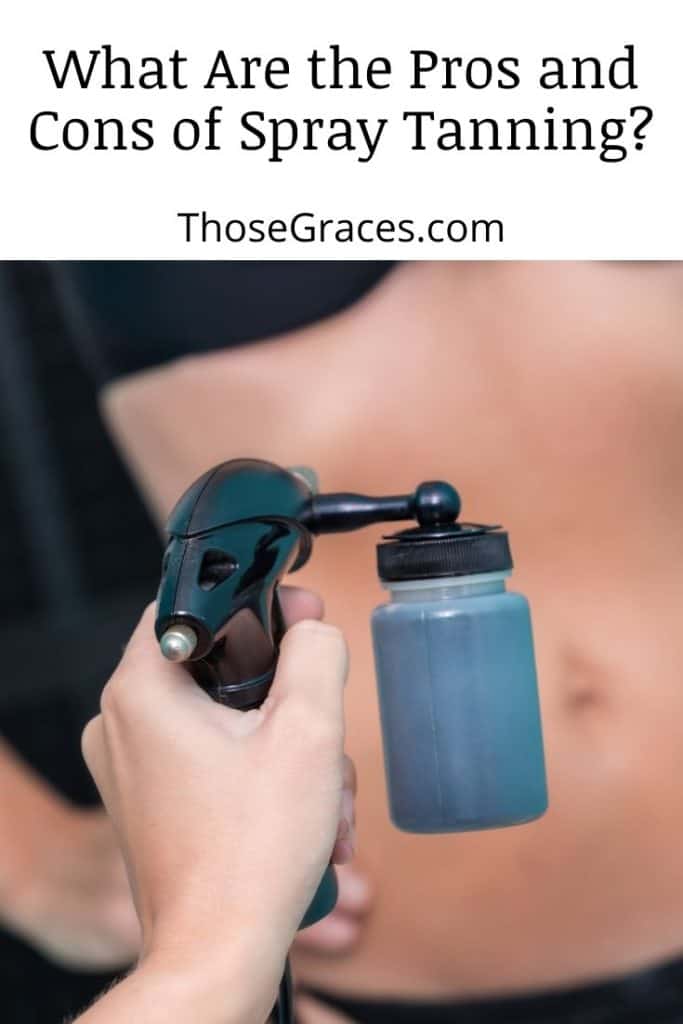 Are you planning to get a spray tan now that you know how it works? Please let us know down in the comment section!
Resources
1. Vaughn A. Spray Tan Science | Dermveda [Internet]. www.dermveda.com. [cited 2022 May 12]. Available from: https://www.dermveda.com/articles/the-science-of-spray-tans
2. Garone M, Howard J, Fabrikant J. A review of common tanning methods. The Journal of clinical and aesthetic dermatology [Internet]. Matrix Medical Communications; 2015;8:43–7. Available from: https://www.ncbi.nlm.nih.gov/pmc/articles/PMC4345932/
3. Gallagher G. How Long Does a Tan Last? The Scoop on Suntans, Spray Tans, More [Internet]. Healthline. 2019 [cited 2022 May 12]. Available from: https://www.healthline.com/health/how-long-does-a-tan-last#:~:text=Generally%20speaking%2C%20a%20tan%20that
4. Amanda. Are Spray Tans Safe? | SiOWfa13: Science in Our World [Internet]. sites.psu.edu. 2010 [cited 2022 May 12]. Available from: https://sites.psu.edu/siowfa13/2013/10/06/are-spray-tans-safe/