Want to know how to make press-on nails stronger, last longer, and look more like real nails?
I've got you covered!
Below, we'll look at everything you need to know for amazingly gorgeous fake nails!
Let's get started!
How to Make Press-On Nails Better
Just a while back, when press nails came to the market, you would put them on, and everyone would notice that you were wearing fake nails.
Today, the game has changed; major companies now produce beautiful, high-quality, and more sophisticated nails that look like real manicures.
The nail artists have also quickly learned the trade of applying and raising your whole mood.
Before we can talk about how to make press on nails last longer and look better, we should go over a few basics.
READ MORE: Acrylic vs Fiberglass Nails: What's the Difference?
What Are Press-on Nails?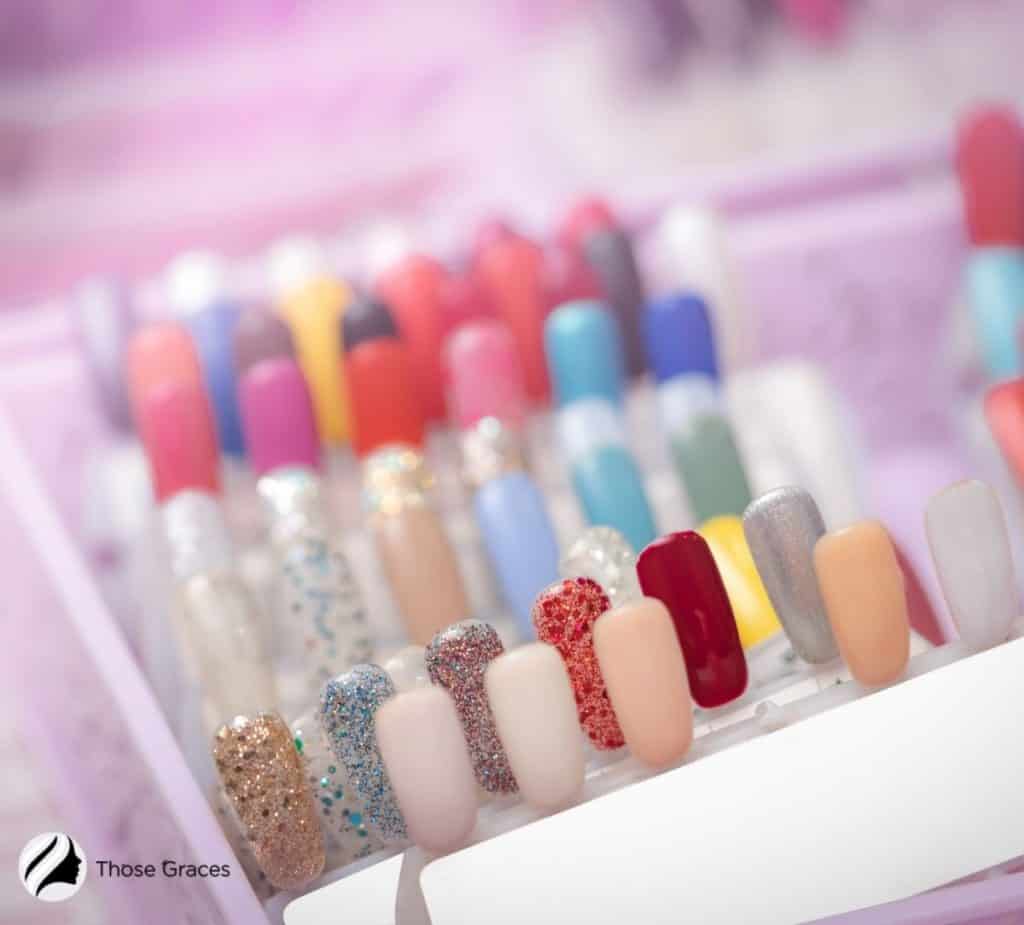 Also known as glue on nails, press-on nails are artificial nails that are made of acrylic resin.
While there is a myriad of acrylic nails available, the gradient of each glue-on nail can differ between brands or from model to model.
Do you remember those days of tacky plastic nails that you won't even look at them for the second time?
Now the best press on nails is the next big thing and an excellent alternative when you don't feel like spending a fortune on nail salon appointments. Or you don't have time to pop to these salons.
Can Glue-On Nails Damage Your Real Nails?
No, these fake nails cannot harm your real nails. You only need to follow the right application and removal guidelines.
The wrong procedure for removal is like leaving your nails in acetone for long.
This may cause your real nails to bristle or become dry. Again, it is not advisable to rip them off because this may damage your nail's surface.
So, the correct procedure for removing them is first soaking your nails in warm soapy water for approximately 10 minutes. This duration is enough to make the press on nails lift freely or easily.
Next, using cuticle oils and a recommended hands moisturizer, rebalance your moisture levels.
Before application, you may apply a base coat as it will create a protective layer between the adhesive and the natural nail, and this reduces the chances of your nails getting damaged when removing the fake nail.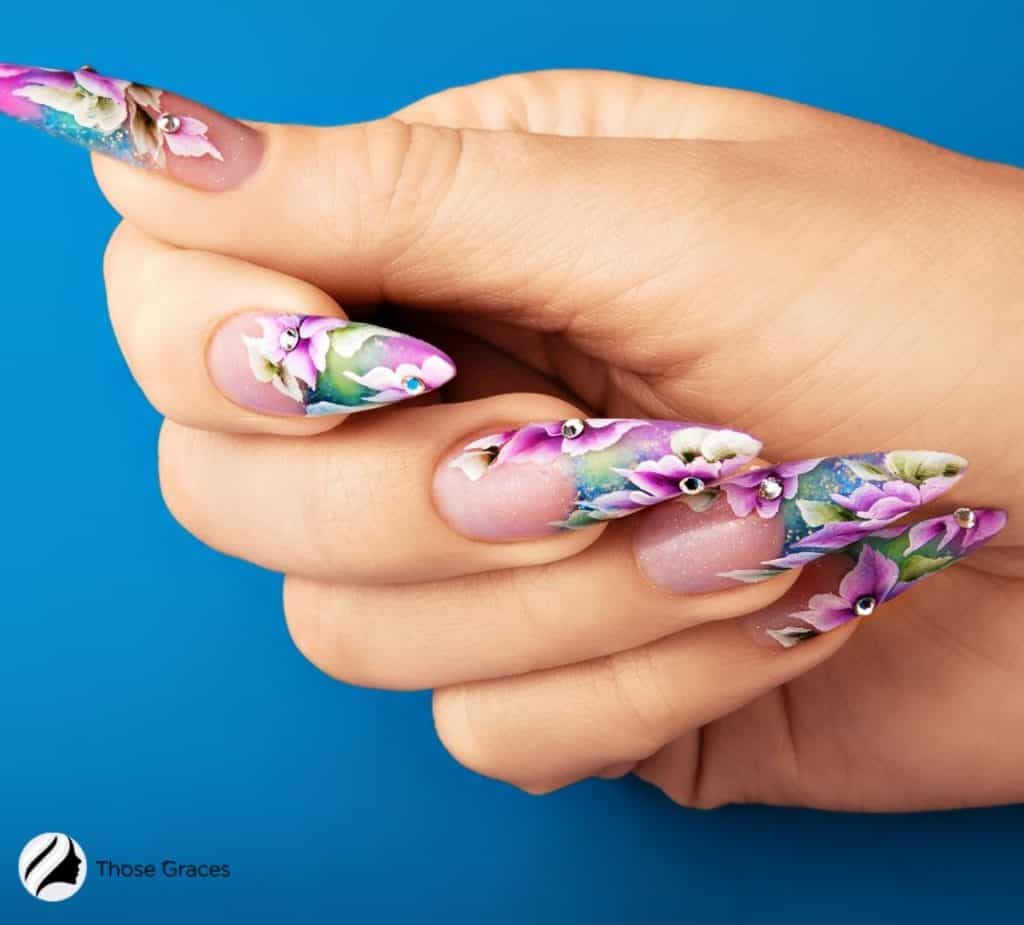 Where to Buy Press-On Nails That Last
There are many manufacturers of press-on nails in the market, and it can be hard to determine which are legit and which aren't.
The most common and trusted brands include Kiss Nails, Static Nails, and impress. Static Nails are only available online. The rest you can easily find both online and in stores like Target or Walmart.
Honestly, most people prefer Kiss Nails. However, a new brand that has got many people's attention, the Ardell Professional Nail Addict nails.
Most people who have used this brand claim it lasts longer and doesn't show any wear and tear.
imPRESS Nails, on the other hand, last a long time and are the best option for starters who are on the lookout for something less messy and those still learning.
The nails come with applied adhesives already, and all you have to do is press them on your natural nails, and you are good to go.
All nails, however, come in a variety of shapes, colors, and designs. Hence it is easy to mix them a bit and come up with a unique style.
Clear press-on nails are also available where you buy and apply your favorite design and color yourself.
How to Apply Press-on Nails Like a Pro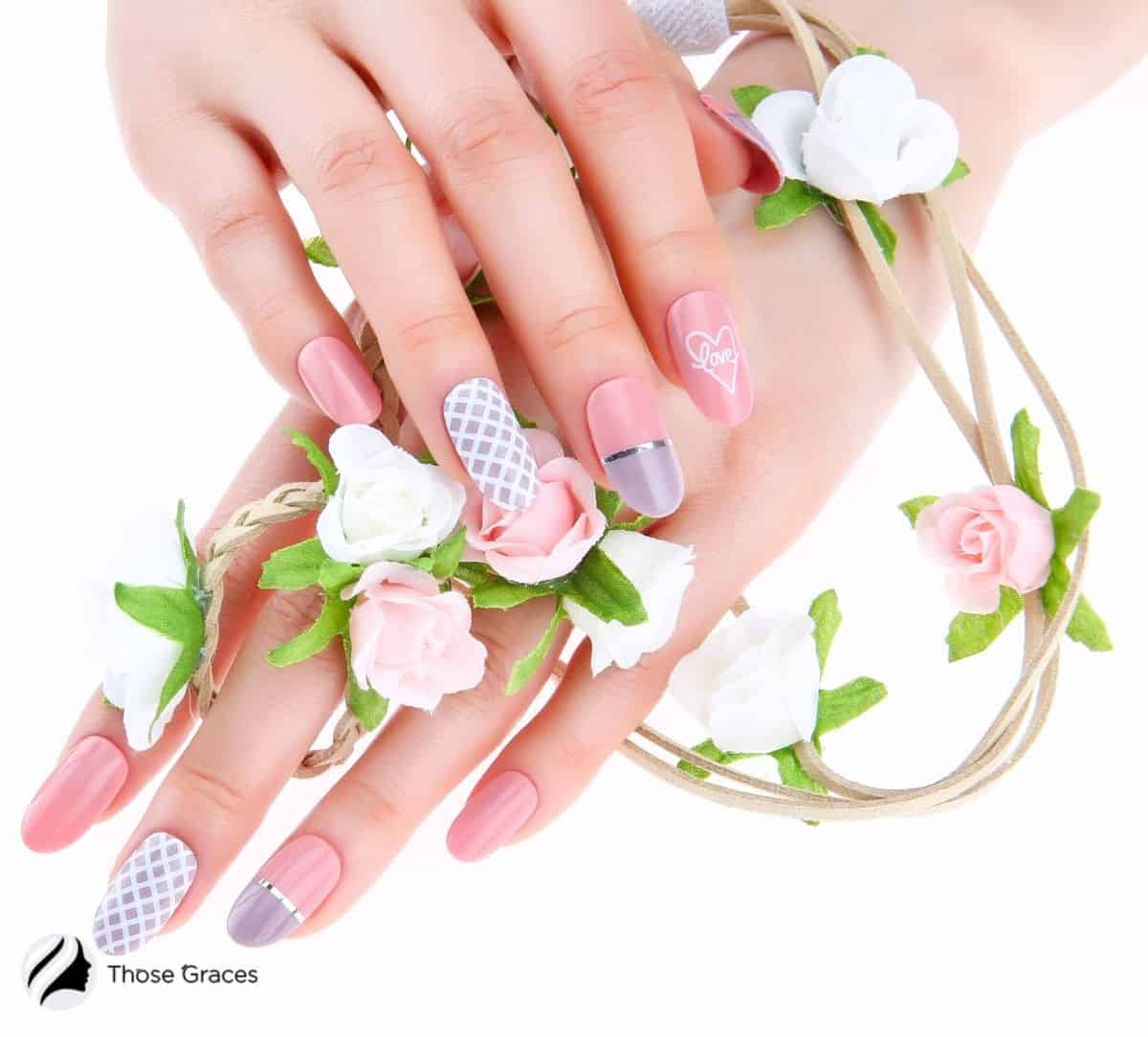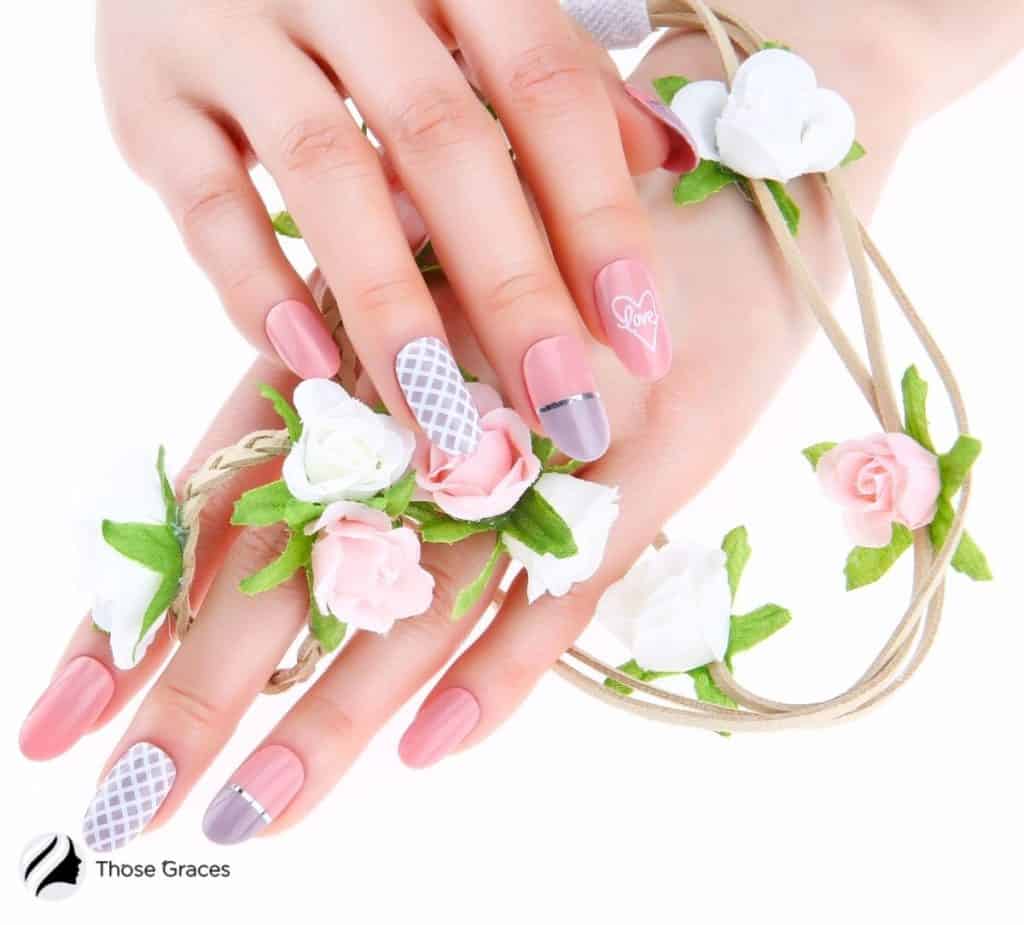 If you want to make press-on nails last longer and look better, you have to know how to put them on the right way.
Now that you know the famous brands in the market, it is time to learn how to apply them like a pro.
The process is easy, but it will be more of a walk in the park when you do it a few times more. Here are the steps:
Pick the right size
Prep your natural nail
Apply base-coat
Remove residue
Apply glue
Attach the fake nail
Picking the Right Size
All nails in the nail kit are of different sizes. Therefore, you should ensure you have picked the right size by checking the number at the back of the fake nail.
Zero represents the thumb, while 11 is for the pinky finger.
Besides the size, also choose a style that complements your nails and your everyday lifestyle. For instance, factor in the length of your nails, the shape and nail design.
Go smaller for those with mid-size nails to ensure the glue-on nail does not overlap on your skin.
Check out this video for a guide on press-on nail sizes:
Prep Your Natural Nail (Cleanse First)
Prep is a vital step in making press-on nails look just like a classical manicure; so, you need to start with a thorough cleaning involving pushing back your cuticle to get rid of excess skin.
Also, wipe the nail using an alcohol prep pad to remove stubborn dirt or oil in your hands. The prep helps the plastic nail to better stick to the natural nails.
imPRESS Press-on kits come equipped with a pad for this use. Alternatively, you can use a cotton ball soaked in alcohol and press it against your nails to prep and remove the oil and dirt in your hands.
Apart from removing oils and dirt from your hand, this step also removes any existing nail polish.
Applying Base-Coat Makes Them Last Longer
These fake nails are for a temporary fix, and when they finally fall off, you will replace them. If you only want to keep them on a few days (usually 5-10) just use the sticky tape that typically comes in the set.
However, by applying a glue base coat (only use glue made for your nails, though) instead of the sticky tape, it's possible to stretch the nails past ten days.
Check out this video on how to make press on nails last over a month!
Attach the Press-on Nail at an Angle
When applying the nail, bring it up to your cuticle line, and then apply it at a downward angle. Next, apply pressure at the nail center while pinching at both sides to solidify the glue or adhesive.
File Last
Most people all the time are tempted to file the acrylic nail as soon as they fix it. However, you should ensure that you have fixed the entire set to shape.
Afterward is when you should contour the press-on from the sidewalls to shape and give them a more natural look.
Since everyone has a different nail bed, contouring them is vital to acquire natural-looking nails.
Get more tips on the video below:
Secret to Maintaining Your Press-On Nails for Longer
Well taken care press-on nails can last up to two weeks. But this, however, depends on the activities you do.
For instance, gentle activities will last long, but if you engage in heavy lifting activities, they may not withstand. The more they last, the better since they give your natural nails ample time to breathe.
Experts suggest that the secret to the longevity of press-on nails is not overdoing adhesive or glue.
You only need to plop a drop of the adhesive or glue at the tip of your nails and at the base of your natural nails, then drop the nail on the top and squeeze gently for a few seconds to allow the glue to dry.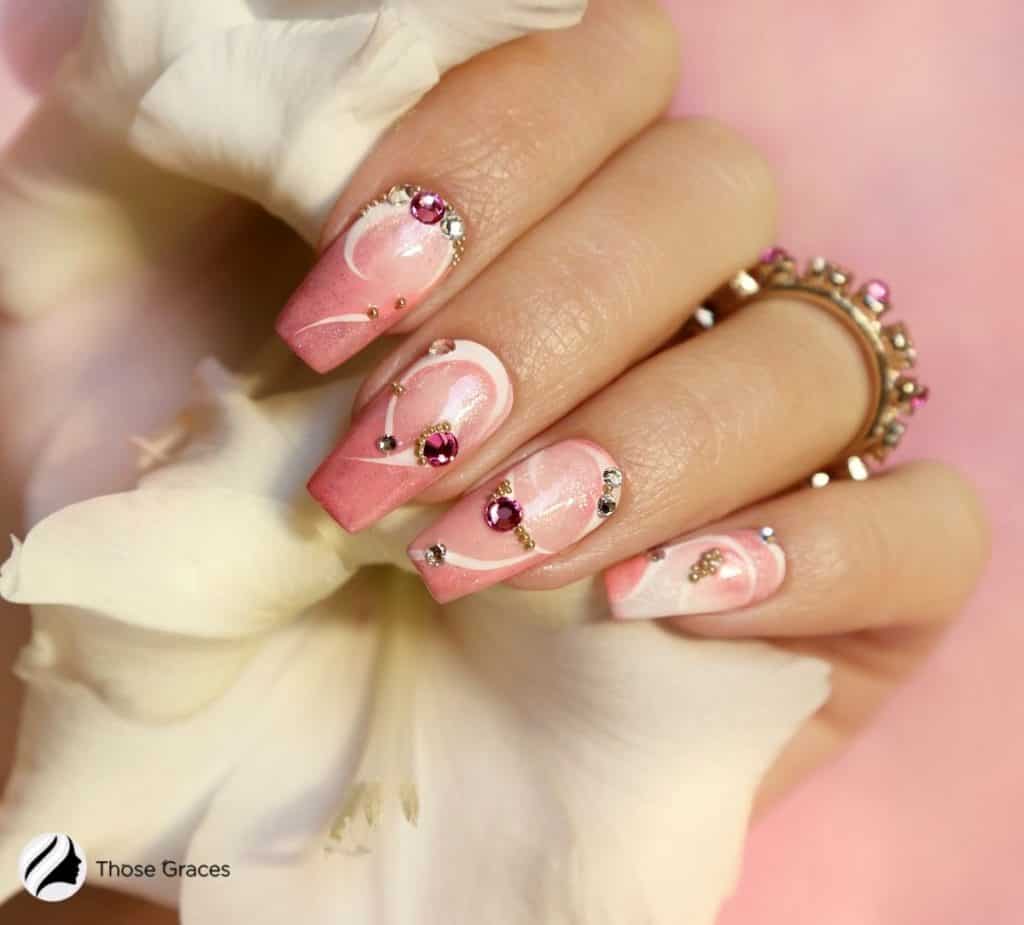 How to Make DIY Press-On Nails
If you arrived here actually looking for how to make your own press-on nails, either for personal use or to sell, I've got you covered. Or rather, these brilliant YouTube Influencers do!
Let's check out a few DIYs that you can try at home.
1. How to Make Press-On Nails to Sell
If you want to learn how to make pretty press-on nails to sell, watch this video:
2. How to Prep and Paint Nails
Another beautiful way to create stunning fake nails.
3. How to Create Press-On Nails Using Full Cover Tips
Turn tips into complete nails with this tutorial!
4. How to Make Press-On Nails from Scratch
If you want to actually make your own nails from scratch with basic household supplies, check out this tutorial. It's actually easier than I thought it would be!
FAQs
How do I prep my nails for press-on nails?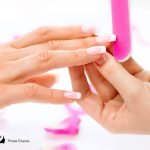 First, trim them and fill the edges. Shape and boof them smooth.
Can I shower with press-on nails?
It is okay to shower with them on, but it's advisable to wear gloves. However, it's vital to maximize your wear to minimize instances when they can become wet.
Are fake nails hard to pull off?
Removing them is easy as you need to soak them in water for about 10 minutes.
Conclusion
These nails deliver salon-quality looks you may have admired. They save time and are safe for both your natural nails and the community, given that drug trafficking is at an all-time high.
How about you, do you use press-on nails? Let us know in the comments below!