Press-on nails have become popular among busy celebrities and budget-conscious beauty enthusiasts because of their ease and affordability.
Compared to a conventional gel or acrylic manicure, they may frequently cause less harm to your nails without requiring you to spend $40 on a manicure.
Whether you like short, minimalist manicures or lengthy, elaborately decorated tips, here we have a large variety of the best press-on nails reviews.
Let's start with a quick look at our top picks, then keep reading for all the glorious details.
CHECK: 7 Best Monthly Nail Subscription Boxes
Press On Nails Top Picks at a Glance
If you see the value in these products and choose to purchase via my referral links, I may earn a small commission at no extra cost to you.
Don't have time? Here is a quick comparison of our favorites!
5 Best Press On Nails to Consider (Buying Guide)
This press-on-nails set includes 500 nails, a 4-piece glue set, and a nail file.
Features & Attributes
These press-on nails are made of high-quality non-toxic ABS plastic and are robust, sturdy, sheer, and long-lasting.
They come in 7 different sets ranging from vibrant neons to pale pastels. There's also a nude option for those who want to create their own nail art from scratch.
Each package includes 10 different nail sizes in 5 different colors.
What do you get in the package?
500 pieces total, ten various sizes, five colors, and one easy-to-store gift box!
| Benefits | Drawbacks |
| --- | --- |
| You will save a lot of time and money by not having to buy as many accessories. | Some complaints that they don't stick well |
| The easy-to-store box is divided into sizes. | Some issues with customers not getting the glue |
| Comes with everything you need to get started right away. | |
| Trimming is simple, and you can make any nail shape you want. | |
Pro Tips:
When applying nail adhesive, make sure there are no air pockets or water on your fingernails for at least an hour.)
Before applying nail adhesive, file the interior of your press-on nails as well as your natural nails.
Ejiubas 300Pcs Short Gel Nails - Medium Coffin False Nails for Women Fake Nail Tips Art Salon
FULL MATTE TEXTURE - Choosing upgraded double sides full frosted texture, the gel nail tips feature stronger adhesion, better fitting your natural nails. Using this acrylic nail tips, you can enjoy the privilege of " NO NEED FILE, NO NEED BASE COAT ". No worry that your nails will become thinner and uglier due to polishing, providing better care for your nails.
SOFT GEL DESIGN - The gel tips are made of high-quality soft gel material, with strong toughness and malleability, not easy to break. No matter how you twist, it will return to the original shape in a few seconds. The no crease design also makes it color more evenly, easier to DIY your ideal nail art effect. The soft gel full cover nail tips can use together with nail polish, color gel, dipping powder, etc., adding a bright color to your life.
NATURAL FIT EFFECT - Our soft gel tips feature " Thin back edge, thick front edge". The thinner back edge can make the full nail tips fit your nails better, which will not make you feel uncomfortable. Also, the clear nail tips are more breathable, which will not cause burden and pressure on your fingers; The thickened front edge makes it not easy to break or bend, having longer lifespan. Just like your natural nails, do whatever you want!
MULTIPLE SIZE OPTIONS - Including 15 different sizes with each size 20pcs, totally 300pcs, our fake nail tips can provide you with more options. And there are numbers " 0-14" marked on the fingertips, you can quickly find you sizes. The false nail tips are easy to operate, suitable for professional manicurist and even beginner. On weekends, you can invite some friends to DIY nail art at home together, which can save money and enhance relationship.
IDEAL GIFT CHOICE - The festival is coming, are you still upset about the gifts? Perfect for Valentine's Day, Mother's Day, wedding anniversaries and other important festivals.
CHECK: Acrylic vs Fiberglass Nails: What's the Difference?
Classy Nail is a collection of perfect nails with a fresh spin on French patterns.
Features & Attributes
Totally waterproof, so go ahead and wear them in the pool!
The gel gloss is smudge-free and long-lasting
No drying time required, just put them on and go!
What do you get in the package?
The kit includes 28 nails, a pink gel adhesive, a tiny file, and manicure sticks.
| Benefits | Drawbacks |
| --- | --- |
| Ready to wear with no need to paint | You only get one color in the package. Other designs are sold separately. |
| Flexible and long-lasting | You have to file the surface to "disrupt" the top coat before you can easily remove them |
| Luster lasts a long time | |
Expert Tips
From Joah Beauty: "Apply enough glue to avoid air pockets, secure adhesion, and extend wear."
Edary makes a wide selection of press-on nails, but these are my personal favorites because of the unique design.
Features & Attributes
Glossy nails made with non-toxic ABS material
Comes with multiple sizes so you can choose the right one for your natural nail shape.
Waterproof with a smudge-free gel finish that lasts
What do you get in the package?
24 nails plus a file and 24-pieces of nail tape
| Benefits | Drawbacks |
| --- | --- |
| Uses nail tape rather than glue, making them ideal for people who don't want to deal with messy adhesives. | You only get one color in the package. Other designs are sold separately. |
| Non-greasy, so they won't damage your real nails while wearing. | |
| Ready to wear with no glue and no drying time. | |
| | |
Expert Tip
If you don't love this style, Edary offers 11 other designs within the same listing. So you can choose a different one or even mix and match.
Edary French Fake Nails Oval Press Nail Abstract Glossy False Nails Art Ballerina Graffiti Acrylic Press on Nails for Women and Girls(B)
Glossy press nails medium are made with great quality ABS material which is harmless to your nails.With free nail glue sticker and mini nail file.(without nail glue).
Nude abstract fake nails have varied sizes, you can select the suitable size to fit your every finger.Easy to apply, file in any length and shape you like.
Oval acrylic false nails make your nails fashion, creative,shiny and fresh.It can be matched with any clothes.
Design art full cover fake nails are wonderful gift for your wife,girlfriend,mother,friend,colleague,sister etc.
Halloween press on nails are perfectly take part in the wedding ,party,prom ,dating, and they also suitable for Christmas ,Halloween,Valentine's Day and other festival.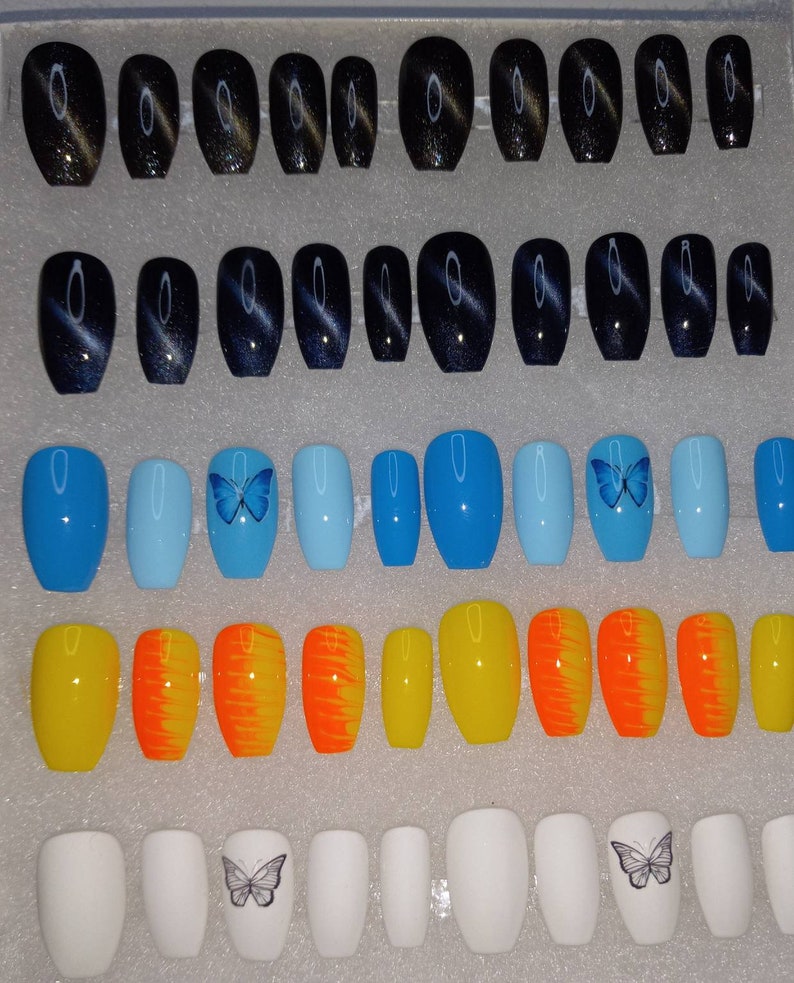 Prepare to be surprised with this under- $10 press-on by MillioNailDrip if you enjoy lengthy, talon-like nails.
Features & Attributes
These extra-long nails, filed or painted, come in 14 unique patterns for a professional-looking yet completely do-it-yourself manicure.
Build-Your-Bundle lets you choose between 4 different sizes or you can request a custom size.
Solid hues (in traditional red, lime green, and brilliant orange), crystal-encrusted patterns, and a French set are also available.
What's in the Package?
There are 24 nails in each bundle. You get orangewood stick, gel paint, nail tabs, nail adhesive, alcohol pad, and a box
| Benefits | Drawbacks |
| --- | --- |
| Handcrafted | Certain designs are off-limits when building your bundle. |
| Build your own bundle and choose how many sets you want. | No refunds or exchanges |
| You can file this press-on if required. | |
Expert Tip
Triple-check the size that you request because if you get it wrong, you can't exchange them.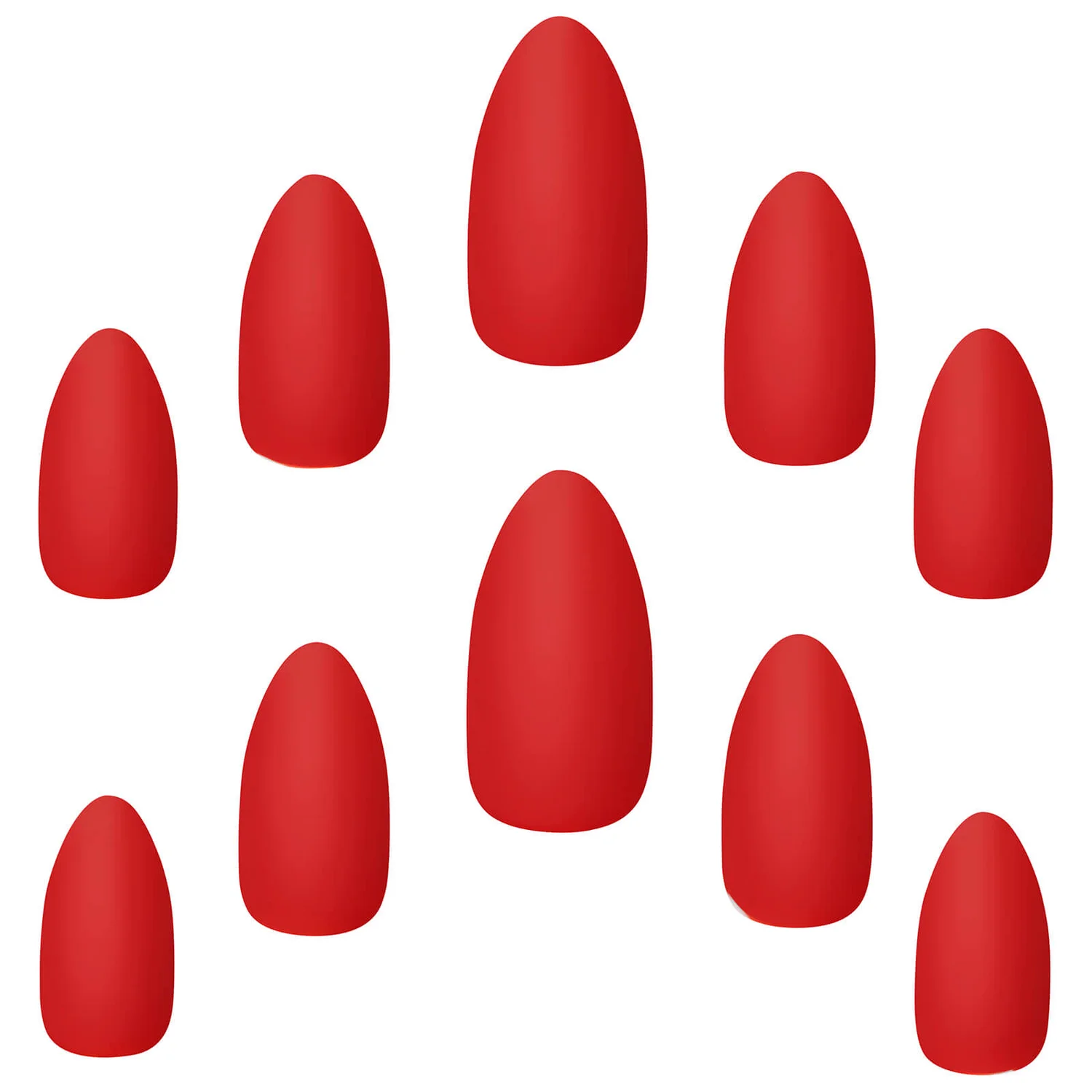 A traditional red manicure is timeless, and the 'Elegant Touch Polished Core Nails' makes it simple to achieve in just a few minutes.
Features & Attributes
Elegant Touch Finished Core Nails come in a flaming "red alert" hue
Nails are rounded for a more natural look.
In addition, Finally, 'Elegant Touch Polished Core Nails' are a perennial favorite for a reason.
What's in the Package?
The package includes 28 nails, a tiny nail file, a nail adhesive, and a manicure stick. Also, a backup in case any fall off.
| Benefits | Drawbacks |
| --- | --- |
| The non-chip coating guarantees that your manicure never cracks or fades. | Only come in one color. |
| The tab at the end of each Nail makes the application simpler and less messy. | |
Special feature: Waterproof
READ MORE: How to Make Press on Nails Last Longer?
How to Choose the Best Press On Nails
Size Does Matter
Your nail kit has a variety of sizes. Check the number on the back of a press-on to ensure you have selected the correct Nail; zero is the biggest for your thumbs, and 11 is the shortest for your pinky finger.
Easy to Use
Choose some press-on nails that are easy to use. Preparation is essential, just as it is for a traditional manicure, and it begins with a thorough washing.
As you are busy, choose such a press-on which you can wear without much effort.
FAQs
Do press-on nails stay on?
Press-on nails are inexpensive, stylish, fashionable, and simple to apply. However, press-on nails are affordable. A full set may last up to two weeks, depending on how quickly your natural nails develop and the activities you do.
How long do good press on nails last?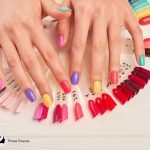 Press-on nails that utilize adhesive glue will last approximately a week, while those that depend on a sticker will last three to five days, but some women claim that the sticker versions stay just as long as the glue ones.
Can you shower with the press-on nails?
Press-on is simple to apply and may last up to two weeks based on being adequately used and cared for. After that, you may take a shower or a swim with them (just be careful with warm water; warm water increases press-on and loosens them).
Is it possible to find artificial nails that do not damage your natural nails?
If you are one of them, dermatologists' advice may help you minimize the damage: Instead of artificial nails, go for soak-off cute gel nails. Gel nails are more flexible than artificial nails, but they may cause brittleness, peeling, and splitting.
Conclusion
While there are many options, we have compiled a list of the finest press-on nail designs from companies like 'Elegant Touch Polished Core Nails' and 'KISS Classy Nails ' to help you narrow down your options.
Choose the one after going through stick on nails review from different sites before choosing it.
Final Recommendation
If you are looking for a reusable set, go no further than Static Nails, which can be simply removed and saved for later use. We recommend you to go for Cratejoy, a vast collection of press-on nails.
Check Latest Price



Nail Art Subscription Boxes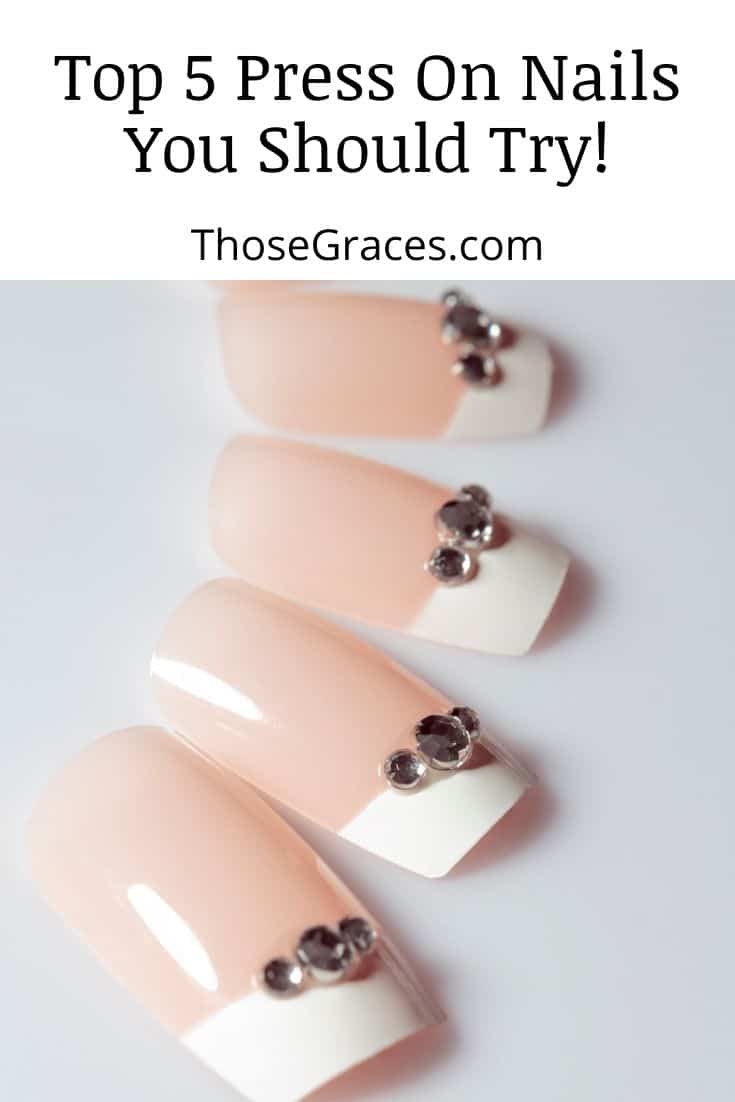 What is your favorite press on nails? Let us know in the comments below!