Are you wondering how to blow out 4c natural hair while rocking your tresses?
At first glance, it may seem simple, but if done incorrectly, it can leave your hair completely dry and lifeless with no shine or bounce.
That being said, here are some easy steps to make your blowout look amazing on your natural locks.
Let's check them out!
How To Blow Out 4C Natural Hair: 5 Effective Steps
Let's be real; natural hair isn't always easy to maintain. Depending on the curl pattern, it can be frizzy, dry, and difficult to style.
Blow-drying natural hair can make it look sleek and manageable. Here are some steps you should follow to achieve this look: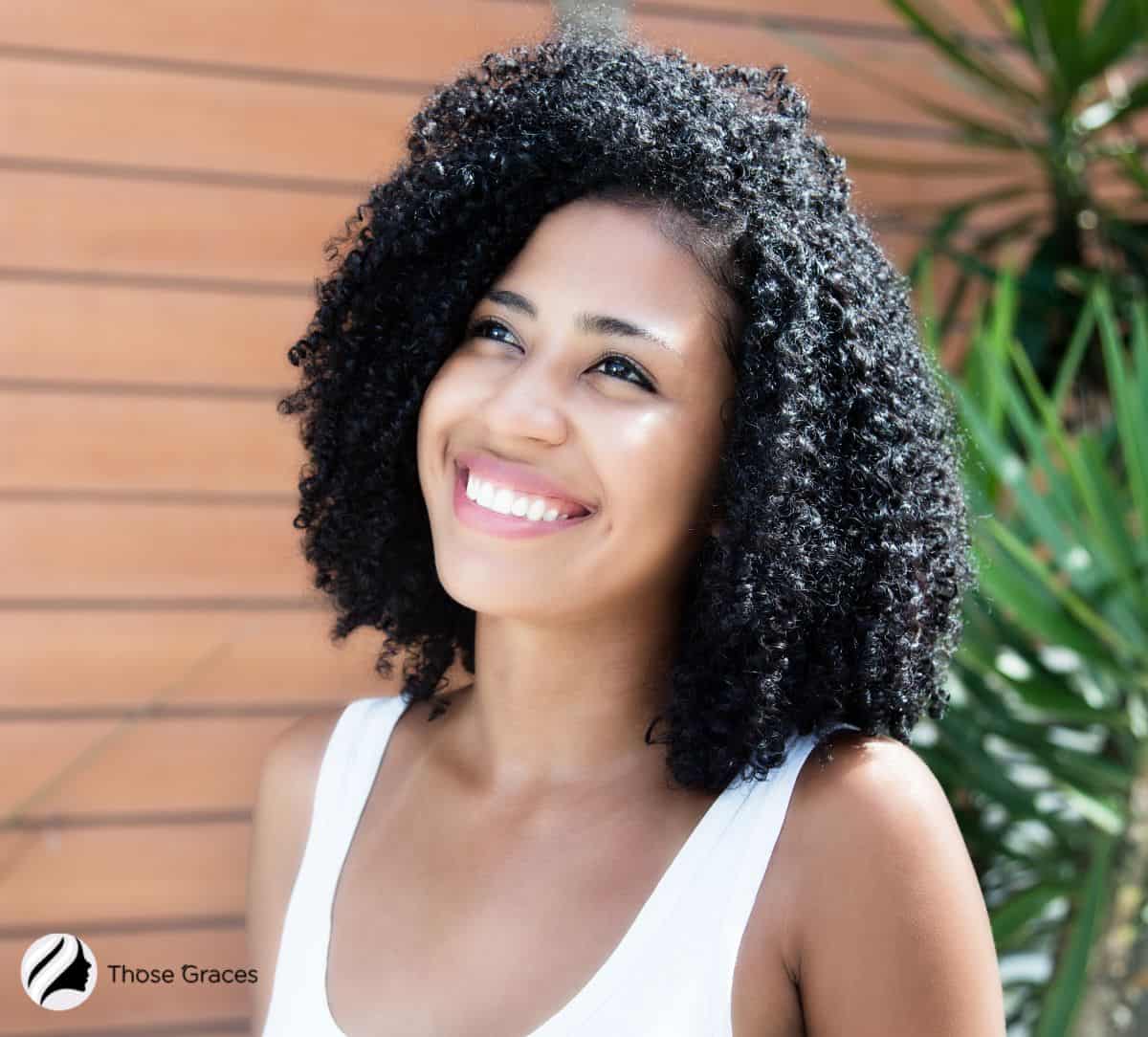 Step 1: Cleansing And Conditioning
The first thing to do is cleanse and condition your hair. This will remove any product buildup as well as ensure that your locks are moisturized enough to handle the flat iron process.
Celebrity hairstylist Ashanti Lation says,
"If you blow-dry your hair with any product buildup or oil, you're going to risk it not being as smooth or as soft." [1]
Also, if you have damaged tresses, it may be a good idea to use a hair mask or leave-in conditioner from roots to tip to deep condition before going through any heat processes on natural hair.
I love this DIY hair mask tutorial:
Step 2: Section Your Hair
Divide your damp hair into 4 to 6 sections of hair, depending on its thickness and length. This will make it easier to control the airflow and keep your locks from tangling as you blow dry.
Step 3: Apply Heat Protectant Spray
Spray each section of hair for heat protection before blow-drying. This will help protect your hair and lower the chances of heat damage. You can use a moisturizing spray or cream.
Step 4: Use A Good Blow Dryer
For the blowout process, hold a mid-sized round brush at the root while using medium heat on your blow dryer for 4c hair.
This will add volume by lifting your hair from the roots and adding some curl if you scrunch it as you dry it.
Continue to do this until your hair is 90% dry, then use a medium-sized flat brush and the cool setting on your blow dryer to smooth out any remaining frizz and get bouncy curls.
Step 5: Style Your Hair
Once your hair is mostly dry, use a medium-sized flat brush to smooth out any remaining frizz.
You can add some curls or waves using a small curling iron. Finish with a light hairspray to keep your style in place all day.
To help get the perfect blow out, here is a YouTube tutorial by Whitney Madueke [2].
Considerations When Blow Drying A 4C Natural Hair
For those with 4C natural hair, blow-drying your hair can be quite a struggle. It's hard to find the right product for textured hair/coily hair [3] and even harder to figure out the best way to do so.
Below are a few reminders for you.
How Often Should You Blow Dry 4C Hair?
Blow drying your 4C hair on a daily basis will remove natural oils from the hair shaft and lead to breakage and heat damage. It is best to do it a maximum of twice a week.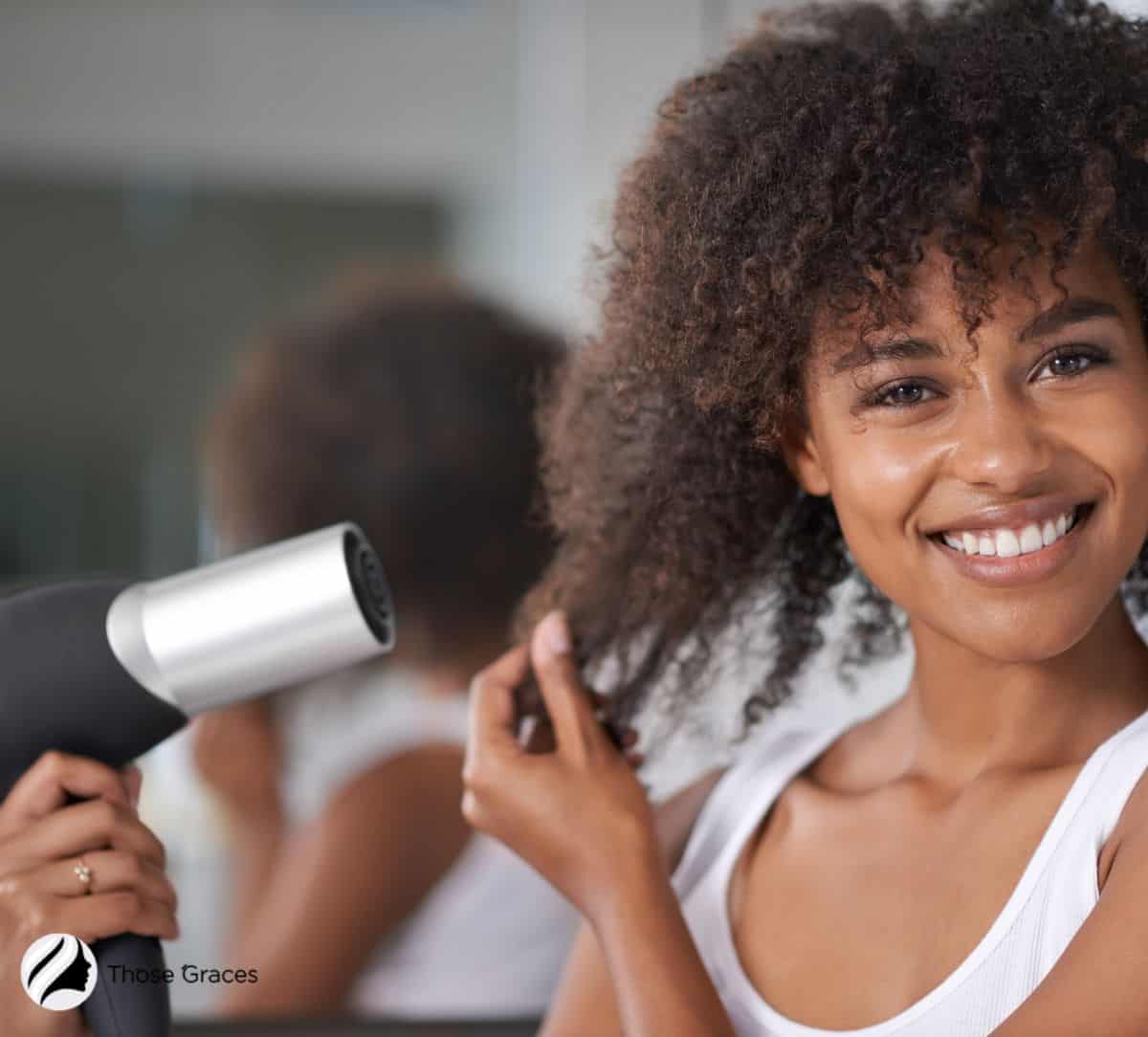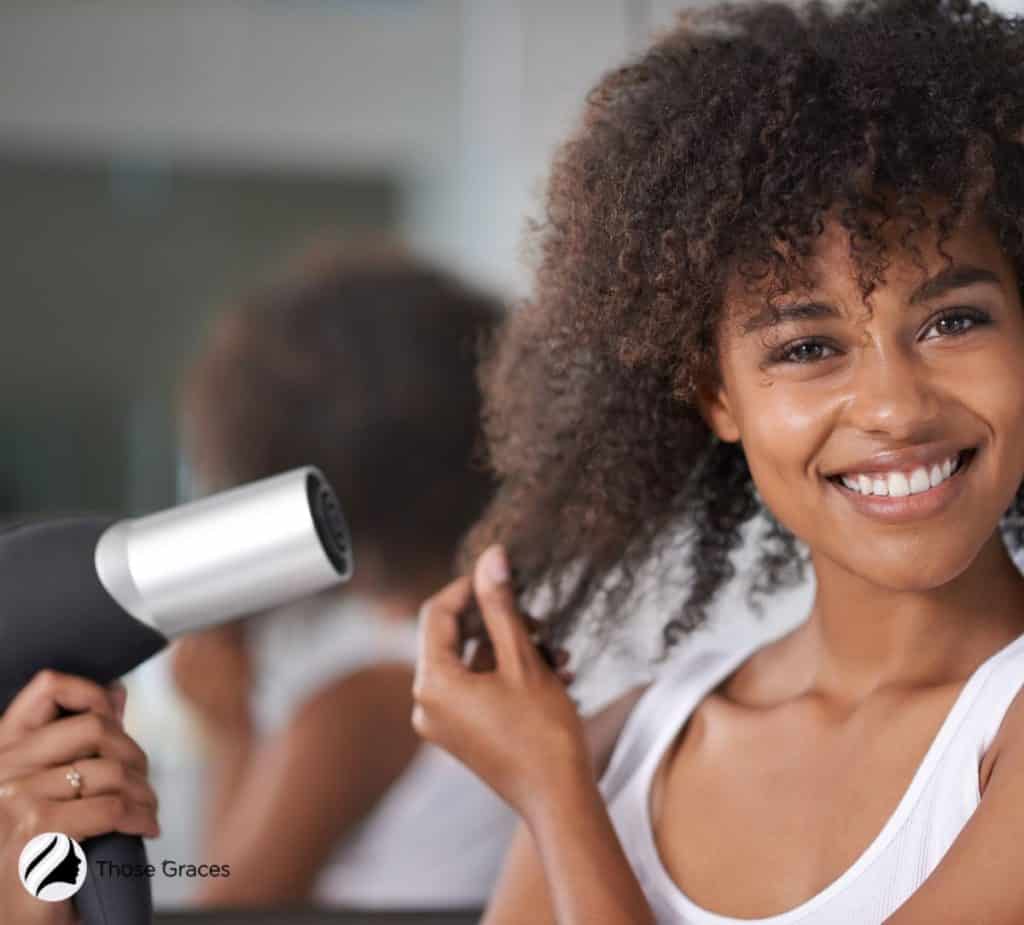 What Temperature Should I Straighten My 4C Hair?
It is best to start with low heat and work your way up. The main factor in straightening 4C hair is water content.
If you use high heat and lots of product, the hair shaft will absorb the moisture and may cause damage if not properly moisturized. If you start with low heat and use moisture or protein-rich product, your hair will be straight.
What Should I Put In My 4C Hair Before Blow-Drying?
When blow-drying your hair, it is also important to know what products to put in it beforehand.
The product aims to help soften the natural kinks and coils typically found in 4C hair.
Use natural oils such as olive oil, coconut oil, or shea butter to create a protective barrier for your natural hair against heat styling [4].
It would be best if you also used a heat protectant.
For more tips, check out this video:
FAQs
Is blow drying bad for 4C hair?
Blow-drying 4C natural hair can take a toll on the hair, especially if the user does not have time for deep conditioning treatments such as using heat protectant sprays or oils/butter before blow-drying or using products designed to protect 4C natural hair during blow-drying.
How to blow out 4C hair for braids?
To blow out your 4C hair for braids, it's best to use a paddle brush. Start by parting your hair in small sections and clip them up out of the way. Use a low heat setting on your dryer and start at the roots, slowly working down the hair shafts to the ends.
Be sure to keep the dryer moving so it doesn't create too much heat damage. Once your hair is completely dry, you can style it into braids or twists.
How to dry curly hair without a diffuser?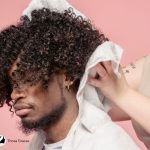 There are a few ways to dry curly hair without a diffuser. You can use a cotton t-shirt, a microfiber towel or let your hair air dry. You can even use a hairdryer without attachments like concentrators or nozzles.
Conclusion
It is important to use the right products to blow dry 4C natural hair. It's also important not to over-dry when trying to reach your desired look for your hair.
Make sure you put an appropriate amount of product on before blowing out, and then ensure it has dried fully before styling it with heat again.
If you are using a diffuser, use it on low heat and keep it moving around your head.
Blow drying natural hair can be tricky, but with the right products and techniques, it can be simple and achieve your desired look.
Remember to take your time, use a diffuser if needed, and be gentle with your hair.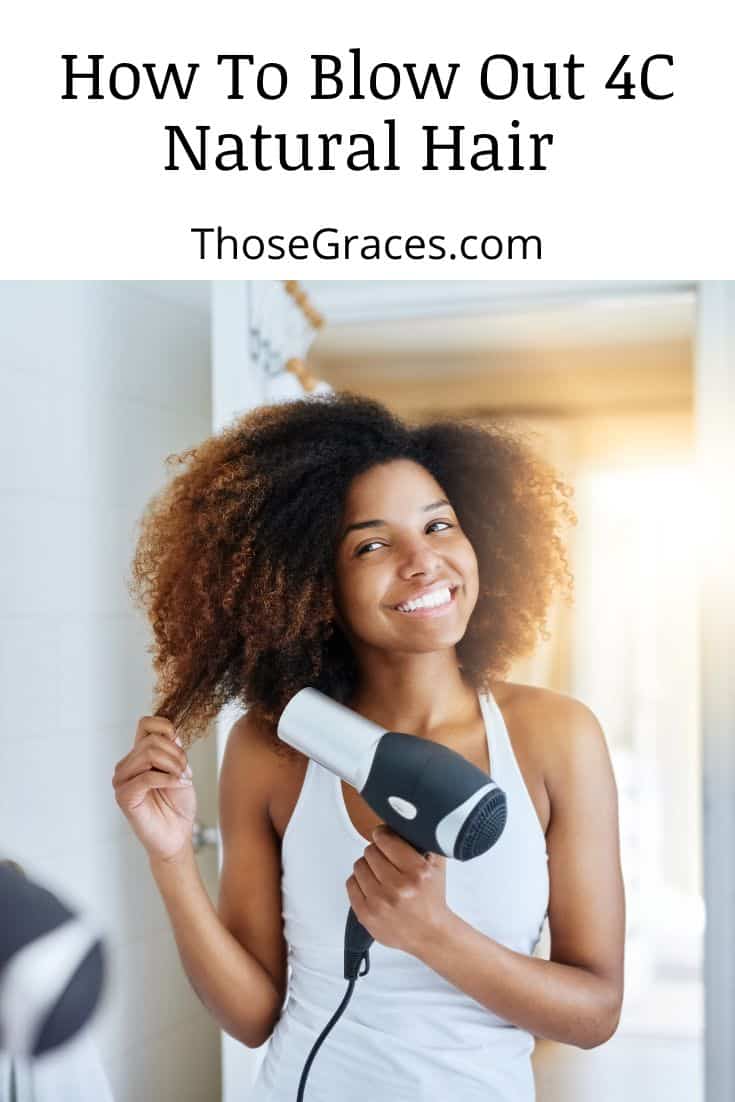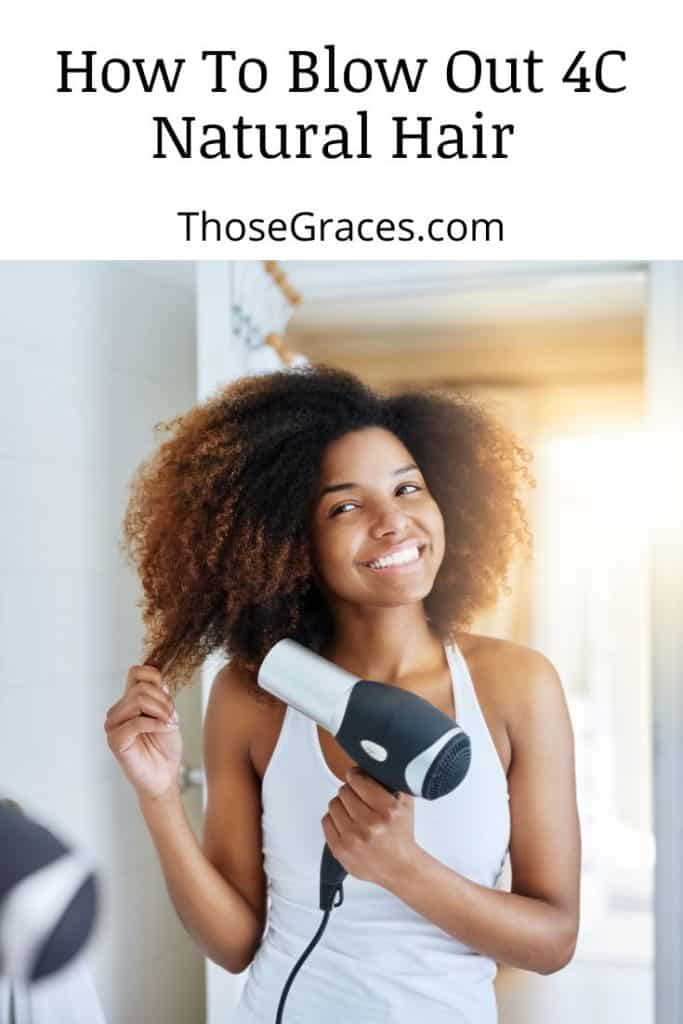 Do you have any other tips for how to blow out 4c natural hair? Share below!
References:
1. Buddemeyer R. Natural Hair Blowouts: How to Easily Blow-Dry Your Hair Without Damage [Internet]. Cosmopolitan. Cosmopolitan; 2020 [cited 2021 Dec 13]. Available from: https://www.cosmopolitan.com/style-beauty/beauty/a34635076/how-to-do-natural-hair-blow-out/
2. Madueke W. 4C WASH DAY, BLOW OUT & STRAIGHTEN | STRAIGHTENER BRUSH ON 4C HAIR | 4C HAIR FAIL DISASTER | [Internet]. YouTube. 2020 [cited 2021 Dec 13]. Available from: https://www.youtube.com/watch?v=ez3p0KJ-QAw&feature=youtu.be
3. Paris L. what-is-coily-hair [Internet]. L'Oréal Paris. L'Oréal Paris; 2021 [cited 2021 Dec 13]. Available from: https://www.lorealparisusa.com/beauty-magazine/hair-care/dry-hair/what-is-coily-hair
4. West H. Coconut Oil for Your Hair: Benefits, Uses, and Tips [Internet]. Healthline. Healthline Media; 2021 [cited 2021 Dec 13]. Available from: https://www.healthline.com/nutrition/coconut-oil-and-hair#:~:text=Coconut%20oil%20reduces%20damage%20to%20your%20hair%20caused,them%20haven%E2%80%99t%20been%20examined%20in%20properly%20controlled%20studies.