I'm always looking for new ways to improve my beauty routine, and I've been thinking of using DIY microcurrent conductive gel treatments.
But why DIY gels for microcurrent treatment, you ask?
I don't want to fork out a lot of money on a treatment I can easily make myself, so I'm always looking for cheaper alternatives.
So, I did some research and came up with some effortless recipes that I love and work just as well as the store-bought stuff!
RECIPE 1: DIY Microcurrent Conductive Gel by Jennifer Joyce Beauty
I don't know about you, but I love organic, natural, and DIY beauty products.
This homemade conductive gel for microcurrent devices is perfect for those who want to use the device without spending a lot of money on store-bought stuff microcurrent treatments.
You only need a few ingredients that you probably already have in your kitchen. Plus, it's effortless to make!
What You'll Need
Organic aloe vera gel
Hyaluronic acid
Copper Peptide
Don't forget to check our best conductivity gels for microcurrent on this video!
Steps for Making and Using This DIY Microcurrent Conductive Gel
Mix 2 tablespoons of the aloe vera gel, 1 tablespoon of hyaluronic acid, and 1/4 tablespoon of Copper Peptide in a container.
Next, cleanse your face and apply the gel to your face using a cotton pad or your fingers.
Now, it's time to use the microcurrent device. Slowly move the device around your entire face for about five minutes.
Leave it on for the best results!
The best thing about this DIY microcurrent conductivity gel is that you don't have to wash it off like other products.
You can apply this conductive gel substitute as the base of your makeup or right before bed and leave it on overnight for even better results! A great way to allow the treatment to reach deeper layers of your skin.
CHECK: Can NuFace Be Used on Neck?
RECIPE 2: How to Make Conductive Gel By The Organic Esthetician
You'll love this conductive gel substitute if you have problematic or sensitive skin.
One of the things that drew my attention to the Organic Esthetician was her love for natural and homemade remedies.
I knew that if she could make a conductive gel from scratch, I could too!
This recipe has a power ingredient you'll be wishing you know about sooner after several uses — sea moss.
Sea moss is thought to help several skin conditions making it a great option for facial treatments.
According to Dermatologist Dr. Erum Ilyas, sea moss's "sulfur content gives it antimicrobial properties which can assist with balancing the skin's bioflora. (1)
This has the potential to help acne, seborrhea, and rosacea-related changes to the skin."
So, how do you make this potent microcurrent conductivity gel?
What You'll Need
Sea moss
Purified water
Bowl
Strainer
Blender
Storage container
Steps for Making This DIY Microcurrent Conductive Gel
Soak a handful or 1 cup of the sea moss in purified water, ensuring it's fully submerged, and let it sit undisturbed for 2 to 3 hours.
Once the time is up, drain and rinse the seaweed.
Next, add the seaweed and a cup of purified water to the blender.
Blend the mixture until it's fully emulsified, adding water as needed.
Once you've attained the consistency you like, feel free to add any additional ingredients like a mineral complex, toner, or favorite serum.
Tip: If your additional ingredients are liquid, consider adding them during the blending process and reducing the amount of water to prevent the gel from being too runny.
RECIPE 3: How to Make Conductive Adhesive Gel By KEYSHIIJI
I don't know about you, but I love simple recipes that don't require a lot of ingredients or time.
This microcurrent conductive gel recipe is just that! It is a great substitute gel if you want to avoid store bought products.
With only two ingredients, you should be able to whip this up in no time.
TRY CHECKING: How to Make Conductive Gel
What You'll Need
Organic aloe vera gel
Pinch of table salt
Steps for Making This DIY Microcurrent Conductive Gel Alternative
Add the aloe vera gel and pinch of table salt to a blender.
Mix until well combined.
Viola! You now have your very own microcurrent conductive gel.
Next, transfer the mixture to a small jar or container for storage.
Note. You shouldn't use aloe vera as an alternative to Nuface gel primer. Aloe vera lacks the correct ratio of ions. (2)
For some great NuFACE gel alternatives, here's a video!
Therefore, there's no guarantee that the microcurrent will reach the depth of your facial muscles.
FAQs About Conducuctive Microcurrent Gel
Is Ultrasound Gel the Same as Conductive Gel?
No, ultrasound gel and conductive gel are not the same. Ultrasound gel is used during ultrasounds and a conductivity gel is used during microcurrent therapy treatments.
However, both have conductive properties.
How Long Does Homemade Conductive Gel Last?
Most homemade conductive gel alternatives will last for about two to three weeks in the refrigerator and about a month in the freezer. However, the ingredients determine how long it will last.
Wrapping Up
If you were curious about how to make DIY microcurrent conductive gel, now you know! These recipes are easy to follow and can save you a lot of money in the long run.
Give it a try, and let us know how it goes!
Do you have any tips on how to make microcurrent conductive gel? Let us know in the comments below!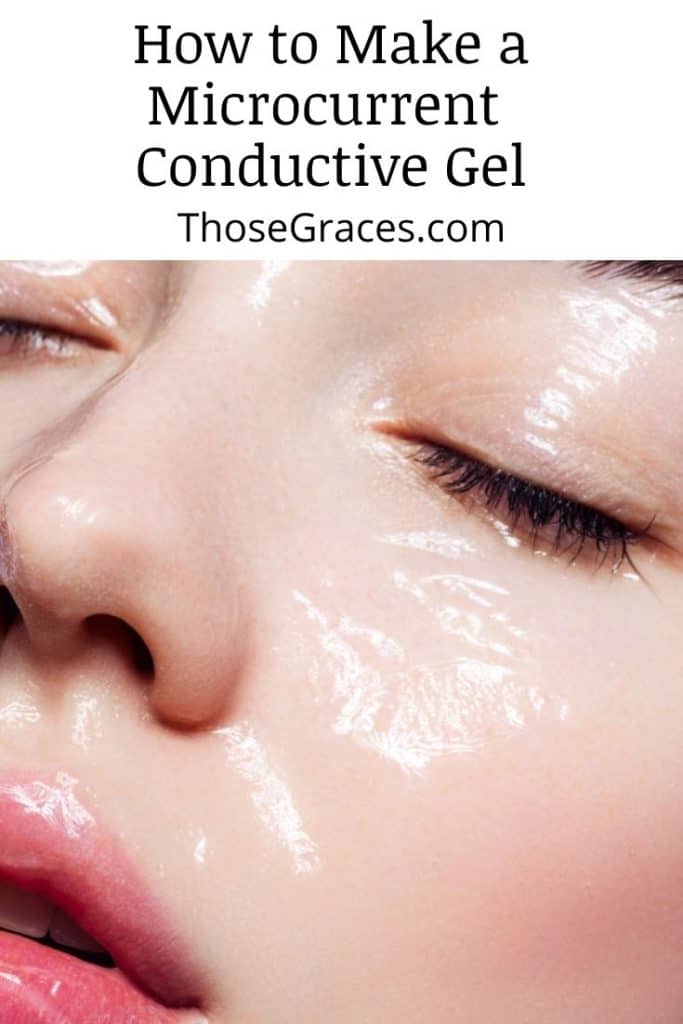 Have you tried making your very own DIY microcurrent conductive gel? Please let us know how it turned out in the comment section!
References
1. "Sea Moss: Does It Really Benefit the Skin?" Healthline, 13 Aug. 2021, www.healthline.com/health/beauty-skincare/sea-moss-benefits-for-skin.
2. "Conductivity Gel for Microcurrent." Biohacking – Upgrade Your Mind & Body, 28 Apr. 2021, agelessbodyblog.com/conductivity-gel-for-microcurrent/.