Looking for some really great antibacterial soap for your body that work well without leaving behind that strong astringent odor?
I've got you covered!
Below are some of my favorite options for all skin types.
Let's start with a quick look at our top picks, then keep reading for all the glorious details.
Antibacterial Soap for Body Top Picks at a Glance
If you see the value in these products and choose to purchase via my referral links, I may earn a small commission at no extra cost to you.
Don't have time? Here is a quick comparison of our favorites!
10 Best Antibacterial Soap For Body (With Reviews)
From gentle yet effective antibacterial cleansers for sensitive skin to soaps that will help reverse some of your toughest skin problems, there's an option for you below. Let's dive in!
Holifrog's Superior Omega Nutritive Gel Wash is one of my all-time favorite body washes. Let's find out why it's the big winner!
Physical Attributes
First and foremost, Holifrog is totally cruelty-free, which is very imporant to me. Animals shouldn't be harmed just to keep me looking beautiful, after all.

It contains antioxidants, probiotics, omega fatty acids, and natural antibacterial ingredients.

Unlike other antibacterial soaps, it's alcohol-free so it isn't drying.
Measurements
A bottle contains about 148 ml of body gel. It measures 2 in x 2 in x 5 in.
How It Compares to Others and Why
The Super Omega Nutritive Gel Wash is ideal for combinations as well as simply oily skin types.
Plus, it's one of the few antibacterial soaps to included probiotics rather than "antibiotic" ingredients. This helps your body build up its own defenses against bacteria.
Expert Tips
A little goes a long way! Since it's expensive, always start with less than you think you'll need.
Use circular motions at a slow pace to massage it into your skin. If you still feel like you need more, THEN grab some more from the bottle.
CHECK: The Best Aromatherapy Hand Soap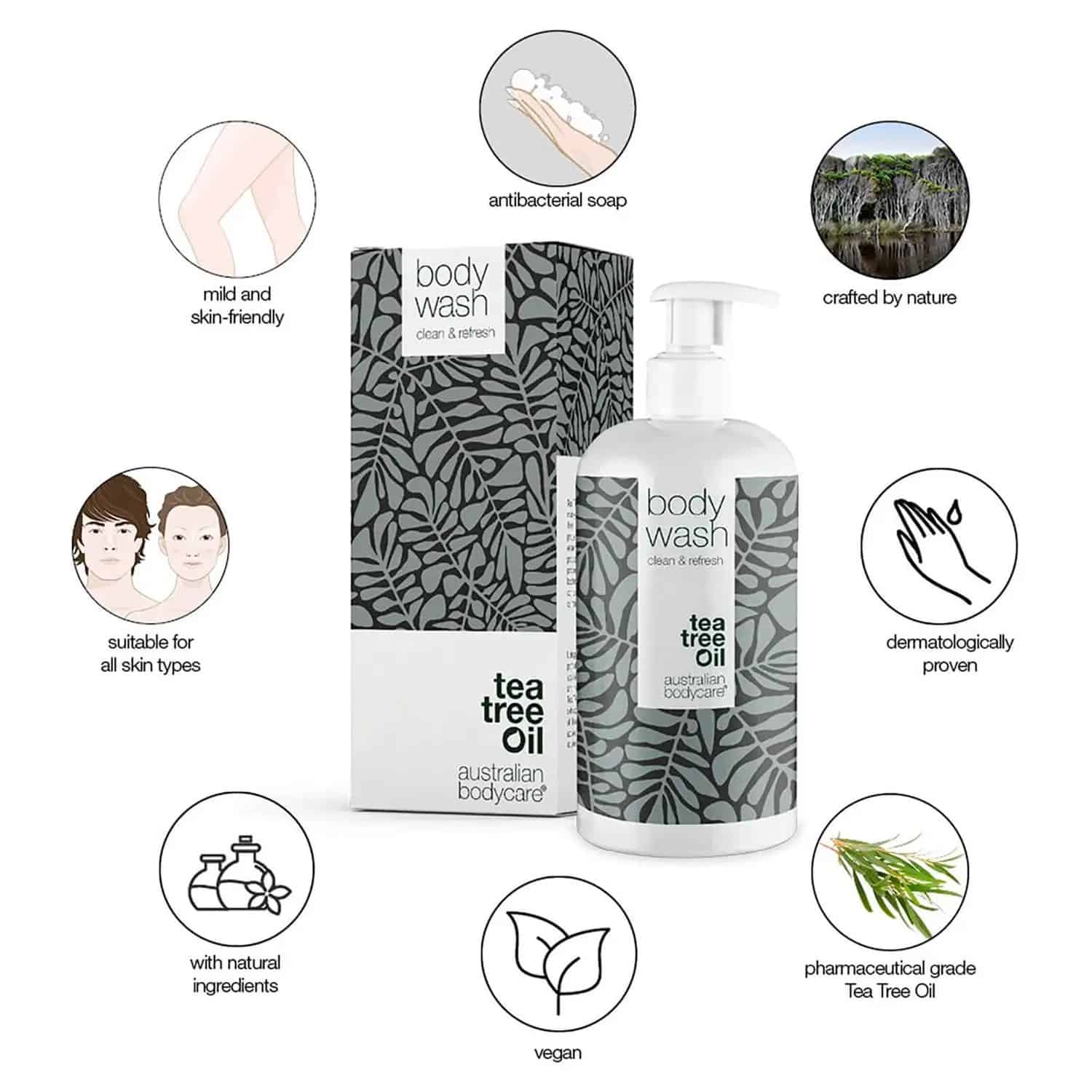 While most essential oils work as antibacterial ingredients, tea tree has a reputation for being the Queen of fighting off nasty skin issues.
Physical Attributes
The dermatology-tested natural body gel is made of tea tree oil are directly sourced from Australia. It contains pure components that refresh the skin.
Also, since tea tree can be drying, the soap also contains glycerin to balance it out.
Measurements
The body wash measures 7.4 in x 1.9 in x 1.9 in.
How It Compares to Others and Why
The body wash invigorates and refreshes the skin while the tea tree works to help fight fungal conditions as well as acne and other skin problems.
Expert Tips
Since the tea tree scent can be a little overpowering and medicinal, you may want to use this wash during a nightly shower rather than first thing in the morning.
If you're looking for an antibacterial soap designed specifically to fight off fungal issues like athlete's foot, you'll love Remedy.
Physical Attributes
The product's active ingredient efficiently gets rid of odor-causing bacteria.
Contains multiple moisturizing carrier oils to help balance out the tea tree's drying effect.
It has no scent, free of silicone and sulfate, and natural moisture agents.
Measurements
The bottle measures 6.3 in x 2.4 in x 2.4 in.
How it Compares to Others and Why
It's effective against flaky, cracked, and itchy skin. That's because the gel contains a variety of oils extracts such as peppermint, eucalyptus, and tea tree.
Expert Tips
Test it out before using the product. Out of all of the antibacterial soaps, this one is among the strongest, so it's a good idea to spot test on a small patch of skin first.
Noticing a trend yet? Most "natural" antibacterial soaps rely on tea tree oil because, as mentioned above, it's just one of the most powerful essential oils. Purely Northwest is no different in that respect.
Physical Attributes
The tea tree soap with tea tree oil for jock itch, athletes, and more contains essential oils and tea tree oil.
This antibacterial soap for the body acne doesn't employ any artificial scent.
Along with the body soap, you also get two other products designed for healthier feet.
Measurements
It measures about 2.25 in x 2.36 in x 5.39 in.
How it Compares to Others and Why
The gel helps prevent cystic acne by helping avoid the build-up of bacteria on the skin. Perfect for those with eczema, psoriasis, and sensitive skin.
Expert Tips
Before rinsing the gel, let it sit on your skin for about ten seconds. This will help maximize its effectiveness.
Yes, it's another tea tree oil body wash, but bear with me. This one has a few other ingredients you won't find in the others so far.
Physical Attributes
The body gel is a natural, clinically proven product.
Along with tea tree, it includes another powerful oil: eucalyptus
For moisturizing, it contains olive oils, coconut, and jojoba.
Made in the USA without parabens, sulfates, SLS, or triclosan
Measurements
One bottle is about 7.3 in x 5.2 in x 2.3 in.
How it Compares to Others and Why
The gel assists in the restoration of the natural barrier. It keeps the creation of dead skin and sebum in check.
Also, unlike other tea tree oil soaps, it contains only as much oil as necessary to do its job. It promises not to leave behind a "minty" scent.
Expert Tips
Don't be alarmed if you notice a strong odor while you're in the shower. It'll go away once you dry off.
If you're looking for an affordable set that includes both body wash and moisturizer, this one by New York Biology is fabulous.
Physical Attributes
Made with tea tree oil (again, I know), but it contains more than any other product so far.
The antifungal body gel assists in improving the condition of your skin. It's also effective in soothing and calming the skin.
Made without alcohol, parabens or sulfates.
Measurements
The bottle size is 2.5 in x 2.5 in x 7.5 in.
How it Compare to Others and Why
In comparison to other antifungal and antibacterial body gels on the market, it contains a higher percentage of tea tree oil content. The total tea tree oil content is about 5 percent.
The product claims to be effective against yeast action, itchy and dry skin, eczema, nail fungus, acne, jock itch, and athletes' foot.
Expert Tips
For pregnant users, consult their doctors before using the product, as it contains the most tea tree oil that's allowed by law.
Also, if you have very sensitive skin, do a small patch test first or consult your dermatologist.
Check our list of body wash for dry skin.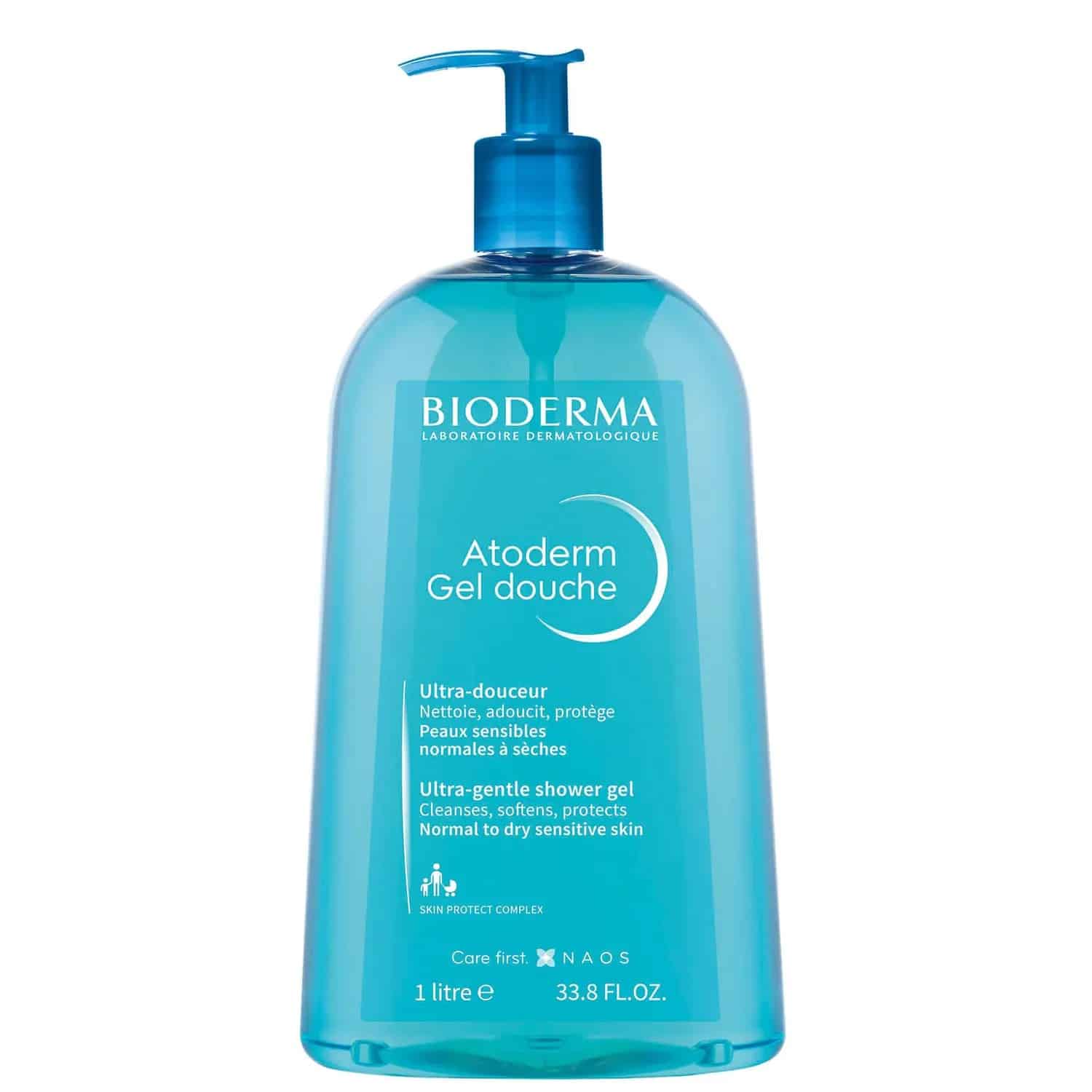 Tired of all of the tea tree soaps? You'll be thrilled to know that this one doesn't have any! In fact, it's completely devoid of ALL essential oils.
Physical Attributes
The gel softens and smoothen the skin and contains ingredients that moisturize efficiently. That's due to the formula of the shower gel that's pH balanced.
It's a soap-free cleanser that relies on other ingredients to do its job.
Measurements
It's a big bottle and measures 1.75in x 1.75in x 6.75 in size.
How it Compare to Others and Why
The antibacterial technology that the product makes use of is widely famous for being safe and effective even for babies. It's the ideal product for extremely sensitive skin types.
Expert Tips
Don't use it more than twice a day, as it can be drying thanks to the sulfates.
Also, one reviewer jokingly said that "you may need a hammer" to get it open. I suggest making sure the cap is fully unsealed and working before getting in the shower.
While we've mostly discussed whole-body soaps, our hands are part of our body too, aren't they? Given how much we use them, they need even more attention when it comes to antibacterial soap than the rest of our bodies.
Physical Attributes
It's composed of essential oils and vital botanical extracts.
The components are antibacterial and organic in nature.
Along with essential oils, it contains aloe to help keep your hands softer use after use
Measurements
The bottle size is about 4.01in x 2in x 7in.
How it Compare to Others and Why
Unlike so many antibacterial hand soaps, this one uses natural ingredients to fight bacteria while also balancing out the harsher essential oils with soothing aloe.
Expert Tips
You only need to add enough water and build up the lather slowly. Don't overdo it.
If you want an actual bar of soap instead of a body wash, you'll love this one!
Physical Attributes
The bar's made of vital cajeput essential oils, tea tree, and peppermint oils. It helps boost the complexion and endows a healthy look.
The antibacterial hand soap bar features antifungal properties and is free of chemicals. It's effective against itchy and dry skin.
Measurements
The bottle sizes up to 2.5in x 1in x 3.25in.
How It Compare To Others And Why
The antiseptic soap bar by The Yellow Bird only makes use of ingredients that are natural and organic, unlike many other bar soaps that use synthetic and chemically-sources components.
Expert Tips
Consult the doctor in case of a rash. Avoid direct eye contact.
Last, but not least, we have one last tea tree soap for you, and it's an amazing option!
Physical Attributes
Antifungal and antibacterial, this one deals with all forms of bacteria by blending a powerful mix of mint and tea tree and peppermint oil.
The body wash contains spearmint, eucalyptus, wintergreen, menthol, and peppermint, and tea tree oil.
Measurements
A bottle measures about 3in x 3in x 6in.
How It Compare To Others and Why
Derma-nu makes use of only natural and organic components. It's completely free of chemicals.
The soap is free of Paraben, dyes, and artificial scents. It contains 71% organically sourced components. Derma-nu only makes use of natural and best-quality ingredients.
Expert Tips
DO NOT use it on your genital area. It's a bit too strong for your most sensitive parts.
READ MORE: Body Soap For Sensitive Skin
How to Choose the Right Antibacterial Body Soap
Choosing the correct antibacterial soap for body comes down to what it's composed of and its varied benefits.
READ MORE: Antibacterial Soap Vs Regular Soap
FAQs
Conclusion
Antibacterial soap for body has now become more than just luxury items. It's another step towards maintaining a high level of hand and face hygiene.
Daily, you expose your face to bacteria, humidity, and dirt molecules. In such cases, regular soaps fall short.
The Anti-Fungal Therapeutic Soap by Derma-nu is the clear winner based on detailed research, careful study, and even considering online polls and surveys.
You can use it on the body as well as on your face. It's a body wash that cleanses and moisturizes the skin evenly.
Other than that, it gets rid of foul odor and soothes itchy, dry, and inflamed skin.
What is your favorite antibacterial soap for the body? Please share with us below!