If you have sensitive skin, then you are all too familiar with the struggle of selecting a soap or body wash that won't lead to irritated skin.
Whenever you decide to buy something from the store, it's easy to become overwhelmed. So, from my personal experiences, I've put together a list for you.
Check: Best Antibacterial Body Soap
Antibacterial Body Soap and Body Wash Top Picks at a Glance
If you see the value in these products and choose to purchase via my referral links, I may earn a small commission at no extra cost to you.
Don't have time? Here is a quick comparison of our favorites!
9 Best Antibacterial Body Soap for Sensitive Skin (Reviews)
At the top of our list is the Dove Body Wash.
Unlike many other antibacterial body wash you can find, it has moisturizing and cleansing properties.
Though it's perfect for sensitive skin, it's also great for all skin types including dry skin and combination skin.
It removes dead skin cells whilst providing your body with natural moisture and leaving your skin hydrated.
This antibacterial body wash helps with the pH balance of your skin and keeps it healthy while providing softer skin.
The antibacterial ingredients in a product often guarantee cleanup but rarely moisturizing factors too.
Dove's products usually work well in combination with each other. So if you already use their soaps or haircare products, this is a good body wash for sensitive skin.
You can also choose to wash your face with it as the moisturizing and PH properties are gentle enough. (1)
Features & Attributes: Dove Body Wash Hypoallergenic Soap
pH balancing
No sulfates
Packaged in fully recycled bottles
Benefits & Drawbacks of Dove Body Wash Hypoallergenic Soap
| Benefits | Drawbacks |
| --- | --- |
| Protects the skin microbiome | Not a vegan product |
| Made with 100% gentle cleansers | |
| PETA-certified | |
Measurements
Dimensions: 5.16 x 3.03 x 8.89 inches
Weight: 2.13 Pounds
How it Compares to Others
It comes from a reliable brand and checks all the boxes when it comes to counting the benefits for skin health and antibacterial properties.
Expert Tips
If you have sensitive or dry skin, apply this body wash with your hand instead of a shower pouf for better moisturizing.
This antibacterial body wash is gentle and has a low pH balance. In addition, the cleaning agents in this body wash work well together to soothe irritation and itchy skin.
There is no need to worry about chemicals, as this has natural ingredients like shea butter, cucumber, coconut cleansers, aloe vera, and chamomile.
You won't find ingredients like sulfates on this product's ingredient list.
I am often skeptical about skincare products overpromising, but this body wash delivers on its promises.
The main ingredient for this body wash is the soapberries grown in the wild.
Maybe this is why they advertise their natural ingredients and claim that there will not be a chemical residue left on the skin after a relaxing bath.
Any toxins or allergy-causing chemicals are kept far away from the composition of this body wash. The natural ingredients add to the goodness and richness of texture.
When it comes to fragrance, the citrus scent helps make you feel fresh after each bath with the orange essential oil. (2)
Features & Attributes: Body Wash by Tree to Tub
Ideal pH maintenance
Sustainable harvesting of natural ingredients
Recyclable products and production
Benefits & Drawbacks of Body Wash by Tree to Tub
| Benefits | Drawbacks |
| --- | --- |
| Silicone and Gluten-free | The essential oil used for fragrance might irritate some people with severe skin allergies. |
| Cruelty-free and vegan | It does not lather as much as other products mentioned on this list |
| Ideal for all age groups | |
Measurements
Dimensions: 2.28 x 2.28 x 6.01 inches
Weight: 8.5 Ounces
Expert Tips
The body wash is naturally moisturizing, but I would still recommend not skipping the moisturizing part of your skincare routine.
Sale
Tree to Tub Citrus Body Wash for Dry Skin & Sensitive Skin - pH Balanced Moisturizing Hydrating Sulfate Free Body Soap for Women & Men w/Organic Shea Butter, Aloe Vera, Natural Soapberry
🌱RENEW & REPLENISH: Protect dry patches in every shower with a shea butter body wash sensitive skin loves. Our hydrating body wash helps restore skin's natural moisture & eases dry skin discomfort.
🌱SOOTHE SENSITIVE SKIN: Treating your delicate skin right starts in the shower. Our sensitive skin body wash is boosted with gentle botanicals like aloe, cucumber & chamomile for extra calming care.
🌱SPA-IFY YOUR SHOWER: Enjoy the gentle, vitamin C infused citrus scent of our body wash for sensitive skin. Treat your skin to vegan care inspired by nature & aromatherapy from pure essential oils.
🌱INDULGE IN NATURE'S GIFT: Soapberry & shea butter gives sensitive skin soap an upgrade by delivering a creamy, sudsy cleanse your skin will love. Enjoy the gentle lather of a sulfate free body wash.
🌱LOVE IT OR IT'S ON US: Your skin deserves the best care. If you're not in love with the fresh, clean, gentle scent or quality of our dry skin body wash, we'll give you a full refund, no questions.
What sensitive skin most craves is nourishment (3). If you want healthy skin, then looking to moisturize it is ideal for many reasons such as keeping your skin soft.
It will keep your pores from getting filled with dirt which is great for acne-prone skin.
The moisture content for dry skin needs to be managed well so that no irritation or itching can tarnish the softness of your skin.
Oats and other emollients are ideal ingredients that lock in the moisture (4) with every wash to save skin from dryness while keeping the skin clean.
It is an antibacterial body wash that is worth mentioning because cleansing is as important as moisturizing.
You will feel a difference with just one wash and it has a creamy lather.
It is recommended to moisturize sensitive skin especially for people with skin conditions such as eczema-prone skin.
Features & Attributes: Aveeno Daily Moisturizing Body Wash
Calming scent and fresh fragrance adds to the soothing aspect (5)
Vitamin B5 component is suitable for nourishment
Dermatologist recommended brand
Benefits & Drawbacks of Aveeno Daily Moisturizing Body Wash
| Benefits | Drawbacks |
| --- | --- |
| Soap-free | It has sulfates in composition, so you might have to skip this one if you are allergic. |
| Dye-free | |
| It can be used for shaving for added moisturizing | |
Measurements
Dimensions: 4 x 2.8 x 8.8 inches
Weight: 1 Pound
Expert Tips
If the composition suits you, use the body wash in combination with the moisturizer to test out the range of nourishment.
Sale
Aveeno Daily Moisturizing Body Wash for Dry Skin with Soothing Oat & Rich Emollients, Creamy Shower Cleanser, Gentle, Soap-Free and Dye-Free, Light Fragrance, 18 Fl Oz (Pack of 1)
18 -fluid ounce bottle of Aveeno Daily Moisturizing Sulfate-Free Body Wash with prebiotic oat and a light scent to nourish and gently cleanse dry skin to help preserve skin's natural moisture barrier
Aveeno's unique formula combines prebiotic oat to help lock in moisture and gently cleanses to reveal smoother, softer skin long after you shower. 92% of users agreed this daily cleanser left their skin feeling nourished while they showered
The daily cleanser is formulated for sensitive skin and features a light fragrance designed to be gentle on skin. The nourishing shower wash is allergy tested and free of sulfates, parabens, dye and soap
Use this moisturizing body wash for dry skin with Aveeno Daily Moisturizing Body Lotion to lock in moisture for 24 hours. The creamy wash can also be used as a rich shave gel for silky, smooth legs
Aveeno, a dermatologist recommended brand for over 70 years, has set a goal to have 100% recyclable, reusable or compostable packaging by 2025. We've relied on nature for generations. Now we're protecting its future
An ayurvedic solution to your skin problems, this skin lotion is the ideal product for any adult with sensitive skin.
After using a bar of antibacterial soap, it is essential to care for your skin by moisturizing it with a lotion of the right consistency and composition.
Since tender skin can react adversely to even the slightest proportion of harsh chemicals, it is best if you choose a mild lotion for nourishment and moisturizing.
The ayurvedic solution has neem as an active ingredient with well-known antibacterial properties.
If you are familiar with neem, it acts as an antibacterial agent and provides nourishment to undernourished skin, and helps to achieve soft skin and prevent excessive dryness.
It is an ideal body lotion so that it will work ideally after each bath and after prolonged sun exposure in the summers and winters.
TheraNeem prides itself on its Ayurvedic approach to skin problems in today's time when people are moving towards chemicals.
With vital components, this lotion is made for the skin after meeting all the company's quality standards.
Features & Attributes: TheraNeem Neem Therapy Skin Lotion
Antioxidant contents
Aloe Gel, Glycerin, Jojoba Oil, and Shea Butter ensure skin softness. (6)
It contains both neem extracts and organic neem oil
Benefits & Drawbacks of TheraNeem Neem Therapy Skin Lotion
| Benefits | Drawbacks |
| --- | --- |
| Hydration and nourishment benefits | Primarily made for the body, you might have to buy a separate moisturizer for your face. |
| Mild moisturizer | |
| Vegan composition | |
Measurements
Dimensions: 1.87 x 1.87 x 8.13 inches
Weight: 8 Ounces
Expert Tips
For people with dry skin and abrasions from rough work, using it as a healing lotion can work wonders in removing any itching or skin irritation.
Check More: Best Body Wash for Dry Skin!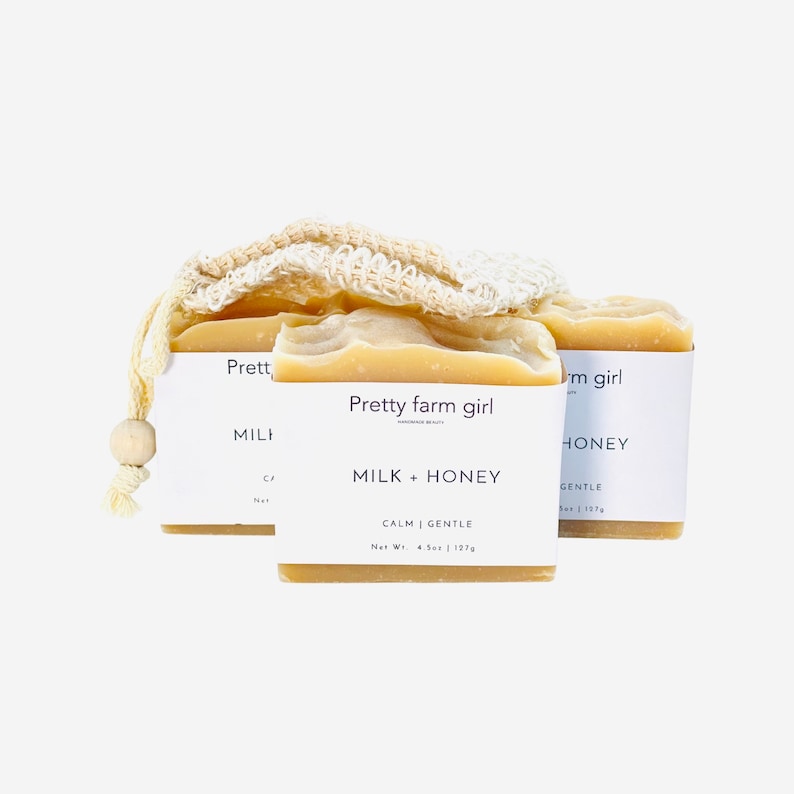 You can get much from big corporations, but handmade products rarely make a list.
If you have been on the lookout for great products, you know to stay away from products with a synthetic fragrance and look for natural ingredients.
This goat milk soap is made by hand and has no scent that can irritate the skin.
People with skin conditions like eczema can use goat milk soap to soothe the skin and moisturize it.
Goat milk has a long list of vitamins that can help nourish the skin over continued use.
With no essential oils to add fragrance, this soap uses milk and honey as the primary products for providing healthy skin to all buyers.
Features & Attributes: Milk + Honey Goat Milk Soap
Goat milk is known for its soothing properties
Honey has some known skin benefits
No added fragrance
Natural ingredients used
Benefits & Drawbacks of Milk + Honey Goat Milk Soap
| Benefits | Drawbacks |
| --- | --- |
| Anti-inflammatory properties | No dimensions or weight mentioned |
| Soothing and moisturizing | No return or replacement eligible |
| Has fatty acids, amino acids, and antioxidants | |
| It also helps with gentle exfoliation | |
Expert Tips
Use it as a cleansing agent and complete the skincare routine with a moisturizer after having a bath.
6. Eczema Soap – Best Natural Ingredients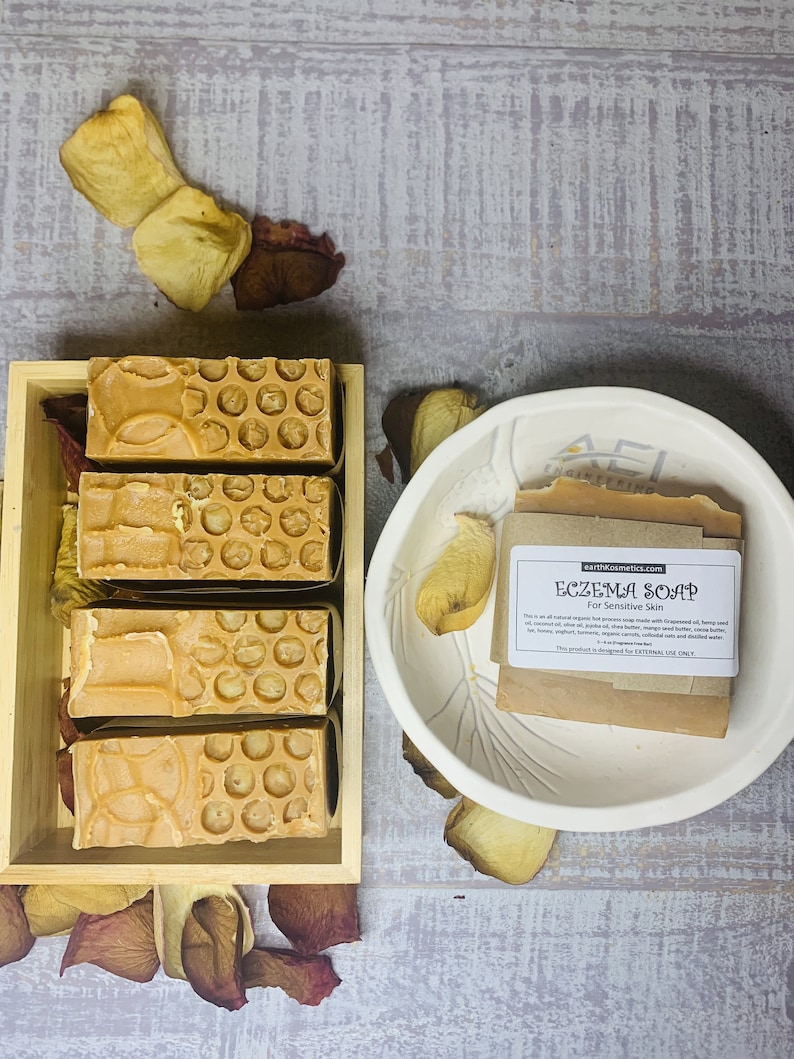 Opting for natural products seems to be the only recourse for people who often suffer from rashes and breakouts while trying out a new product.
Products with chemicals can actually keep your skin dry.
This eczema soap is made for people suffering from eczema or those looking to soothe and prevent flaky skin.
The composition of this soap is with natural ingredients like shea butter, cocoa butter, organic honey, turmeric, and Greek yogurt.
If you suffer from any irritations like hives, or rashes, give this bar a try. The organic composition will not cause any harmful effects if it does not help.
Coconut oil and jojoba oil are infused in this soap for moisturizing purposes, so your skin will get all-rounded care.
Since it is meant for cleansing purposes, you will need to have a pleasing skin lotion at hand after bathing.
Features & Attributes: Eczema Soap
Available with or without fragrances
Handmade
100% organic ingredients
Made for eczema
Benefits & Drawbacks of Eczema Soap
| Benefits | Drawbacks |
| --- | --- |
| Anti-inflammatory properties | Made primarily for dry and inflamed skin |
| Soothes, rashes, and irritation | |
| No fragrance option for extra tender skin | |
Measurements
Dimensions: Customisable
Weight: 3.5 – 4 ounces for 1 bar
Expert Tips
Begin with a fragrance-free version if you have highly inflamed or fragile skin.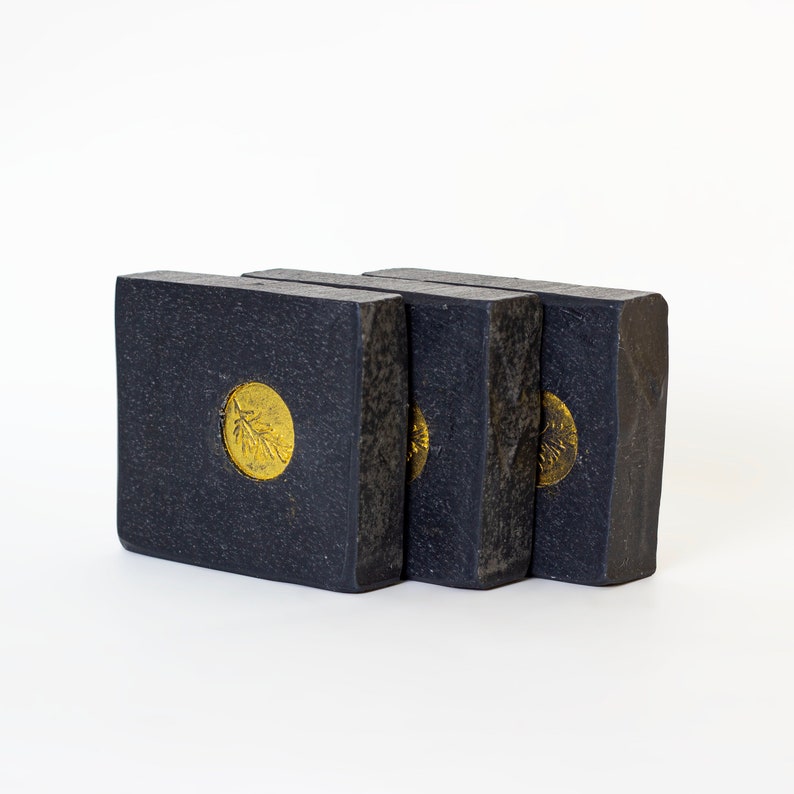 Activated charcoal is known for its thorough cleaning capabilities (7). As a result, skincare products and many cosmetics are making good use of activated charcoal.
The primary benefit of charcoal is deep cleaning, so you can expect the pores to be rid of any dirt that might have settled, which helps with acne treatment.
Activated charcoal powder by itself can only do so much. This is why this soap combines the goodness of charcoal with tree tea oil.
Now, tree tea oil has a list of benefits you should take advantage of.
Tree tea oil has anti-inflammatory properties which help with skin allergies by cleaning the skin and providing relief.
Raw African Honey finishes the combo and adds to the mixture.
Honey is a good moisturizer and smoothes over blemishes that acne and rashes might have leftover.
The fragrance of tree tea essential oil is the right scent to start your day or skincare routine.
This type of soap bar uses cold-press methods, and each bar is unique in design because of this.
Features & Attributes: Activated Charcoal Bar Soap
Vegan
Paraben-free and sulfate-free
Cruelty-Free
Benefits & Drawbacks of Activated Charcoal Bar Soap
| Benefits | Drawbacks |
| --- | --- |
| Rids of dark spots left by dead skin and sun exposure | Essential oils used for fragrance may irritate some users with skin allergies. |
| Relief in redness and irritation | |
| Preventing breakouts through a thorough cleaning | |
| Removal of excess oil | |
Measurements
Dimensions: May vary
Weight: 5 ounces
Expert Tips
This product is suitable for both the face and the body, so it works as a perfect cleanser as well as a nourishing body wash!
Let the soap dry entirely after each use so that product wastage is reduced and you can get more value for your money.
This list features products that ensure proper cleaning.
However, if you are also in the market looking for antibacterial products, then Dettol's body wash might help.
Dettol is primarily known for its handwashes and with good reason. However, the antibacterial properties of their products extend to their body wash as well.
This two-pack combo is the right choice for anyone whose priority is a thorough cleaning.
The active cleaning agent in Dettol's body wash is Chloroxylenol (8), often used to clean surgical equipment.
Apart from this, the fragrance is mild enough to be relaxing but not strong enough to trigger any allergic reactions.
When it comes to users with tender skin, this body wash is effective because it offers a pH-balanced formula and helps the skin stay healthy and nourished.
Glycerin is an essential component used to provide adequate moisture to the skin. In addition, it lathers well so that less product will mean more foam and better cleaning.
If you are all for value for money, this combo will be a saving option for you.
Features & Attributes: Dettol Anti Bacterial pH-Balanced Body Wash
pH-balanced formula
Antibacterial agent
Made for dry and tender skin
Benefits & Drawbacks of Dettol Anti Bacterial pH-Balanced Body Wash
| Benefits | Drawbacks |
| --- | --- |
| Moisturizing | It is not a sulfate-free product, so if you have an allergy to chemicals, have a good look at the composition list |
| Lathers well | |
| Mild fragrance | |
Measurements
Dimensions: 9.8 x 9.25 x 2.2 inches
Weight: 21.1 ounces
Expert Tips
It is an ideal body wash to use with your loofah for gentle exfoliation. In addition, it will soothe irritation with the moisturizing properties of glycerin.
Sale
Let me just say it. There are simply not enough skincare products for men out there!
Of course, many of the products marketed to women will work just as well on men, but still, many men refrain from using products with the label 'For Women' on them.
If you want a good option for your tender skin and want a product made specifically for 'Men,' then Nivea Men might have a solution for you.
This pack of 3 combo offers body wash for delicate skin, which will soothe, clean, and moisturize as well as offer an indulgent shower experience.
The active ingredients in this product are almond oil and bamboo extract.
If you have been using soap all this while and demand a gentler alternative, then this soap-free body wash is made for you.
Many products come with drying alcohol and harmful dyes, and this body wash saves you from all that.
Nivea's packaging also focuses on sustainability, so if you are conscious about your carbon footprint, this might be an excellent way to move in the right direction.
Features & Attributes: Nivea Men Sensitive Body Wash
Dermatologically tested product
Developed for delicate skin types
Value for Money offer
Benefits & Drawbacks of Nivea Men Sensitive Body Wash
| Benefits | Drawbacks |
| --- | --- |
| Sustainable packaging | It contains sulfates and other special ingredients and can trigger irritation |
| Gentle cleansing made for tender skin | Buying a pack of 3 without trying it first can be a recipe for disaster if the product does not suit your skin |
| No color dyes | |
| No drying alcohol added | |
Measurements
Dimensions: 1.1 x 0.67 x 3.31 inches
Weight: 1.31 Pounds
Expert Tips
Do not think using loofahs is unmanly. Squeeze some product on a loofah, add water, lather well and enjoy your bath!
Nivea Men Sensitive Body Wash with Bamboo Extract, 3 Pack of 16.9 Fl Oz Bottles
Multi-Use Body Wash: NIVEA MEN Sensitive Body Wash is suitable for use as a shaving gel, moisturizer, body wash and shampoo
Gently Cleanses: This soap free body wash gently cleanses skin and provides the nourishing moisture skin needs
Lightly Scented: Men's body wash with a light scent with citrus notes for a revitalizing experience
Bamboo Extract and Almond Oil: NIVEA MEN body cleanser enriched with soothing Bamboo Extract and Almond Oil
Includes three (3) 16.9 fluid ounce bottles of NIVEA MEN Sensitive Body Wash
READ MORE: Antibacterial Soap vs Normal Soap: Is There a Difference?
Things to Look for When Buying Best Antibacterial Soap For Sensitive Skin
Delicate skin makes each buyer a little too careful while buying skincare products.
I've put together a list of things necessary to see in a product before purchasing, which you can read below:
Here are some essential aspects to look into before buying body soap for tender skin:
Product's Composition
Do not gloss over the ingredients before buying a soap. They may contain some chemicals that can trigger allergies in your sensitive skin.
Product's Quantity
Being aware of the amount makes you vigilant about whether you are getting your money's worth with each purchase. There is only so much you can spend on bath products.
Product Reviews
Each product has its list of satisfied customers. Reading customer testimonials can improve your faith in a product and make you aware of the drawbacks each soap or body wash might have.
Compare With Others
Rather than buying the first product that pops up, explore multiple options. Contrast and compare. Some might have different benefits than others.
Product Replacement or Refund policy
Depending upon the seller and website you are buying from, return or replacement might or might not be available. It will be a terrible deal indeed if you do not get the option of getting your money back if your skin condition worsens overuse.
FAQs
Is it OK to wash your body with antibacterial soap?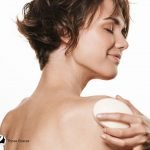 Yes. It is absolutely fine to wash your body with antibacterial soap.
If you have delicate skin, it might be wise to choose antibacterial soap as they are made of milder chemicals and provide sensitive all-around protection.
Is regular soap better than antibacterial?
Antibacterial soaps work similarly to regular soaps in removing dirt and bacteria from the skin.
Their functions are similar and do not have a significant difference in ineffectiveness. (9)
If you are looking for straightforward cleaning, regular soaps will do the job as well as antibacterial soaps do.
Are all soaps antibacterial?
Since soaps are made to get rid of dirt, germs, and bacteria, all soaps are antibacterial to a certain degree.
They are meant to clean your skin, and removing bacteria is a part of that.
However, antibacterial soaps are marketed as such because they have added chemicals for more effective cleaning.
Can antibacterial soaps be used for washing my face?
It depends on the manufacturer and whether or not they have specified the use for the body as well as the face.
If the soap is made of 100% natural ingredients, it might be alright to try it on your face. Otherwise, refrain from doing so.
Conclusion
If you feel even a little confident in making the right choice for your skin after reading this blog, then I have done my job.
This list featured some of the best soaps for gentle skin. Your skin will be both moisturized and nourished with these options.
As long as you are thinking of the buying guide I have included above, you will be able to make the perfect purchase for yourself.
Choose one which resonates the most with you, and then you can begin giving your skin the pampering it rightfully deserves.
References
1. What's so Important About Skin pH? [Internet]. Healthline. Available from: https://www.healthline.com/health/whats-so-important-about-skin-ph
2. Orange Essential Oil – Ayurvedic Ingredients Uses & Benefits | Forest Essentials | Forest Essentials [Internet]. [cited 2021 Dec 16]. Available from: https://www.forestessentialsindia.com/blog/ingredient/orange-essential-oil#:~:text=Orange%20essential%20oil%20is%20astringent
3. Moisturizers: Options for softer skin [Internet]. Mayo Clinic. 2019. Available from: https://www.mayoclinic.org/diseases-conditions/dry-skin/in-depth/moisturizers/art-20044232
4. What is an emollient? [Internet]. www.e45.co.uk. [cited 2021 Dec 16]. Available from: https://www.e45.co.uk/what-is-an-emollient/
5. Aveeno Skin Relief Body Wash Review [Internet]. Makeupandbeauty.com. 2016 [cited 2021 Dec 16]. Available from: https://makeupandbeauty.com/aveeno-skin-relief-body-wash-review/
6. 13 Benefits of Using Jojoba Oil in your Skin Care Routine [Internet]. Healthline. 2018. Available from: https://www.healthline.com/health/beauty-skin-care/jojoba-oil-for-face
7. Mendhekar S, Thorat B, Bodke N, Assistant G. FORMULATION AND EVALUATION OF GEL CONTAINING NEEM, TURMERIC, ALOE VERA, GREEN TEA AND LEMON EXTRACT WITH ACTIVATED CHARCOAL AND HONEY [Internet]. Available from: https://storage.googleapis.com/journal-uploads/ejpmr/article_issue/1512093026.pdf
8. Chloroxylenol [Internet]. go.drugbank.com. [cited 2021 Dec 16]. Available from: http://go.drugbank.com/drugs/DB11121
9. Which Soap is Best? – Minnesota Dept. of Health [Internet]. www.health.state.mn.us. Available from: https://www.health.state.mn.us/people/handhygiene/how/bestsoap.html#:~:text=Antibacterial%20soaps%20are%20no%20more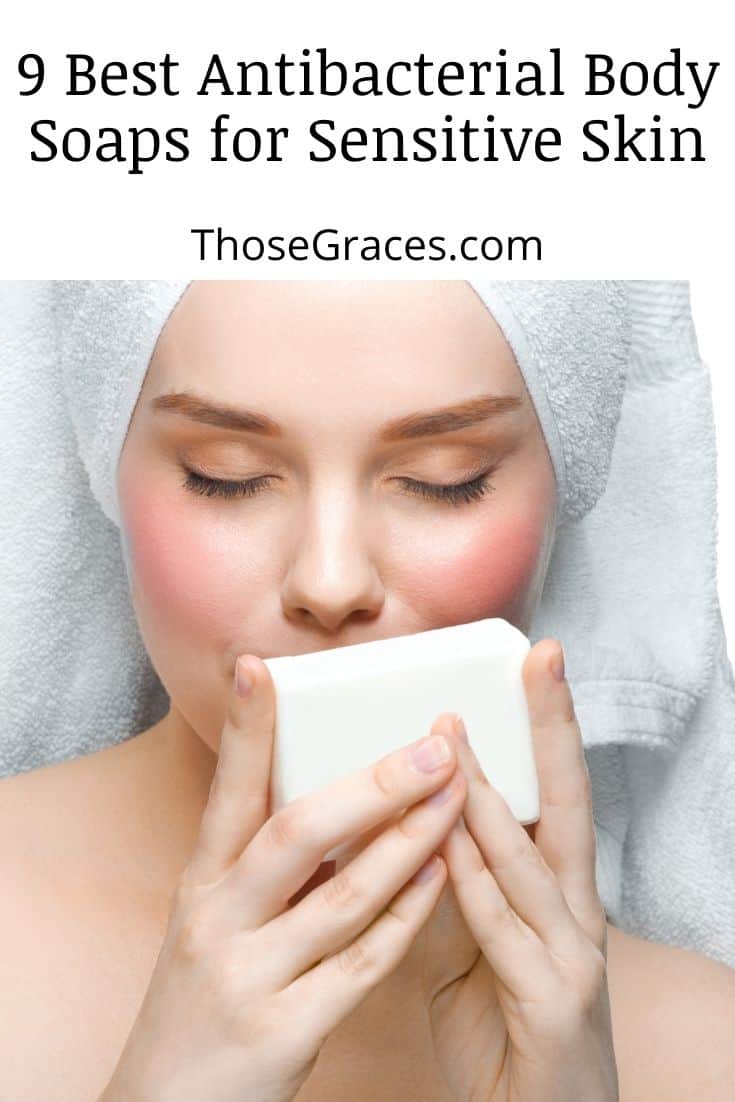 What is your favorite antibacterial body soap for snesitive skin? Please let us know in the comments below!