If you're on the hunt for zero-waste toothpaste, your search is over!
As a dentist and a person who tries to live as sustainably as possible, I'm always trying to find new products for oral care that reduce waste to a minimum.
These five toothpaste brands that I reviewed below proved to be real gems, so I wanted to share them with all of you.
READ MORE: Zero Waste Beauty Products: 10 Tips to Green Your Routine
Best Zero-Waste Toothpaste Top Picks at a Glance
If you see the value in these products and choose to purchase via my referral links, I may earn a small commission at no extra cost to you.
Check this comparison table for a quick guide. Read the review for further details.
Top 5 Best Zero-Waste Toothpaste Brands
Davids is a fantastic brand that is an absolute winner when it comes to sustainability.
Founded in 2011 by Eric David Buss, their main goal was to eliminate the harmful ingredients in conventional toothpaste while also reducing the waste to a minimum.
From all the research that I did, it looks like they're doing great at following their principles and making the earth a better place.
Features
When I read that the brand sources 98% of its ingredients locally to reduce carbon emissions, I instantly knew that I wanted to support it.
So, if you're on the search for plastic-free toothpaste that leaves your mouth fresh and doesn't pollute the environment, you're at the right spot.
Another reason why this company sources locally is to produce more work spots for Americans.
Next, you won't find any ingredients such as sodium lauryl sulfate, fluoride, and gluten-free. The peppermint oil flavoring comes from a premium mint oil that is also made in the US.
The brand offers toothpastes with various flavors. You can find their products in regular-size packaging and a smeller travel-sized packaging.
| Benefits | Drawbacks |
| --- | --- |
| The brand uses sustainable packaging that is recycled and recyclable to reduce waste | It's a little thick |
| Their products are cruelty-free and vegan, which means they don't test on animals | Just a smidge pricey for toothpaste (worth it, though) |
| The baking soda in the toothpaste has a whitening effect | |
| Davids Natural Toothpaste is an affordable product that won't break your budget | |
Benefits
The brand uses sustainable packaging that is recycled and recyclable to reduce waste
There is nothing better than creating packaging that won't take tens and hundreds of years to decompose. No more plastic toothpaste tubes!
This aluminum packaging is lined with a Food Grade Non-BPA liner that keeps the product away from the metal and keeps it fresh.
Their products are cruelty-free and vegan, which means they don't test on animals
Davids' products are based on natural ingredients and don't contain any animal-derived ingredients.
The brand doesn't approve of animal testing; when I saw that, I instantly knew that I would buy more of their products.
The baking soda in the toothpaste has a whitening effect
Although using baking soda at home regularly is not smart, having it formulated in a tested and approved product can have benefits.
Baking soda has a whitening effect, and this toothpaste did whiten my coffee-stained teeth a little. The difference is not significant, but it's good enough for me to notice it.
Davids Natural Toothpaste is an affordable product that won't break your budget
This is the cheapest product on the list that lasted me quite a while.
Drawbacks
The consistency of this eco-friendly toothpaste is a little thicker. I was caught by surprise the first time I used it, but it doesn't make the experience any different or the paste less effective.
Our Favorite Product
As a Doctor of Dental Medicine and a person who's been trying to live a cleaner, more sustainable life, I couldn't wait to try Davids Premium Natural Toothpaste.
My favorite is the peppermint flavor, which uses US-sourced peppermint oil.
Did you know that it took David four years to create the perfect toothpaste?
During those four years, he incorporated ingredients such as calcium carbonate (removes plaque to prevent tooth decay), vegetable glycerin (non-GMO vegetable glycerin to boost the mint flavor), hydrated silica (removes teeth stains), and more.
How it Compares to Others and Why
'Each year about 1.5 Billion toothpaste tubes end up in US landfills, and we wanted to do better.'
And, they did. The time of plastic tubes is over; it's time to turn to more sustainable alternatives such as Davids' metal tube.
This is the only tube product on the list and is perfect for everyone old-fashioned who likes this type of packaging.
Another fact that I appreciate a lot is that this company has FSC certified paperboard packaging.
If you're not familiar with the term, it means that their packaging is made from forests that are protected by the Forest Stewardship Council.
Expert Tips
Switching from conventional to recyclable metal tubes of toothpaste actually improved my user experience. When my friend first told me that this product comes with a metal key that you should use to roll up the tube, I was so excited. And, I have to admit that the key reduces the waste to a minimum because you can squeeze even the last drop of toothpaste with it.
There are no special rules for using this product; just apply it to your brush, and you're ready to go.
Also check: Best Zero Waste Shampoo and Conditioners
'Finally, one day after spending $25 on a body butter, I thought to myself, 'I can make this'…and Butter Me Up Organics was created.'
Butter Me Up Organics is a slightly younger company than Davids and was founded in 2008.
The owner, Jillian, spent over three years exploring ingredients, trying to create the best natural products. Besides oral care, her brand also produces body, bath, baby, face, hair, home products.
Although people tried to convince her to stick to plastic packaging, Jillian managed to believe in her zero-waste goal and pack her goodies in glass, paper, or tin.
For example, her brand's toothpaste come in cute jars with metal lids I now use to store my hair ties.
The level of her commitment to sustainability shows through the fact that she even uses sustainable printers, ink, packaging, paper, and more.
Features
The brand has two toothpaste options you can choose from.
There is a whitening toothpaste and an activated charcoal one that is by far my favorite. The third oral care product is their remineralizing powder.
All of their ingredients are organic, natural, non-GMO.
Jillian's motto is not to put anything on your body that you wouldn't put inside your body. So, she carefully selected everything that goes into each product.
Although the oral care products of the brand are vegan and cruelty-free, their entire range is not vegan.
My main priority is to get products that were not tested on animals, so I don't really mind that they're not 100% vegan.
| Benefits | Drawbacks |
| --- | --- |
| The toothpastes come in recyclable glass packaging | The one drawback you need to keep in mind is to properly store the Organic Activated Charcoal Whitening paste in a cool spot because the coconut oil can melt |
| The ingredient list includes coconut oil that has anti-bacterial properties | Not many reviews on Amazon, which turns some people off. |
| The oral care products by Butter Me Up are vegan, cruelty-free non-GMO and fluoride-free | |
Our Favorite Product
The Organic Activated Charcoal Whitening Toothpaste by Butter Me Up Organics is one of the best zero-waste toothpaste options if you love glass jar packaging.
The product is black because of the activated charcoal and comes with a wooden applicator.
Now let me get into detail about why this product is so good. First of all, it's handmade and can last up to three months.
I like to switch up products often, so three months is just enough for me to use it without the toothpaste going bad.
Secondly, it's based on a blend of natural ingredients. Coconut oil has anti-bacterial properties and can reduce the growth of bacteria that cause decay.
The sodium bicarbonate (baking soda) helps remineralize the teeth, remove the plaque and whiten the teeth. Don't be surprised when the toothpaste tastes salty; it's because of the baking soda.
How it Compares to Others and Why
This is a unique toothpaste with activated charcoal that doesn't compare to the other products on the list.
It has a whitening effect, just like the WELdental tablets that we'll discuss below, but they have a different ingredient list.
Expert Tips
To use the paste, get a damp brush or a wooden applicator and add the paste to it. Start brushing your teeth like you would any other day. The first thing you'll see in the mirror will be scary, especially if you've never used a black paste. But, after washing your mouth, you'll feel refreshed and ready to tackle the day.
Also check: Best Zero Waste Makeup Brands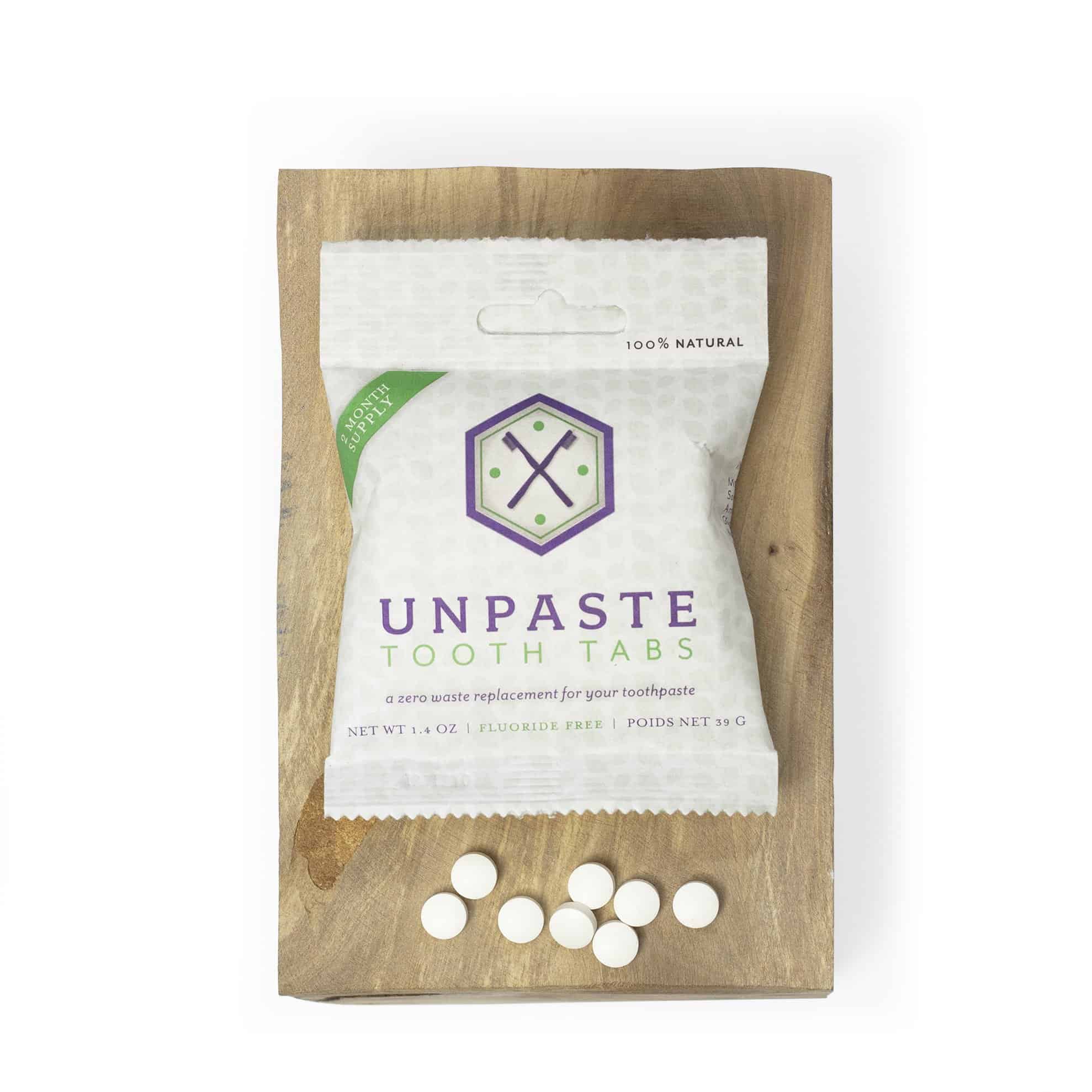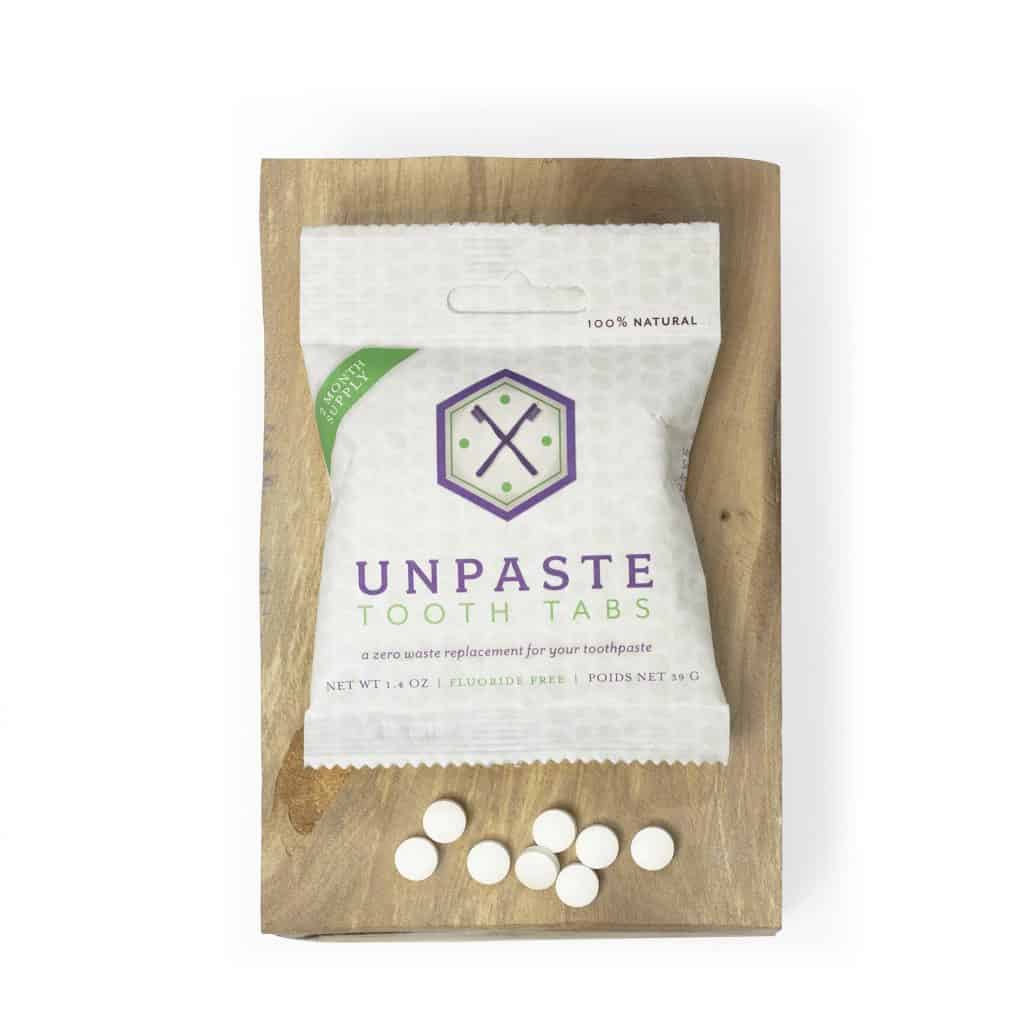 Every brand has a story, but this one is probably the cutest for today. Jocelynn and Lee are parents of three little cuties.
On their search for a more sustainable lifestyle, the two dedicated parents decided to start a company that today produces my favorite zero-waste toothpaste tablets.
Today, the brand offers a wide variety of products, including personal care, laundry, feminine care, and more. Aside from the tablets I mentioned, they also have bamboo toothbrushes and silk floss.
Features
Each year, around 400 million toothpaste tubes are thrown each year in the US. Globally, this number adds up to about 1.5 billion.
This was one reason why Well Earth Goods decided to opt for compostable packaging for their products.
The Unipaste tablets come in a compostable bag that is made of non-GMO corn starch. If you're planning on getting rid of plastic from your home, this is a great way to start.
Well Earth Goods is a BDIH Certified company, which means that it belongs to an Association of Kind German Industries and Trading Firms.
| Benefits | Drawbacks |
| --- | --- |
| The packaging of the toothpaste tablets is small and convenient for traveling | The packaging is sustainable but not practical |
| Well Earth Goods offers the entire sustainable and zero-waste package thanks to their compostable packaging | Currently only selling through their own website. They used to sell on Etsy, too. |
| The natural ingredients will leave your mouth feeling fresh, get rid of the plaque, and do a great job keeping your teeth healthy | |
| This is a German company that follows European production laws, and in general, European rules are much stricter than American laws. | |
Our Favorite Product
The Unpaste Zero Waste Toothpaste Tablets are my favorite Well Earth Goods product. I was gifted these tooth tabs, and the second I tried them, I knew I was going to purchase more.
My tablets are fluoride-free, but the brand also produces the same tabs but with fluoride.
This clean product doesn't contain preservatives, synthetic fragrances, dyes, silicones, paraffin, Sodium Lauryl Sulfate; it's gluten-free, cruelty-free, and vegan.
The packaging contains 125 tablets, which are enough for two months for a single person.
When it comes to the ingredients, the tablets are made with baking soda (removes plaque, whitens teeth), microfine cellulose (polishes the teeth, especially in the interdental spaces), silica (removes soft plaque), mint aroma (against bad breath), and more.
How it Compares to Others and Why
These tablets are quite affordable considering that the packaging includes 120 pieces and is enough for two months. It has a unique packaging none of the other products on the list have.
Expert Tips
These tabs are so easy to use! If you're tired of conventional tube packaging and want to try something new, this is your chance. All you need to do is bite on the tablet, add a little water and start brushing.
You can also use a wet brush that will turn the tablet into fine powder.
4. WELdental– Best Range Of Products
The WELdental brand is a recognizable brand when it comes to oral hygiene products.
Their range is quite extensive, plus the company has a separate line of zero-waste tablets including whitening, tablets for sensitive teeth, flosser tablets, breath mints, enamel repair, and more.
This zero-waste line is cruelty-free and based on natural ingredients.
Features
Different tablets from the brand have a different purpose. Some will whiten your teeth, others will strengthen the enamel, or some will promote a nice-smelling breath.
Since this is a zero-waste line, their packaging is recyclable. You can use the jar over and over again, and if you don't refill it with the tablets, you can store things in it.
| Benefits | Drawbacks |
| --- | --- |
| The packaging is a recyclable glass jar with a metal lid | This is an expensive product for the number of tablets that you get |
| The brand's tablets have a refreshing smell that is not harsh | Some complaints about "crumbly" texture. |
| The brand offers refills for all their tablets that come in BPI-Certified compostable bags | |
Our Favorite Product
The Chewtab Gentle Whitening Toothpaste Tablets come in a glass bottle with 60 tablets in it.
That should be enough for one month. I love when brands offer refills, so whenever I like a product, I tend to stick to it and order a refill.
These tablets are formulated without fluoride, SLS, and are non-GMO.
Some of the most notable ingredients are baking soda (removing plaque and whitening), xylitol (protects teeth from damage), natural peppermint flavor, stevia.
How it Compares to Others and Why
The Chewtab Gentle Whitening Toothpaste Tablets are similar to the Well Earth Good ones; the major difference is that this product comes in glass packaging and is meant for teeth whitening.
Another huge difference is that these tablets will last you one month, while Well Earth Good tablets last two months.
Expert Tips
Get these tablets, drink a sip of water and start brushing. The smell is pleasant; it's not intense or irritating at all.
Weldental Chewtab Gentle Whitening Toothpaste Tablets
Eco-friendly - 60 tablets. Reusable aluminum bottle. Refills available that are 3 x 60 count in plastic free packaging.
Chew Brush Smile. Non-GMO Xylitol toothpaste tablets. SLS free and Fluoride free.
Baking soda is effective at removing surface stains and it has extremely low abrasion. It also immediately creates alkalinity which helps remove stains, whiten teeth and strengthen enamel. An alkaline mouth hardens your enamel making it less susceptible to stains. Chewtab Gentle Whitening is enamel safe.
No unnecessary ingredients or fillers. No harsh abrasives. Enamel safe.
Manufactured in Carlsbad California.
Robin Goddard is the founder of ByRobin Creations, a best-selling Etsy store for homemade products.
It all started with a vegan lip balm that she made for herself, and her friends got obsessed with it. Since then, Robin has focused on creating more and more products to expand her cruelty-free range.
ByRobin has two sustainable products for oral care. The first one is the Vegan Remineralizing Toothpaste, while the second one is the Vegan Kid's Remineralizing Toothpaste.
Features
If you ever purchase the ByRobin Creations pastes, you'll love their taste! I usually hate how any toothpaste tastes, whether conventional, vegan, or cruelty-free, but that wasn't the case with this one.
The glass jar packaging with a metal lid is so easy to repurpose. Since I really liked the paste, I purchased a refill and used the jar all over again.
| Benefits | Drawbacks |
| --- | --- |
| The brand's pastes taste good and are great for both kids and adults | ByRobin Creations have the most expensive zero-waste oral care products |
| There is an option to refill your packaging | Some may find the color a little off-putting. |
| The oral hygiene pastes by the brand come in a recyclable glass jar | |
| All the ingredients are natural and safe for you | |
| The products are handmade and homemade | |
Our Favorite Product
The Vegan Remineralizing Toothpaste comes in three flavors: Fresh Peppermint, Cool Wintergreen, or Spicy Cinnamon.
The original packaging is 4 oz, but you can get refills for 4 oz and 8 oz. If you are really committed to zero-waste, you will be more than happy with the glass jar and the refillable option.
The calcium carbonate in the paste will remove the plaque from your teeth and keep them strong. This product also contains coconut oil, which has anti-bacterial properties.
The essential oils that are a part of the product, such as tea tree (anti-inflammatory and anti-bacterial), clove (reduces pain, keeps the breath fresh), peppermint (fresh breath and healthy gums), provide the gorgeous smell.
How it Compares to Others and Why
The texture and smell of this paste are unique and don't compare to the Butter Me Up Organics paste.
That one is based on active charcoal, while this one includes calcium carbonate, xylitol powder, coconut oil, a blend of other essential oils (tea tree, clove, wintergreen, peppermint, cinnamon).
Expert Tips
To use the Vegan Remineralizing Toothpaste, you need a wet toothbrush. Just get a pea-sized amount of paste on your brush and start brushing.
The great thing is that you don't have to rinse your mouth if you don't want to because the ingredient list is made of natural ingredients that can't cause you harm.
Zero-Waste Toothpaste FAQs
Can you brush your teeth with baking soda?
Yes, you can, but you shouldn't brush them with this ingredient too often. Baking soda is abrasive, meaning that it can cause damage to your teeth' enamel. Although it's an excellent whitening agent, you should only use it once a week or every two weeks, with a soft-bristled brush and proper brushing technique.
Is there a zero-waste toothpaste with fluoride?
Yes, numerous brands produce zero-waste toothpastes with fluoride. More than 95% of toothpastes sold in the USA contain this mineral. So, it's safe to say that as long as you use a product from a trusted company and don't ingest the toothpaste, you shouldn't worry. Whether to opt for a zero-waste fluoride toothpaste is a matter of personal preference, personal research, and belief.
Our Final Recommendation
References:
"Colgate Debuts World's First Recyclable Toothpaste Tube Thanks to as You Sow Engagement." n.d. As You Sow. Accessed June 8, 2021. https://www.asyousow.org/blog/2019/12/9/colgate-recyclable-plastic-toothpaste-tube#:~:text=An%20estimated%20400%20million%20toothpaste.
"Fluoride: Topical and Systemic Supplements." 2019. Ada.org. 2019. https://www.ada.org/en/member-center/oral-health-topics/fluoride-topical-and-systemic-supplements.
"Toothpaste Tablets: A New Way to Brush Your Teeth." 2019. HowStuffWorks. March 29, 2019. https://health.howstuffworks.com/wellness/oral-care/products/toothpaste-tablets-new-way-to-brush-teeth.htm.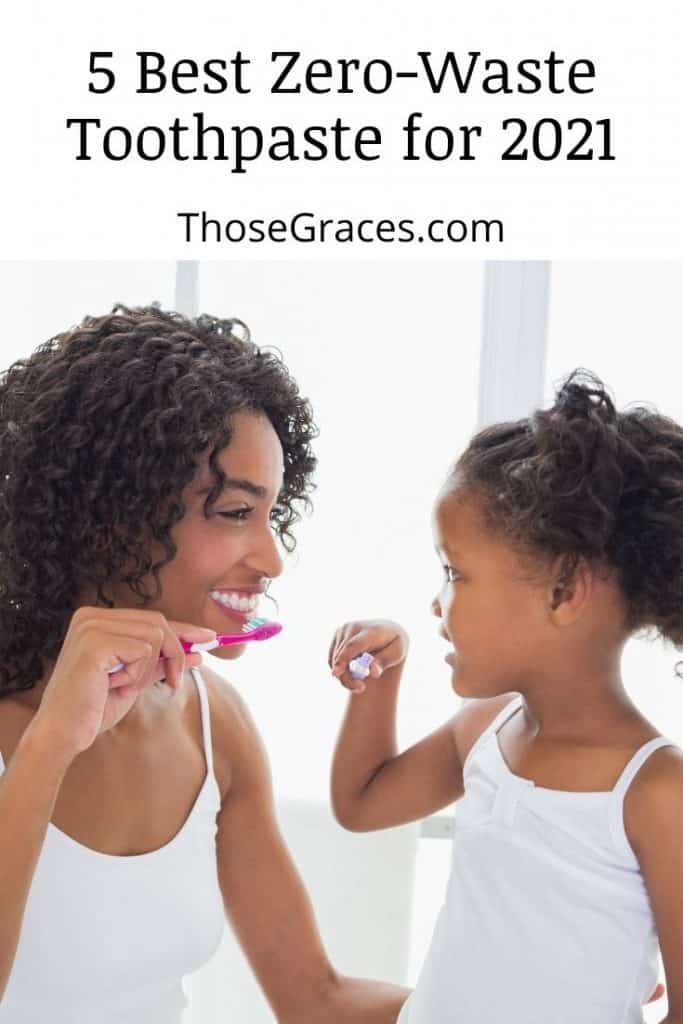 Which one is your favorite zero waste toothpaste? Share with us!