I have used hair straighteners for the better part of my life, but I have never dived deeper into their mechanism and work.
Yesterday my 3-year-old niece was asking me what exactly was a hair straightener, how does it work, and how long does flat hair last?
I wanted to give her all of the right answers, so I dug deep into the science and technology of flat irons.
Read on to check out the results of all of my research!
What is a Hair Straightener?
In simple terms, "A Hair straightener is a device that uses heat settings to straighten the hair. It comes in different sizes and shapes."
A hair straightener is moved from the scalp to the ends of the hair repeatedly until all the sections of hair are straightened.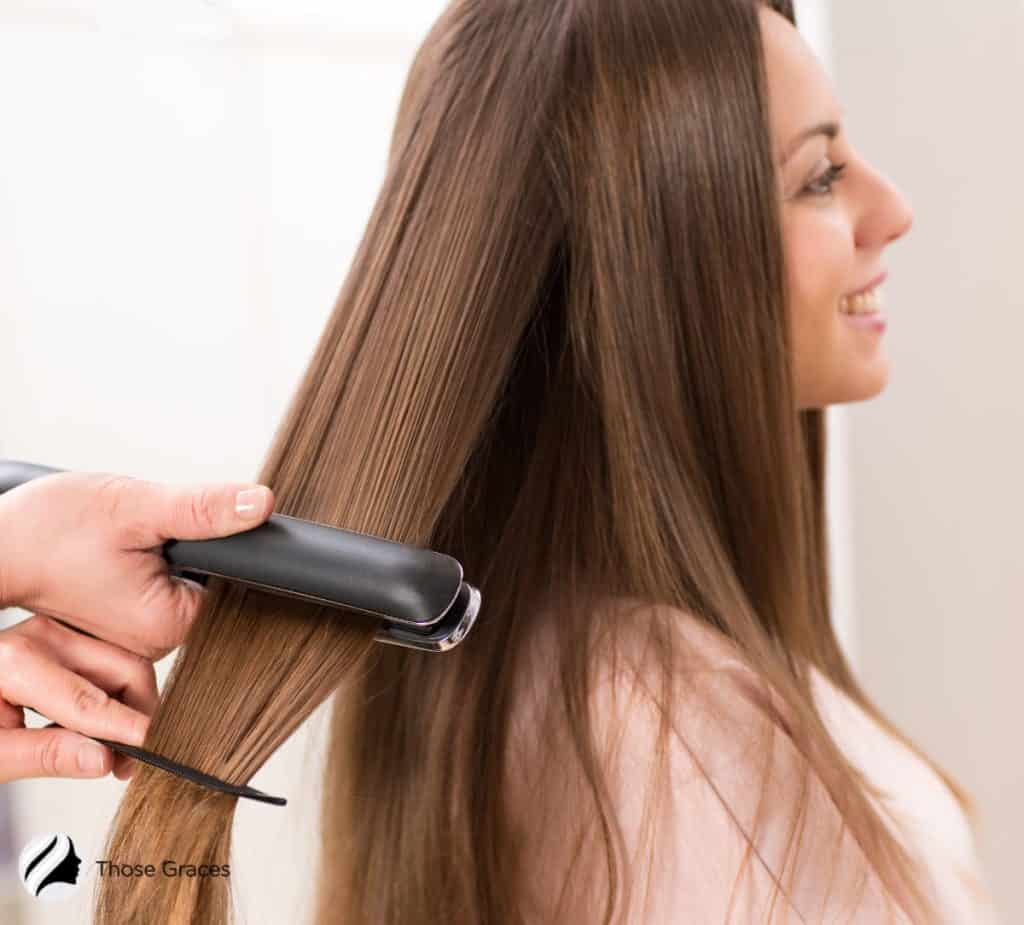 How Does it Work?
While reading an article about the working of a hair straightener published by the University of Melbourne, I found the scientific reason as to how it works, and it's actually pretty fascinating, especially if you love science.
According to the writer,
"Our hair consists of hydrogen bonds, these bonds are present in our hair all the time. And they are responsible for the shape our hair takes after a wash."
She further explains that, when you apply heat to your hair, these hydrogen bonds break, as the moisture in your hair is temporarily sucked out.
(Worry not! These bonds reform so you are not causing any long-term damage to your hair if you are straightening them once in a while)
When these bonds reform as your hair cool. They take whatever shape your hair is in, which is straight if you're using a straightener.
Check out this video:
What Are the Parts of a Hair Straightener?
Our hair straightener consists of different parts and it's best to know about them and their work to use yours better.
Power Button & Temperature Button
The power button is pretty self-explanatory. It turns your flat iron on! The temperature button lets you set it to just the right temp for your hair. Always start with the lowest setting and work your way up.
For me, an ideal flat iron, or straightening brush should have an adjustable temperature button. This makes straightening my curly hair so much easier than a "one temp fits all" gadget.
Temperature Control Display
The purpose of this screen is to show the temperature of your straightener and whether it's switched on or off. Some flat irons don't have this option. I prefer one that does since I can easily see when it's ready to use.
Straightening Plates
The most crucial part of a hair straightener is the plates, as they come directly in contact with your hair. They are usually ceramic plates for even heat distribution.
These plates are at the two ends of the straightener, they heat up due to the temperature of the heating elements, and transfer the heat to your hair.
Heating Elements
This is the internal part of the hair straightener, and once our machine is plugged in these parts heat up due to the supply of electricity. They, in turn, heat the ceramic plates, which straighten the hair.
Body
All the above parts are assembled in this body to create a perfect hair straightener. The body is also used as the handle of the straightener.
Cord
This is simply the wire that supplies electricity to the device from the switchboard.
Now that we know the basic parts, let's talk about why we should even bother using one at all.
Why Should You Use a Hair Straightener?
Taming unmanageable and frizzy hair is one of the top reasons to use a hair straightener. However, there are several other reasons why I prefer using a hair straightener over other hair straightening methods.
1. Saves time
If you are someone like me, who has to rush to work every morning. There is hardly any time to put into your appearance, so faster styling tools are the only option to save me from a bad hair day.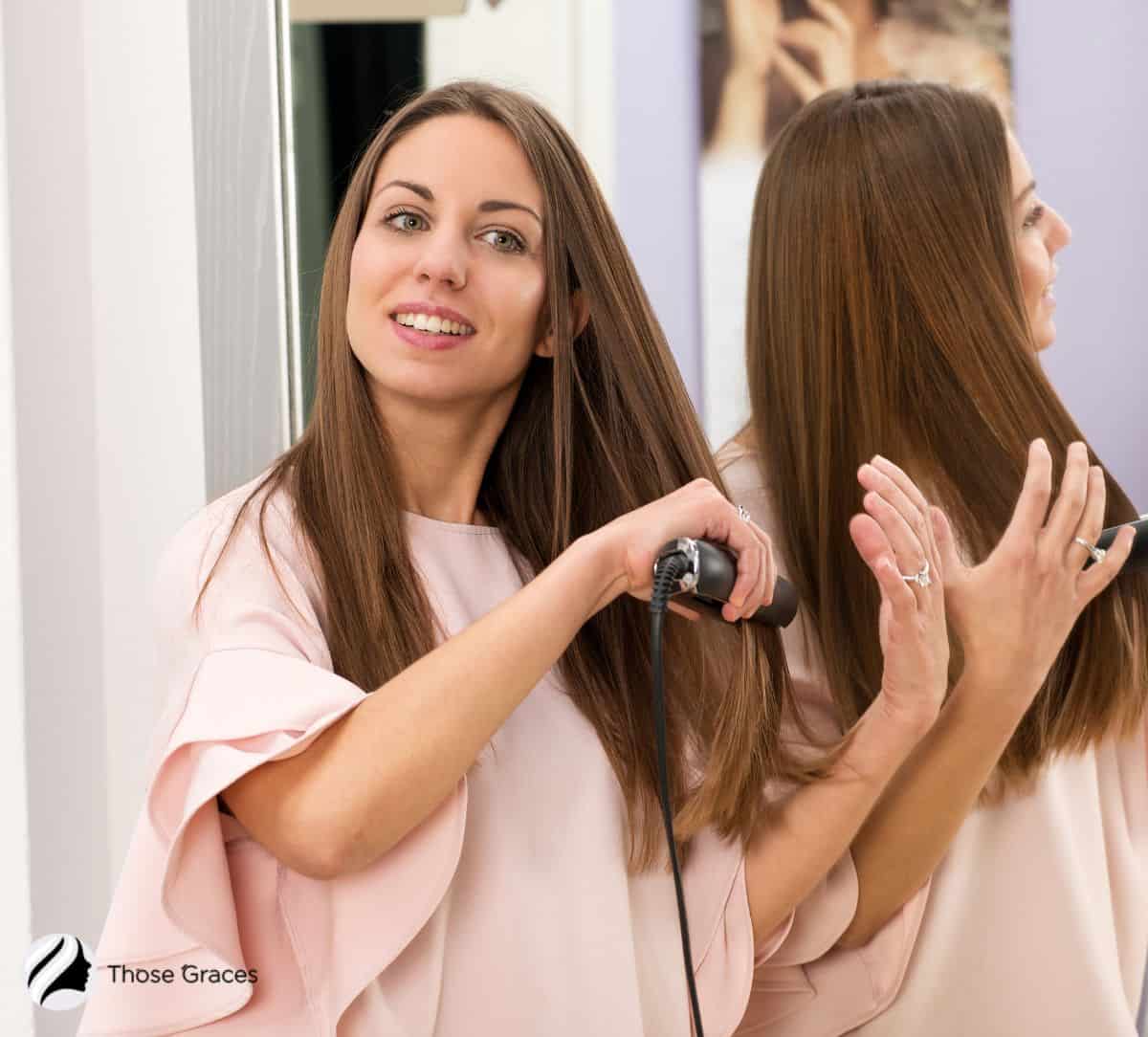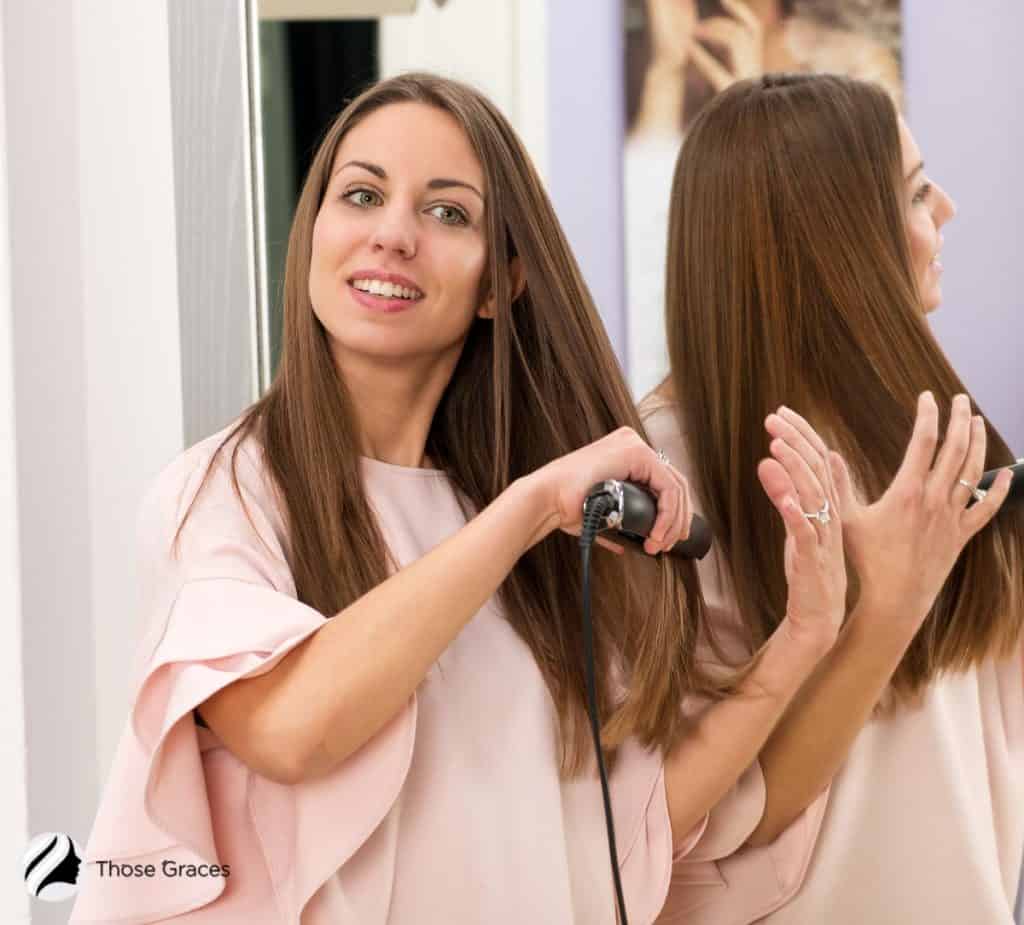 If you know how to perfectly use a hair straightener, you could easily manage your unruly hair in a few minutes and transform them into smooth and sleek hair.
2. Could be used on all hair types
No matter your hair type, a hair straightener will manage to straighten them.
I personally have long and thicker hair, a straightener with a wider plate is perfect for me. You could pick one according to your hair type and convenience, or use our guide on how to choose flat iron.
3. Temperature Settings
No other hair straightening method offers this option. Even hair dryers could be a bit harsh at times.
Hair straighteners come with different modes, heat levels, or temperature settings which are a blessing in disguise once you get the hang of it.
4. Long-Lasting Effect
The effect of temporary hair straighteners lasts for about 2 to 3 days, which is pretty longer than other methods of straightening your hair. I love that straightener can tame my baby hair without damaging my hair cuticle.
5. It Looks Natural
If you master the art of straightening your hair or get it done professionally, you can achieve natural-looking straight hair with minimum heat damage.
Lost in the world of hairstyling tools? Hop over to our fun-filled guide on 'How to choose a hair straightener' and pick the perfect tool for those fabulous, sleek tresses!
FAQs
Is it OK to use a straightener every day?
No! Do not use a hair straightener every day. It's not a good idea because the heat from the straightener will extract moisture from your fragile hair making them super dry and more brittle. Use it once a week or twice at most.
Does straightening hair make it thinner?
Straightening your hair will rob it of its natural volume, making it appear thinner especially if you are planning to leave the ends pin-straight. So, although the amount of your hair is still the same it looks thinner.
Does regular use of hair straightener cause heat damage?
Yes! Heat damage is one of the main downsides of using a hair straightener. It not only damages the hair but also the hair follicles. To avoid damaged hair caused by the heating effect of the straightener, use a heat protectant every time you straighten your hair, as it will limit the hair damage.
Conclusion
A hair straightener is the best device to straighten your textured hair in a hassle-free manner.
I hope this information has helped you understand and use your hair straightener better.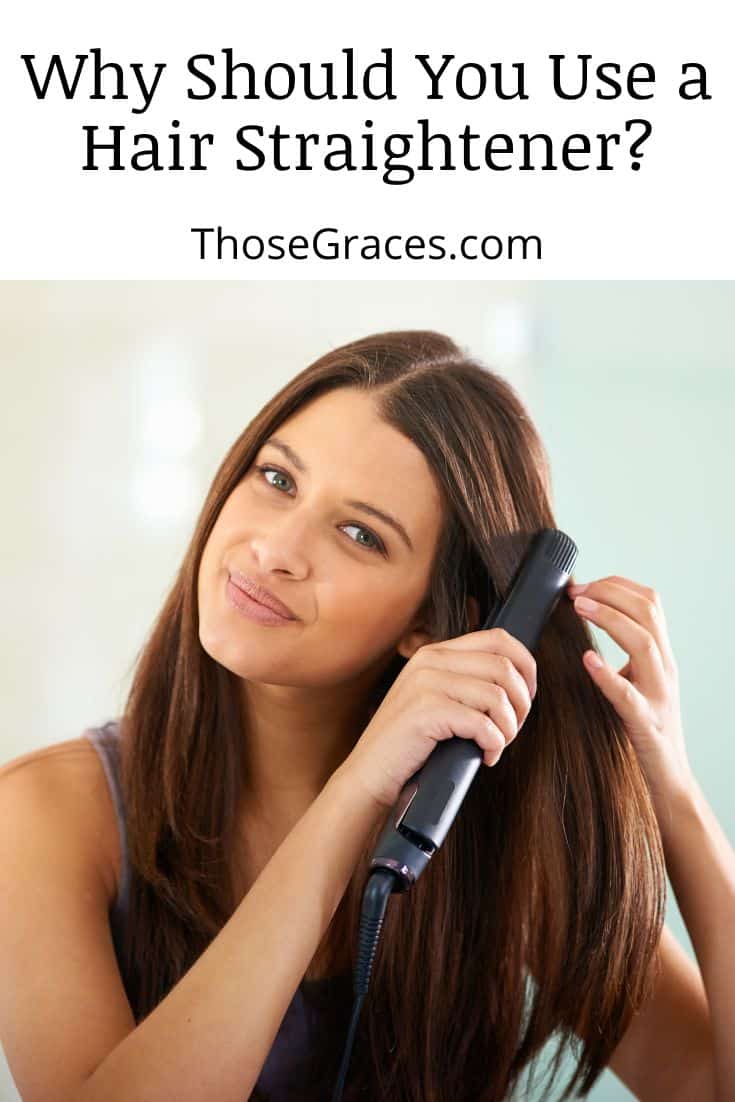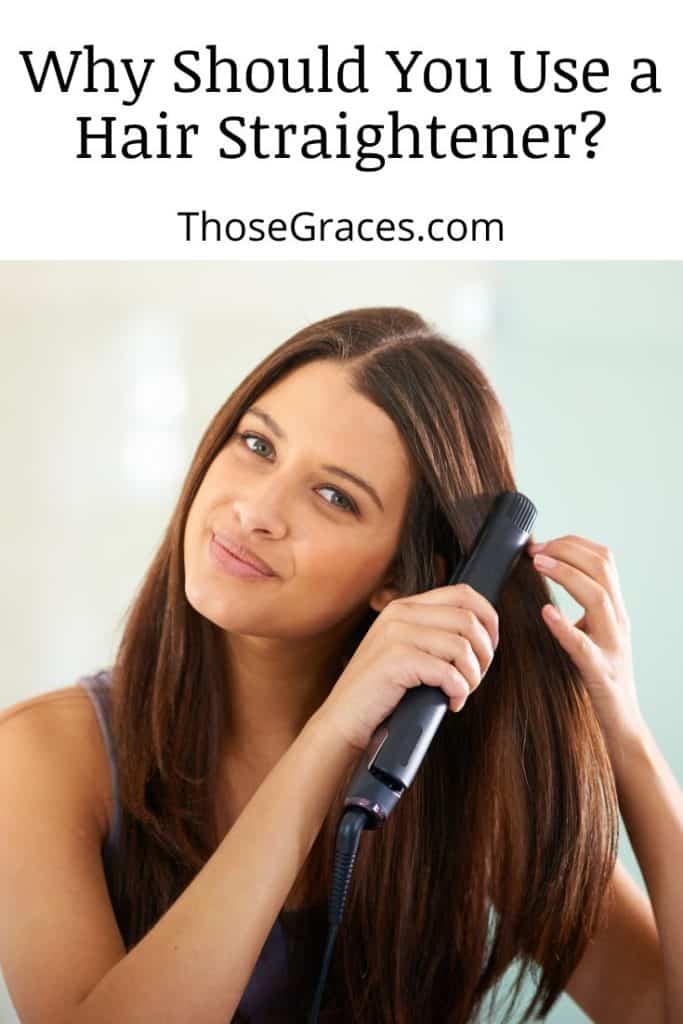 Do you use a hair straightener? Let us know in the comments below!
References
smccoll1. 2017. "How Does Hair Straightening Actually Work? – Scientific Scribbles." Unimelb.edu.au. October 22, 2017. https://blogs.unimelb.edu.au/sciencecommunication/2017/10/22/how-does-hair-straightening-actually-work/.
"Smccoll1 – Scientific Scribbles." 2017. Unimelb.edu.au. 2017. https://blogs.unimelb.edu.au/sciencecommunication/author/smccoll1/.
Truman, Alan. 2020. "What Does a Hair Straightener Consist Of?" Alan Truman. Alan Truman. May 12, 2020. https://www.alantruman.com/post/what-does-a-hair-straightener-consist-of.
Watson, Kathyrn. 2018. "How to Straighten Your Hair without Heat." Healthline. Healthline Media. May 22, 2018. https://www.healthline.com/health/how-to-get-straight-hair.