If you're looking for the best skin-tightening machines for stomach fat, I've got you!
Body shapers are great; they give you the confidence to wear your favorite dress even when you don't feel like you're in the best shape.
But, what to do when you want to treat that sagging skin of your stomach instead of tucking it inside a body shaper?
Reach for one of these devices below!
Don't forget to check other best at-home skin tightening devices 2021!
Stomach Skin Tightening Machine Top Picks at a Glance
If you see the value in these products and choose to purchase via my referral links, I may earn a small commission at no extra cost to you.
Don't have time? Here is a quick comparison of our favorites!
Top Benefit
Can easily be used at home or salon. It is easy to install and use.
Multifunctional
Top Benefit
Can easily be used at home or salon. It is easy to install and use.
Top 5 Stomach Skin Tightening Machine (Reviews)
Thankfully we live in blessed times(at least technologically ), and some devices can help you fix your sagging skin at home.
These machines are designed to make the loose skin firm without the need for going to a dermatologist.
They provide a budget-friendly, painless, and safe treatment to your sagging stomach skin.
Plus, as they are non-surgical in nature they have minimum adverse effects. Read along as I answer all your questions regarding this, including five of my best recommendations and a buyer's guide.
Let's start with my top pick, the MLAY RF device.
Features and attributes
The product comes with the latest Radio Frequency (RF) technology with a rated frequency of 50-60Hz. Suitable for a 100-240VAC power supply as it produces a power of 50W.
It comes with three energy levels with a set timer of 10, 20, and 30 minutes. Also, the conductive gel is included with the product.
Measurements
11.02 x 10.39 x 8.58 inches; 6.17 Pounds
| Benefits | Drawbacks |
| --- | --- |
| Budget-Friendly- The machine comes at a fraction of the price of a dermatological treatment for skin tightening. | The device can't be used if you have hypertension, pregnancy, or menstruating. Also, it is advisable not to use the device over surgical scars. |
| Long-lasting- The skin tightening effects caused due to the machine lasts up to two years if taken proper care of. | The amount of heat it gives is subjective. It can be too hot or too little hot depending on your type of skin. |
| Safe- The built-in safety system of the machine automatically adjusts according to the temperature of your skin. | Many users found the accompanying gel to be gloppy and sticky. In which case, you'll need to spend extra to buy some other gel. |
| Quick Results- The machine provides visible results in as little as 4 weeks when used on the face and 3 months for the body. | |
| Painless Treatment- The device gives painless treatment for skin tightening. | |
How it compares to others
It comes with three different energy levels which makes it suitable for different skin types. Also, the three different set timers allow you to use the machine over oneself over a time you are comfortable with.
Tips
Use the conductive gel before using the machine. Apply and reapply over the whole area prior to treatment. Also, to maintain the machine in top-notch condition clean it properly after each use.
RF Beauty Device | Home RF Lifting | Wrinkle Removal | Anti Aging - Increase Collagen & Absorption - MLAY RF Radio Frequency Skin Tightening for Face and Body - RF Skin Care Anti Aging Beauty Device
SAFE EASY & EFFECTIVE: MLAY RF beauty device uses the latest and safest bipolar RF technology, no side effects. It also built in the intelligent temperature control chip which will make sure our surface skin and dermis skin temperature is safe. It with output frequency 1.0MHZ, power 25W for face and 50W for body, just need to use once a week, MLAY home RF anti aging beauty device will reduce fine lines or wrinkles, tighten skin for a youthful glow
PAINLESS PROCEDURE: You can now forget about the expensive and painful ways to maintain your beauty as plastic surgery and injections, MLAY RF beauty device with the advanced bipolar RF waves deeply penetrate skin tissue, heating it up and stimulating collagen and elastin production to plump and firm aging skin, lift sagging skin, regularly using will get the firm, glowing, and gorgeous skin
SKIN TIGHTENING & ANTI AGING & WRINKLE REDUCING: MLAY rf radio frequency beauty device is not only a face machine but also a body machine. MLAY radio frequency skin tightening triggers your skin's own healing process. It stimulates the skin to produce elastin fibers and collagen that you have lost over the years, so you can enjoy the long last results
VISIBLE RESULTS IN AVERAGE 45 DAYS! Results from 50,000 customers aged between 25 and 70 from cooperative beauty salon show that 73.3% of them saw visible facial skin improvements in only 2-4 weeks of use MLAY face and body RF beauty device. 12.6% of them saw visible results within 60 days. For Body treatment, you may need at average 3-5 month time to see visible result. Time is the key!
PROFESSIONAL SKINCARE IN THE COMFORT OF YOUR HOME: Never spend thousands of dollars at a beauty spa again! With MLAY RF beauty device, you can now get the same – and even better – quality rf service at home. Simply clean the area you want to treat, apply conductive gel, and enjoy a skin spa on your couch. Every purchase also includes a 60-day money back guarantee and 1 year warranty. It's a risk-free purchase! Click'Add to Cart 'now!
This multifunctional device can help in skin tightening, provide massage, and fat burning. It is suitable for use on the abdomen, thighs, stomach, waist, back, and buttocks.
Features and attributes
The tiny size of the device makes it portable. It can be used at both salons and at home for personal use.
The machine has a frequency of 40KHz, adapter input of 100V or 220V, and it can be continuously used for 60 minutes. It also has a LED indicator that informs you whether the product is working or not.
| Benefits | Drawbacks |
| --- | --- |
| The product is very easy to use. You only need to apply a cream or oil on the area before using the product over it. | As the ultrasound feature of the device is a quite potent one, it is advisable to use it only once every month. |
| The machine comes with a 100% money-back guarantee so if you're not happy with the product you can get your money back. | |
This is a multifunctional device that can help in skin tightening, reducing fat, and also relieve fatigue. It is very easy to use. All you need to do is use a cream or essential to moisten the skin.
Features
The device comes with 5 modes which include kneading, massaging, scarping, slimming, and tapping.
Let the device warm-up for five minutes before applying it to the required area. Don't be alarmed by the loud sound, it only signifies the product is working fine.
The device works by activating the skin cells which improve the metabolism and blood circulation which in turn helps make the skin tighter and smoother. It also increases the production of collagen.
| Benefits | Drawbacks |
| --- | --- |
| The device comes with a year-long warranty so in case it develops any faults during the course of this time it will be repaired free of cost by the company. | It is recommended to use the device for at least 6 months to see any noticeable changes. |
| Other than the stomach area it can also work on other body parts like the back, belly, hip, arms, and waist. | |
| | |
This is one of the most versatile products on the list!
Feautures
The oddly-named CTLNHA is a 6 in 1 skin tightening machine that can also be used to remove fine lines and wrinkles. It works on DDS electrotherapy and has a color display.
The display makes it easy to use as it shows the operating mode and other information regarding the functioning of the machine.
| Benefits | Drawbacks |
| --- | --- |
| The device can easily be used at home or salon. It is easy to install and use. | It's a bit pricey |
| Super easy to read, thanks to the great display | |
Last, but far from least, we have this amazing pro-level machine that you can use at home.
Features
This multifunctional device comes with three replaceable heads for different body parts.
In addition to tightening the stomach, it is also highly efficient in eliminating wrinkles, removing dark circles, and relaxing muscles of various body parts.
Do read the instructions carefully before operating the machine though, since it is a pro-level device.
Also, always remember to use the conductive gel before using the device. Not only will this increase the efficiency of the product, but it's better for your skin, too.
| Benefits | Drawbacks |
| --- | --- |
| The machine is small and budget-friendly enough to be used at home. | It is for the body only (never your face) and that too only once every month. |
| The machine also comes with two extra fuses and a one-year warranty. | |
Important tip:
The fat round head is the ultrasound, and it should never be used on the face.
READ THIS: Dangers of Radio Frequency Skin Tightening!
What to Consider Before Buying a Skin Tightening Machine for the Stomach?
If you want to buy a skin tightening machine for the stomach, you should keep a few things in mind. the choice for a perfect machine could vary from person to person depending on your skin tone, skin condition, skin wrinkles, etc.
But there are a few basic features that are a must-have. This will help you make an informed choice and may save you a lot of trouble (and some money as well).
Different Energy Levels
If you have darker skin, a higher frequency setting would be ideal for you. A specific temperature can be too hot for you while it may not work for someone else.
This is why it is always advisable to have multiple energy level settings on your machine.
Also, various energy levels help reduce the chance of radiofrequency skin tightening side effects.
You need the device with the right frequency and temperature for your skin so that it increases collagen production.
Collagen is the most abundant protein in our body, Harvard Medical Center explains. It is responsible for healthy skin and joints. With age, it becomes difficult for our body to produce collagen.
RF treatments are known to promote collagen production. That is why it is important to purchase one with various energy levels suitable for your skin type.
Budget-Friendly
Not spending thousands of dollars may be one of the chief reasons you opt for an at-home device rather than going for professional treatment.
It is, therefore, essential you find a suitable device on a budget that suits you.
Portable
Since you'll be using your device at home, it should not be bulky and cumbersome. A relatively lightweight device makes it easy to work with and does not have to be parked in a garage!
Warranty Period
For lasting effects, you'll need to use the machine over the course of a few months.
Therefore, a device with a warranty period of over a year or so will ensure hassle-free repairs in case of any problems.
Excellent after-sales service is a must for any electronic device and more so for devices like these since they are difficult to be repaired by your regular electrician.
FAQs
Do skin tightening machines work?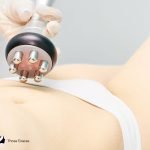 Yes, skin tightening machines work provided you pick the right device for yourself, with frequency suitable to your skin type, and take care of your skin afterward as well.
Does laser skin tightening work on the stomach?
Laser skin tightening works on any part of your body, and that includes your stomach. However, they shouldn't be used over stretch marks.
What are the benefits of non-surgical skin tightening?
Non-surgical skin tightening is cost-effective compared to surgical ones and there is no recovery required after non-surgical skin tightening. Also, they provide a long-term effect as is in the case of surgical skin tightening.
Who cannot utilize a skin tightening machine?
Pregnant women, women on their period, people with skin diseases should refrain from using these machines. Also, people with diseases like diabetes, hypertension, obesity, and skin cancer should not use skin tightening machines without consulting their doctor.
Are Radio Frequency(RF) machines safe?
Yes, RF machines are safe as they use only mild heat over your skin. It can have no harm on your skin whatsoever rather can be helpful in providing tighter skin.
Are the skin tightening effects permanent?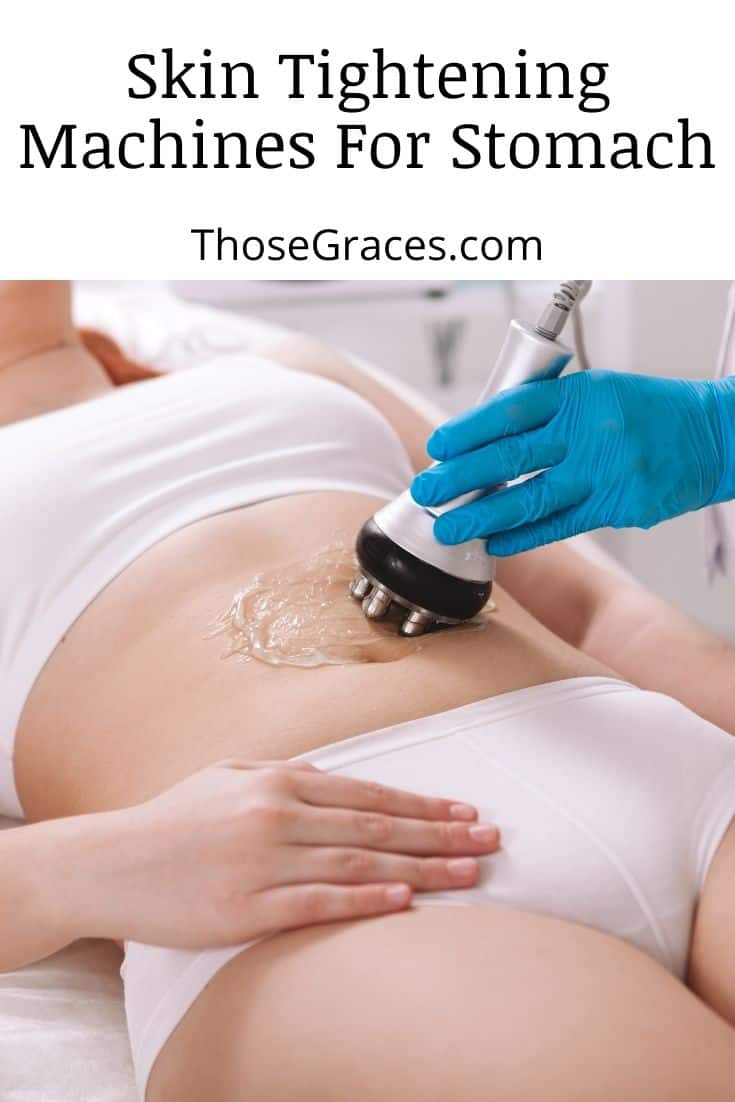 What is your favorite skin tightening machine for stomach? Let us know in the comments below!