Nuovlauce microcurrent and light therapy devices have carved a name for themselves in the beauty devices segment, with many users swearing by their effectiveness.
Are they worth the hype, or are they just another fade in the ever-changing beauty industry?
Find out in this detailed guide!
This post contains affiliate links, and I will be compensated if you make a purchase after clicking on my links at no extra cost to you.
Check: Is Microcurrent Safe Around the Eyes?
How Does Microcurrent Therapy Work?
Microcurrent therapy works by providing a small current to the skin, which is of the order of a millionth of an ampere. This current goes into the skin and further stimulates collagen production.
This increase in cellular activity causes the skin to tighten by reducing signs of aging like fine lines, dark spots, wrinkles, dark circles, age spots, and works as an anti-aging device leaving you with radiant skin. [1]
As Graceanne Svendsen, LE CME, licensed aesthetician at Shafer Plastic Surgery and Laser Center, says, "these treatments have immediate benefits with absolutely no recovery time." [2]
This is certainly a facial device and beauty product that is worth adding to your skincare routine and beauty routine!
These are some of the standout features of the device that supported the scale in favor of the Nuovaluce Microcurrent and light therapy device when I was looking for one to purchase.
Feature 1: 2-in-1 Treatment
In addition to microcurrent therapy, the device gives red light treatment—the Microcurrent therapy firms the skin by providing a maximum current of 400mA.
On the other hand, light therapy offers a maximum of 650nm wavelength of red light.
This reduces the appearance of wrinkles and fine lines.
You can use both of these therapies back to back, as I do, to maximize the outcome.
Feature 2: Five Intensity Levels
The device comes with five different intensity levels.
I recommend starting with the lowest intensity level and gradually increasing it as your skin gets comfortable with the device.
Here's how to operate the machine at different intensity levels;
First 30 days – 1-2
Next 30 days – 2-3
Next 30 days- 3-4
Next 30 days- 4-5
More information concerning this can be found here:
Feature 3: Chemical-Free
One of the prime reasons for the popularity of microcurrent devices is they have no chemicals. This essentially provides for no adverse effects on the skin.
Let's get this straight-chemicals, however good, have a detrimental impact on the skin in the long term. We all know a friend whose skin looks dull due to the excessive use of products.
This is what makes the device such a go-to health and beauty device. In addition to all the benefits it provides, it is entirely chemical-free.
Feature 4: 5-Year Warranty
Microcurrent and light therapy devices are not your regular electronic devices and hence can prove to be troublesome affairs if they malfunction. Nuovaluce Microcurrent and Light Therapy devices come with a 5-year warranty which protects your device from any such incidents.
How to Use Nuovaluce Microcurrent and Light Therapy Device?
Clean your face and dry it well
Apply the Nuovaluce gel on your face
Use the Nuovaluce Microcurrent device for 5 minutes at intensity 0-1 for the first couple of weeks. Increase the intensity gradually over the next few weeks.
Next, use red light therapy for five minutes targeting wrinkles, fine lines, smile lines, etc.
Remove the gel 10 minutes after the red light therapy.
As one reviewer, 'despacitochen5' wrote on Reddit, "my skin texture has drastically improved after two weeks of use of the product. It has also made my skin more glowing which has bagged me a lot of compliments. " [4]
More insight into the product can be found here:
Why Should you Choose the Nuovaluce Microcurrent and Light Therapy Device?
Other than Nuovaluce, Nuface has two of the most popular microcurrent machines; Nuface Mini and Nuface Trinity.
If you want to buy a Nuface device, read the detailed comparison of Nuface Mini vs Nuface Trinity here.
Several customers have been extremely happy with the outcomes of this product. [3]
What features do the Nuovaluce have that make it a worthwhile choice compared to others?
Let's have a look.
1- Extended Warranty
The Nuface devices are excellent choices, but they only come with one year warranty.
Nuovaluce beauty, on the other hand, offers a five-year warranty. The extra four years mean you can use your FDA-cleared device for another four years without worrying about it malfunctioning or breaking down.
2- Red Light Therapy
In addition to it being a microcurrent facial machine, the Nuovaluce device provides red light therapy. It is the only device that comes with this added feature. Red light therapy is effective in reducing wrinkles and fine lines as well. The dual technologies of microcurrent technology and light therapy make it a much potent device than any competition.
Here's another great video review:
FAQs About Nuovaluce Microcurrent & Light Therapy Device
Can You Use Microcurrent and Light Therapy?
Yes, you can use microcurrent and light therapy unless you have any one or more of the following conditions;
– Pregnancy
– People with pacemaker
– People with active cancer or epilepsy
– People with any implanted device
Can You Do too much Microcurrent?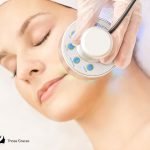 Microcurrent stimulates the facial muscles to produce more collagen. Overdoing it is entirely unnecessary as it won't give any added benefits. Doing too much microcurrent therapy is not dangerous, but there's no point in overdoing it.
How Often Should You Microcurrent?
Use microcurrent for 5 minutes, five times a week in the beginning. For another five minutes, use light therapy. After a few weeks, reduce the frequency to 3-4 times per week.
What Are The Benefits of Microcurrent?
Besides lifting the facial muscles, microcurrent technology boosts blood circulation and stimulates natural collagen production. It enhances ATP [4], essential muscle energy for protein synthesis, and aging skin repair.
Can You Use Nouvaluce Without Gel?
Yes, although, gel allows for optimum efficiency.
Conclusion
Nuovaluce Microcurrent and Light Therapy devices are a great way to make your skin look better. It can uplift your skin, reduce puffy eyes and wrinkles.
This increases the production of collagen, and based on customer reviews and the beauty market, this is an amazing device that is skin-friendly. The devices have no side effects and are completely safe for use.
Resources
1. (PDF) Consider of Micro-Current's effect to variation of Facial Wrinkle trend, Randomized Clinical Trial Study. ResearchGate [Internet]. Available from: https://www.researchgate.net/publication/230642269_Consider_of_Micro-Current
2. Microcurrent Facial: How It Works, Professional vs. At-Home, Costs & More [Internet]. Healthline. 2019. Available from: https://www.healthline.com/health/beauty-skin-care/microcurrent-facial#TOC_TITLE_HDR_1
3. nelsonbradley80. What are your reviews of nuovalucebeauty.com? [Internet]. 2021 [cited 2022 Jan 3]. Available from: https://www.reddit.com/r/Reviews/comments/oqofuo/what_are_your_reviews_of_nuovalucebeautycom/
4. Bailey S. How Microcurrent Stimulation Produces ATP –One Mechanism [Internet]. Available from: https://b-e-st.com/wp-content/uploads/2016/12/engl_steven_bailey_atp.pdf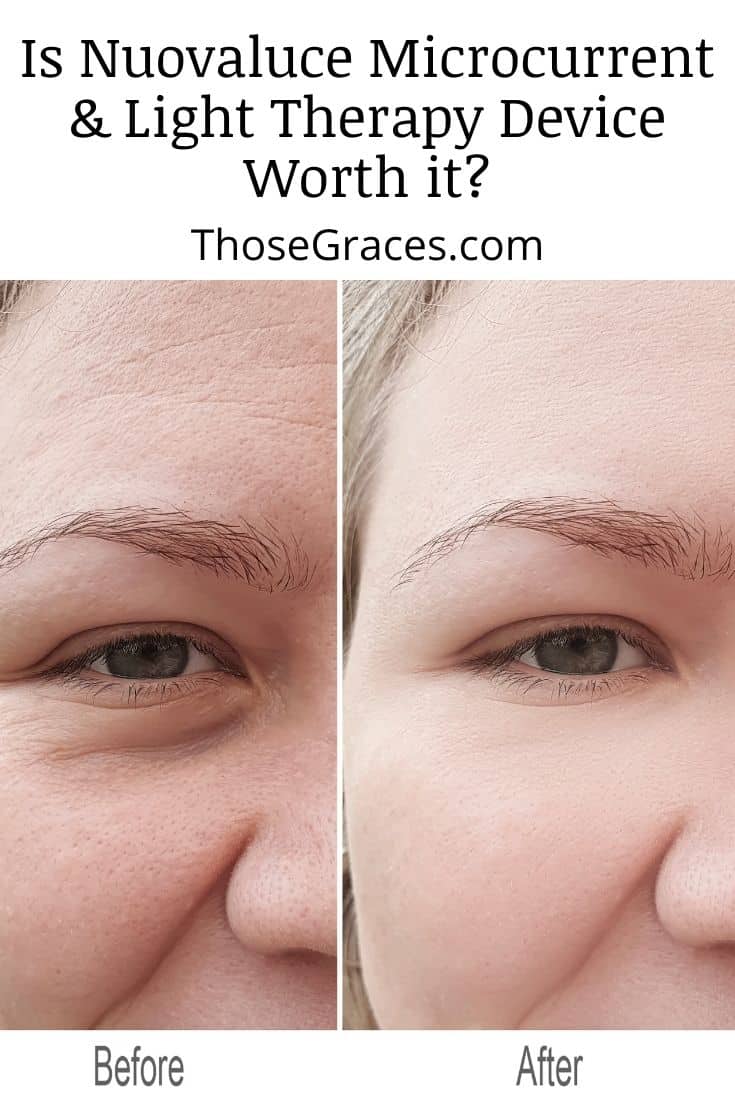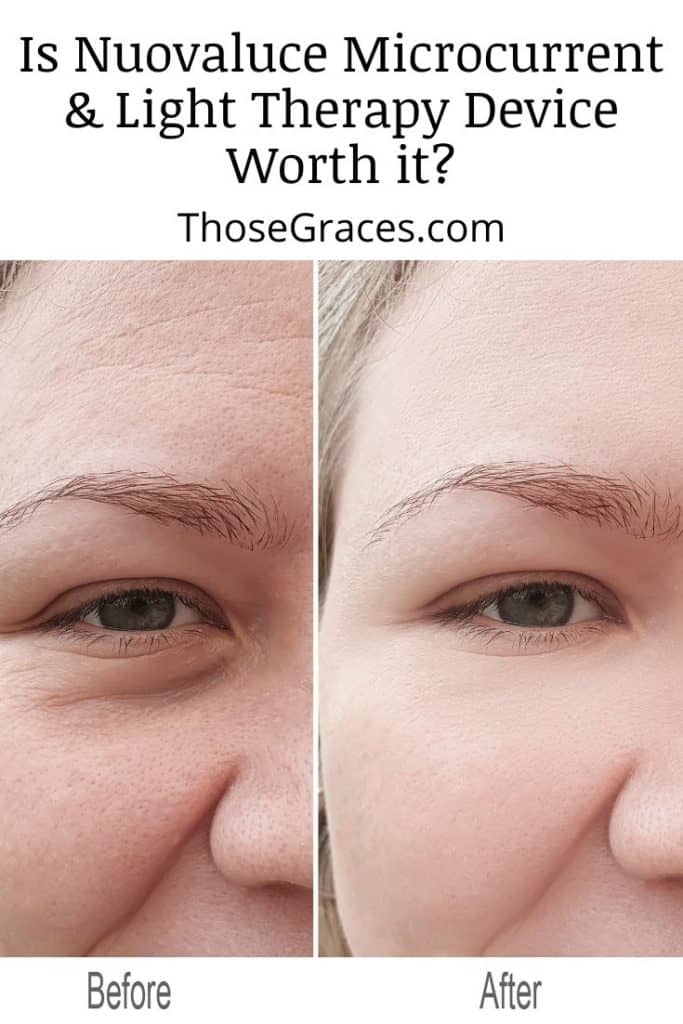 What are your thoughts on Nuovaluce Microcurrent & Light Therapy device? Let us know below!