If you're looking for the best Korean skincare products for men, you're in the right place!
K-Beauty took the world by storm ever since K-Pop infiltrated the global culture, and men and women alike have been pining for some of that Korean pizazz.
Korean skincare routines might seem daunting, especially to men, but it doesn't have to be.
Check out my guide below to take the mystery out of it!
Let's start with a quick look at our top picks, then keep reading for all the glorious details.
This post contains affiliate links. We earn a commission if you make a purchase at no extra cost to you.
Korean Skincare for Men Top Picks at a Glance
Don't have time? Here is a quick comparison of our favorites!
Best Korean Skin Care for Men: Top 7 Products With Reviews
While emulating those rad dance moves is out of the question, Korean flawless skin may be more attainable than you think.
Now, there are some pretty interesting ingredients that go into Korean skin-care products: Snail slime or snail mucus, green tea extract, yeast, bamboo sap, bee venom, etc.
But instead of shopping by ingredient, we'll make your life easier and just give you a list of products that will guarantee the best Korean skincare for men.
If you're looking for something hassle-free, a multipurpose multi-skin-type product is your ultimate jam.
Why it's the best:
We've all seen those Shampoo+Conditioner+Body Wash+Face Wash type products in your bathroom; if you're looking for an equivalent to add in your skincare regimen, this Iope all-in-one is for you.
Type
All-in-one lotion (toner, moisturizer, and essence), hydrating bio-dual activator.
Benefits and Drawbacks of IOPE MEN ALL DAY PERFECT ALL IN ONE
| Benefits | Drawbacks |
| --- | --- |
| It has antioxidant properties that help rejuvenate and brighten dull skin damaged by dust, pollution, and sunlight. | No SPF |
| Takes care of excessive sebum or oil. | Some men find the peppermint extract a little too strong. |
| It also makes for a great post-shaving coolant and soothes skin that is inflamed and irritated. | |
| All-in-One's hydrating qualities also take care of any skincare concerns involving wrinkles and anti-aging. | |
How it compares to others
This is one of the few products that contains peppermint extract that cools skin instantaneously.
Unlike most other products, it takes care of oiliness and dryness at the same time, since it tones the skin as well as moisturizes it.
Also, unlike other lotions, it has a thin consistency and is not sticky post-application. The product is also not strongly or artificially scented and perfect for people with a sensitive sense of smell.
The only con of this product is that if you are searching for something specific, for example, moisturizer with SPF, you will have to add an extra step to your simplified Korean skincare regime.
Expert tips
After you cleanse your face with a mild face wash, use one or two pumps of the product and apply it on the entire surface of your face.
Remember to start from the center of the face and work outwards.
Dab the product instead of massaging it into the skin – this will ensure absorption on the face and prevent the product from evaporating or getting wasted on your palms.
Use the product right after a shower in the morning and before bedtime.
User Reviews and Testimonials
Chocholee, an Amazon client, said that it's an excellent product and that it has been effective.
"It's not my first time ordering and as always, the quality has always been the best of the best!"
Here's a video from Taufulou Channel, discussing the results he got after using IOPE MEN's products for years!
No products found.
What's special
Korean beauty expert Charlotte Cho recommends double-cleansing the face as an absolute must for anyone following a Korean skincare routine.
The Banila cleanser acts as the perfect first step for Korean men's skincare.
Any face is more sensitive than the rest of the body and using normal bar soap on the face, even for men who have tougher skin, can be harmful.
This cleanser is oil-based and removes all dead skin cells and pollutants without drying your skin or upsetting its pH levels.
It also contains green tree extract, mineral oil, vitamin C and E, and 7 natural herbs to balance and calm your skin.
Type
Oil-based balm cleanser for double cleansing
Benefits and Drawbacks of Banila Co Clean It Zero
| Benefits | Drawbacks |
| --- | --- |
| Banila Co Clean It comes in 4 types – Classic, Purifying, Nourishing, and Pore Clarifying. | Slightly hard to use since it comes in a jar instead of a tube. |
| All 4 help in treating acne, cleaning sensitive skin, exfoliating as well as brightening. | The product has to be scooped out with a spatula and takes longer to use. |
How it compares to others
Unlike other normal face cleansers, this one has a jelly-like texture instead of liquid, which emulsifies with water and becomes oil.
Once applied, it removes any heavy particles and debris, without stripping away the natural nutrients and oils from the skin.
Expert tips
Massage directly onto the skin and deep into pores before rinsing with warm water. Use a water-based cleanser, if you think your skin has accumulated too much oil.
User Reviews and Testimonials
Reader Reader, Pumpkin Eater, is an Amazon client who suggests getting the big one.
"I have been waiting for this cleansing balm (makeup remover) to restock because it's awesome! Whenever I wake up after a night of applying it, I do without any leftover or makeup, it just looks right!"
Check this video out by K-Beauty Studio by MEIBE KOREA to learn the correct way of using Banila Co's Clean It Zero!
BANILA CO NEW Clean It Zero Original Cleansing Balm Makeup Remover, Balm to Oil, Double Cleanse, Face Wash, 2 sizes
Our bestselling Clean It Zero Original was created to quickly and easily melt away even the most stubborn face
Formulated with Active botanicals, Hot Springs Water, Vitamin E and Vitamin C for a healthy complexion
Formulated without: Parabens, Sulfates, Phthalates, Mineral oil, Alcohol, Artificial coloring
Product details provided by: BANILA CO / BANILA CO USA direct headquarters located in South Korea and USA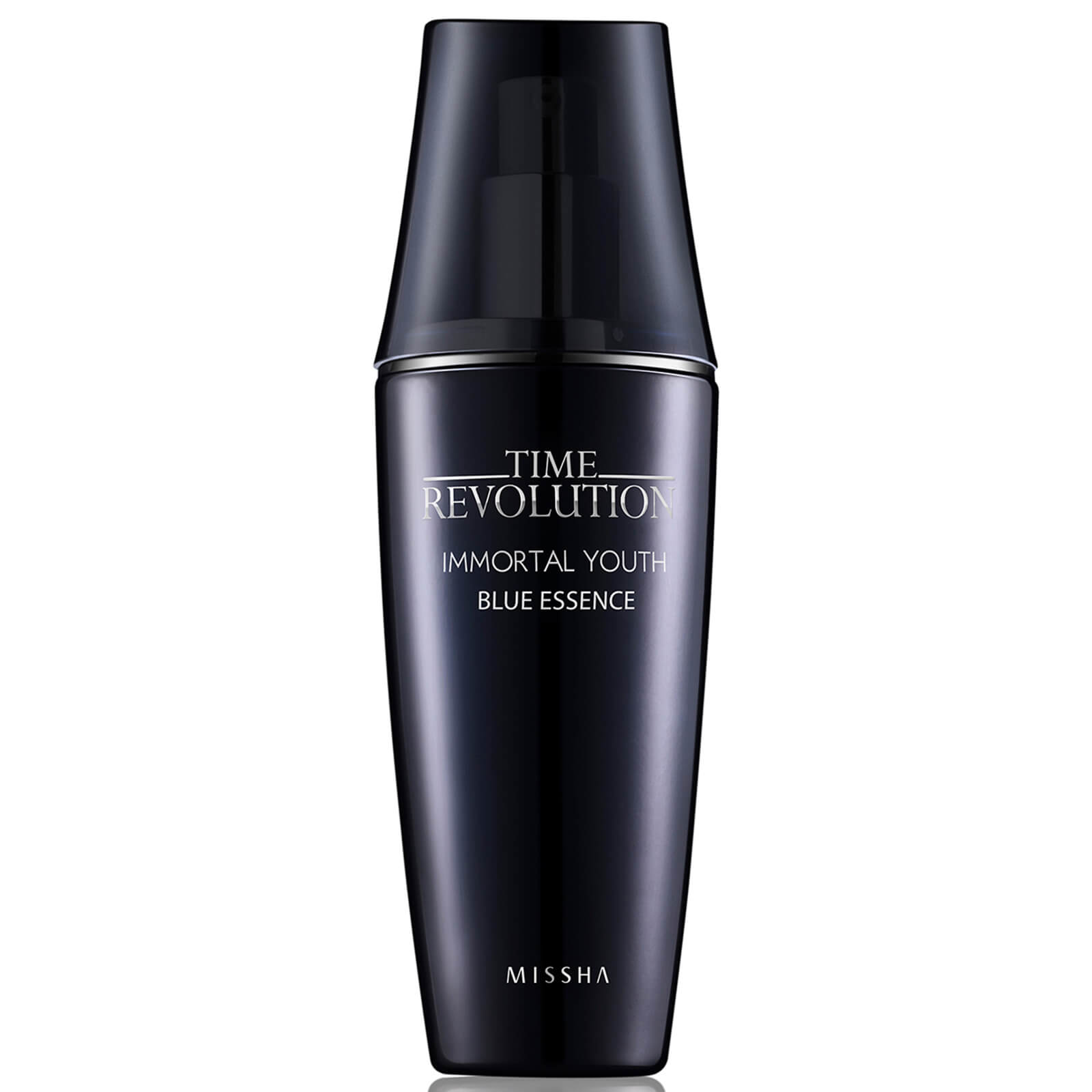 What's special
This product uses something called the "Blue Liposome Science" that helps in anti-aging and drying by hydrating every pore of your skin.
It adds a special glow to your face due to the microparticles in its formula that are absorbed quicker and more efficiently by the face.
Type
Essence/Moisture Lotion/Day/Night/Eye Cream
Benefits and Drawbacks of MISSHA Time Revolution Immortal Youth Blue Essence
| Benefits | Drawbacks |
| --- | --- |
| This Missha product contains resveratrol, which improves elasticity and leaves the skin supple and young-looking. | Might be too heavy for those living in humid climates. |
| Missha is a highly respected and beloved K-beauty brand with an amazing reputation. | |
How it compares to others

Sometimes for super dry skin, you apply a moisturizer and your skin is dry again after a few hours. This essence is long-lasting and releases its active ingredients to all epidermal layers.
Expert Tips
Apply this product after cleansing your face at the night.
MISSHA Time Revolution Immortal Youth Blue Essence
Different from the general essence that nourishes once it touches the skin, the liposome structure is made up of many layers like an onion to release the active ingredients layer by layer for a long-lasting effect.
It is the technology that helps effectively deliver the active ingredients in the structure of lecithin, similar to the skin structure ingredient, to the skin.
Recommended for those looking to address the signs of aging
Recommended for those looking to maintain beautiful, youthful skin
From South Korea
What's special
It contains Korean ginseng and Quillaja Wood, also known as Soapbark. It also has what Elemis (and, from what I can tell, only Elemis) refers to as "sweet betty flower."
This is actually Soapwort, a flower that's prized for its cleansing properties. Combined with the Quillaja, it creates a very effective cleansing toner that's gentle enough even for sensitive skin.
Type
Cleansing toner.
Benefits and Drawbacks of Elemis Rehydrating Ginseng Toner
| Benefits | Drawbacks |
| --- | --- |
| Helps tone down and close up large pores. | It might be too mild. |
| Gentle enough for most skin types | |
How it compares to others
This toner has a no-alcohol formula so it doesn't strip your skin of essential oils.
Expert tip
Use before you apply your moisturizer and after cleaning your face with a facial cleanser.
User Reviews and Testimonials
Kristie, a customer from Amazon said that the product is always the best, greatest, and safest choice.
"Since I found it, my heart has been with this toner. I tried out other toners, but this has been the best one for me. I have sensitive skin, and it greatly complements and revitalizes it."
Check this video out from Mary Marcus and you can pick up a few lessons to help you decide whether the product is for you or not.
What's special
The aloe vera makes it very soothing! The scent is very natural, earthy, effective.
Type
Gel moisturizer
Benefits and Drawbacks of Benton Aloe Propolis Soothing Gel
| Benefits | Drawbacks |
| --- | --- |
| Helps fade scars and works well for dark spots. | Cannot be used along with another heavy-duty lotion. |
| Soothing for irritated skin | |
How it compares to others
Most Korean skincare gels for men prove to be too thick for daily use. Benton gel is thin and non-clogging.
Expert tips
Use after toner. Put a light lotion after the gel has been completely absorbed.
User Reviews and Testimonials
Anayo, an Amazon customer says that the Benton Aloe Propolis Soothing Gel is an effective product that keeps the skin beautiful.
"I've invested in this moisturizer and it's working perfectly, so far. I have oily skin, and after consistent application, it cleared all the excess oil on my skin where I apply it. If they make it, I'll buy it!"
Here's a video from Hyram as he discusses why he's a fan of the Benton Aloe Propolis, as well as a sneak peek of how you can use it, too!
Sale
BENTON Aloe Propolis Soothing Gel, 100ml
SOOTHING AND CALMING INGREDIENTS: Benton face gel is enriched with Aloe Vera Leaf Juice and Extract, Propolis Extract, Grapefruit Fruit Extract, and other botanical ingredients. These nourishing ingredients in our face cream soothe irritated skin while providing ample nourishment, fighting oxidative stress, and protecting from external stimuli.
PURIFYING AND REFRESHING: Benton aloe vera moisturizer gel mitigates skin troubles to soothe and nourish your skin. The face cream is instantly absorbed into your skin and calms stressed skin to make it healthier. The blend of botanical-derived nutrients in our hydrating face cream helps reverse signs of aging to give supple skin.
STRENGTHENS MOISTURE & DEFENCE BARRIER: The presence of moisturizing ingredients in our water-based face moisturizer creates a moisture barrier to prevent water evaporation & prevent dryness. The alcohol-free hydrating face moisturizer restores and soothes damaged skin while mildly removing blemishes, aging spots, and redness.
VEGAN AND FOR ALL SKIN TYPES: This hydrating moisturizer for acne-prone skin is formulated without artificial fragrances and colors, parabens, or essential oils, making it perfect for instantly quenching the thirst of dry skin patches. The vegan, lightweight, and water-based formula are ideal for dehydrated, sensitive, and irritated skin.
EASY TO USE, NON-PEELING FACIAL LOTION: Apply a suitable amount to the area that needs hydration and soothing, including the face, body, and scalp, and spread evenly. The transparent, light brown aloe gel absorbs fast to the skin without peeling or leaving a sticky residue.
Why It's the Best
"Acne cleansers are crucial for people who are prone to acne because it helps balance out the pH levels of the skin," says Tess Adams, Co-Founder of Take Care spa in New York.
For me, I consider this as my go-to facial cleanser regardless of whether I'm having an acne breakout or not. It's lightweight, texturized, and you'll feel that it cleanses your face thoroughly.
It can treat your acne and make your face glow, brighter, and a lot smoother compared to what you're using right now.
Type
It's a face wash, specifically an acne-clearing cleanser that's designed to help prevent breakouts by keeping your skin hydrated, clean, and balanced.
Benefits & Drawbacks of Using the Men's Biore Charcoal Detox Acne
| Benefits | Drawbacks |
| --- | --- |
| It contains salicylic acid, helping to exfoliate the skin and help it detoxify | It has a noticeable smell when applied |
| Daily and consistent use will yield faster and better results | The product is strong and can trigger reactions to highly sensitive skin |
| It's compatible with all skin types | |
| It deeply penetrates the pores, absorbing excess oil and leaving moisturized | |
| The product's shelf life is four (4) years if stored correctly | |
How It Compares to Others
One of the things I liked about the Biore Charcoal Detox Acne Cleanser is the fact that it's oil-free. Unlike other regular or standard acne cleansers in the market, which are oil-based, this one isn't.
If your skin isn't that sensitive and you want an easy way out of your acne dilemma, go for this product.
Expert Tips
The 1% salicylic acid of the product is more than enough to clear your skin from all impurities.
Dr. Kemunto Mokaya, a board-certified dermatologist says that this is among the most common ingredients to treat acne, get rid of blackheads, and even whiteheads.
"Salicylic acid assists in the exfoliation of the skin, getting rid of pore-clogging agents –dead skin cells."
User Reviews and Testimonials
Derek, an Amazon customer loves the smell and the texture and the results it gives him consistently.
"I have crazy sensitive skin, and to be frank, I still get little redness on a few spots on my face, but it will disappear the next day and leave my skin clearer and smoother than the day prior!"
Where Can I Buy It?
I purchased mine on Stylevana and was able to save up a few bucks thanks to a deal at that time. But, you can also make the purchase on Amazon.
Check this video out from Matt Randon as he discusses how versatile the Biore Charcoal cleanser is. You will be able to pick up a few tips regarding choosing a face cleanser, too!
Check Latest Price



Kao – Men's Biore Charcoal Detox Acne – 100g


Sale
Bioré Charcoal Acne Cleanser, Salicylic Acid Treatment, Helps Prevent Breakouts, Oil Absorption and Control for Acne Prone, Oily Skin, 6.77 Ounce
CHARCOAL FACE WASH - Infused with natural charcoal to deep clean pores and absorb unwanted oil for balanced purification
DEEP PORE CLEANSER - With deep cleansing, natural charcoal and Bioré Skin Purifying technology, our acne cleanser helps to clear pores and prevent the development of new acne-related blemishes
HELPS PREVENT BREAKOUTS - By combining a charcoal face wash with Salicylic Acid to treat existing acne, you can help avoid your next breakout
GENTLE SKIN CLEANSER - Soothing formula carefully removes blemishes and dirt to gently cleanse and leave skin looking healthier
DESIGNED FOR DAILY USE - Intended for oily skin, our oil free face wash is dermatologist tested and oil-free. For optimal results, use daily. Reduce usage if irritation occurs
Why It's the Best
When I was reading the ingredients, I couldn't help but wonder, does this product really have 10 different concentrated fermented ingredients?
The contents of the product were outstanding. Not to mention that it has been clinically approved and proven to help the skin get rid of wrinkles, dark spots, as well as moisturize, soothe, and lift them.
Thanks to the triple fermentation, the ingredients of this ampoule were formulated to be concentrated to their maximum extent.
Adeline Kikam, DO, MS, FAAD, says that serums are perfect agents for skin care products because of their high concentration, but lighter weight, giving way for the skin to have faster absorption.
"It's basically a product that's used as a medium to deliver highly concentrated ingredients to the skin."
Type
The MISSHA Time Revolution Night Repair Ampoule Cream 5X is an ampoule, which you can use to deliver highly concentrated ingredients to your face without irritation!
It's light, easily absorbed, and not sticky.
Benefits & Drawbacks of Using the MISSHA Time Revolution Night Repair Ampoule Cream 5X
| Benefits | Drawbacks |
| --- | --- |
| It would not leave you with a greasy and oily skin | Does not have a big difference with other, cheaper, over-the-counter serums/ampoules |
| A small drop for a session is enough | The consistency is thicker and compared to other brands' products |
| You can use it for different skin types | A bit more expensive compared to others |
| The scent is light, mild, and earthy (natural) | |
| You can use it even if you have sensitive eczematic skin | |
Expert Tips
You need to apply this after your nightly skincare routine –yes, as the conclusive step.
What you have to do is apply an appropriate amount gently into the skin without going against the skin's texture.
User Reviews and Testimonials
Linda Lee, an Amazon customer has nothing to say but it works perfectly!
"For 2 months that I've been using the product, I can't say anything else but great! It takes time to see results, but it definitely works as it has lightened several dark spots on my skin."
Where Can I Buy It?
I purchased mine straight from MISSHA US, but you can purchase it from Amazon, too!
Watch this video from Trevor Ritchie, a fashion and skincare influencer, as he goes over the night repair cream and compares it with a similar Estee Lauder product to get a closer look at the product!
Check Latest Price



Time Revolution Night Repair Ampoule Cream 5X


Sale
MISSHA Time Revolution Night Repair Face Serum Ampoule (5th Gen)
WRINKLE SERUM FOR FACE: Our extreme biome complex contains 10 types of probiotics that are put through an extreme fermentation process to extract and preserve their rejuvenating, restorative powers.
TRIPLE FERMENTED: First we extreme ferment, then warm ferment, then ferment again at cold temperatures, and then finally extract using a low-temp, high-pressure process. The result is a highly concentrated pure, potent extract.
REPAIR SKIN: This soothing face-care serum is moisturizing and hydrating while improving elasticity and radiance overnight. Tired skin starts to recover after only ten hours of use!
HOW TO USE: Apply this face-moisturizing serum at night as part of the last step in your skincare routine. The firming anti-wrinkle serum strengthens and lifts while you sleep.
TIME FOR A REVOLUTION IN SKINCARE: Our unique long fermentation process means each product delivers 100% undiluted anti-aging energy. Try the entire Time Revolution line of Korean skincare products.
Korean Skincare for Men: What Exactly Does It Entail
You know what they say about skincare: it's never too late to start.
If you're into Korean skincare, you've probably heard about the 10-step routine:
Cleanse: Oil-based
Cleanse: Water-based
Exfoliate
Tone
Lotion or Essence
Serum or Ampoule
Sheet mask
Eye cream
Moisturise or Emulsion
Nighttime Cream or Daytime SPF
Check out the best Korean whitening cream!
Now looking at this routine, men might just go back to their one-stop wash-and-dry.
Remember: skincare is all about trial and testing. Most steps can be omitted or condensed into another after you experiment a few times.
Taking care of your skin doesn't have to become your full-time job. Korean skincare for men can be as simple as the following 3-step process:
When it comes to Korean skincare for men, it is more about choosing the right products than following the essential steps.
Pick the best products that suit your particular skin. Remember, it's not so much about your gender than it is about skin type.
Look at the video below:
Check Out: Korean Skin Care Routine for Men to better reach your glass skin goals!
How to Choose the Best Products for Men's Korean Skin Care
Here's where it gets tricky. It all comes down to knowing which products to choose.
And investing in the right products only comes from recognizing the tendencies and qualities of your skin.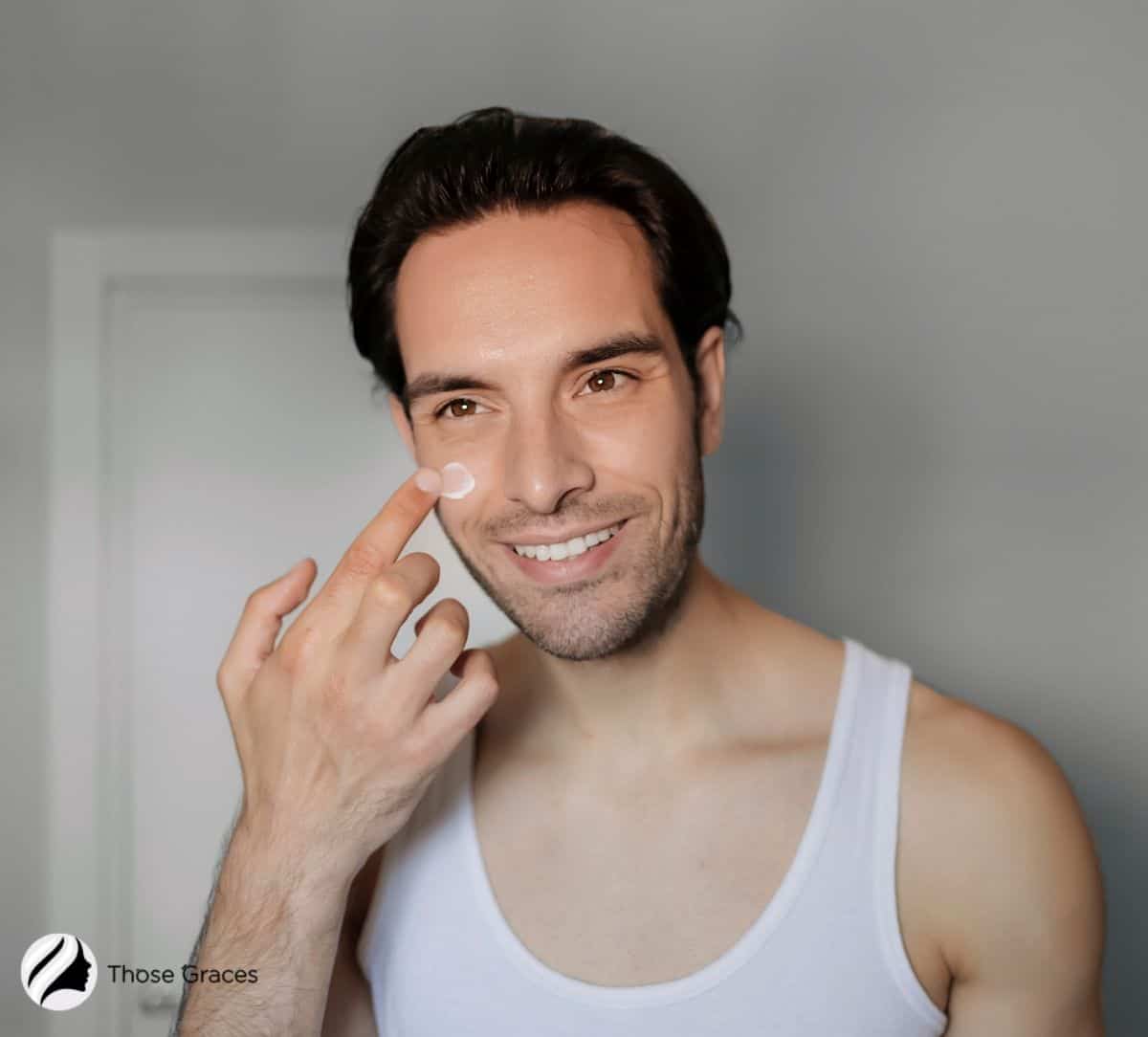 Women: before buying a product to kickstart your man's journey into effective skin care, know what his skin type is.
Men, did you know all your present and potential skin concerns boil down to knowing what kind of skin you have? Control the breakout; here's a breakdown for you to get started:
Normal or Combination Skin
Dry Skin
Oily Skin
Sensitive Skin
In addition to this, you might also want to tackle something in particular, like acne, large pores, blackheads, wrinkles, and pigmentation.
Men need to consider other aspects too, that women do not, like shaving, ingrown hair, and thicker skin texture on the face.
We've got you covered. Let's look at the range of products you can choose from and which ones are the best ones for your Korean skincare routine for men.
FAQs
What kind of Korean men skin care is best?
The best Korean skincare for men includes products and steps that have been tried and tested. First, identify your skin type and then experiment with products that suit you.
Can I get glass skin like K-pop stars?
Yes! Remember, most of what you see is photoshopped, so try not to set your beauty standard according to pop stars. But following a regular skincare regime religiously, will definitely lead to clearer, smoother, radiant skin.
How can I get Korean skin naturally for men?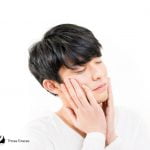 Borrowing from Korean skincare culture is a great way to transform your own skin. Whether you're a woman or a man, choosing the best Korean skincare products for your skin is paramount.
Final Recommendation
No products found.
References
"Charlotte Cho of SokoGlam Shares Her Favorite Skincare Ingredients." 2014. Skin & Tonics : Skincare Guides & Product Reviews. August 7, 2014. http://skinandtonics.com/charlotte-cho-sokoglam-favorite-skin-care-ingredients/.
Cho, David. 2021. "Korean Skincare for Men: Best Products." Sokoglam.com. 2021. https://sokoglam.com/blogs/news/15817332-the-tutorial-skincare-for-men.
Dr. Axe. 2018. "Soapwort Benefits, Uses, Supplements and How to Grow It – Dr. Axe." Dr. Axe. December 21, 2018. https://draxe.com/nutrition/soapwort/.
Drugscom. 2021. "Quillaja." Drugs.com. Drugs.com. 2021. https://www.drugs.com/npp/quillaja.html.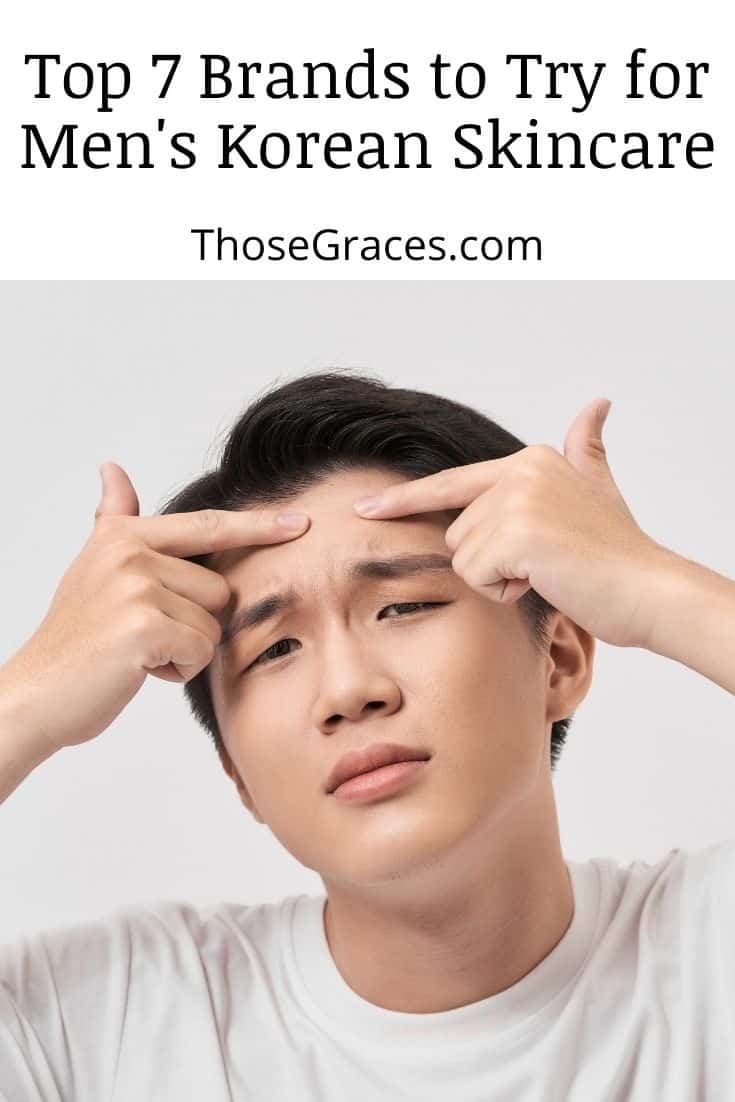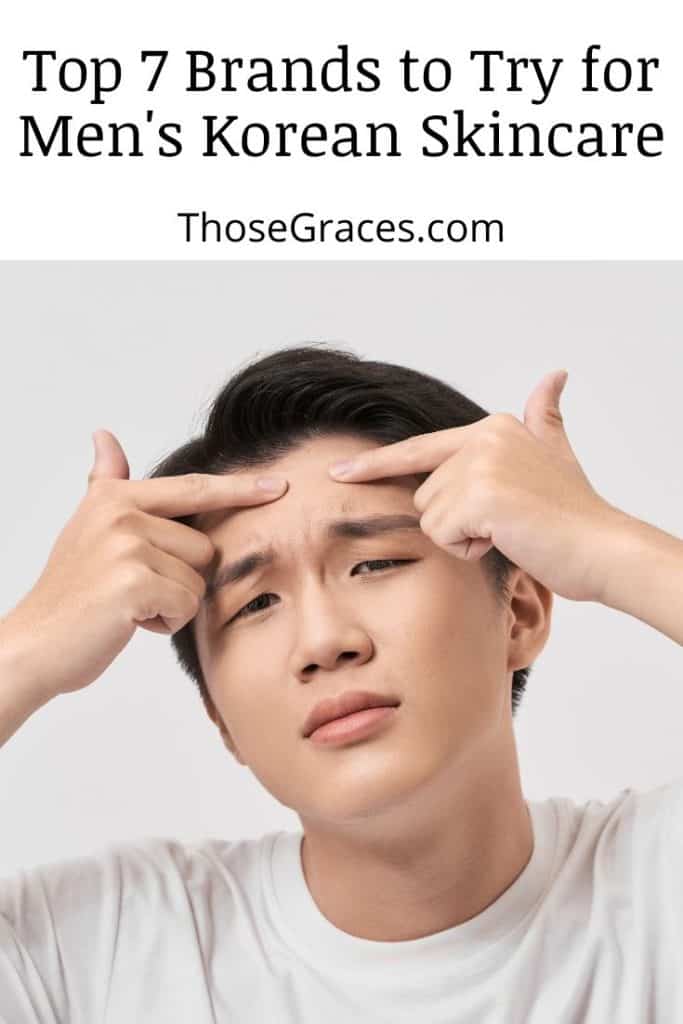 What is your favorite Korean skincare for men? Please share with us below!