It's getting lots of love from customers, but is the Revlon blow dryer brush damaging for hair? Is it too good to be true, and will it harm your hair?
If we acknowledge the thousands of customer reviews (over 300,000 on Amazon!), of which the majority are positive, the Revlon One-Step Hair Dryer isn't that bad for your hair.
However, as a hair stylist, I know that using hot hair tools can affect your hair texture and goals based on a few factors.
Let's look into this famous hair-styling tool, why it's taken the internet by storm, and how to use it to minimize hair damage.
Key Takeaways
The Revlon blow dryer brush won't damage your hair since its working mechanism fosters proper hair health.
The bristles on the Revlon brush ensure a smooth, gorgeous finish while reducing drying time for wet hair.
You can dry your hair in a single step, making the Revlon hot brush an ideal hair styling product.
Does The Revlon One-Step Blow Dryer Brush Damage Hair?
The Revlon One-Step hair dryer brush is one of those products I'd classify under genius hair tools. If you blow dry your hair well, there's little danger of getting damaged hair. (1)
For someone with curly hair that can quickly become frizzy, I'm always looking for products that don't damage my hair and help me achieve my hair goals faster. (2)
Enter the Revlon One-Step hair dryer brush. This popular hair dryer brush worked perfectly with my curly hair type, that's often difficult to style.
The nylon bristles work to smooth hair faster than other hot brushes I've tried before.
Thanks to the round edges, it also added gorgeous volume to the braids in my hair. See it in action in this video from all over TikTok:
The tufted bristles are perfect for detangling different hair types. If you use it well, you won't have to worry about heat damage to your hair.
Celebrity hairstylist Takisha Sturdivant-Drew says this hot-air brush will work perfectly with thick curly hair.
Hairstylist Jessica Lee says the Revlon hot air brush will help to dry curly, frizzy hair from the roots. However, she found it too hot for fine hair.
So, whether it damages your hair depends on your hair type. My curly-haired self found the paddle brushes on the original Revlon hot air brush ideal.
The latest version is something else entirely! Whether it will work for your straight hair or other natural hair types remains to be seen.
Optimize your hair routine with my guides on 'How to Keep Hair Dryer Cord from Twisting', 'Is the Cold Setting on a Hair Dryer Damaging', and 'Blow Drying Curly Hair Without a Diffuser' for expert techniques and advice!
What Makes the Revlon One-Step Hair Dryer So Famous?
Any regular blow dryer will work if it's needed to dry damp hair. However, not all hot tools dry hair the same way.
So, what about the Revlon hot hair brush stands out? I promise you; there are tons of things!
1. Affordable Price
The Revlon One-step is quite an affordable hair tool for everything it does. I love using it since it is one of the fastest ways to dry hair when running late.
No bad hair days, even for the days I wake up late!
2. Ease of Use
The new Revlon allows for a faster blowout thanks to the structure of the detachable head.
A one-step process makes a fresh blowout easier and faster to achieve.
The blow-dry brush has soft bristles that allow for a speedy blowout without the heavy lifting typical of other heated brushes.
3. Combination of Ionic and Ceramic Technology
A ceramic and ionic technology combination ensures faster hair smoothing, while the round edges ensure extra volume.
4. Flexible Styling
Different speed settings make for more styling flexibility. Cool settings for the cool shot further make it versatile.
As YouTube influencer Milabu says in the below video on her channel, the Revlon blow dryer brush is an excellent choice.
5. Reduced Hair Damage
All the advantages would be moot if Revlon's oval brush damages hair.
While excessive heat can still be a problem for delicate hair types, adjusting the settings will help prevent that.
How to Use the Revlon One-Step to Minimize Hair Damage
To get the most out of your One-Step Brush and minimize hair damage, it's important to start with clean, damp hair.
Apply a heat protectant product to your locks before beginning, and then section your hair into manageable pieces.
Next, select the desired heat and speed settings on the brush to suit your hair type.
The unique oval brush shape is perfect for creating volume and bounce, while the ceramic coating helps to distribute heat evenly throughout your hair.
Start at the roots and work to the ends, gently pulling the brush through your hair.
The bristles are designed to detangle while adding shine, leaving you with smooth, frizz-free tresses.
Once finished, let your hair cool down for a few minutes before applying any finishing products.
And voila! You now have a salon-quality blowout without ever having to leave your home.
Say goodbye to damaging blow dryers and hello to healthy, beautiful hair with the Revlon One-Step Blow Dryer Brush.
FAQs
1. Will the Revlon one-step damage curly hair?
The Revlon one-step dryer brush won't damage curly hair. If you use it in the ideal consistent heat setting, you don't have to worry about hair damage.
2. Are blow dryer brushes good for my hair?
Blow dryer brushes are excellent for hair since they use bristles, heated plates, and hot air to straighten hair. They are a better option for your hair than flat irons.
3. Is the Revlon One-Step blow dryer as good as online reviews claim?
The Revlon one-step at its current price is worth all of the hype it's getting. It's easy to use, has flexible styling options, and can work for different hair types.
Conclusion
Is Revlon blow dryer brush damaging? After using it, I can say that the Revlon hot brush is safe for most hair types.
The brushes' combination of ceramic and ionic technology, soft tufted bristles, oval shape, and three heat settings make it one of the best hair straighteners on the market.
One huge benefit is that it can reduce the number of salon blowouts you need if you use it regularly. Try it and tell us how it goes in the comments below.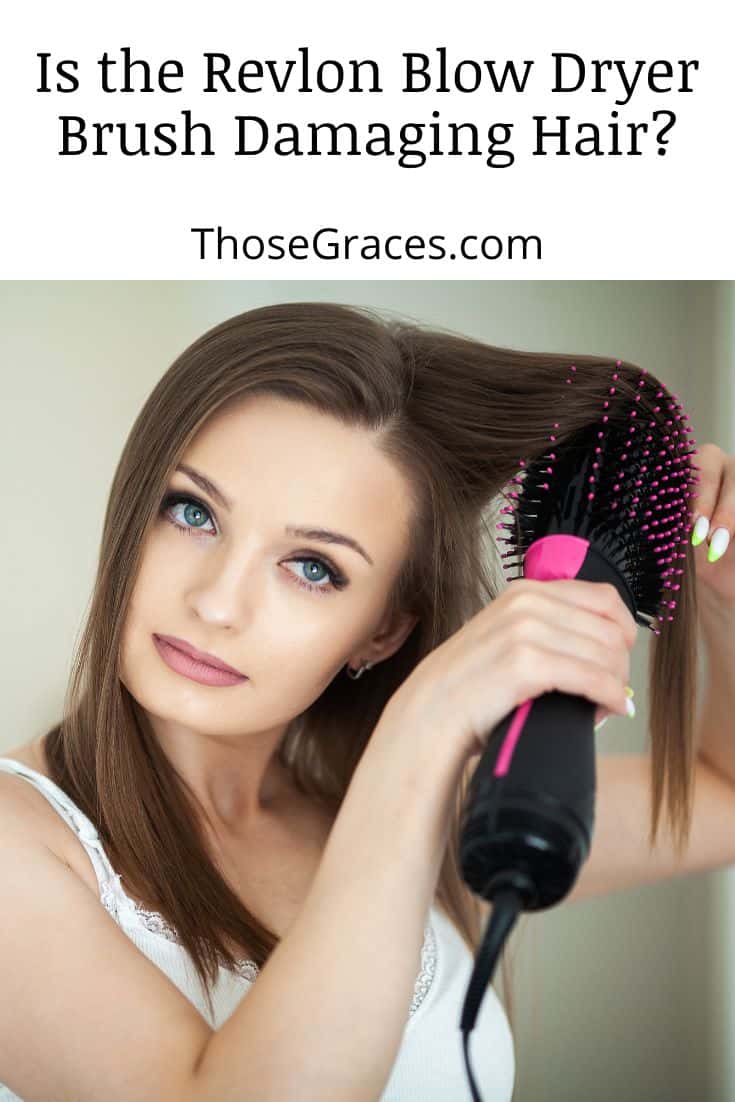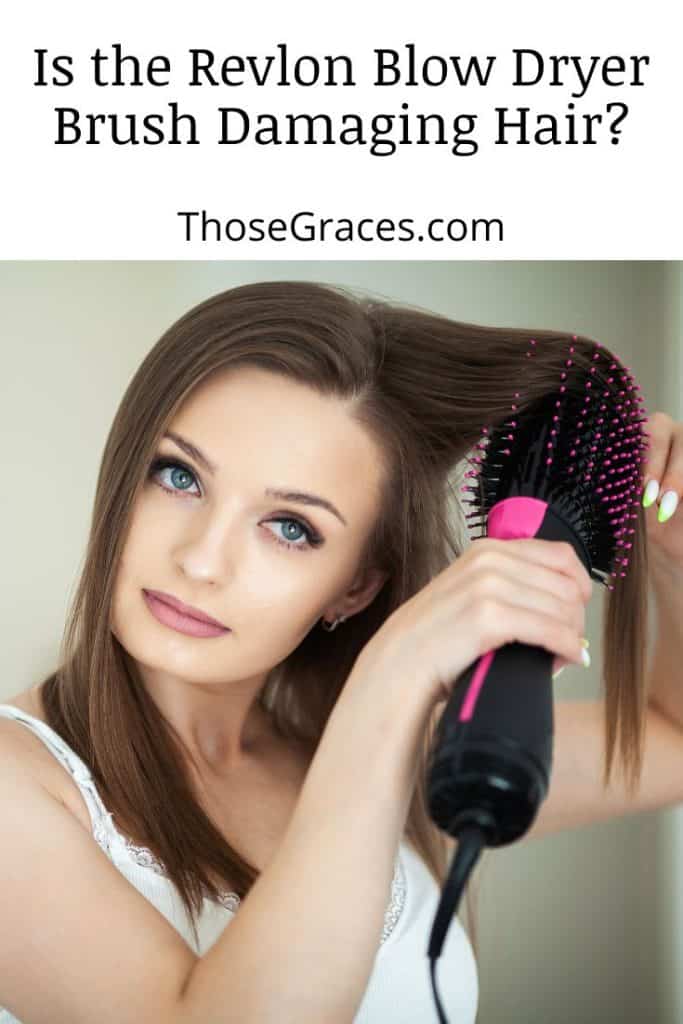 Resources
1. How to Blow-Dry Your Hair Without Damaging It [Internet]. WebMD. 2016. Available from: https://www.webmd.com/beauty/video/how-to-blow-dry-hair
2. Radhakrishnan R. What Are the Four Types of Hair? [Internet]. MedicineNet. Available from: https://www.medicinenet.com/what_are_the_four_types_of_hair/article.htm
‌