Infrared foot massagers are a thing of the future, and let me tell you why.
As life gets busier, more and more people suffer from tight muscles, foot muscle pain, nerve pain, stress, and anxiety.
Infrared heat is a technology that can target all these concerns and make your life easier.
If you're in need of an excellent device to help you with pain, I reviewed five amazing finds.
Let's start with a quick look at our top picks, then keep reading for all the glorious details.
Infrared Foot Massagers Top Picks at a Glance
If you see the value in these products and choose to purchase via my referral links, I may earn a small commission at no extra cost to you.
Check the table below for a side-by-side comparison of our favorites!
Top Benefit
Has a handle that makes it easy to carry
It has a self-timer function
Best Portable
Top Benefit
Has a handle that makes it easy to carry
Best High End
Top Benefit
It has a self-timer function
Top 5 Best Infrared Foot Massagers Review
No products found.
The InvoSpa Shiatsu foot massager with infrared heat is one of the best massagers you can get for yourself or the family.
I've gifted it to several people, and now they're all obsessed with this device. Want to know why? It's time to get all your answers.
This is not only one of the most affordable purchases, but it also has three pressure levels to choose from; it's easy to clean, easy to use, ergonomically designed, has several modes, and efficiently helps with pain.
Features
This is a cool-looking black massager with two holes in the top where your feet should go.
It's not one of those devices where you simply put the feet on its flat surface, but you need to place your feet inside the massager with this machine.
On the top part, there are buttons and a small screen between the two holes to help you set the mode, turn the device on/off, and set the heating and air pressure.
The massage features include Shiatsu kneading in two directions, which is really similar to an actual Shiatsu massage done by hands.
This helps with increased blood flow and treats painful feet. The rolling and pressing feature will be great for everyone who's facing muscle pain and nerve pain.
The air compression and heat setting has three intensity levels, and you can combine it with the previous two modes for even better results.
Whether you're up for a regular foot massage or an intense foot massage, this device has it all.
I'm a sucker for nice designs, and I love that InvoSpa added a hint of turquoise to their awesome foot massager.
The feet sockets are removable and washable, which means it's easy to maintain hygiene while using the device.
Not even sweaty feet will prevent you from treating the extreme foot pain you've been experiencing.
No products found.
| Benefits | Drawbacks |
| --- | --- |
| Three pressure levels to choose from so that you feel comfortable during the massage | It doesn't come with a remote |
| Removable feet covers you can easily clean | Some feel that the pressure is too intense. |
| The infrared heat therapy will help with sore feet, tight muscles, tired feet, nerve pain | Some units were defective, causing a burning smell. * |
| Comes with a very long 2-meter cord | |
| Ergonomic design where you need to put the entire foot inside | |
*Not typical, so it seems like it was a bad bunch.
Expert Tips
My favorite setting was the Shiatsu deep kneading massage. It really felt like I was at a spa, getting a massage from a real person. Although I didn't notice any improvements in the first session, my feet started hurting less and less after the third time.
No products found.
No products found.
The Kendal Physiotherapeutic device is not an infrared foot massager, but it's a machine that delivers infrared therapy, acupuncture, and reflexology.
Although it's not a typical foot massager machine, so many people can benefit from using it. That's why I wanted to include it in the list.
Since it's not the device you expected to read about, I want to get more in-depth about why it's such an interesting concept.
This machine aims to boost your blood circulation, promote lymphatic drainage, and treat your foot aches, pains, stress, anxiety, and even fatigue.
The brand's goal is to improve the user's overall wellbeing with their device. At first, I thought this was a long shot, but I was still impatient to try the machine.
After I did, I can confirm it's one of the most relaxing things I've ever tested.
Features
The silver Kendal machine has a built-in LCD display that shows the settings and helps users set the modes.
Under the LCD display, there's a group of buttons that are used to operate the machine.
I also received a remote in the packaging that has the same purpose as the buttons but makes the whole experience much simpler.
The eight pads that come together with the device are meant to go on the problematic areas on your body. Use them to target acupuncture points that will treat your pain.
The good thing is that you can purchase more pads and use the device with several people at the same time.
| Benefits | Drawbacks |
| --- | --- |
| It has over 50 different setting options to choose from depending on your needs | It's costlier compared to most of the products on the list |
| The physiotherapeutic device can be operated via the buttons or the remote for easy use | It's not an electric foot massager |
| It significantly boosts blood circulation for pain relief, treats tired muscles | Harder to figure out how to use at first. |
| It comes with pads that you should place on painful areas to treat them | Resets itself every time you turn it off, so you have to click back up to your preferred setting. |
| More than one person can use the device at the same time | |
| It has a massage therapy belt that will boost the blood flow to reduce pain | |
*
Expert Tips
Since this is not a typical infrared foot massager, there's more of a learning curve There are 50 modes to choose from and several buttons to work with. That's why it's best to go over the manual so that you're not confused when you start using it.
No products found.
No products found.
The Naipo Foot Massager with Heat is the most affordable product on the list. That doesn't make it any inferior to the others.
On the contrary, I found it to have similar features and beneficial effects as the more expensive alternatives. With its 18 deep-kneading nodes and the heating function, it will help your tight muscles and tired feet.
Features
This is a typical black foot massager that is covered with a breathable mesh fabric.
In the middle, you'll notice two buttons, one power button that turns the device on and off and the other one that turns the heat on and off.
The unique thing about this massager is that there is a resin massage ball in the middle right above the buttons.
If you ever feel like you need extra attention to some parts, just place the foot on the ball and start moving.
No products found.
| Benefits | Drawbacks |
| --- | --- |
| Works for any foot size because of the large platform | Only one speed of massage to choose from |
| Most affordable product on the list with great quality | Fewer settings compared to other devices |
| Toe-touch control so you don't have to bend | It's very large. |
| Can be used with or without heat | |
| It's perfect for swollen, tired, painful feet | |
| Very easy to use because it only has two buttons | |
Expert Tips
This is the machine that I go back to over and over again because of the simplistic design and how lightweight it is to move around. Since it's not big, it's easy to store under furniture.
When it comes to the features, I really love using this device every day, for a light massage without the heat option. Three times per week I also turn on the infrared heat to improve the pain in my feet and to help me relax. One of my friends who's been struggling with Plantar Fascitics tried the massager and said it's fantastic.
No products found.
I'm not one to be easily fooled by online reviews, but when I saw how many happy customers this device has I immediately hit 'Buy'. Did I regret it? Not at all.
Since it's already on this list, you're probably guessing there's a good reason why I loved it so much.
Features
The Nekteck foot massager comes packed in sleek black packaging with adjustable height.
In other words, if you ever felt like there is no massager high enough for your height, you've just found the best match.
I'm petite and have short legs, so I had no trouble adjusting the height and using the device.
It has six massage heads and 18 massage nodes. It offers you the option to use it with or without heat, depending on your needs.
There is a single button on the packaging that you can tap with your toes to turn on and off.
| Benefits | Drawbacks |
| --- | --- |
| It's perfect for all heights because it has an adjustable height feature | Doesn't have as many features as the more expensive devices |
| An affordable product with great features | Higher settings can cause blisters if you use it too long on sensitive feet. |
| Toe-operating feature so you don't have to bend | Mesh material isn't as durable as other models. |
| Has a handle that makes it easy to carry | |
| A hidden storage spot for the cord | |
| It's great for people with flat feet | |
Expert Tips
Since I was in desperate need of treating the nerve pain in my left foot, I decided to turn on the heating function. Just after a few uses, I started feeling much better and even wearing heels again. It only took 15 minutes, three times a week, for me to feel like a new person.
Nekteck Foot Massager with Heat, Shiatsu Heated Electric Kneading Foot Massager Machine for Plantar Fasciitis, Built-in Infrared Heat Function and Power Cord (Black)
VERSATILE DESIGN: This awesome foot massager has 6 massage heads with 54 rotating massager nodes. It amazingly relaxes muscles, ease tensions and regulates blood flow.
HEATING FUNCTION: This massager has a heating function to help fatigued muscles and improve foot wellness. It's very safe to use. This function can be turned on and off manually if not preferred to use.
ERGONOMIC DESIGN: The ergonomic shape fits the foot which makes it more effective relaxing. Help you relieve fatigue at any time make it more comfortable for you. Valentines Day Gifts ideal for Her & Him
PORTABLE & EASY TO OPERATE: You don't need to bend down just to turn on/off the massager. You can access the power button or turn on the heat by just simply touching it using your toe!
PERFECT FOOT STRESS RELIEVER: This massager is the one thing you need to ease tensions and relieve foot muscle . It is perfect to use at home and in your office! Get a good foot massage without spending a fortune in salon fees!
If you're looking for a high-end alternative, I have to recommend the RENPHO Foot Massager Machine with Heat.
It has the most elegant design; it's straightforward to use, plus it comes with a heat option.
Features
The black RENPHO Foot Massager is similar to the InvoSpa massager because you need to place your entire feet inside.
This is a large device and fits all sizes up to Men's 12. Right in front of your feet, you'll notice the touch button display where you can choose the settings.
Another interesting thing is that the brand doesn't recommend it for people who are sensitive to squeezing and kneading.
Yes, it has three levels of squeezing and massaging, but you should expect this to be more on the intense side. Actually, it's the best alternative for people who are struggling with any kind of ache.
| Benefits | Drawbacks |
| --- | --- |
| The cloth cover material is removable, so you can wash it easily | It's more expensive but more luxury-looking |
| It has several massage intensities to choose from | No remote control |
| Touch buttons you can easily navigate with your feet | |
| It has a self-timer function that turns off the machine after 15 to 30 minutes | |
Expert Tips
This is one of the easiest massagers to use. All you need to do is place your feet, choose your settings and enjoy. The heat option will help you relax and will treat your pains.
Sale
RENPHO Foot Massager Machine with Heat Shiatsu Deep Kneading, Delivers Relief for Tired Muscles and Plantar Fasciitis, Fits Feet Up to Men Size 12(Black)
[Product Details] Equipped with rotation ball, rolling stick and heating, RENPHO foot massager offers a deep kneading shiatsu foot massage. It massages the feet and relaxes the whole body. It does not apply to people who are highly sensitive to squeeze and kneading. Please note that this shiatsu foot massager is not for foot bath use and no remote.
[Professional Foot Massage] To provide comprehensive and comfortable massage, this heated foot massager contains ergonomic design. RENPHO foot warmer includes 3 kneading and 3 squeeze intensities that can be adjusted to personal preference. You can start from low level intensity and stop using if you feel uncomfortable.
[Simple, Hygienic and Healthy] The foot massager machine is easy to control using your foot as it contains the touch panel. To keep a clean and healthy environment, there is a removable washable cloth in the foot chambers.
[Fitment] RENPHO electric foot massager can accommodate almost all foot sizes up to men size 12 as it contains enlarged foot rooms.
[Ideal Choice] This foot massager machine is an ideal choice to get it for yourself or a perfect valentines day gift for him or her. A daily massage of 30 minutes improves the health of the body.
How to Pick the Right Infrared Foot Massager for You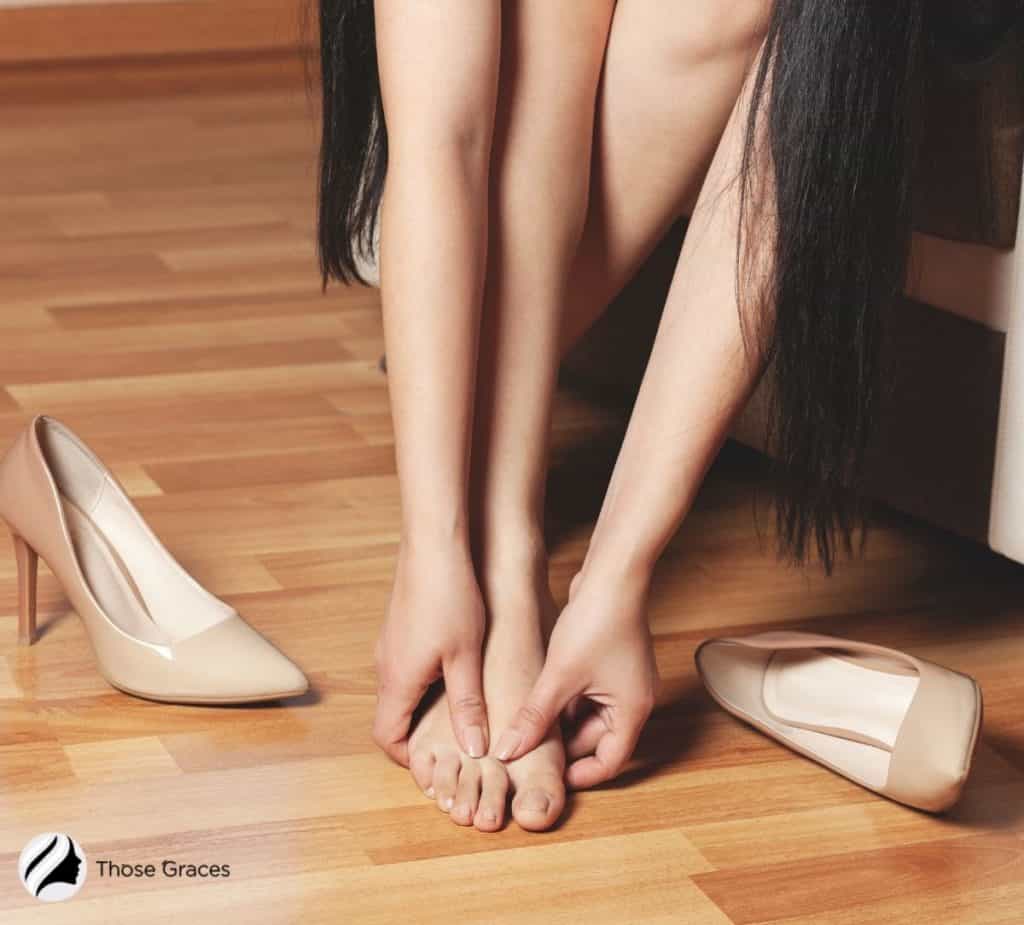 If this is your first time buying an infrared massager, you're probably as confused as it gets. All these features, words, numbers, and now you don't know which one to get. To make things easier for you, I put together a basic guide about the features that you should look for in a product.
Price
Setting a budget is one of the most essential things. If this is a device that you're sure you'll use constantly, then it's worth investing in an expensive product.
But, if it's something that you'll use only several times a month, there is no need to buy the most expensive product.
All of the devices that I listed are high-quality and come at similar price points. These aren't the most expensive products on the market, but they offer fantastic benefits.
Size
The bigger and heavier a device is, the harder it will be to move it around the house or take it with you.
If you want to use it at home and in the office as well, you should opt for a smaller device that you'll easily carry with you.
Portable products should be smaller in size and more lightweight. Go over the product details to see the exact measurements once you know where you'll be using it.
However, larger massagers usually come with more features, more modes, and are more versatile. The key here is to decide exactly what you need and see which size works best for your needs.
There are also devices that will be somewhere in the middle of the size scale, so you'll be able to get the best of both worlds.
Modes
The more modes a design has, the more expensive it will be.
If you want a device that features many modes, serves various purposes, has multiple tools, and is high-quality, you should be prepared to pay more. But, that doesn't mean that only the expensive types have many modes.
Some of the modes you'll often see listed include air compression, shiatsu, electric rollers, and more. These are just a part of the techniques you should research to figure out whether they will help with your problems.
There is no wrong or right; there's just a massager that is suitable for you and one that's not. All these modes come with different levels of intensity as well, so that's another thing to think about.
Intensity
Most massagers for feet have several intensity levels. That's an essential feature since not all of us like the same thing.
If you're in pain, you should opt for a device that provides a deep massage that will treat the painful areas.
Some infrared foot massagers have a Shiatsu mode that is the most similar massage to one done with hands.
If that's something you're interested in, now you know which feature to look for. If you only like gentle massages, find a device with multiple intensity levels, or go for an affordable, simple massager.
Remote Control
For some people, this will be a completely unnecessary feature, but it will be a must for others. The thing is that not all massagers will come with a remote in the packaging.
Some designs only include controls on the massager, and you'll have to bend down to switch to a different mode, change the intensity, or turn it off.
Having a remote control will help you relax and enjoy your massage without interruptions.
FAQS
How long should you use infra red foot massager?
It depends on what the manufacturer recommends. In general, you should spend between half an hour and 45 minutes in infrared therapy, two to three times a week, to benefit the most from these devices.
Do infrared massagers really work?
A study that researched the biological effects of infrared radiation and its medical application revealed that this is a safe therapy to use and that it has several health benefits. In other words, massagers who use infrared heat are effective.
Final Words
Although so many people are skeptical when it comes to infrared foot massager benefits, this is an already researched concept that even medical professionals use.
If you've been struggling with foot pain, nerve pain, tight muscles, stress, anxiety, it's time that you tried one of these devices.
Although all of the massagers I listed are fantastic purchases, they all come at different price points and have different features.
That will help you decide which device will work best for you and target your concerns.
Our Final Recommendation
No products found.
References
admin. 2021. "Do Infrared Massagers Work." Infrared for Health. April 8, 2021. https://infraredforhealth.com/do-infrared-massagers-work/.
Tsai, Shang-Ru, and Michael R. Hamblin. 2017. "Biological Effects and Medical Applications of Infrared Radiation." Journal of Photochemistry and Photobiology B: Biology 170 (May): 197–207. https://doi.org/10.1016/j.jphotobiol.2017.04.014.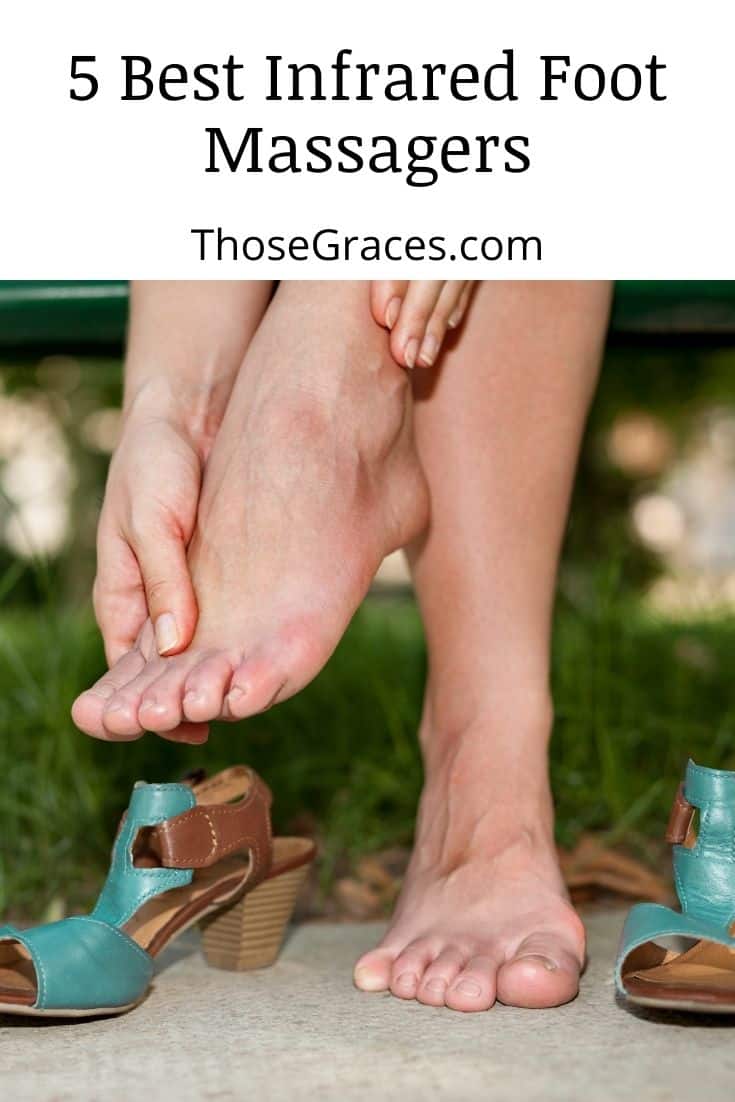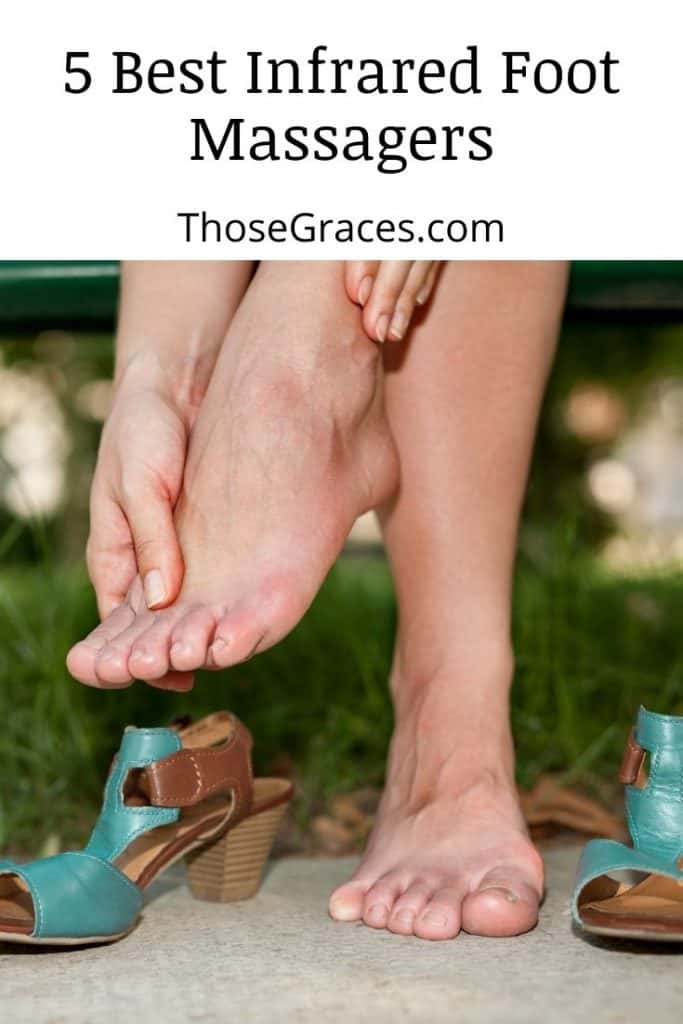 Have you tried using infrared foot massagers? Please share your experience below!