If you need a hand in learning how to towel dry men's hair correctly, this guide is for you!
I crafted this complete and comprehensive set of instructions to help men towel dry their crowns while keeping their hair healthy.
Never leave your house with damp, wet, and unruly hair again!
Steps & Tips on How to Towel Dry Men's Hair
You'll feel that it's either silly or strange to find a guide on towel-drying men's hair, but this information is crucial.
I'll divide each process in this guide based on hair length, style, type, and even your usual hair product.
So, whether you have curly, long & thick hair, straight hair, wavy hair, or even thin hair, this guide is perfect!
Let's start by discussing how to dry men's short hair.
Towel Drying Men's Short Hair
Who said short-haired men couldn't have bad hair days? Follow these steps to dry out men's short haircuts properly.
Step 1: Choose a Clean Towel
First and foremost, the towel of choice is essential.
Use a dry, clean towel to work on your hair. Please refrain from using damp towels to make the drying process longer.
EXPERT TIP: Make sure the towel you'll use covers your entire head. This also gives your towel more space for the wetness and moisture to be absorbed.
Step 2: Put It on Top of Your Head
When your towel is ready, place it on your head. Ensure that your hair isn't dripping wet.
This step is done so the towel absorbs the excess water on your hair.
Check out this video!
Step 3: Rub it Gently
When your hair isn't dripping wet, what you want to do next is rub your hair gently so that the towel absorbs the water from the hair.
For curly hair, the rubbing should be in a circular motion. Make sure to check our guide about blow dry men's curly hair.
EXPERT TIP: Gently rubbing is like letting the towel run through the hair without you putting any pressure on it.
Step 4: Pat Your Head Slowly
When the towel has absorbed much of the wetness, pat your head slowly.
Some of the moisture could have traveled to the ends of your hair. Letting it dry using a towel and gently tapping or patting your hair would be best.
Step 5: Let it Air Dry.
When you're sure there's no longer excess water on your hair, let it air dry.
At this point, your hair will be dry for around 15 to 30 minutes, depending on your length, thickness, and temperature.
Now that you know how to dry men's short hair let me divulge the right way to towel dry medium-length hair.
Dreaming of sleek, straight locks without the chemicals? Dive into my article on "how to make curly hair straight naturally forever" and unveil the secrets to a lasting transformation!
Towel Drying Men's Medium-Length Hair
If your hair is categorized as a medium in length, here's how to dry it so you don't go out looking wet and soaked.
Step 1: Choose a Large Absorbent Towel
Use a larger, more absorbent towel to dry medium-length hair successfully.
Microfiber towels [1] will work great as they won't cause too much friction on both your hair and scalp.
Here's a video tutorial.
Step 2: Squeeze Out Excess Water From Your Hair
Then, what you want to do next is squeeze all the excess water out of your hair.
In case you need guidance on how it's done, follow these steps:
Lean forward until you see your wet hair's front and middle parts.
Then, carefully squeeze out all the excess water using both hands.
Lean back and do the same thing for the back part of your hair.
Repeat these steps until you draw out all excess water on your hair.
Do this until you have damp hair and not to the point that you'll notice it wet.
Step 3: Use the Towel and Blot Out Parts of Your Hair
When it's damp, use a towel and blot out sections and parts of your hair so that the towel absorbs the water.
Pat each section of your hair until the towel absorbs excess wetness on various parts of your hair. Vigorously rubbing it instead of patting it will damage the hair strand and shaft.
Step 4: Let Your Hair Air Dry
When you've drawn all wetness and moisture out of your hair, it's time for the hair-drying procedure.
Since you have shorter hair, you'll be less likely to need to use additional equipment. But, if you want to dry it faster, blow-drying under medium heat is the key.
Optional Step: Use a Blow Dryer
If you're in a rush and want to finish the job quickly, you can use a hair dryer to hasten the drying process.
Set your blow dryer to medium heat settings to avoid hair damage. Then, point it towards your hair, keeping about five (5) to seven (7) inches in the distance, keeping a continuous motion. [2]
Below is another great video!
The time you'll dry your hair out depends on your length. It will take you around five (5) minutes or more to dry it out for thicker and longer hair.
On the other hand, if you have shorter hair, around three (3) to five (5) minutes is enough.
Last but most definitely not least is the process of towel drying long hair.
Towel Drying Men's Long Hair
You could find it a challenge for curly, long & thick hair. Here's the best and ideal way to towel dry it.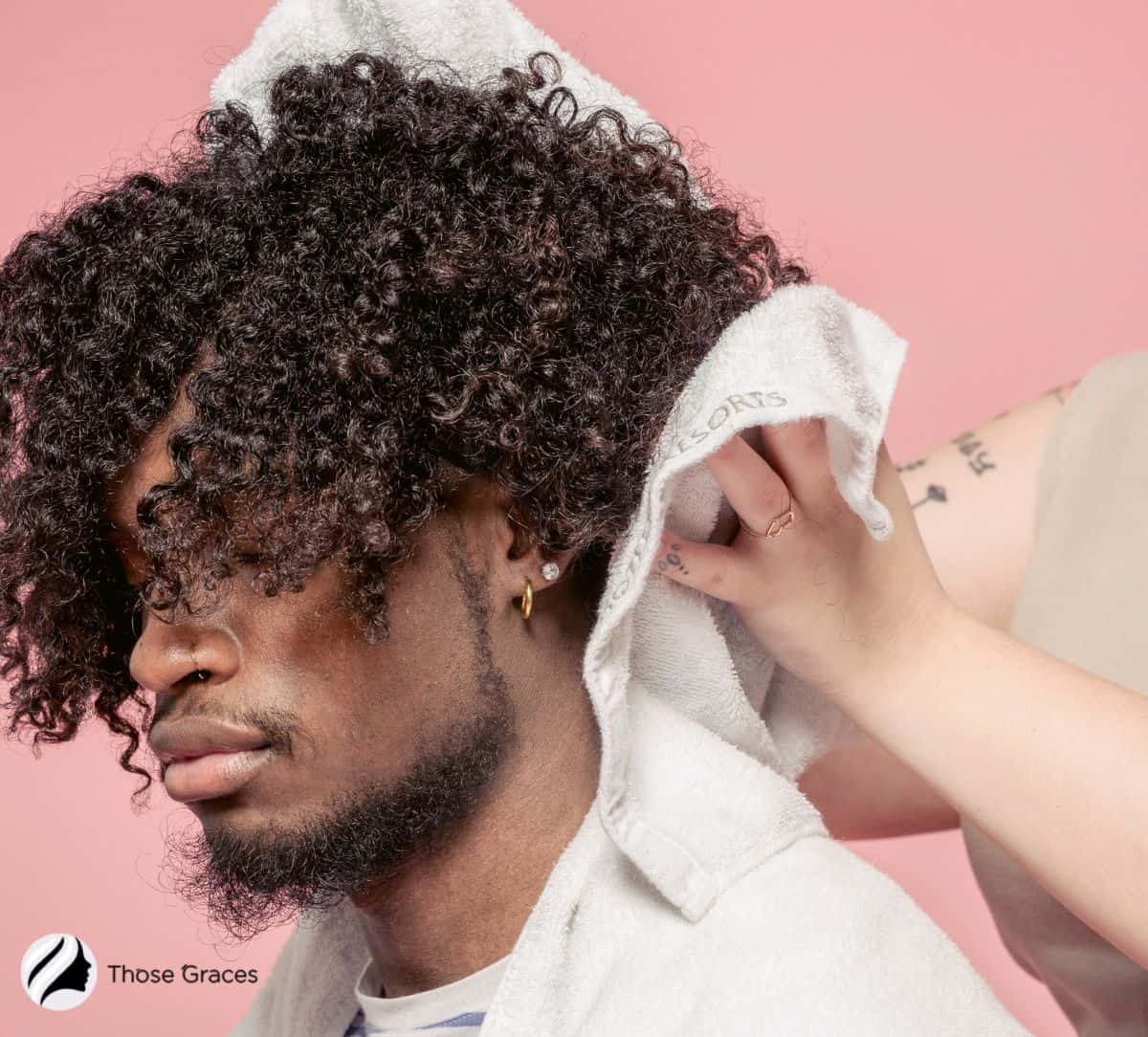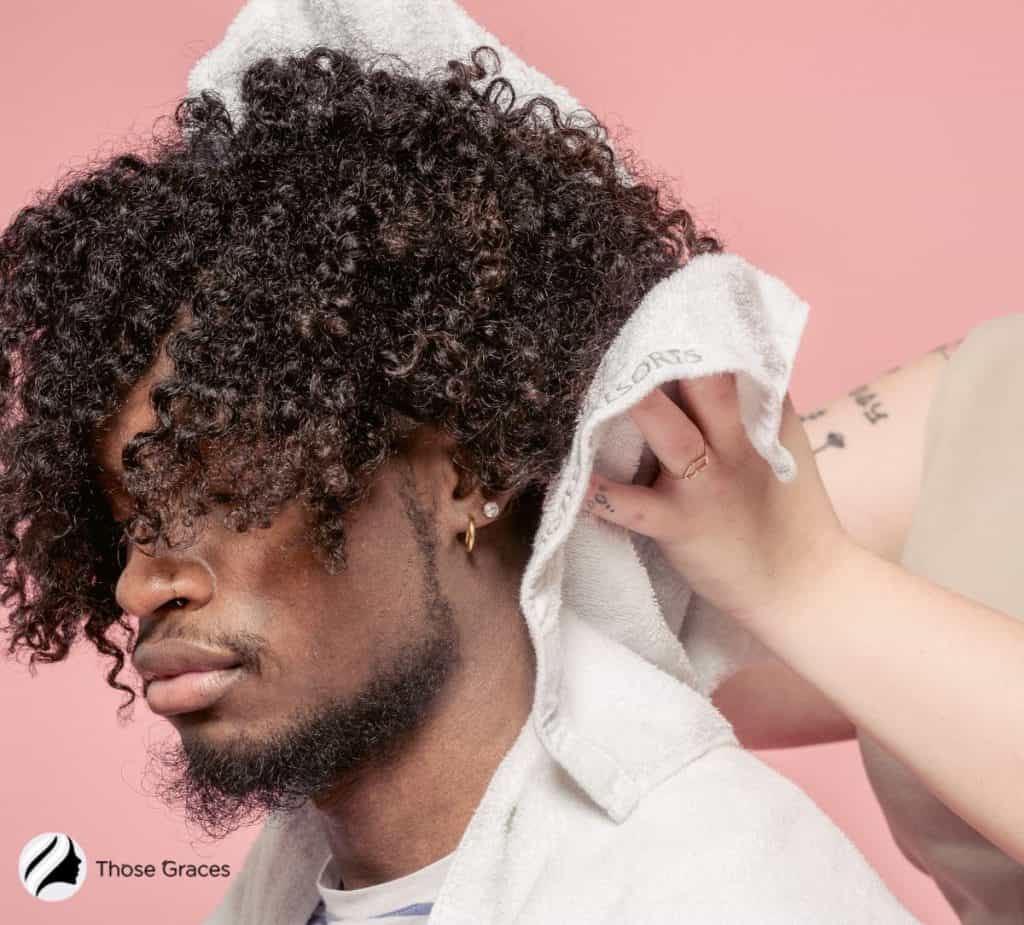 Step 1: Choose a Clean, Mild Towel
Before anything else, make sure that your towel is clean, mild, and is not too rough.
You want your towel to work its way to your scalp without causing any rough patch on the hair's overall texture.
For longer hair types, it's not advisable to use microfiber towels as they might not absorb and hold the water content or the wetness of the hair.
Step 2: Shake Excess Water Out of the Hair
Having long hair, it'll be easy to draw out plenty of water from the hair. This can be done by just shaking it off the head.
You can squeeze water out of the hair if you have extra time doing further steps.
Step 3: Place the Towel on Top of Your Head
When your hair is already damp, or nearing dryness, place the towel on top of your head and allow the air to bring the wetness of the hair to the towel naturally.
Position it on your head while gently rubbing it in a circular motion. Do this for at least 20 seconds.
Step 4: Stroke Your Hair With the Towel in the Direction of Growth
By now, your hair should be slightly wet, nearing dryness.
To wipe out all the wetness from your hair, use the towel to stroke your hair in the direction of how your hair grows.
Avoid going against the hair growth because this can mess up the direction of your hair. Not only that, but it can also produce textured hair, which will eventually lead to damaged hair.
Step 5: Let Your Hair Air Dry
Lastly, allow your hair to dry out naturally. Air drying can drastically improve your hair quality, so, if possible, refrain from using a hairdryer and allow natural air to dry your hair.
So, these are the different ways to towel dry men's hair thoroughly!
Check this video out, teaching you the correct hair-drying methods using a towel:
FAQs
Should you need more information, here are a few of the most commonly asked questions about toweling men's hair.
Do Towels Help Dry Hair Faster?
Yes, towel drying helps squeeze and release water from the hair faster. However, it should be done carefully to avoid problems such as hair loss and other situations that could endanger your hair health.
Does Towel Drying Cause Hair Loss?
No, towel drying, in itself, does not cause hair loss. It will only be bad for your hair health if you tug on it using a towel while wet or if you rub it vigorously.
Conclusion
This guide on towel drying men's hair will be the only guide you'll ever need.
So, whether you have curly, long & thick hair, short hair, wavy hair, or even a simple average hair type, you can use this guide to your advantage!
Regardless of your hairstyle, you wouldn't always need a hair dryer to dry it out!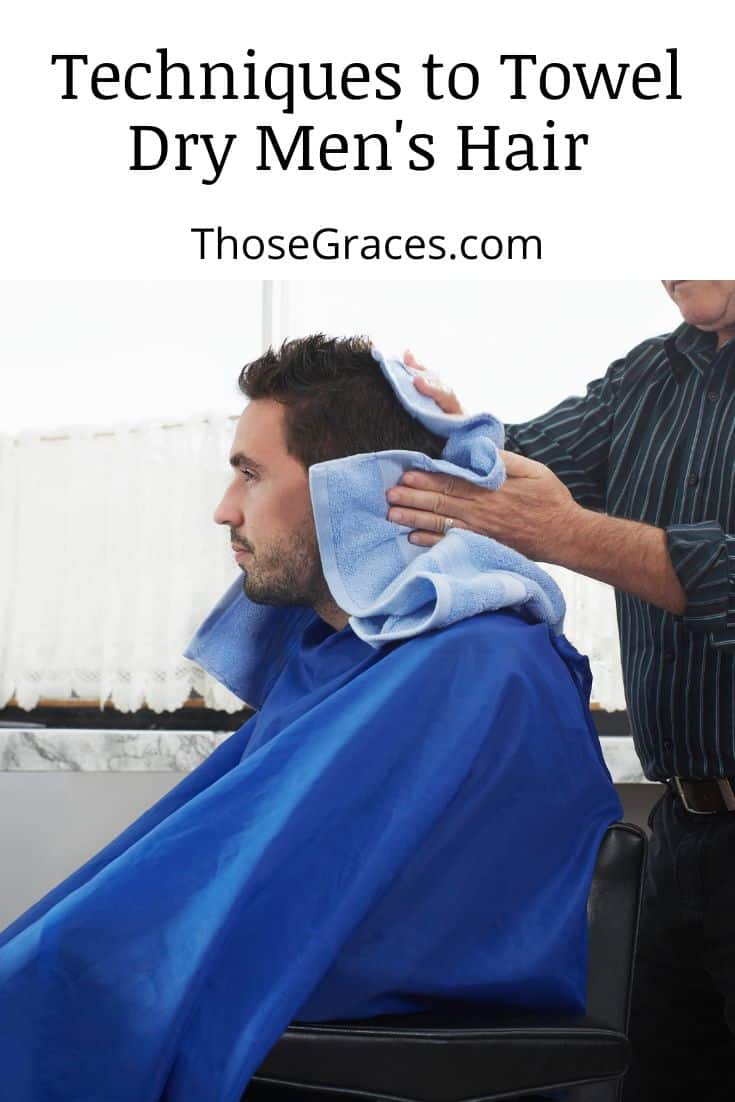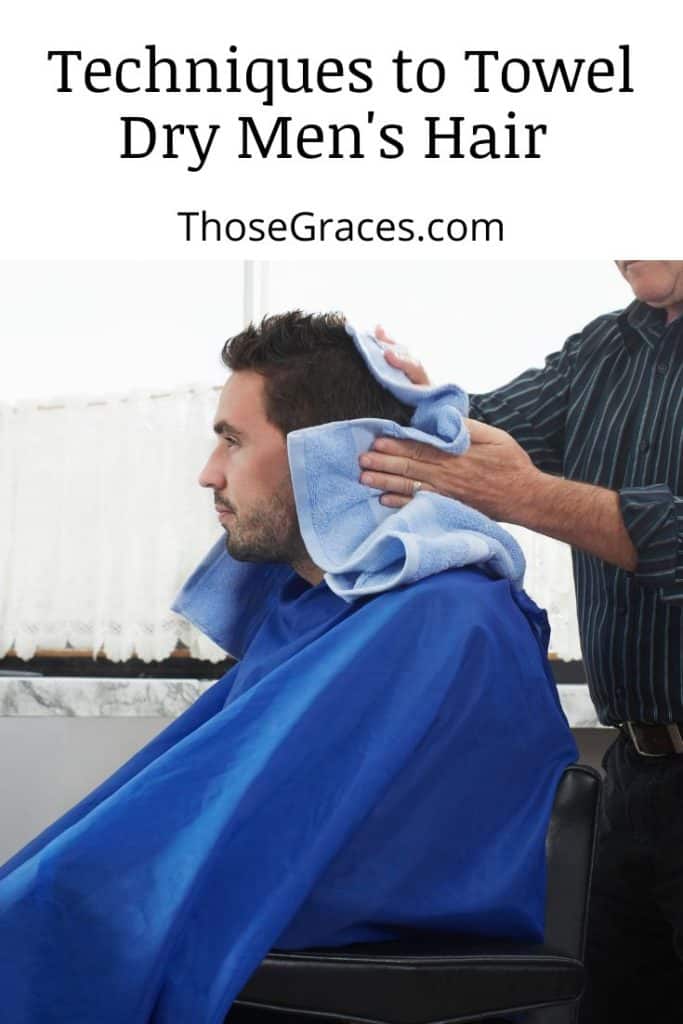 References:
1. Hair loss: Tips for managing [Internet]. www.aad.org. [cited 2022 Feb 12]. Available from: https://www.aad.org/public/diseases/hair-loss/treatment/tips
2. Lee Y, Kim Y-D, Hyun H-J, Pi L, Jin X, Lee W-S. Hair Shaft Damage from Heat and Drying Time of Hair Dryer. Annals of Dermatology. 2011;23:455.