Are you looking for the answer to: "How do you make Korean face scrub?"
We're all big fans of a DIY; we're not gonna lie.
For starters, it helps save us so much money (we're all thrifty ya'll!) and second, we know exactly what is going on our face.
If this sounds like you, let's embark on a journey together to make us a DIY face scrub!
Check: Best Korean Exfoliators
DIY Korean Face Scrub Recipes for All Skin Types
You know that smooth feeling on your face when you're done using an exfoliator? Oh yeah! Totally worth it!
Now, what if we told you you could achieve that with a homemade Korean facial scrub using natural ingredients? Even better?
Definitely! K then, ladies and gents. Let's get us a mixing bowl and a spatula 'cause things are about to get hot and heavy!
While chemical exfoliants are good, too, physical exfoliants are great for getting rid of dead cells. Now, we know all of us have different skin tones and skin concerns.
Like we need different skincare products based on our complexions, the same goes for scrubs. Of course, we got you covered. Let's get started.
1. For Dry Skin
If you've got dry skin, you'll love this face scrub. All you need is a tablespoon of brown sugar and a spoon of olive oil and honey.
You can also swap the olive oil for coconut oil. Just three ingredients? Yeap. Stir it up well and apply it onto the face.
Scrub it gently on your face using a circular motion and keep going for a minute or two. Wash it off. All that dead skin is gone!
2. For Oily Skin
The Kiwi fruit is not only delicious to eat but also super beneficial to use on oily skin.
Take a whole kiwi fruit and a spoonful of brown sugar.
Add some olive oil to the mix and stir it up well. Scrub for 2-3 minutes and wash it off. Hello, glass skin!
READ MORE: Best Korean Exfoliator for Oily Skin
3. For Sensitive Skin
Got some oatmeal in your pantry? Cool.
Take some of it and add some honey. If you've got fresh aloe in your garden, add that too. Stir it well and apply it gently to your skin.
Scrub for a minute and wash it off. Revel in the smooth skin brought about by this gentle exfoliator.
Use the video tutorial below for guidance. Just don't forget the aloe!
4. For Acne-Prone Skin
Add a spoon of mung green bean powder to two spoons of Greek yogurt. Make sure the scrub has a thick consistency. Apply the scrub with small circular motions on your face and let it absorb for 10-15 minutes. Wash it off! Works as good as a Korean beauty product for severe acne, that's for sure.
5. For Normal Skin
Create a simple scrub by mixing baking soda, honey, and lemon in a bowl.
Apply on your face and scrub using soft, circular motions.
Wash off with warm water first and finish off strong with cold water to close the pores.
Go the extra mile and add some brown sugar, like this YouTuber below did:
6. For Our Vegan Beauties
Ground some almonds and mix them up with coconut oil for a scrub that helps reveal healthy skin. The good fats in almonds and coconut oil work wonders on the skin. You'll see!
What to Put in Homemade Korean Facial Scrubs
Your scrubs need not be a simple concoction. A skin brightening scrub made of several ingredients can be a great addition to an extensive skin-care routine.
Here are a few ingredients you may add to these already awesome scrubs.
Rice
Ground rice has been used for gentle exfoliation for Korean women for ages. Several skin care products add this ingredient in their formula to smooth skin.
It helps correct uneven skin tone and reduces the appearance of wrinkles.
Egg Whites
Egg whites are a Godsend to those with mature or oily skin. It helps tighten up the skin giving it a tauter appearance, and helps fight off pesky wrinkles.
Avocado
Avocados are healthy fats that are good for your gut and your skin. These are a great addition to scrubs for dry-skinned beauties. And they are packed with antioxidants that help fight aging.
Customize Your Korean Skincare Exfoliating Routine
Here are a few tips on how you can make the most out of your exfoliating routine.
Step 1: Start with a clean face.
Make sure to remove all makeup first before applying a scrub. Double cleansing with oil-based cleansers and water-based cleansers is one of Korea's top skincare secrets.
Step 2: Make your scrub.
Create a scrub of your choice, depending on your skin type. Feel free to play around with the ingredients and make it a fun activity!
If you want to also learn how to make turmeric scrub, check out this video:
Step 3: Follow up.
After you've washed the scrub off, make sure to follow with a moisturizer and an SPF. Our skin is prone to sunburns after a physical or chemical exfoliant is used.
You may wish to add a hat or a cap for added sun protection.
Also Check: The Best Face Exfoliators For Mature Skin
FAQs
What do Koreans exfoliate with?
Several Korean beauty brands offer physical and chemical exfoliators to get perfect skin. However, it can be achieved with a homemade scrub, too, using natural ingredients such as honey and lemon.
How is Korean skin so flawless?
Most Korean women follow the elaborate 10-step Korean Skin Care Routine meticulously every day. They also use beauty products laden with good ingredients such as hyaluronic acid, glycolic acid, glycerin, and rice extract. These ingredients help hydrate the skin and nourish its overall complexion.
Do facial scrubs damage your skin?
Some ingredients, such as volcanic rock or ground-up shells, can damage the delicate skin and create micro-tears on its surface. As such, it is best to use ingredients that don't induce harm on the face.
Aestheticians recommend the use of physical and chemical exfoliators to get rid of dead skin cells.
You need not splurge on a skincare product, though, since its effects can be easily achieved in your own kitchen. And for a fraction of the price! Use a gentle scrub once or twice per week to achieve healthy skin that glows and exudes radiance.
References
"15 Simple & Effective Homemade Scrubs for Oily Skin." n.d. Parenting.firstcry.com. Accessed June 29, 2021. https://parenting.firstcry.com/articles/15-amazing-homemade-scrubs-for-oily-skin/.
"DIY Korean Facial Scrub for Acne." 2016. Beautymunsta – Free Natural Beauty Hacks and More! January 7, 2016. https://beautymunsta.com/diy-korean-facial-scrub-for-acne/.
"DIY Korean Skincare Products for Organic Lovers." 2020. HerZindagi English. September 29, 2020. https://www.herzindagi.com/beauty/diy-homemade-korean-skincare-routine-products-toner-essence-face-wash-cleansing-oil-organic-sulphate-free-paraben-free-article-163099.
"Homemade Face Scrubs for Every Skin Type." 2020. Hello Glow. November 23, 2020. https://helloglow.co/homemade-face-scrubs-every-skin-type/.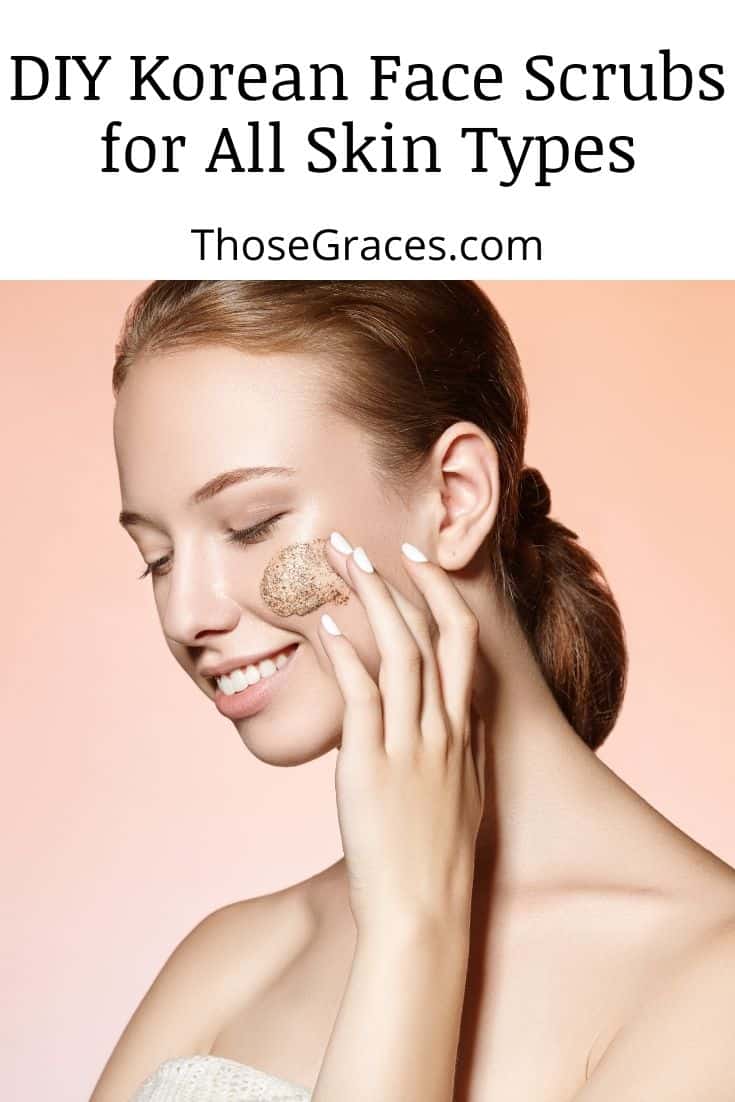 Have you tried a Korean face scrub? What do you think? Share your thoughts below!