Wondering how to curl your hair with a blow dryer without a round brush to get a salon-like blowout?
It can be challenging at first, but once you get the hang of it, voluminous and curly hair is only a matter of a few tricks.
I've mastered the PERFECT technique to get those beautiful curls in 5 easy steps.
Check them out!
Key Takeaways
Prep: Start with damp hair; use heat-protectant and volumizing mousse for damage control and curl hold.
Technique: Blow-dry individual hair sections twisted around your finger for even curls.
Finish: Cool down hair to set curls, and finalize with hairspray for a long-lasting effect.
How To Curl Your Hair With a Blow Dryer Without a Round Brush (5 Steps)
Follow these 5 EASY steps to curl your hair with a blow dryer without a round brush
Step 1: Dry The Hair
First, you'd need to blow-dry your wet hair from the roots. Be careful not to use the wrong brush.
I advise you to use a comb attachment or wide-tooth comb until it is about 80-90 percent dry.
For faster drying times, go through the hair twice.
If you have enough time, you also can towel dry or air dry [1].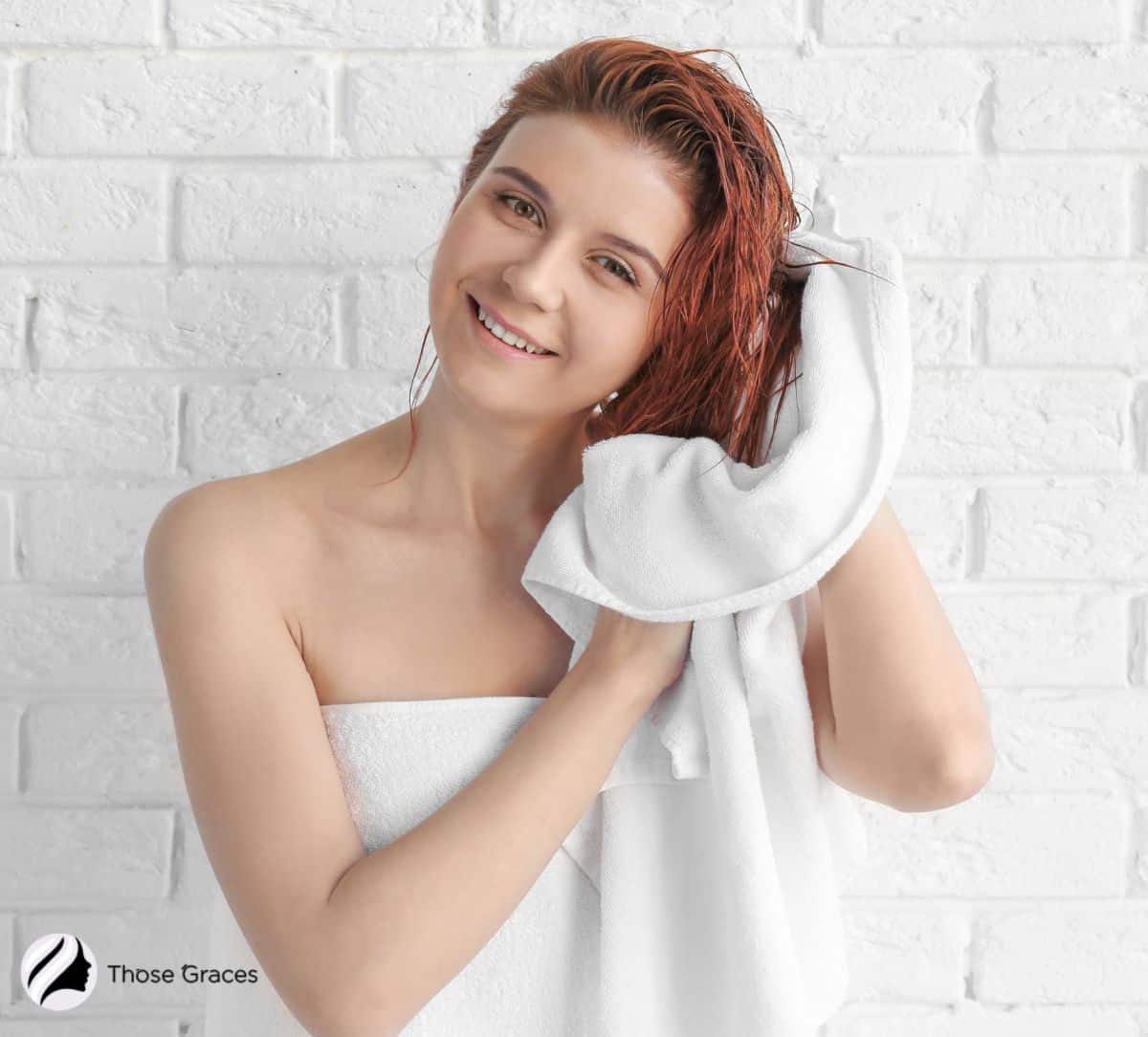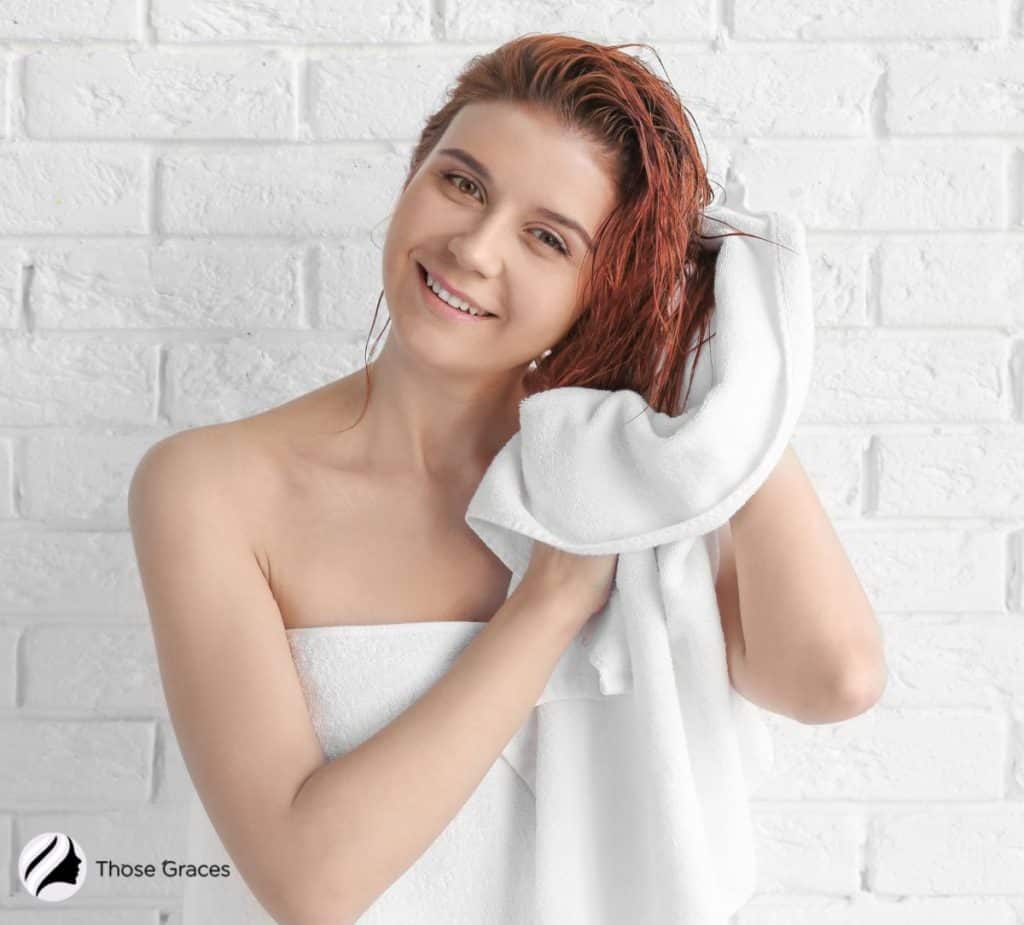 Step 2: Start Straightening the Hair
Holding the dryer right on the nozzle, continuously move through your damp hair while straightening it.
Maintain medium heat settings by reducing airflow when you blow-dry the hair.
Step 3: Part Hair into Sections
Once your straight hair has dried to the appropriate level (with no excess water), roll manageable sections of hair up to the crown as if you're about to tie it up in a ponytail.
I recommend you roll up your natural hair into 3-4 small four-inch sections using hair clips or elastic hair ties for a bit of volume.
Step 4: Blow Dry The Sections
Keep using the blow-dry to smoothen the hair. Hold up the ponytail's end until the lower section spreads out.
Blow-dry the bundle of hair sections.
Step 5: Curl The Hair
Once done, roll up the lower section of the hair into successive pin curls while blowing dry the area from roots to tips.
Let your beautiful hair air dry out completely. Once that's done, let it go.
Rake your fingers through it until the out-curls fall into a bouncy blowout and perfect coily hair.
When styling hair, remember to apply hair gloss for beautiful styles.
Professional and celebrity hairstylist Gina Schiappacasse of Hairstory says, "Brush out your hair to make the curls more relaxed and natural-looking using either a wide-tooth comb or your fingers.
This also encourages some bounce back, which happens naturally if your hair has fully dried."
To learn more, here is a detailed video by Kayli Boyle to get the perfect '90s blowout:
Things To Consider When Curling Your Hair Without A Round Brush
How to prepare the hair
What is of foremost importance when talking about hair care are the products.
If you regularly do blowouts or plan to, you should use a high-quality blow dryer (avoid a cheap hair dryer).
Another aspect that needs to be considered is protecting your hair from heat damage [2] while it's being blown dry.
For that, you need to constantly prep the hair with the right heat protectant spray to ensure it is curl-ready and voluminous.
Applying a heat protectant product like a hair control mousse spray before blow drying is something to consider to keep your hair healthy [3].
Knowing your hair type and related products
Knowing your hair type and texture is also important in this context.
Every Type 3 hair care you apply and every style you incorporate needs to align with your hair type.
If your damp curls appear like the letter "s" when wet, then you probably have type 3 hair, which is most common among Black American Women.
If you're unaware, type 3 hair is further divided into three kinds – 3A, 3B, and 3C.
3A Type Hair
Though type 3 hair is generally dry, 3A type hair has more shine than the rest.
But when it's wet, this type of hair loses its curl quickly.
3A type delicate hair is susceptible to losing its volume. Use styling products such as a thickening spray or a volumizing mousse to give your thicker hair extra volume.
Also, since 3A type hair can lose its curls quickly, it's advisable not to rub the hair frequently. Using a curl cream to get a curly blowout is also suitable for this kind of hair.
Discover the ultimate updated curly hair routine specifically designed for 3a hair type in this cool video:
3B Type Hair
The 3B type of hair is tighter than 3A, meaning it doesn't lose its curls easily when pulled or wet. However, this type of hair is quite prone to dryness and frizziness.
Using a high-quality conditioner is a great way to prevent dryness on 3B type hair. You can also use a lightweight styling cream or lightweight hairspray for bouncy layers.
Uncover the mystery of hair type 3 and learn about the different types of curly hair in this enlightening video – discover what type your curls fall under!
3C Type Hair
Finally, 3C type hair is the most textured one, meaning this type of curl and strands are tightly packed together. This type of hair has a rich volume.
Frizziness, however, is a common issue that plagues people with this type of hair.
If that's the case with your 3C hair, use hair masks or opt for microfiber towel drying to prevent breakage and frizzy hair.
If you have this hair type, I'd advise you to avoid shampooing the hair as often as possible.
Also, don't forget to set your regular blow dryer setting in a cool setting to avoid damage over time.
Instead, you should opt for co-washing using products such as a leave-in conditioner and blow dry your wavy hair with a diffuser attachment for a beautiful blowout.
FAQs
Can You Blow-Dry Your Hair Without A Diffuser?
Yes, you can! Just start by putting your head upside down, letting the hair fall on its own. Check our complete guide on how to blow dry curly hair without a diffuser.
Can I Use A Blow Dryer To Style Hair That Is Already Dry?
No. People often continue blow drying the hair even when it's already dried to make it appear smoother.
Conclusion
So no more bad hair day, even without a round brush.
When blow-drying wavy hair for a dream curly look with only a blow dryer is not as tricky as some might suggest.
With enough practice, the blow outlook is easy to achieve and will compliment your style well, whether it's a formal event or casual.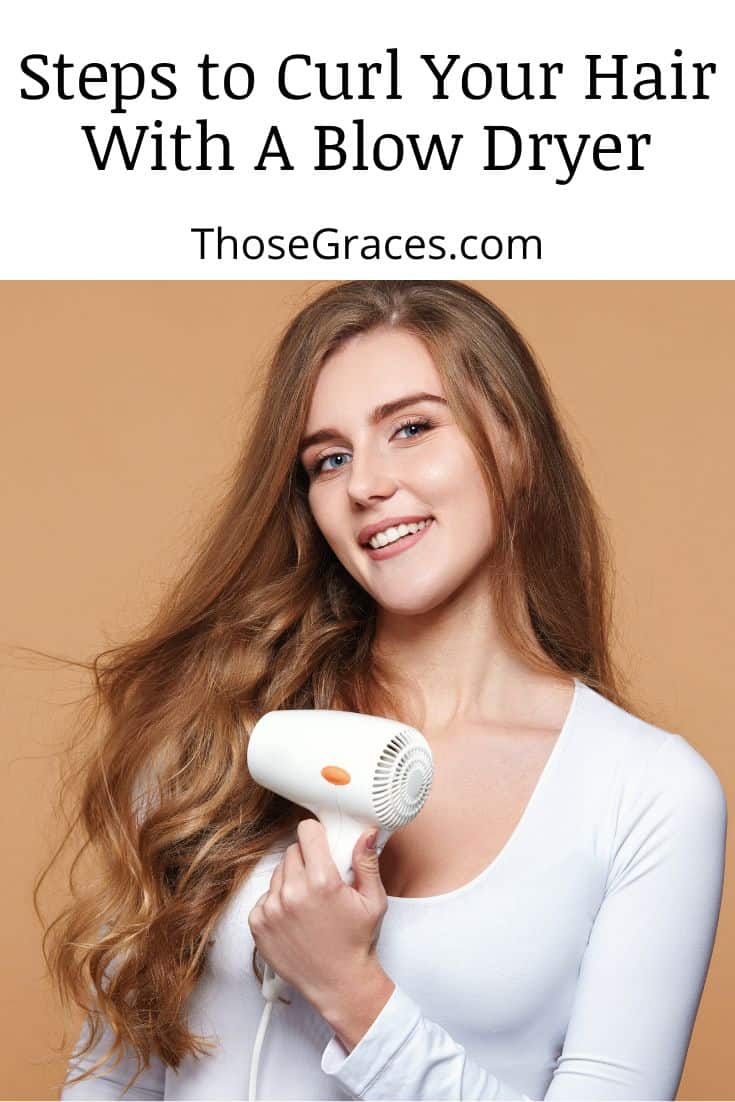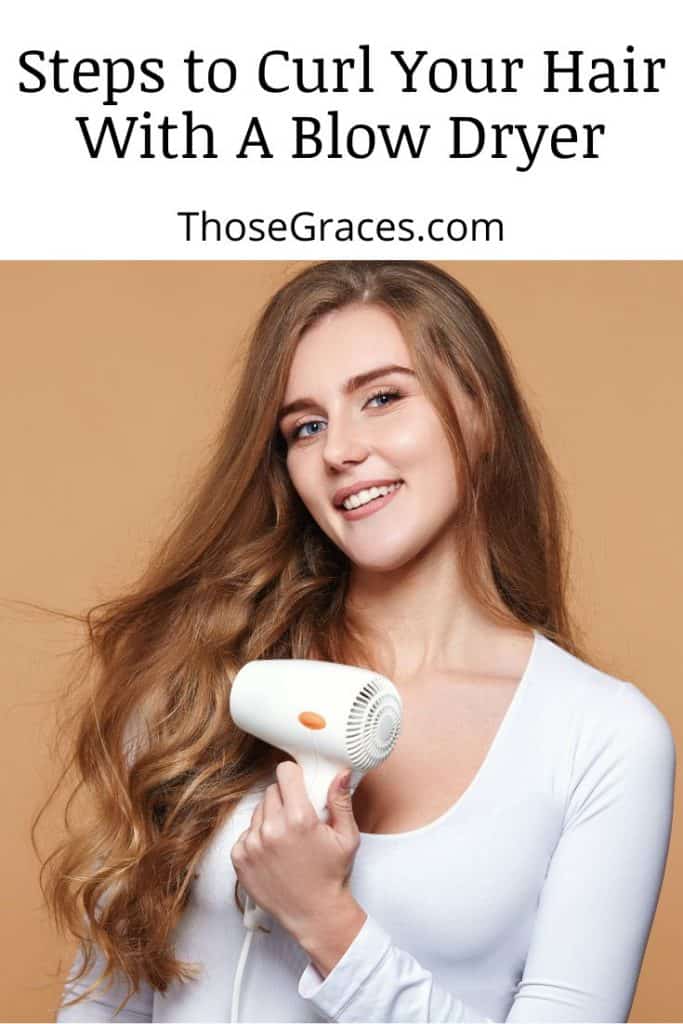 If you have more tips on curling your hair with a blow dryer without a round brush, let us know below!
References
1. Should You Really Air-Dry Your Hair Every Day? [Internet]. Healthline. 2021 [cited 2021 Dec 21]. Available from: https://www.healthline.com/health/beauty-skin-care/air-dry-hair
2. Yes, I'm Natural and I Still Straighten My Hair—Here's How I Protect it From Heat Damage [Internet]. Byrdie. [cited 2021 Dec 21]. Available from: https://www.byrdie.com/how-to-protect-natural-hair-from-heat-damage-5080838
3. Tips for healthy hair [Internet]. www.aad.org. Available from: https://www.aad.org/public/everyday-care/hair-scalp-care/hair/healthy-hair-tips