Are you looking for a way to brighten your skin? Keep reading!
As a beauty expert, I've tried it all – from the magic of vampire facials to the soothing sun lotions – and finally discovered the secrets to proper long-term skin health.
In this guide, I'll unveil my top 8 skincare favorites, explaining their unique benefits and helping you find what suits you best.
Ready to glow? Let's get started!
Key Takeaways
Stick with the Best: Vampire facials and gentle exfoliating are not just buzzwords – they're your ticket to fresher, more youthful skin.
Proper Skincare Fundamentals: A good cleanse and the right moisturizer can do wonders for your skin's health and glow.
Protection is Key: DO NOT forget about sunscreen. It's a critical step to jumpstart your day and protect your skin health.
8 Ideas To Brighten Your Skin in 2023 | Potent Tips that Work!
Choose vampire facials for a collagen boost, regularly exfoliate, keep your skin moisturized, and don't forget sunscreen to protect your radiance.
Embrace the soothing effects of Aloe Vera and the brightening power of Vitamin C serums for that natural shine.
Let's start with the basics!
#1. Opt For Vampire Facial for Brighter Skin
One of the latest skincare trends that has been gaining popularity is the vampire facial.
When doing a Vampire facial, professionals use your blood to promote collagen production, resulting in brighter and more youthful-looking skin [3].
Doctors do this by taking a small sample of your blood and extracting platelets that are loaded with growth factors.
Next, they inject these platelets back into your skin, a sophisticated method that boosts collagen production and speeds up cell turnover.
The outcome?
Your complexion becomes more vibrant and radiant, with results that can change for months. Though it sounds a bit sci-fi, many swear by the astounding effects of its active ingredients!
#2. Exfoliate For A Sun-Kissed Glow
Gently scrubbing away dead skin cells from the outer layer of your skin, also known as exfoliation, is a natural way to achieve glowing, smooth skin [4].
Indeed, exfoliating your skin does more than just improve its look by reducing fine lines and clearing pores.
It also elevates your skin's overall health by stimulating blood flow and promoting the effectiveness of your skincare products' absorption.
Whether you have oily, dry, or sensitive skin, there's an exfoliating method and product out there suited for you. So why not give it a try? Your skin will thank you!
#3. Cleanse Your Skin & Make It Bright
Cleansing is a cornerstone of skincare, yet many overlook the nuances of doing it right.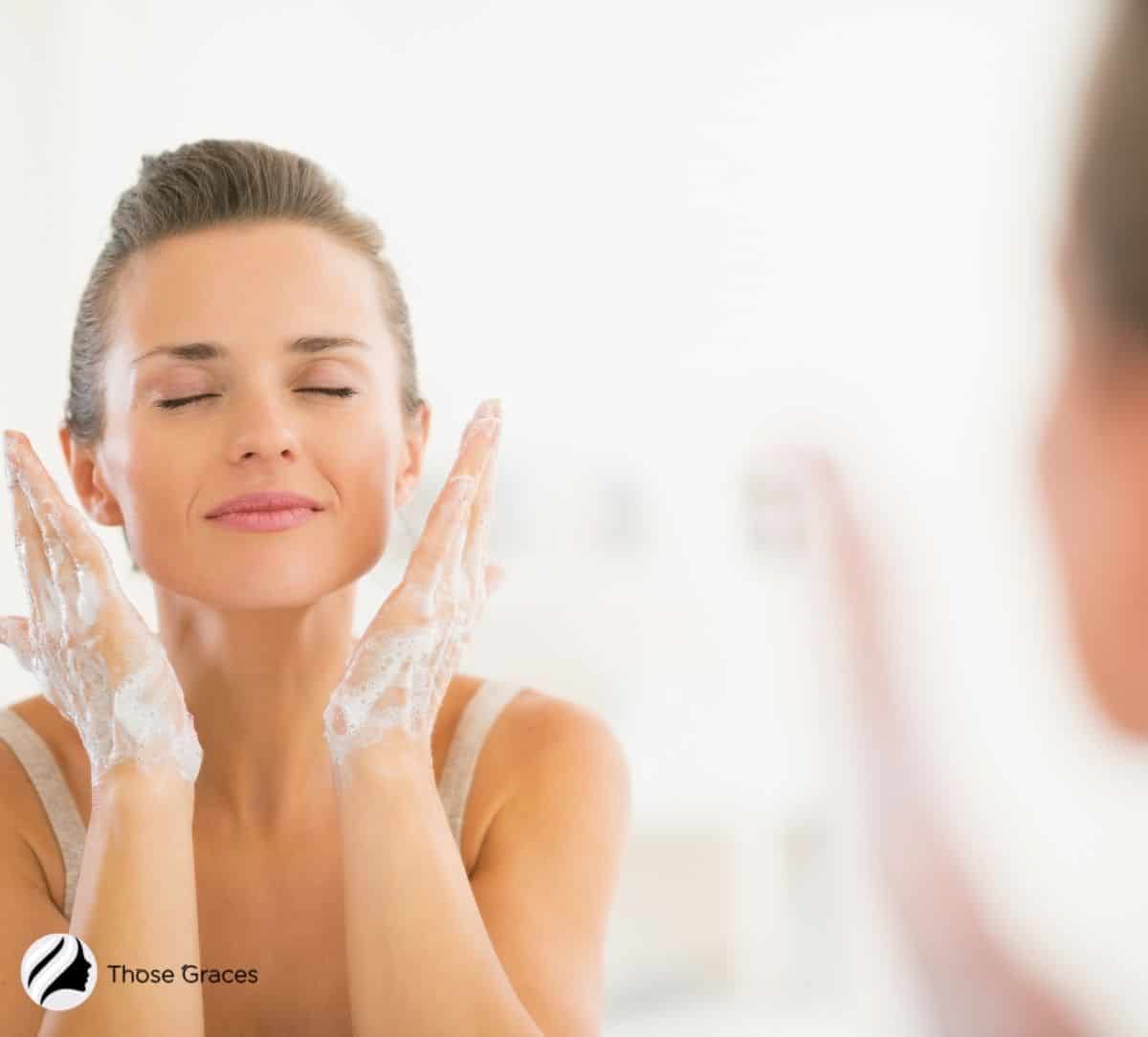 The key is to match the cleanser to your skin type: a gel or foam for oily skin to combat excess oil and a cream-based one for dry skin to boost hydration.
Use lukewarm water to preserve your skin's natural oils.
Here's a pro tip: double cleanse to deeply purify your skin barrier from makeup, dirt, and impurities.
It's these little tweaks in your routine that can elevate your skin's health and glow.
#4. Try A Facial Mask
There's something special about treating yourself to a facial mask.
If you're looking to treat your skin or simply lift your spirits, a facial mask is an ideal choice.
These masks are not just about indulgence; they're a power-packed treat for your skin, offering significant perks like a radiant glow and smoother texture.
That's right – it's a small luxury with enormous benefits for your skin's health and appearance.
There's just something about applying a cool, creamy mask to your face that instantly brightens up your complexion.
So why not give your skin some love and get ready to glow with a facial mask? Your skin (and your mood) will thank you!
#5. Moisturize For Proper Skincare
Moisturizing is integral to any skincare routine. If you don't believe it, try it yourself! In fact, it's essential to keep our skin soft, supple, and youthful-looking for as long as possible.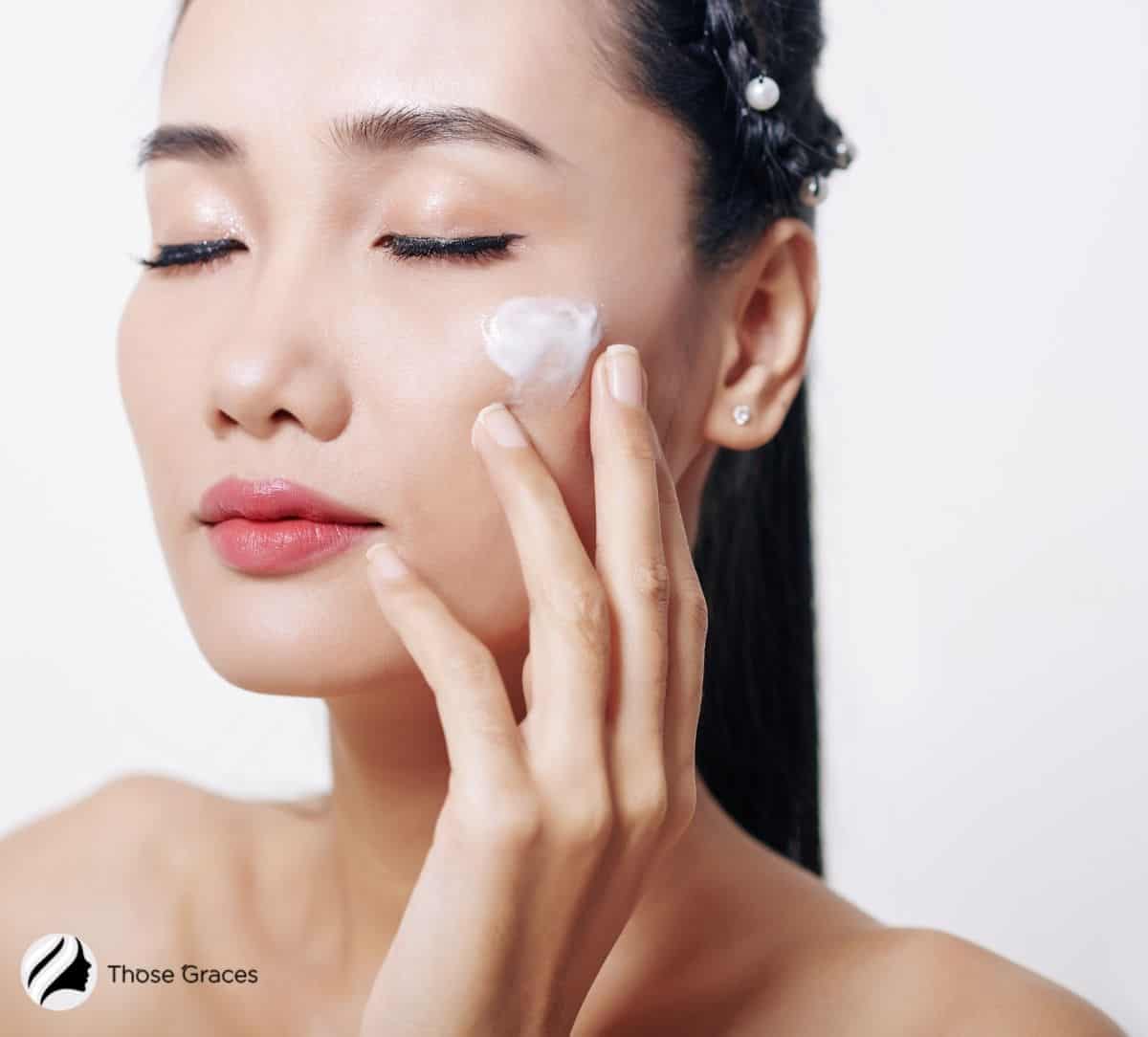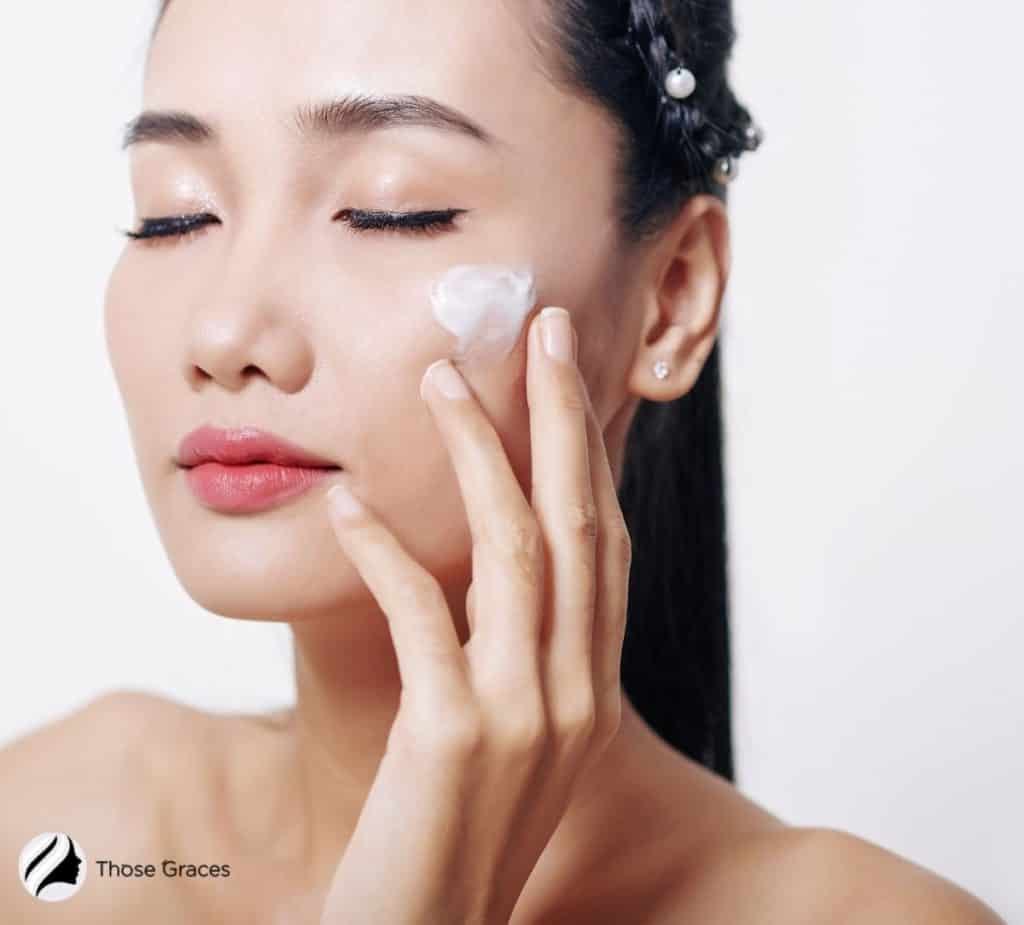 However, with so many options on the market, finding the right moisturizer can take time and effort.
Selecting the right moisturizer that suits your skin type and addresses your skin concerns is of utmost importance, whether you have dry, oily or combination skin.
Moisturizing not only helps lock in hydration but also creates a barrier on the skin to protect against harsh environmental factors.
Don't forget to include moisturizing in your daily skincare routine for beautiful, healthy-looking skin.
#6. Fight Sun Damage with Sunscreen
Who doesn't enjoy basking in the summer sun? It's a pleasure we all cherish.
But there's a catch…
Those harmful UV rays can wreak havoc on our skin, accelerating aging and upping the risk of skin cancer. The solution is simple: sunscreen.
You shield your skin by making SPF moisturizers and sunscreens part of your daily skincare.
Whether you're looking for something light for daily wear or something more robust for outdoor adventures, there's a sunscreen out there.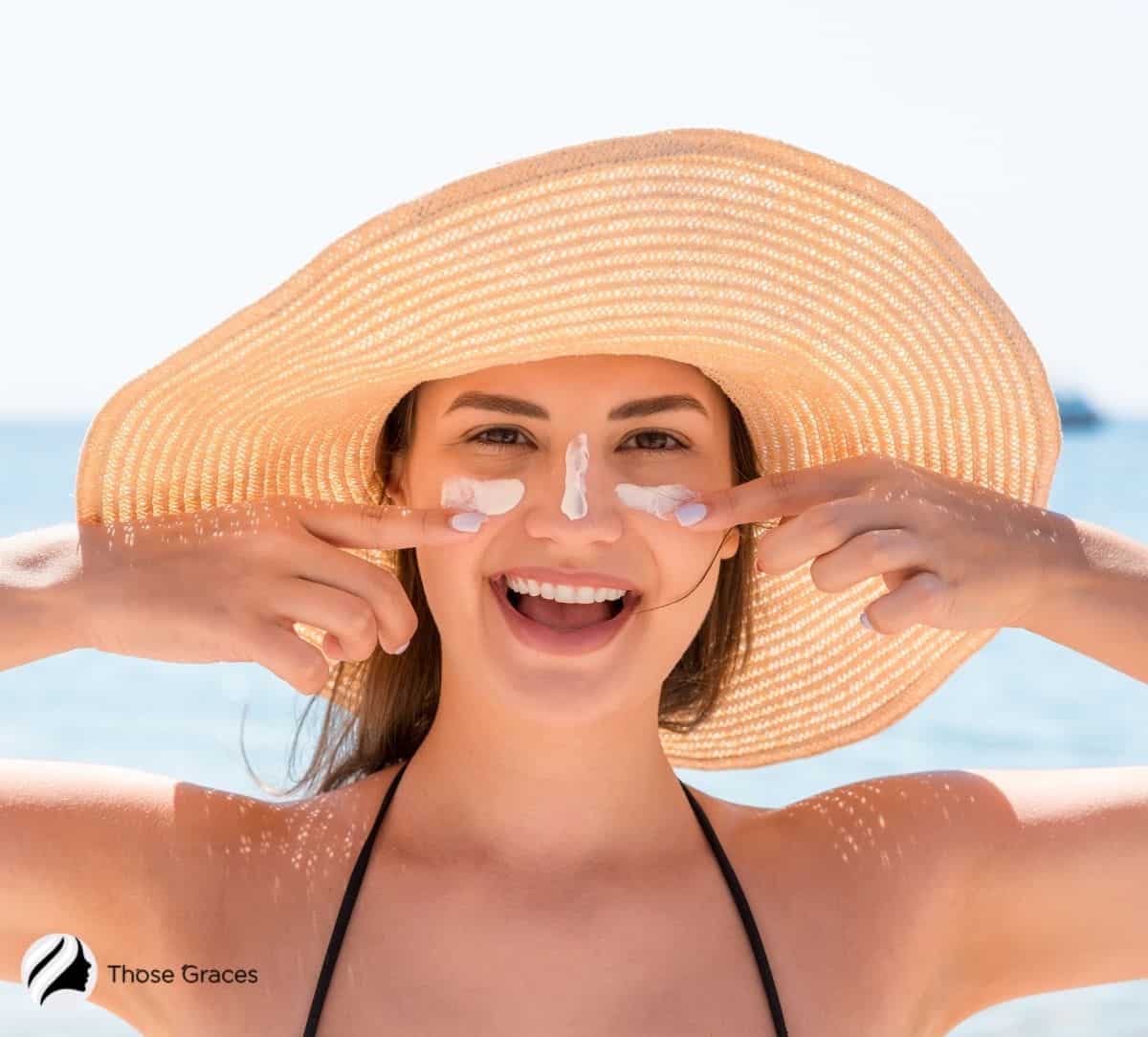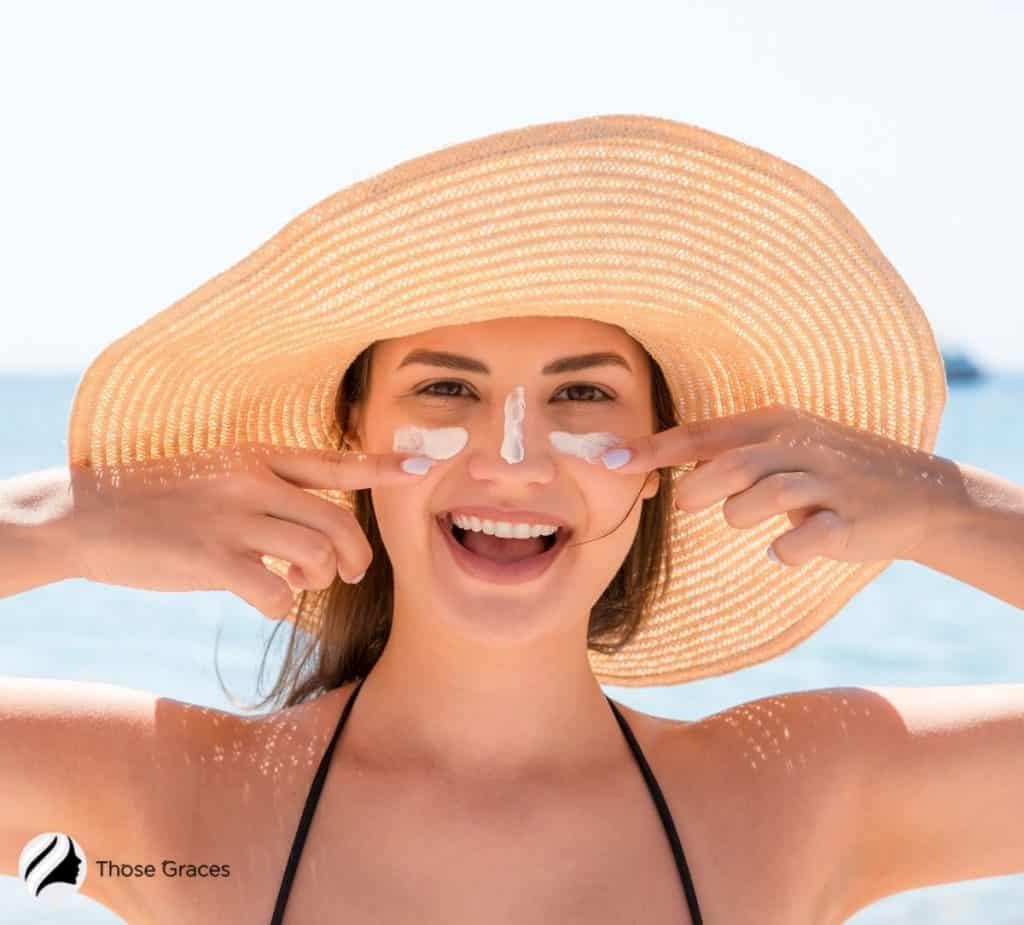 So go ahead and prioritize your skin's safety, and enjoy the sunny days carefree!
#7. Discover the Healing Power of Aloe Vera
Aloe Vera, a staple in skincare, is lauded for its soothing and healing properties, especially in dealing with sunburns and irritated skin.
"Aloe Vera is incredibly effective in calming inflammation and promoting skin healing," states Dr. Erum Ilyas, a board-certified dermatologist [1].
This natural remedy hydrates the skin and helps reduce redness and speed up the healing process.
So, add Aloe Vera gel (or products containing Aloe Vera) into your skincare regime for a calming and healing effect.
#8. Embrace the Power of Vitamin C Serums
Vitamin C serums have taken the skincare world by storm – and for good reason…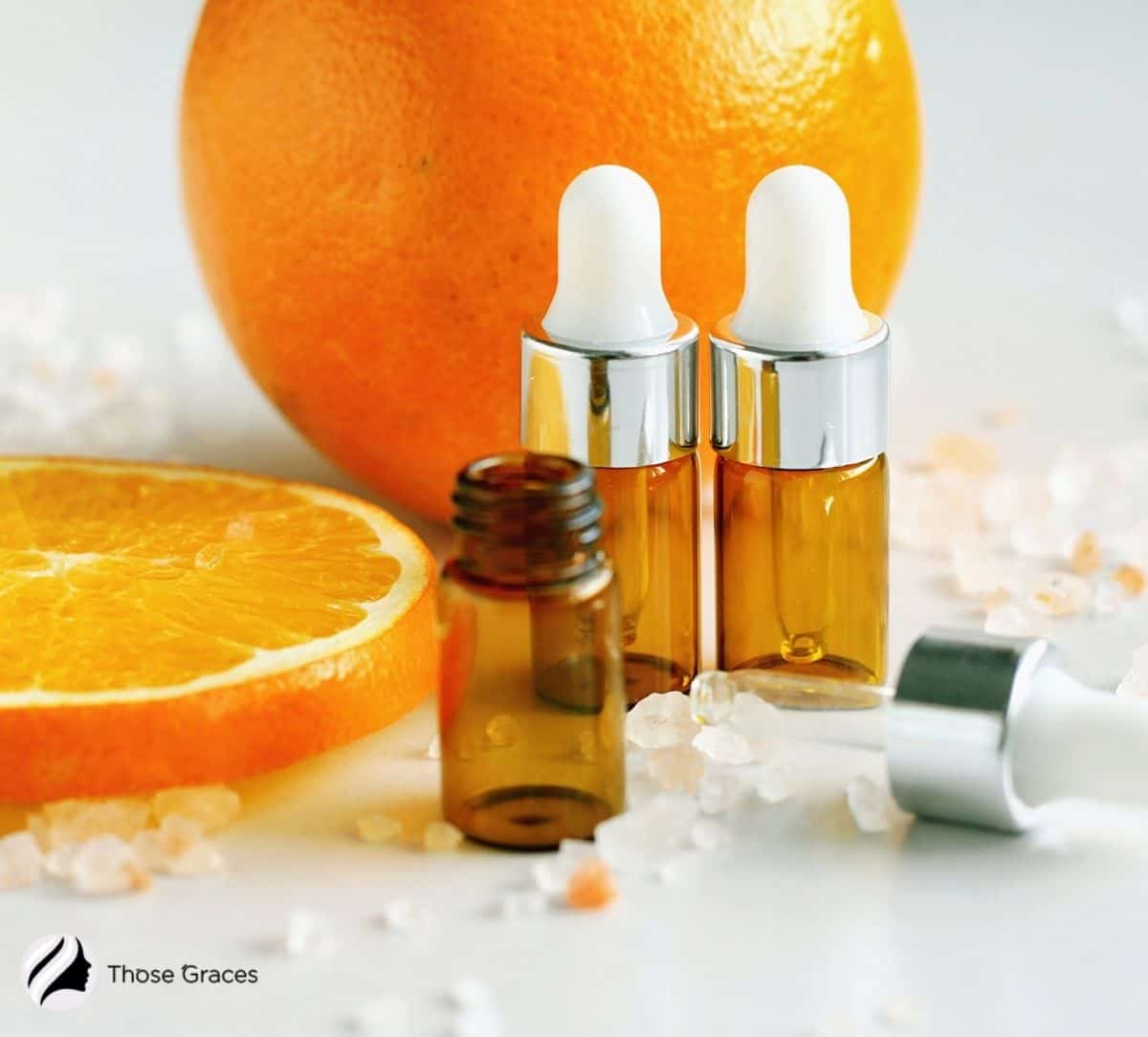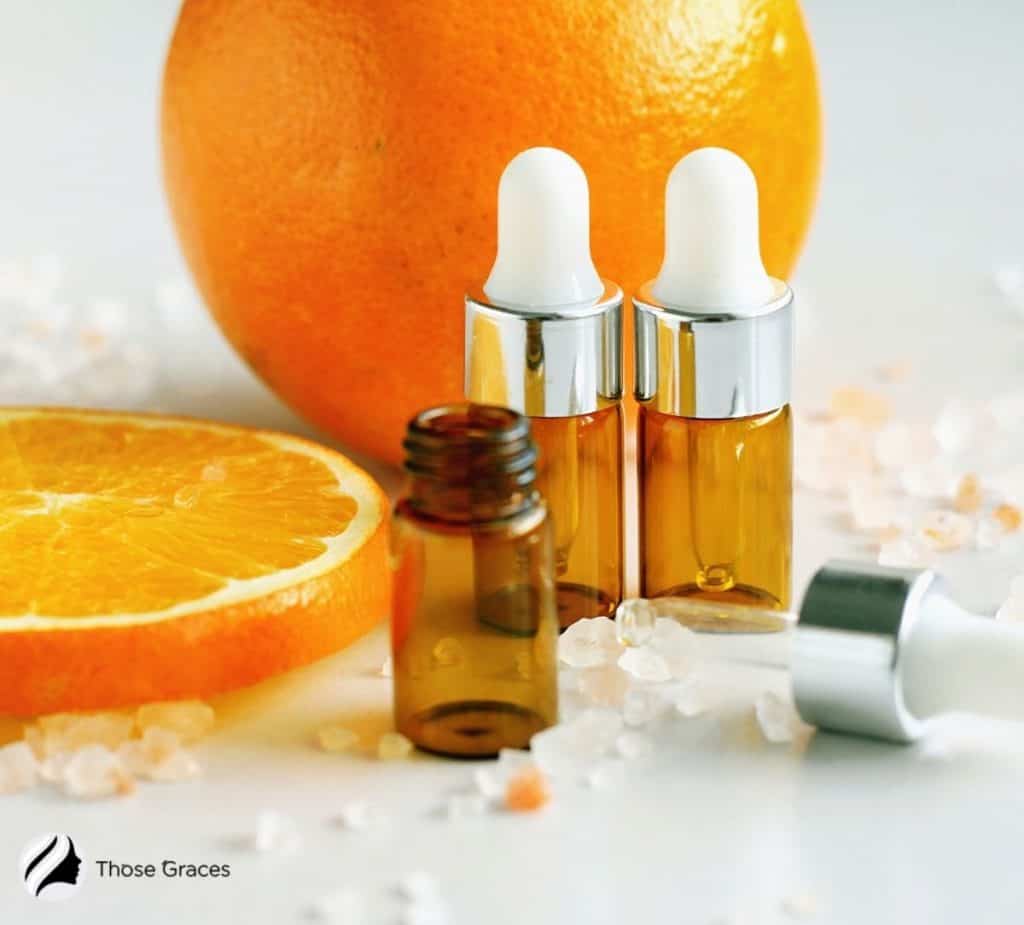 These potent serums are renowned for their ability to brighten and even out skin tone, making them a must-have in your quest for glowing skin.
"Chemical peels are excellent for rejuvenating the skin. They can significantly improve texture, tone, and overall skin health," explains a dermatology expert from Harvard Health [2].
To get the most out of its benefits, apply a Vitamin C serum each morning before sunscreen.
Soon, you'll see a difference in your skin's brightness and a smoother texture.
In fact, regular use brings a noticeable improvement in your skin's radiance and texture.
Plus, when paired with hyaluronic acid and essential fatty acids in your skincare regimen, it works wonders in maintaining a healthy, glowing complexion.
A Harvard Doc can't be wrong! Check this out…
Got questions? Then scroll on…
FAQs
1. How often should I exfoliate my skin?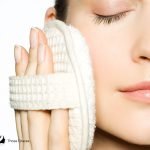 Exfoliating 2-3 times a week is generally recommended, but this can vary based on your skin type. Over-exfoliation can harm the skin, so it's important to find a balance.
2. Can vampire facials suit all skin types?
Vampire facials are generally safe for most skin types. However, it's crucial to consult with a dermatologist beforehand, especially if you have sensitive skin or underlying conditions.
3. What type of sunscreen is best for daily use?
Opt for a broad-spectrum SPF 30 or higher sunscreen. For daily use, lightweight, non-comedogenic formulas work best to protect without clogging pores.
4. What is the best way to reduce wrinkles?
The most efficient way is using Retinoids. This will promote both elastin and collagen production – both needed for a healthy skin.
Conclusion
Now that you know how to brighten your skin, it's time to review all these juicy tips!
Your skin is your biggest asset, and taking care of it should be a top priority.
Remember, your skin is a reflection of your overall wellness, and these steps are your key to unlocking its brightest potential.
Start your journey today towards a radiant, healthier complexion – your skin deserves it!
Resources
1. Migala J. 5 Ways a Skin-Care Routine Benefits Mental Health | Everyday Health [Internet]. EverydayHealth.com. 2020. Available from: https://www.everydayhealth.com/skin-beauty/5-reasons-maintaining-a-skin-care-routine-is-good-for-your-mental-health/
2. Boston 677 HA, Ma 02115 +1495‑1000. Vitamin C [Internet]. The Nutrition Source. 2012. Available from: https://www.hsph.harvard.edu/nutritionsource/vitamin-c/#:~:text=Vitamin%20C%20and%20Health
3. Vampire Facial Miami – PRP Facial At James Christian Cosmetics [Internet]. 2023 [cited 2023 Nov 18]. Available from: https://jameschristiancosmetics.com/vampire-facial-miami/
4. Philipkoski K. Addicted To Exfoliation? That "Healthy" Glow Might Be Just The Opposite [Internet]. Forbes. [cited 2023 Nov 18]. Available from: https://www.forbes.com/sites/kristenphilipkoski/2023/10/31/addicted-to-exfoliation-that-healthy-glow-might-be-just-the-opposite/?sh=6a64fe5e5039