If you're looking for the top cruelty-free beauty brands of 2021, stick around!
Below, we'll go over some of the absolute best products from the most ethical companies.
First, though, let's talk about how we decided which brands to include.
PS- You may also like: Everything You Need to Know About Vegan Collagen
Criteria for Top Cruelty-Free Beauty Brands of 2021
Let's go over what I looked for when choosing my picks for the top cruelty-free beauty brands of 2022.
All brands must meet the following criteria:
NO animal testing at all
NO animal products at all
Sustainable ingredients and ethical practices
Products that are actually worth buying
No part of it is tested on animals
There are a lot of brands out there that claim to be "cruelty-free," but a deep dive into their process often shows that, put bluntly, they're full of it.
For example, a brand claims that they don't test their product on animals may actually mean "we don't test our final product on animals."
However, many of the ingredients in said product are tested on lab bunnies.
No animal by-products
Animal by-products cannot be part of cruelty-free beauty products.
I'm sorry, but it does no good if a product that isn't tested on animals actually INCLUDES animals in the ingredients.
Beauty brands are notoriously shifty about this, too. One Green Planet has a list of sneaky animal ingredients to watch out for.
The most common are gelatin and lanolin. Also, avoid anything including squalene, as it comes from shark liver.
Sustainable ingredients
While there are hundreds of cruelty-free beauty brands out there now, the best of the best use sustainable ingredients in crafting their products.
Being kind to animals isn't just about not sacrificing them so that we can look pretty, it's also about not ruining their habitats.
I look for brands that use sustainable ingredients and ethical practices that protect ALL animals, people included.
Products that are worth buying
Obviously, along with these three things, I also ask myself, "Would I actually use this product?"
If a brand meets all of my criteria but their collection of products leaves me feeling less than enthused, they don't make my list.
While I don't rule out pricey items, I do expect the value to match the price tag.
If I can find the same exact product with the same criteria for a lot less, I'll always go with the cheaper option.
I think it's ridiculous to pay extra just because the label has a prestigious name slapped on it.
Okay, now that you know what I look for, let's check out my top picks for the best cruelty-free brands of 2021!
FYI, this post contains affiliate links. If you make a purchase through these links, we earn a small commission at no extra charge to you.
Check: Is Neutrogena Cruelty Free?
Top Cruelty-Free Beauty Brands of 2021
Since it's important to give credit where it's due, I used Leaping Bunny to verify each brand's cruelty-free status.
Check out the table for my top 5 picks, then read on for the full list.
Top Benefit
Makeup colored with berries!
Quality makeup at super cheap prices
Top Benefit
Makeup colored with berries!
Top Benefit
Quality makeup at super cheap prices
1. 100% Pure
100% Pure makes quite a few fantastic products, but their Fruit Pigmented Ultra Lengthening Mascara is my favorite.
As the name implies, the color comes from fruit (and other food) pigments rather than artificial dyes.
The shades are very rich and stunning, and it's totally smudge proof to boot!
Their products are vegan, sustainable, and ethical in all ways, according to their mission statement:
We strive to live with compassion, kindness and empathy; to be environmentally sustainable and to improve the lives of 6 billion people and animals while also being charitable and giving back to our global community.
Check out the brand's Amazon storefront for more great products.
100% PURE Ultra Lengthening Mascara Dramatic Intense Volume & Length Natural Fruit Pigmented Voluminous Eyelash Makeup No Clumping, Smudging or Flaking - Vegan, Black Tea Color - 0.35 oz
NATURALLY BOOST YOUR LASHES - Our lush lengthening eye wand is colored with the world's first globally patented fruit pigmented technology infused with luscious oil from passion fruit, to smoothly coat each lash without clumps or flakes.
AMAZING VOLUMPTIOUS PEEPERS - Moisturizes and volumizes while it dramatically coats with healthy conditioners and stunning natural pigments from black tea, berries and cocoa powder provide max stay and fade-proof length.
LEAF TO LASH, JUST THE GOOD STUFF - We left out the harsh stuff to let your eyes thrive with clean nourishing ingredients; Pro-vitamin B5, vitamin E, and replenishing oat and wheat proteins enhance volume and promote healthy hair growth.
GIVE YOUR LASHES SOME LOVE - Buildable deep midnight black color packed with antioxidants and nutrients delivering perfect water resistant cover and feathery, natural looking volume for women or men.
BEAUTY DOESN'T GET ANY CLEANER - You don't have to choose health or beauty, have both. With well-researched healthy, natural, and organic ingredients and strict purity standards, we bring cruelty-free, ethically sourced products without harsh toxic chemicals, heavy metals, fragrances, or dyes. Gluten-free, vegan, and Made in the USA.
2.
Aether Beauty
Aether Beauty primarily sells eye shadow palette inspired by gemstones, and they're just gorgeous!
My favorite is their rose quartz palette, which actually uses rose quartz powder in the eye shadows. So neat!
All of their products are vegan, cruelty-free, and uses organic and fair-trade ingredients.
The packaging itself is fully recyclable, too, so it's a zero waste product as well.
ATHR Rose Quartz Crystal Gemstone Palette | 10 Shades | Clean, Organic, Vegan, Cruelty-Free & Recyclable
The Perfect Day To Night Romantic 10 Shade Palette
Rose Quartz Powder Helps To Reduce The Appearance Of Fine Lines, Wrinkles & Redness While Illuminating The Skin With Its Light-Reflective Crystals
Formulated With Organic Coconut Oil & Organic Shea Butter To Create An Uber Smooth Buttery Texture For One Swipe Application And Infused With Organic Rose Hip Oil Which Provides Radiant Looking, Glowing Skin
Clean, Vegan & 100% Cruelty-Free
This Palette Is Sustainably Packaged: With Removal Of Eyeshadow Pans And Elastic, This Paper Palette Is Fully Recyclable + Zero Waste
3. Beauty Without Cruelty
No products found.
Beauty Without Cruelty is one of the most well-known cruelty-free beauty brands, as well as one of the oldest.
Their incredibly affordable products are Leaping Bunny approved and Vegan Society UK certified.
According to their "About Us" page,
In 1963, Natural Products Shopping was founded in England by the trustees of BWC Charitable Trust, an animal welfare organization. Its goal was to manufacture and distribute natural, color cosmetics that were NOT tested on animals (as was the norm) and did NOT contain any animal ingredients.
I've used so many of their products over the years, it's hard to choose a favorite.
I really love their All Day Moisturizer, though!
Check out more BWC products on Amazon. They're easy to spot amidst all the totally unrelated ads that Amazon tosses into search results.
Just look for products with BWC in big letters on the label.
No products found.
4. Cake Beauty
Cake Beauty isn't Leaping Bunny Certified, but they're still a fantastic option.
According to their "Cross Our Hearts" promise, their products are:
NOT tested on animals
Use no ingredients tested on animals
100% vegan-safe
They also meet Amazon's criteria for the Climate Pledge Friendly certification.
I love their Cake Beauty Walk Triplemint Foot Crème. It's so soothing, and makes a great finishing touch to a foot mask gift set.
See more amazing cruelty-free products in their Amazon store..
Cake Beauty Walk Triplemint Foot Crème, 3.4 Fluid Ounce
NOURISH DRY FEET: Enriched with sweet almond oil, avocado oil, & cocoa butter, this rich blend helps nourish, condition & soothe rough, dry, cracked skin on the feet & heels without harsh chemicals.
HYDRATE & MOISTURIZE: Topped with a powerhouse trio of peppermint & spearmint essential oils & pure menthol crystals, this hydrating cream sinks in quickly & leaves feet feeling soft & refreshed.
CRUELTY FREE BEAUTY: From our decadent body scrubs & lotions to our high-quality shampoos, conditioners & styling products, our gorgeous formulations don't harm so much as a hair on a bunny's head.
NATURALLY LUXE: Our skin, hair, & body care products have the high-performing natural ingredients you love, & none of the stuff that you don't. No parabens, phthalates, sulfates, or talc. Ever.
CAKE BEAUTY: We specialize in crossing high-performing, naturally driven formulations with playful indulgence, designing award-winning, vegan, cruelty-free products that our customers love & trust.
5.Earth Harbor
Earth Harbor Naturals sells some of the neatest cruelty-free products ever, including their super trendy Mermaid Milk.
While their offerings are a bit pricier than I like to see, I still feel like they're a good value overall.
The brand is Leaping Bunny certified and 100% Vegan. According to their mission statement,
We harness the natural power of Ocean & Earth to bring you safe, ethical, sustainable products.

We deliver personalized, synthetic-free skincare to help you achieve your skin goals.

We proudly partner with 1% For The Planet® to save marine life and solve the global water crisis.
Check out the brand's Amazon storefront for more great products.
Earth Harbor | MERMAID MILK Nutrient Glow Moisturizer | Lightweight Botanical Hydration | Matcha and Spirulina | 100% Non-GMO + Plant-Based
WHAT IT IS: plant-derived, replenishing moisturizer that hydrates and balances skin without a greasy feeling
BENEFITS: MOISTURIZES · REPLENISHES · PRIMES · BALANCES
TARGET CONCERNS: Dehydrated & Dull Skin · Lack of Essential Vitamins and Nutrients · Redness & Blotchy Skin
OUR STANDARDS: Purely Natural · Sustainable · Vegan · Cruelty-Free · 100% Non-GMO · 86% Organic · Nontoxic · Ethical Trade · Gluten Free · Soy Free · No Fillers · Plant-Based · Food-Grade · pH Optimized · Scientifically-Proven Ingredients · Small Batch Made By USA Mermaids · 1% For The Planet · Small Woman-Owned Business
KEY INGREDIENTS: lightweight, creamy formula is packed with Superfoods Spirulina & Matcha, along with concentrated Phytonutrients + Antioxidants + Vegan Hyaluronic Acid
Check Maybelline Animal Testing.
6. E.L.F
E.L.F- which stands for "Eyes, Lips, Face," made waves years ago when they launched a cruelty-free line of products that averaged just $1 per item.
While they've raised their prices over the years, the vast majority still cost under $5, with a few higher-end items hitting closer to $10.
E.L.F products aren't just animal-friendly, they're people-friendly, too. T
They partner with multiple organizations, including the It Gets Better Project for LGBTQ+ Youth and Color of Change for Black Lives Matter.
I've used SO much of their makeup over the years that I couldn't possibly choose a favorite!
I'm currently loving their multi-stick, though. I use it on my lips and cheeks for a very put-together look.
See more amazing cruelty-free products in their Amazon store.
e.l.f. Monochromatic Multi Stick, Luxuriously Creamy & Blendable Color, For Eyes, Lips & Cheeks, Sparkling Rose, 0.17 Oz
PERFECT PIGMENT: Use this shimmery, luxuriously blendable cream-to-powder stick as your eyeshadow, lipstick, and blush for a cohesive monochromatic look. The lightweight formula makes it virtually mistake-proof and perfect for touch-ups on the go.
HOW TO WEAR: Apply to eyes, lips, and cheeks, and blend with a brush or fingertips. Use alone or as a base for powder products for even longer-lasting color.
100% CRUELTY-FREE & VEGAN: Proud to be 100% vegan and cruelty-free, worldwide. Because kindness is chic.
All e.l.f. products are made from skin-loving ingredients you want—all at good-for-you prices. All e.l.f. products are 100% vegan, cruelty-free, and leaping bunny certified
BEAUTY FOR ALL: e.l.f. Cosmetics provides professional-quality products at get-real prices, because we believe beauty should be accessible to every eye, lip, and face.
7. US Organic
US Organic is a great source for oils and butters for homemade beauty products.
They have a wide range of 100% oils, like Argan, apricot, sweet almond, and more that are perfect carriers for essential oils.
While they're not the best as far as money goes (you can find all of their oils for better prices, honestly), they are among the most ethical.
Their products are Leaping Bunny approved as well as USDA and FDA registered.
Check out the brand's Amazon storefront for more great products.
Sale
US Organic Moroccan Argan Oil, USDA Certified Organic,100% Pure & Natural, Cold Pressed Virgin, Unrefined, 4 Oz in Amber Glass Bottle with Glass Eye Dropper for Easy Application. Sourced from Morocco.
Only One Ingredient 100% Pure USDA Certified Organic Virgin Moroccan Argan Oil. Directly sourced from Morocco. Cold pressed Virgin Unrefined. Rich In Vitamin E and Essential Fatty Acids, Quick Absorption Rate. All natural and Bottled in the USA with Higher Standards.
Hair: Treatment and repair oil for dry damaged hair and scalp. Also, great oil for Curly frizzy hair. Hair moisturizing oil and male your hair look healthy. Promote hair growth.
Nail: Strengthen and moisturize nails and cuticles. Use this oil before nail polishing. It helps making nail polish application easier and your nails will look more beautiful after it is applied.
Skin: Ideal for Dry, Damaged And Wrinkled Skin care. Great skin and face moisturizer and anti aging. Improve Skin Elasticity and Supports Cell Regeneration. Helps turn your skin silky shiny, and healthy skin.
Cruelty Free Product, Not Tested on Animals - Leaping Bunny Program Certified. Manufactured in US Organic's own clean, GMP-certified and USDA certified facility where meets or exceed all municipal and government standards.
8. THE SEAWEED BATH CO.
These days, it's getting harder and harder to find decent body wash that's cruelty-free but that also doesn't cost a small fortune.
The Seaweed Bath Co is both of those things and more, thank goodness!
Their awesome body washes are Vegan, cruelty free (no animal testing) and Leaping Bunny certified.
Plus, the ingredients are harvested from Maine waters in a sustainable and ethical manner.
See more amazing cruelty-free products in their Amazon store.
Sale
Seaweed Bath Co. Balance Shampoo, Eucalyptus Peppermint Scent, 12 Ounce, Sustainably Harvested Seaweed, Pro Vitamin B5, For Normal to Oily Hair
Contains: 1- 12 Ounce Bottle of Seaweed Bath Co. Balance Eucalyptus Peppermint Scented Shampoo. For a limited time, you may receive either bottle while we update our packaging. New Look, Same Great Product
Consciously created, we use a bounty of marine-derived ingredients - including nutrient-rich, sustainably harvested seaweed - to infuse your skin and hair with the unending power and benefits of the ocean
For locks that flow in harmony with the sea. This nourishing shampoo brings hair into healthy balance with pro-vitamin B5 and sustainably harvested seaweed that work together to target excess oil and recondition the scalp
All Seaweed Bath Co. products are made with natural, marine-derived ingredients. We're Leaping Bunny certified, cruelty free, vegan, gluten free, paraben free, sulfate free and packaged in post-consumer recycled plastic
We embrace the nourishing magic of the ocean in everything we do at Seaweed Bath Co. From sustainably harvested seaweed to the endless gifts of the sea, our natural and effective products energize, inspire and restore
9. Spinster Sisters Co.
The Spinster Sisters Co. makes cruelty-free lip balms, soaps, creams, and more.
According to their mission statement, they also use sustainable ingredients and their production facility is wind-powered.
All of their products are vegan, and they're PETA certified as well as EWG VERIFIED™.
Plus, they're a woman-owned business!
Check out the brand's Amazon storefront for more great products.
Spinster Sisters Handcrafted Natural Lip Balm, Orange, 15 Ounce Tube, 4 -pack
Beeswax, olive, and coconut oil combine to seal in moisture, protect from the environment and soothe dry, chapped lips
Sulphate-Free, Phthalate-Free, Paraben-Free - No petroleum based ingredients, artificial colors, flavors, or preservatives
Environmentally friendly packaging, BPA-free #5 plastic made with post-consumer recycled materials
A great base under lipstick, or on top of your matte lipstick to keep your lips from drying out
Four pleasant flavors to choose from: Peppermint, Orange, Lavender, or Unscented
10. Eco Tools
We can't talk cruelty-free beauty without mentioning Eco Tools!
After all, we need a way to apply all those wonderful products above, right?
Eco Tools sells vegan and environmentally friendly makeup brushes.
Unlike many other brushes out there, they're actually affordable, too!
On top of all that, the brand is dedicated to supporting women's empowerment.
See more amazing cruelty-free products in their Amazon store.
Sale
EcoTools Start The Day Beautifully Makeup Brush Kit, For Eyeshadow, Foundation, Blush, & Concealer, With Storage Tray, Travel Friendly Makeup Brush Staples, Eco Friendly, Cruelty Free, 6 Piece Set
EcoTools Start The Day Beautiful Makeup Brush Set Includes: (1) Angled Foundation Brush, (1) Blurring Brush, (1) Define Crease Brush, (1) Angled Liner Brush, (1) Full Blush Brush, and (1) Storage Tray
The EcoTools Start the Day Beautifully Kit is designed with the makeup tools to simplify your daily beauty routine and organize your beauty space
This kit includes a core collection of 5 essential brushes, and a storage tray - makes for a great gift for daughters, wife, girlfriend, spouse, or significant other
Use the reusable tray to provide organization to customize and unclutter your beauty space
Use with liquid, creams, or powder eye shadows, blushes, and foundations
With more and more people opting for cruelty-free makeup and skincare products, the list of animal-friendly brands is expected to grow exponentially over the next few years.
I remember what it was like to struggle to find even one brand that didn't test on animals!
Today, I have a hard time choosing a favorite! Maybe you can help out with that.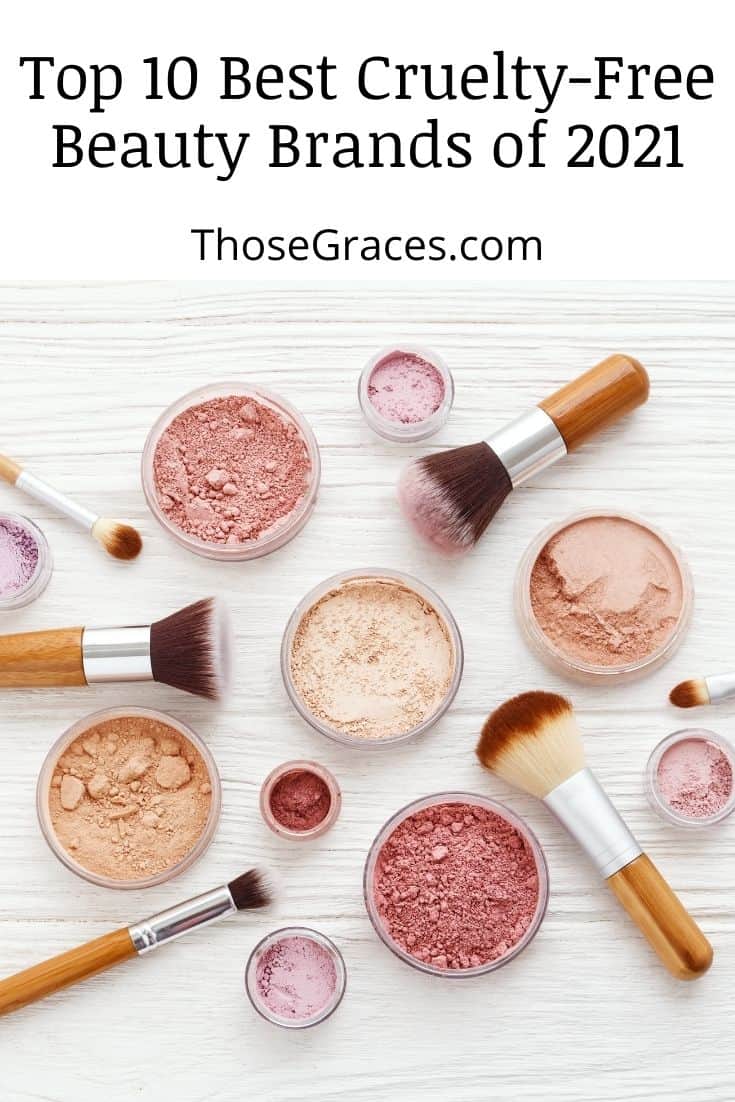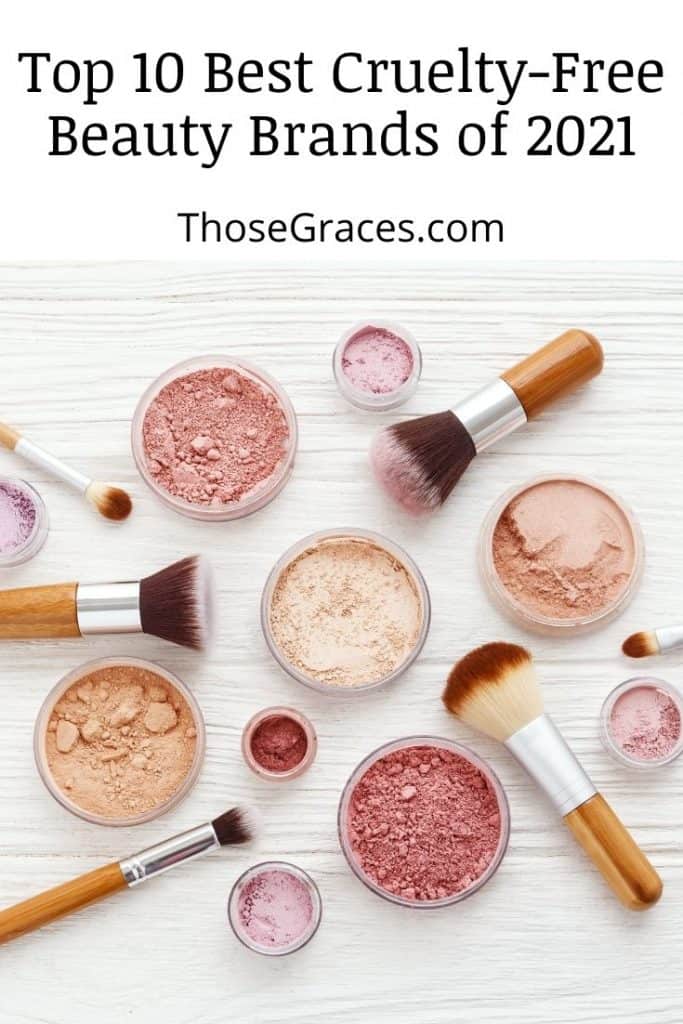 What are your favorite cruelty-free beauty brands? Share below!