Looking for an honest Vitabrid C¹² Face Brightening Powder review to help you decide if it's worth the cost?
I've got you covered below!
I'll go over everything you need to know about this unique skincare product, from pros and cons to standout features and more.
By the end, you'll have no trouble making the right decision for yourself.
FYI, this post contains affiliate links. If you buy through them, we earn a small commission.
One little note: the correct name is Vitabrid C¹², with the superscript 12, not Vitabrid C12. It's a tiny thing, but if you're searching for the product, it'll help you find them faster.
Before we dive too far into my personal review of Vitabrid C¹² Face Brightening Powder, I just want to quickly talk about what it is.
If you already know, you can skip ahead. This is for those of you who stumbled upon this page while looking for "face brightening products" in general.
What is Vitabrid C¹² Face Brightening Powder
Short answer: it's a powder that works with your current skincare products to fight the signs of aging.
Longer answer: Vitabrid C¹² Face Brightening Powder is a proprietary blend of Vitamin C and other ingredients that together work to give your skin a healthier and more radiant appearance.
Basically, they used biotechnology to create a form of Vitamin C power that works for 12 hours straight (which is where the 12 comes from) on your skin.
We've talked in the past about the benefits of this particular nutrient for your skin when we discussed how to use vitamin C serum, so I'm not going to repeat them all in great detail.
If you need a quick recap, study-backed benefits include:
Increasing collagen production
Fighting free radicals
Reducing the appearance of age spots
Regenerating healthy skin cells
Now let's take a look at the benefits and drawbacks of Vitabrid C12, as well as the ingredients before I share how well it worked for me personally.
Benefits & Drawbacks of Vitabrid C¹² Face Brightening Powder
Let's take a quick look at the benefits and drawbacks. I'll be discussing these in more detail throughout the rest of this review, though.
| Benefits | Drawbacks |
| --- | --- |
| You can mix it into your favorite moisturizer or serum | If you don't mix it well into your base, it can be gritty |
| All ingredients score a 1 on EWG | Possibly not cruelty-free |
| Minimizes redness and dullness right away | Takes time to really see major results |
| While tiny, the bottle actually lasts about a month or longer | It's still on the pricey side |
| Didn't bother my sensitive skin as long as I mixed it well into serum | |
| | |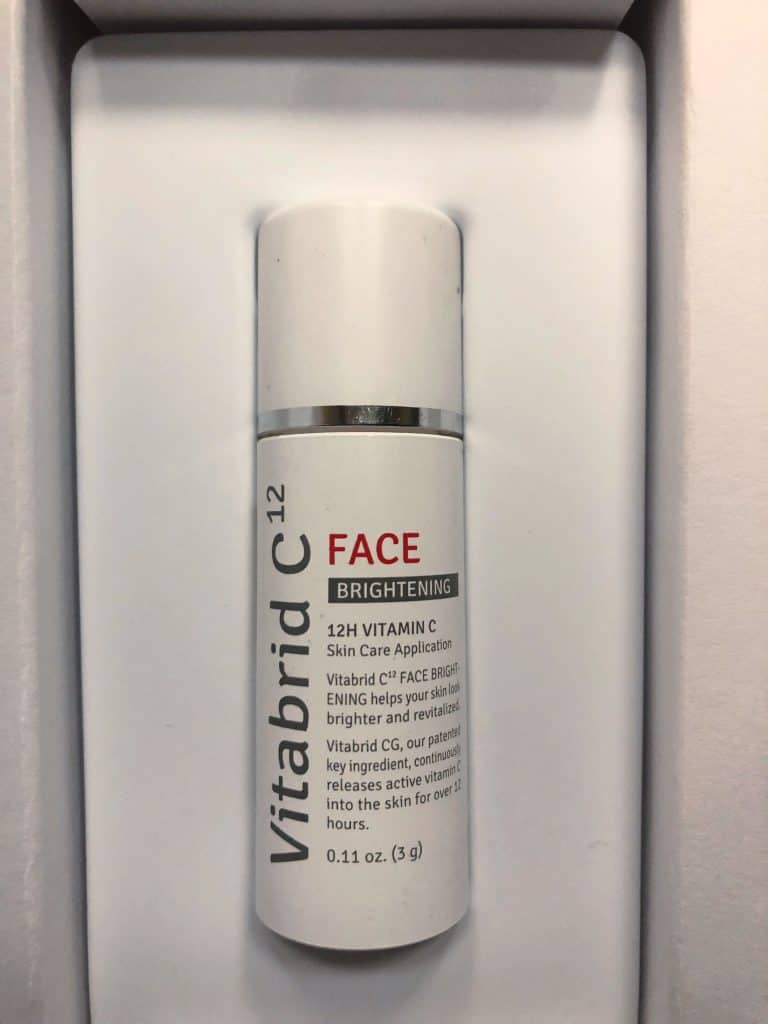 Ingredients:
I'll include both the active and inactive ingredients.
Active:
Niacinamide 5% (helps with redness, blotchiness, acne, sun damage, dark spots, fine lines, and more)
Adenosine for skin 4% (helps prevent sun damage, promotes collagen, improvesvisible signs of aging)
Allantoin 0.25% (helps with rashy-red skin, softens & moisturizes, protects)
Inactive:
Ascorbic Acid, Zinc Oxide, Glyceryl Stearate, Acetyl Glucosamine, Serine, Betaine, Hydrolyzed, Collagen, Water
I know that some of those ingredients sound, well, chemically and scary.
Maybe this will reassure you: every single ingredient scored a 1 on EWG Skin Deep. If you've never used their database, the lower the score, the safer the product. A 1 is the best you can get.
Since a few of those ingredients can come from animals, now is a good time to quickly discuss whether or not Vitabrid is safe for those who only use cruelty-free products.
Is Vitabrid Cruelty-Free and Vegan?
Vitabrid states that they do not carry out testing of their final product on animals. Unfortunately, they don't clearly state that they prohibit the testing of the ingredients themselves.
So, for that reason, we can't really call them cruelty-free.
As far as vegan goes, they state, "Our product is not certified vegan at the moment. It contains no animal-origin ingredients."
That last part is really important to me because I was a little worried when I saw Allantoin and collagen on their list of ingredients.
Both often come from animal sources, BUT can come from plant sources as well, or be created in a lab.
If they're claiming outright that their products don't contain animal ingredients, then one can safely assume that they're sourcing either from plants or creating those ingredients in a lab.
CHECK: Best Body Lotion for Crepey Skin
How Vitabrid C¹² Brightening Powder Worked for Me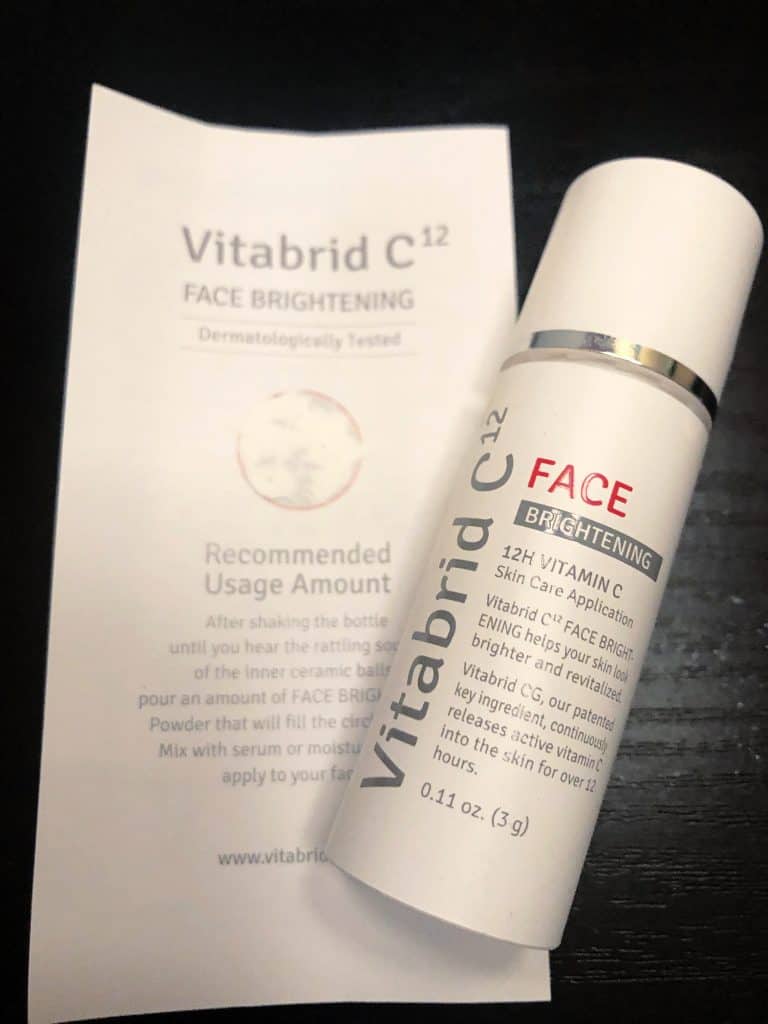 Okay, we've spent enough time on the "whos" and "whats." Let's get to the real question on your mind: How does Vitabrid C¹² Brightening Powder work?
While I can't make any guarantees about how it will work on YOUR skin, I can tell you my experience with it to help you decide. Here's what you need to know about me first:
I'm not a kid anymore. I'm not exactly ancient, but I'm definitely at the point of my life where "anti-aging products" are on my "to buy" list more often than not.
Redness, dry patches, and "dullness" are my biggest concerns right now. I don't really have wrinkles, but my skin definitely doesn't have the same glow as it did when I was younger.
I have crazy sensitive skin!
Now, how did it work for me? I'm not going to lie to you and tell you that this is a miracle product that will completely change the entire appearance of your face after one use.
I mean, even professional skincare treatments typically need to be repeated a few times before you really see the benefits.
However, right away I did notice some small differences. Some of the redness mellowed out and the dullness was less noticeable.
After about two weeks of use, though, my skin is very noticeably different.
Overall, here's what I've noticed the most after using the product for a couple of weeks:
My pores aren't quite as large. They're not as tiny as they were when I was a teenager, but they're definitely improved.
My skin's overall coloring is more consistent. Not so many splotchy spots.
Aside from one stubborn spot that still need more time, the worst of my dry patches have completely cleared up.
Serum or moisturizer, which is better to use with Vitabrid C¹² powder?
You can use the powder with ANY cream, moisturizer, or serum that you want, which is awesome.
The first time I used it, I was in a rush and just mixed a bit into whatever I could find on hand, which happened to be my teen's anti-acne moisturizer.
It burned, and I was ready to call it quits, thinking my skin was just too sensitive for it. I decided to give it another try, though, in a different medium.
Turns out, it's the cream that burns, not the powder. The second day, I put it in almond oil, my version of a DIY serum.
It worked SO much better. No burning at all. Plus, the powder really seemed to absorb better overall this way.
I did try it with a regular moisturizer, too, and it worked well, but it was a bit grittier. I definitely prefer putting it into some sort of oil-based serum.
Last, I tried it in an essence. I only did this because I had just taken the picture above showing how much powder to use. I didn't want to waste it, but I was in my bedroom and I didn't feel like walking to the bathroom to get my serum.
Anyway, I grabbed the essence that I keep on my nightstand, spritzed it on the powder, and rubbed it on my face.
I DO NOT recommend this. It doesn't absorb well at all, which is probably why they don't include essences in the list of things you can mix it with.
Bottom Line: Is Vitabrid C¹² Worth the Price?
Yes, in my opinion, it is. The price is pretty much on par with other high-quality anti-aging products.
While it seems like you get very little for very much, that teeny bottle does last at least a month.
Vitabrid C¹² Coupons & Deals
Right now, save 20% off any purchase when coupon code VITA20 is applied during checkout. Sitewide sale. No minimum order. That coupon works on everything on the site, not just the powder.
References
"Allantoin Topical: Uses, Side Effects, Interactions, Pictures, Warnings & Dosing – WebMD." 2021. Webmd.com. 2021. https://www.webmd.com/drugs/2/drug-20247/allantoin-topical/details.
Cherney, Kristeen. 2018. "Everything You Should Know about Niacinamide." Healthline. Healthline Media. August 28, 2018. https://www.healthline.com/health/beauty-skin-care/niacinamide#benefits.
https://www.facebook.com/martina.todorovska. 2021. "Adenosine Skin Care: The next Star Ingredient to Know About." ThoseGraces.com. June 6, 2021. https://thosegraces.com/adenosine-skin-care/.
PubChem. 2021. "Allantoin." @Pubchem. PubChem. 2021. https://pubchem.ncbi.nlm.nih.gov/compound/allantoin.
Pullar, Juliet, Anitra Carr, and Margreet Vissers. 2017. "The Roles of Vitamin c in Skin Health." Nutrients 9 (8): 866. https://doi.org/10.3390/nu9080866.
The4. 2021. "Face Brightening Powder." Vitabrid US. 2021. https://vitabrid.com/products/face-brightening-powder?irclickid=TN0SZM0wmxyIUc8WQnyJ%3ATNCUkBXJOzx0wXU280&irgwc=1&utm_source=impact&utm_medium=affiliate&utm_campaign=10851&utm_content=2003851&sharedid=bing.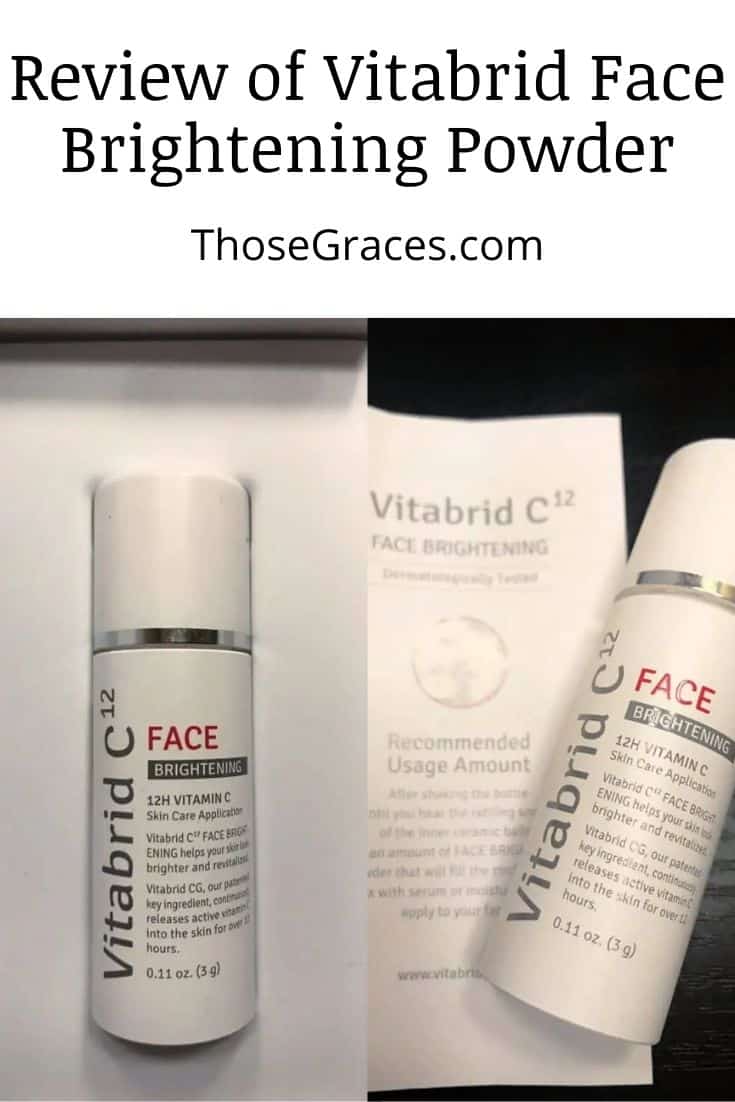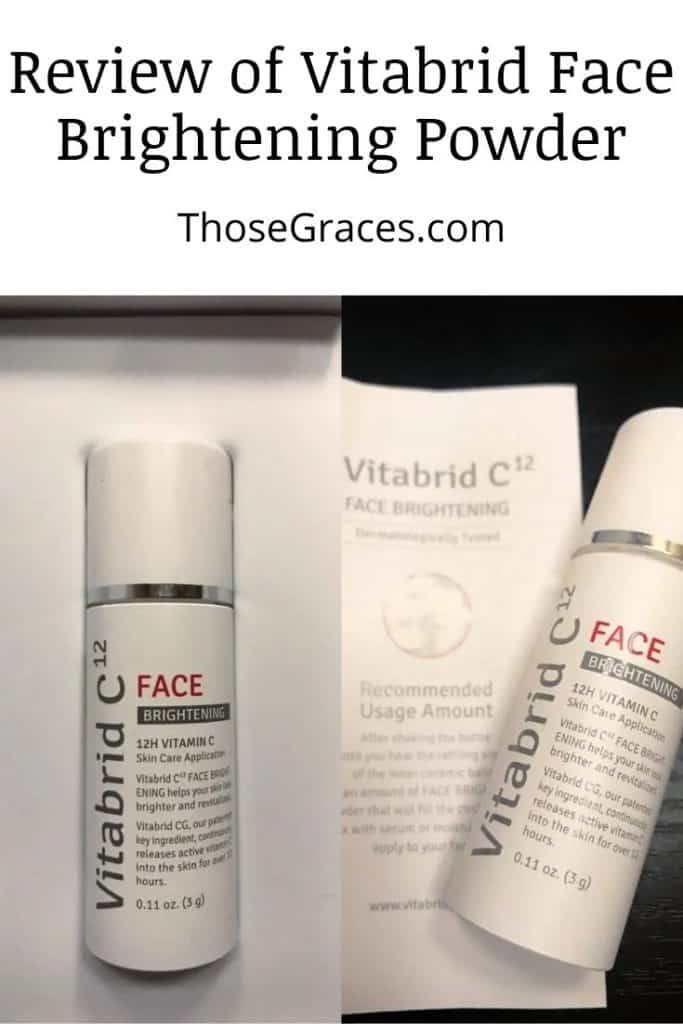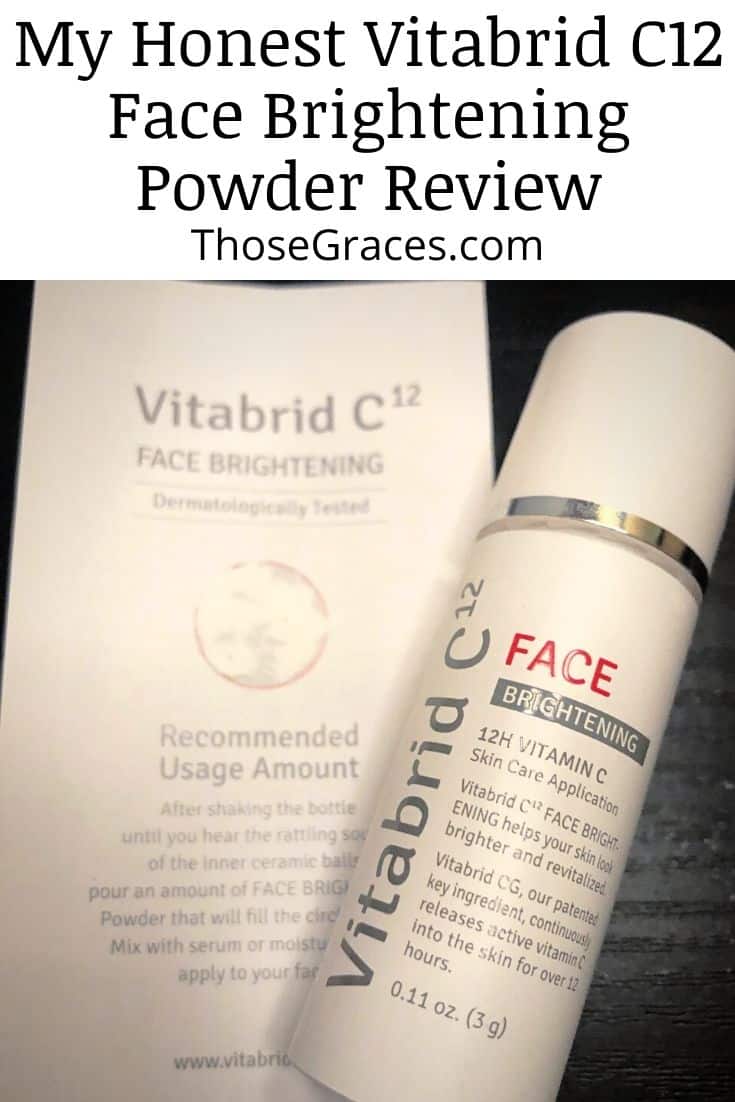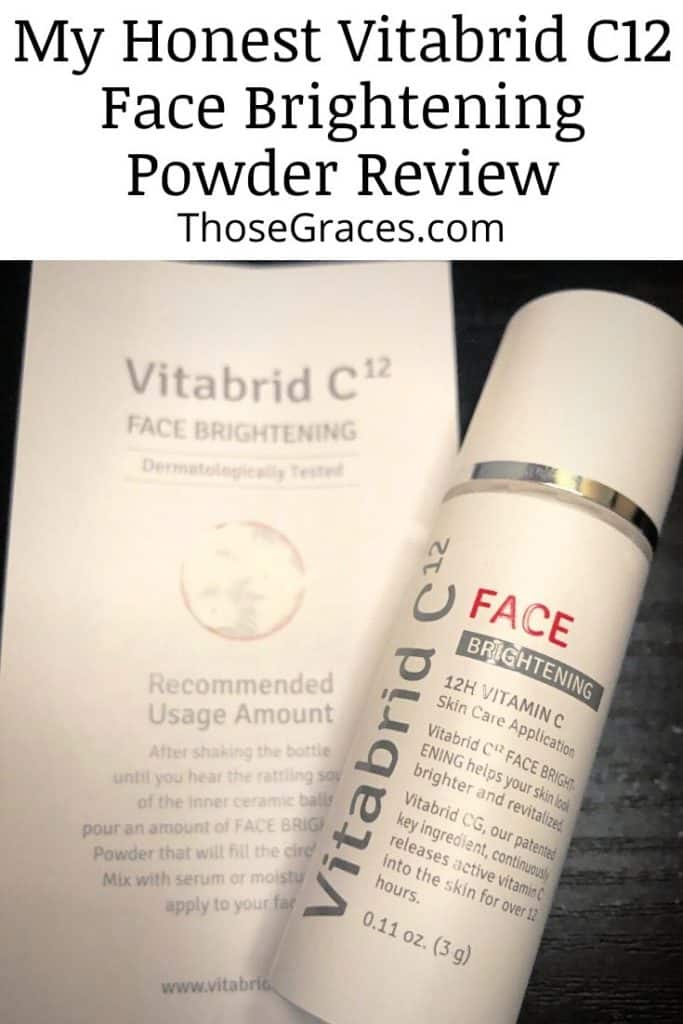 Have you tried it? Do you have anything to add to my Vitabrid C¹² Face Brightening Powder review? Share your thoughts below!