Envying the latest trendy hair accessories in 2023? I've got you covered!
Thanks to my years as a beauty expert, I've found that using simple accessories like headbands, headscarves, and headpins is – according to fellow beauty experts – a "simple, no-fuss way to have your hair looking voluminous. [1]"
In fact, in this article, you'll learn about the must-have hairpieces for every occasion, adding elegance and flair to your summer ensembles!
Scroll down to uncover my top 10 spectacular hair accessories!
Key Takeaways
Step Up Your Style Game: Unleash the power of head scarfs, headbands, and hairpins to elevate every look, blending elegance and functionality effortlessly.
Accessorize with Ease: Discover how these user-friendly pieces seamlessly enhance your style, offering a chic and contemporary vibe with minimal effort.
Stay Trendy: Make a bold statement in 2023 by incorporating these eye-catching accessories, ensuring you're always in vogue and ahead of the curve.
10 Types of Trendy Hair Accessories: Must-Have Hairpieces for Every Occasion in 2023
To make the most of your look, start by integrating head scarfs for a touch of elegance and versatility.
Opt for stylish headbands to highlight both casual and formal events, and let hairpins be your go-to for a minimalist yet polished touch.
Don't forget the classic charm of barrettes and the practicality of hairbands to complete your fashion statement.
Let's break it down like a fraction…
#1. Head Scarfs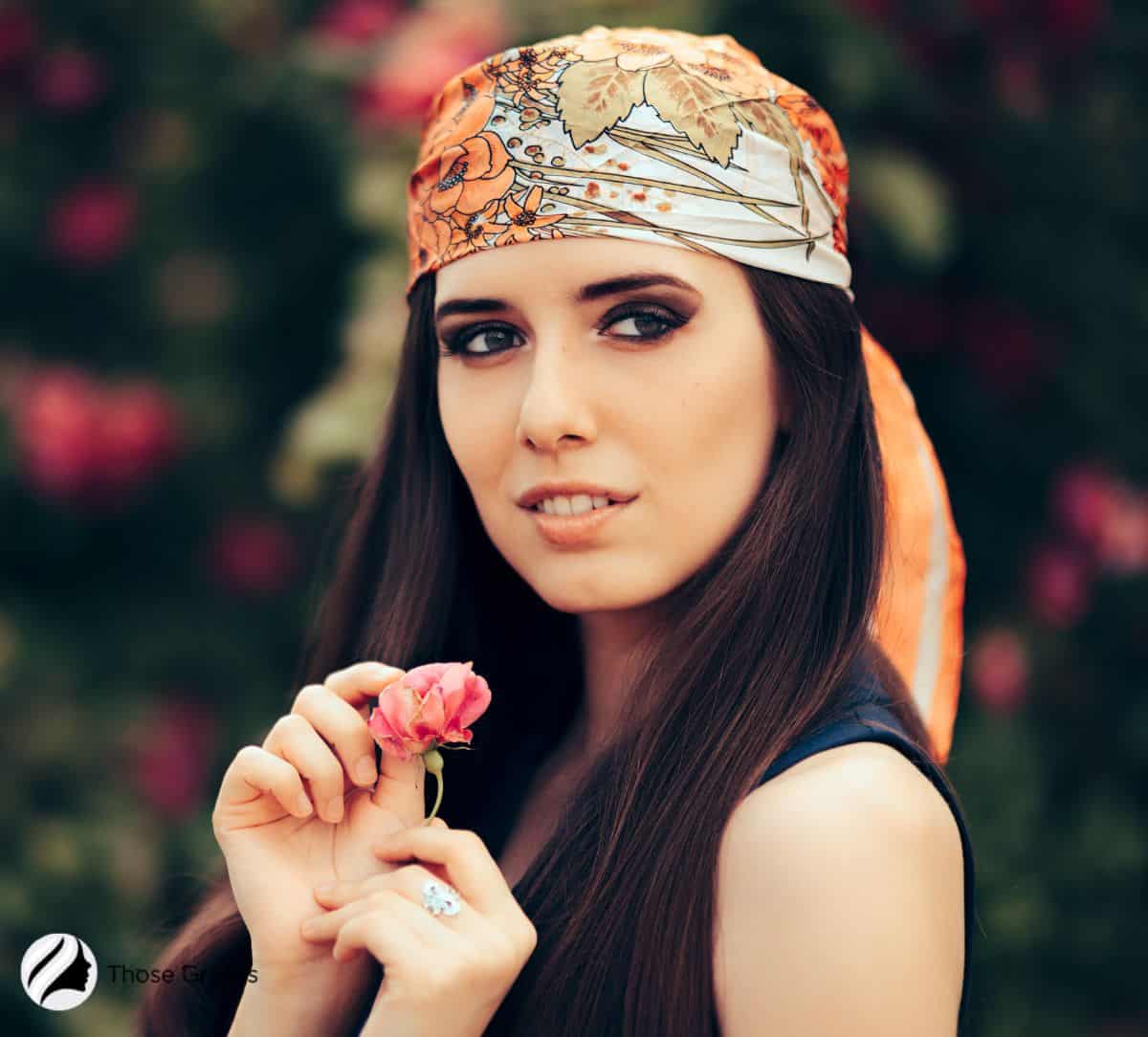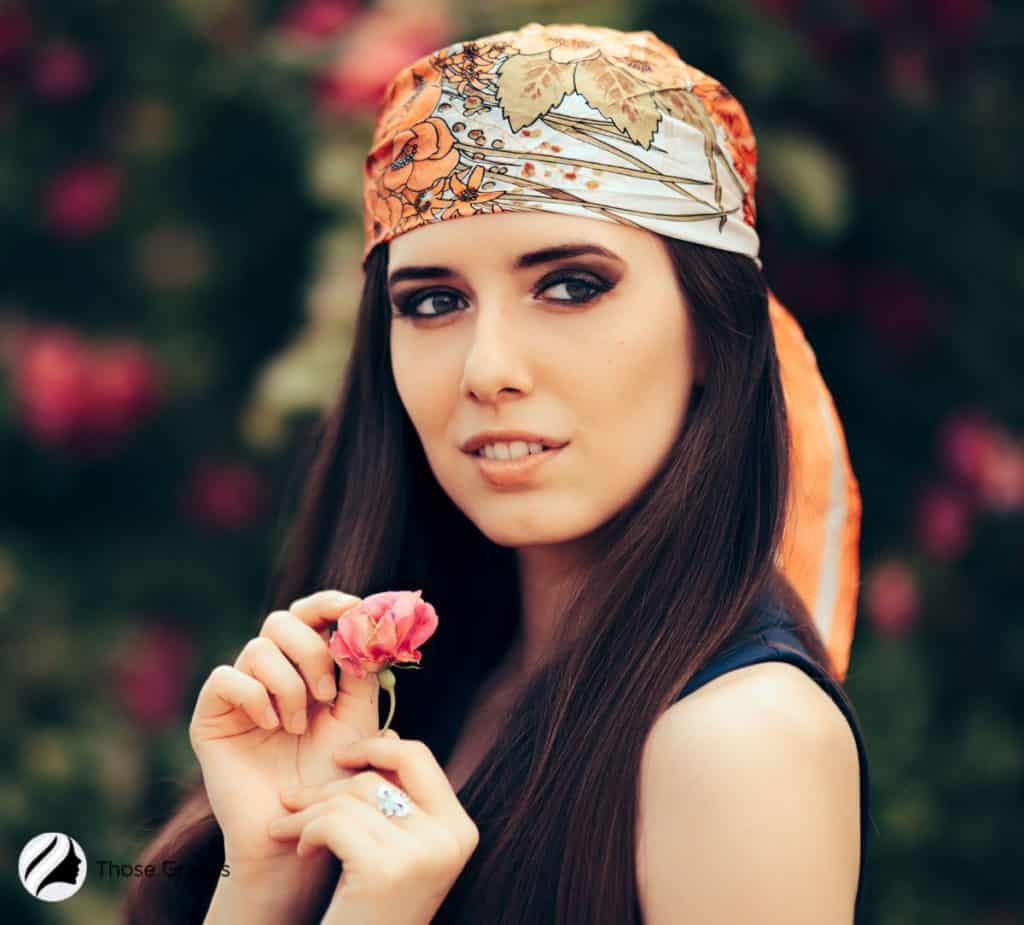 If you're interested in a new hair accessory, look strategically. If you don't, you'll be disappointed.
That's why, as a beauty fanatic, you'll spend so much time trying to find the perfect one, especially as our hair care is vital.
In fact, head scarfs might not always be considered to be the most trendy of hair accessories around as they typically cover the very thing that we are trying to attract attention to.
Still, in doing so, they can become a statement as attention is drawn to them for very different reasons.
Once you learn how to tie a head scarf, you will be able to style it to your own preferences and tastes, as there are various methods that can be utilized [1].
Just remember that it is important to remember the outfit you are choosing to wear, as this should be considered when thinking about a piece to wear.
If you're looking to enhance your look or revive damaged tresses, check out our articles on how to select the right wig and recommendations for the best haircut for damaged hair.
#2. Headbands
Personally, I love my headbands.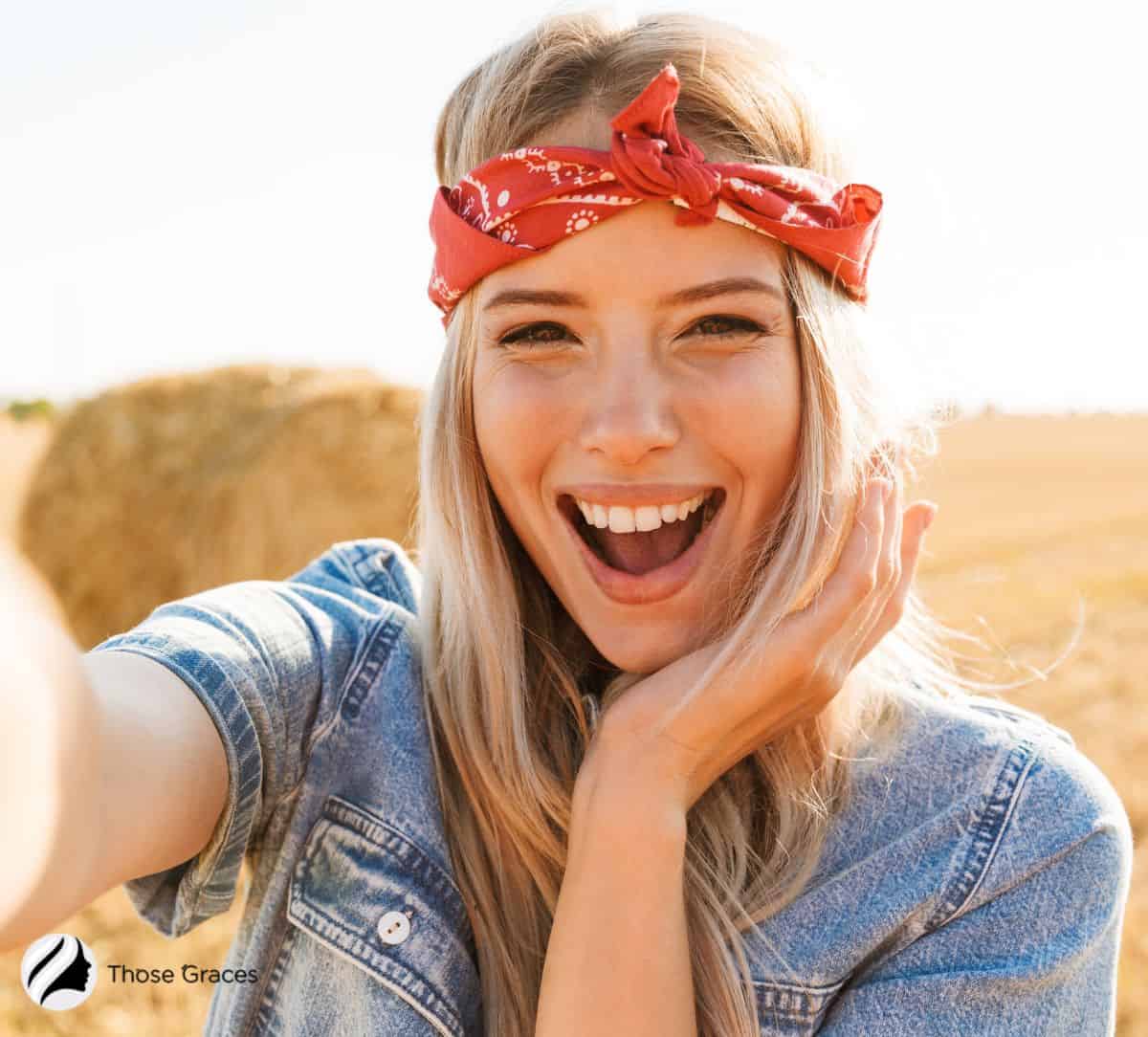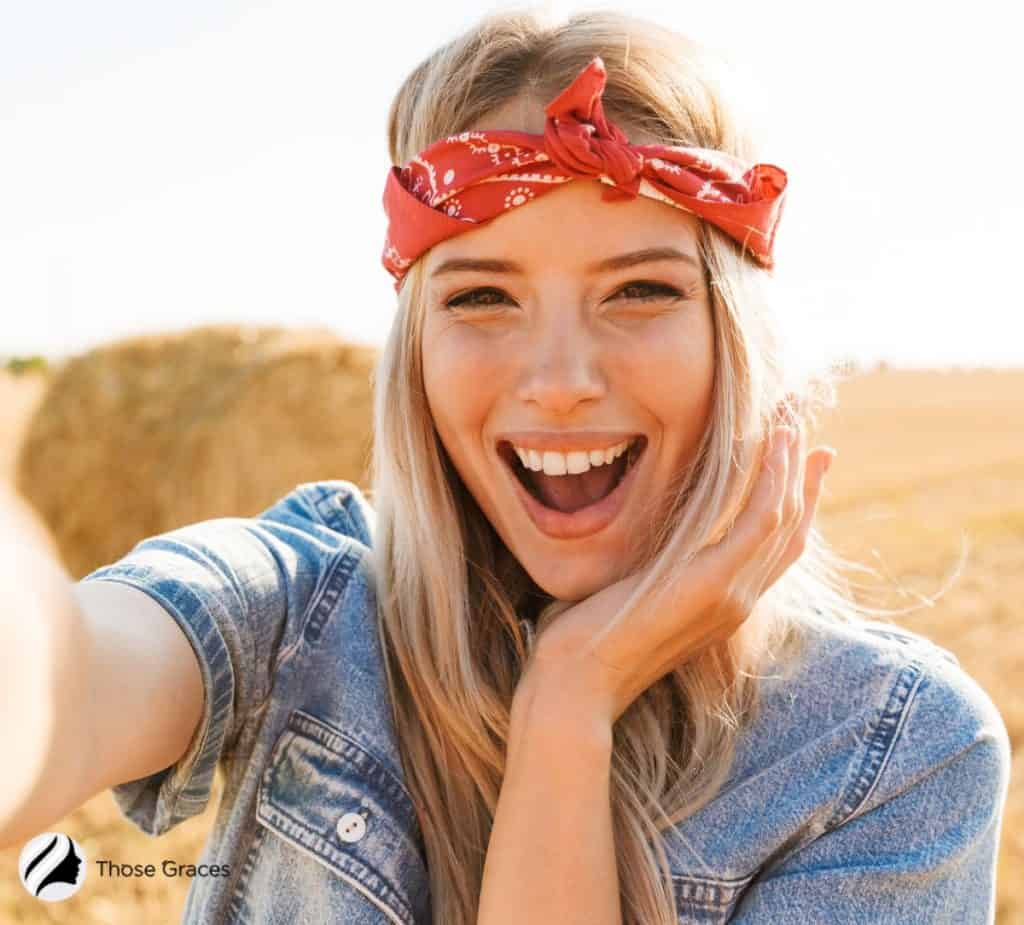 So give them a try, especially if you're not one for headscarves.
Besides, the variety of shapes, patterns, sizes, and types is endless. However, finding the right one is significant and should not be underestimated.
If you get it right, you'll look and feel incredible, get it wrong, and your whole look will be broken.
In fact, they are an accessory that continues to come and go in terms of fashion trends, but they are very much in at the moment.
They are also extremely versatile and can be worn in many different styles, with casual and formal wear all compatible.
Thankfully, they come in a variety of patterns and designs, helping you add personality and character while making your hair stand out at the same time.
#3. Hairpins
A simple hairpin can be enough to help you elevate the way your hair appears and compliment the entire look that has been gone.
They are very versatile and can be of different sizes, thus allowing you to have control over how elegant or subtle it may be [3].
#4. Barrettes and Hair Clips
Yes, you've heard correctly.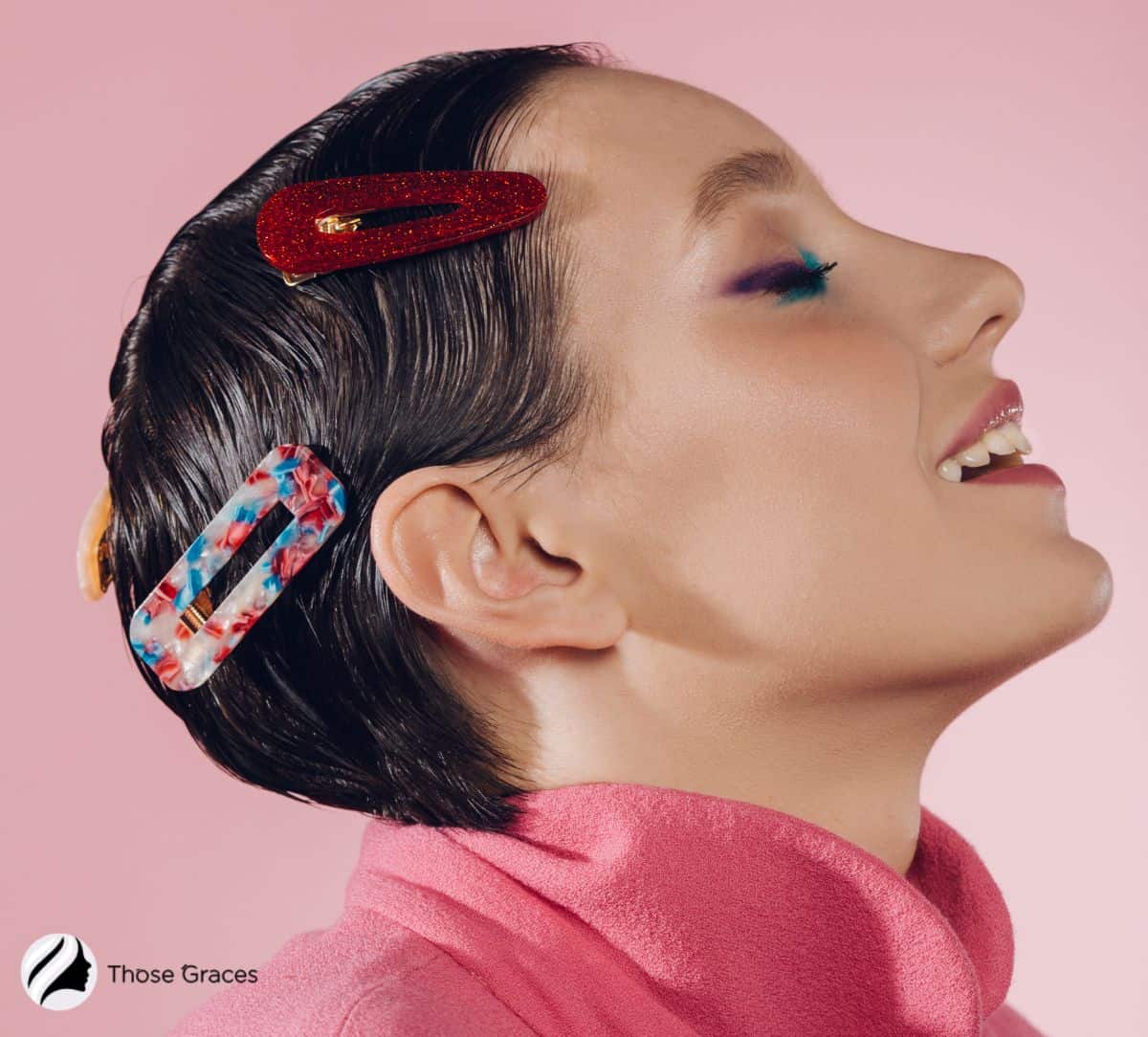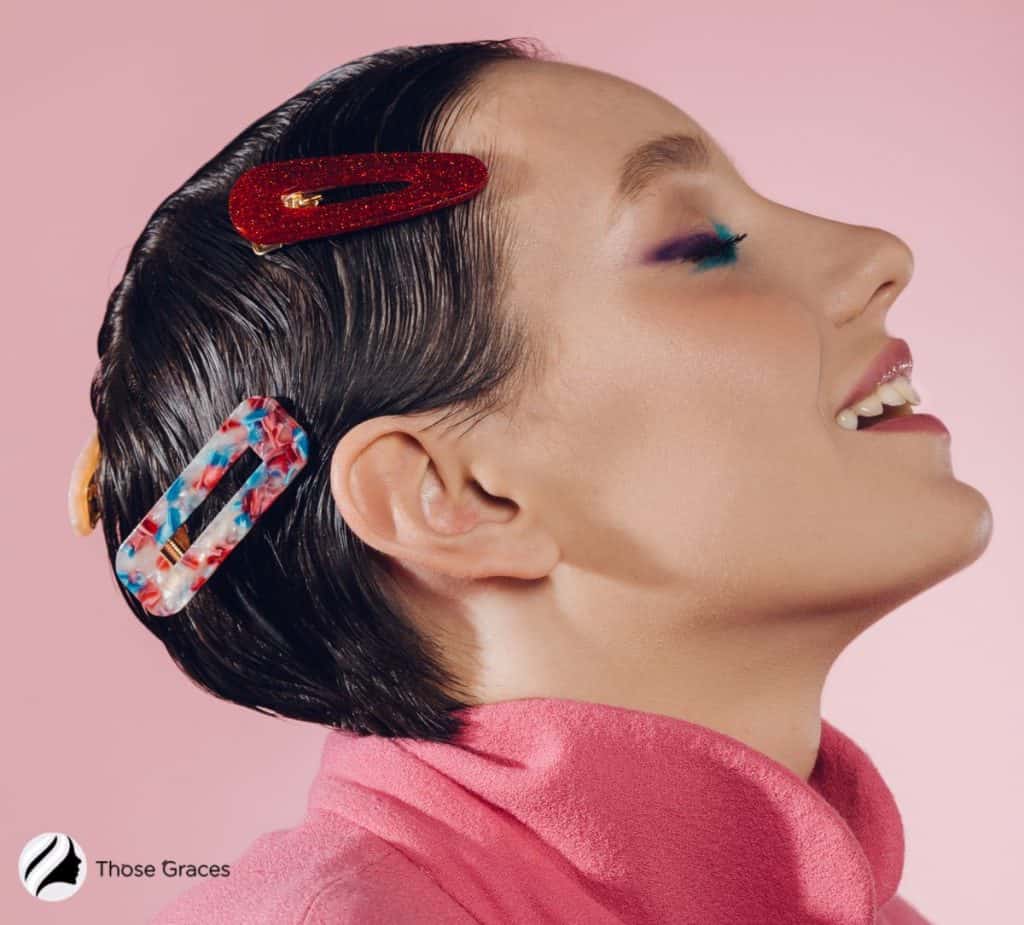 Barrettes and hair clips are among the most popular options that women worldwide continue to use when they look to style their hair, and it is easy to understand why.
They can immediately bring attention to the individual's hair as they can offer a level of glamour or they can help add a dimension through their subtle nature.
Arguably, these pieces often become trendy options because they are easy to use, with women simply needing to clip their hair in the place they want and get on with whatever they need to do.
#5. Hairbands
Let's not forget the trusted hairband and the many variations they come in. Indeed, they have to be considered among the most trendy hair accessories available [4].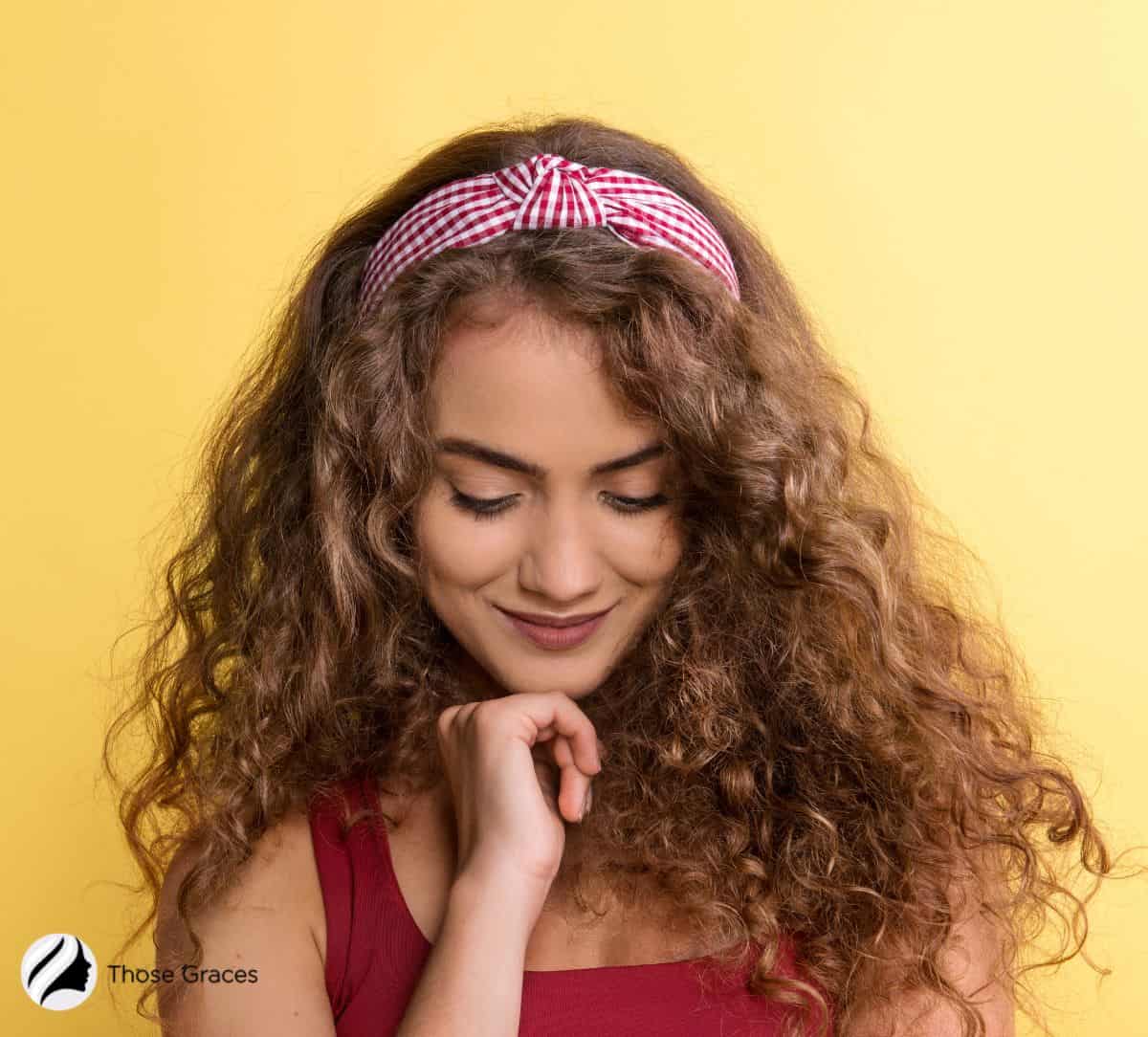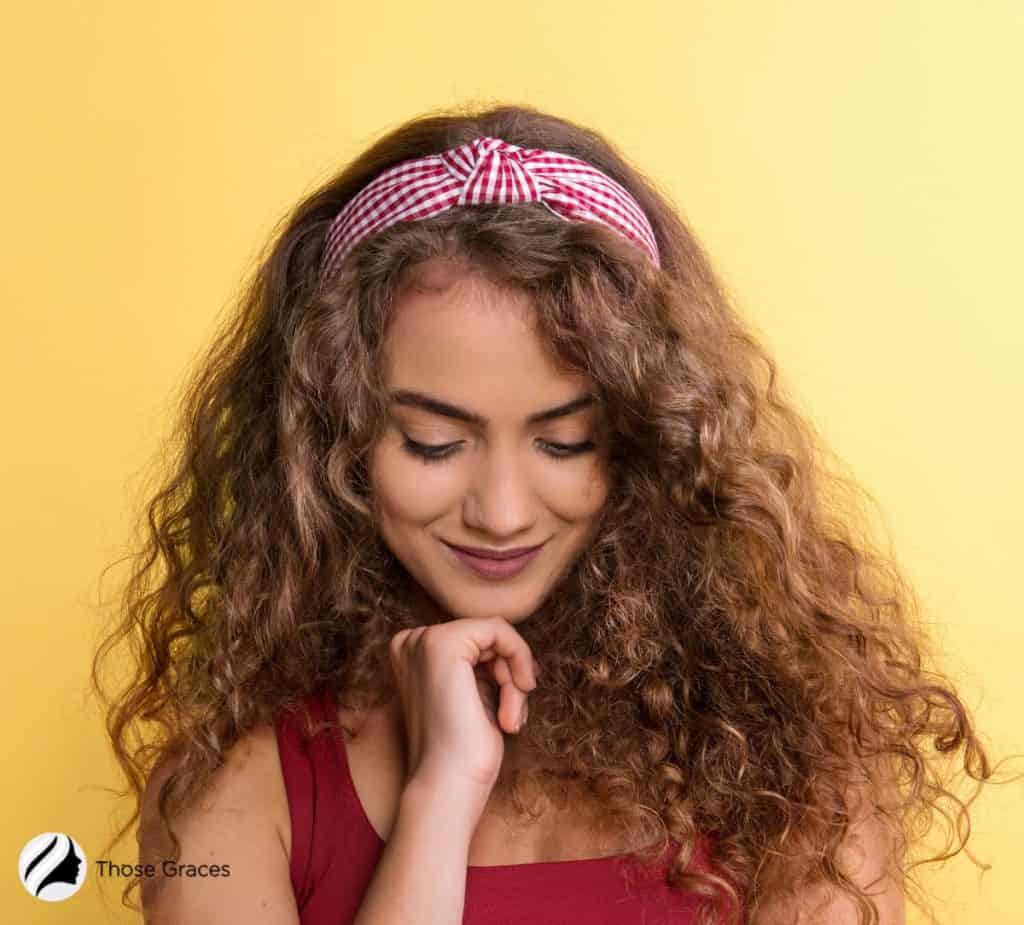 I find them exceptional items when it comes to trying to save a bad hair day or being extremely practical.
Take your pick: you can either look at obtaining traditional ties or use a scrunchie.
Want to make a bold statement? Then I'd suggest a bandana. They're super simple to use – and look terrific on anyone.
#6. Velvet Hair Ties
When adorning your locks with an air of understated luxury, velvet hair ties are the silent heroes.
They're a true blend of sophistication, eloquently captured by a quote from a Forbes article, "Blair Waldorfs of the world, rejoice! Headbands are a major trend once again. [5]"
In fact, Lele Sadoughi's main role in this resurgence reflects the quiet yet flamboyant entry of velvet hair ties into this contemporary fashion scene.
And no, they're not simply accessories. They're a subtle gesture that blends the classic with contemporary fashion trends. And, to be honest, I love my pair!
#7. Tiara Crowns
Oh, I love Tiara crowns. They are an emblem of timeless grace and the aesthetic of designer headbands that have captured the fashion world's imagination.
Garnished with intricate designs and gemstones, each piece isn't just an accessory but a piece of art that elevates every outfit from ordinary to regal.
They're a fossil of the ethereal elegance that iconic brands like Lele Sadoughi encapsulate with their beaded and embellished headbands.
#8. Bohemian Turbans
As cultural and aesthetic landscapes evolve, so do expressions of personal style.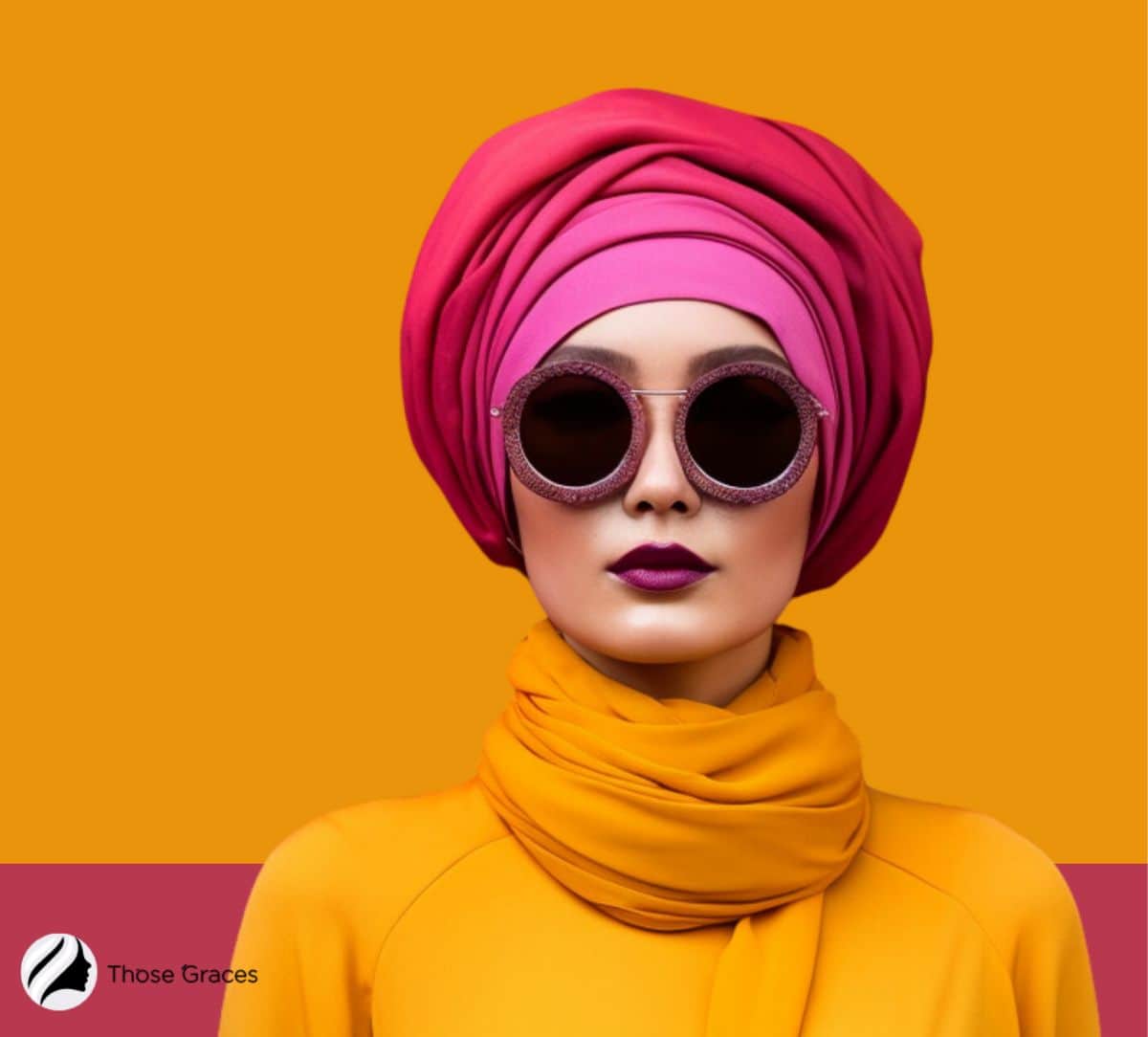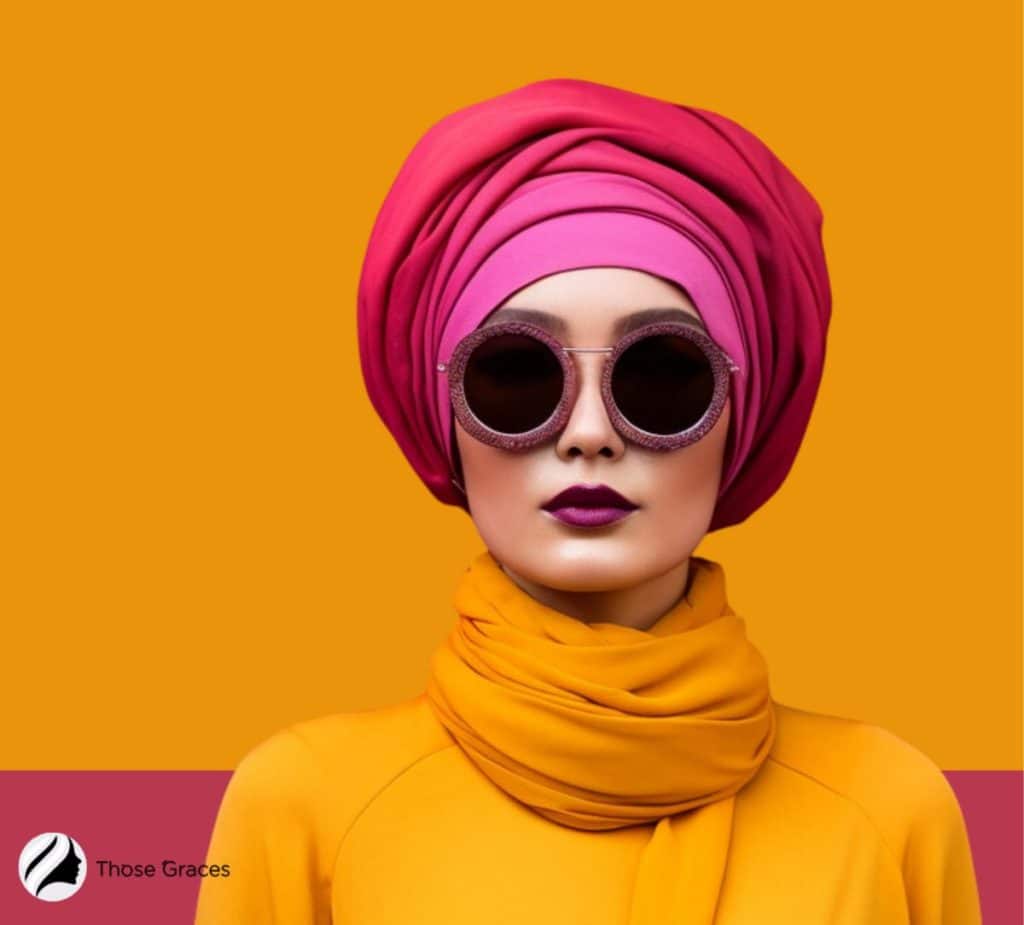 In fact, Bohemian turbans are not just a nod to the eclectic and the artistic but also a celebration of identity, reminiscent of the iconic imagery of Solange's natural hair adorned with unique clips.
Beauty experts at Dismantle Magazine explain how hair accessories "celebrate identity," a sentiment that resonates profoundly with the bohemian aesthetic [6].
Plus, you can style them in any way you want, from the classic high-turbans to the modern half-ups and low knots.
So, get ready to ignite your style with a vibrant bohemian turban.
#9. Floral Hair Combs
In the age of beauty, valor, and divas, floral hair combs, reflect the historical and aesthetic richness of bejeweled barrettes and classic snap clips.
Each comb is a celebration of real art. In fact, experts at Dismantle Magazine, support my experiences by describing hair combs as "wealth, sexuality, health, and spirituality. [2]"
So go grab your floral hair combs today – approved by the beauty experts!
#10. Beaded Hair Chains
Ever wondered why beaded hair chains are so popular?
This is because each piece is not just pretty but tells a story, thanks to the careful work that goes into making them and the mix of styles from different cultures they bring together.
No, these chains are more than just a shiny addition to your hairstyle. Think of a personal stamp that shows off your unique style and the things that make you, well, you!
Besides, each bead and chain connects to paint a picture of your elegance and personality.
It's a bit like how celebrities like Solange use accessories to show off their style and tell their story.
These chains are a way to share a bit about who you are and where you come from, using the universal language of style and beauty.
Want a recap? Go straight to this video to brush up on the basics…
Now, let's skip to some common questions from beauty fanatics like yourself!
Frequently Asked Questions
1. How can I match my hair accessory to my outfit?
It's all about balancing the vibe! Pair elegant headbands or subtle hairpins with formal attire, and embrace the laid-back allure of headscarves and hairbands for a casual ensemble.
2. Will these accessories work for my hair type?
Absolutely! Each piece is versatile enough to compliment various hair textures and lengths. Your crown, your rules!
3. Are these suitable for formal occasions?
Yes! Opt for the refined elegance of embellished headbands or classy hairpins to transform your formal look into a masterpiece of style.
Conclusion
As you step into the kaleidoscope of trendy hair accessories in 2023, know that each piece is crafted to catapult your style to new heights.
Following trends is a must if you want to look stylish. This applies to hair accessories, too. Some are in style, while others were completely left behind.
And thanks to the above fashionable, most compelling trends, you're armed with the best – hairbands, crowns, floral hair combs, and more!
Lastly, keep me updated on any tips, suggestions, or questions. As always, I'm happy to hear from you.
Until next time…
Resources
1. 9 Tips For How To Wear A Hair Scarf With Style [Internet]. www.na-kd.com. 2023 [cited 2023 Oct 12]. Available from: https://www.na-kd.com/en/magazine/9-tips-for-how-to-wear-a-hair-scarf-with-style
3. Hair Pins: The Different Types! [Internet]. JD Institute of Fashion Technology. 2021. Available from: https://www.jdinstitute.edu.in/hair-pins-the-different-types/
4. Anthony W. The Different Types of Hair Bands and Their Uses [Internet]. Hairstyle Camp. 2022 [cited 2023 Oct 12]. Available from: https://hairstylecamp.com/types-of-hair-bands/
5. Boyd S. 6 Of The Best Hair Accessories Brands [Internet]. Forbes. 2019 [cited 2023 Oct 12]. Available from: https://www.forbes.com/sites/sboyd/2019/03/22/hair-accessories-brands/?sh=bd9a748524d9
6. Basada E. Wearing Our Heart in Our Hair: A Brief History of Hair Accessories [Internet]. Dismantle Magazine. 2019. Available from: https://dismantlemag.com/2019/04/29/brief-history-hair-accessories/